We may earn a small commission for purchases made through affiliate links in this post. For more information go to our Privacy Policy.
It's a Halloween cat in a box. Don't be discouraged if it looks complicated.
This Halloween card is actually very easy to put together. I promise.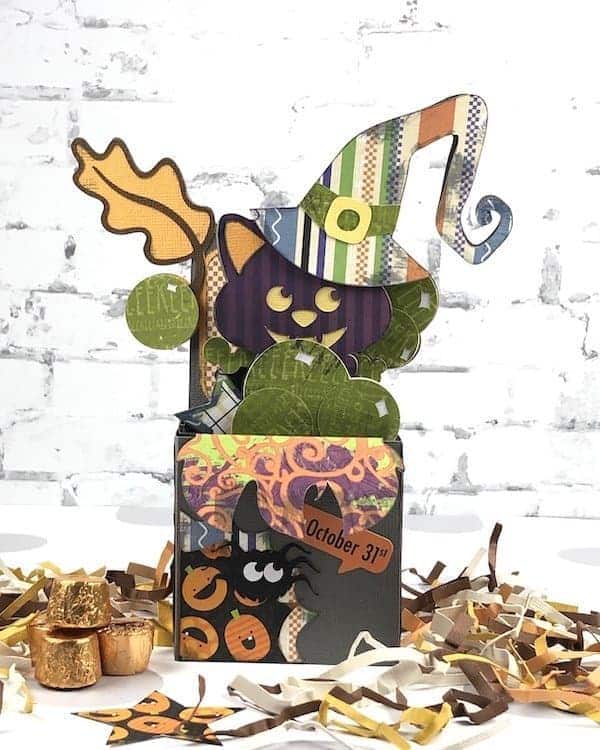 Supplies for the Card:
Supplies you will need to make this card:
2 pieces of grey or dark grey cardstock
Scrap pieces of bright orange cardstock, yellow cardstock, brown cardstock, white cardstock, and black cardstock.
Halloween scrapbook pattern paper
Tacky Glue
Glue Dots or Foam Dots
This Witchy Black Cat SVG file
Any extra embellishments you wish to add: a Halloween saying from stickers or stamps, glitter glue, accents, etc.
Are you ready to get crafty?
You can read through the directions below and use the PDF that is included in the SVG cut file to create your Halloween card. You can also watch this video tutorial that walks you through the entire process (other than the cutting out part…if you need help with that you can read this Beginners Guide to Design Space!)
NOTE: There is also an envelope included in the Cat Card SVG File. If you decide you want to use that to send off your card, you need to size your project down to 10.5 in. wide in Design Space before you start cutting.
How Do You Put it Together?
These cards look elegant and like they take hours to create.
But they really don't. The longest part is probably getting all your supplies together and cut out.
Then the inking part.
After that…it goes together rather quickly.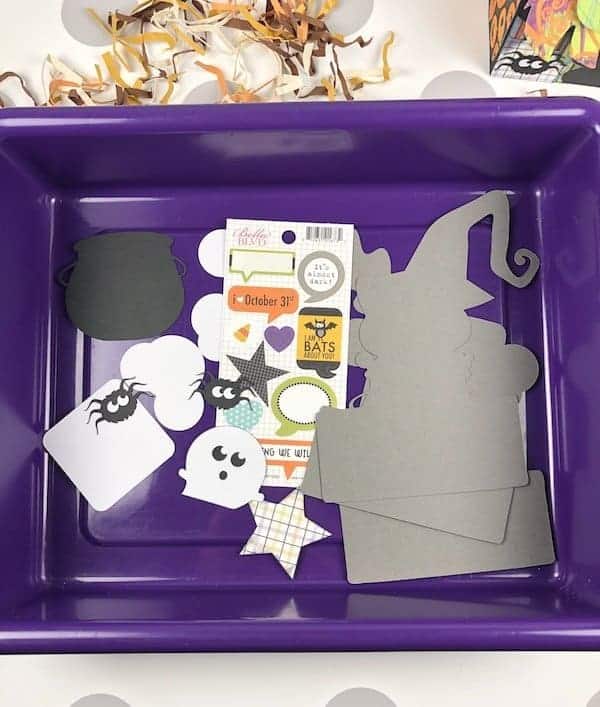 To keep track of all the pieces that will be cut out in various pattern papers and cardstocks, I put all my pieces in this purple tub.
That way, I'm not losing papers on my craft bench or burying them under a cutting mat or a pile of Halloween papers.
Once I have a few pieces cut out, I start inking them while the cutter is working on the next sheet of paper.
I also start assembling any little pieces that I can while I wait for the cutter. Think eyeball pieces on the ghost or spider. The yellow background of the witch cat. Bubbles on their white background. That type of thing.
PRO TIP: Cut your card base out of a light grey or medium grey cardstock. The Halloween cat is sitting in a black cauldron and it isn't very visible if you use a black card base (or you could change the color of the cauldron). Your card. Your call.
As soon as you have the base card pieces cut out, you can fold those along the score lines while you wait for other pieces to be cut on the Cricut.
NOTE: You will see in the video where I forgot to change a scoreline in Design Space when I was setting up my file to cut. There is a workaround for this mistake…just in case you do it too!
Assembly of the Box Card
I like to layout each of the panels and the front and back of the card. Then I sort all the elements into piles with each piece of the box card. This way, you have all the parts and pieces accounted for and know where they go when you start gluing. You can also start thinking about which parts you want to pop-dot and which parts you are going to glue flat.
Once you have all the panels covered with their paper embellishments and accessories, it's time to put together your Halloween card.
Start with the front and back panels that create a square box.
Glue the flaps on the inside of the corners where they attach.
Next, put glue on the flaps of the back panel insert (the one with the leaf and bubbles).
Hold the flaps in a little as you insert it into the box so you don't get glue all over the inside of the box.
Line up the panels with the back edge of the box.
Repeat this process for the panel with the Halloween cat in the middle.
Then repeat it one more time for the panel with the star and bubbles.
There you go!
You now have a very cute and fancy looking Halloween card with a Halloween cat sitting in a bubbling cauldron. Add glitter glue, accents, etc. if you have them.
Put together your envelope if you cut one, fold your Halloween cat flat (just like poor Binx in Hocus Pocus), and send it off!
Basic supplies for card making.
Photo Credit: www.amazon.com
Photo Credit: www.amazon.com
Photo Credit: www.amazon.com
Photo Credit: www.amazon.com
Photo Credit: www.amazon.com
Photo Credit: www.amazon.com