This post may contain affiliate links. If you purchase through one of these links I may earn a small commission at no extra cost to you. For more information, please read my disclaimer.
There was this Halloween sign laying on the floor of the craft store. Ready to go on display.
The owner had just pulled it out of the box.
Halloween themed craft items (and colors) are my weakness. This sign was adorable.
Then that dreaded moment happened. I snapped a picture and thought "I can make that myself". Mostly, because I wanted it to say "Hocus Pocus" instead of "The Witch Is In".
Ugggg.
Do you ever do this to yourself?
Find a super cute project and then convince yourself you can make it cuter, better, cheaper, whatever. Then, later you realize, you should have just bought the original because it would have saved you so much time and money!!
This is the sign I found and thought I could replicate with my own twist: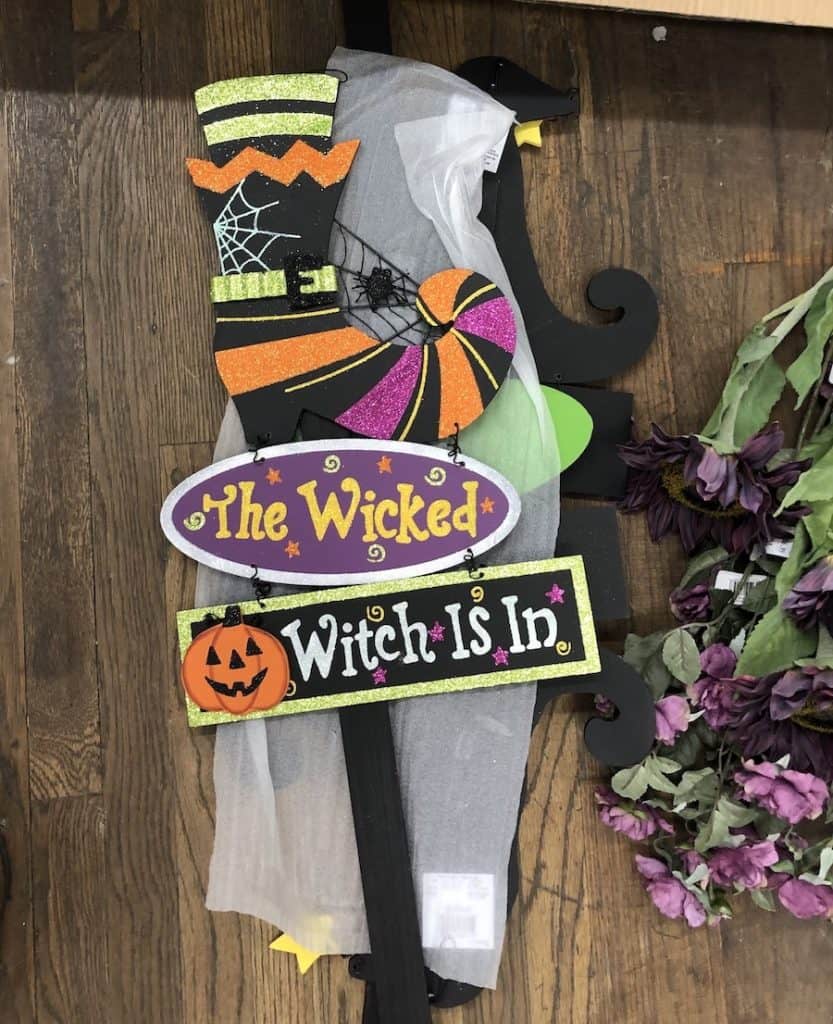 I designed my own SVG file for the witch's boot and made the sign read "Hocus Pocus".
Making a Halloween Sign
What can your Cricut maker actually cut? And is it worth cutting wood on your Maker?
Well, let me just tell you all about my cutting adventures today.
I purchased a pack of the Cricut Bass Wood. I also grabbed some Birchwood from the craft store. I wasn't sure which size to pick up and I grabbed a variety. Besides wanting to cut it, I also needed some of it for the actual sign.
Your Cricut Maker will cut up to 1/16 of an inch. The wood that they sell in the pack is either 1/16 or 1/32 (this one would be thinner and would be really flimsy).
Unfortunately, the wood that I grabbed at the craft store was around 1/8. I loaded the wood into the machine and it started out just fine. Then when the mat moved out and then back in, I had an issue. And of course, I wasn't looking at the machine right then. (Squirrel brain).
It did NOT go through the Cricut machine and I ended up cutting into the base of my machine with the craft knife when the mat stopped feeding.
No major damage…but still. Yikes!
Hocus Pocus Halloween Sign
Okay. Here's the pile of supplies that I collected to make my Hocus Pocus Halloween sign. I wasn't sure which materials I really wanted to use and figured I could experiment with a few of them. I had leftovers (obviously) and a few things that I ended up not using (like the glitter in the bottles).
My crafty-eyes were bigger than my crafty-outcome!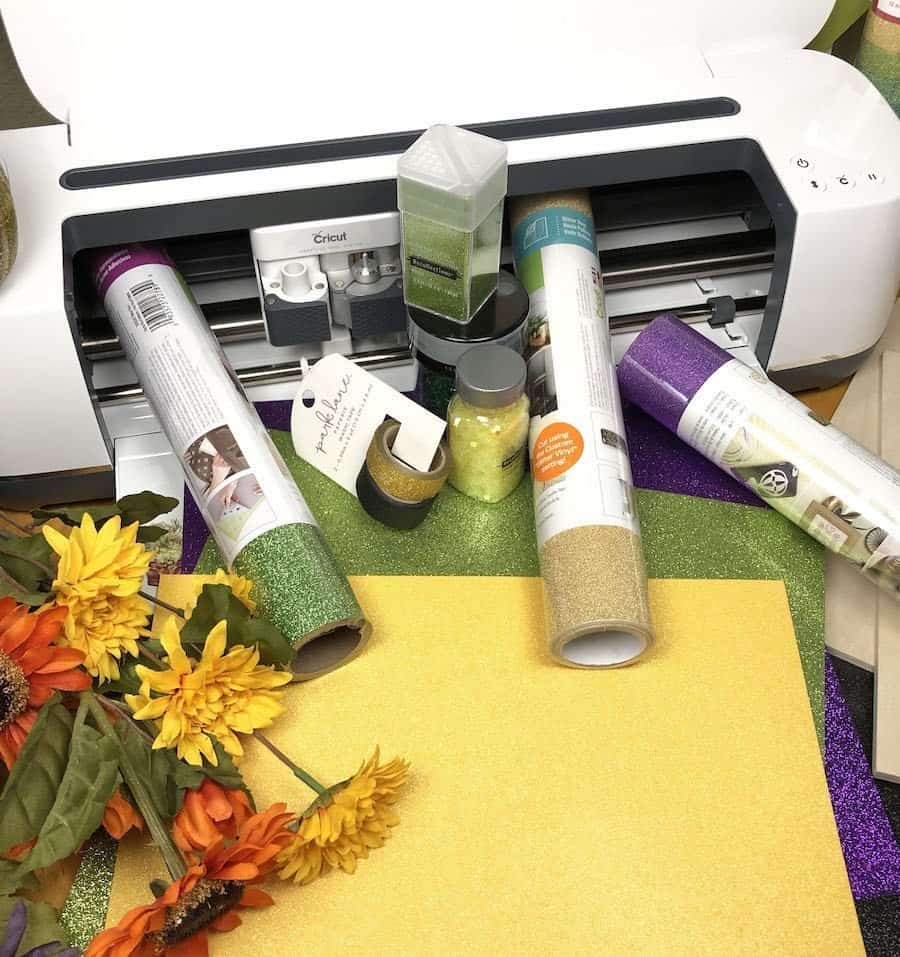 Here are the things you need to copy this project:
Glitter Paper (purple, green, gold/yellow, black, orange)
Glitter Vinyl (purple, green, gold/yellow, black, orange)
This SVG file (Witch Boot and Hocus Pocus)
dowel rod or 1 x 2 stick of wood for the post (check your local lumber yard)
Other craft supplies:
Glue
Cricut Machine (the Maker if you want to use a craft knife to cut the wood)
Wire
Strong Grip Cricut Mat (check out this post to see the differences between Cricut mats)
There are a few things to consider when you are making this sign. 
First, I bought one square that I wanted to use in the sign without having to cut it out. It ended up being thicker than the Basswood that the Cricut cut (the boot and oval)
Don't cut shapes out of wood that are smaller than the thickness of a pencil. 
You won't be happy. Your mat will not be happy. And you won't get a decent design.
I started out cutting the spider web out of wood because I wanted to have it hanging off the sign. It basically just shredded the wood instead of cutting the design. Same with the little spider.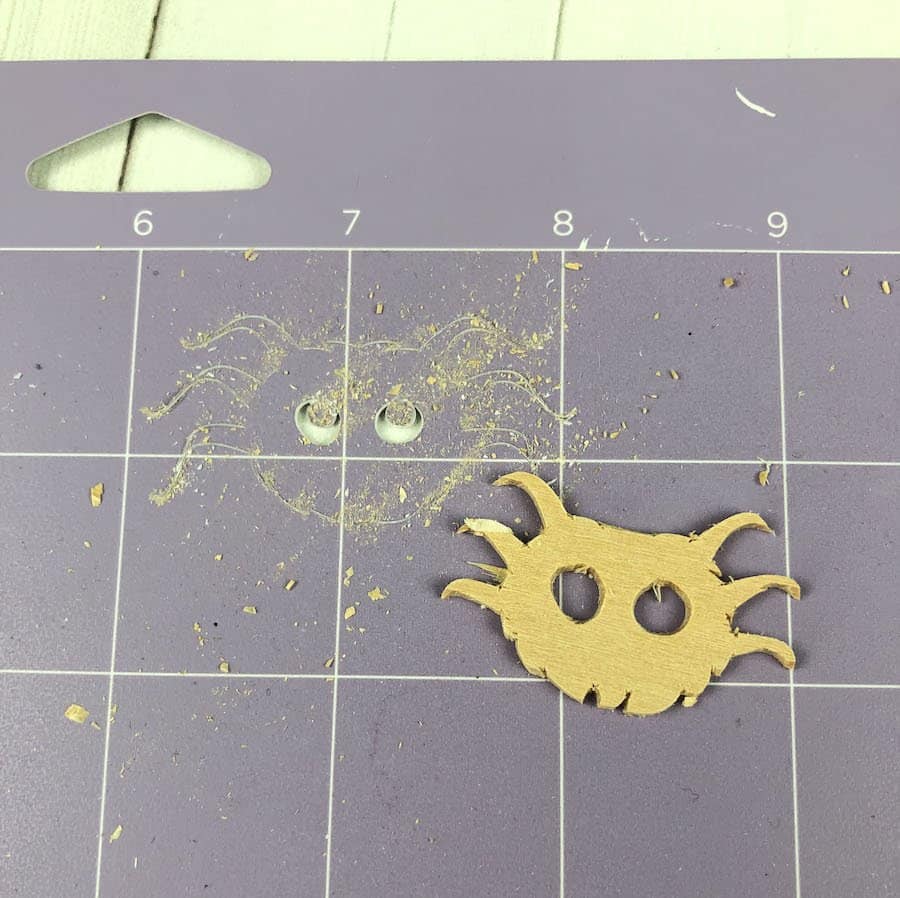 I now have little spider eyes and legs CUT OUT OF MY MAT. Not good. Really. Not good.
Pro Tip: If I were to start this project all over again, I would buy the thicker wood from the craft store for the boot, the oval, and the rectangle. Then I would trace the design onto the wood and use a wood saw to cut them out (or get my husband to do it for me).
It would have saved a ton of cussing (and my poor Strong Grip mat!).
I would use the SVG file to cut the accents for the design and I would paint my base colors and use less glitter paper.
That glitter paper is beautiful. But it's a bitch to glue things down on. They don't want to stick!!
And that leads me to my last discovery.
Not all vinyl is created equal.
I bought the Cricut glitter vinyl to cover the base of my signs.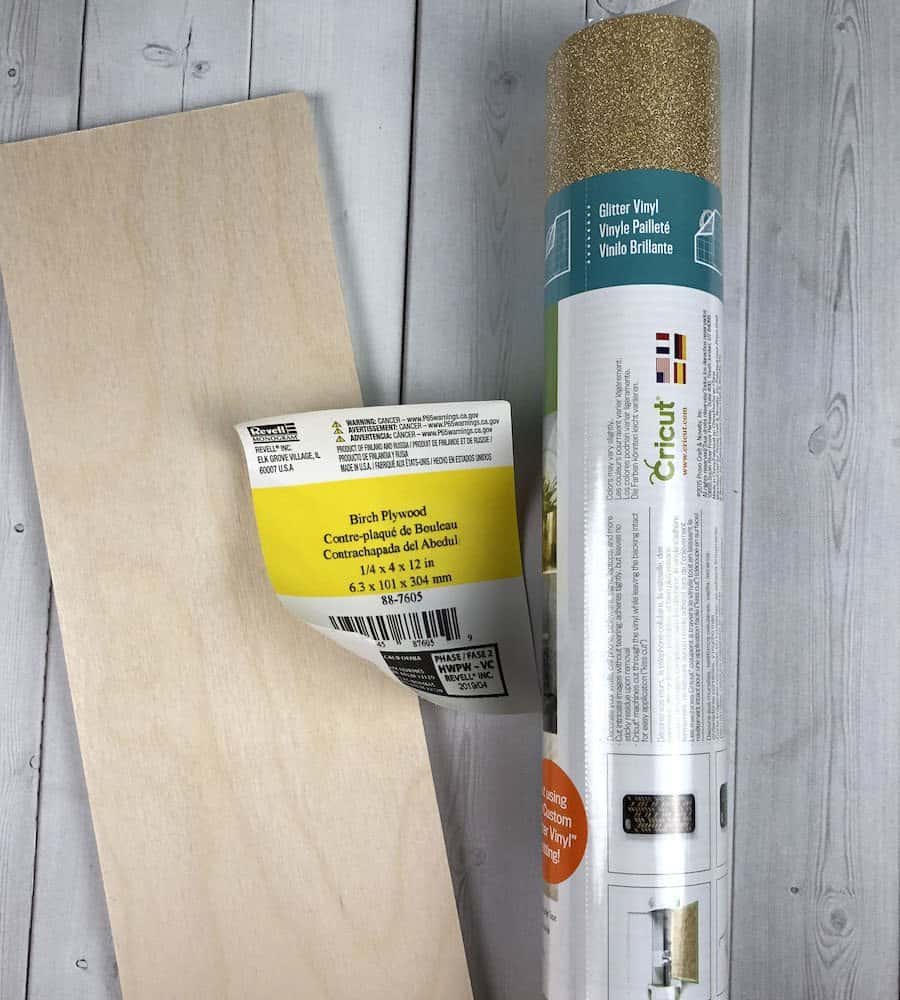 It doesn't stick very well at all. I had to glue corners and edges because it wouldn't stay down. That was a little frustrating. I'm thinking that if the surface were painted, the vinyl would stick a little better.
The Process of Making a Halloween Sign
The idea of making this Halloween sign was pretty simple. The issues were more in the designs that I wanted to cut out of wood (too small) and the materials I chose to cover the wood (glitter paper was not the best choice).
One of the reasons that I chose to cover the wood with the glitter paper was that I didn't want to "make a mess" with loose glitter. Jokes on me! I made a HUGE mess with the glitter paper and it was way more of a hassle than it would have been if I just put glue on the edges of the signs and sprinkled the crap out of them with glitter.
So, for this project, I'm going to give you a rough guideline. Exact directions are not going to do either of us any good because it varies so much based on what supplies you have on hand and what you want to use to make this Halloween sign.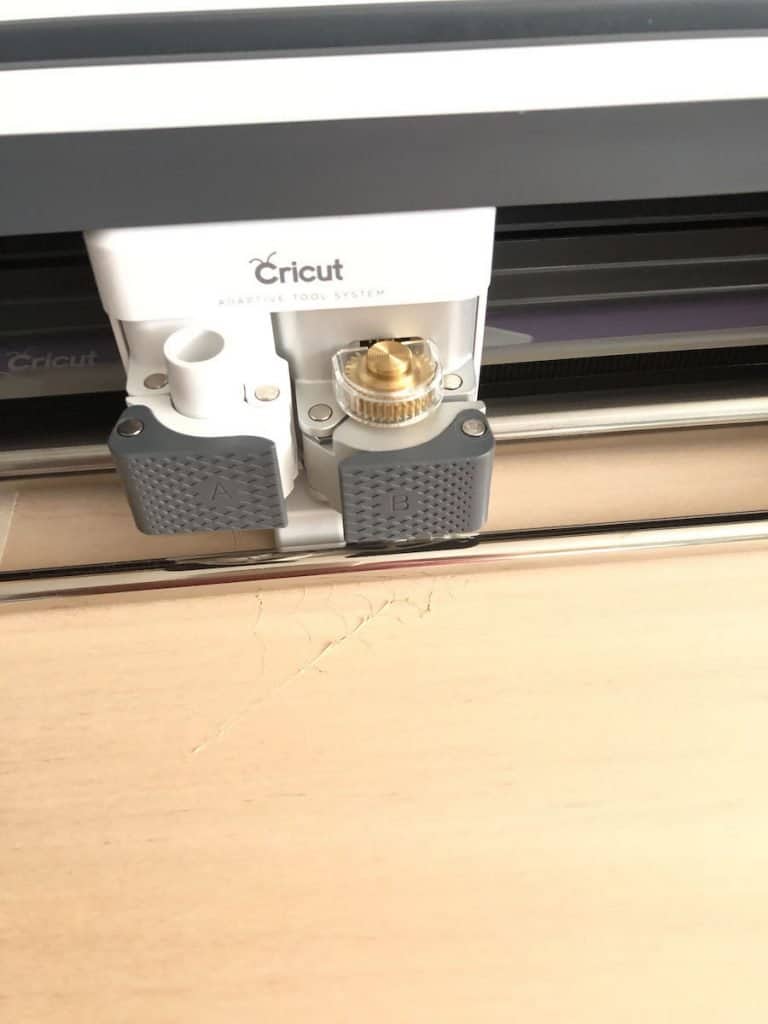 Cut your wood shapes out (the boot, the oval, and the rectangle). You can do this with your Cricut Maker if you use the thinner Basswood from Cricut. Or you can trace the shapes and cut them with woodworking tools. If you are using the Maker, be sure to tape your wood down on the mat so it doesn't shift.
Paint the base color on your wood (do not try to cover the whole piece with vinyl or glitter paper).
Cut out the embellishments from glitter vinyl or glitter paper and attach them to the signs.
Attach all 3 signs to a post for display (if you wish…you could also just hang them on the wall with command strips in a fun array).
Pro Tip: Your Cricut Maker will cut the same pass 14 times when it is using the utility knife. Pause the cutting around the 4th or 5th cut and check its progress by clicking pause (DO NOT UNLOAD THE MAT). If it has cut through all the way, remove your mat and move on to the next cut. 
If you let the Cricut cut all 14 passes, you will end up cutting your mat. Then you will be staring at spider eyes and an outline until you buy a new one!
A Few Cricut Tips
If you have never used the Cricut Knife Blade, the program will ask you if you want to calibrate the blade when you insert it for the first time. It's quick and easy. Make sure you don't skip this part.
You can move back and forth through the different mats on your project. Do this by clicking on the mat you want to cut.
You can move objects from one mat to another or hide them if you don't want to cut them right then. Do this by clicking on the mat, click EDIT, and then click on the objects left-hand corner. You will have the option to hide the object or move it to a different mat. Make sure you rearrange the objects on the mat you select so they don't overlap!
Tape down your wood onto the cutting mat. I mention this above, but it's a good idea to repeat it so you remember. You don't want your material shifting while it cuts!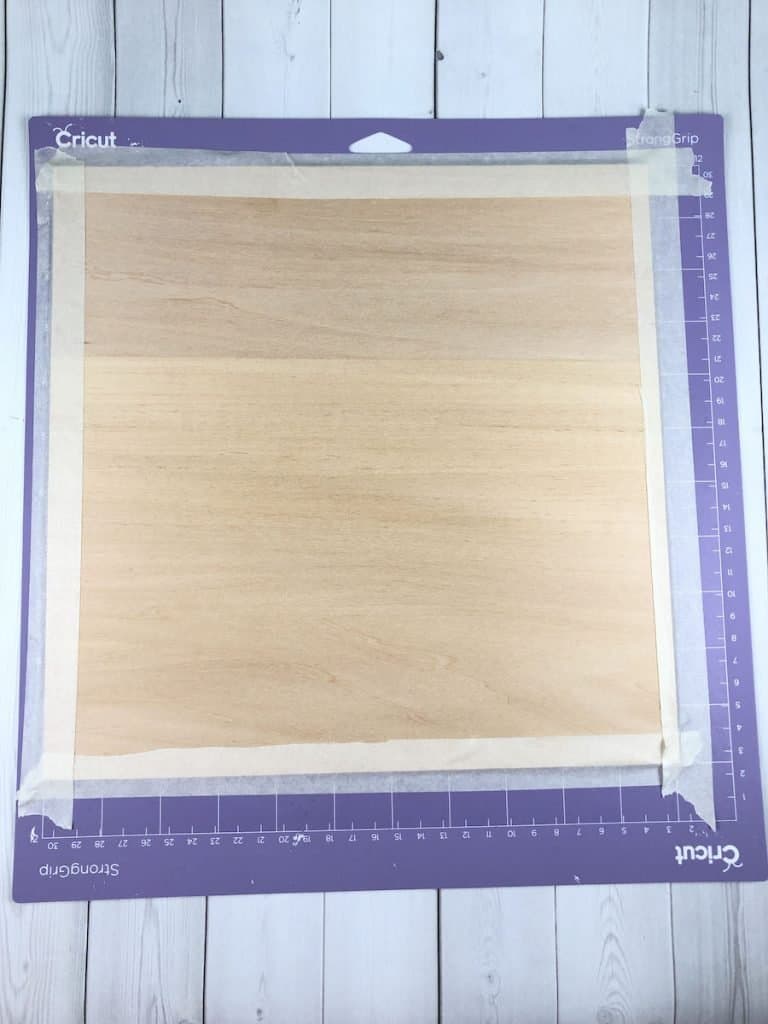 If you are heading to the craft store and you would like a quick and easy shopping list, sign up to get access to the library and to download the shopping list for this project.
How Did My Hocus Pocus Sign Turn Out?
My final project didn't turn out too bad. My sister wants it.
I'm not sure how well it will hold up outside in the elements. She's going to have to tuck it under the eves of the porch or display it somewhere in the house.
Now that I know a few more things about my Cricut and its ability to cut wood, I would change my plans a little. In the future, I will probably use power tools or buy my wood designs pre-cut.
Or I'll just stick to making cards and scrap albums. That's more my style!