Are you a little intimidated by your Cricut? Maybe you bought it, and now it is just sitting in the box, collecting dust. It has become another "piece of furniture" and you are starting to pile your other craft supplies on it. Like it's just another craft table over there in the corner.
You aren't even sure where to start with it.
It's time to take that little bug out of its box and use it to make fun projects.
I know how overwhelming that expensive machine can be. Which makes it even more painful that it's turned into a paperweight.
What You Need is The Cricut Design Space Guide and Cheatsheets to Help You…


What you need is someone to show you how to use the Cricut Design Space software.
Someone who will walk you through all the tools. An interpreter for the weird names that the techie people used for different functions.
You need someone who will show you the basics of Design Space (or a Cricut cheat sheet book to use as a guide. One you can print out and use as a manual).
That is how you start your first project. Craft supplies are precious. They are intended for something spectacular and when you think you might mess them up…you start hoarding them.
We are going to put them to good use.
The How to Use Cricut Design Space Guide includes over 70 full-color pages with easy step-by-step instructions for all the most popular tasks and tools that you use in Cricut Design Space (I am a paper crafter…but these are the basics for paper or vinyl).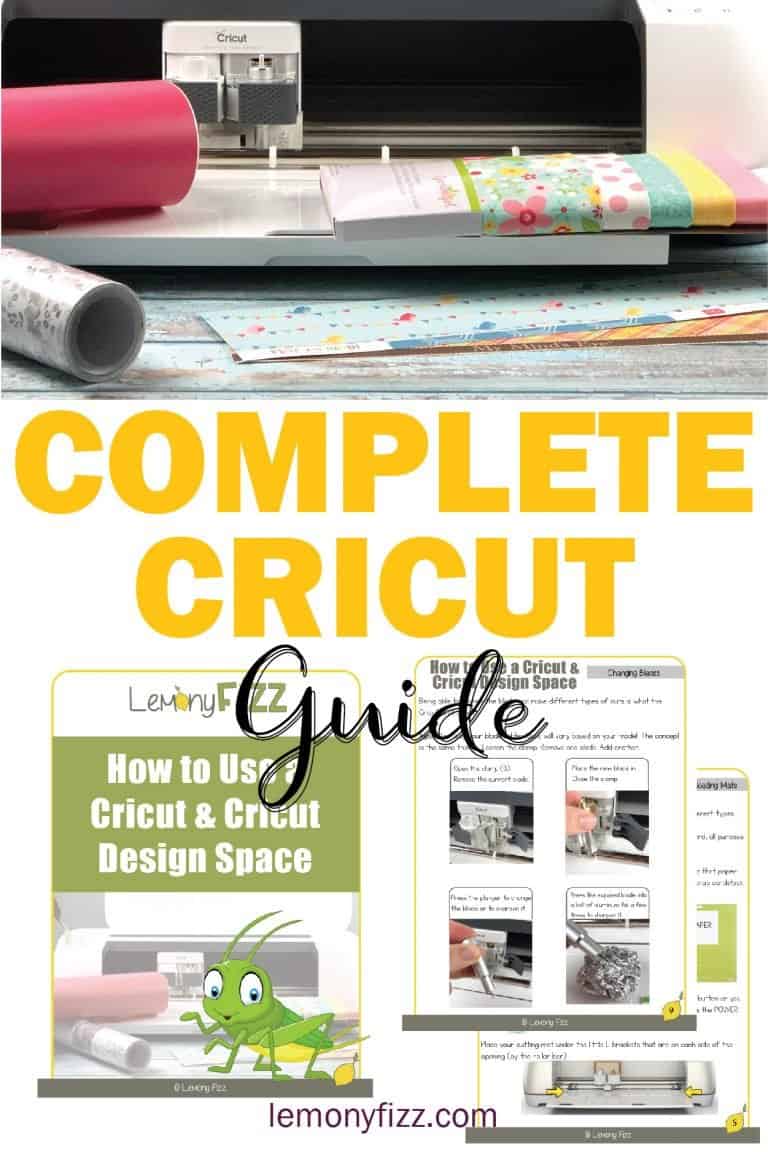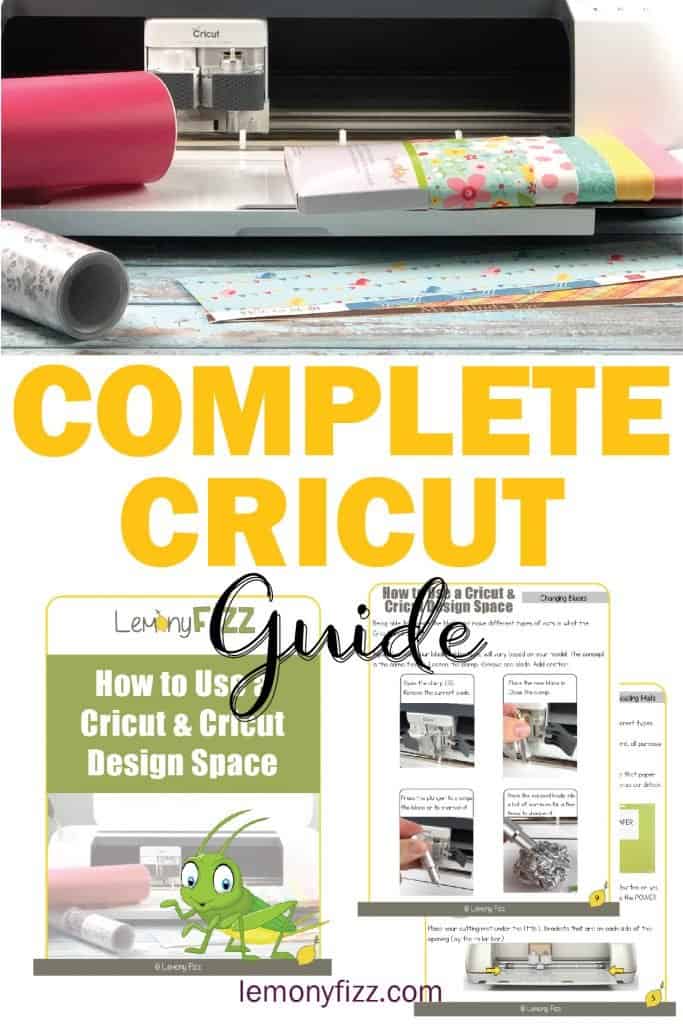 I Want to Make Beautiful Crafts…but I Don't Know How to Use the Software
Get the Cricut Design Space cheat sheets. They will all be right at your fingertips. A crafting bestie or tutor…on paper.
Want to use custom fonts?
Print and cut your own gift tags that make people wonder "OMG! How much did she spend on these"?
Change the scoring blade and make a card or raffle pull-apart ticket?
Create an inviting centerpiece for your holiday celebrations.
Make cute shirts for the whole family to wear.
Design craft projects that your kids will love.
Send warm greetings or encourage friends and family with beautiful handmade cards.
It will be just like having a Cricut tutor sitting by your side. Or your crafty friend who always just seems to "know how to make beautiful things".
With just a little bit of guidance, you can put that Cricut machine to work and really learn how to use Cricut Design Space.
This Cricut Guide Book Will Help You Get That Noisy Bug Out of Its Box!
Putting it to work is the hard part. You know how to plug it in. Turn it on. Maybe even load the cutting mat.
You need to tell that bug what to do. And to do that, you need to open up Cricut Design Space and navigate software that you are unfamiliar with.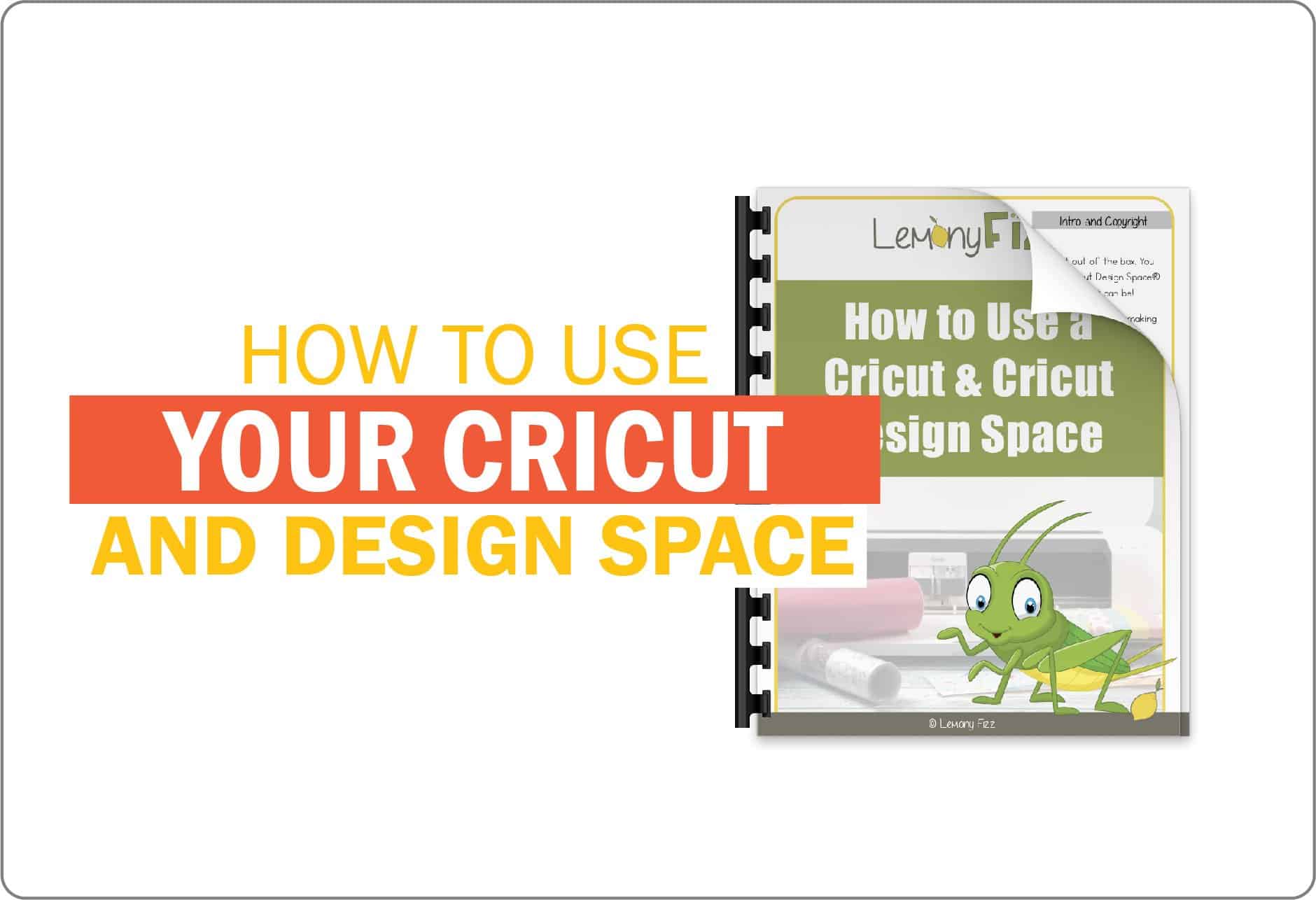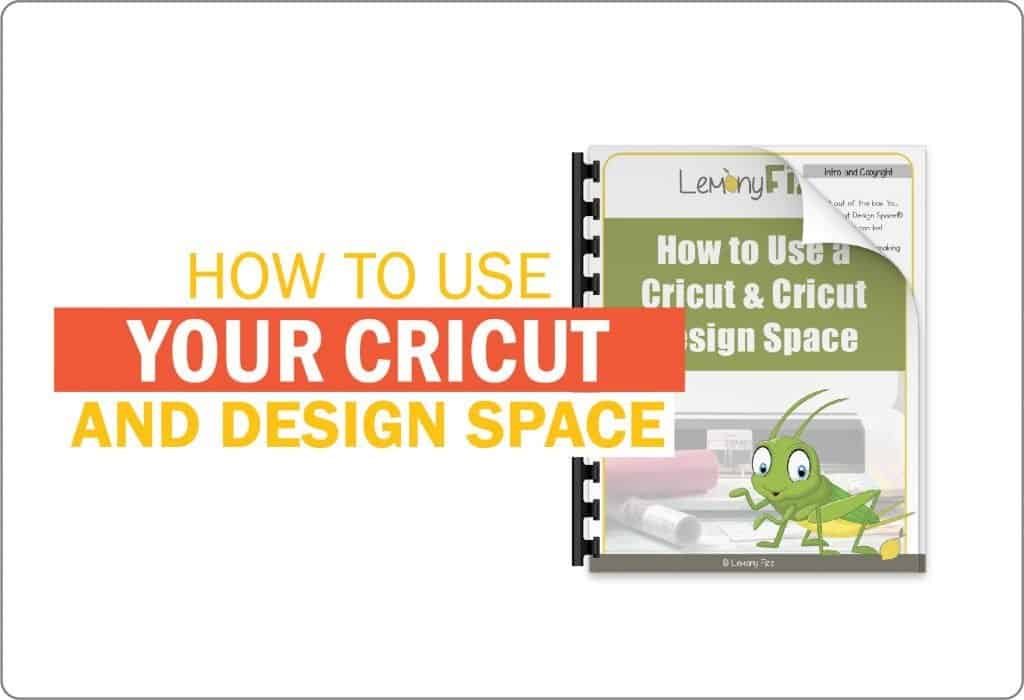 You are probably asking yourself "why didn't Cricut include a manual for this expensive machine". Good question.
They do provide some support in their help section…but that is a pain when you are in the middle of working on a project or you are working offline.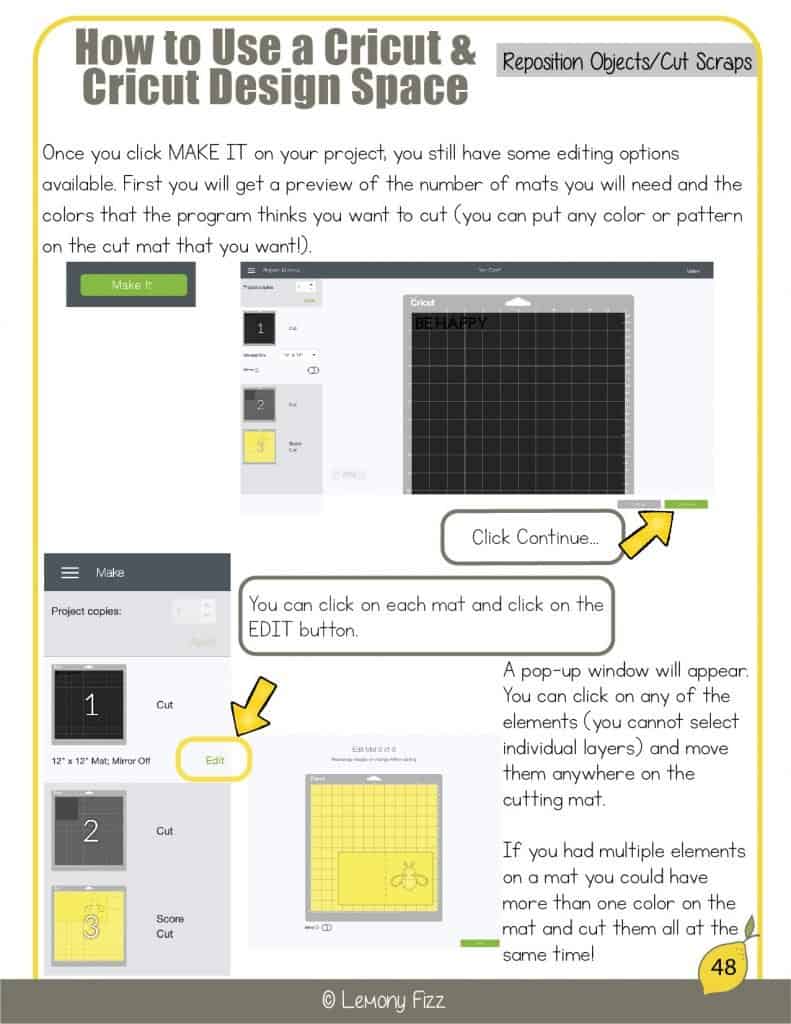 Start with the Basics…
How to take your Cricut out of the box and get it ready.
How to download and install Cricut Design Space
How to Open and Start a New Project
How to Connect to Your Cricut via Bluetooth
How to Attach
How to Group and Ungroup
How to Weld
How to Slice
How to Contour (Remove Parts)
And Then More Basics…
How to Curve Text
How to Align & Distribute Objects
How to Change Letter Space
How to Change the Font of Existing Text (new)
How to Score with a Stylus or Wheel
How to Reposition Items on Mat
Preview
How to Mirror for Iron-On Vinyl
How to Use Templates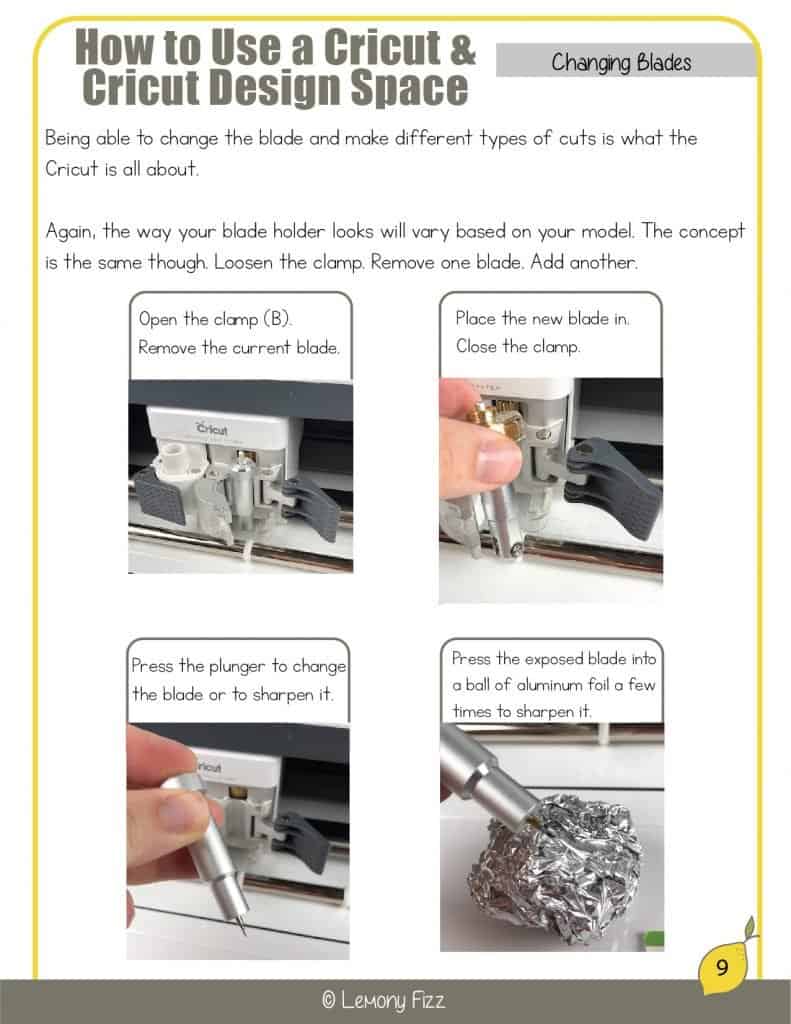 Then Learn More Advanced Techniques…
How to Use SnapMat to use paper scraps
How to Save Work and View Saved Projects
How to Share Links to Projects
How to Link Cartridges
How to Flatten
How to Print Then Cut
How to Upload Images
How to Remove a Background from an Image
How to Upload SVG Files (on your iPhone too)
How to use free fonts that you found online (and on your iPhone too)
Print the whole book out and keep it by your Cricut for easy access and Cricut Design Space help.
Use it as your guide for all those beautiful projects that you have been wanting to try but were too scared to start.
You can also access it on your tablet or phone. Does it get any better?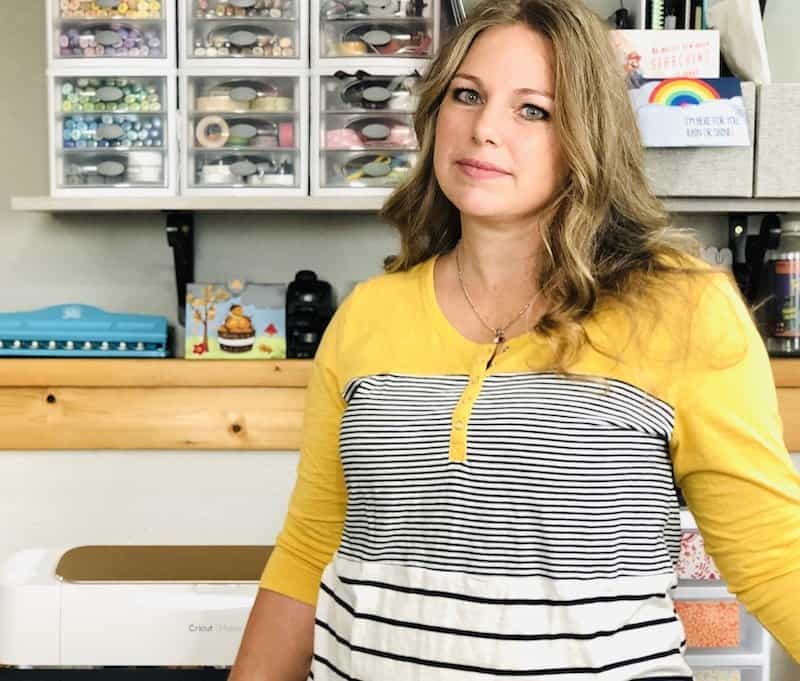 Being creative is something we are all born to do. Making something with your hands not only gives you a sense of pride…it makes you happy.
Way deep down.
In your soul.
I've been a crafter for over 20 years and equally addicted to technology and helping others figure out how to blend the two.
Frequently Asked Questions About The Cricut Design Space Cheetsheets
What's Included in the Design Space Guide?
Over 70 pages of quick and easy cheatsheets.
Is This Available in Printed Form (a real book)?
You can choose which way you would like to purchase this Cricut Guide. Click your choice below:
Printed Format (from Amazon Print on Demand)
You can print the pages you use the most, the full guide, or view it on your phone or tablet as you craft.
Why Doesn't Cricut Include This in The Box?
Cricut doesn't include a manual with the Cricut machine. They do have a "help" section on their site…but you could spend hours digging for answers.
This Cricut guide puts the answers at your fingertips, quick and easy.