It is time to find your "Planner Peace"
It is so very easy to fall in love with a planner system.
The giddy joy that comes with finding a planner that speaks to your soul. All those glorious different-themed sticker sets.
So why do you feel this nagging twinge of irritation when you use your planner? Why does it feel more like a chore to write your plans and schedule them? You were supposed to have this euphoric organized feeling. What happened?
Not to mention…you wonder why you should even want a cute planner when your days are so mundane? What are you supposed to write in there? Get up, go to work, come home, make dinner. Rinse. Repeat.
What about those days where you want to be more creative and have more of a bullet journal-styled theme?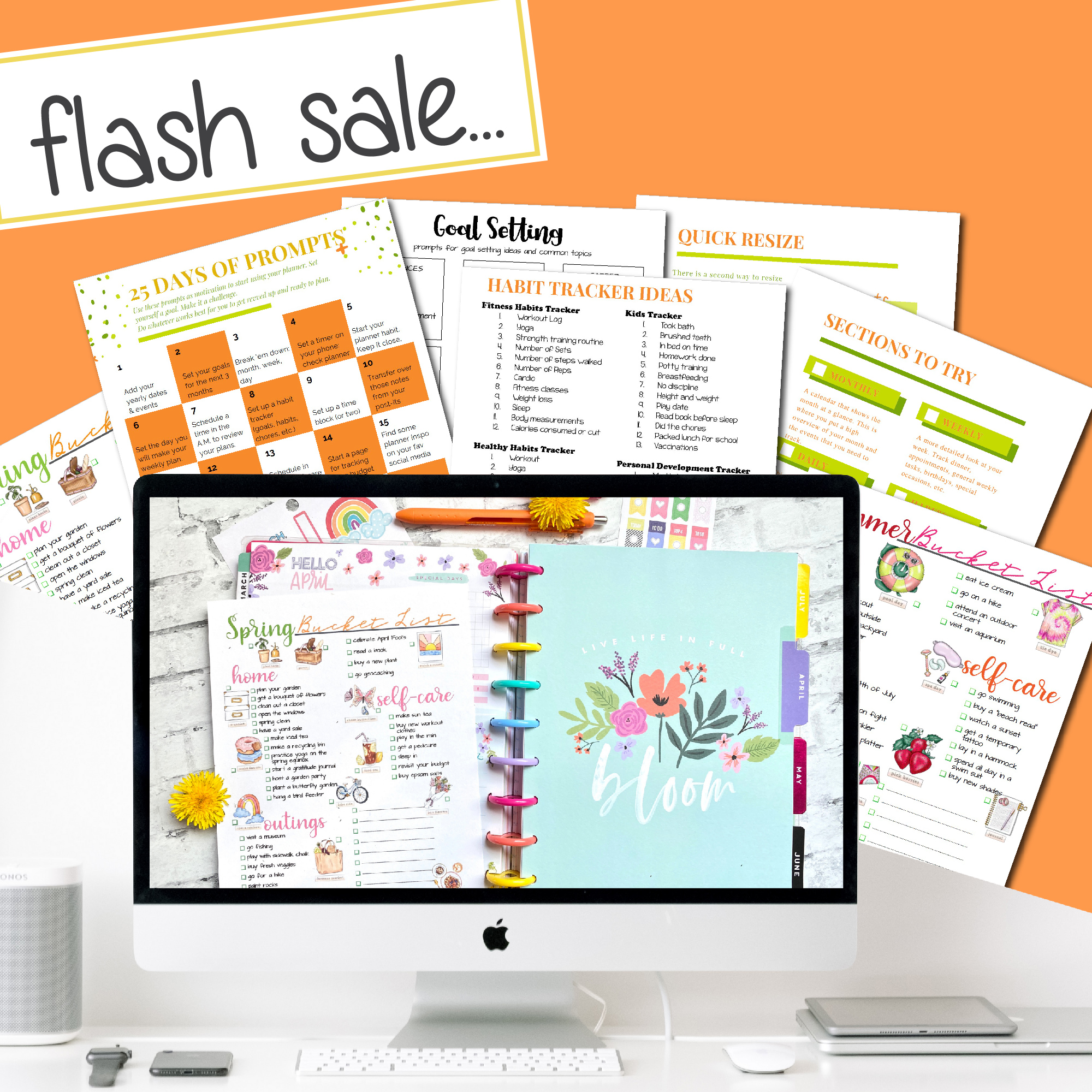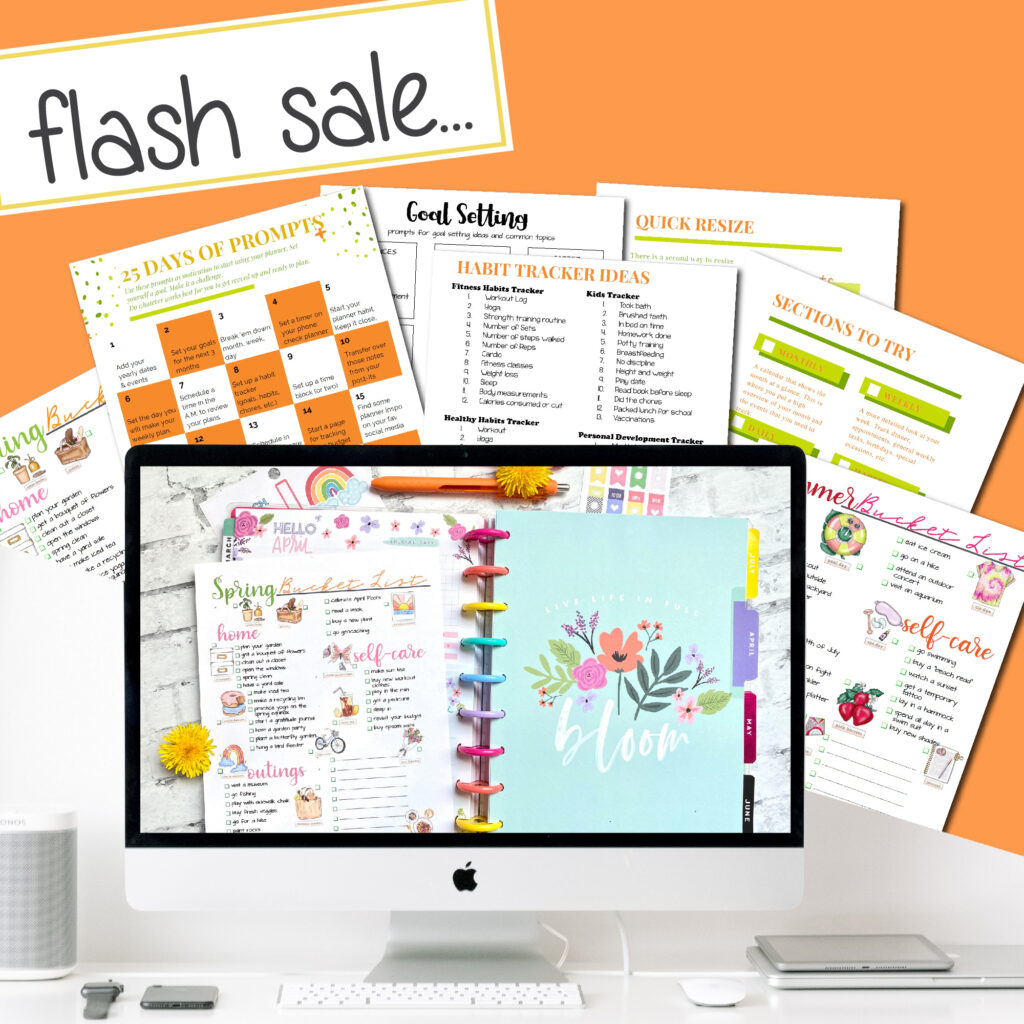 That is why they have coined the phrase "planner peace".
Your planner (and planning system) shouldn't make you feel bad. If you can't keep up with "proper" planning and you have bits, bobs, and stickies scattered all over, then it is time to pull it all together into your own happy system. Frankenplanner style.


You are less productive when you spend too much time worrying about your planner and it is a waste of time to continue struggling.
You have reminders and appointments in bullet journals, on post-its, in your Google calendar, and in the Reminders App on your phone.
Stop forgetting things. Don't miss your important appointments or rush to get to a meeting because you misplaced the time (again).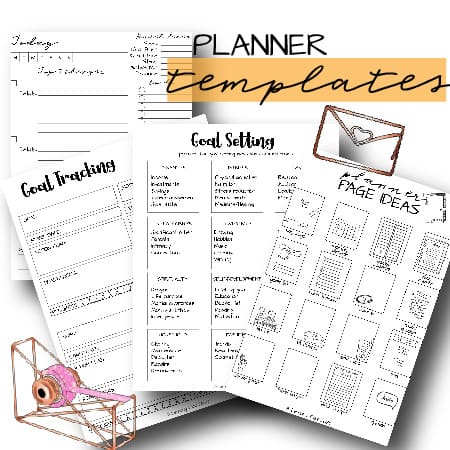 Design a System That Fits Your Needs: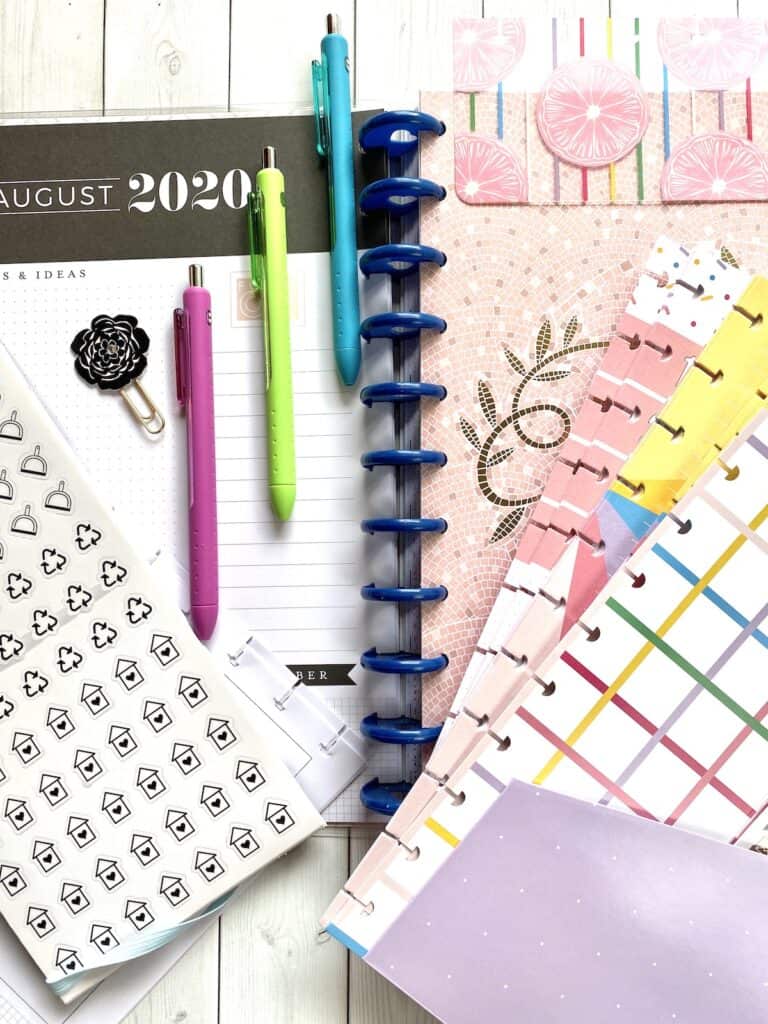 The majority of successful planners have found a way to alter their planner. They move things around, print out and use only the pages they love, and they make their planner pages fit THEM. Not the other way around…
(Not even kidding…I just saw an IG post of a planner who buys 4 (FOUR) planners and mixes and matches them all to make her ultimate planner for the year.)
I'm not far off with the 3 that I blend together mixed and matched with the pages that I print. I even include my daily journal and gratitude prompts in my regular planner.
There is no reason that you can't do the same thing with some planner printable pages. Think of them as your "planner companion" pages. They are there to help supplement your main disc-bound planner (or even a 3-ring binder) in a way that makes sense to you.
It Doesn't have to be Complicated
Bullet journal layouts and planner spreads can be GORGEOUS.
But what if you are not artistic?
Or you just don't have the time to set up that fun habit tracker the way you like?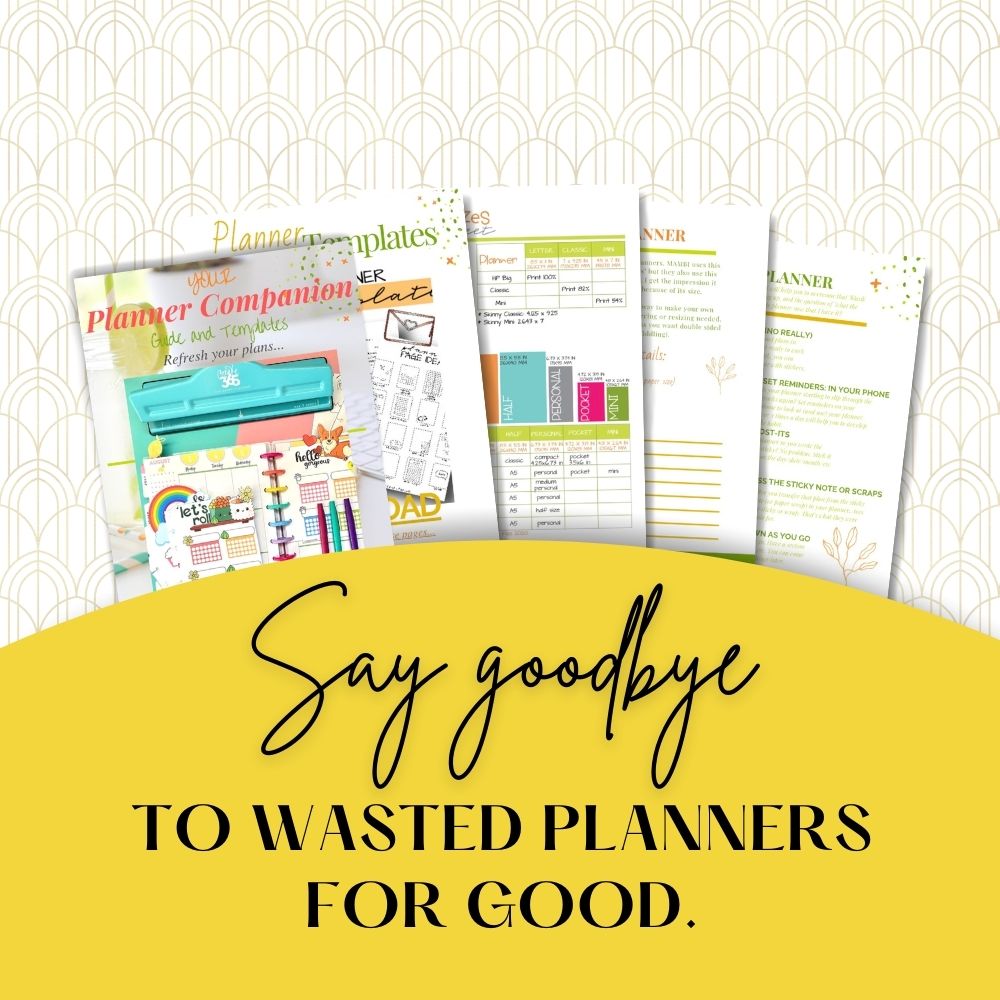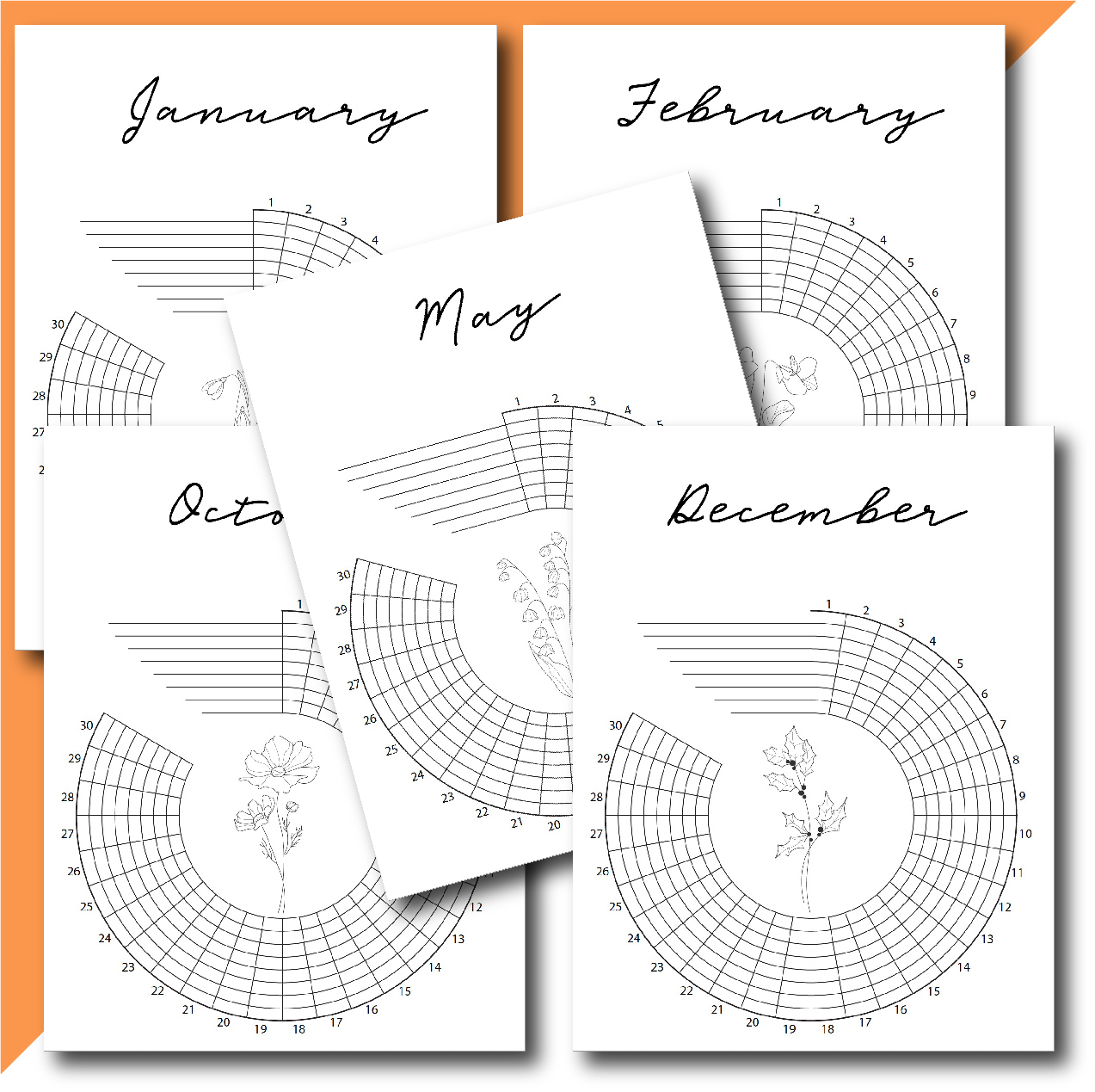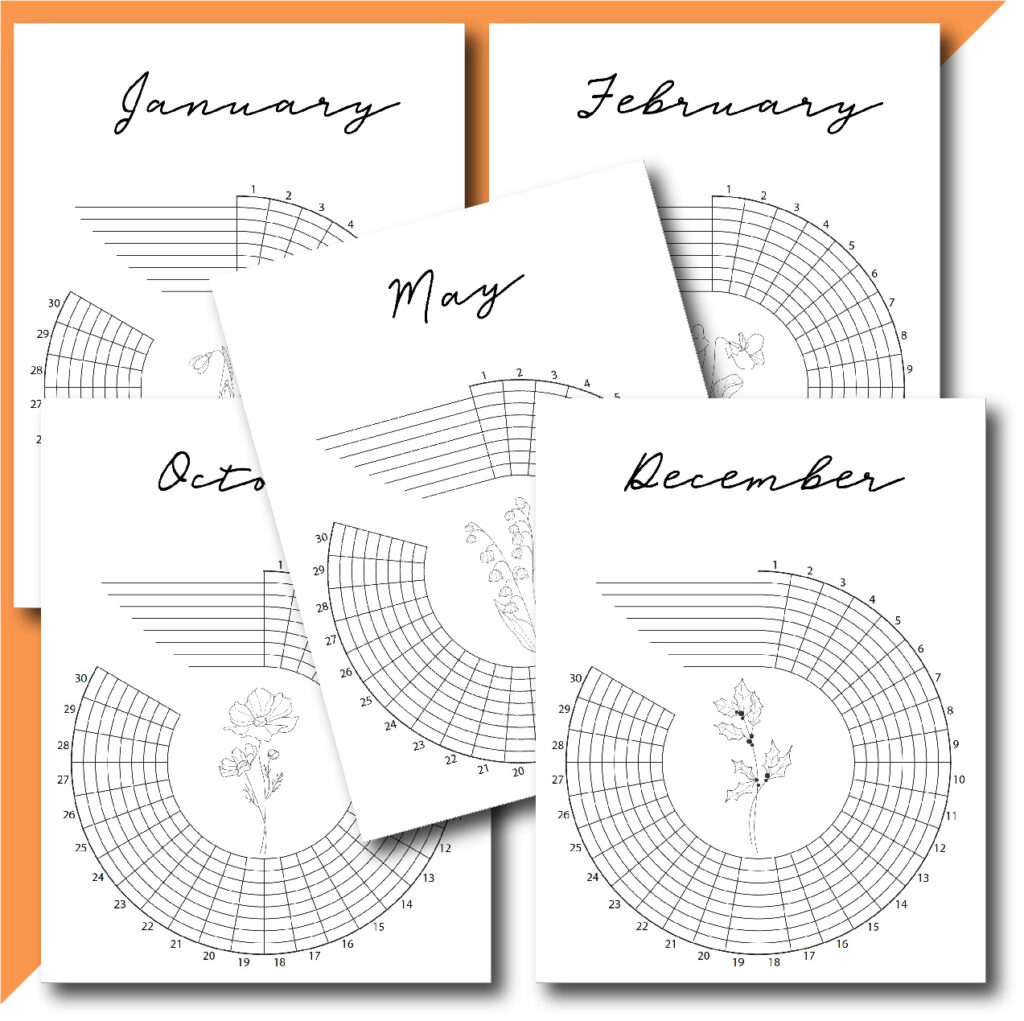 Print a few pre-made pages that you can quickly add stickers to. Punch them with a planner punch. Add them to your current planner and then get to writing.
Cute and colorful plans. Even when you are pressed for time.
Find planner peace by customizing your current planner with pages that you can print when you need them.
You'll feel a sense of pride and joy when you see them in your planner and they only take minutes to do.
You might not always need a custom planner layout. When you do…you will have a complete planner companion at your fingertips.
What do you need to get started:
That one that is hiding in the corner after your last attempt at being a "planner babe" or a "planner addict" will do nicely.
It doesn't have to even have to include up to date calendars or weekly pages.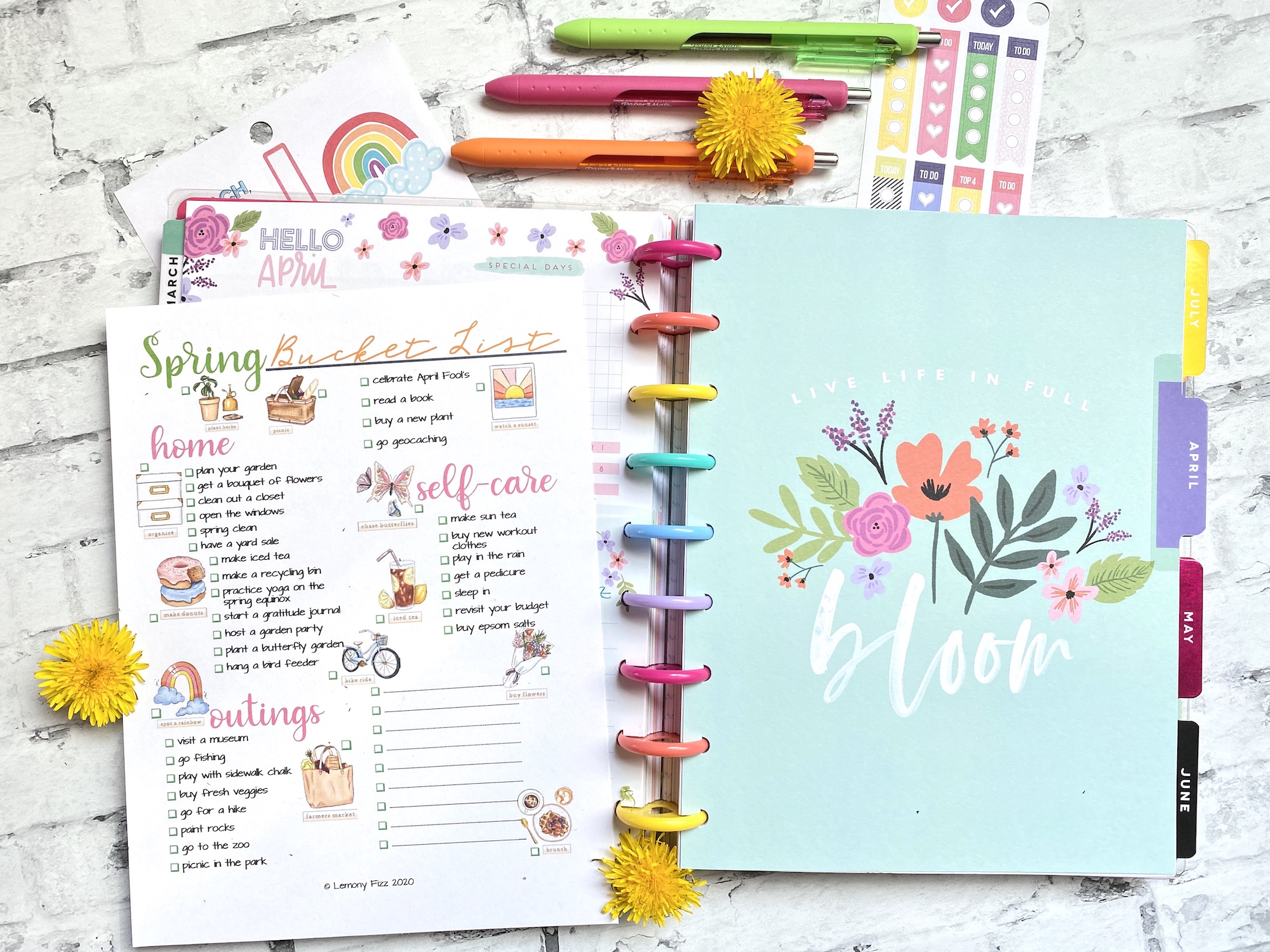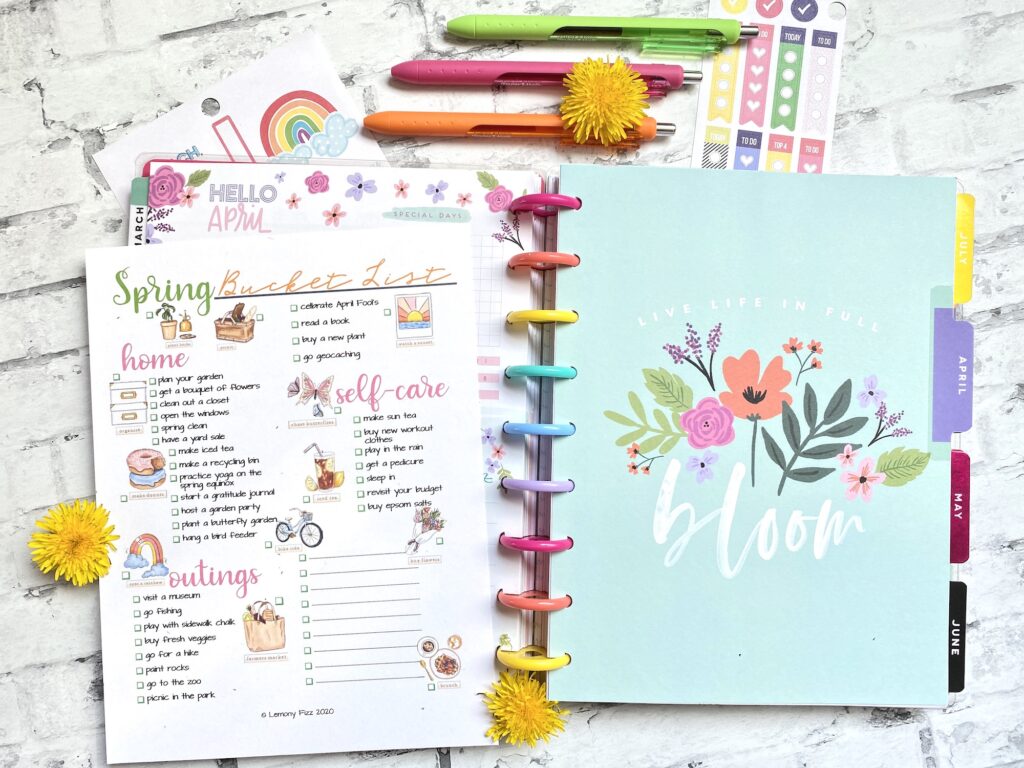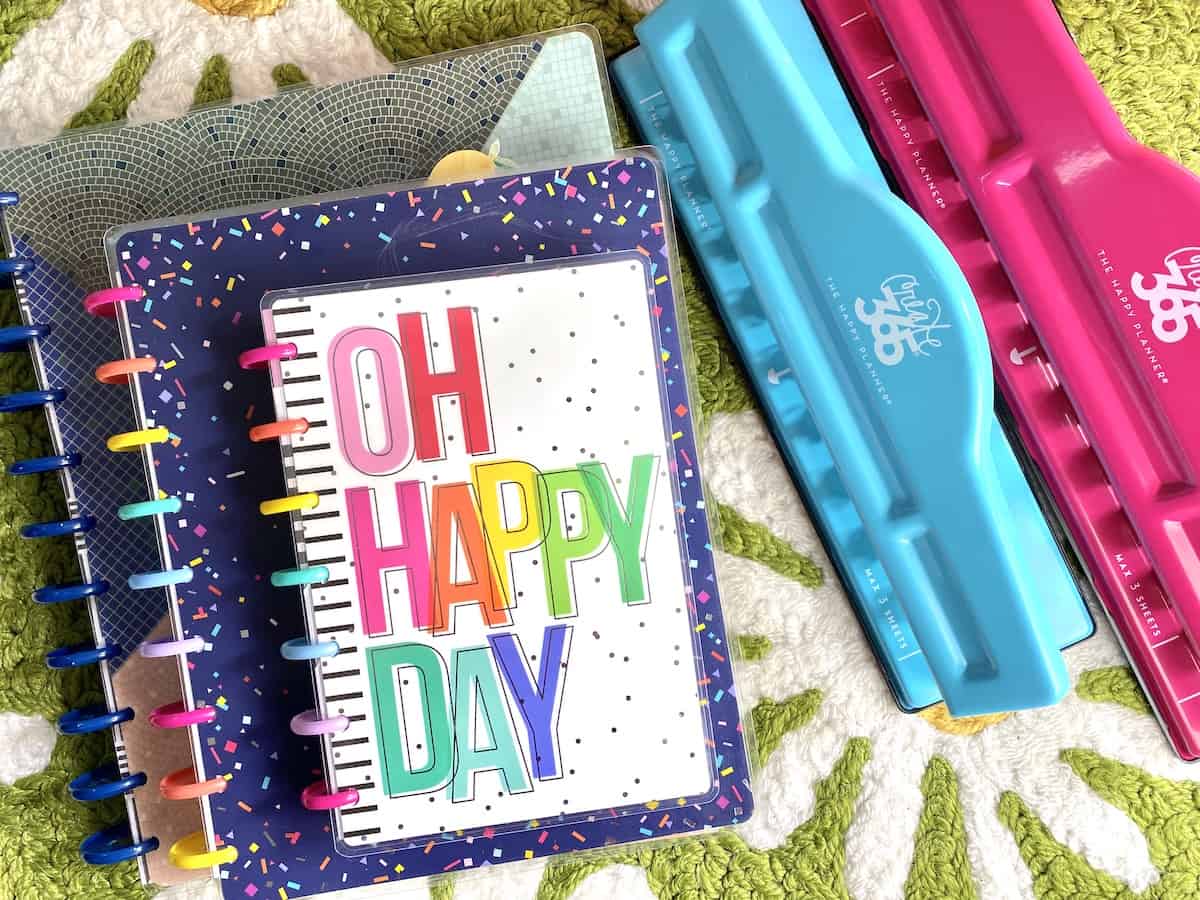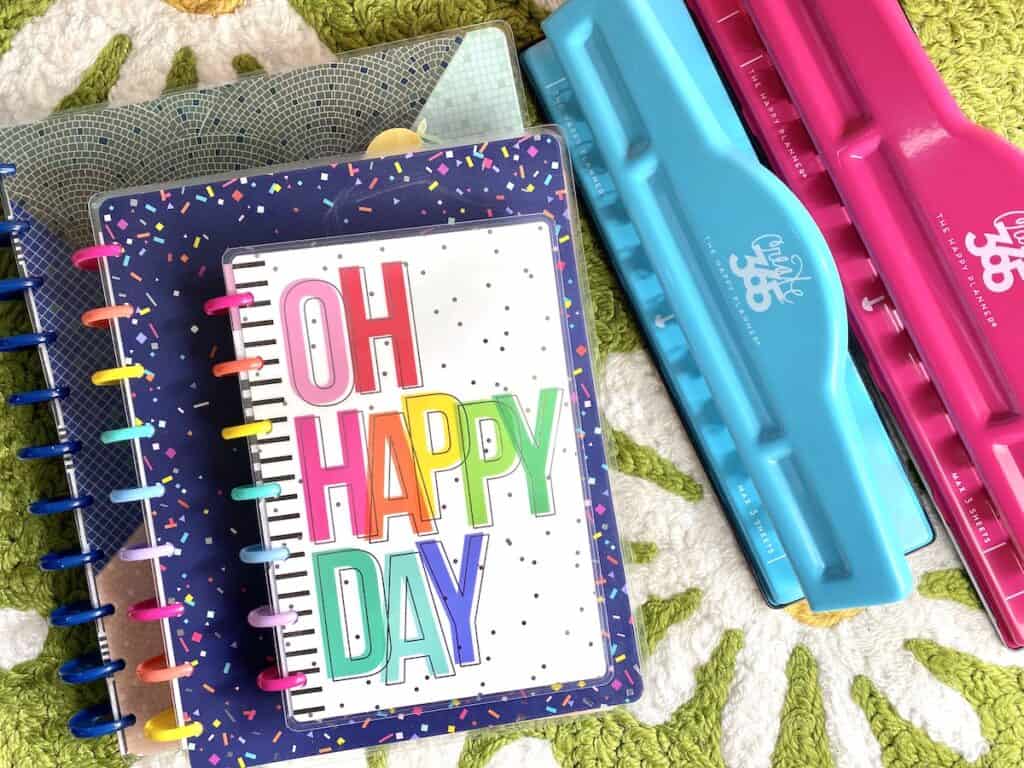 Just the binding system.
A hole punch that works with that binding system.
Printer
Some stickers (optional)
Fun pens…or any household pen you already have
This Planner Printable Companion Kit
Don't push this idea away just because you have tried out planners before and they didn't work for you. I've done the same thing.
The boxes of journals and planners in my craft room are evidence that I can't handle a regular, straight off the shelf planner.
Now I'm better at picking and choosing the expensive supplies I want (I'm looking at you… sticker books). I also know how to mix and match to make my planner work for me.
How Will Designing a Frankenplanner Help…
You can skip pages in your planner (gasp).
Printing a few companion planner pages for your regular planner means you can move those stock pages out. Put them in the back. Save them for a custom sticker-covered layout.
Use them for scratch paper.
Design a whole new planner layout with them (did you know you can make a vertical layout spread into a dashboard spread. Learning this finally brought me planner peace).
…or you can toss them.
Yup.
They are not serving you or your purpose. Let them go.
You still love your planner, but sometimes you want a different style layout. Or maybe you are feeling creative and want more of a bullet journal style spread.
Having a disc-bound system (or ring binder) means more flexibility. You can use pages from this printable companion. Add habit trackers or bullet journal style collections. It is okay to blend it all together.
You can still use task and note bullets or habit trackers in a planner. Create collections and divide them with tabbed dividers.
Daily to-do lists and shopping lists can be moved as needed.
Laminate the pages that you can reuse or that you want to set up as a "key" or "index".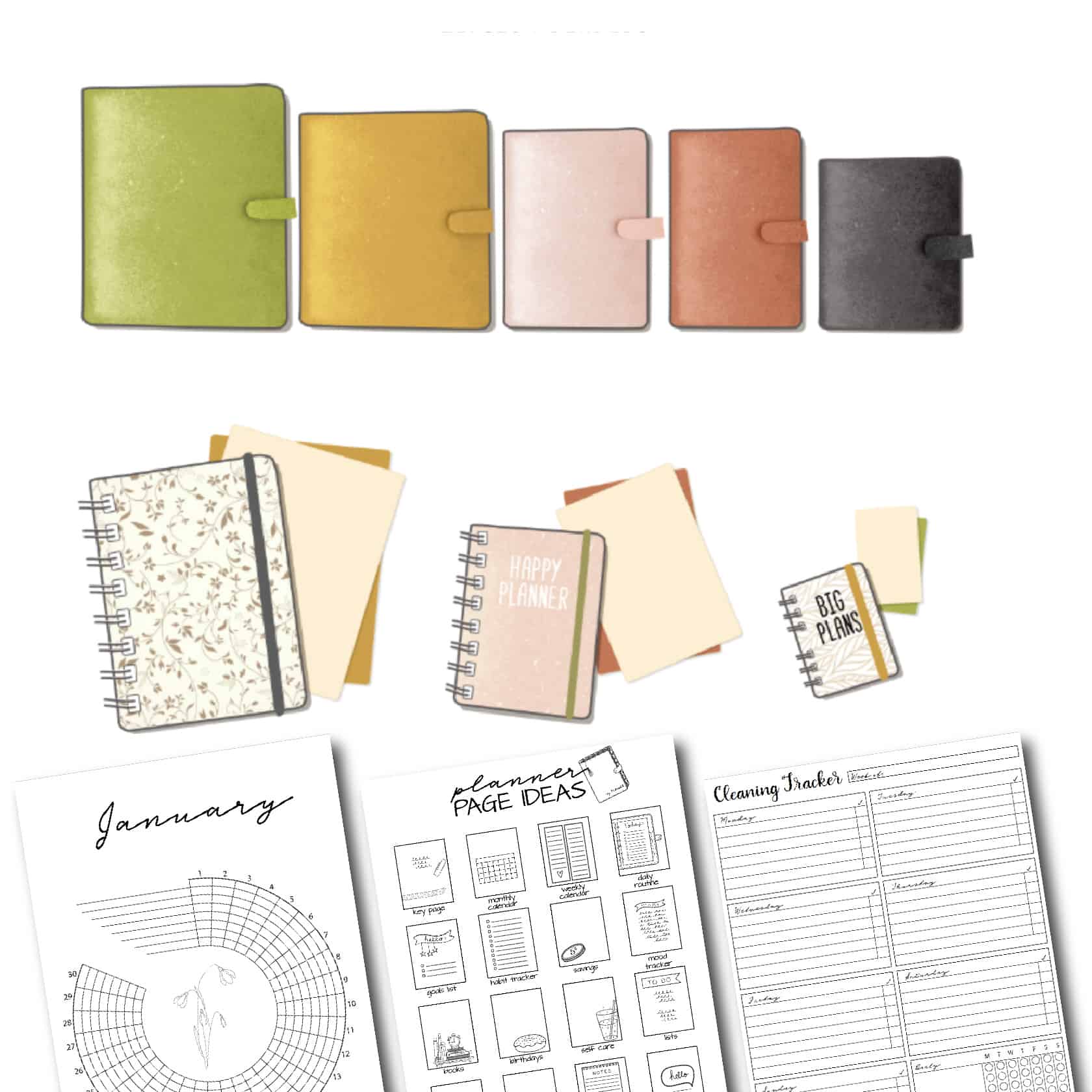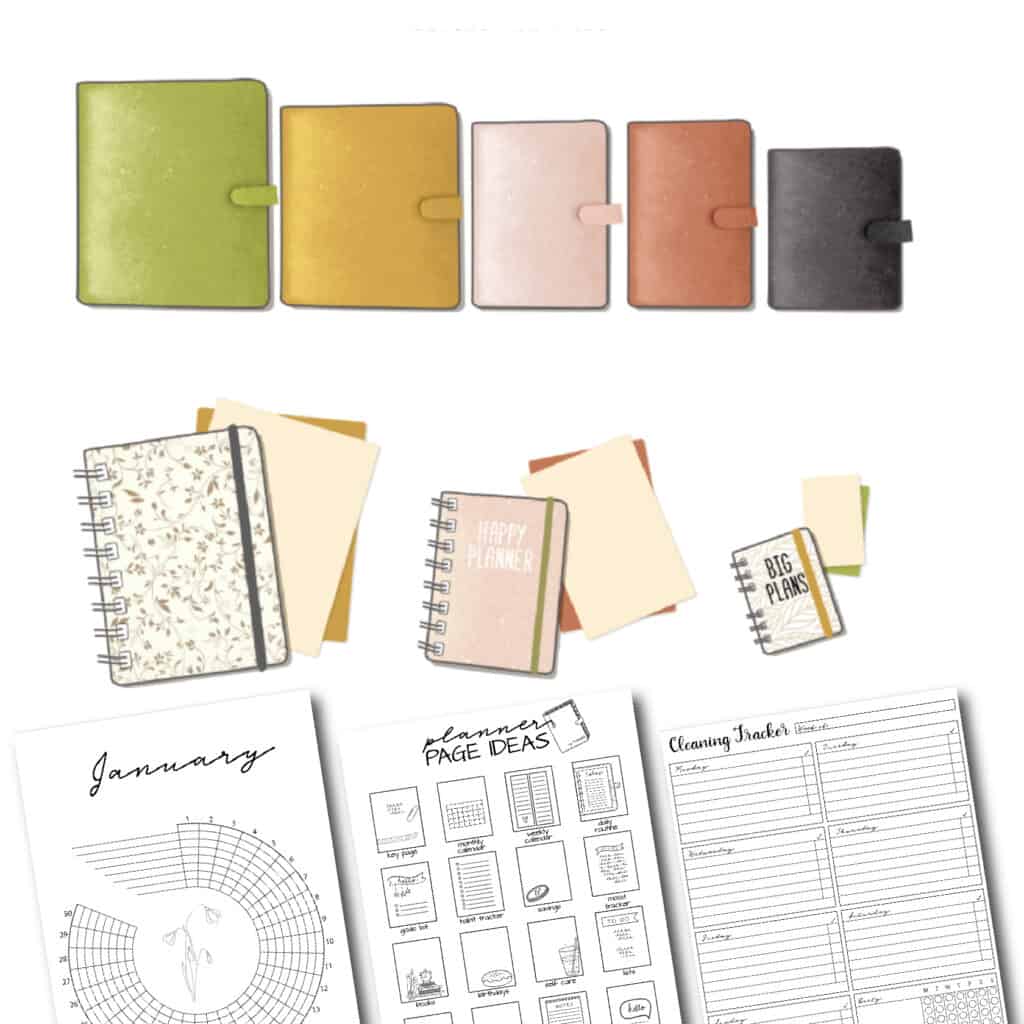 What is included?
This DIY planner kit is not just about the printables. It is about USING your planner system to organize your life and successfully find planner peace.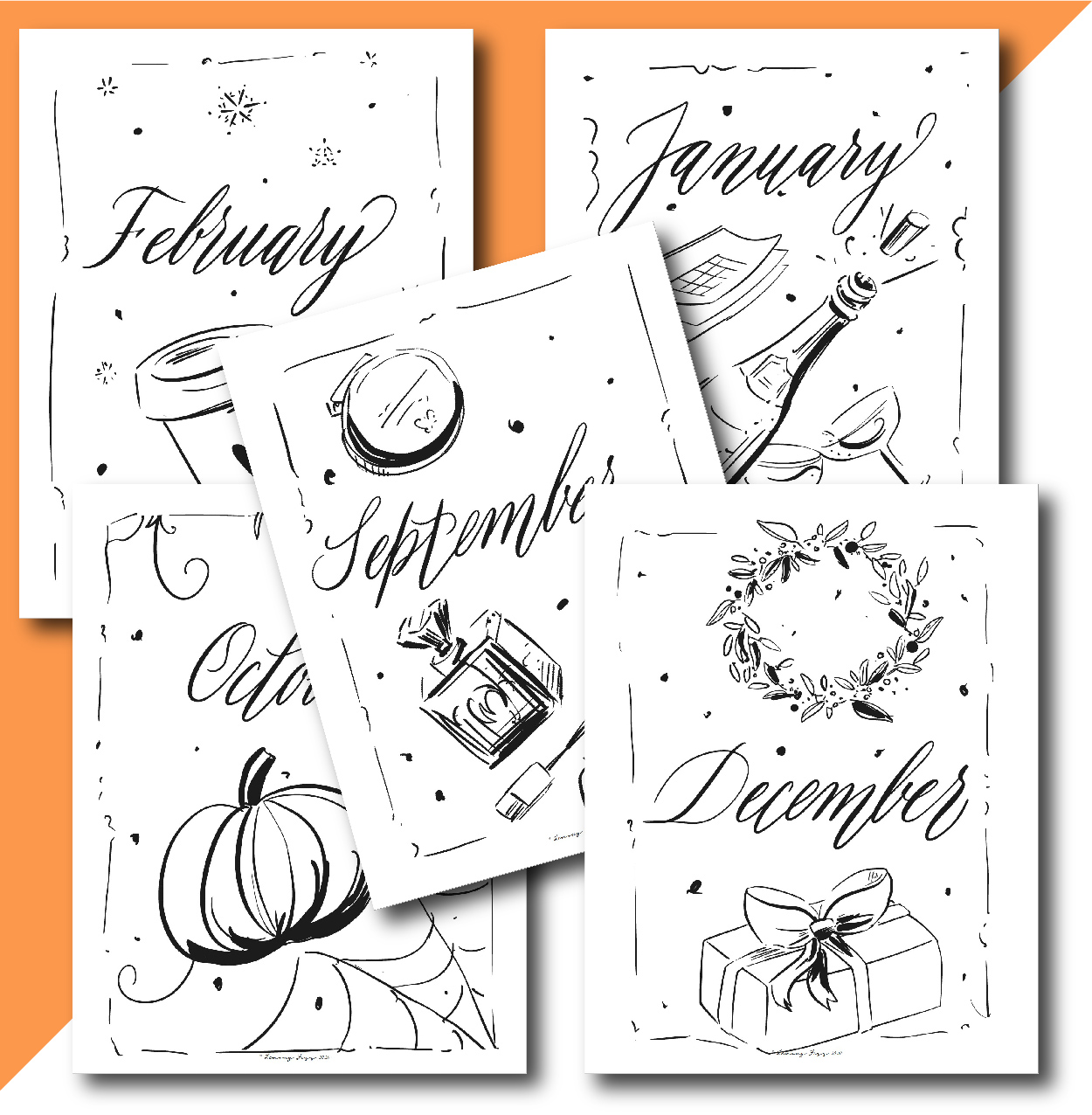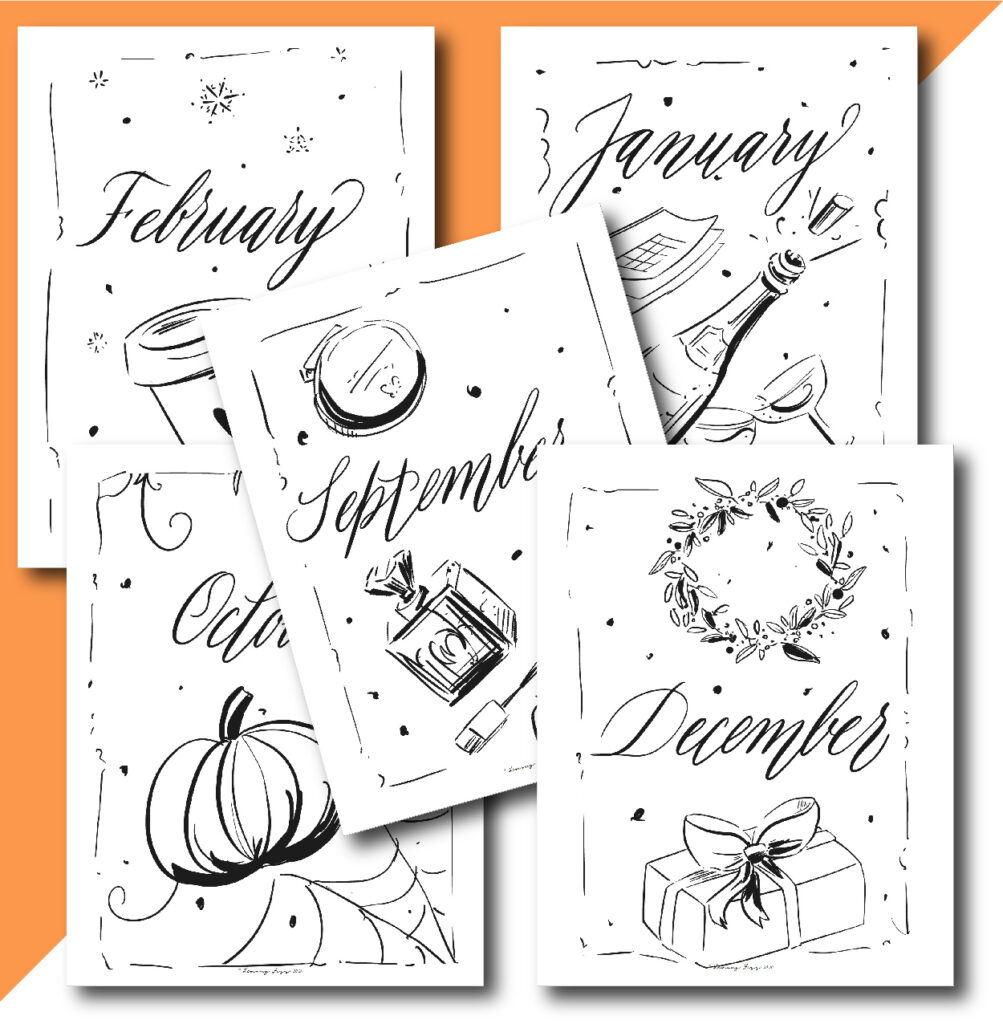 80 + Planner Printables
12 Monthly Dividers
Planner page size cheat sheet
Planner Glossary
Page suggestions for an effective planner
Reference list for over 165 trackers
How to Resize Planner Printables
Choose the Best Planner System for You
How to Use a Planner (and prompts to keep using your system)
Monthly planner themes, a full printable monthly calendar set.
The ability to stay on task, continue to use your planner, and someone to bounce ideas off of when you are feeling that "where do I start" wave crashing on you.
ideas to set up your planner and actually use it
monthly calendar spreads (undated, Sunday start, Monday start)
12 Bujo collection pages (books I'm reading, movies, etc.)
Envelope savings system printables
A full budget printable (22 pages) for your household finances…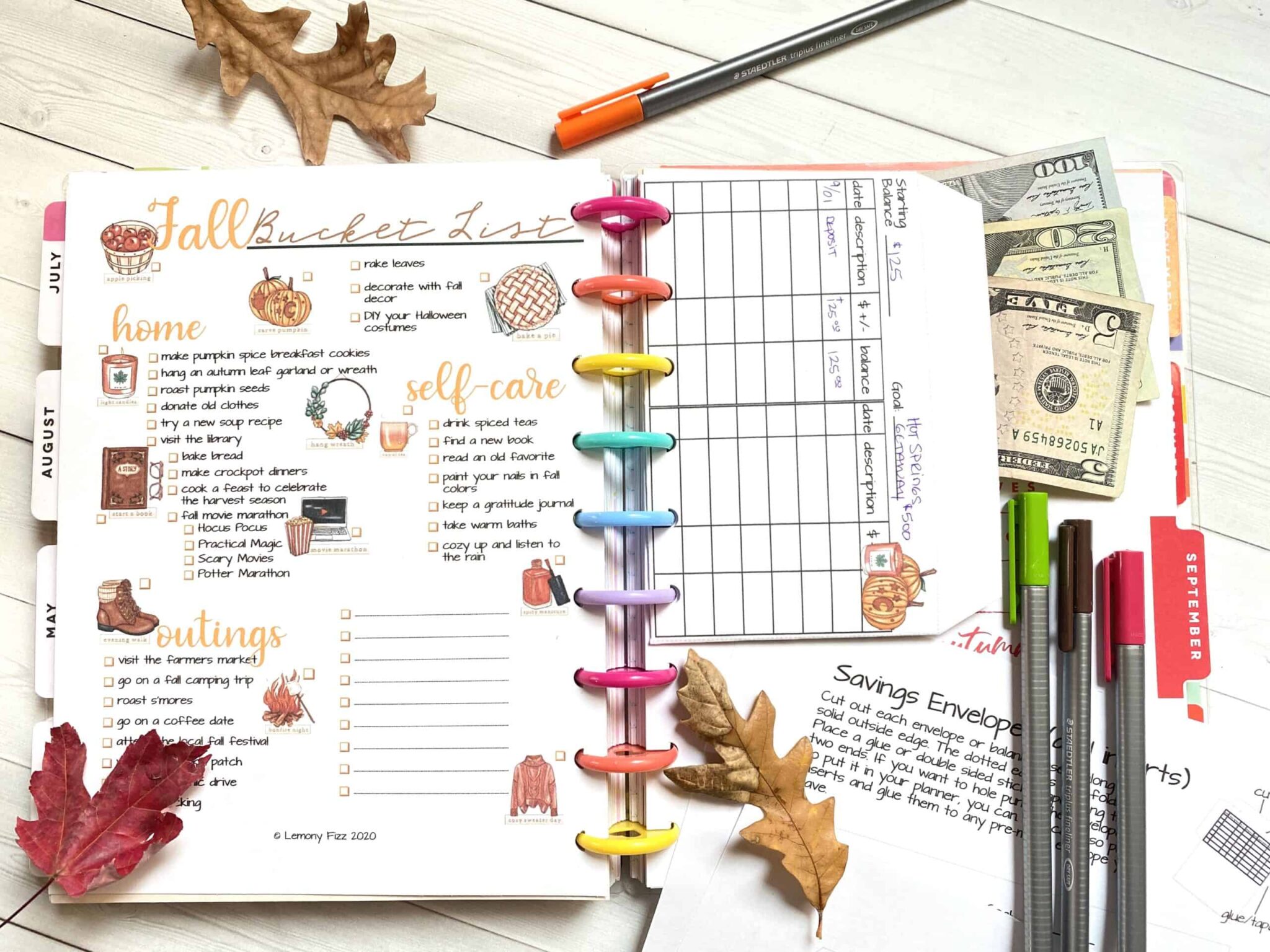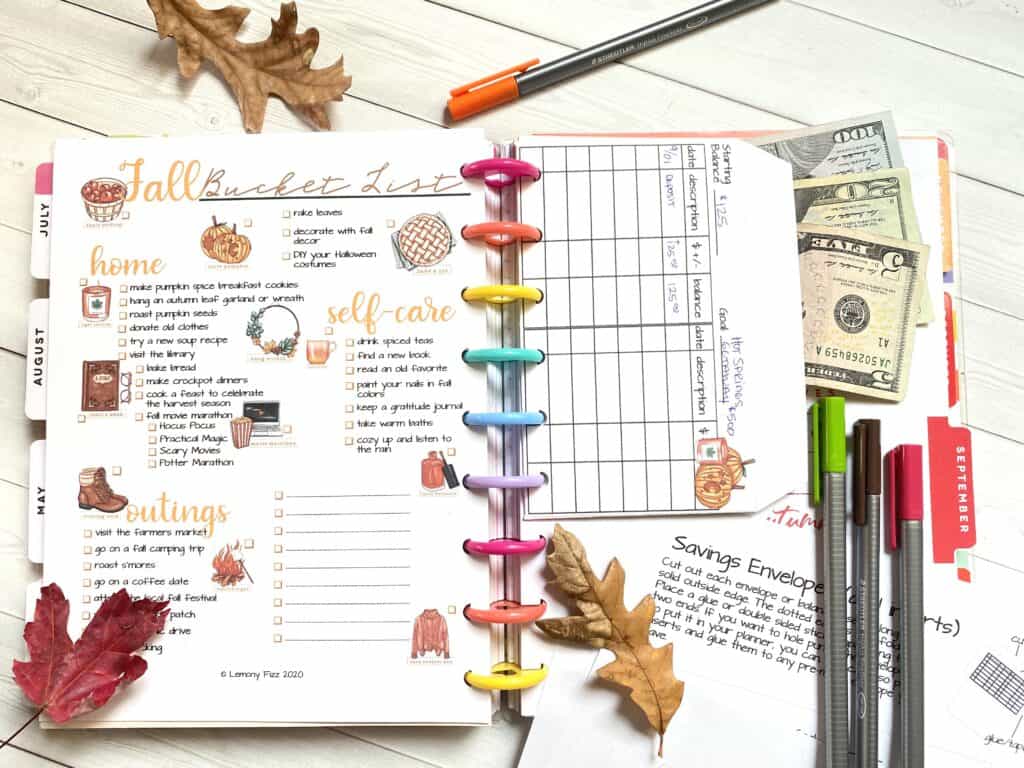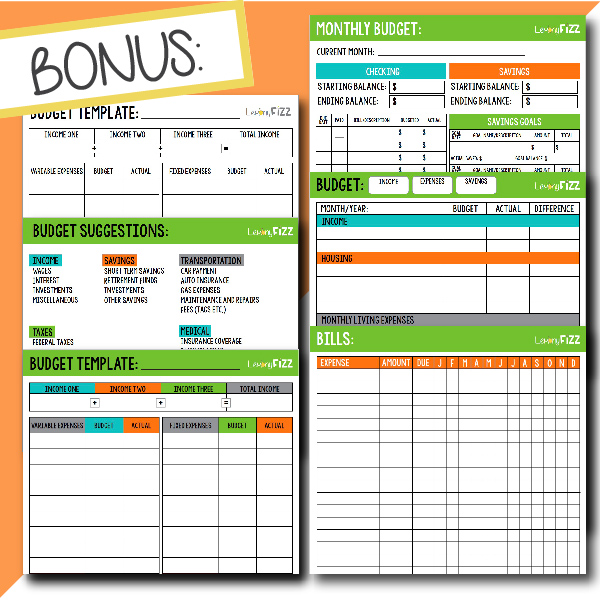 Budget Suggestions
Budget Template
Monthly Budget
Budget Bubbles
Bills, Savings and MORE
I Still Have Questions…
Why would I buy a planner templates when there are so many online for free?
There are a TON of free planners available online. I've even downloaded my fair share. What I have found is that because they are free, I forget about them. Download them and then POOF they vanish into the nether regions of my device. The other issue with free templates is they are usually not cohesive. One page has bright fun colors. Another is muted or has a funky font that just doesn't fit my style. This set of planner templates is designed with a similar style (that you can totally customize with stickers) and cohesive fonts.
I've tried to use a planner and I just don't think they are for me…
You and me both. It took me a loooong time to figure out that it wasn't my ability to plan that was an issue. It was my planner and the constraints of all those little boxes. You can totally be a "planner person". It is just a matter of finding the right style and templates for you.
What if I don't even know where to start with a planner?
That's why I'm here. To help you get started on redefining the nature of your relationship with your planner. We take it back to basics and discuss what sections are best in your planner, what steps you should start with when using your planner, and how to build your planning into a habit you can continue. You're going to fall in love with your planner.
Don't I need to already have a planner?
Nope. You can be a brand spankin' new planner wannabe. Or you can be a planner collector. This system is set up so you can start where you are (or where you left off) and just get going. Turn a new page and start planning.
Couldn't you just print one or two templates off Etsy?
Etsy has some AMAZING templates. Not gonna lie.
The problem with just printing one or two that you buy there is that you don't get the cohesive planner experience. You get a few pages that get you started but then you are left wondering why your planner is collecting dust again. This DIY Planner kit isn't just about printing out templates. We can print all the free templates we ever wanted. This system is about breaking down your planning mindset and starting fresh. Challenging yourself to set up a planner you love and then using it. Consistently.
How much time do I need to invest?
The most time you will spend on your planner is setting it up. There will be an hour of two for printing, hole punching, and organizing the pages. Once you get this done then it is just a matter of planning your schedule and writing up your to-do list for each day. If you want to spend between 30-60 minutes each week decorating your planner, that is entirely up to you and your planning process. Most of us love to use our planner for some creative play time too. There are even coloring pages and mandalas in some people's planners.
What do I get again?
You get over 50 printable templates to pick and choose from (you don't want or need to print them all). Monthly dividers, habit trackers, goal setting pages, and budget planners. You also get guides and how-to instructions that cover resizing your template printables, the best supplies for beginning planners, the difference in planner sizes, how to goal plan, and how to productively use your planner.
How do I get my stuff again? Do I get anything in the mail?
The DIY Planner Kit is a digital download. Once you hit that buy button you'll be taken to a link to download your kit. Nothing comes in the mail. No need to wait.
Can I get my money back?
Due to the digital nature of this planner kit, there are no refunds. Sorry.