We may earn a small commission for purchases made through affiliate links in this post. For more information go to our Privacy Policy.
If you are handy with a design program you can create a circle monogram design with any font that you wish.
The problem with this is, there are a load of fonts that just don't work as a monogram. And you are going to frustrate yourself to no-end trying to make it work.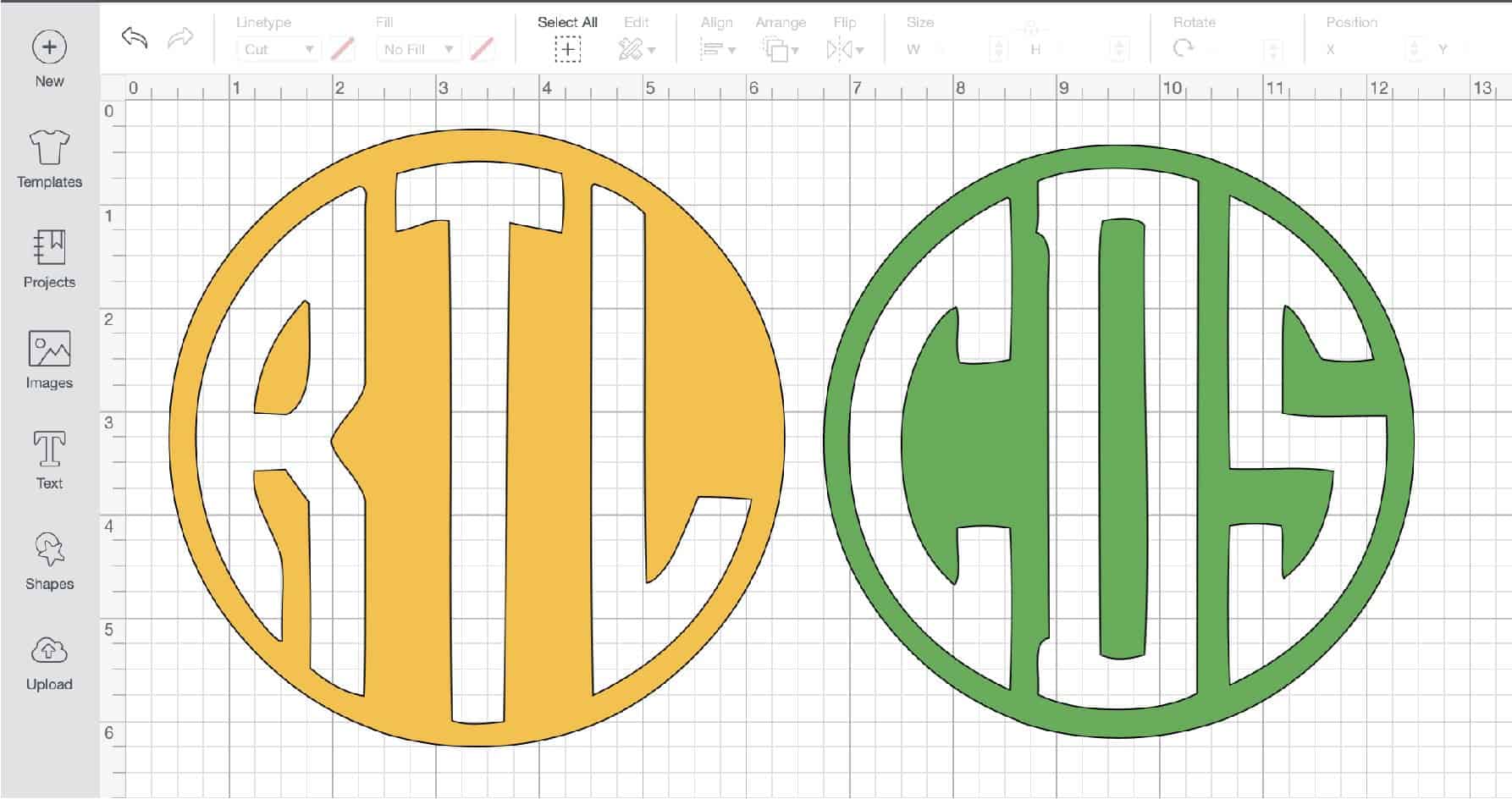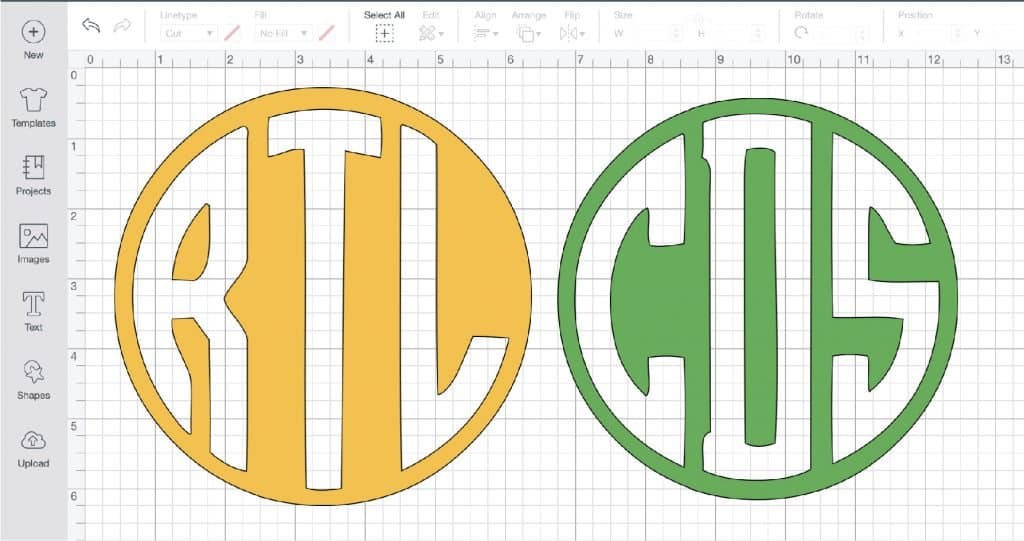 Making a quick and easy circle monogram with a downloadable font is a great way to save yourself some headache!
When you have a minute, you can check out this tutorial on YouTube to make a split-letter monogram as well. Don't forget to hit subscribe.
Create Monograms in Cricut Design Space
Making a circle monogram without a specific monogram on the Cricut is hard. Unlike the Silhouette design software, you cannot grab the edges of your font and pull them into a circle shape.
So what happens when making a circle monogram with any old font in Cricut, is you get a really cruddy looking monogram.
Let's fix that and make a well-designed circle monogram, shall we?
Start by downloading this free font here on DaFont.com: Monogram Font

Pro Tip: If you are using this font for commercial use (ie. you plan to sell your designs or the products you make with these designs) you need to buy the font.
Closeout of your Cricut Design Space if you had it open. When you install fonts while the program is open, it will not recognize newly installed fonts. It's best to just have it closed while you install a font and then open it up to work.
DON'T forget to save your work if you have other elements on the canvas!
Once you have the font downloaded to your system, we are ready to get started making the circle monogram. Launch your Cricut Design Space and start a new project (or open an existing one).
Type the first letter of your monogram. My initials are RLT so I am going to type my monogram so the T is in the center. It will be the largest letter and the other two will be on the outside edges: RTL.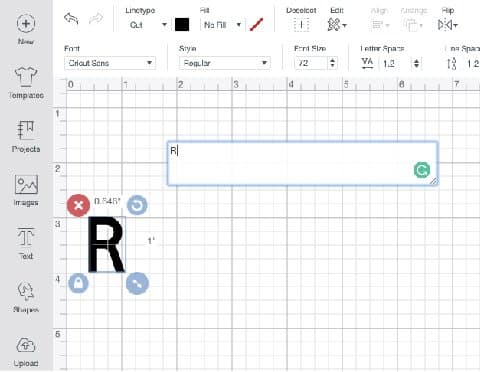 Once you have your first letter typed, select it (so there is a bounding box around the letter) and go up to the font selection menu.
Click on SYSTEM and then start typing in the name of the circle monogram font (MONOGRAM). When it pops up into your list, select it.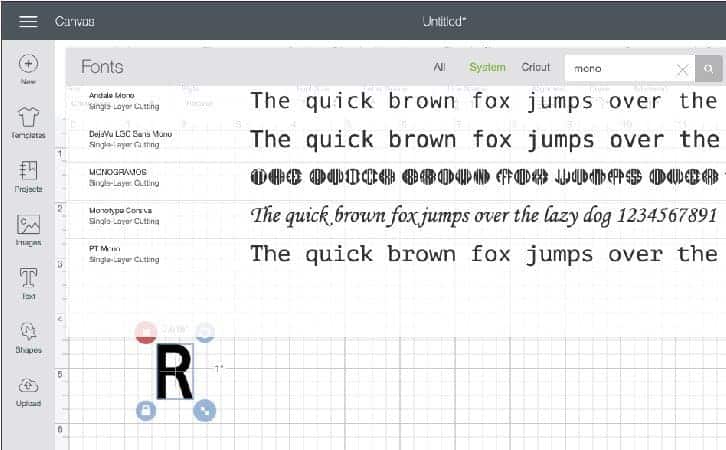 You now have a circle monogram that is filled with just one letter. We have some work to do!
Size the monogram so it is a measurement you will remember. 4 or 5 inches is good. This gives you some room to work and you can see your design better!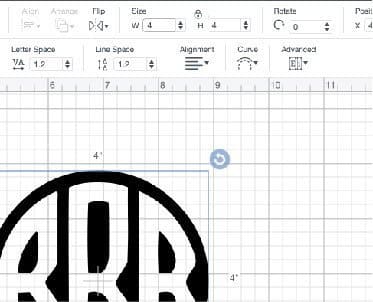 Pro Tip: You can size the design by clicking on W for width or H for height and typing in the measurement you want.
Click on the SHAPES tool and create a square the covers the right-hand side of your monogram. You only want the left letter to be showing.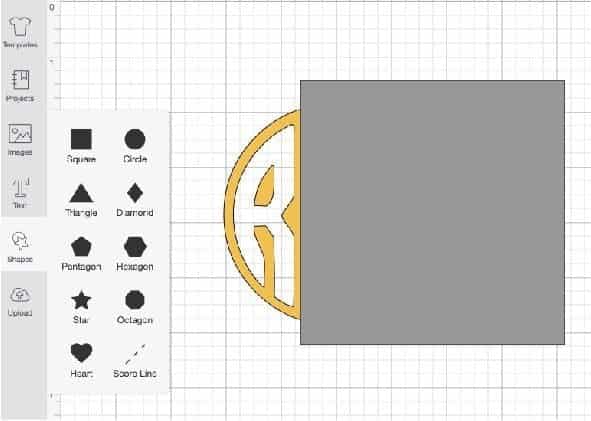 NOTE: Try to divide the space between the two letters the best you can. The more accurate this part is, the better all 3 pieces will go together at the end to make a new circle.
Now select the two objects and click on the SLICE tool at the bottom of your right-hand toolbar.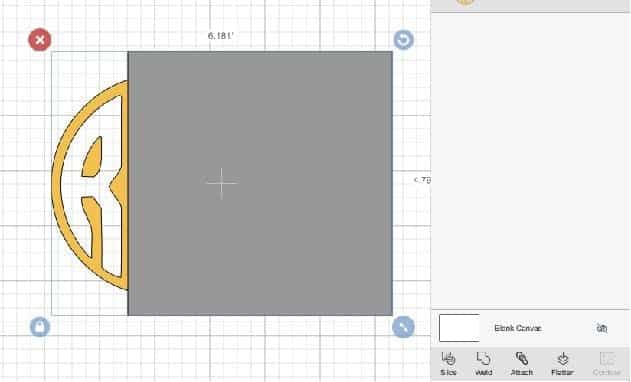 Delete the rectangle and the two right-hand letters. You should have one-third of a monogram. We are going to repeat the process for the other two letters.
Click on the TEXT tool and type your middle letter.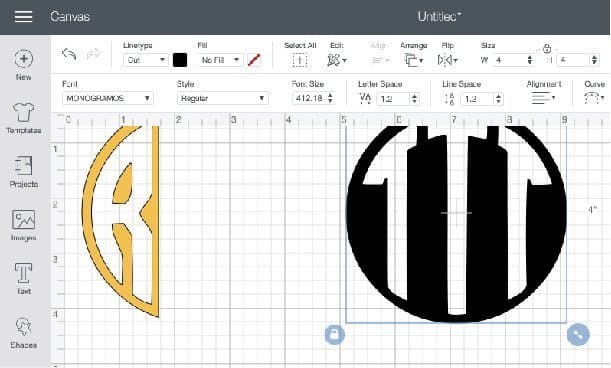 Resize the monogram the same way you did the first time (4 or 5 inches).
Click on the SHAPE tool and create two squares this time. One for each side of the circle monogram.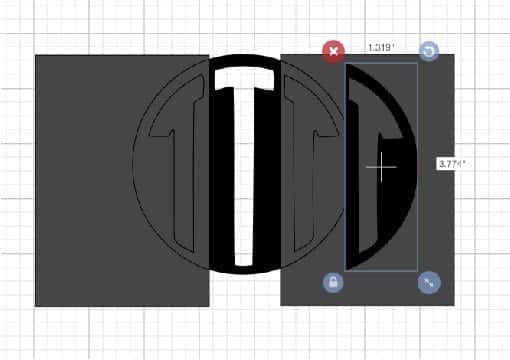 Pro Tip: Click on the padlock above the WIDTH and HEIGHT. This will let you make a tall skinny rectangle instead of a square.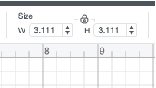 You can only select two items to SLICE at a time. Select one rectangle and the monogram circle.
Click the SLICE tool. Then click the second rectangle and the monogram and click SLICE again. Delete everything except the middle letter.
Pro Tip: if you had both of your rectangle created before you clicked the slice tool the first time, it will move your design in front of the second rectangle. You CAN still slice with the rectangle in the background!
Move this second circle monogram piece over to the corner and click on the T for TEXT one more time. Type in the last letter for your monogram.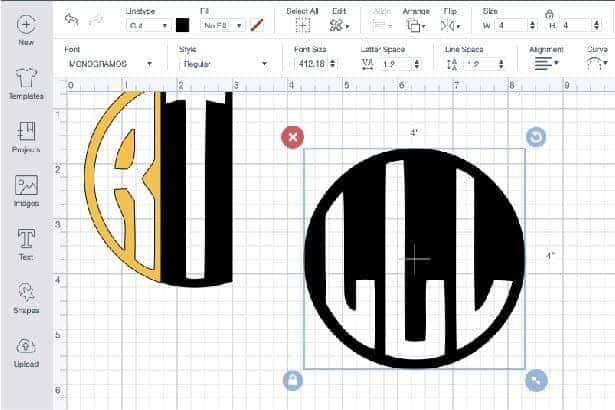 Resize the letter to 4 or 5 inches and then click on the SHAPE tool for your rectangle. Select the two objects and then click on the SLICE tool.
Delete the left-hand letters this time and move the right-hand letter up with your other monogram letters. It is time to put them together in a circle!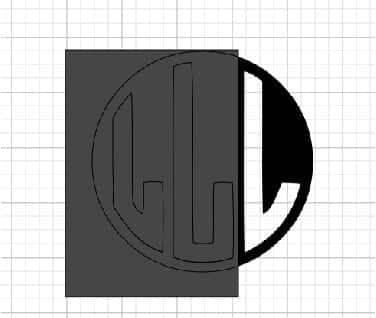 Putting Together the Pieces
If you lined up your rectangle in the center between each letter before you sliced it, then this part will go really easily.
Line up each letter to make a complete circle.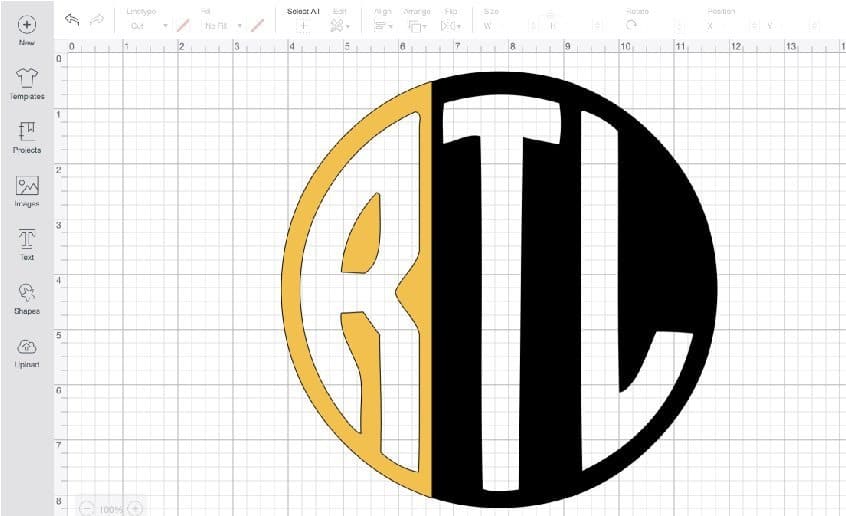 Pro Tip: If you need a guide, you can click on the SHAPE tool and make a 4 or 5-inch circle. Send it to the background (by clicking ARRANGE at the top) and overlay your monogram pieces to make sure they are all lined up.
Once all your pieces are lined up and make a complete circle, SELECT all three pieces and click WELD.
This will put all 3 pieces together and make just one cutting shape out of them. Once you save this project, a weld cannot be undone. Make sure you are happy with it!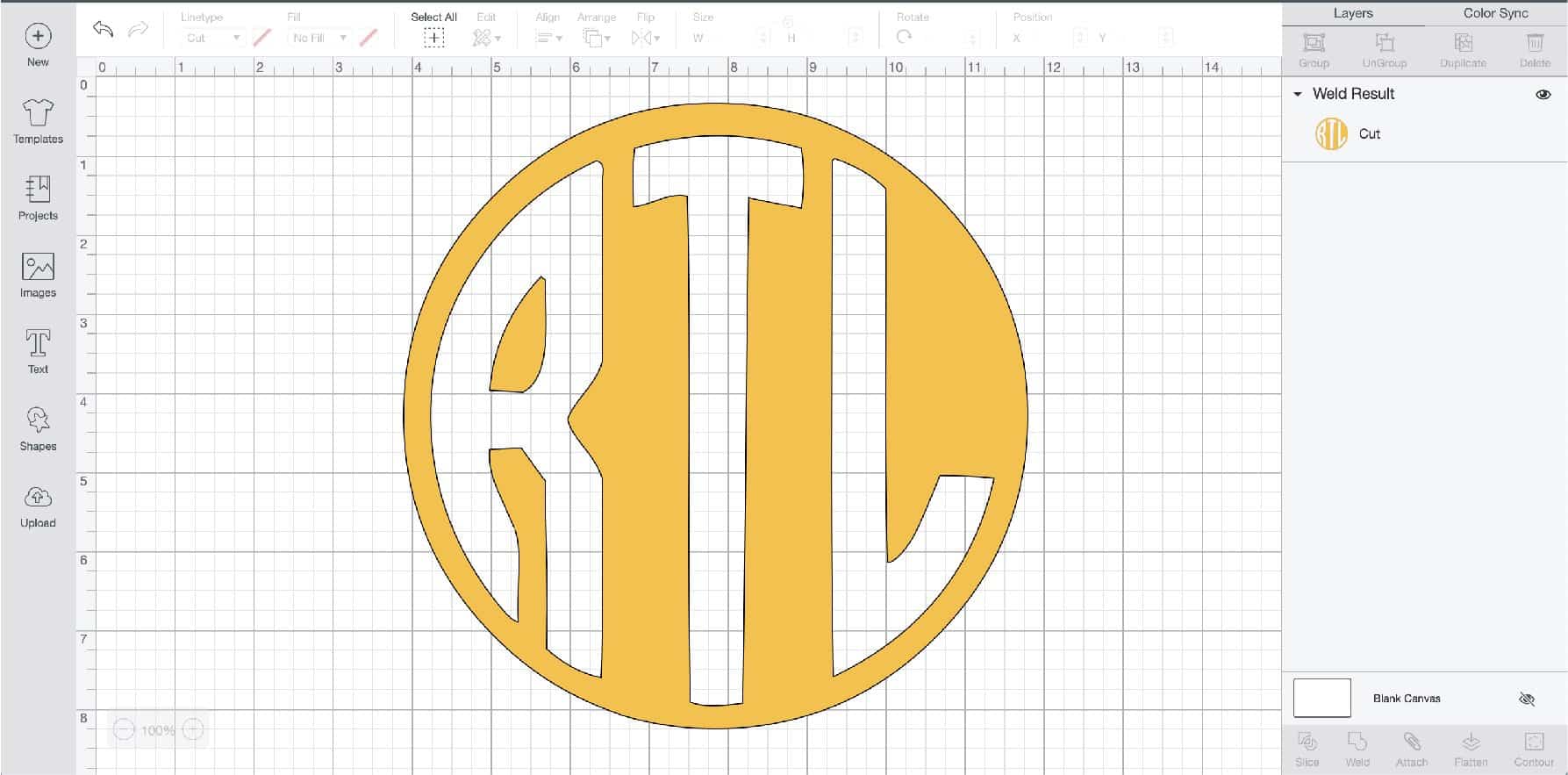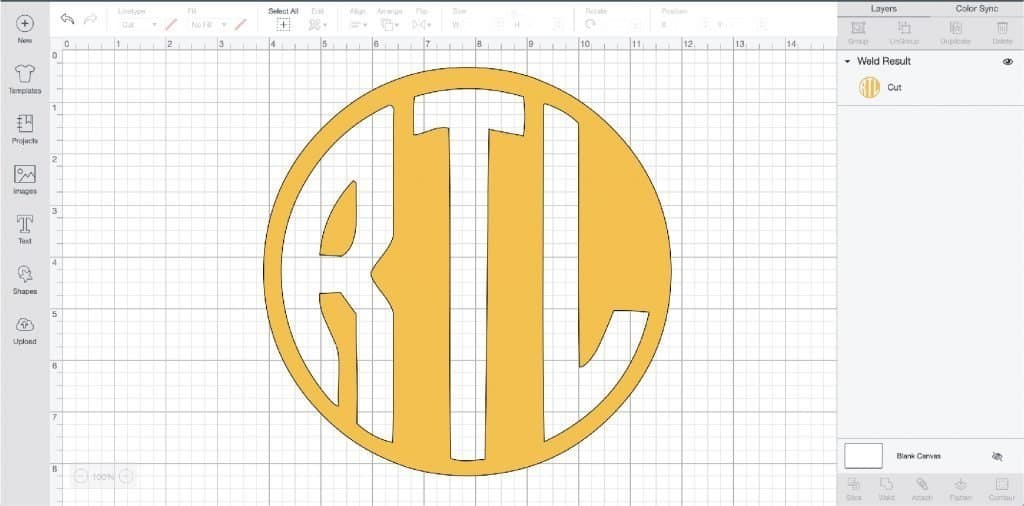 There you go! You now know how to make circle monograms. You can personalize all sorts of crafts and you have learned a number of Cricut Design Space tools!
If you would like cheat sheets to help you remember what all the tools in Cricut Design Space are used for, grab your guidebook in the shop!