Tape Runner Adhesive Dispenser Review: Which is Best for Paper Crafting
We may earn a small commission for purchases made through affiliate links in this post. For more information go to our Privacy Policy.
Tape Runners for Paper Crafts
Tape runners can be a game-changer for your paper crafts projects. These handy tools dispense double-sided adhesive tape, making it easier to mount photos, create cards, and work on scrapbooking. They come in various sizes to suit your crafting needs, from small palm-sized dispensers to large gun-style units.
When you use a tape runner for your paper crafts, you'll appreciate how neat and invisible the adhesive is. The adhesive runners allow for clean, fuss-free application, making sure your projects look polished and professional. No more struggling with individual strips of double-sided tape or trying to apply glue evenly.
Some popular options in the market are the EZ Runner Adhesives in multiple sizes, Spellbinders, Xyron, and Crafter's Companion. You can find these products on Amazon, where prices vary depending on the size and brand. Make sure to choose a photo-safe tape for your scrapbooking projects to preserve your precious memories. The top two are the best adhesive for card making and scrapbooking.
Types of Tape Runners
Permanent Tape Runners
These tape runners are designed to create a strong and permanent bond between materials. When you're working on a project that requires lasting adhesion, a permanent tape runner is a great tool to have in your repertoire. They typically contain a permanent adhesive that sticks firmly to various surfaces, ensuring your work stays intact over time.
Removable Tape Runners
Unlike permanent tape runners, removable tape runners allow you to easily reposition and adjust your materials without causing any damage. If you're unsure about the placement of something or simply want the flexibility to change your mind later, a removable tape runner is an excellent choice. These adhesive products can be removed with minimal residue, making adjustments a breeze.
Refillable Tape Runners
If you use tape runners frequently, investing in a refillable option can save both time and money. Refillable tape runners typically feature a reusable dispenser, which can be refilled with new adhesive cartridges as needed. This way, you don't have to buy a completely new tape runner each time it runs out. A refillable tape runner is an environmentally friendly and cost-effective choice for your adhesive needs.
Adhesive Roller Tape Runners
Adhesive roller tape runners differ slightly from traditional glue sticks or other adhesive applicators. These tape runners have a roller applicator that transfers adhesive from a cartridge onto the surface with ease. This method allows for a quick, clean, and convenient application of adhesive, perfect for paper crafts, scrapbooking, and other projects that require precise placement.
Remember, the right tape runner for your project depends on the type of bonding needed and the materials involved. Take into consideration if you need a permanent or removable adhesive, and whether a refillable or adhesive roller option would best suit your needs.
Things I Scored for This Review:
Dispensing on Flat Papers
When it comes to dispensing on flat papers, a good tape runner should provide smooth and even application. The adhesive should be strong enough to ensure that your project stays together without any issues. Also, the tape should be easy to control, allowing for precise placement on various types of paper surfaces.
Holding Folds and 3D Edges
A high-quality tape runner should be able to hold folds and 3D edges in your projects securely. The adhesive should be flexible yet strong enough to maintain the shape you want, whether it's a simple fold or a more complex 3D design.
Mini Album Covers and Edges
For mini album covers and edges, you need a tape runner that provides a strong bond to keep your creation looking neat and professional. The adhesive should be durable enough to withstand handling while ensuring that the pages and cover remain intact.
Comfort/ Ease of Use
A tape runner that is comfortable and easy to use can make a big difference in your crafting experience. Ergonomic design and simple controls should help you work efficiently without causing hand strain or fatigue.
Price Per Foot, Inch, Meter, Millimeter
Considering the price per unit of measure is also essential when choosing the right tape runner. Value for money is vital, so look for options that offer excellent performance at a price that's affordable and competitive. Remember, investing in a cost-effective product can save you money over time.
Messiness Over Time/Gumming Up
A tape runner shouldn't cause messiness or gumming up over time. The adhesive should stay clean and functional throughout your project, without creating residue or build-up that could impact your work.
Last Till the End (without having issues)/Blowback
The tape runner should last till the end without any issues like blowback or sudden stoppages in adhesive dispensing. A reliable and consistent performance ensures that you won't experience wasted tape or frustration during your crafting sessions.
Refills (Easy to Change, Availability)
When it's time for a refill, the tape runner should be easy to change and reload with fresh adhesive. Refills should also be readily available, so you won't face any delays in your projects due to a lack of adhesive.
How Easy it Breaks Off at the End of Run
Finally, when you're done applying adhesive, a good tape runner should break off the tape easily and cleanly. This ensures a satisfying end to your crafting sessions and prevents any issues with excess tape or adhesive hanging off your project.
Tape Runner Brands
I chose tape runners that were easy to buy online or find in your local scrapbook store (not necessarily the big box stores).
Why I didn't choose to score Tombow or Adhesive Transfer Gun (ATG) to review?
-I don't like Tombo glue and have used Tombow in the past. I had issues with the way it was dispensed and spent more time messing with the tape than crafting.
-ATG isn't as easy to find and most places that I shop are always out of stock.
There is a visual link guide at the bottom of the post if you would like to support my business and purchase through those links (no extra cost to you).
Crafter's Companion
Crafter's Companion offers a variety of tape runner products to suit your crafting needs. One popular option is the Adtech Crafter's Tape. This double-sided adhesive tape is compact in size and is supposed to fit comfortably in your hand, (but the curve is on the inside of your hand…so you will forever be trying to use it the wrong way).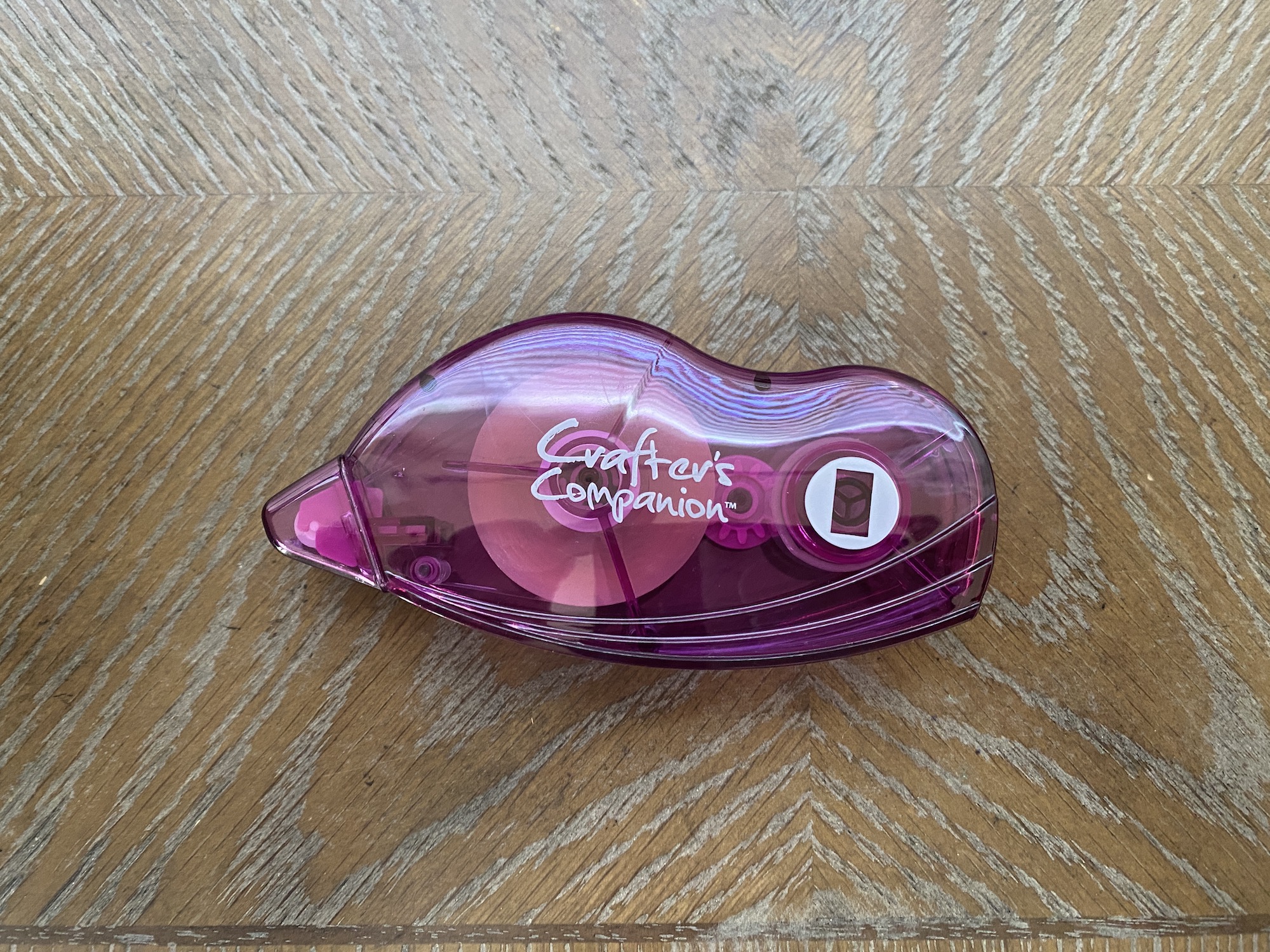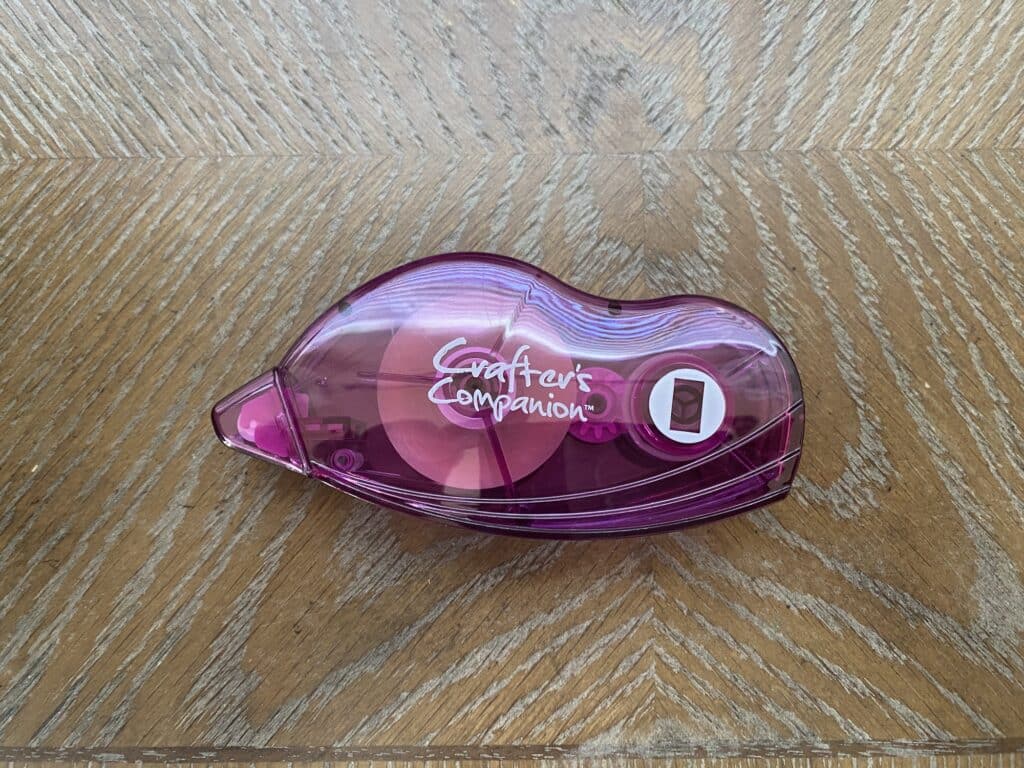 Works Great For:
Had a strong hold when used for a 3D edge.
One of the least visible for vellums
Doesn't Do Well With:
Not easy to use.
Tape has a stringer each time you lift up and it will gum up pretty quick.
Overall Score: 55/100
EZ Runner (Small)
The EZ Runner is a small and convenient tape runner ideal for various arts and crafts projects. Its compact size and ergonomic design make it perfect for on-the-go crafting. The tape runner is highly adhesive, ensuring your projects stay together without any fuss or mess. It feels good in your hand. The application of the adhesive is smooth.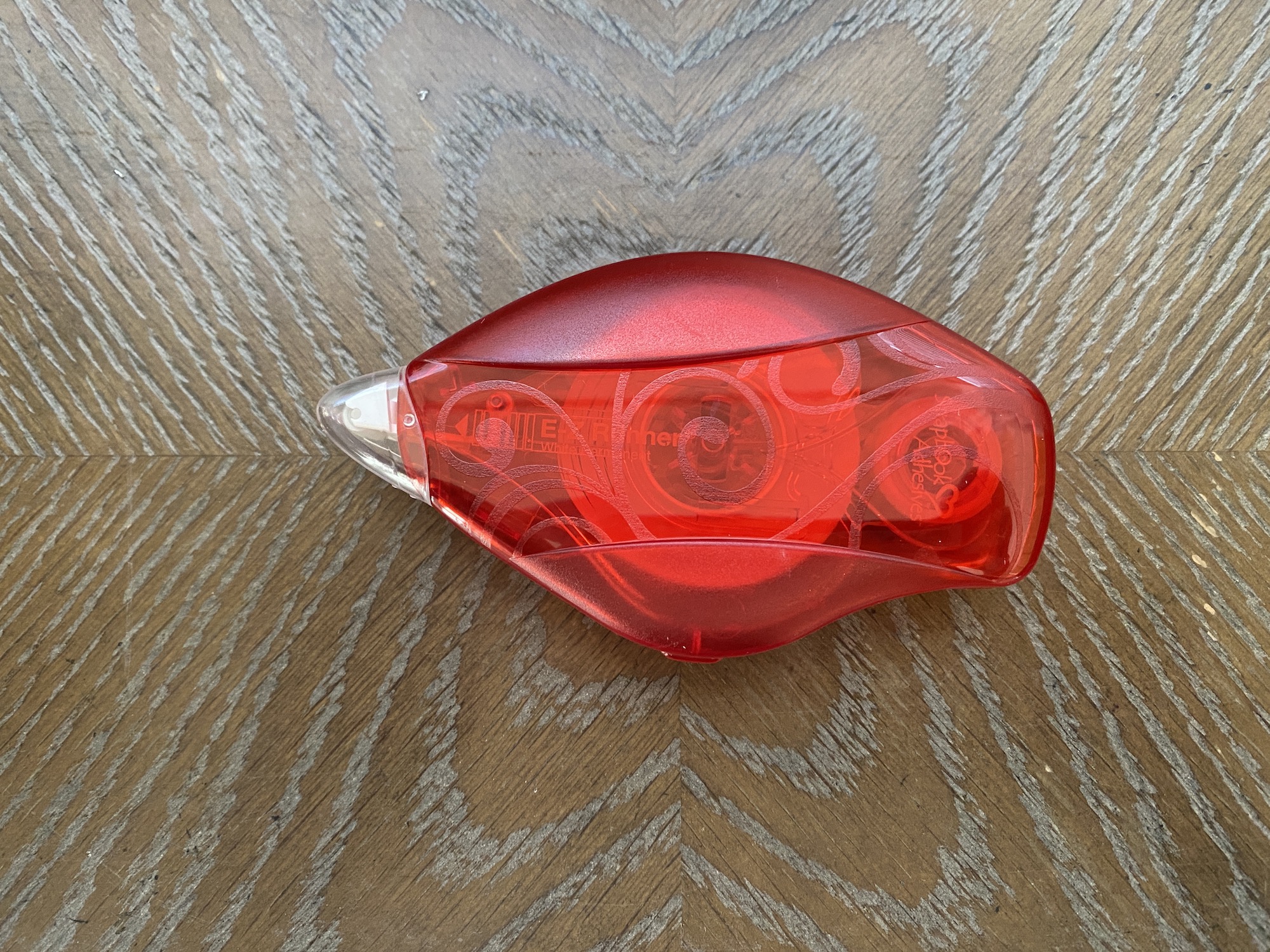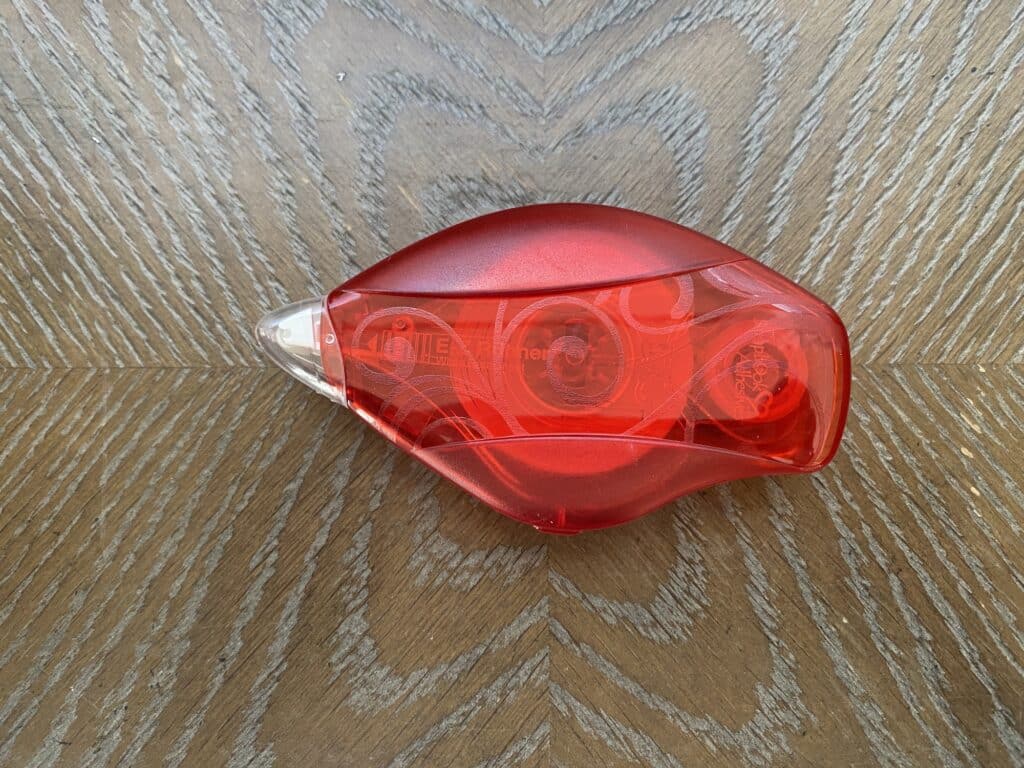 Works Great For:
Flat papers and album edges.
Easy to refill
Super clean.
Doesn't Do Well With:
Vellum
It wasn't one of the better tapes for a 3D fold or edge.
Overall Score: 73/100
EZ Runner Grand
EZ Runner Grand is the larger version of the EZ Runner, offering more adhesive tape for extended use. The ergonomic design remains easy and comfortable to handle, and the strong adhesive is perfect for keeping your projects secure. It's a great choice for those who need a tape runner that can last through multiple crafting sessions. I expected it to be bulky and unnatural to use. It was way better than I thought it would be and will probably be my number-one adhesive from now on.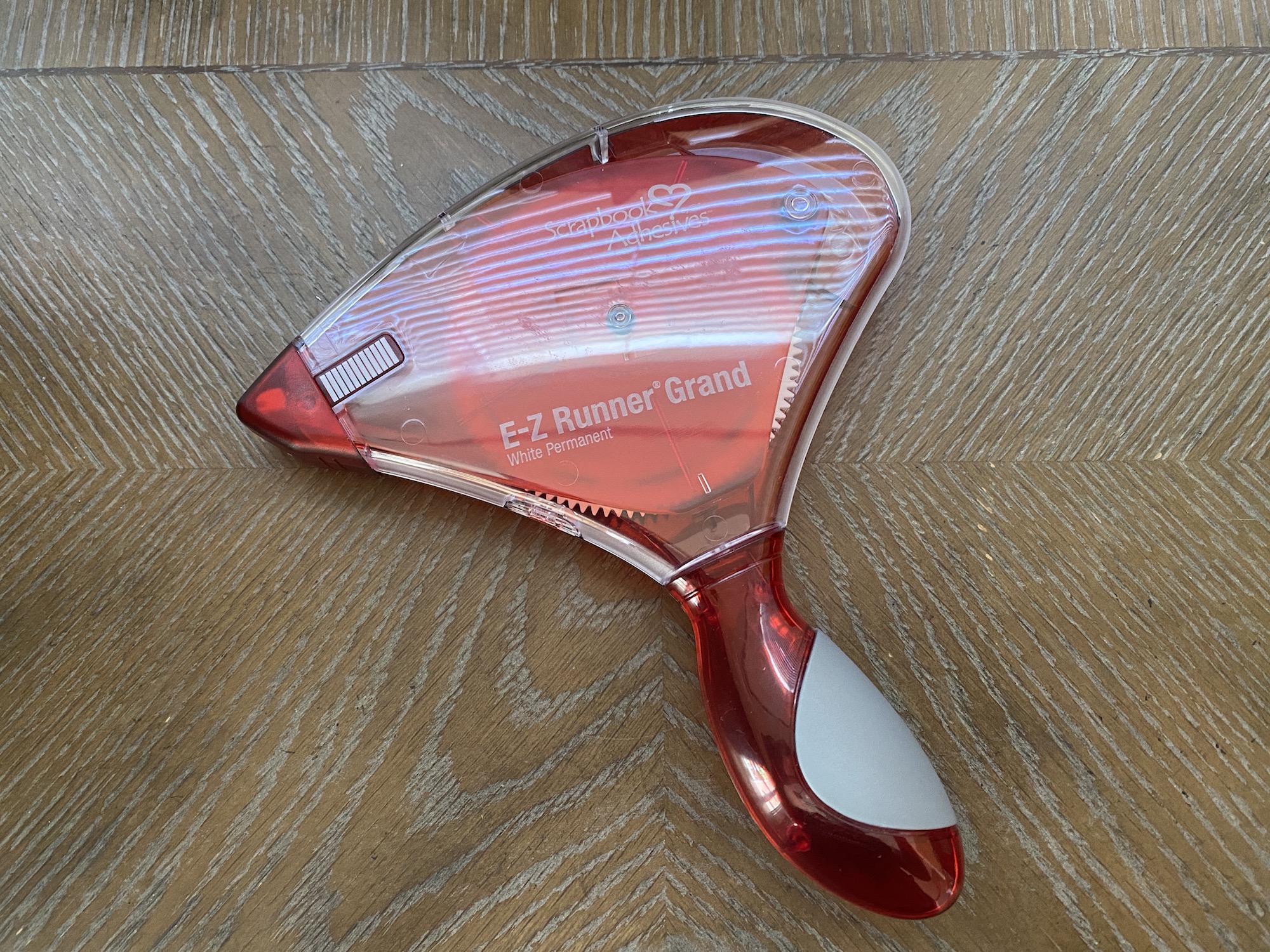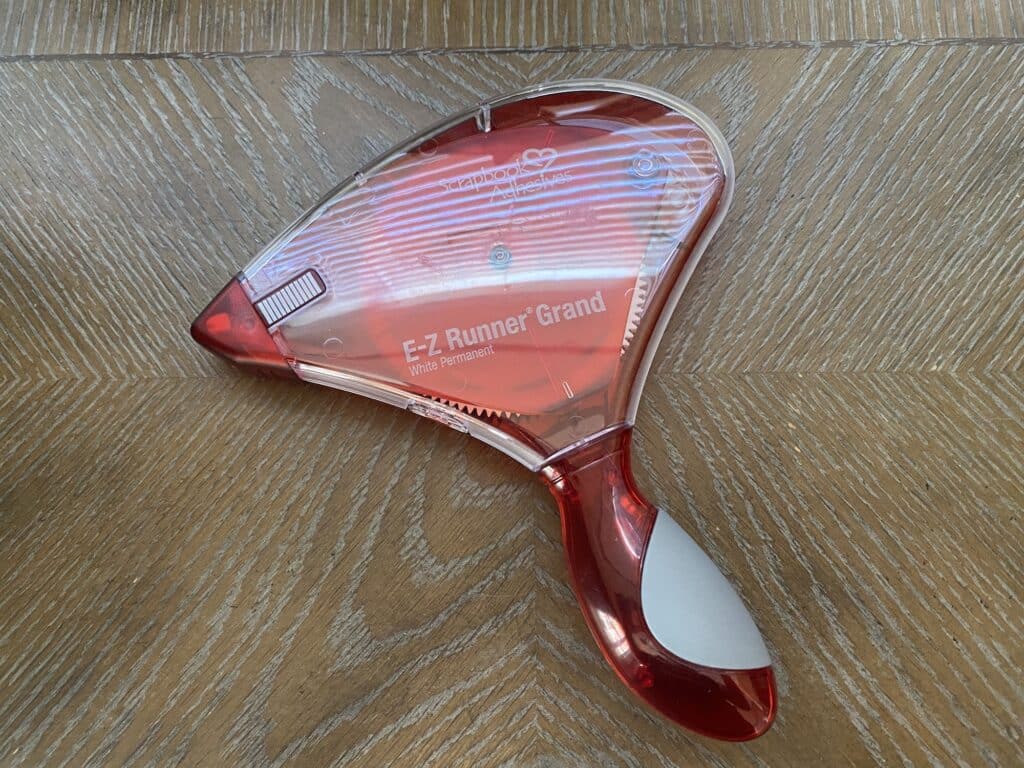 Works Great For:
Everything except vellum.
Doesn't Do Well With:
Overall Score: 87/100
Gina K
Gina K offers tape runners with high-quality adhesive for all your crafting needs. Their tape runners are comfortable. They claim great adhesion on most projects. It didn't seem to hold a 3D edge very well or the edges of a mini-album cover.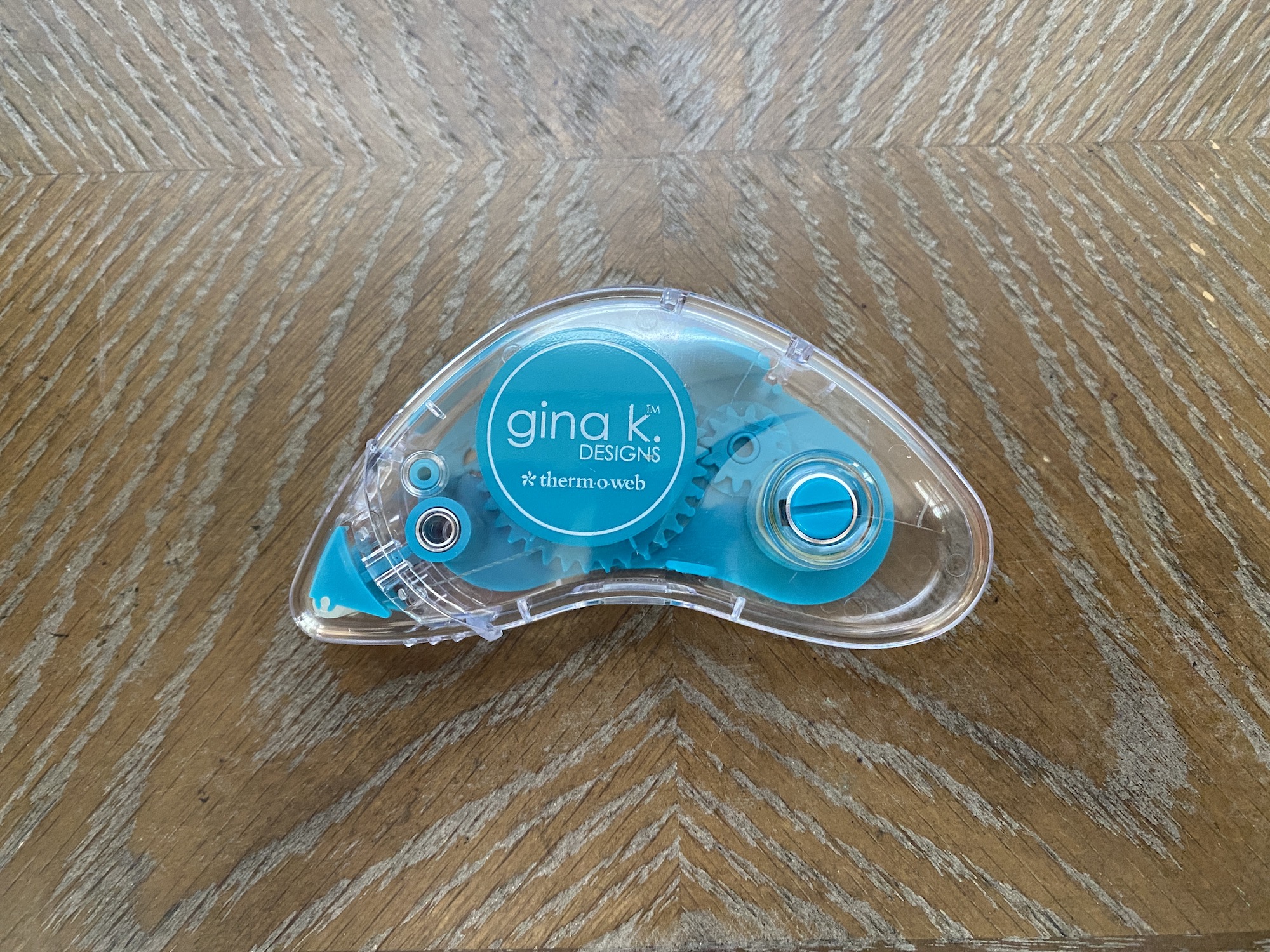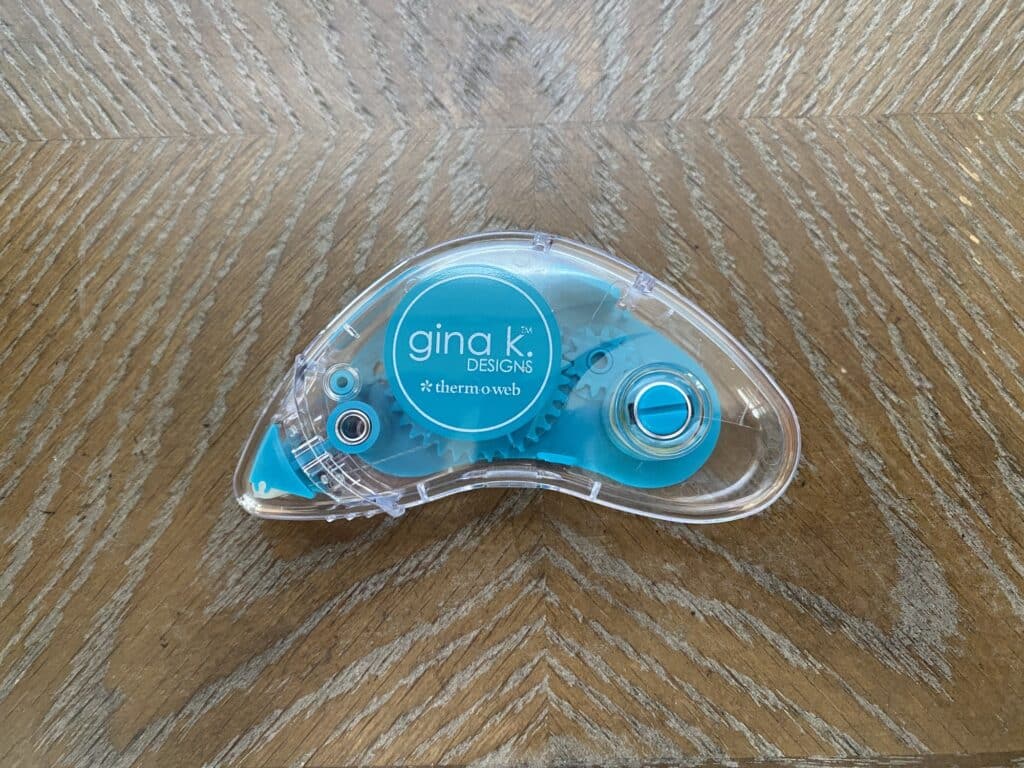 Works Great For:
Doesn't Do Well With:
Overall Score: 69/100
Nuvo
Nuvo is another popular brand for tape runners, offering both permanent and repositionable adhesive options. Their tape runners are easy to use and provide a strong bond for your crafting projects. If you need a tape runner that can be adjusted after application, Nuvo's repositionable adhesive is a great option to consider.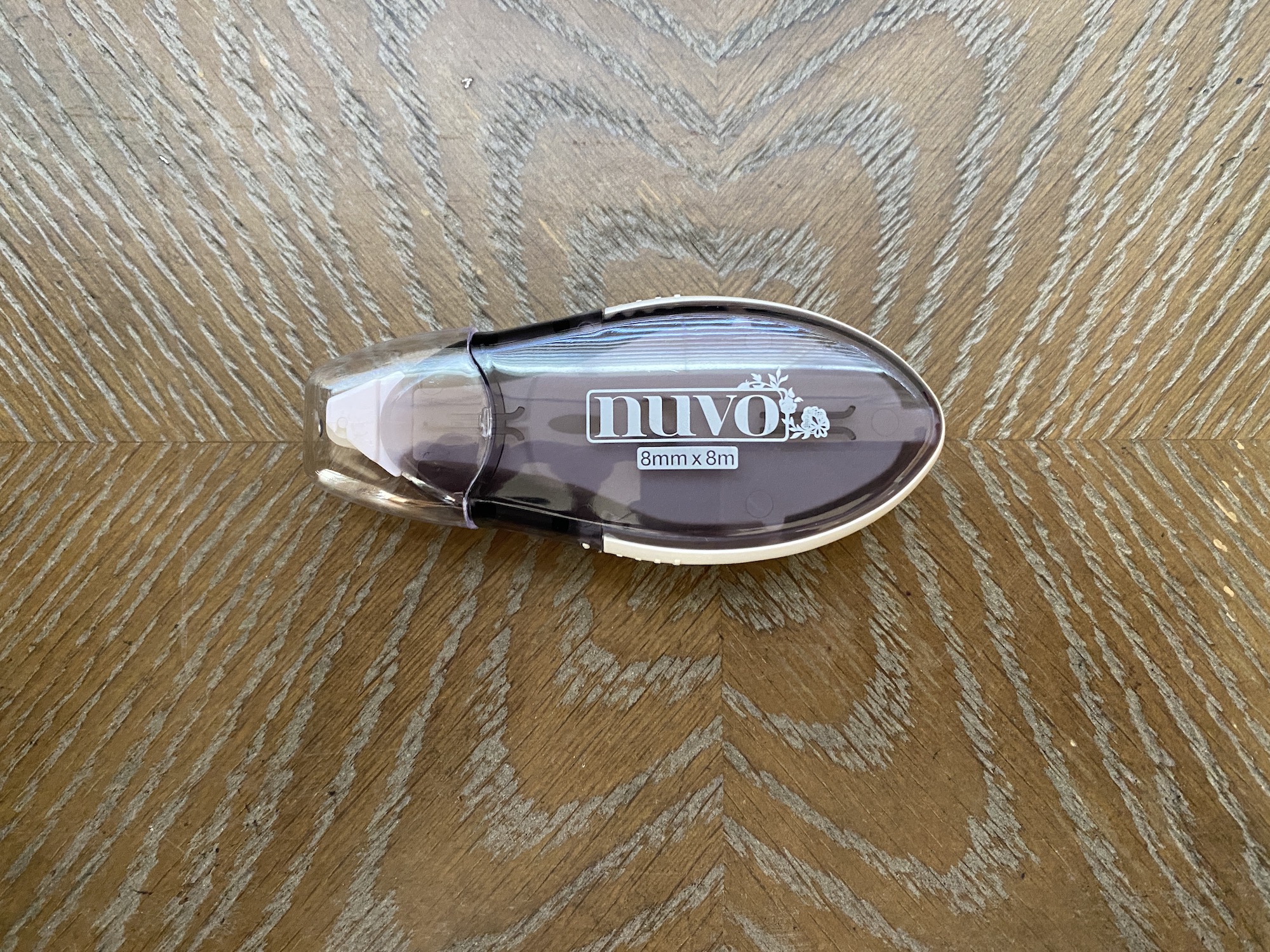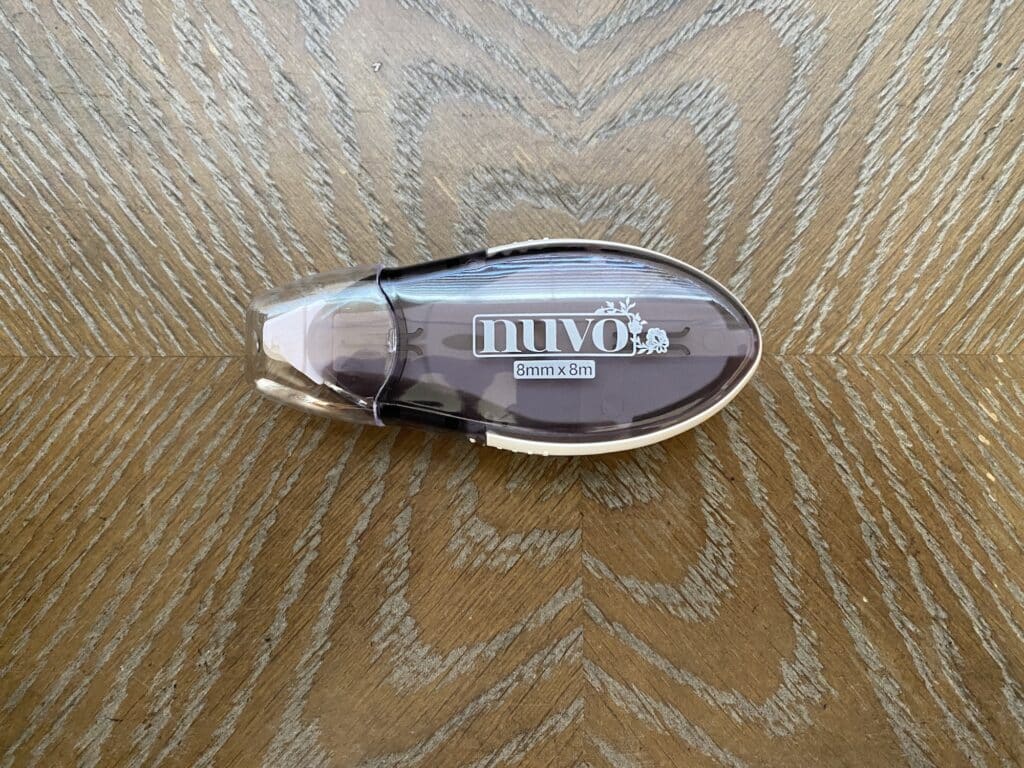 Works Great For:
vellum
sticking on flat surfaces, 3D edges, and mini-albums was average
Doesn't Do Well With:
higher cost
refills are sort of silly, it is most of the plastic that is replaced
Overall Score: 69/100
Recollections
Recollections tape runners that are marketed for everyday crafting needs. They say they are designed to deliver a smooth and consistent adhesive, ensuring your projects have a professional finish. With a comfortable grip and easy application, Recollections tape runners provide reliability and convenience for all your crafting endeavors.
Nope. And Nope. The size is awkward and doesn't fit well in your hand. The quality of the adhesive isn't good. There is nothing smooth or consistent about the way the adhesive is delivered.
This one is a waste of money.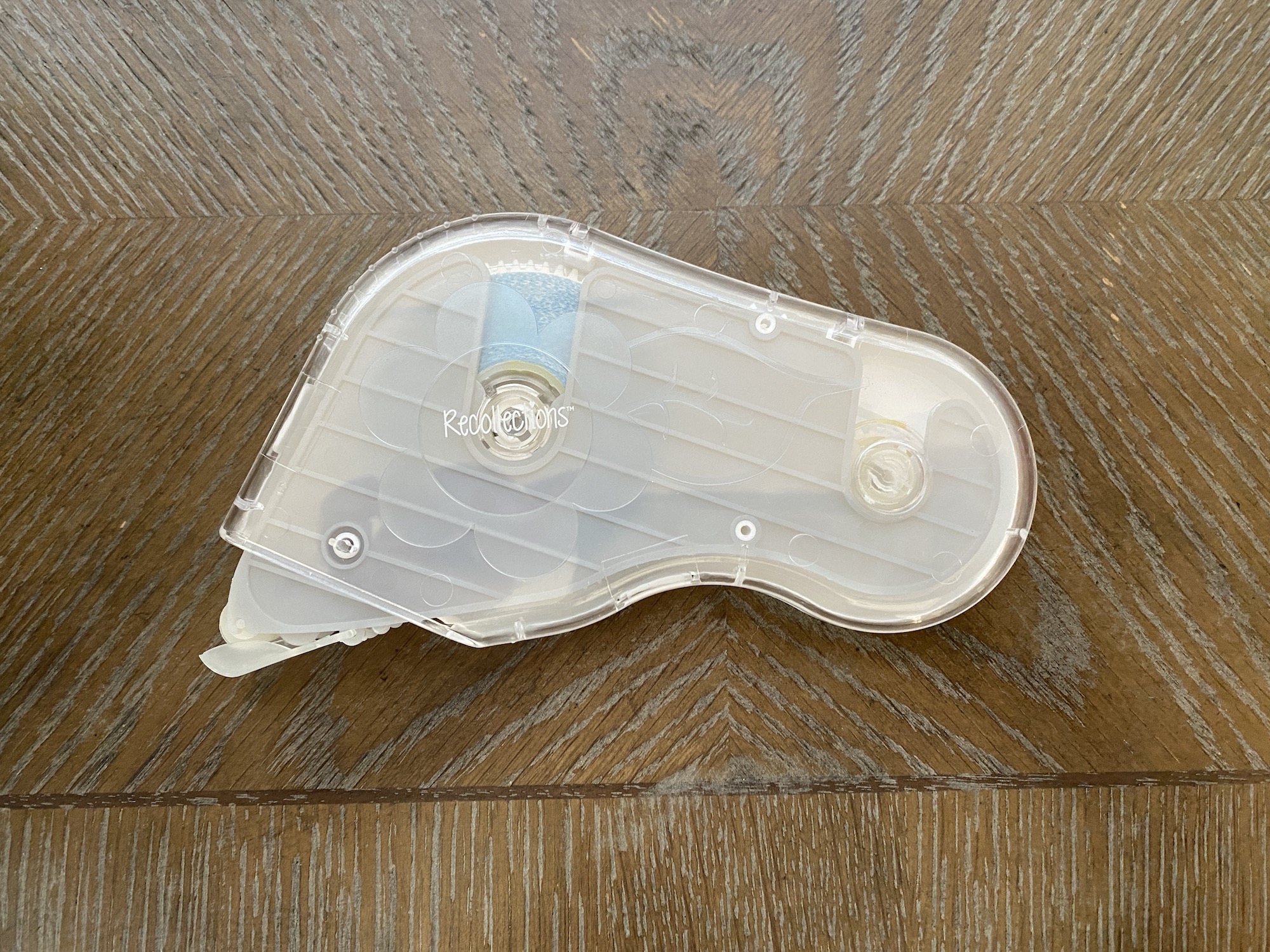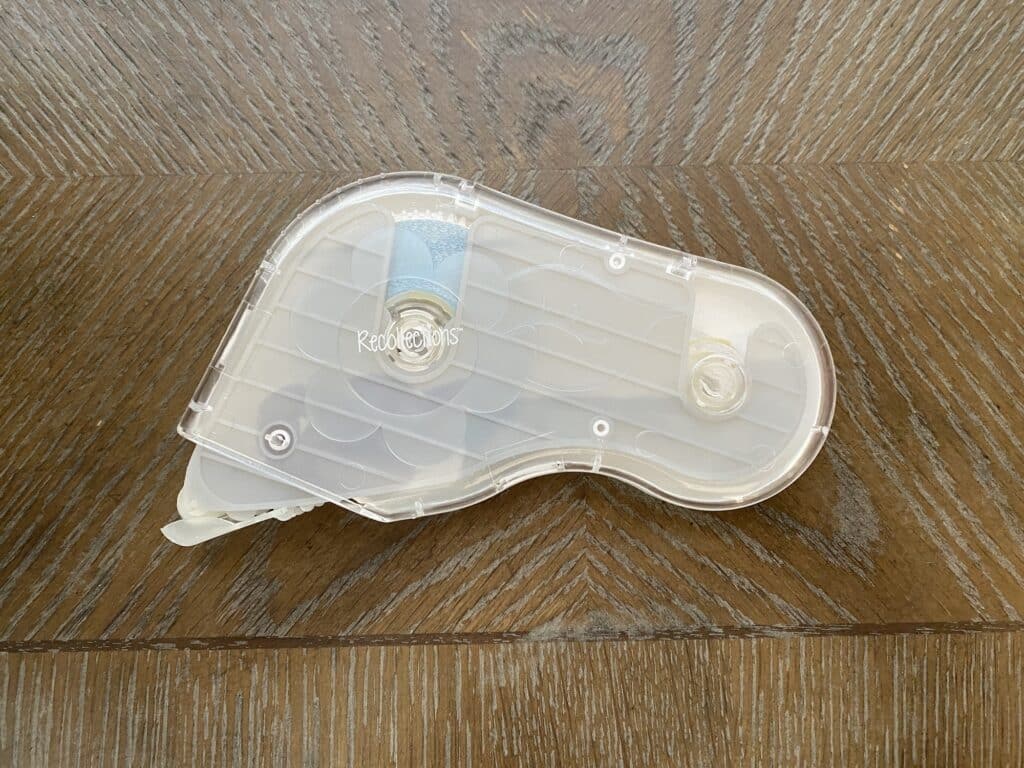 Works Great For:
Doesn't Do Well With:
Overall Score: 0/100
Spellbinders
Spellbinders offer a variety of tape runner options to meet your crafting needs. Their adhesive tape runners provide a strong bond to ensure your projects stay together. Easy to use and apply, Spellbinders tape runners are perfect for all your creative projects, whether you're cardmaking, scrapbooking, or creating 3D paper crafts.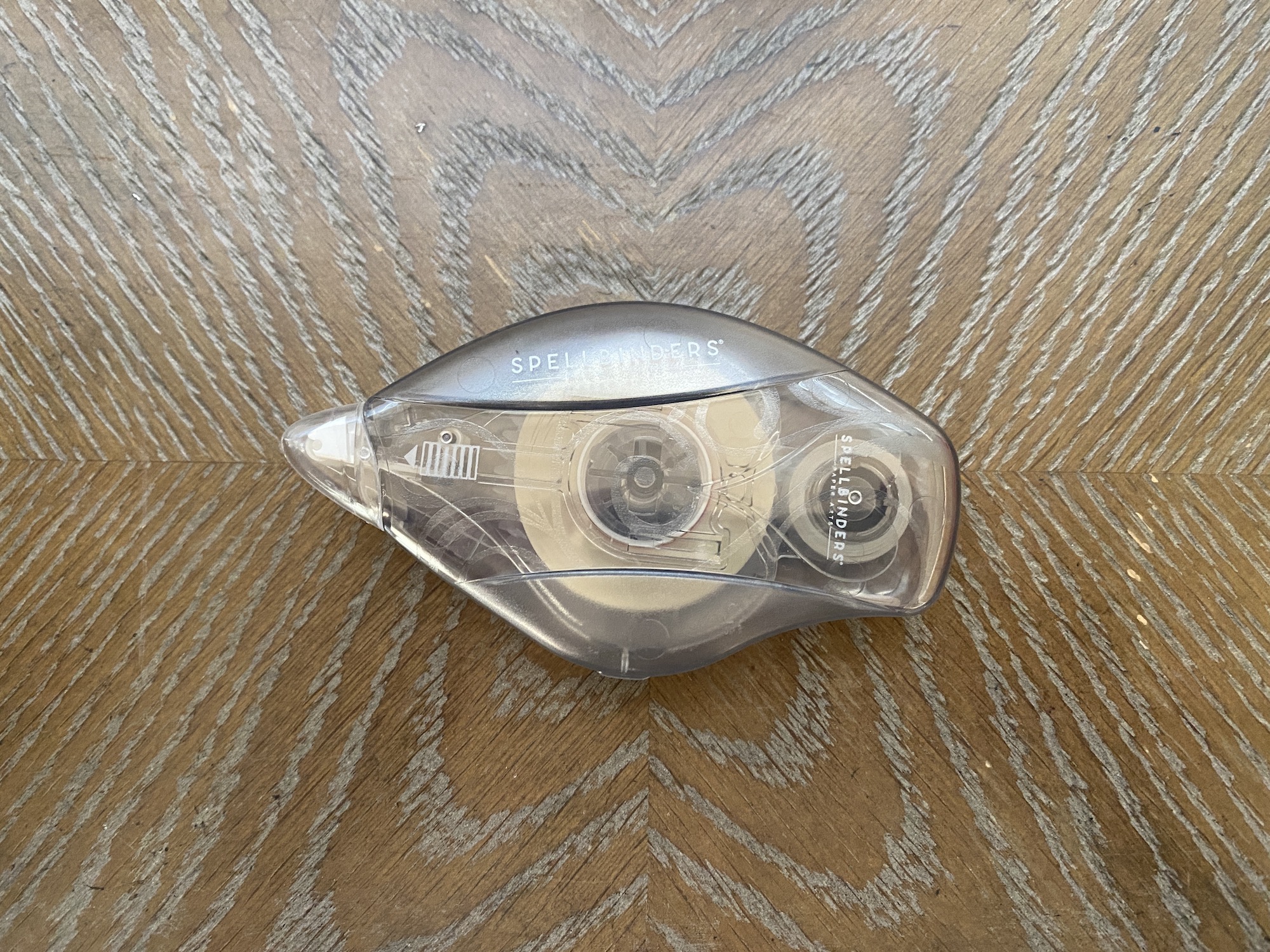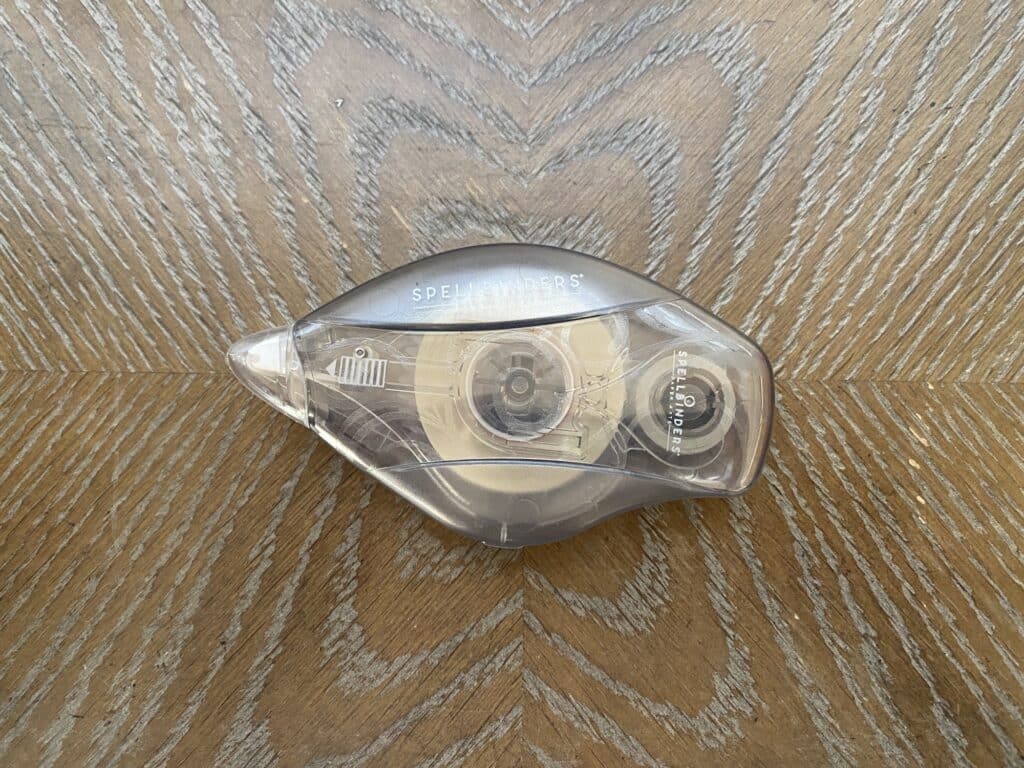 Works Great For:
flat papers and mini albums (I struggled getting it to work well on a 3d piece)
clean and easy to refill
Doesn't Do Well With:
Overall Score: 77/100
XMega Runner
The XMega Runner is a large-capacity tape runner designed for extended use. Its ergonomic design makes it easy to handle, while its high-quality adhesive ensures your projects remain securely bonded. If you need a tape runner that can last through many crafting sessions, the XMega Runner should be a contender. But it isn't.
The adhesive strip is really really hard to dispense. You spend more time running back over areas where it skipped. This also means, you are wasting adhesive because it is being rolled into the "waste" section of the runner before you can get it stuck to your paper. For the size and cost, I would NOT recommend this one either.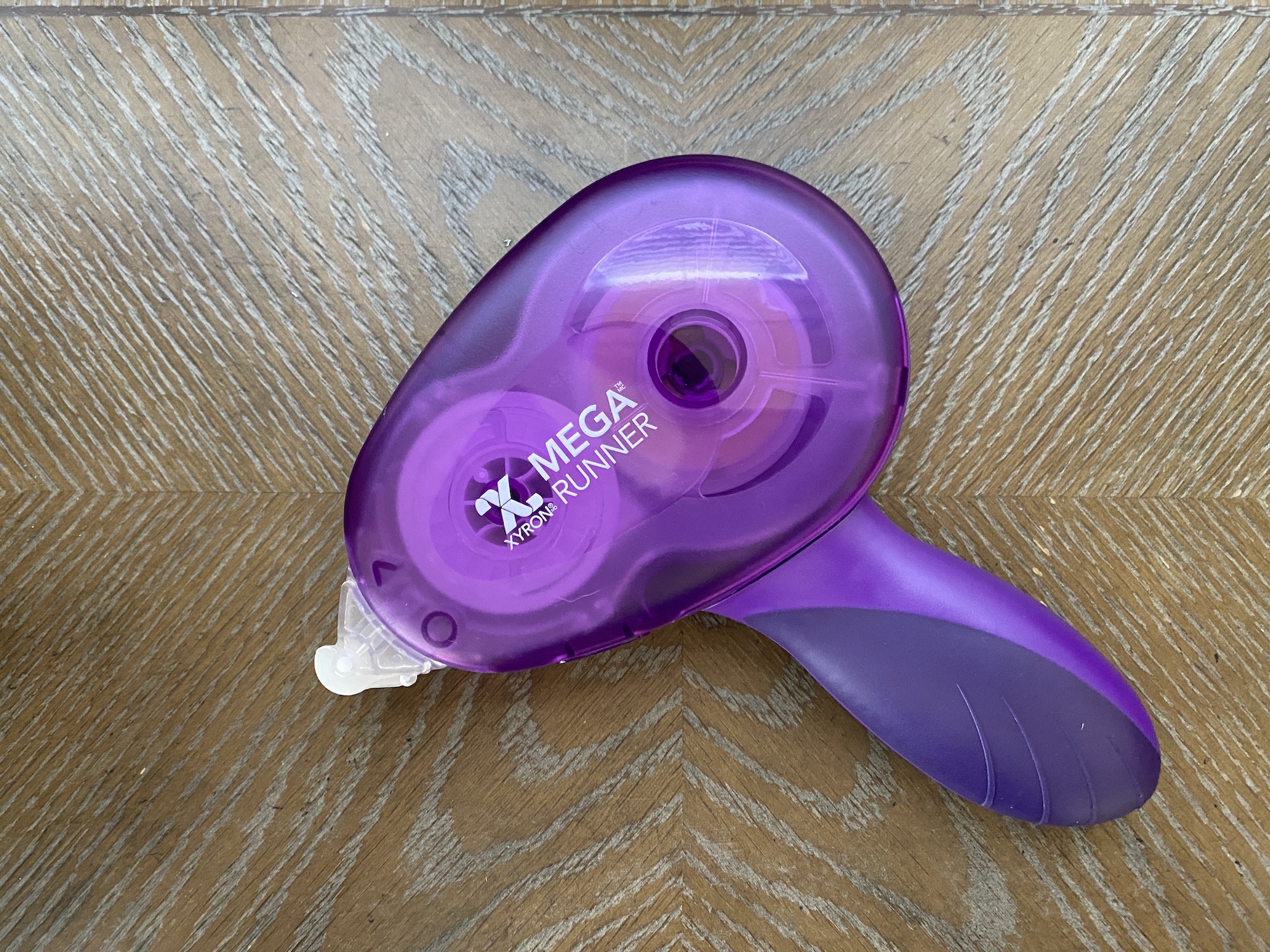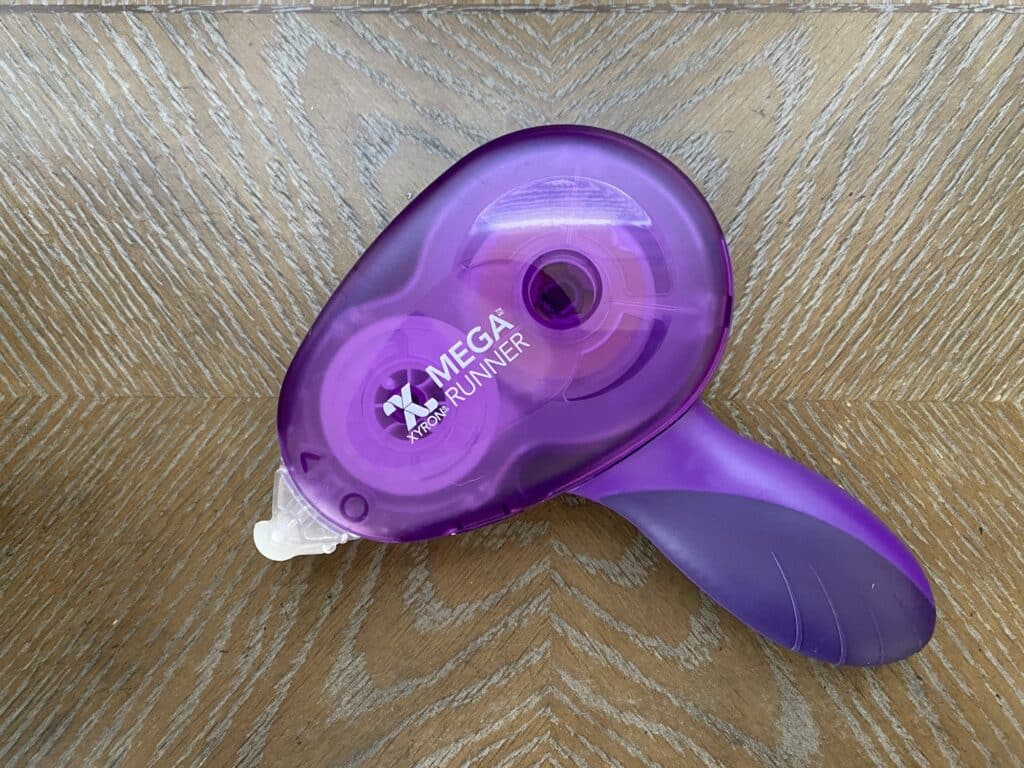 Works Great For:
Doesn't Do Well With:
regular paper
not gumming up
Overall Score: 60/100
What Paper Can You Use Tape Runners On?
For Cardstock
Tape runners work well on cardstock, making them a popular choice for paper crafting projects. They provide a strong and instant bond that holds up over time. Just make sure to choose an adhesive that's designed for heavier materials like cardstock. Remember to press firmly and evenly for the best results.
Pattern Papers
When working with pattern papers, especially thinner ones, a tape runner can give you a clean and precise application that isn't going to warp your papers. Simply run the tape along the back of your pattern paper and press it onto the desired surface. This works equally well on die cuts, as it provides a secure bond without the mess of liquid adhesives.
For Planner Stickers
Planner stickers can be easily attached with the help of tape runners. Whether you're using pre-made stickers or creating your own, the tape runner ensures a clean and mess-free application. Opt for a removable or repositionable adhesive if you think you might want to move your stickers around later.
For Foil
Foil can be a bit tricky to work with, but a tape runner can make the process much easier. Choose a tape runner with a strong adhesive that's specifically designed for foil application. This will help ensure that your foil stays in place and looks sleek and polished.
For Glitter
To adhere glitter to your projects, consider using a tape runner with a clear adhesive. Roll the tape onto your desired surface, and then gently press the glitter onto the adhesive. This method ensures a clean and precise application, avoiding the mess that often comes with using liquid glues for glitter projects.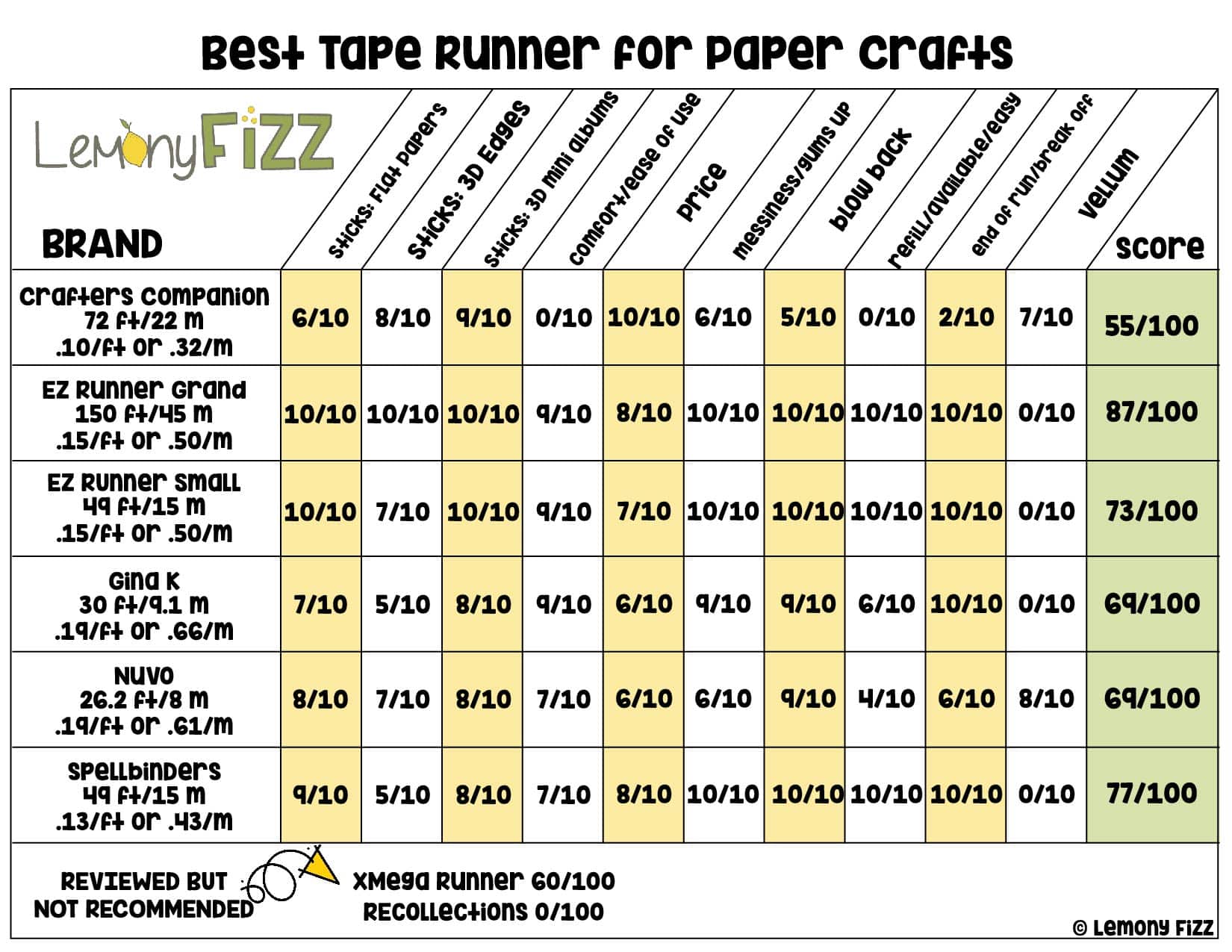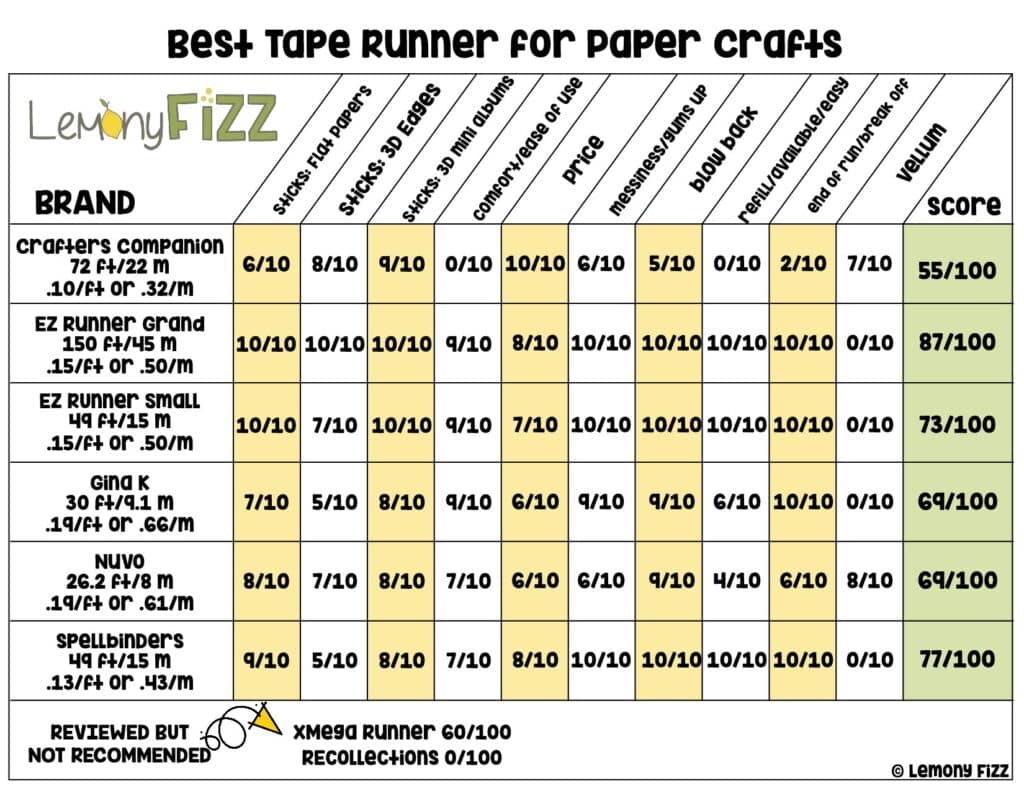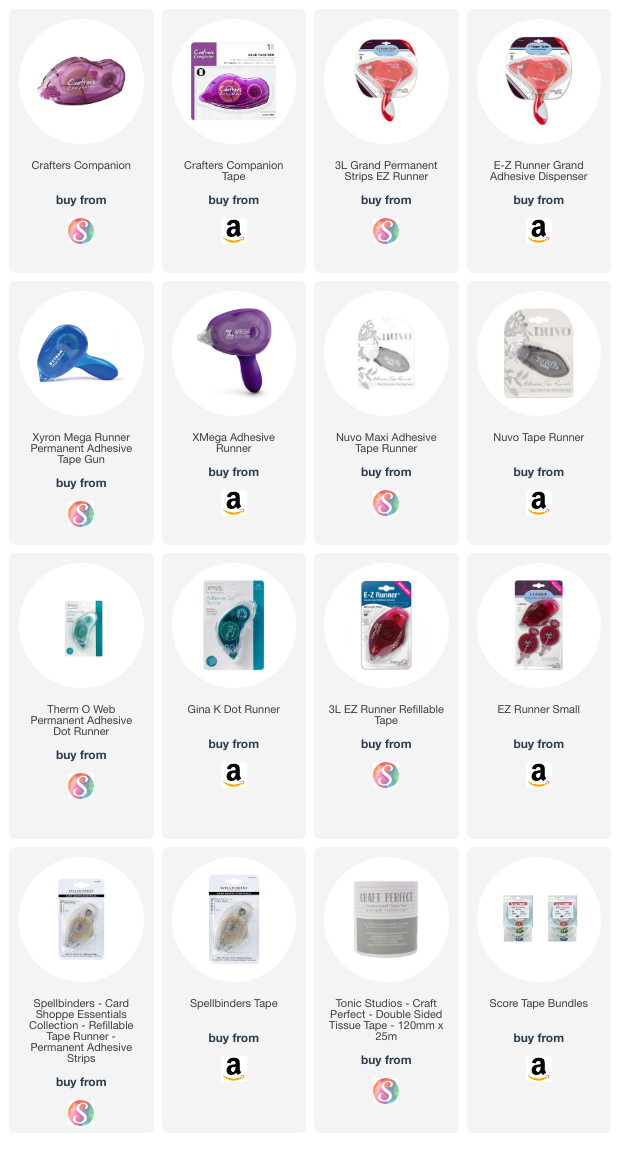 Tape Runner and Craft Projects
So, you're into arts and crafts, DIY projects, and maybe even working on some school projects? In that case, having a tape runner in your toolkit can truly make your life easier. But what exactly is a tape runner, and how can it help you in your creative endeavors?
A tape runner is a handheld tool that dispenses double-sided tape. They come in various sizes, so whether you prefer a small palm-sized dispenser or a larger gun-style unit, there's something for everyone. The best part? They create a clean, invisible bond, making your projects look more professional.
Tape runners are particularly useful in paper crafting. Imagine you're working on a scrapbooking project, and you want to mount photos without any visible tape. That's where your trusty tape runner comes into play. It allows you to neatly join layers and pieces, ensuring your memories are preserved with style and elegance.
It's not just for scrapbooking, though. Are you a fan of cardmaking? Use a tape runner to attach embellishments or secure the layers of your handmade cards. Even when constructing paper airplanes and card models, a tape runner provides a mess-free and precise adhesive solution.
Lastly, think about those school projects you've been working on. From making posters to constructing 3D paper models, having a tape runner on hand can save you time, energy, and frustration. It provides ease of use and a clean, mess-free experience that traditional glue sticks just can't match.
What Is A Tape Runner
A tape runner is a dispenser or applicator that helps you run a strip of double-sided tape across your paper or craft project.
What is an Adhesive Tape Used For?
You can use double-sided adhesive tape for just about any type of paper craft: card making, scrapbooking, mini-albums, 3D paper crafts, decor projects, etc.
What Can I Use to Dissolve Double-Sided Tape?
Rubbing alcohol, nail polish remover, goo-gone, or acetone will all help to remove sticky adhesives.
Can I Refill an Adhesive Runner?
Most adhesive runners are refillable. There are a number of "disposable" ones that do not have refills. They are a one-and-done. Usually, you can look up the type of runner and there will be options for refills as well.
What are the Different Tape Dispenser Styles
There are dispensers that fit right into the palm of your hand, with a slight curve in the belly for your fingers to grasp. There are also dispensers that have handles and run like a packing tape dispenser with a smaller tape width.
What are the Different Tape Formats for Tape Runners
Some tapes will come in a strip similar to regular tape (it is just sticky on both sides). Other tapes will come in strips so they break off at the end of your run more easily. There are also tapes that are mini dots that are dispensed in a row.
What Tape Color is Best
You can get clear tape runners as some are a little opaque. Most of them will be hidden from view on your craft project. If they have run over on an area, you can usually wipe or rub them off.