We may earn a small commission for purchases made through affiliate links in this post. For more information go to our Privacy Policy.
There are so many ways to use Cricut script fonts. You can use them with vinyl, heat transfer vinyl, paper for scrapbook titles, cards, and more.
The problem is there are beautiful script fonts that don't look right when you type them out. The letters have too much spacing. The cursive doesn't flow and connect the way it is supposed to. And we only have so much time to search for Cricut cursive fonts that connect. What's a Cricut crafter to do?
Learn how to connect Cricut script fonts using Cricut Design Space as well as another font app.
Psst. This app is also amazing for making Word SVGs. It's a double bonus!
Not sure how to upload fonts to use in Cricut Design Space or get cursive fonts on Cricut Design Space? Check out this post on Uploading Fonts.
Learn to Connect Script Fonts
Now we are going to learn how to make cursive fonts connect on Cricut. The first way to connect cursive fonts in Cricut is to use the letter-spacing tool in Cricut Design Space.
(You want connected fonts on Cricut because the letters need to stay attached when you cut them out of your material).
Type your word on the workspace and then while it is still highlighted, you can click on the top toolbar to adjust the spaces between letters.

Just adjusting using the letter spacing tool does most of the work. You will notice there is still too much of a gap between the beginning capital letter in each word.

The trick to finishing it up is to UNGROUP the words and then scootch the lowercase letters over closer to the beginning letters. You can group just the lowercase if it makes it easier to move them while keeping them together.
There are three different ways to move letters around on the workspace.
Use your arrow tools on the keyboard to move the letters from left to right. This keeps them at the correct height and only moves them along a parallel line.
Grab them by clicking and holding and then move them left or right. This might move them a little higher or lower, but you can adjust them by using the guidelines on the workspace. Sometimes the arrow method moves a letter too far and you only need to move it half that distance. Moving them manually helps with this.
Use the X, Y coordinates on the top toolbar to adjust the placement of the letter. You can get as precise as you want with this one because the coordinates go out to 1/1,000th of a unit of measurement.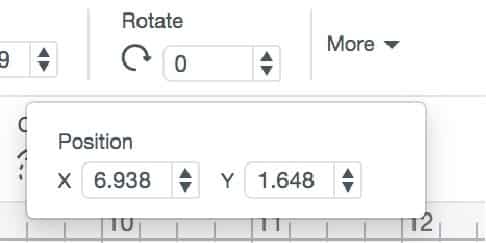 The last step in this process is to remember to WELD the letters together. This will do two things. It will keep the placement of your letters when you are ready to cut. It will also keep the little bits where letters overlap from being cut out. They are now a seamless outline instead of overlapping cut paths.
This is the quickest way to connect Cricut script fonts without having to use other programs.
NOTE: if you want to keep the entire phrase in the arrangement that you designed then you will want to select all the words and click on ATTACH. This just tells the Cricut Design software not to "save material" by moving all the pieces to the top left corner.
Creating an SVG File for Cursive or Script Fonts
There are ways to connect script fonts without using Cricut Design Space. This next method uses an app that you can download on your MAC or Windows computer called FontLab-Pad.
NOTE: If you just go to font lab (dot) com. you will see a SUPER expensive software. That is NOT what you want.
Follow this link for a free download version of FontLab-Pad.
Enter an email and then click the link in the email they send you to start a download.
Double click on the download to begin the installation.
Navigate to your Applications folder and open up the program.
This is where things get a little complicated (and maybe a little irritating). If you are like me, you install a font on your system and then delete all the excess files. This program doesn't access your system's font files. It wants you to drop the actual font file (TTF or OTF) into the software.
You have to have the files on hand in a folder!
This isn't an issue if you have just downloaded the font. But if you have deleted the files out of your folders and they are just on your system, then that just sucks up more time to go and redownload them.
It might be worth it for the last feature though!
Drag your font into the window of Font Lab.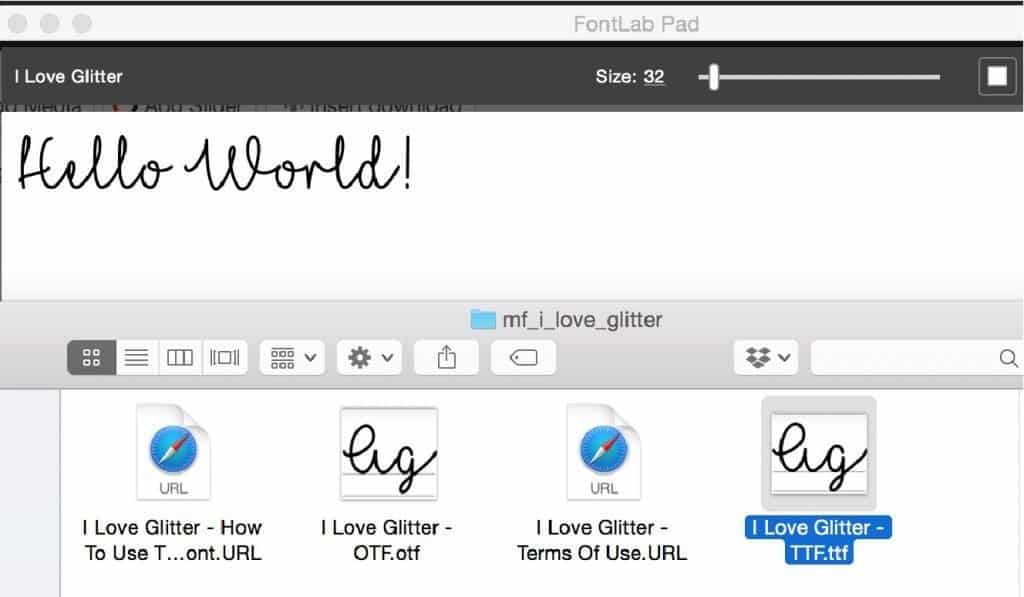 Type in your phrase. Then click on the |A on the top right corner of the toolbar. This will give you the justification (left, center, right) and the line height options as well as letter spacing.

To adjust the font size, grab the circle on the slider and move it left or right.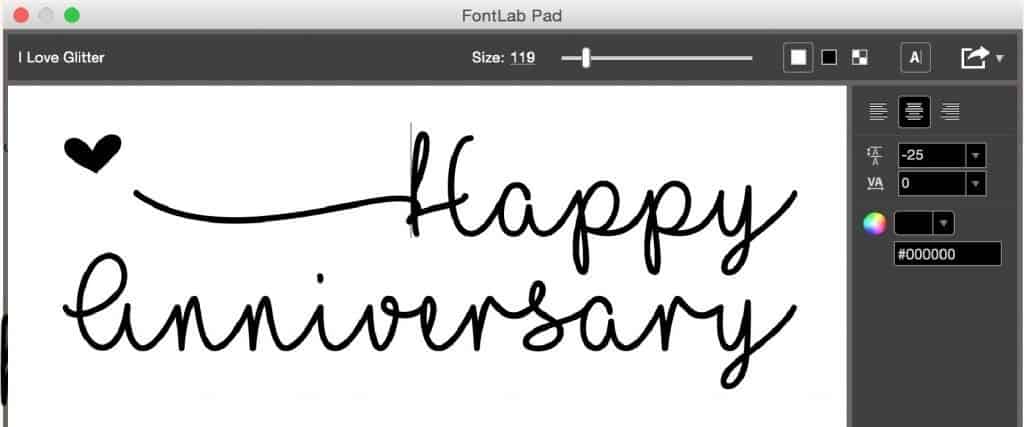 Once you have the word art set to your liking, we are ready for the fun part! You can click on the rectangle with the arrow pointing to the right and save your work as an SVG.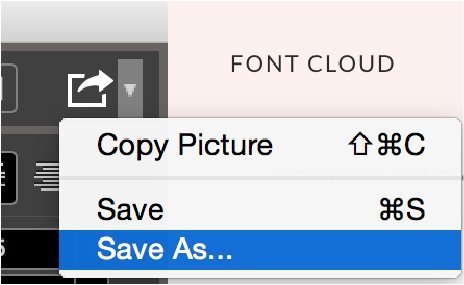 Now you can take that file and it can be uploaded to Cricut Design Space and use as often as you wish.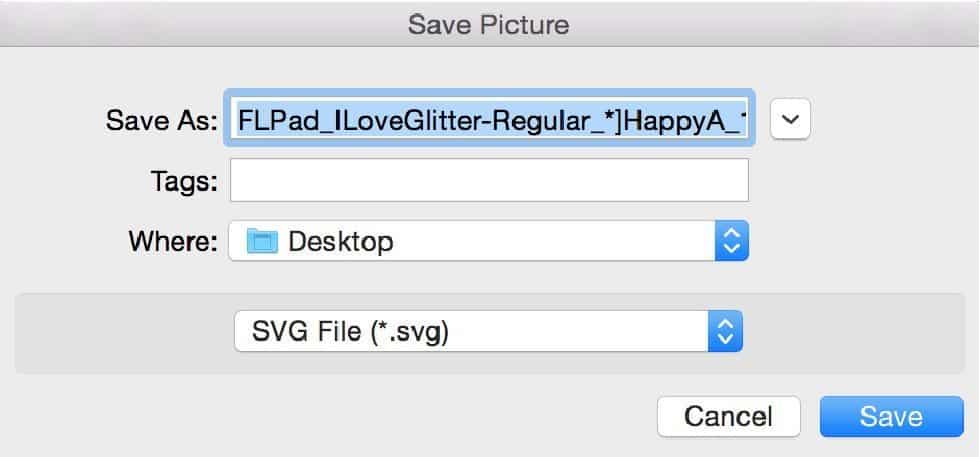 If you are designing a shirt with cuttable graphics then you can add this to your design in Illustrator. No need to rasterize your text and then trace and expand it!
Now You Know the Tricks for Script Fonts with Cricut Design Space
No matter which way you choose to connect your Cricut script fonts, you now have the ability to make gorgeous word art. Design quotes and sayings that you can use over and over on all your Cricut craft projects. This is a great way to take popular Cricut fonts and use them to make your favorite Cricut crafts.
If you would like to learn how to design SVG files from scratch, check out my course!