Which Glue for Paper Crafts? Top Picks for Perfect Creations
We may earn a small commission for purchases made through affiliate links in this post. For more information go to our Privacy Policy.
As a paper crafter, you might know firsthand that finding the right glue for paper crafts is essential for your projects. Whether you're working on collages, junk journaling, scrapbooking, or card making, having a reliable adhesive makes all the difference in the final outcome.
When it comes to paper crafts, it's crucial to choose a glue that is acid-free to prevent yellowing over time. I will break down some of the top 5 choices of liquid crafting glue to help you find the perfect match for your needs.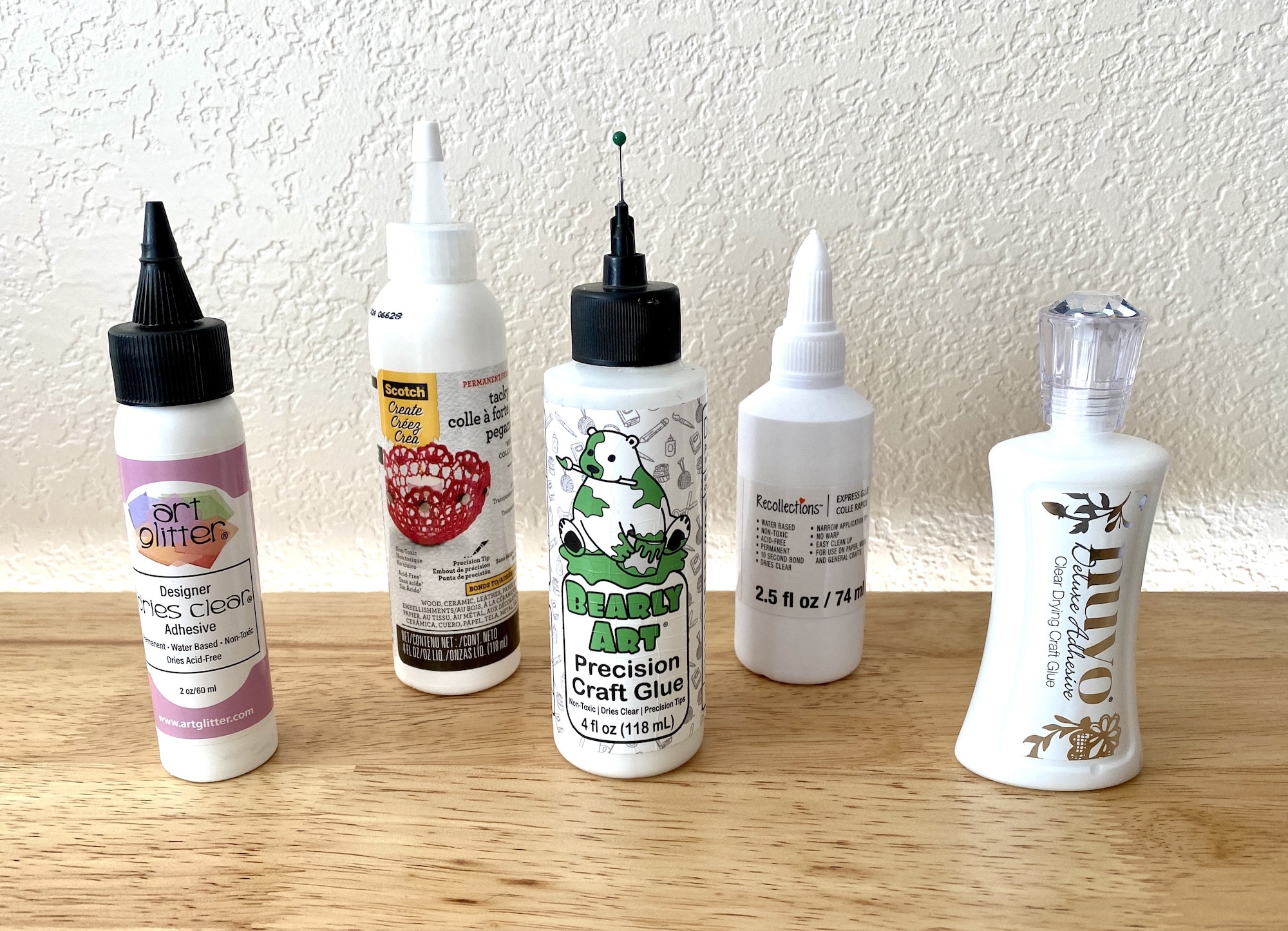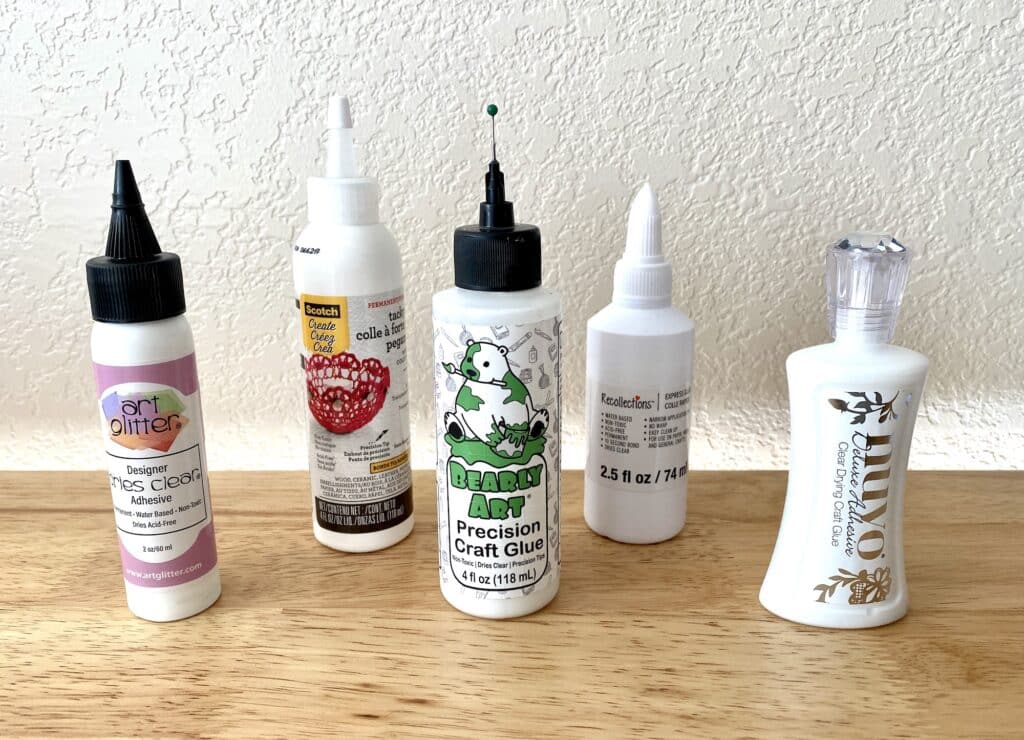 From trusted brands like Glitter Art to Bearly Arts, you'll learn about some expert-recommended glues for paper crafts. The following recommendations are based on my opinion and the tests I performed for each glue. Buy what you love.
What Is The Best Glue To Use For Paper Crafts
For most paper crafts, a non-toxic, acid-free glue is the best paper glue. This type of adhesive is thin, strong, and dries quickly without wrinkling the paper. An all-purpose liquid glue, such as Bearly Arts, is an excellent option. These other glues are also great alternatives: Nuvo, Art Glitter, Express Liquid Glue by Recollections (sold by Michael's), or Scotch's Liquid Tacky Glue.
Another great adhesive option for paper crafts is liquid glue. Tombow MONO Multi Liquid Glue is highly rated for its versatility and precision. This glue dries clear, making it perfect for card making and other crafts where aesthetics are crucial. A double-tipped applicator allows for precision and detail in your work. This is NOT one of my favorites, however. It is tacky, gets stuck on the bottle, and then stuck all over your fingers. If you are not the most clean crafter…this one will just irritate you.
Tacky glue, such as Aleene's Tack-It Over & Over Liquid Glue, is a popular choice for paper crafts as well. This adhesive is thick and strong, allowing it to bond various materials, including paper, plastic, and more. It's perfect for crafting projects where you need to attach embellishments or other small objects.
Best Glue for Paper Crafts Review
The process:
I took 5 different liquid glues that are intended for paper crafting projects and used them on different papers, paper sizes, techniques, and embellishments.
They are listed below in no particular order. The lists next to each one discuss the test results for each glue and the infographics and downloadable sheet show which glues are best for which projects.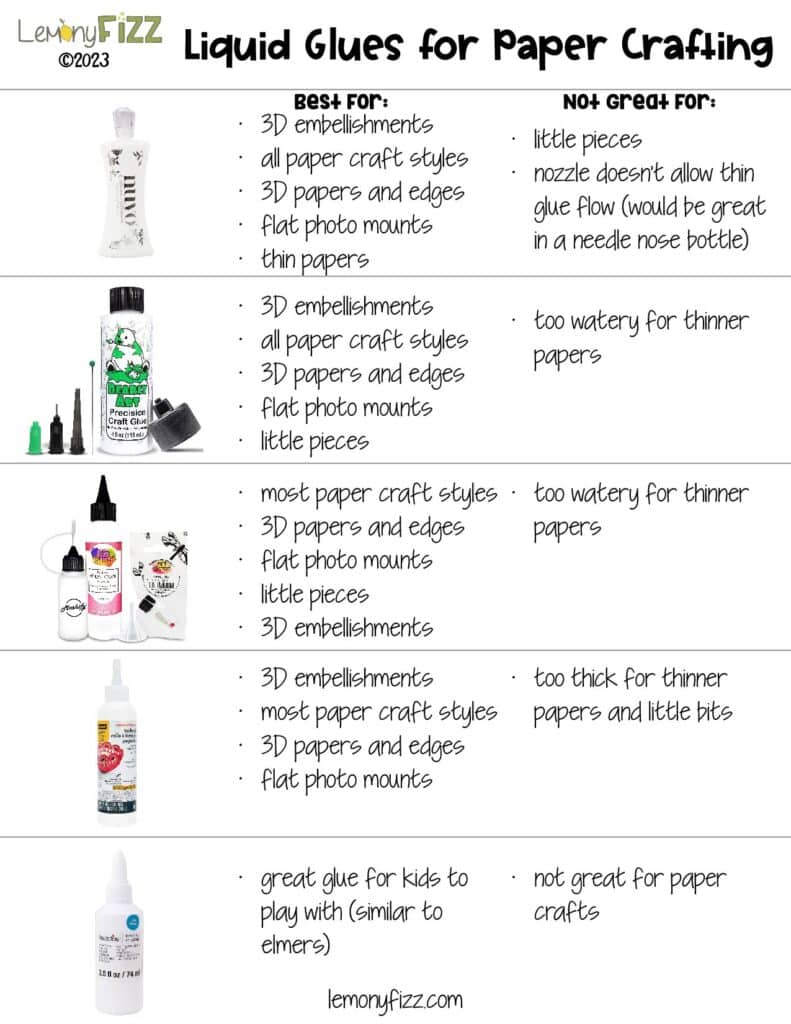 Bearly Arts Precision Craft Glue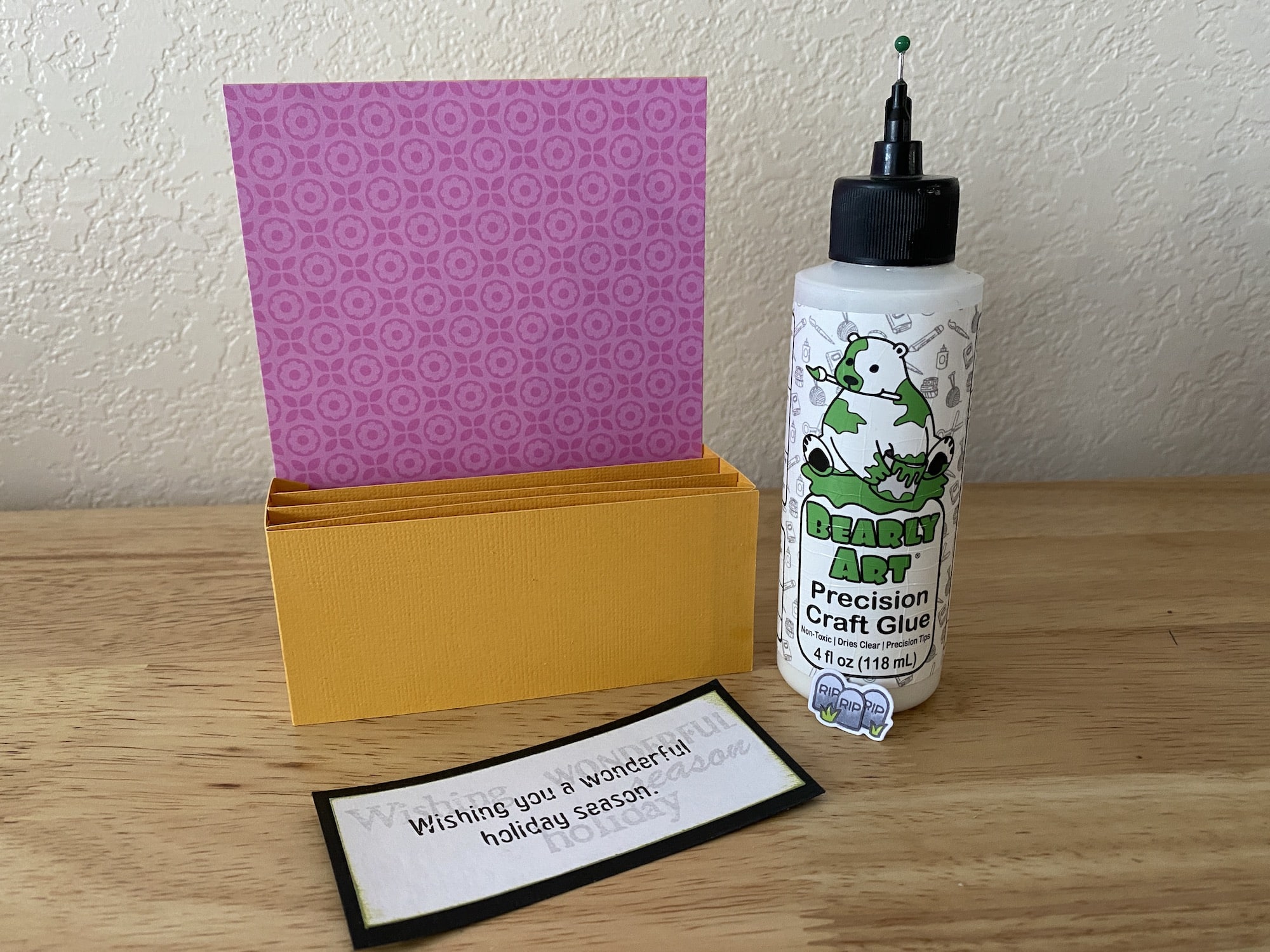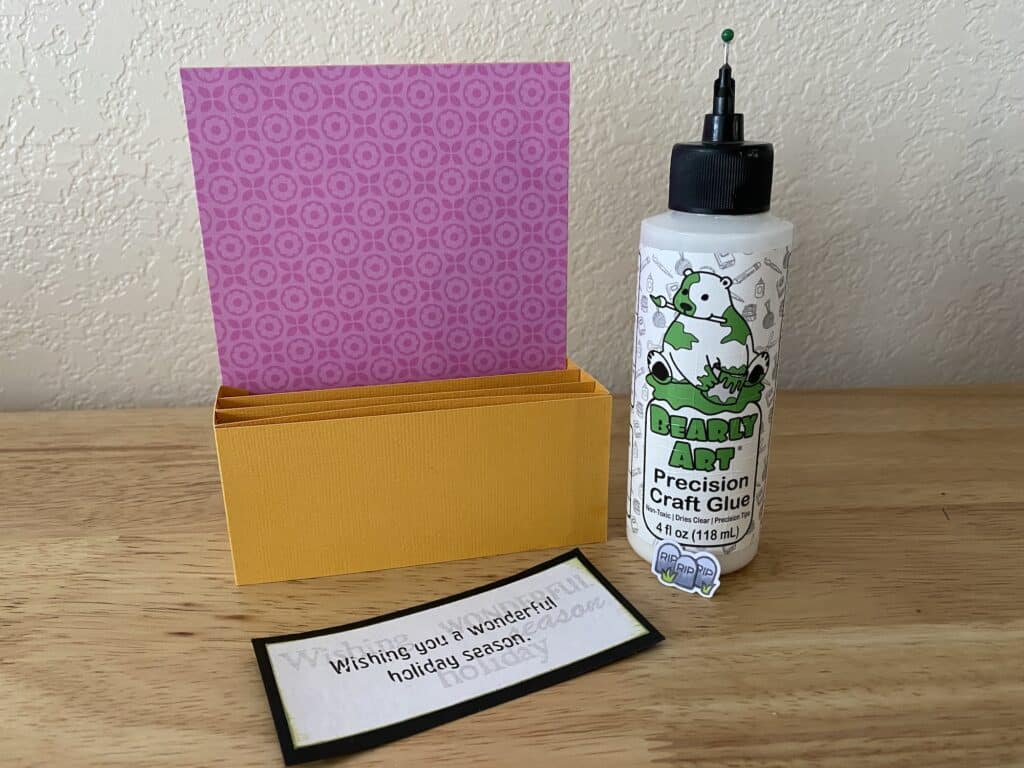 fine needle like tip that makes thin glue application very easy.
ph/acid-free
in large amounts it will warp thinner papers
great for 3D paper crafts, edges of folds, etc.
sinks in and holds quickly
dries fast
excellent for pearls, rhinestones, flowers, heavy embellishments
BONUS: Made in the USA
Nuvo by Tonic Studios
smaller tip that dispenses a little too quickly on smaller items
ph/acid-free
least amount of warping
great for 3D pieces, flat pieces
sticks quickly, very little hold time needed
sinks into fibers and dries quickly
amazing for pearls, rhinestones, flowers, heavy embellishments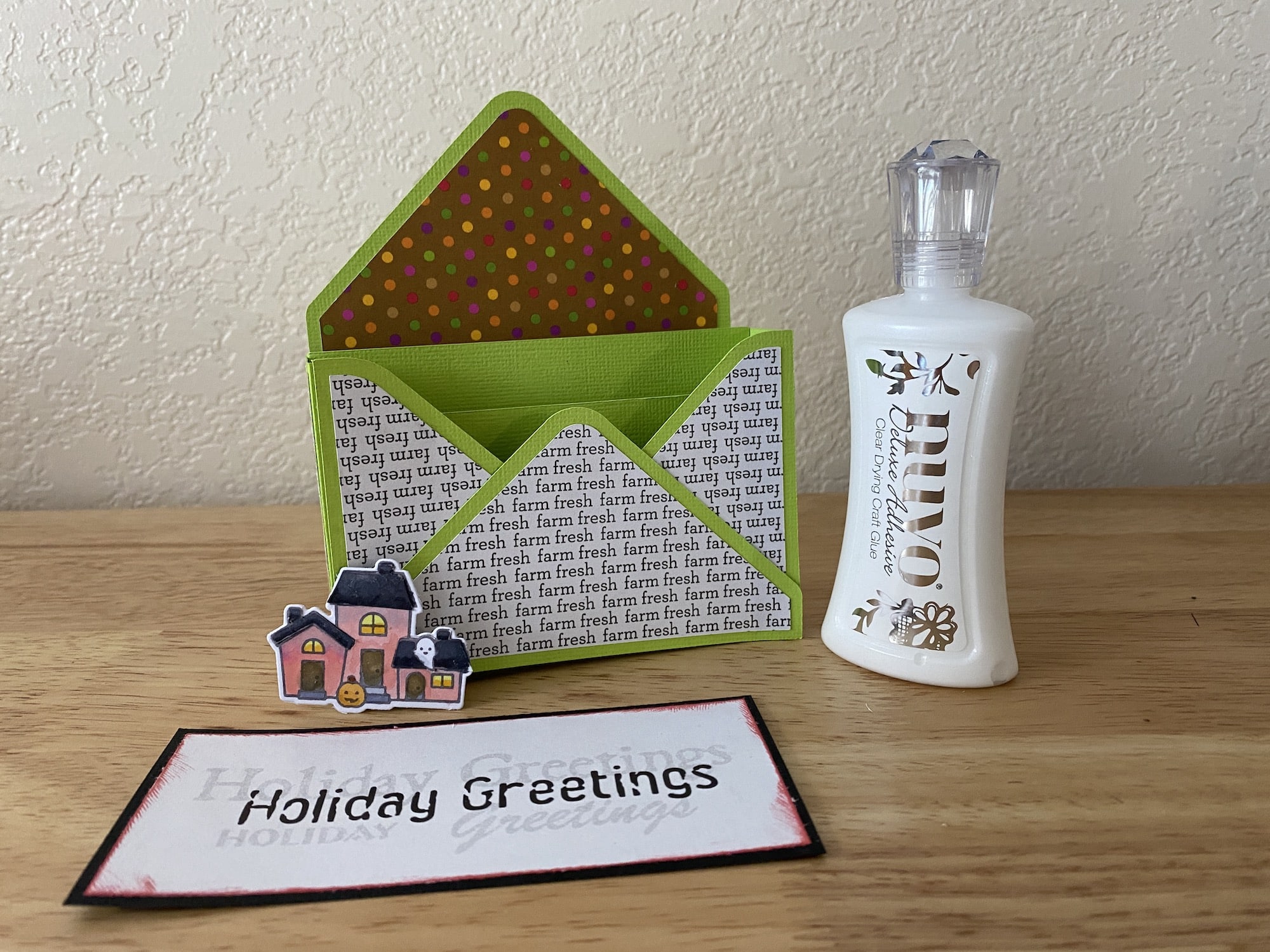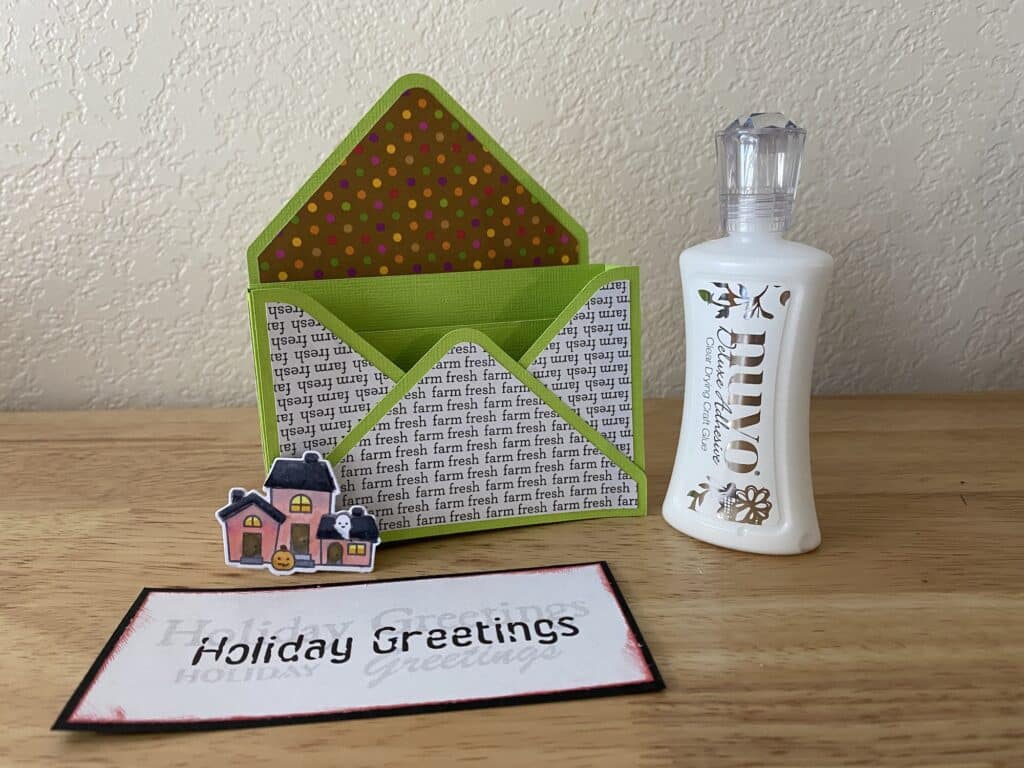 Art Glitter Glue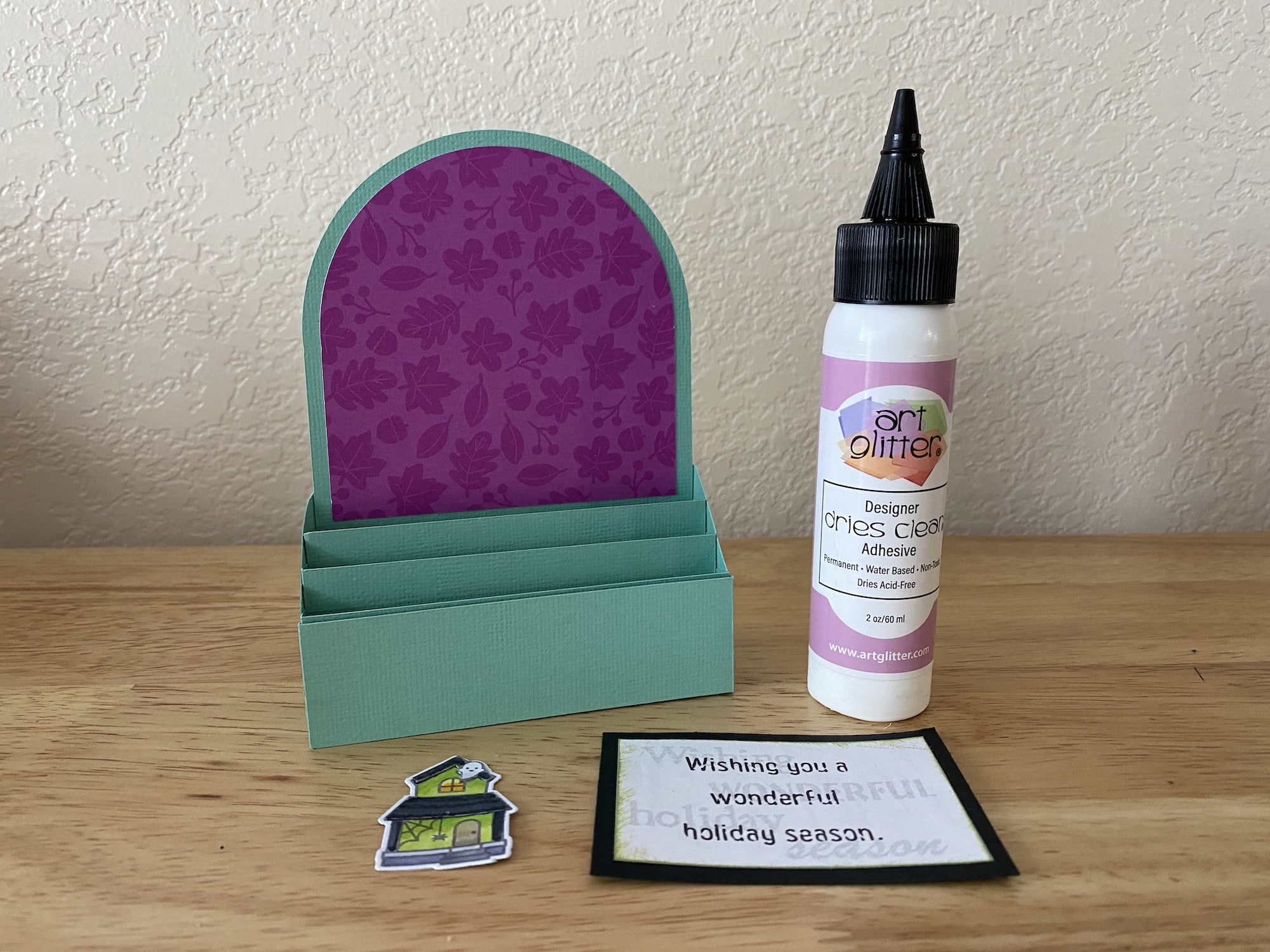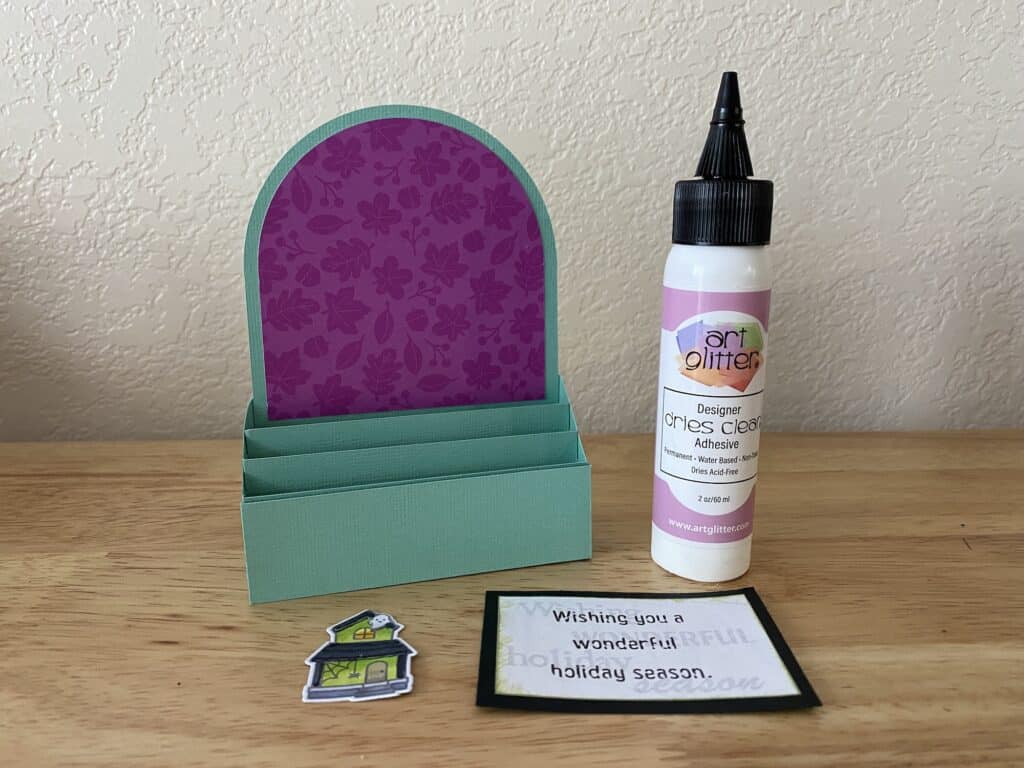 original tip is great for little pieces
ph/acid-free
too wet for thinner papers, excessive warping
okay grip on 3D pieces
doesn't grip instantly, so there is a decent amount of move time
dry time is a little longer
great for pearls, rhinestones, flowers, heavy embellishments
BONUS: Made in the USA
Recollection's Liquid Glue
does not dispense easily or smoothly (made a huge mess)
$6.99 at Michael's
ph/acid-free
too wet for thinner papers
warps photo mounts, doesn't grip for 3D folds and more complex crafts
doesn't grab or sink in quickly
too long of a dry time
does NOT hold pearls, rhinestones, flowers, heavy embellishments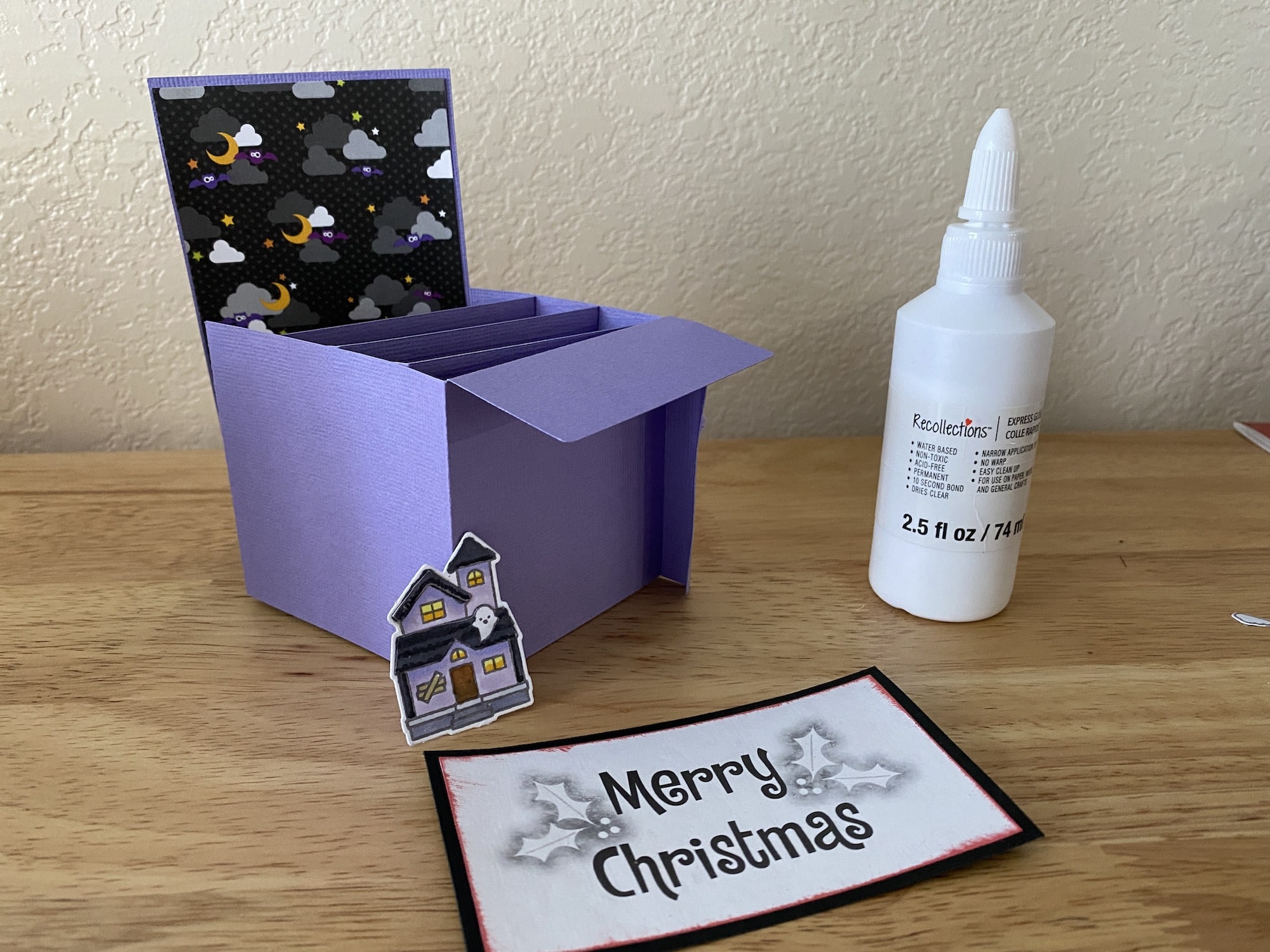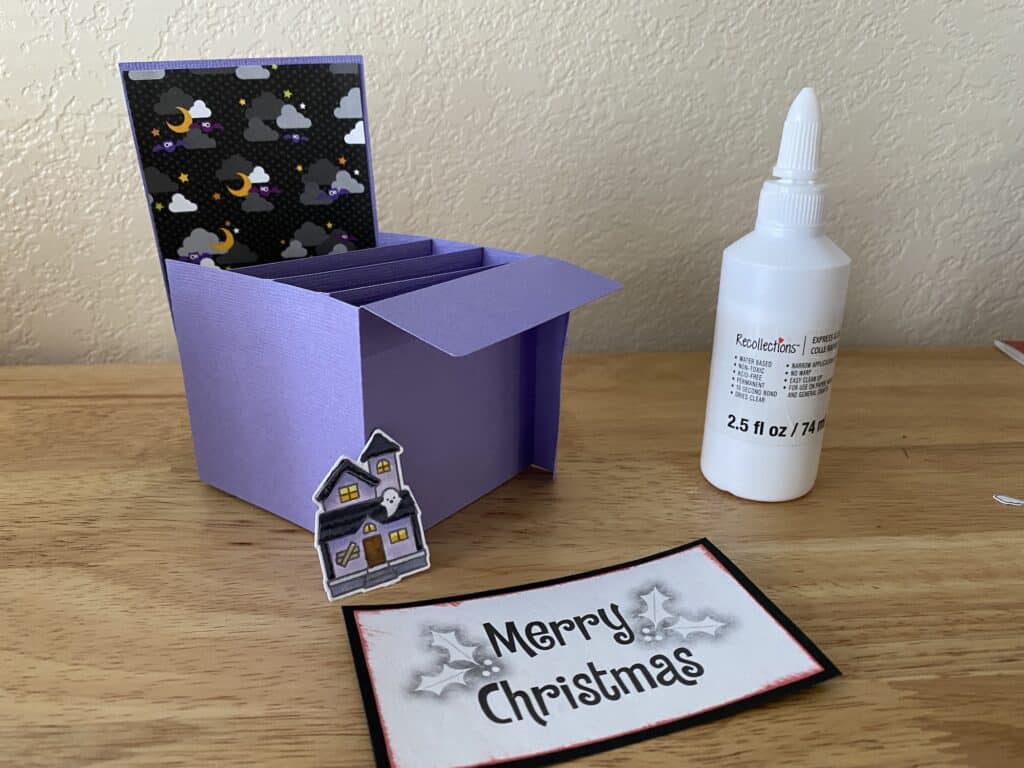 Scotch's Liquid Tacky Glue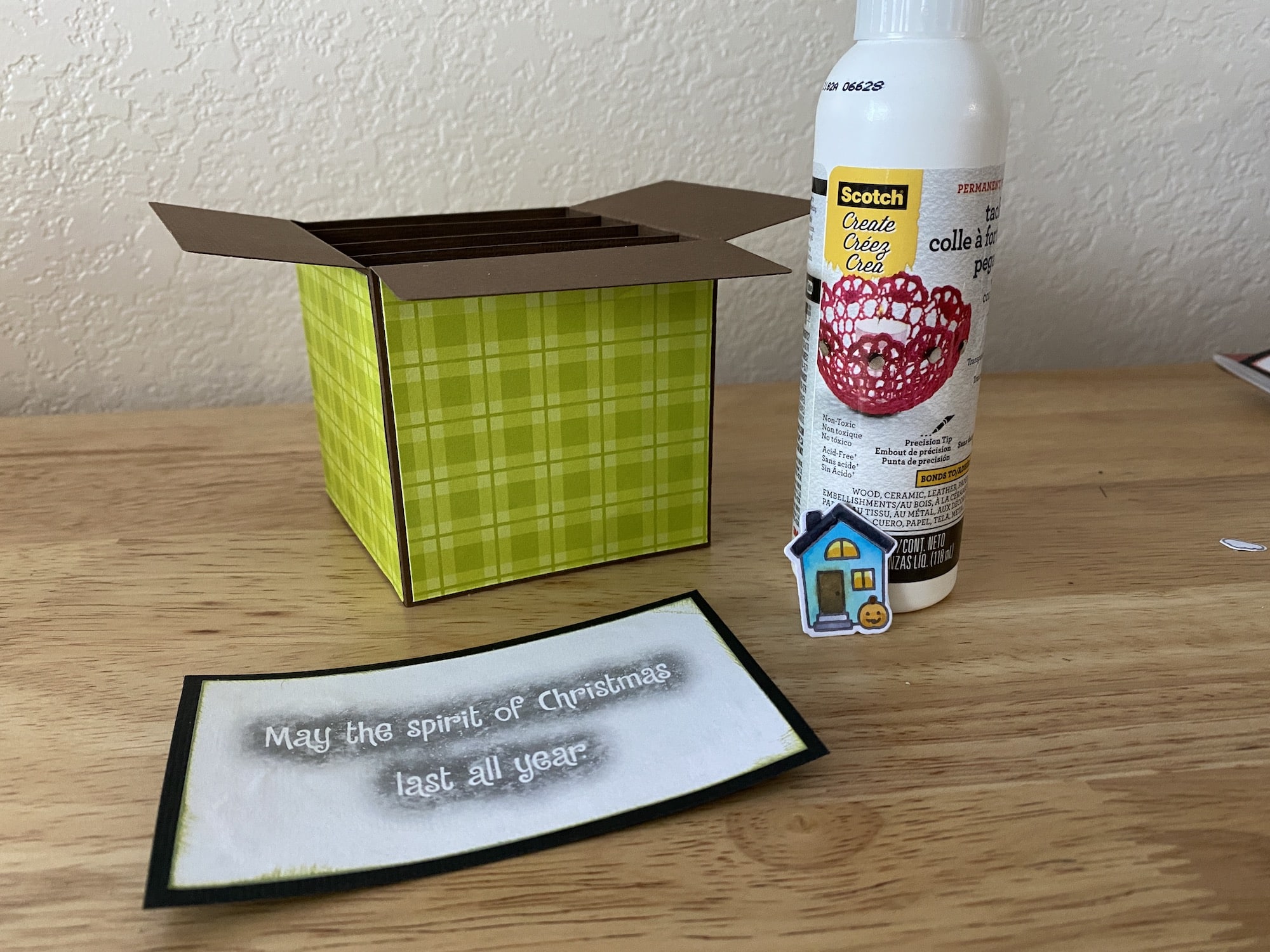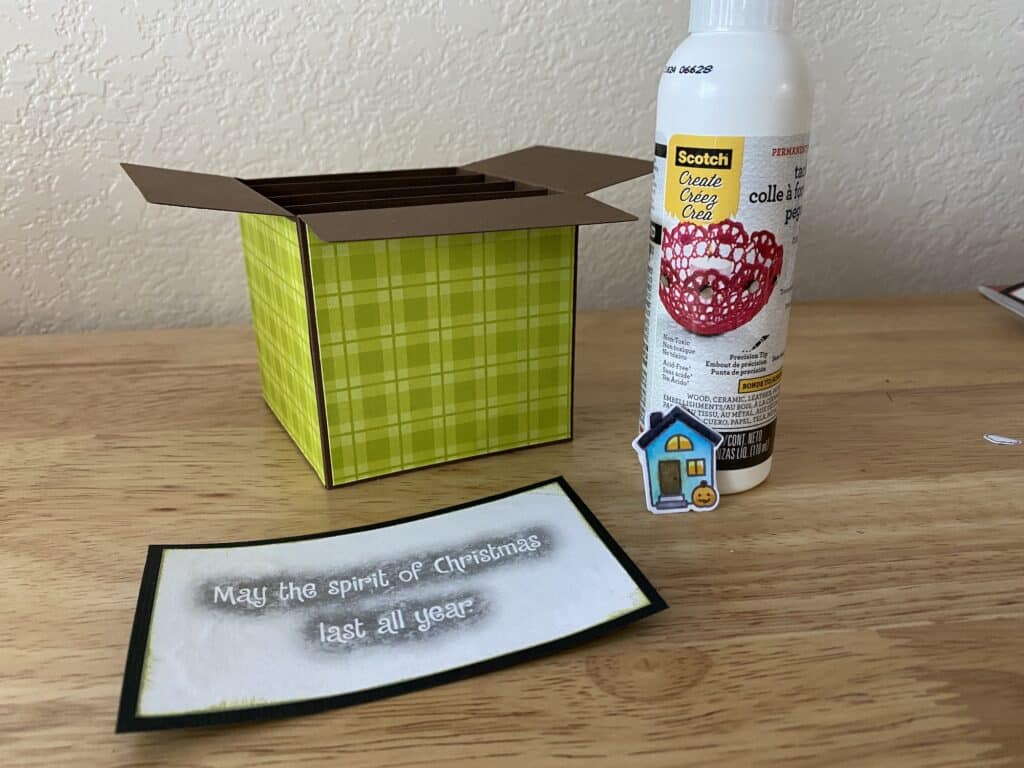 tip is wider and not great for little pieces (too thick of a glue for smaller nozzles)
$9.99 at Michael's
ph/acid free
thicker glue that is good for photo mounts (not great for thinner papers)
grabs edges of 3D crafts quickly
sinks into fibers so move time is minimal
quick dry time
great for pearls, rhinestones, flowers, heavy embellishments
After completing each of the designated tests for each glue (thin papers to look for ridges and warping, flat gluing or photo mats for warping, little bits for instant stick and cleanliness, 3D edges or folds for quick grab, overall moisture content, and how well each glue holds embellishments (or bling), the following glues are definitely the best for paper crafting:
Bearly Arts Craft Glue scored an overall 45/50
Nuvo Deluxe Adhesive scored an overall 44/50
The best glue for all-around paper crafting is definitely Bearly Arts Craft Glue. The lowest score was for thin paper and this definitely because it is a thinner more watery glue. It definitely makes up for that in hold/grip and working with more complex folds and edges.
If Nuvo was put into a bottle with a metal needle tip, it would have outdone Bearly Arts on the little bits and would have scored as the top glue. The tip on the bottle that it comes in doesn't have the detail or ability to limit the flow for smaller pieces.
Scotch Tacky Glue is a good glue if you are watching your crafting budget. Maybe buy a few of the thinner-tipped glue dispensers and water it down just a touch to make it easier to use. on pieces that require more precision.
DO NOT BUY the Recollections glue unless you are desperate or need an Elmer's glue replacement for. the kids. It is not worth the $7.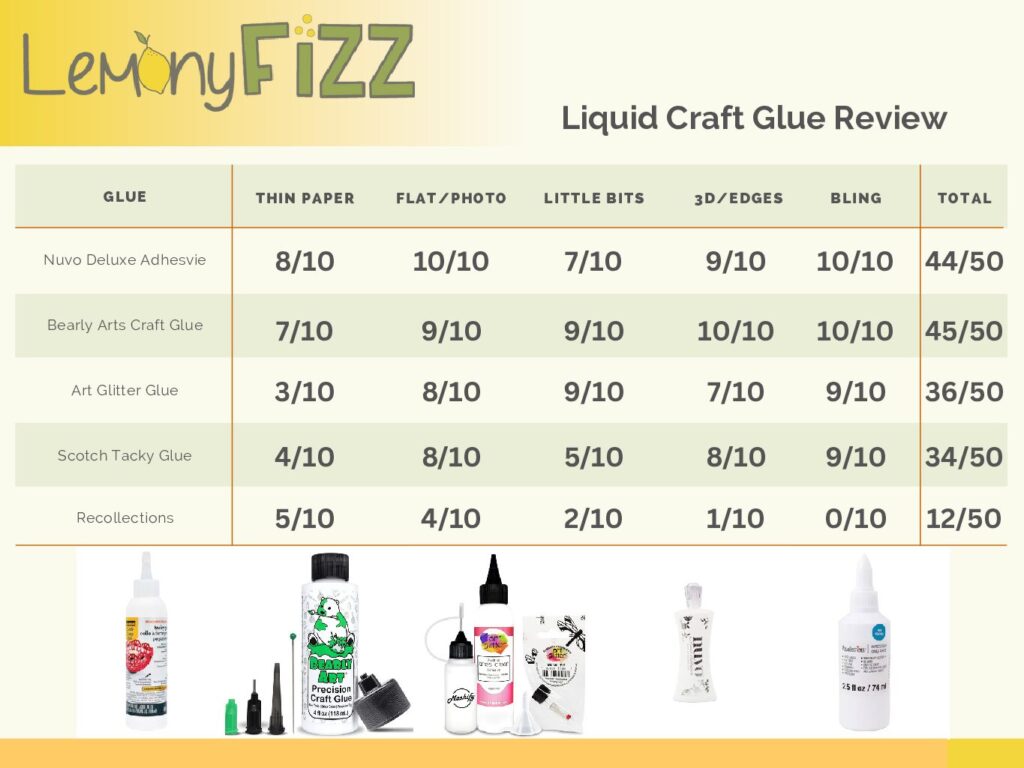 Adhesive Purposes
When working on paper crafts, choosing the right adhesive is essential for achieving the best results. As a crafter, you need an adhesive that bonds well with various materials and surfaces and provides the necessary strength for your project's demands.
Paper crafters usually use different materials such as cardstock, fabric, plastic, and various embellishments. Each of these materials requires an ideal adhesive that can bond well, without damaging or compromising the integrity of your project. It's important to consider factors such as temperature and the adhesive's chemical composition when choosing the right glue.
The strength of the adhesive is another crucial aspect to consider. You wouldn't want your masterpiece to fall apart due to a weak bond. To ensure your project remains secure and intact for a long time, select an adhesive with the appropriate strength for the materials you're using.
Gluing Large Sections of Paper/Photo Mounts
When working with large sections of paper or mounting photographs, it's crucial to choose the right adhesive for a secure and lasting bond. A clear and strong glue will ensure your paper crafts and scrapbooking projects look neat and professional. Here are some practical tips for a successful adhesive experience.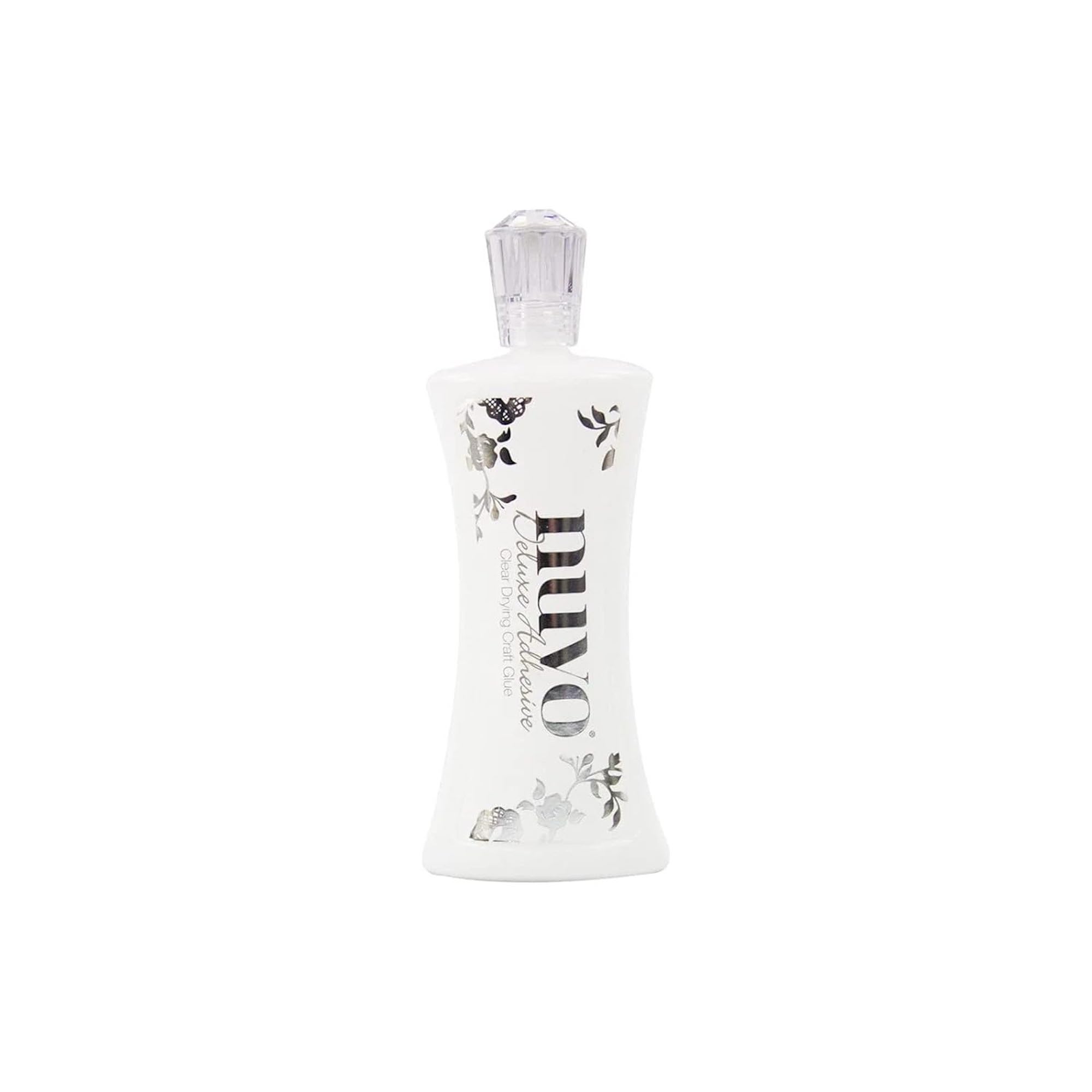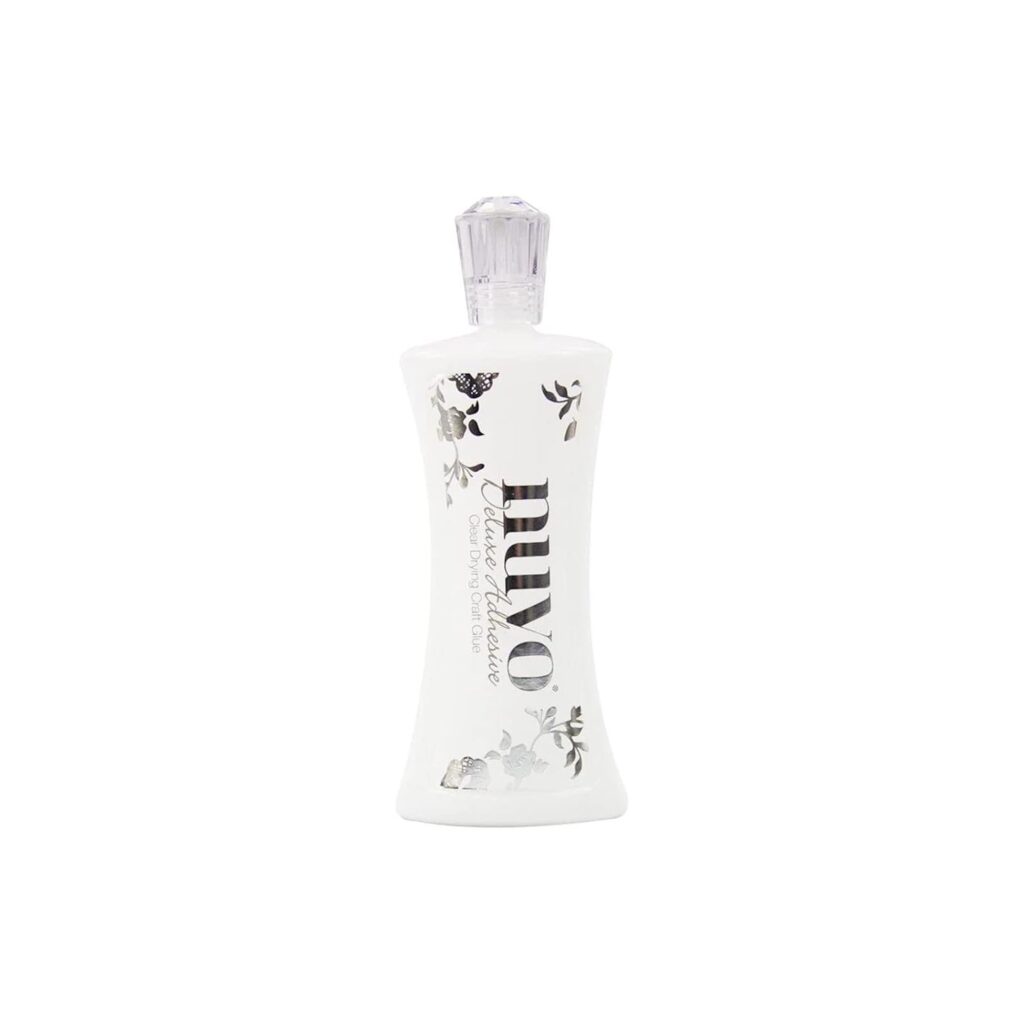 First, for scrapbooking enthusiasts and photo mounts, acid-free adhesives are highly recommended. They will not damage your precious photographs over time and will create a secure adhesive bond. Some popular acid-free options include Nuvo Glue and Bearly Art Precision Craft Glue.
When gluing large areas, it also helps to apply the adhesive evenly and not excessively. Too much glue may cause wrinkling or warping of the paper. Additionally, make sure to press the paper or photo firmly onto your chosen surface, smoothing out any bubbles or wrinkles as you go.
Gluing Small Pieces of Paper
When working with small pieces of paper, you want a glue that dries quickly, and is strong and permanent. You also want a paper craft glue that doesn't damage your paper, and easily flows through a super fine tip (like these small refillable glue bottles).
There are other types of adhesives that work really well with embellishments and bling. For this review, we are only focusing on liquid glues.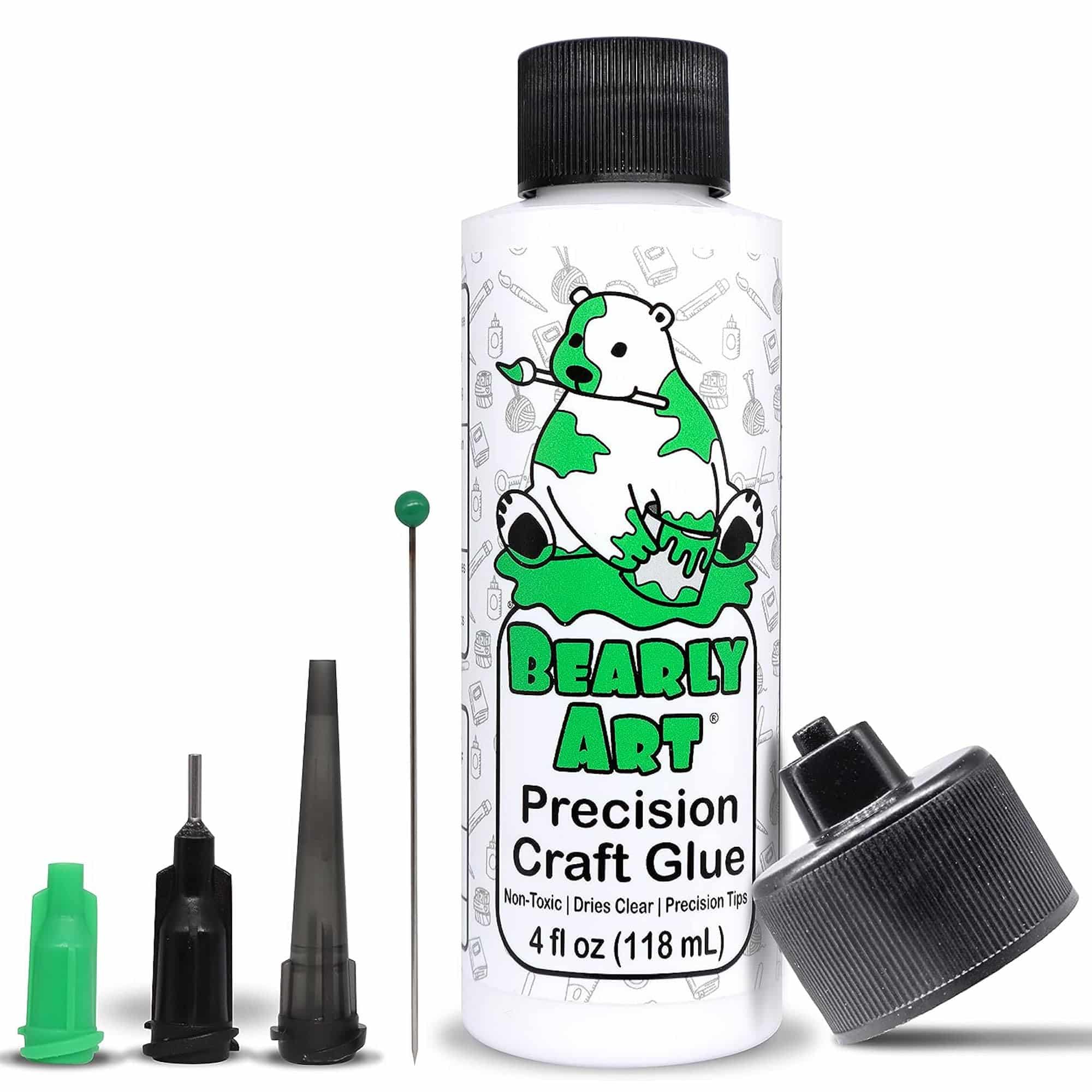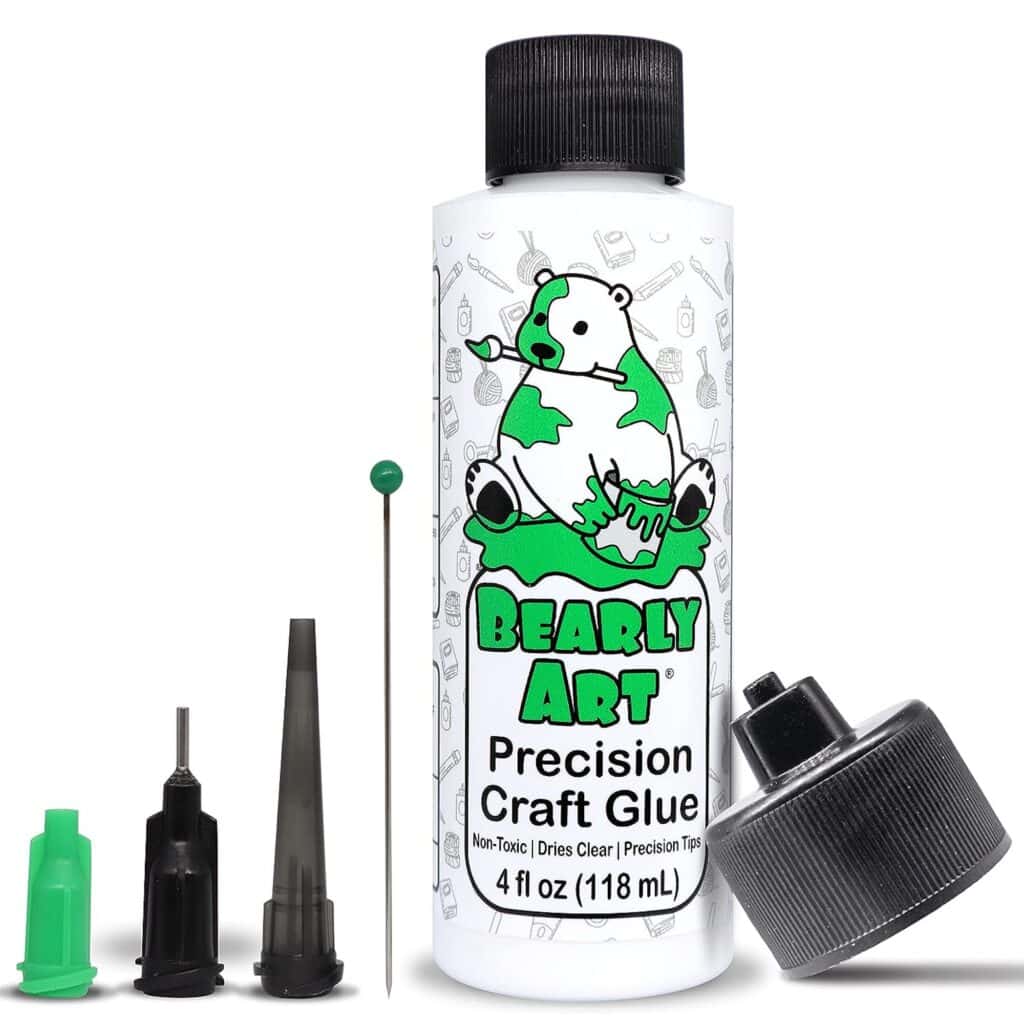 When you need a strong bond, consider using PVA or liquid glue. Ensure your chosen product is acid-free and non-toxic to avoid damage to your project.
Be cautious of the drying time, as liquid glue may require a longer period to set, and remember to only use a minimal amount to avoid wrinkling or warping the paper.
Gluing Non-Paper/3D Embellishments
In the world of paper crafts, you'll often find yourself wanting to add a variety of non-paper or 3D embellishments to enhance your projects. It's crucial to choose the right adhesives for these materials to ensure a strong bond. Let's explore some popular adhesives and their compatibility with different materials.
White Craft Glue (also known as PVA glue) is a versatile option for most non-paper embellishments, including fabric, foam, and light wood. It dries clear and offers a flexible hold, making it ideal for various applications. When using white craft glue, apply a thin layer to your embellishment and press firmly onto your project. Allow it to dry for the recommended time to ensure a secure bond.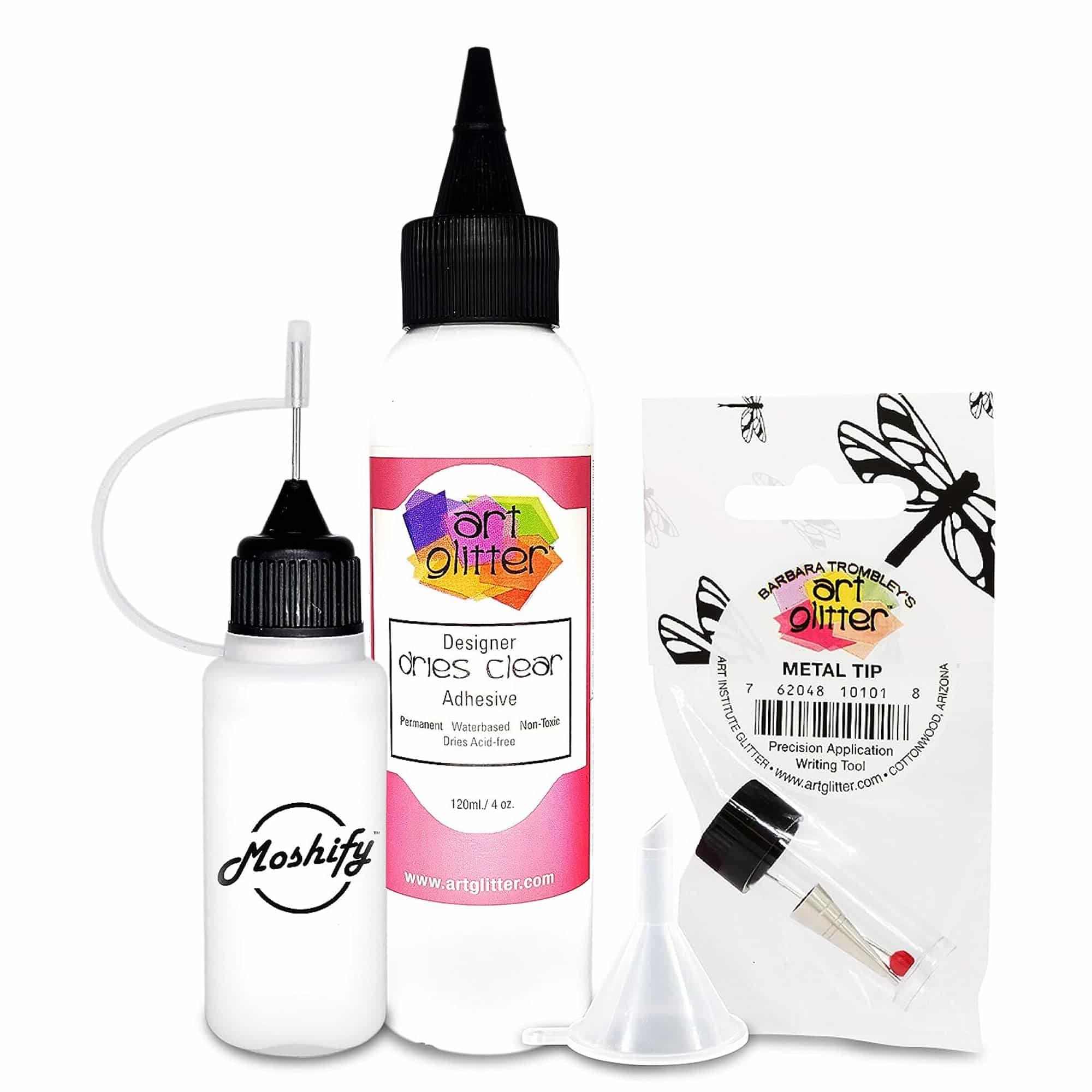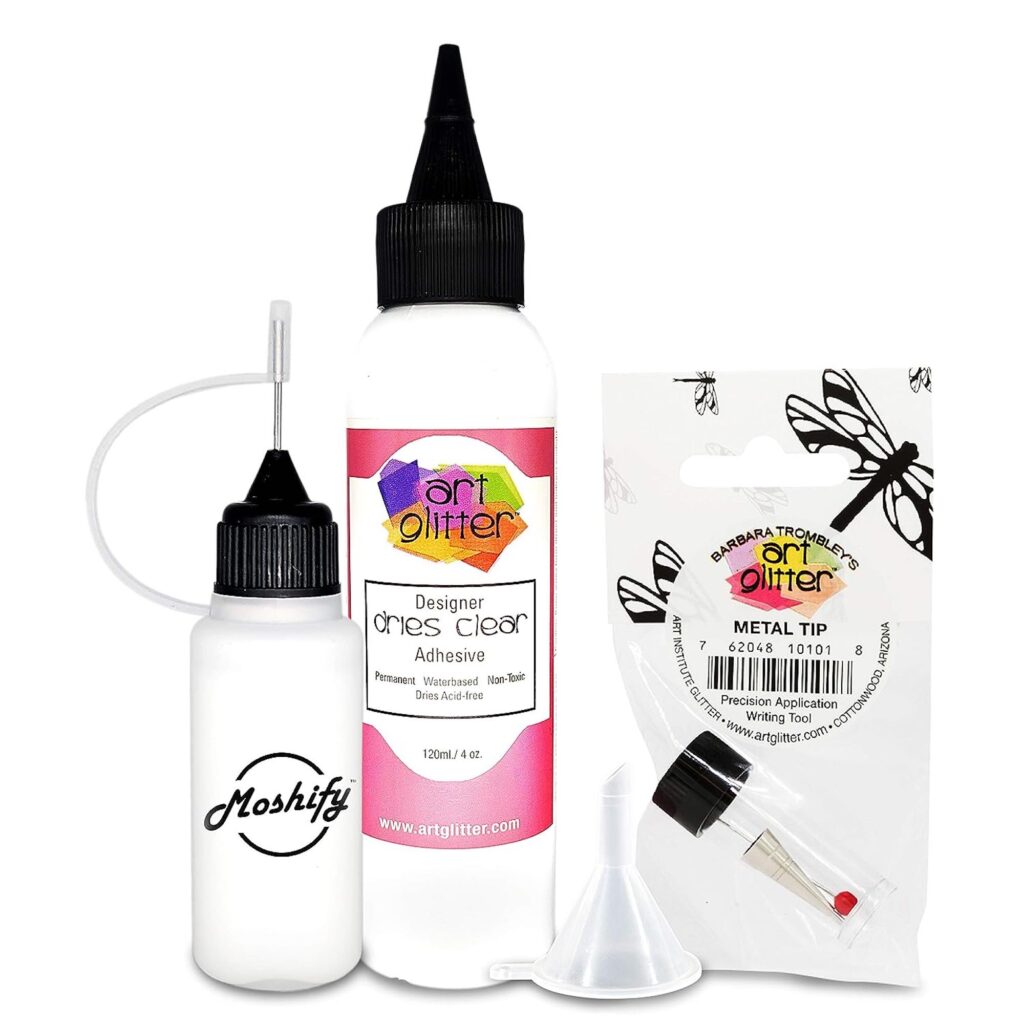 Clear Gel Tacky Glue is a great choice for delicate elements like lace and intricate wood pieces. With its thick formula, it provides a strong grip on both porous and non-porous surfaces. Remember to give it ample time to dry for the best results.
Hot Glue offers a quick and strong bond, making it perfect for attaching heavier embellishments such as cork, beads, and more substantial wood components. Be cautious when using hot glue, as the high temperature can occasionally damage delicate materials or burn your fingers. Always use a hot glue gun and work on a protected surface.
What Exactly Does Acid-Free Mean
When working on paper crafts, it's important to choose the right type of glue. One term you might come across is acid-free. Let's explore what exactly this means and why it's essential for your projects.
Acid-free glue is designed to protect your delicate paper materials. It has a pH level of 7 or higher, meaning it's either neutral or alkaline. This ensures that the glue won't harm your artwork, as it doesn't contain acids that can cause damage over time. Acid-free glue is an excellent choice for scrapbooking, card making, and other art projects that involve paper materials.
In addition to being acid-free, many of these glues are also non-toxic. This makes them safer for you to use and a more environmentally friendly option. Non-toxic glue typically cleans up easily with soap and water, making it convenient for you to work with and maintain a clean workspace.
How To Choose The Right Glue
When it comes to paper crafts, choosing the right adhesive can make all the difference in the quality and longevity of your project.
First, consider the type of paper you'll be working with. Opt for a non-toxic, acid-free glue that is relatively thin and strong. This will prevent yellowing over time and ensure that your projects remain vibrant and beautiful. White glues, such as Glitter Art Glue, are often a good choice for this.
Having a quick-drying glue is essential for paper crafting, as it helps avoid wrinkling and warping of the paper.
When assessing your options, consider the surfaces you'll be connecting. Some adhesives work better for certain materials, and you want the best glue for crafts that provides a strong bond between your paper and any embellishments, such as fabric, ribbon, or beads.
Lastly, think about your own skills and preferences when choosing an adhesive. If you're new to paper crafting, you may want to start with a simple, user-friendly option such as white glue with a precision tip applicator. As you gain more experience and experiment with different techniques, you can then explore other adhesives that offer various drying times or specialty features.
Remember, investing in the right glue for your paper crafts can significantly improve the outcome of your projects. Take your time to explore the options and find the adhesive that works best for you and your creative endeavors.
What is The Best Glue for Cardstock?
The best glue for cardstock is Nuvo Liquid Glue or Bearly Arts Liquid Glue. Both sink into the fibers of the cardstock quickly and hold edges of more complex folds and designs well.
What is The Best Glue for Pattern Paper?
If you are using a thinner pattern paper, Nuvo Deluxe Adhesive is the best glue. If you are using pattern paper that is thicker like a cardstock, then you can use Bearly Arts or Nuvo Deluxe.
What is The Best Glue for Scrapbooking?
The best all-around glue for scrapbooking is Bearly Arts or Nuvo Deluxe Adhesive. Both work well with cardstocks, pattern papers, and embellishments.
What is The Best Glue for Cardmaking?
The best glue for making cards is Nuvo Deluxe Adhesive. It holds 3D folds really well, sinks into paper fibers and grips for a lasting design, and is great with larger embellishments or bling.
What is The Best Glue for Cricut Cards and Box Cards?
The best glue for card making with the Cricut is Bearly Arts Craft Glue. It holds 3D edges really well if you are making interactive or dimensional cards. It holds a variety of papers and is great for embellishments.
A Few Things About Glue
Glue for paper crafts should be a non-toxic, acid-free glue that dries quickly without wrinkling the paper. In most cases, a white craft glue like Aleene's Tacky Glue is a great option. It works well with paper, fabric, plastic, and felt while staying flexible and drying clear.
Craft glues come in various forms, such as glue sticks, liquid glues, and adhesive tapes. An all-purpose glue stick like Elmer's is a popular choice for paper crafts due to its easy application and strong bond.
Spray adhesive is another option that can provide a quick and even coverage, but be sure to use it in a well-ventilated area. This type of glue might be better suited for larger projects or if you want to avoid the mess of liquid glue.
Washable glues are perfect for kids' crafts as they can easily be cleaned up with water, reducing the risk of stains and messes.
If you're working with vinyl or other heavier materials, you may need a stronger adhesive, like a hot glue gun. Glue guns come in various sizes and temperatures, so be sure to choose one that suits your project's needs. However, be cautious when using a glue gun with delicate papers, as it can sometimes be too heavy or hot, causing the paper to warp.
When choosing a glue, pay attention to its drying times and flexibility. Some glues dry extremely fast, which is great for quick results but can be challenging if adjustments are needed. On the other hand, slow-drying glues provide more time to perfect your project but might require longer waiting times.
Water-Based vs. Solvent-Based Glue
When it comes to paper crafts, choosing the right glue is essential. There are two main types of glue that you can consider – water-based and solvent-based adhesives. Let's take a closer look at each to help you make an informed decision for your next crafting project.
Water-Based Glue
Water-based glues are often the go-to choice for paper crafts due to their non-toxic nature, easy cleanup, and versatility. These adhesives are made by dissolving a resin in water and generally have a longer drying time compared to solvent-based glues. While this might be inconvenient for some projects, it does give you more time to adjust and position your paper pieces when you're working on a detailed design.
Some pros of water-based glues include:
Non-toxic, making them ideal for kids and adults alike
Easy cleanup with just water
Works well with most paper types
Solvent-Based Glue
Solvent-based glues differ from water-based options in that they use chemicals to dissolve the resin, resulting in a stronger bond. If you're working with heavier papers or need a more durable bond, this might be the better choice for you. It's important to note that the chemical nature of these adhesives can produce fumes, so working in a well-ventilated area is recommended.
Some benefits of solvent-based glues include:
Stronger bond and greater durability
Faster drying time, making it suitable for projects with tight deadlines
Can withstand temperature changes and chemical exposure
However, keep in mind that solvent-based glues can be toxic and may not be the most eco-friendly option. They can also be more difficult to clean up after using, so be prepared for a bit more effort when tidying up your workspace. They are mostly NOT archival quality. These are not best for papers that will come into contact with photos.
Types of Paper Glue
As a paper crafter, it's essential to know about the different types of glue available for your projects. In this section, we'll briefly discuss some common types of glue that you can use for paper crafts.
PVA Glue is a widely-used adhesive in paper crafts due to its water-soluble properties and strong bond. It's perfect for projects that involve layers of paper since it dries clear and doesn't leave any residue.
Glue Pens offer precision and control when applying adhesive to smaller, more delicate pieces of paper. They are ideal for card making, scrapbooking, and other detailed projects.
One of the best glue for paper crafts could be Elmer's Glue. Their all-purpose glue sticks and craft bond glue provide a strong, permanent bond for most paper crafting needs.
White Glue is another common adhesive used in paper crafts. It dries clear and is easy to spread, making it a great choice for both simple and complex projects.
Craft Glues, such as Aleene's Tacky Glue, are a good option for paper crafts that require a thicker, more robust adhesive. They are ideal for mixed media art, collages, and projects that need extra holding power.
Spray Glue is excellent for ensuring even coverage over a larger surface area, such as backdrops, posters or decoupage projects. It dries quickly and provides a secure bond between paper and other materials.
In addition to the above adhesives, you may encounter a variety of different types of glue tailored to specific applications or surfaces. So it's always essential to be familiar with the glue's properties and ideal use cases before applying it to your paper crafts.
Choosing the best craft glue for your projects and style of crafting might take a bit of trial and error. Once you find the right fit, you will know.