We may earn a small commission for purchases made through affiliate links in this post. For more information go to our Privacy Policy.
Are you ready for a new front door welcome sign? Have you been browsing Pinterest and wondering how you go about making one with the flowers and colors to match the season?
Every time that I walk into Michael's or JoAnn's I am hit with a blast of eucalyptus smell. Each time I think, "I need to make something with eucalyptus and flowers". There have been a number of times that I have pulled together all the flowers that I want, and then talk myself out of the project.
Either the flowers are too spendy.
Or I don't know what container to use.
Then I'm not sure where I want to hang the finished piece. This last problem is solved now that my daughter has her own place. I plan to just gift her all these home decor projects. That's a mother's duty, right?!
Making a Welcome Sign
This project was inspired by a front door welcome sign that I found on Pinterest. You can use this as an indoor decoration piece or you can hang it outside.
The list of materials is below so you can copy this project and make it your own!
Note: If you want to print the list and take it with you to the store, you can download the PDF in the library.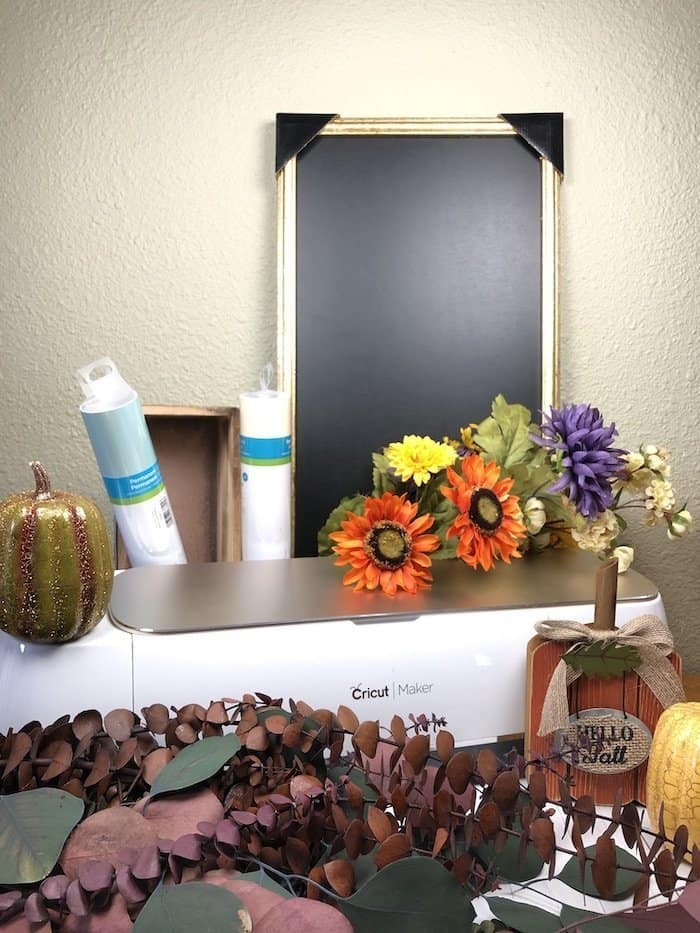 Shopping List:
Cricut Cream Colored Vinyl
Other Tools and Supplies:
Wire
Drill/Bit
Cricut or Silhouette Machine
How Do You Create a Sign?
This is a very simple welcome sign to make. The hardest part is attaching the box to the chalkboard sign.
There are a few different ways to do this. You can use a super strong glue like PL-Premium, drill holes and run a screw with a nut through the two pieces, or you can run wire through the holes (which is what I did).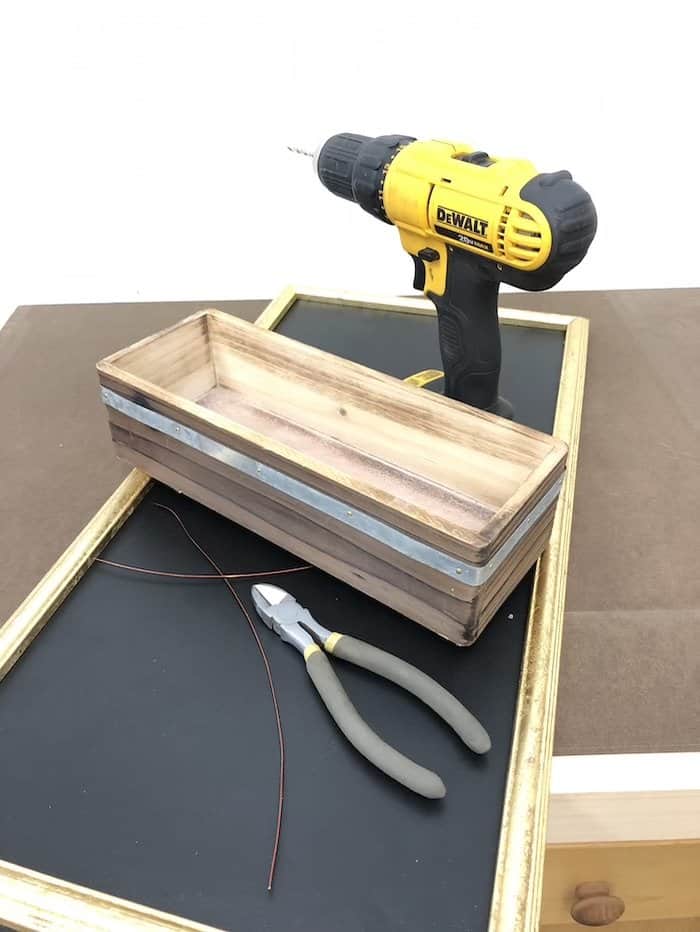 Once you have the box attached the chalkboard or backboard, you are ready to create your floral arrangement.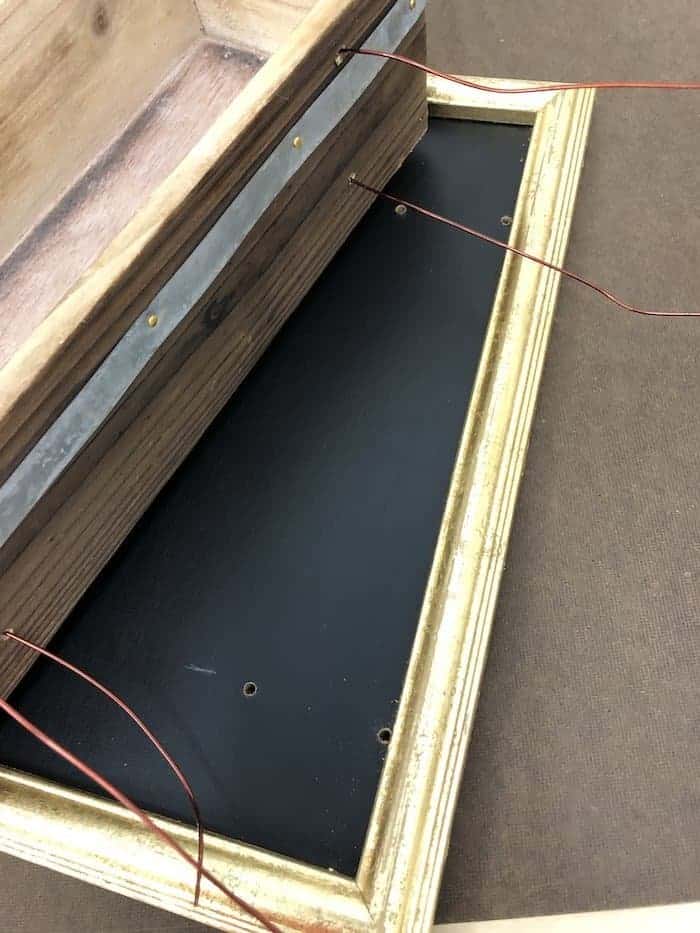 Choose your flower colors to fit your home decor or the season you want to celebrate.
When you are picking flowers, you will want to choose a few different sizes. Pick some larger flowers as well as some smaller flowers. You will also want to pick some "filler" like eucalyptus, baby's breath, or any other small flower that fills the stem. These work great for covering "bald spots" in your arrangement.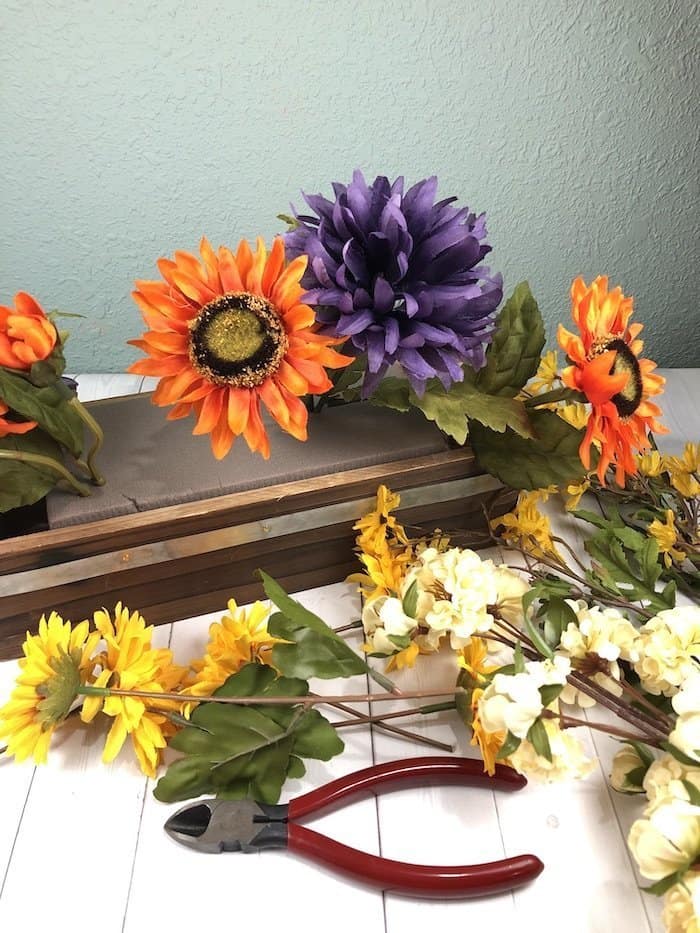 Place the floral foam in the box. Do any trimming that you need to make it fit. Don't worry if the foam doesn't fill the box from end to end. Your flowers will drape and cover gaps and empty spaces. No one will even know if the foam doesn't fill the box!
I took the flower foam and placed it in front of the sign so I could get an idea of how far up the frame the flowers would stand. If they were blocking the area where I planned to place the vinyl words then I knew I needed to trim them.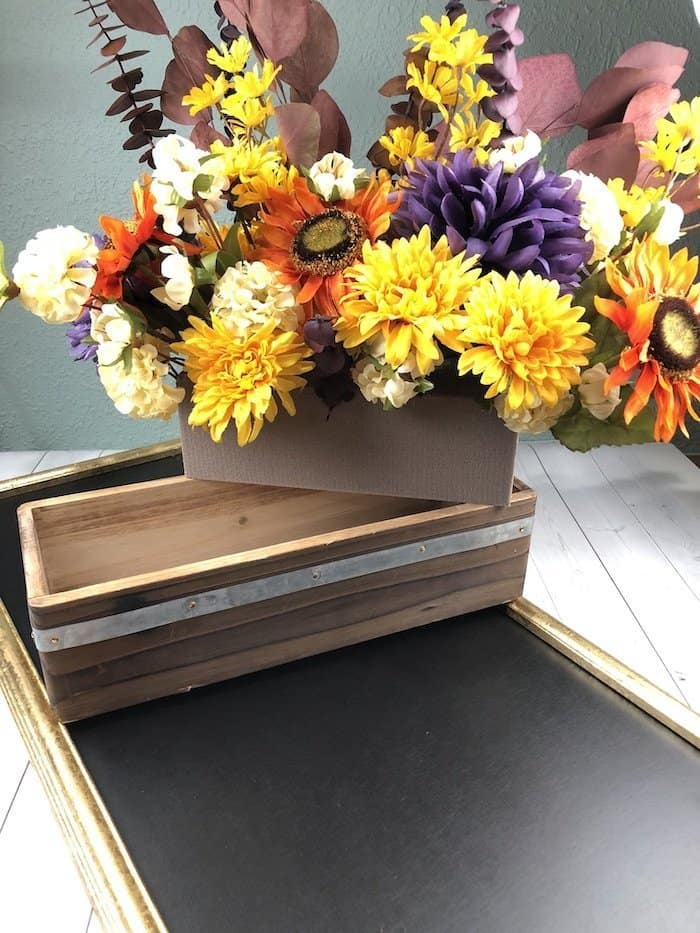 Create your arrangement. Think about odd numbers and uneven placement.
Your eye is more drawn to triangles and placements of items in sets of 3. You may be tempted to create even patterns, but visually an offset pattern with odd numbers is more appealing.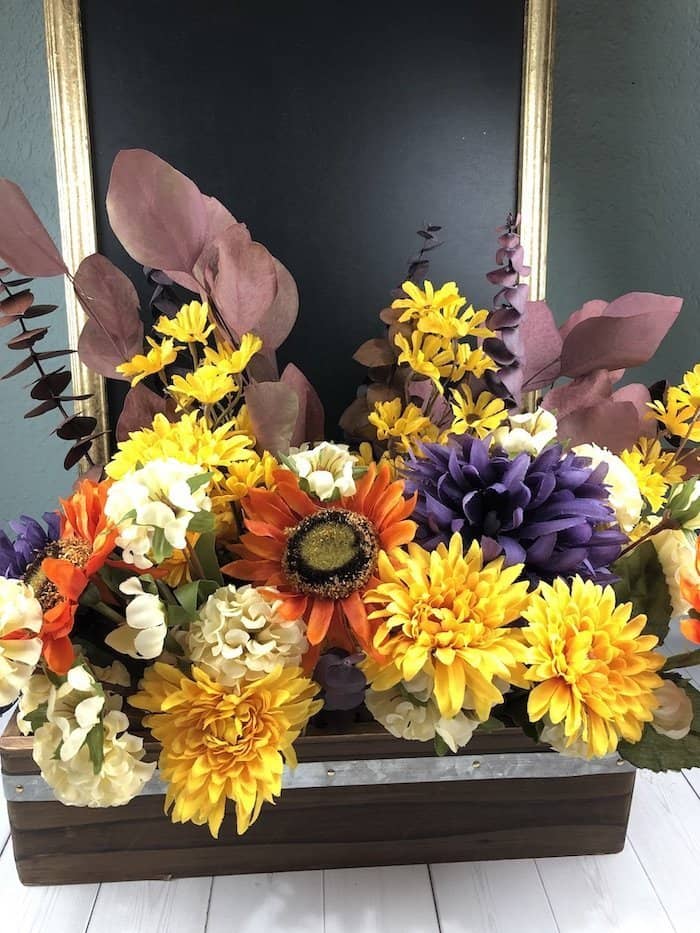 After you have your arrangement completed, place the foam in the box so you can see the flowers in combination with the sign. Fill any empty areas, trim any flowers that may be too tall. Make sure the arrangement is pleasing from your view and from an on-level view (because it will be hanging at eye level most likely).
The last step is to add the vinyl phrase to your sign. Choose the saying that you want. Anything goes here.
Welcome to our home.
Welcome to the home of the [insert your last name here]
Welcome to our happy home.
etc.
Open up your Cricut Design Space and use a flowing font to create your phrase. If you aren't sure how to make your script fonts touch each other and not cut out separately, I have a post for that!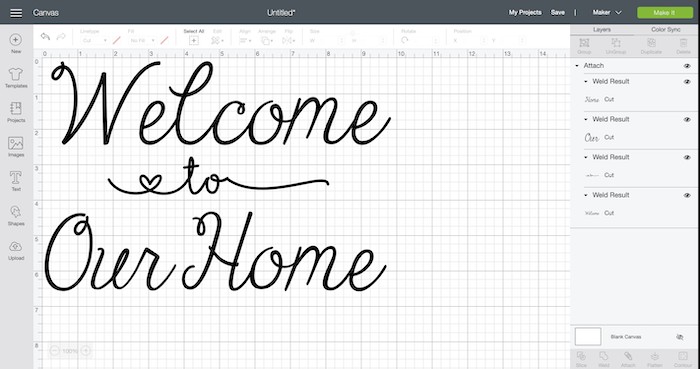 Cut your vinyl and apply it to your sign.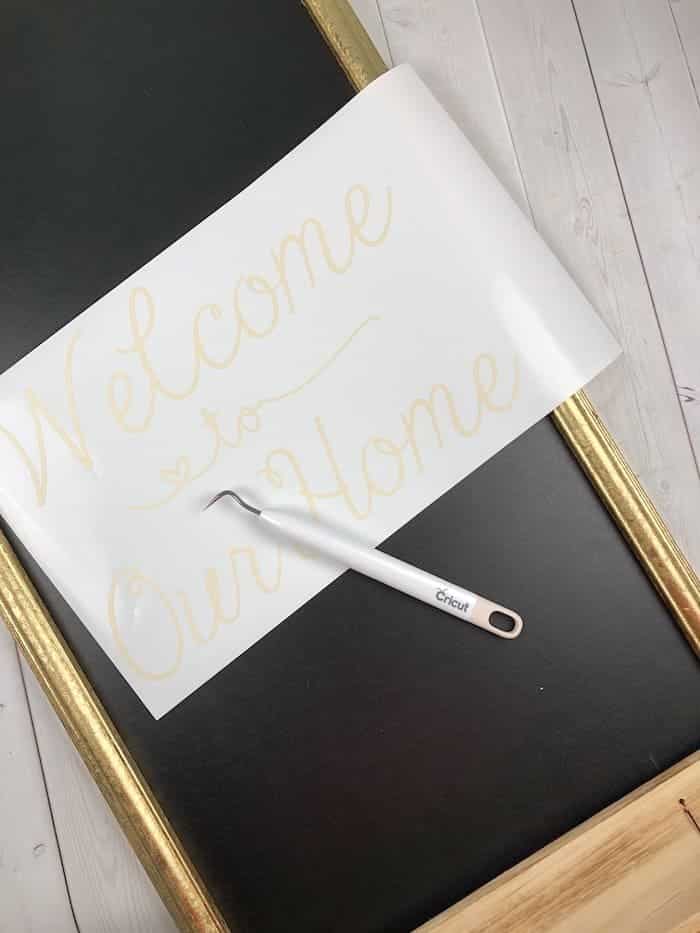 DIY Cricut Signs for Gifts
This is a very quick and easy project to make, but it looks like it took hours. If you are looking for a great gift to give as a house warming present, a holiday gift, or just because, then you may want to make more than one of these.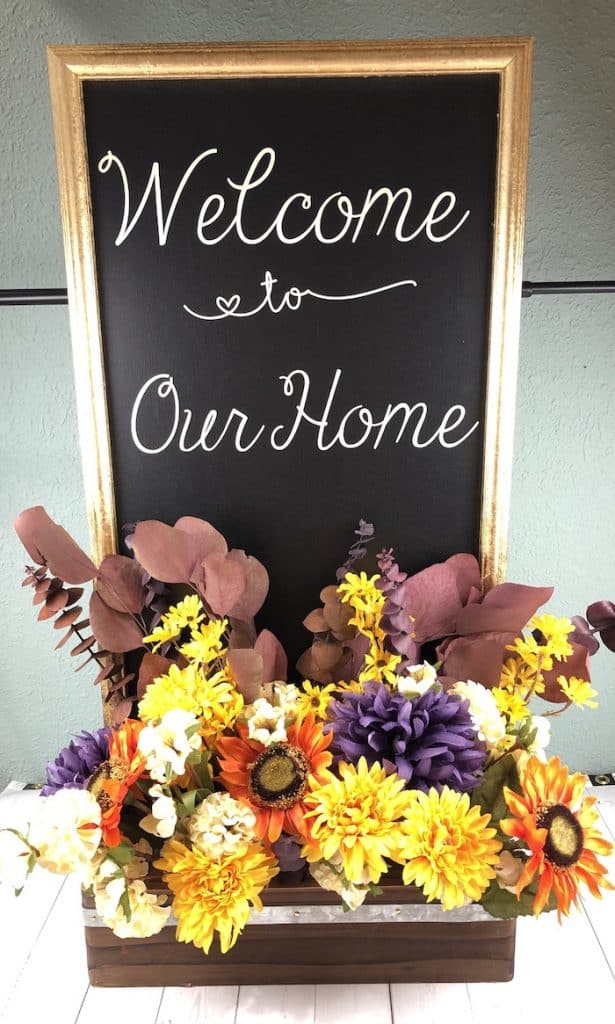 The best part of this front door welcome sign is that you can change out the flower arrangement from fall to winter and then from winter to spring and it will always be in season.
If you bought more than one floral foam, you can just store the last season's flowers and add a new floral foam and flower arrangement!