Best Vinyl For Cricut: A Guide to Vinyl for Crafters
We may earn a small commission for purchases made through affiliate links in this post. For more information go to our Privacy Policy.
There are a number of types of vinyl that you can use with your cutting machine (Cricut or Silhouette). It isn't about the best vinyl for Cricut or the best vinyl for Silhouette. The key is figuring out which is the best vinyl for your project.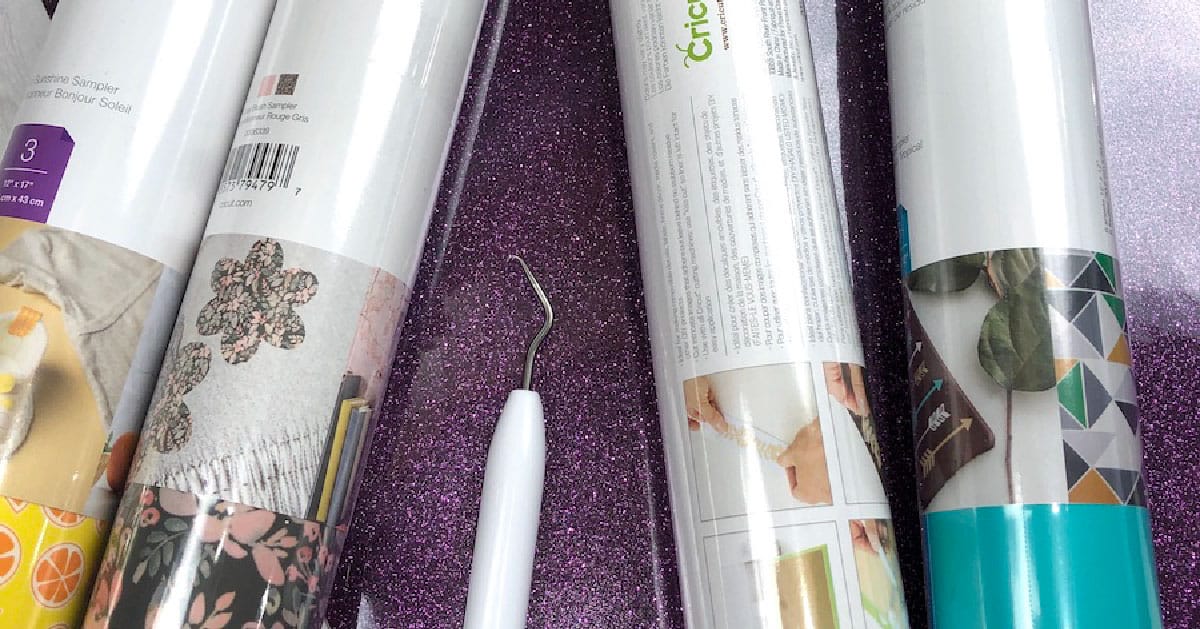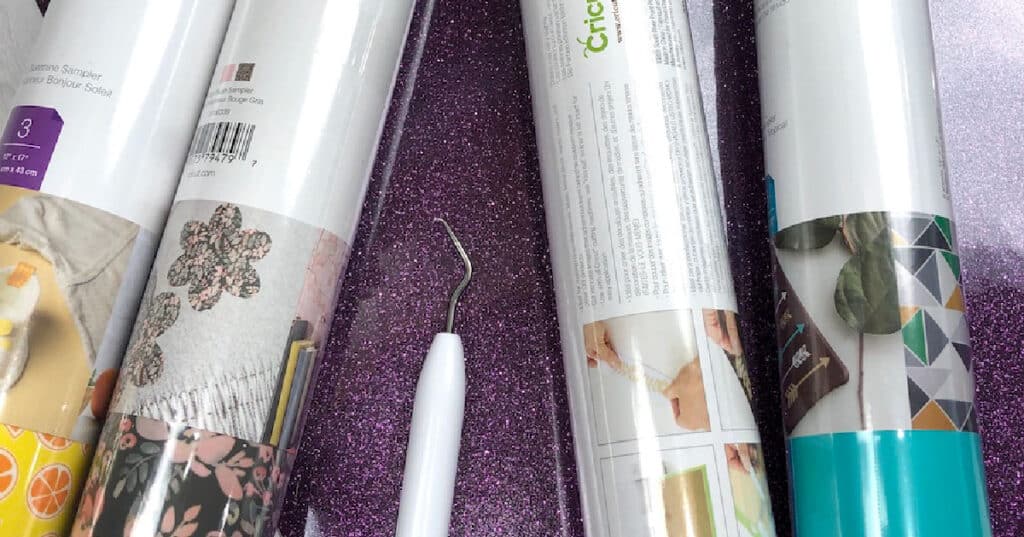 What are you going to make? Do you need a full roll of vinyl or can you just by the vinyl by the sheet?
After being in Facebook groups about crafting and reading different forums, I would venture to say that knowing which vinyl to use for a project is the most overwhelming part of making a project. Where to buy vinyl is the next obstacle to overcome. You have the project ideas. You just need the supplies!
The Best Materials for Cricut or Silhouette
Again. Keep in mind that you can use all types of vinyl in your machine. Regardless of which machine you use. You can be team Cricut or you can be team Silhouette. The types of vinyl for cutting machines doesn't change.
Removable Adhesive Vinyl
This type of vinyl is sometimes referred to as 'indoor' vinyl, 'matte' vinyl or '631' (Oracal 631 has set the industry standard for indoor vinyl and people just use the number as a shortcut when talking about it).
Best removable adhesive vinyl is Oracal 631.
Indoor vinyl is safe to apply to walls and home decor or wall hanging signs that will be displayed indoors and won't be outside where they are exposed to the elements. It is for projects that won't be handled much as well.
Within this category of vinyl you will find all the different styles of vinyl: designs, patterned vinyl, glitter vinyl, etc. They are available in most types of vinyl. When you are looking for a vinyl, look for what it can be used on and then at the styles available.
Permanent Adhesive Vinyl
This type of vinyl is known more as an 'outdoor' vinyl, 'glossy' vinyl or '651' (again as a reference to Oracal 651 being the industry standard for permanent vinyl).
Best permanent adhesive vinyl is Oracle 651.
Permanent adhesive vinyl can be used for any of your projects EXCEPT you walls. You do not want to lose paint or bits of drywall when you decide to remove this vinyl from your walls. Materials where permanent vinyl work best includes drinkware, dishes*, tiles, wood, outdoor projects, jewelry, signs, holiday decorations, and more.
Permanent vinyl will withstand hand washing (but should not be put in the dishwasher), changing weather elements, and moderate handling.
NOTE: Adhesive vinyl is not food safe and should not be placed on products where it will directly come in contact with food.
Carrier Sheet for Vinyl
Adhesive vinyl is on a paper backing that stays in place when you are cutting the vinyl. The carrier sheet for regular vinyl (both permanent and removable) is white, like sticker paper.
This white carrier paper is removed before you put the vinyl on the surface of your choice. You can peel vinyl off by hand and use it as a sticker. You can also use a transfer tape to hold your design in alignment and then move or "transfer" your design to the surface of your choice.
Transfer Tape for Vinyl
With removable and permanent vinyl you will have the option to use a transfer material to move the vinyl from the backing material to the craft blank of your choice (sign, wall, cup, etc.)
Best transfer tape for vinyl is YRYM transfer tape.
A transfer material has a light adhesive and sticks to the non-adhesive side of a piece of vinyl, allowing you to lift it off the paper backing so the adhesive side is exposed in order to apply
the vinyl.
After the vinyl decal is applied, the transfer tape or transfer paper is also removed.
Transfer tape is clear and can be gridded or non-gridded. It's easy to see through which makes applying vinyl decals relatively easy.
Transfer paper is typically gridded and a little less see through. The grid lines help with alignment, if you apply the transfer paper exactly straight or level on your design.
Smooth Vinyl
Heat transfer vinyl is the most popular type of Heat Transfer Vinyl (HTV). It has a smooth plastic-like surface. It is also available in a wide variety of colors and patterns. Prepare to be mind-boggled!
Best heat transfer vinyl is Siser EasyWeed HTV.
Think holographic vinyl, pattern vinyl, iron-on vinyl, t-shirt vinyl. Most of these terms are referring to HTV.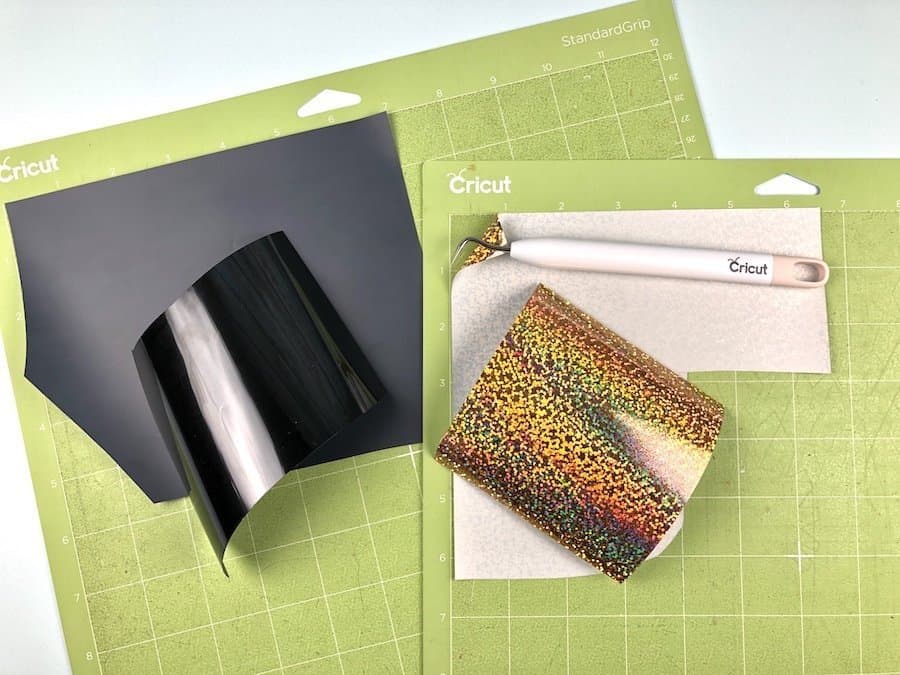 Glitter Vinyl
Just like the name implies, this is a glittery HTV that has a thicker texture with sparkles that will not rub off on your hands or the surface that it is applied to.
Best Glitter Heat Transfer Vinyl is Cricut Glitter HTV.
If you are not particularly fond of craft projects that involve glitter (because of the mess), don't give up on glitter yet! I love glitter HTV because you get all the shine and sparkle without being covered in it for days!
Flock Vinyl
This type of HTV has a fuzzy feel to it and is thicker so it has a slightly raised appearance when applied.
There are also vinyl types that are holographic, metallic, and infusible (to use with sport-flex types of materials)
PRO TIP: You can tell the difference between regular vinyl and HTV based on the backing. White is regular. Clear is HTV.
Cling Vinyl
Cling vinyl is a non-adhesive vinyl that works for any temporary window or glass decals. It also works great for removable decorations on lockers, mirrors, and whiteboards.
Best cling vinyl is Grafix Cling Vinyl Film.
Window cling vinyl, or static cling vinyl, does not have any adhesive. It uses the power of static electricity to stick to smooth surfaces like glass, plastic, and metal.
Using this type of vinyl for holiday decorations is perfect. They can be reused over and over. Year after year. Static cling decals can be removed and replaced as long as the surfaces are clean and dry. Store them on a flat smooth surface like a small whiteboard, piece of glass, or chunk of masonite.
Printable Vinyl
Use printable vinyl when you want an image or a custom graphic on your vinyl. These can be run through a regular printer. It is available in regular vinyl and you can also find printable HTV (think of the original iron-on decals).
What Can I Use Vinyl On
You will choose your vinyl based on the project that you have in mind. Is it an indoor or outdoor project? Does it need to be waterproof vinyl or are you putting it on a piece of glass that will hang on the wall?
Removable Vinyl Craft Projects
Craft projects that you will use removable vinyl on (like Oracal 631) will be things like:
wall decals
shadow box decor
handmade cards (or other paper crafts)
indoor signs
stencils
Removable vinyl is used when it isn't going to be handled or washed. You use it on walls so it doesn't remove the paint and drywall when you are ready to remove the vinyl and spice up your room with something new.
Permanent Vinyl Craft Projects
You will want to use permanent vinyl (like Oracal 651) as vinyl for decals. It is the best vinyl for car decals or stickers on your dirt bike and ATV. You will want to use permanent vinyl on the following types of projects:
exterior walls
outdoor signs
car decals
tumblers
cutting boards
shot glasses
wine or champagne glasses
mason jars
These are things that will be outside in the rain and sunshine. You also use permanent vinyl on things that will be handled or washed frequently. It is also referred to as permanent outdoor vinyl but you also use it on things that you keep inside.
Most companies will say that you should NOT put anything with vinyl on it in the dishwasher (vinyls are not dishwasher safe). Little pieces like the dots of an "i" will wear off first.
Heat Transfer Vinyl Projects
This is a fun one. This is the vinyl that gets our curiosity up, as crafters, the most. What can we stick HTV to?! This is the best type of vinyl for shirts, baby clothing, and home decor fabrics.
canvas totes (infusible inks also work great on totes)
pillows
t-shirts
jackets
hats (the new mini heat press works great for this!)
flags
any cotton or polyester fabric
paper (you can use it on paper crafts just like you would regular vinyl…use up those scraps!)
Heat transfer vinyl (HTV) will probably give you the most joy as a crafter while simultaneously making you want to cry and pull your hair out.
Tools for Working with Vinyl
You already know you need your Cricut or Silhouette to cut vinyl and make projects. (If you still aren't sure which Cricut machine to buy, then read this post.)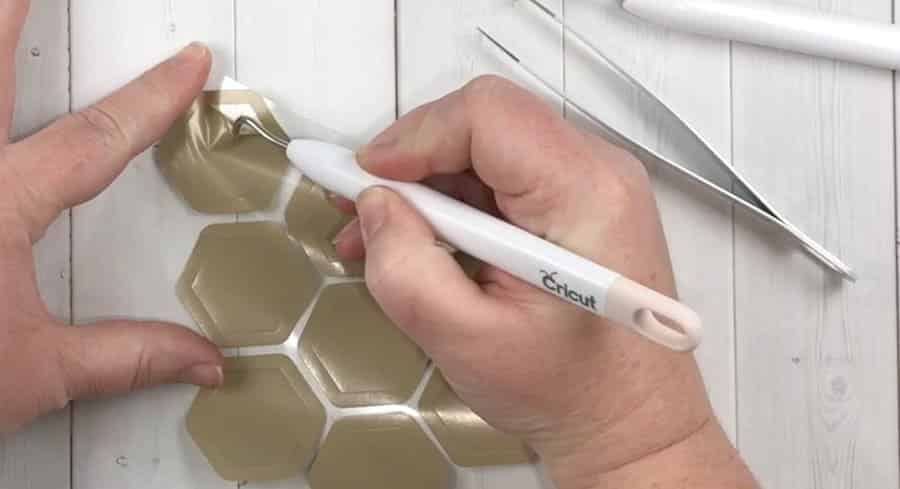 The other tools you will need are weeding tools. You need these for all different types of vinyl because you will be removing (or weeding away) the negative space of the design.
If you are going to make craft projects that involve HTV then you will need a heat press or a mini heat press (depending on the size of your project).
You will also need to know how to use Cricut Design Space so you can send your design to the machine to have it cut.
The Best Place to Buy Vinyl for Cricut or Silhouette
I live in a very rural area. If I want to buy a craft supply, my first choice is going to be Amazon. Free and fast shipping. A wide range of choices. And I can toss pantry items or personal items into the cart at the same time.
Watch out for imposters.
There are some low-grade types of vinyl being sold on Amazon under the guise of being the top brands like Siser vinyl or Oracal vinyl. But they really aren't. Shipping times or the seller's name will usually be a pretty good clue.
You can also order your vinyl from Siser or Oracal from their online shops. Order vinyl rolls or vinyl by the sheet. All the different types and styles are available. They add new designs and offer discounts to customers on their mailing list. If you are planning to order a lot of vinyl, frequently, this would be the best choice.
Cricut also sells all of their different vinyl types online and in craft stores such as Michael's or JoAnns. Craft stores wouldn't be my first choice unless they are having a major blow-out sale. The markup is usually higher and you won't get as good a deal as you might on Amazon or direct from a company shop.
All of the colors are super fun. You will want to pick and choose your favorites as well as pattern vinyls. The colors you use the most will probably be black and white. Buying larger rolls of these two colors will save you money in the long run.
Starting with Your First Vinyl Project
That was a ton of information that you just consumed. And there is more to learn!
Don't let the process overwhelm you!!
We all start somewhere. Which is why you are reading all about vinyl. And then you will read all about finding fun SVGs, and using design software.
It is part of learning something new. Now you know which is the best vinyl for Cricut and your projects. You are taking the first step. Keep going.
There are so many fun things to make!! Mistakes will happen. But really, the price of vinyl isn't that terrible. Don't worry about messing up a piece here or there. We all have ruined a project or two!