We may earn a small commission for purchases made through affiliate links in this post. For more information go to our Privacy Policy.
You are still in the research phase of buying a Cricut or you have a Cricut but you need to find ways to save money, make supplies last, or you just really like hacks! (Check out this post for the best Cricut to buy.)
It was a ton of money to buy that machine.
Now it is just sitting there. On your craft table. Collecting dust!
You made the investment. Now you are intimidated by the cost and scared to touch it. You don't want to break it.
I know you want to use it. The desire is there. It's just hard to get started!! Using these Cricut Maker hacks and common household items will help you become more comfortable with your Cricut machine.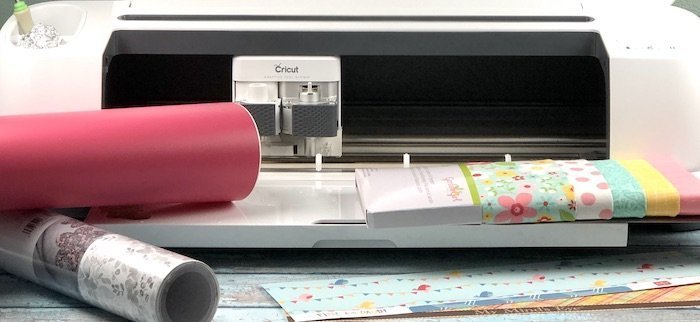 So the bug is still in its box. It is time to take it out!! I understand that you are a little hesitant. That is okay. I wrote a whole book to help you feel more confident when it comes to playing with that expensive machine!
Get Your Copy of the Cricut Guidebook:
After you have been using your Cricut machine (Cricut Maker, Cricut Explore Air 2, or even a Cricut Joy) or Silhouette for a while (yes…most of these hacks will work for both) you start to find tips and tricks that make it even more functional.
Or some hacks to save you time and money. That's always an added bonus, right?!
If you are a seasoned Cricut or Silhouette user, you may still find a few golden nuggets. There is always something new to learn and try. Especially in the crafting world.
Removing Paper or Stickers from the Mat
The first thing you want to do after cutting out a design in cardstock or paper is to start pulling your design off the mat.
It makes sense to just start lifting the paper off in the opposite way that you put it down.
Try this instead.
Turn the mat upside down. Remove the mat from the paper. Curl the mat away from your design while it lays flat on your work surface.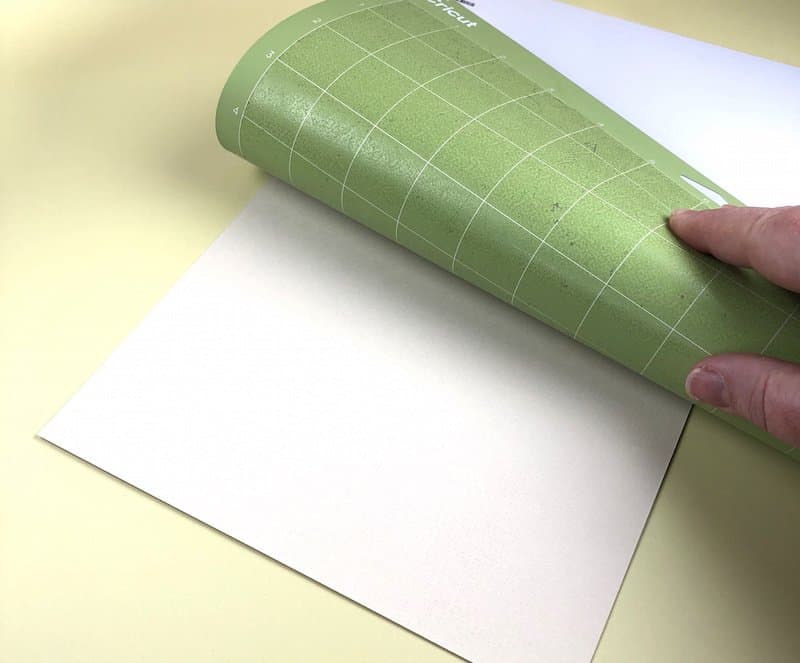 Go ahead and try it. I'll wait right here.
It seems completely opposite of what you should do. But the magic is that your paper doesn't curl. Instead of bending your paper away from the mat, you are bending the mat away from your paper.
Paper and dust will get stuck to your mat. Read this post to learn how to clean your Cricut Cutting Mats and which color to use with which materials!
Get More Life Out of Your Cricut Blade
Before Cricuts and Silhouettes, there were paper punches. And the best way to keep them from eating your paper was to keep them sharp.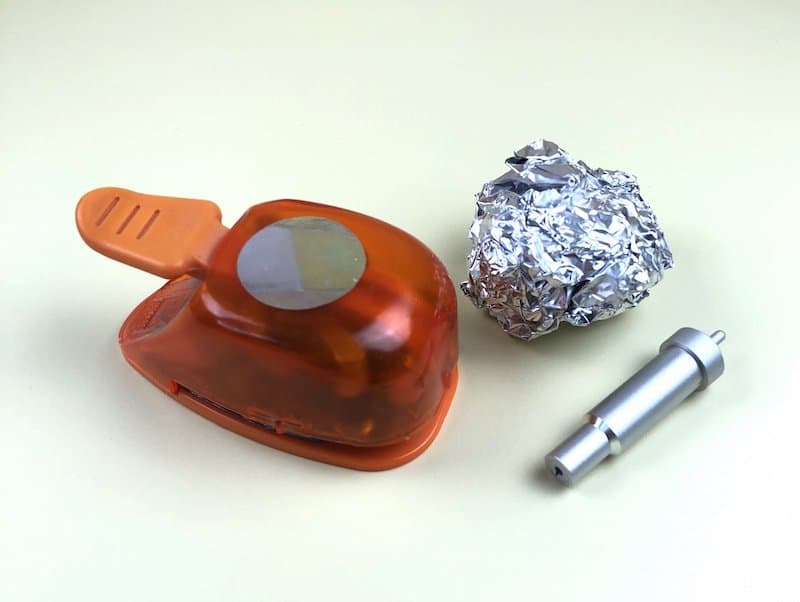 Someone came up with the idea to punch a piece of aluminum foil. It sharpened the edge of the punch and kept it fresh.
You can do the same thing with your machine's cutting blade. (Keep this in mind though: the blade is German carbide steel…you are NOT really sharpening the blade with tinfoil. Not possible. It is cleaning the blade off. Removing mat adhesive or bits of paper that are stuck to it. This makes your blade perform like it is supposed to again. Once it is dull…its dull. Time to buy a new one!)
Wad up a piece of aluminum foil and then poke the blade in and out of the foil a few times. Keeps it nice and sharp!
(NOTE: only a tiny portion of your blade is showing in the housing. PUSH the plunger (the little knobby part on the top) to poke your blade out more!)
Bonus Cricut Hack: If you have the money to spend, you can buy multiple blades and then mark them for different materials. You can add nail polish or acrylic paint to identify each blade and what it is used for. Make a key and keep it with your extra blades.
How Do I Cut This?
Depending on what you are cutting, there is a way you should be placing it on the mat. For the most part, you will cut things face up.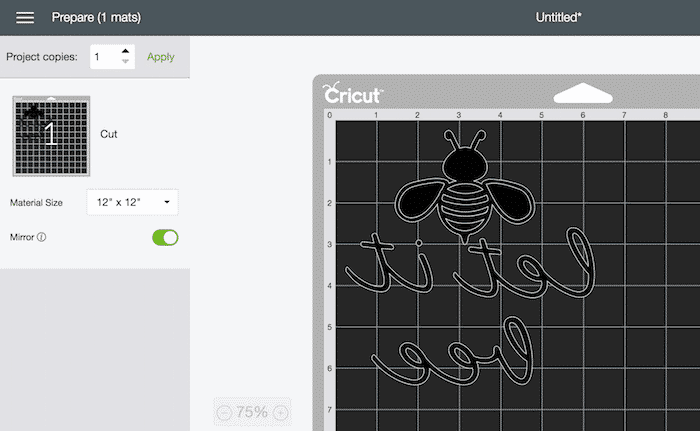 The only time you turn it upside down is when you cut Heat Transfer Vinyl. This is when you put the material upside down and the MIRROR then image.
You can learn more about this (and other Design Space hacks) in my Cricut Guidebook. It is printable or digital so you can reference it any time you need to!
Pro Cricut Hack: repeat to yourself that you need to MIRROR the image when you turn your material front-side-down. I've ruined a few pieces of HTV by forgetting that step!
Keep it Clean
Your mat is going to get little pieces of paper and fabric that stick to it. If you have a pet it is going to collect hair and fuzz (or your own hair).
It basically acts like a toddler and picks up all the things it isn't supposed to!
Keep your plastic cover as clean as you can and replace it as soon as you remove your project from the mat. If you don't…the cat is sure to come along and lay right in the middle of your sticky mat.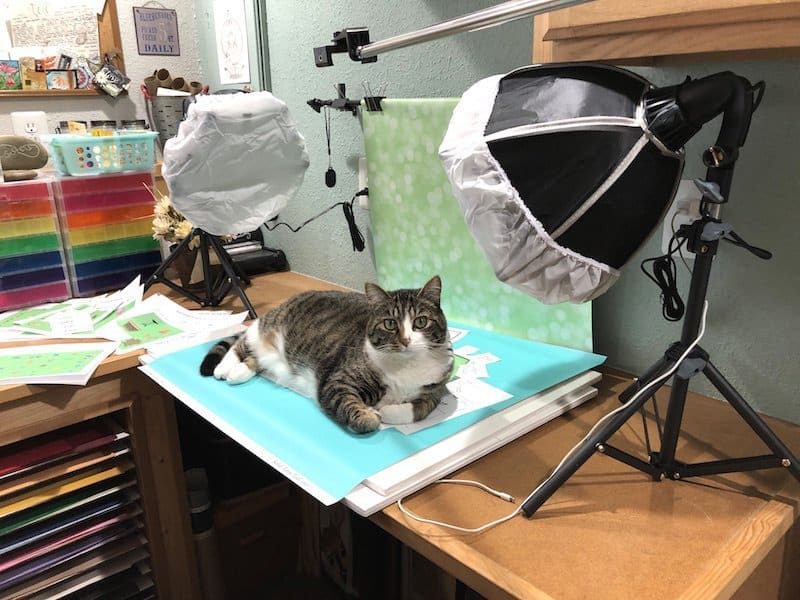 When your mat is getting a little grimy, you can clean it. Just run it under lukewarm water and gently rub all the debris away. This works really well after cutting wool felt. (Click here to read the post on the different mat colors, the materials they are used for, and how to keep them clean).
Let it hang to air dry (away from the kids and pets).
You can also use unscented baby wipes to clean them when they are just slightly dirty.
Pro Cricut Hack: There are loads of suggestions on how to "restickify" your mat. The problem with these ideas is that some of that adhesive might come off in your machine if it isn't done right or quality. A new mat is always going to be cheaper than a new machine!! Somethings you shouldn't try to "hack".
Save Your Scraps (Can You Say Craft Hoarder) and Use Them
Most of us start crafting and trying to be frugal at the same time. I don't know about you, but I have saved some crazy things because "I might need it for scrapbooking".
I also save any paper scrap that is over 2 x 2 inches. You just never know if you can use it later without having to cut a full sheet.
Rubbermaid drawers work great for storing smaller pieces of cardstock, pattern paper, vinyl, and HTV. Dig through your scraps before you cut into a big fresh piece of material.
PRO TIP: When you are at the "cut" stage of your project on a computer, you can EDIT your mat and move elements around to specific areas of your mat. This works the same way as a "snap mat" feature. Just use the grid coordinates to place your objects where your scrap pieces of paper are located on the cut mat. Then click the flashing "C".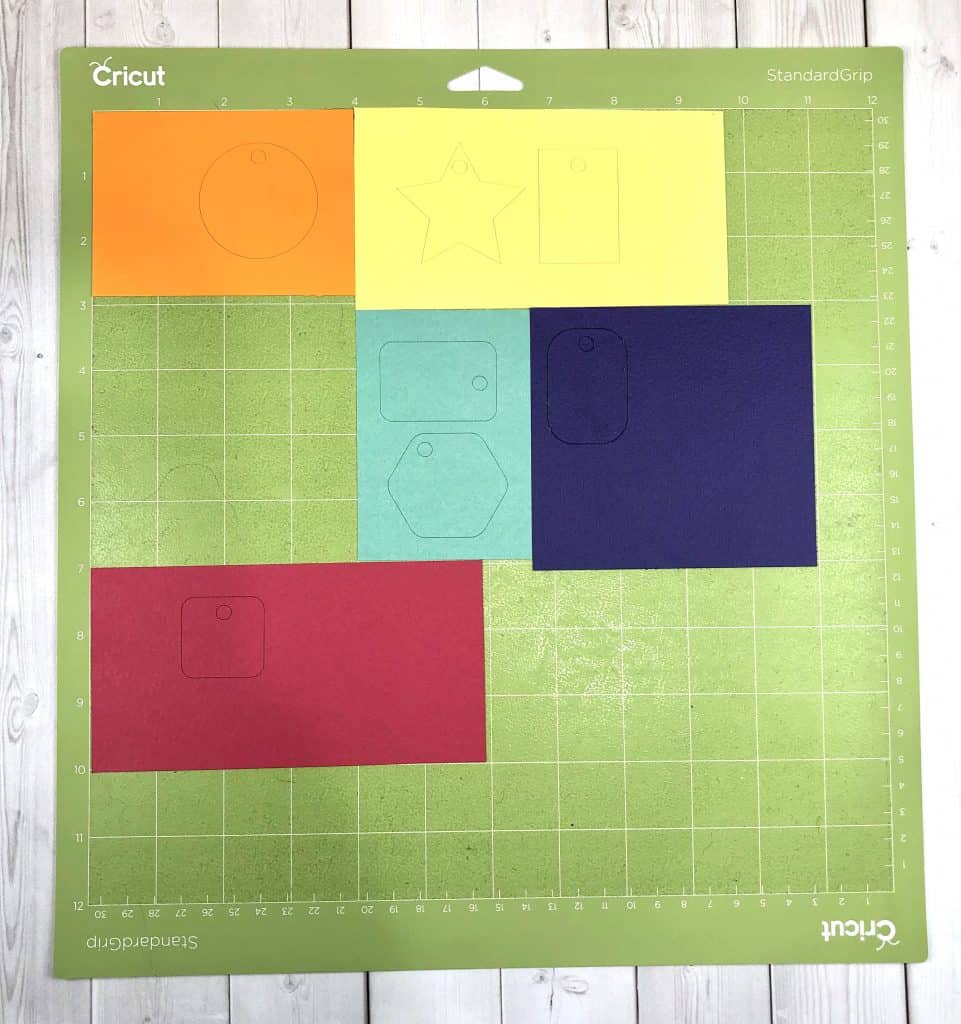 Bonus Cricut Hack: Do you use the iOS app for Design Space? Ever wonder what that "Snap Mat" feature is in the corner? It takes a picture of your mat and the material that is on it. Try filling up your mat with scraps.
Click on Snap Mat and it will show you all the material laid out on the mat in your design space. Now you can place different cut designs on your mat so it will be cut out in that area. It's a great way to use scraps!!
Household Materials You Can Use
There are a number of random household items that you can use when you are crafting. Most of the time they work just as well (or better) than their crafty counterparts.
Freezer paper works like a stencil. You can iron it onto a porous surface just like HTV and use it as a stencil. The benefit is that it is removable.
Iron it on with the shiny side down. Paint the open or negative spaces. Then remove the freezer paper (similar to weeding vinyl). It's great for creating wooden signs and not having your letters bleed.
Have an expired credit card? It can be used as a scraper to burnish materials and remove scraps from your cutting mat.
Glad Press and Seal. Use it in place of transfer paper or tape. Works great as a budget-friendly substitute.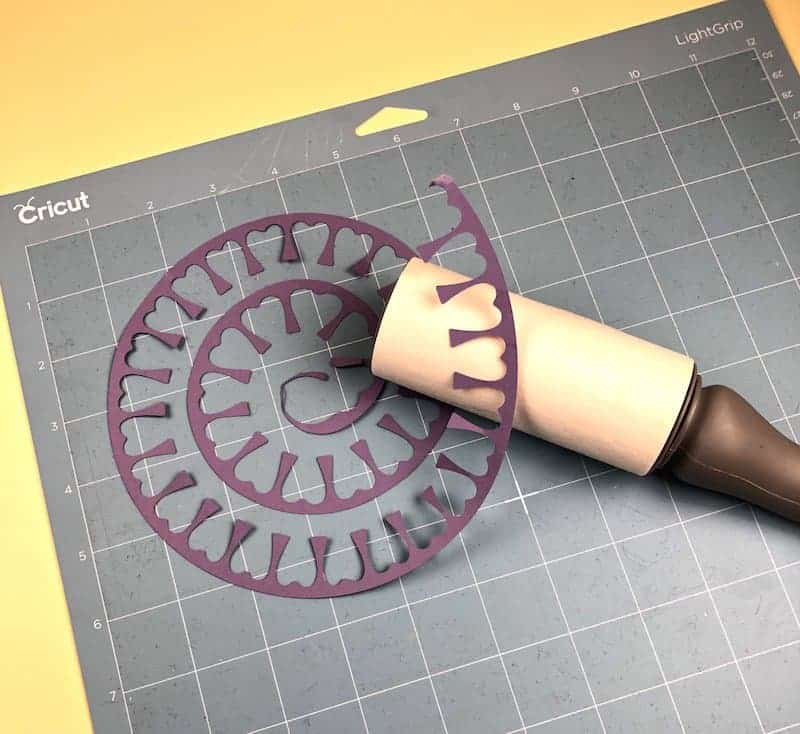 Remove tiny pieces of your cutouts with a lint roller. Run it across the mat or your design once you have removed it from the mat and it will pick up all those "hanging chads".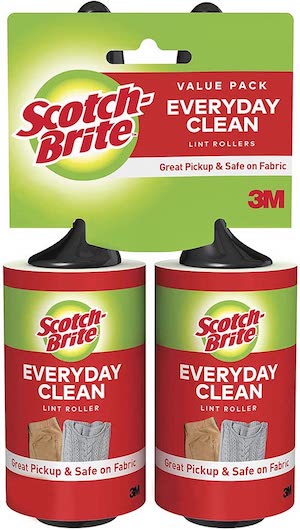 Everyday Lint Rollers
Not just for your clothes! I love using these to get small pieces of craft material off my Cricut mats.
Don't Give Up on That Project
Sometimes, a cut doesn't go all the way through the material. If you can determine this BEFORE you remove the mat from the machine you can save the project.
This Cricut hack will save your sanity and your craft budget. Less ruined materials mean more projects with what you already have on hand.
Don't unload the mat until you know your cut has made it all the way through the material. If it didn't cut you can recut by pressing the "Go" or flashing "C" button again. Your machine will recut the design in the exact same place.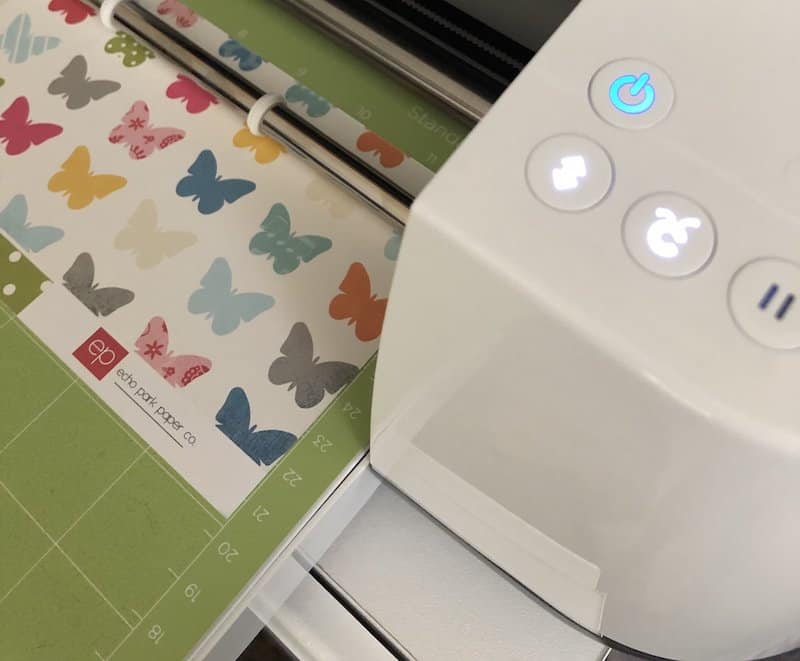 This doesn't work if you have removed the mat from the machine. You can be off by a millimeter when you reload the mat and then you won't get a clean precise cut.
This is one of the great Cricut hacks to save money. If you throw away a project that could be salvaged you are using twice the materials (or even more if you mess up more than once…because…who doesn't once in awhile!)
Cricut Scoring Stylus Hack
If you have a Cricut Maker you don't have to buy the specific scoring stylus blade for scoring your materials (check out this post on Cricut blades if you need to know more.)
You can drop a stylus tool in the 2nd tool holder on your machine and (the same way you would on the Cricut Explore Air 2) and use it to score any lines you want.

Stylus Scoring Blade
You don't have to use a Maker to take advantage of the scoreline function in Design Space. You can use this Cricut scoring tool hack to use the regular stylus tool in your machine.
Bonus Hacks
Use this post to learn how to hack your Print and Cut Cricut feature. Learn how to use your machine to print and cut or how to use it with colored paper or larger prints.
This one is great if you don't have a Cricut machine that has the Print the Cut feature. The last tip will walk you through how to cut out shapes with your Cricut and get your design to print with your regular printer.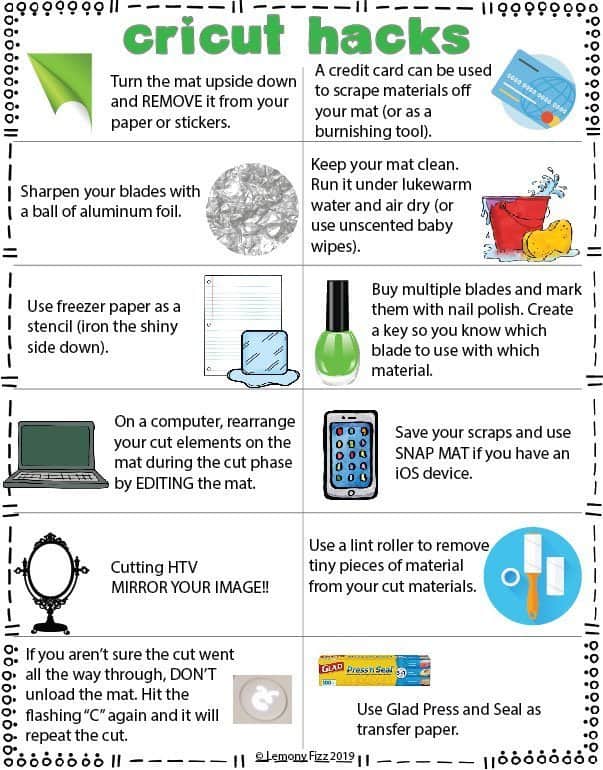 Cricut Hacks Cheatsheet
Enter and CONFIRM your email address to get a Printable PDF of the most popular Cricut Hacks. Save them and refer to them often!
So Many Cricut Tricks, So Little Time
Honestly, you are going to pick up more Cricut and Silhouette hacks than you can imagine. Little things will pop up when you are researching how to do something. They will stick in your memory and then magically "come back to you" when you least expect it.
Go with it. It's all a part of being creative. You store ideas and thoughts and then use them when it's time to implement some problem-solving. That is creativity at it's finest!
I hope you find this list of Cricut tips and hacks useful. Leave a comment if there are any that I missed and you would like to share!
Want to read about Happy Planner hacks next? Click here.
CLICK HERE TO BUY YOUR CRICUT GUIDEBOOK: