We may earn a small commission for purchases made through affiliate links in this post. For more information go to our Privacy Policy.
Most likely, since you are reading this, you are part of the Harry Potter fandom and love anything related to Harry Potter crafts, printables, and trivia.
I was in my early 20's the first time I picked up a Harry Potter book. Reading has been my thing since I was little. Being a bookworm is a little bit of an understatement.
Most of my spare time was spent in the library and I was always digging through the card catalog or browsing through my favorite sections.
Hoping something new had been added.
Finding treasures and secrets.
It doesn't matter if it was a young adult book, a graphic novel, or a 700-page classic. I was probably reading it.
I Solemnly Swear I Am Up To No Good
By the time I finished reading book one, I was hooked. My husband purchased the box set of books 1-4 for my 25 or 26th birthday.
When the 7th book came out I was in Oregon at Powell's Bookstore, watching the hoards of people dressed in costume and camping out waiting for the book to be released. My sisters and I wanted to stay but we ended up heading to the coast and buying the book a few days later. I'm surprised we didn't just cut the trip short and nerd out.
As a true Harry Potter fan, I love spreading the joy of the books (and even the movies) with people who have never experienced them before. I also love discussing trivia and theories with people who love them as much as I do. Geeking out over the plot and characters is one of the better ways to spend an evening.
Mischief Managed
Being a true "Potter-head" means you probably like all things that have to do with the stories. The following list of paper crafts and printables will make your little nerd-heart happy. Check out the links below. You are sure to find a Harry Potter craft that you would love to create and share with others.
Popcorn Boxes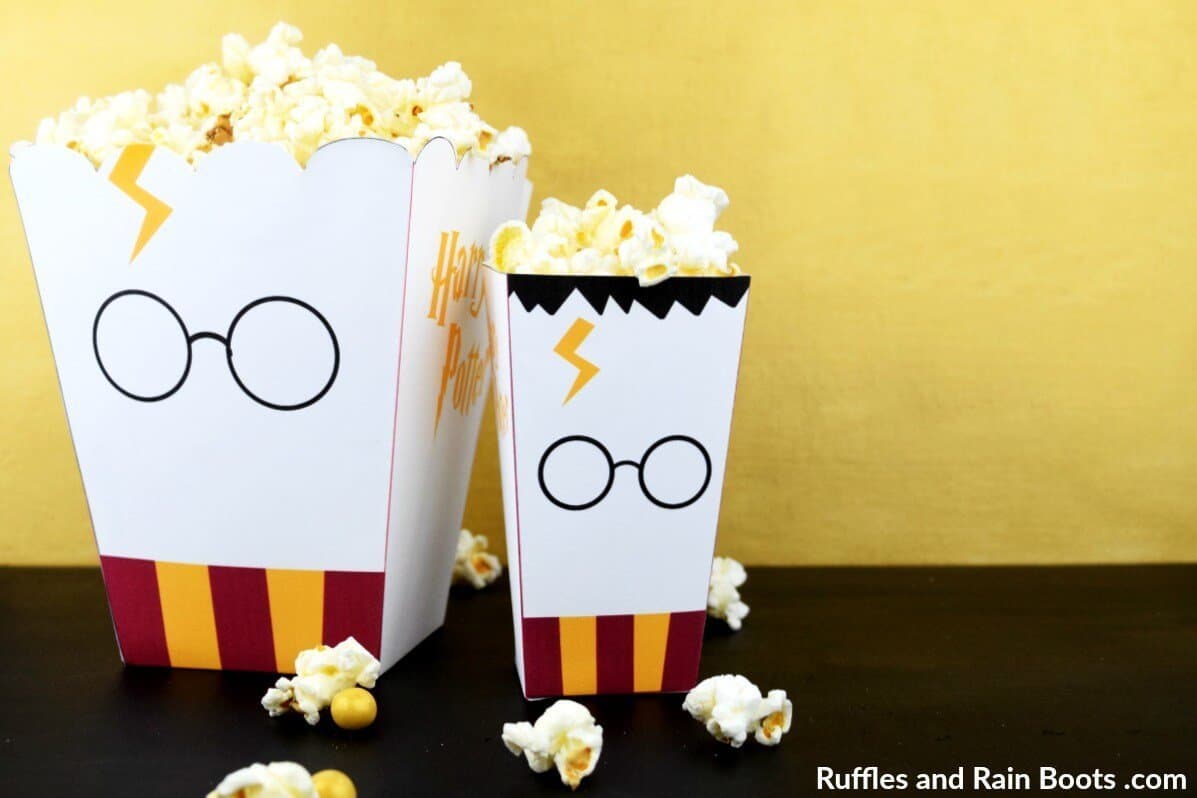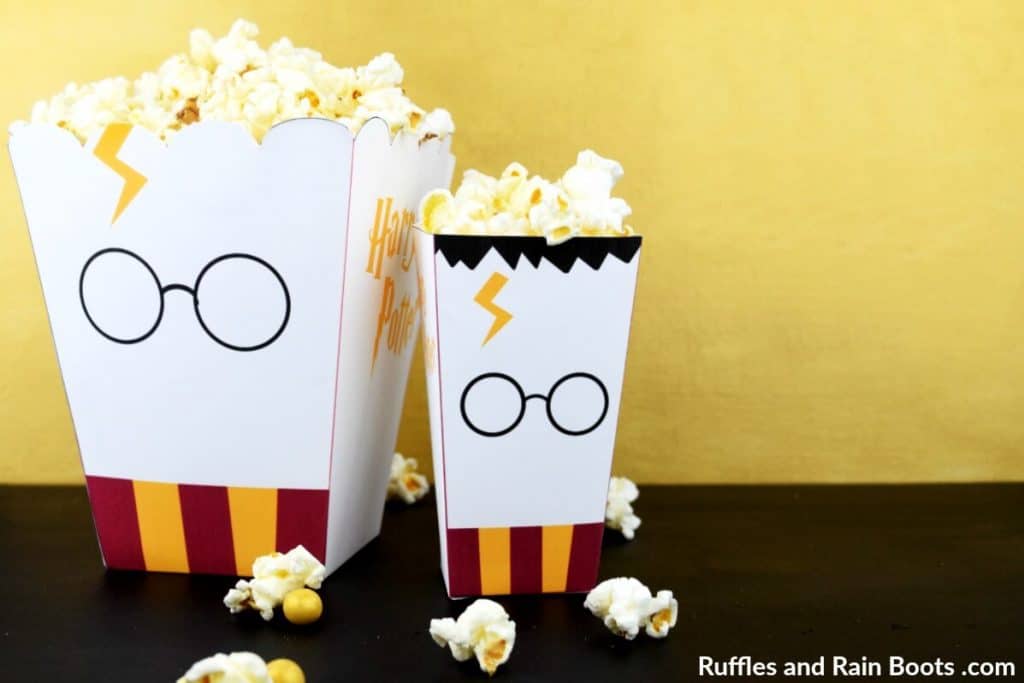 I think this one is probably my favorite out of all the printables and Harry Potter crafts on this page.
What better way to eat popcorn and watch Harry Potter movies than with a box of popcorn that is in your favorite house colors and is decorated like Mr. Potter himself? There are two sizes of popcorn boxes and I'm sure you could add other details to your popcorn box after you had it all printed, cut, and assembled. This is definitely on my list for this fall's movie marathon!
I'd Rather Be at Hogwarts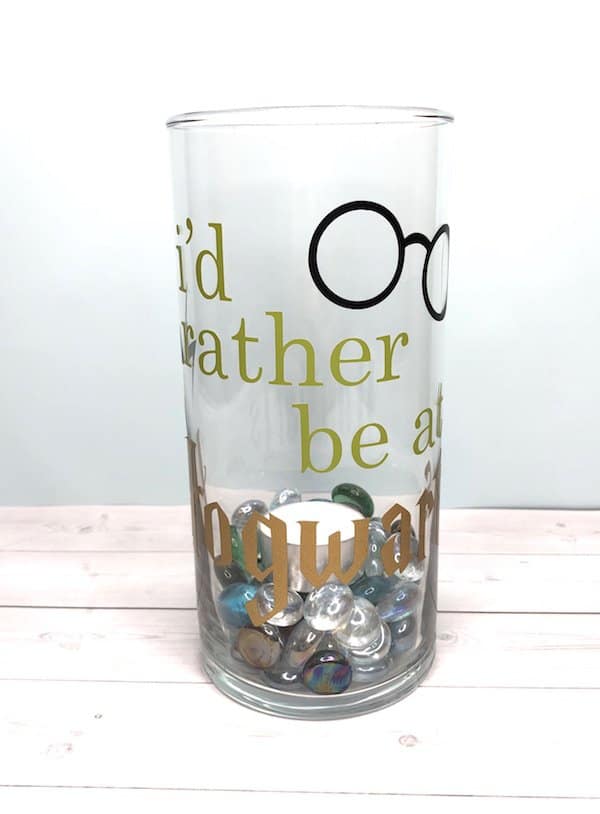 This SVG file that says "I'd Rather be at Hogwarts" is great for home decor or a t-shirt. The file comes in multiple formats and will work great with a Cricut or Silhouette. The lines are thick enough that the design can be used with heat transfer vinyl as well to you can add it to fabrics also.
It's super simple to cut out and attach so it's a great project for adults or kids.
Hand Lettering Practice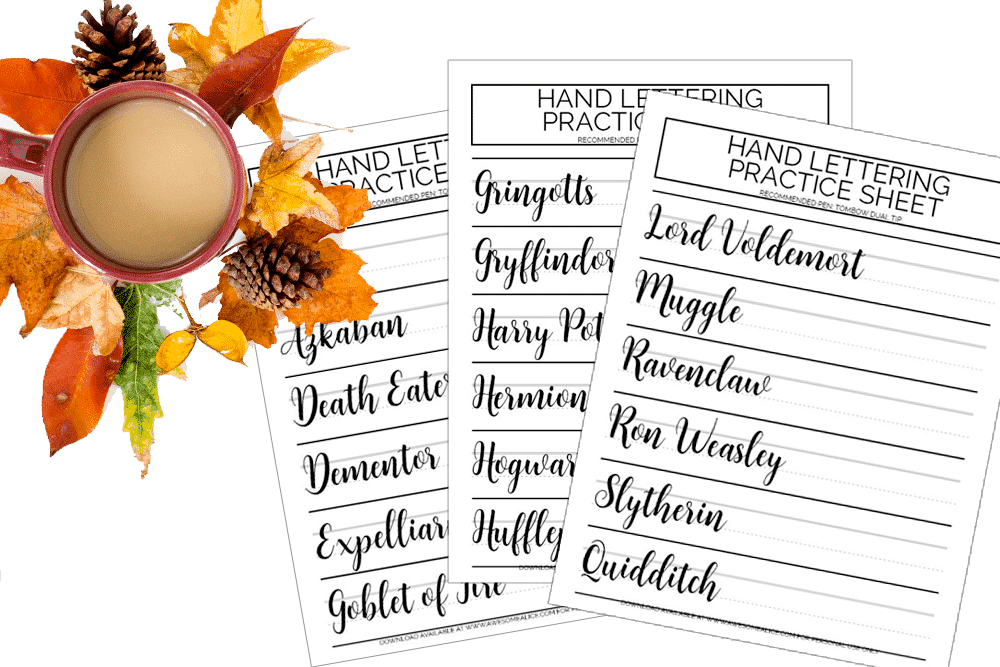 A fun set of printable handouts for you to practice your script writing with. I love that it's a Harry Potter theme and includes spells, house names, book titles, and common words or phrases from the novels. It would be even more fun to complete these using a quill and ink.
If you are wanting to practice handwriting, these are a fun way to get your practice in and nerd out at the same time.
Character Memory Game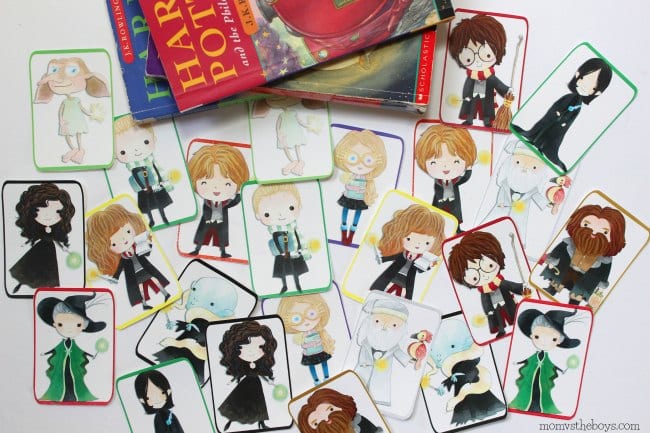 What a fun way to get familiar with the characters from the story and play an old fashioned game at the same time. These characters include all the most popular witches and wizards (and You Know Who isn't too scary for the little ones).
You can check out the blog post for instructions on how to play Memory or Concentration if you can't remember how. It's pretty simple. Shuffle the cards and lay them all out face down (neat rows or in random order…up to you) and then take turns with a partner turning over two cards each turn to try and make a match. The trick is remembering the location of the character you need so you can find it again on your turn. If you make a match…go again. The player with the most matches wins the game.
This is a great game for kids and adults alike. Help improve memory, concentration, and keep those synapsis firing!
Make Your Own Wizard Wand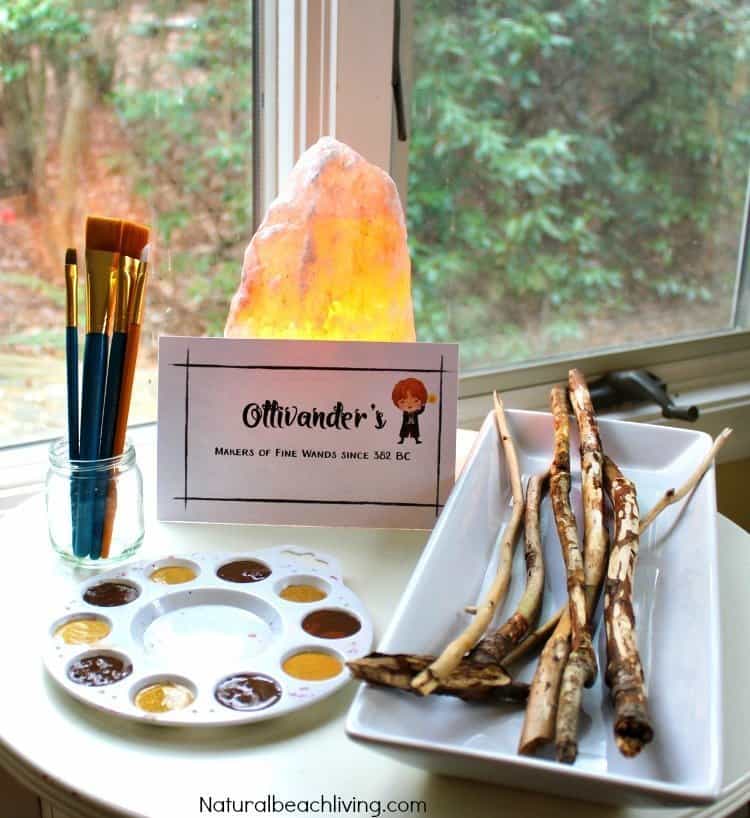 The process for making these wands is simple and kids will love playing with them. Part of the excitement will be rounding up the "perfect stick" to make a wand. The other part will be decorating them.
This example uses paint. It's also very fun to add bakable polymer clay to a wand or some hot glue for designs before you paint them. It adds a little more variety and texture to the wand to make it even more unique.
My daughter loved her wand (and was very upset when her brother closed it in her bedroom door as she was casting a spell on him.).
The next printable is a perfect companion for the wands.
Spell Casting Cheat Sheet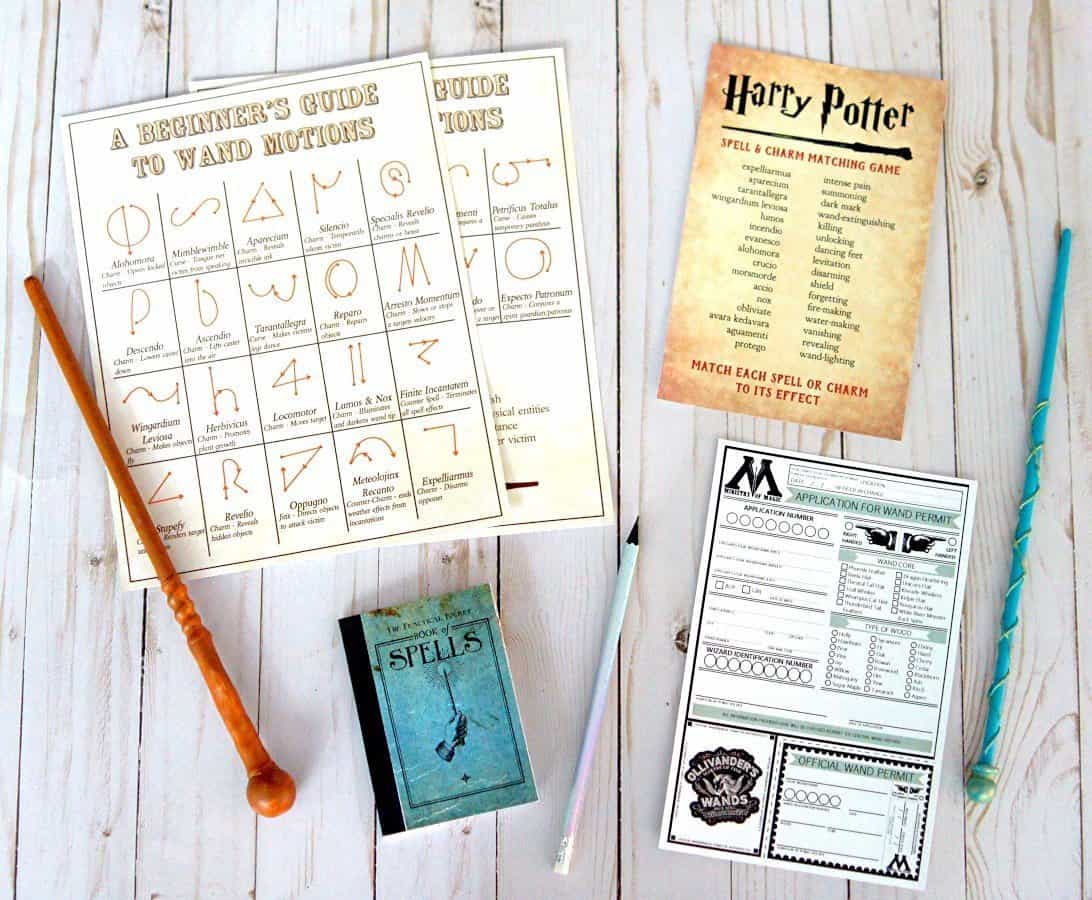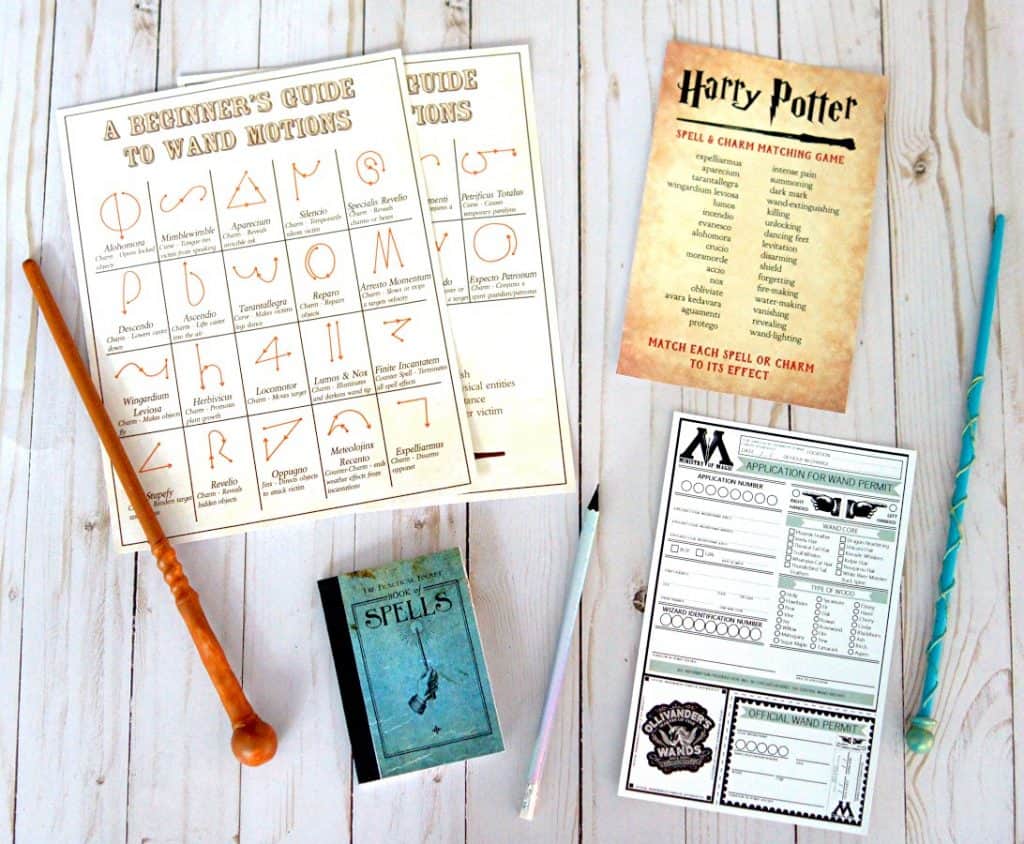 After you have your wands all made, you will be ready to put them to good use with a few spells. This free printable will help you learn the patterns of popular spells in the Harry Potter books.
Learn which way to move your wand as you "swish and flick".
Hogwarts School Party Invitations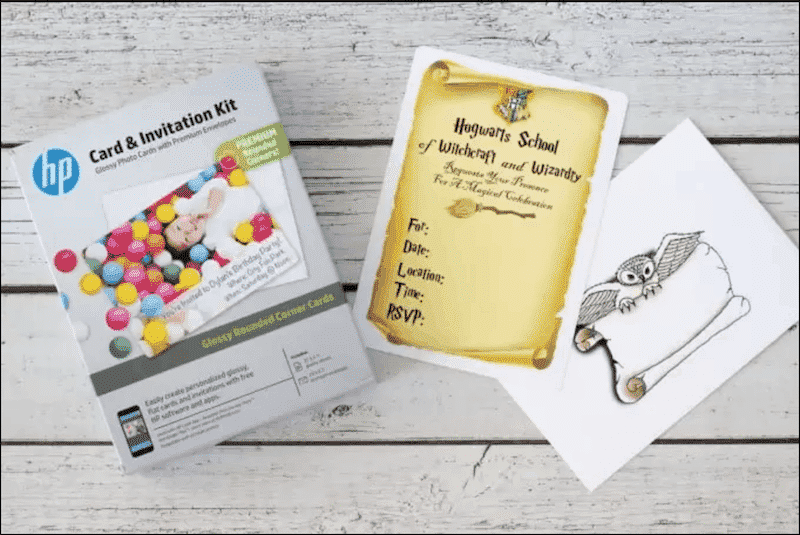 We would all love to receive our "Hogwarts Letters". This might be the next best thing. Send your invitation to join your Harry Potter Party to all your favorite witches and wizards.
They will love getting mail and they will love the design of these printable invitations.
House Crest Napkin Rings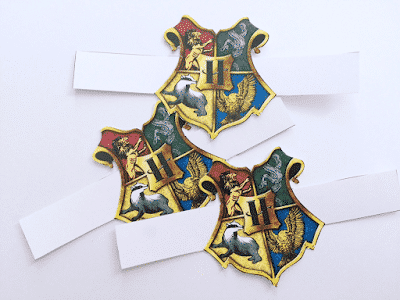 If you are planning on a dinner party or some snacks, these printable Harry Potter crafts are sure to be a hit. Print the house crest and turn them into napkin rings to hold your linens and cutlery. Your guests will feel like they are part of the story and super fancy.
Party Printables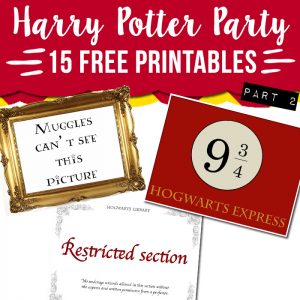 There are 15 free Harry Potter Printables on this site. You can find all sorts of signs and fun pictures to print and hang for your party or just your general house decor.
My personal favorite is the 9 3/4 Hogwarts Express sign. Probably because of the numbers. Check out the other printables and see which set you like most.
Yer a Wizard Harry
If you haven't had a chance to read all the books yet (or feel like they are too young for you) I would suggest you give them a try. They are truly delightful to read and once you start them you will be hooked.
After you get sucked into the world of witches and wizards you will enjoy making all these fun Harry Potter crafts even more!