This post may contain affiliate links. If you purchase through one of these links I may earn a small commission at no extra cost to you. For more information, please read my disclaimer.
My daughter picked out this tea towel set and suggested I add bees to it. She had been finding all sorts of fun bee projects on Pinterest lately and the obsession is slowly spreading.
One of my bucket list items is to someday become a beekeeper. She knows this is my plan so she finds all sorts of bee projects and crafts and shares them with me.
These tea towels were too cute to pass up. And it gave me a reason to play around and design some cut files with bees!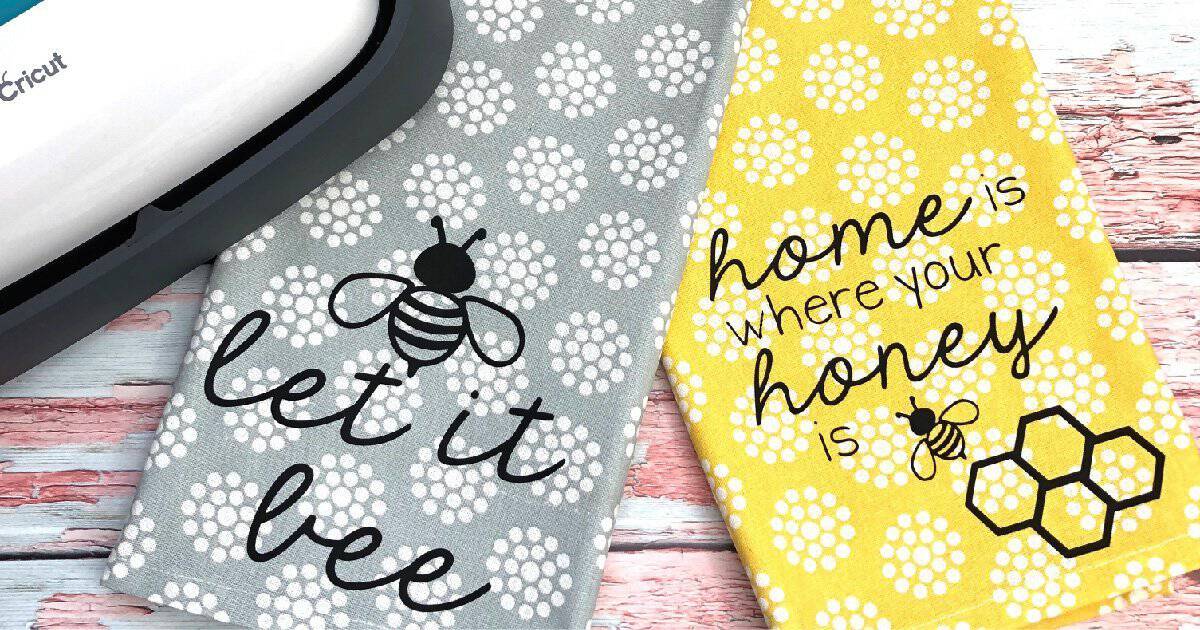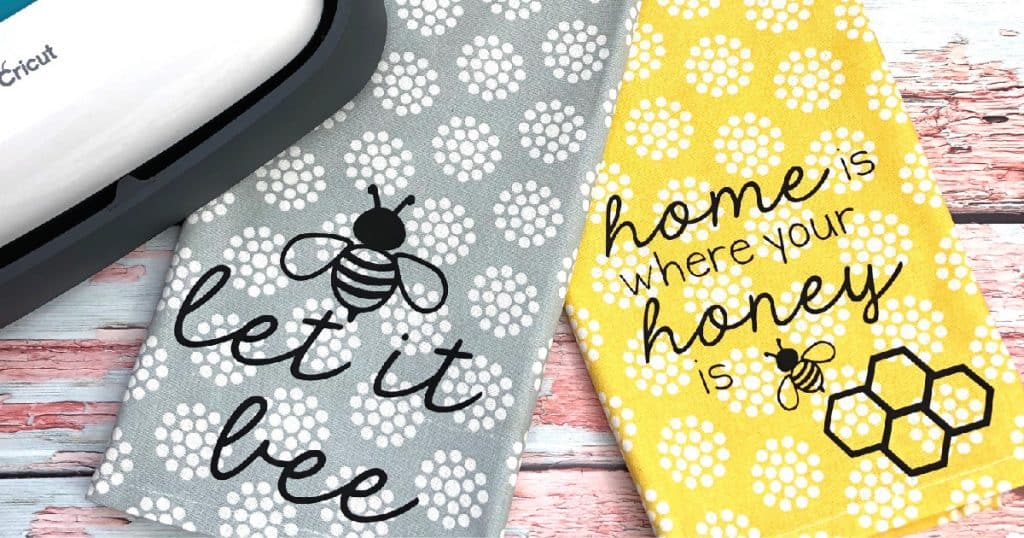 Let it Bee
Depending on how you decide to use these bee quotes, you may need to do a few extra steps before you start creating with them.
If you plan to just use them for regular vinyl or paper cuts with your Cricut Machine or Silhouette, then you can just "let it bee". No need to alter the image other than the size. They are ready to cut (and I tested them a few times and at a much smaller size than the original design).
What if you are planning to use this with heat transfer vinyl (HTV)?
The trick with using these SVG files with heat transfer vinyl is to reverse or mirror the image before you cut the vinyl.
Do You Use a Silhouette?
If you are using a Silhouette and it's design software, there are few extra steps you need to take before you can cut your heat transfer vinyl and make these tea towels.
Start by uploading your SVG or PNG file into your Silhouette Design software. Resize the image to your project measurements. The design is going to first appear on your mat at roughly 12 x 12. You can size up from there or down, depending on what you need.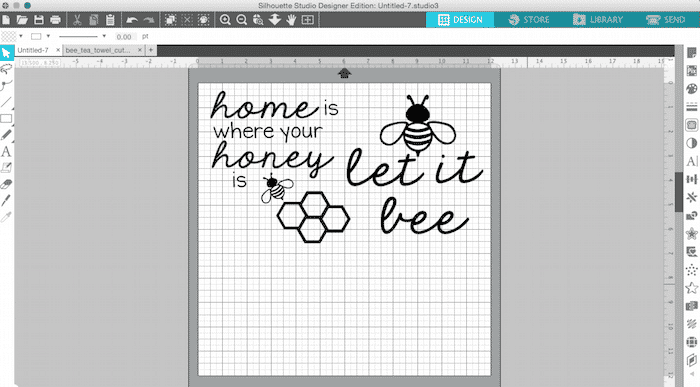 I have both designs on my mat because I want to save material and I knew that I could fit them side by side after I measured out the available space on my towels. Each design needed to be around 5.75 inches.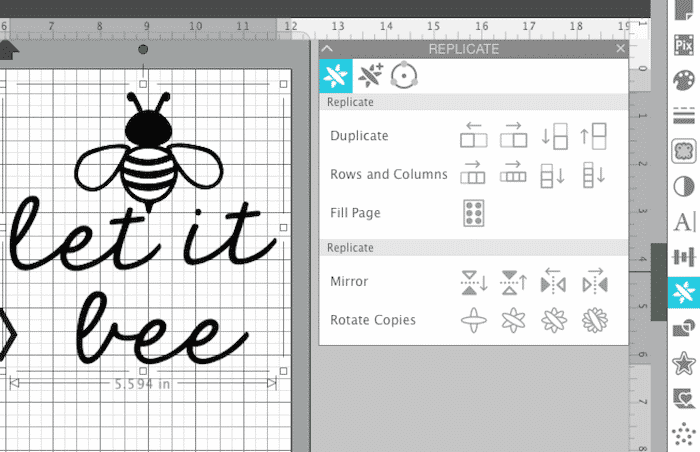 Next, you want to click on the "replicate" tool. It shows a bunch of overlapping ovals. You can also just search "mirror" in your "help" tab on the top bar menu.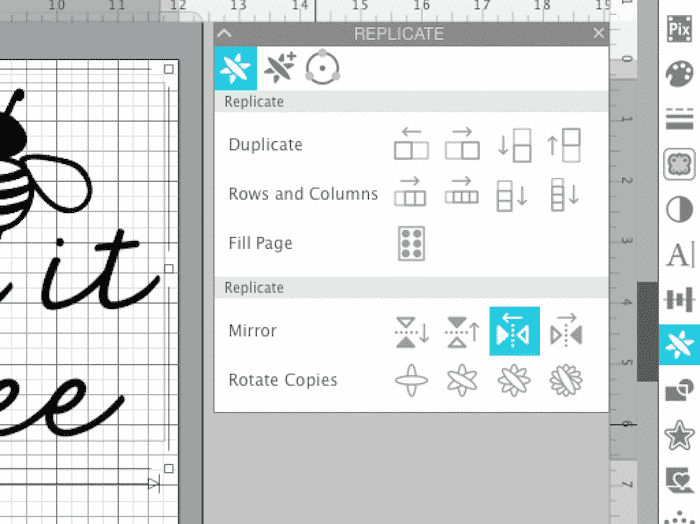 Make sure your design is selected and then click on either "mirror left" or "mirror right". It doesn't matter which one you choose. It will be a reverse image of your design either way. One moves the pattern to the left and the other moves your pattern to the right. Notice I hit "mirror left" and my design flipped and is up against the original design on the left side.

Click on your original designs and delete them off the canvas or cut mat space. Then move your mirrored images over onto your cut space.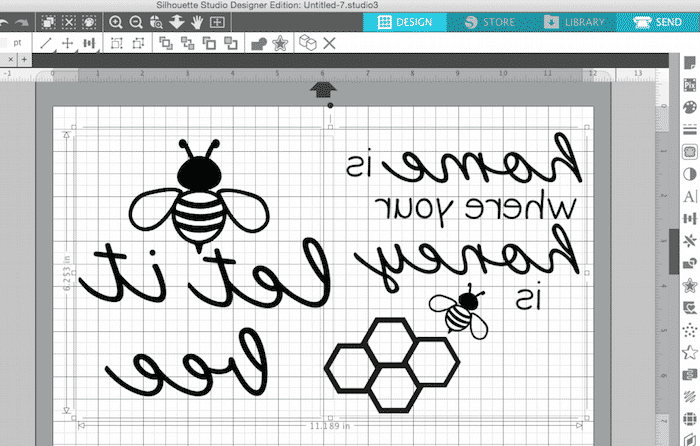 Your design is now ready to be cut on your heat transfer vinyl and attached to your tea towels after you "weed" out the extra vinyl.
Do You Use a Cricut?
If you are using a Cricut to cut your heat transfer vinyl, the process will be just a little different. You will need to open up your Cricut Design Space and import/upload your SVG file.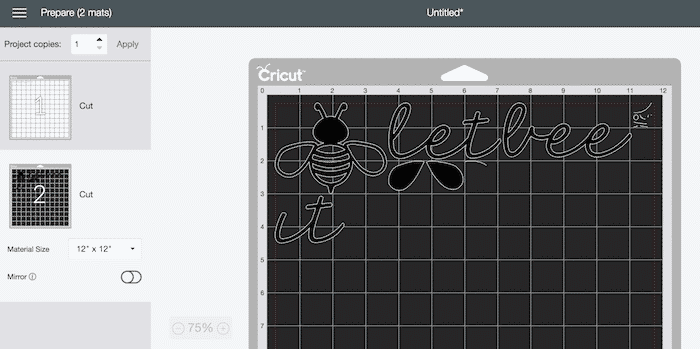 The first thing you need to do is make sure your design stays in the order or pattern you want it to. Cricut Design Space will take you image and separate it out by colors and squish it up into the top left corner of your cut space to save material.
I can appreciate that. I save all my pieces and scraps. When I am cutting small pieces, I like to move them around on the cut space and then layout different color papers or vinyl to save time and only load the mat once.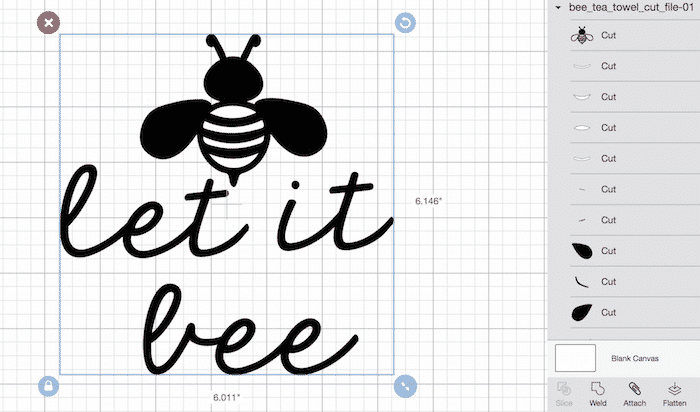 If you are transferring the design as is, you want the spacing and everything to stay where it is. You want the dot over the "i" and all your pieces in their correct positions! The way to do this is to click on your design and then click "attach" in the bottom right corner.
This "holds" all the pieces of your design together.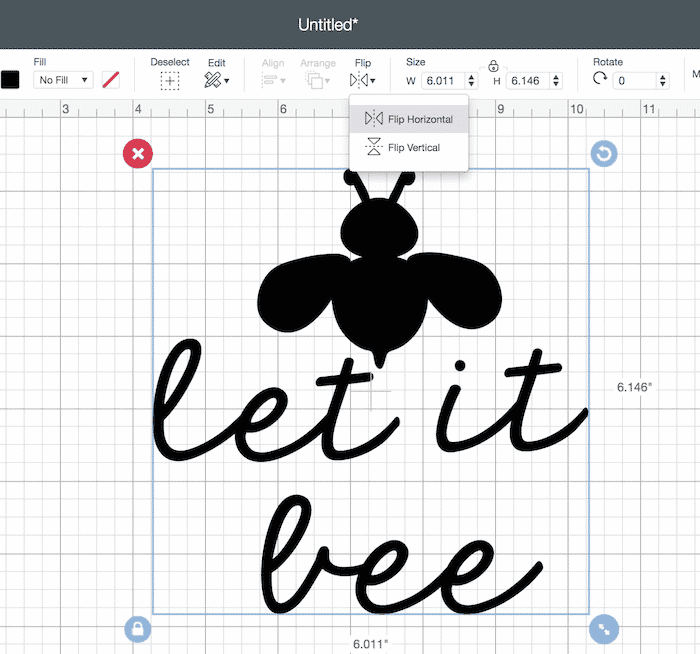 Don't panic if it looks like some of your pieces became a solid image. The cut lines are still there and your image will still cut the way it is supposed to.
Next, you can mirror, flip or reverse your design in a few different ways. The first is to have your design selected and then click on the "flip button" in the top toolbar. Then click on "flip horizontal". This will mirror your image and replace it back on the same spot on your cutting mat.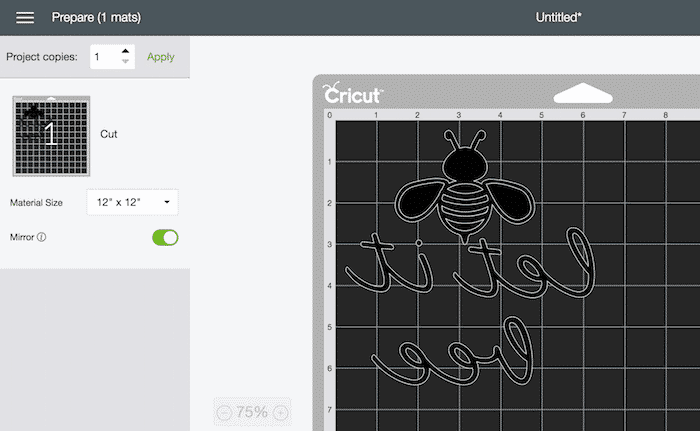 The other option is to click on "Make It" and then click the toggle button next to "Mirror". This will also reverse your design so it will be facing the correct way after you iron or heat press it on.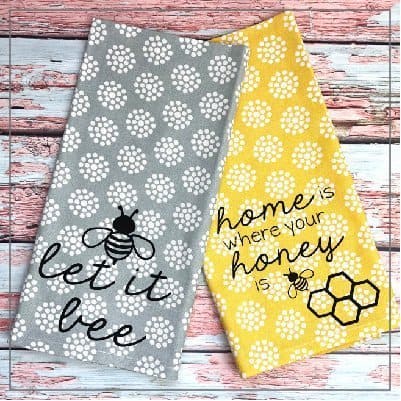 You can click here to download these Let it Bee SVG files to use with your cutting machine:
And you can grab the yellow towel on Etsy. (They might have the grey one as well…)
Bee SVG Files
These Bee Quote SVG designs will be super cute on a t-shirt. I think that will be my next project. For now, I am waiting for my camper to be unburied from snow. I'm ready to hang these adorable tea towels on the hook when I reach my final camping destination (bring on camping season!).
Supply List for Towels
Like this post…Pin it to your favorite Cricut board to save or share with your craft besties!