We may earn a small commission for purchases made through affiliate links in this post. For more information go to our Privacy Policy.
Scrapbook albums are a fantastic way to store, organize, and showcase your cherished memories, creatively combining photos, journaling, and artwork.
A well-crafted album not only preserves your photos but also tells your story in a visually compelling way. With a wide range of sizes, styles, and designs available, you can find the perfect album for your needs.
One of the benefits of creating a scrapbook album is that it allows for personal expression and customization. From choosing the perfect album to selecting embellishments and paper designs, each page becomes a work of art that reflects your own personality and taste.
As you create and arrange your memories, you'll have a unique keepsake that you'll treasure for years to come.
Easy to store and display, scrapbook albums invite family and friends to share in your memories and experiences. Whether you're commemorating a milestone event, capturing everyday moments, or highlighting your hobbies and interests, a beautifully crafted album can be enjoyed by generations.
So, dive into the world of scrapbooking and start creating your own memory-filled masterpiece today.
Types of Scrapbook Albums
When it comes to preserving memories, scrapbook albums offer various options depending on your needs and preferences. In this section, we will discuss three popular types: Photo Album, Creative Memories, and Small Business Brands.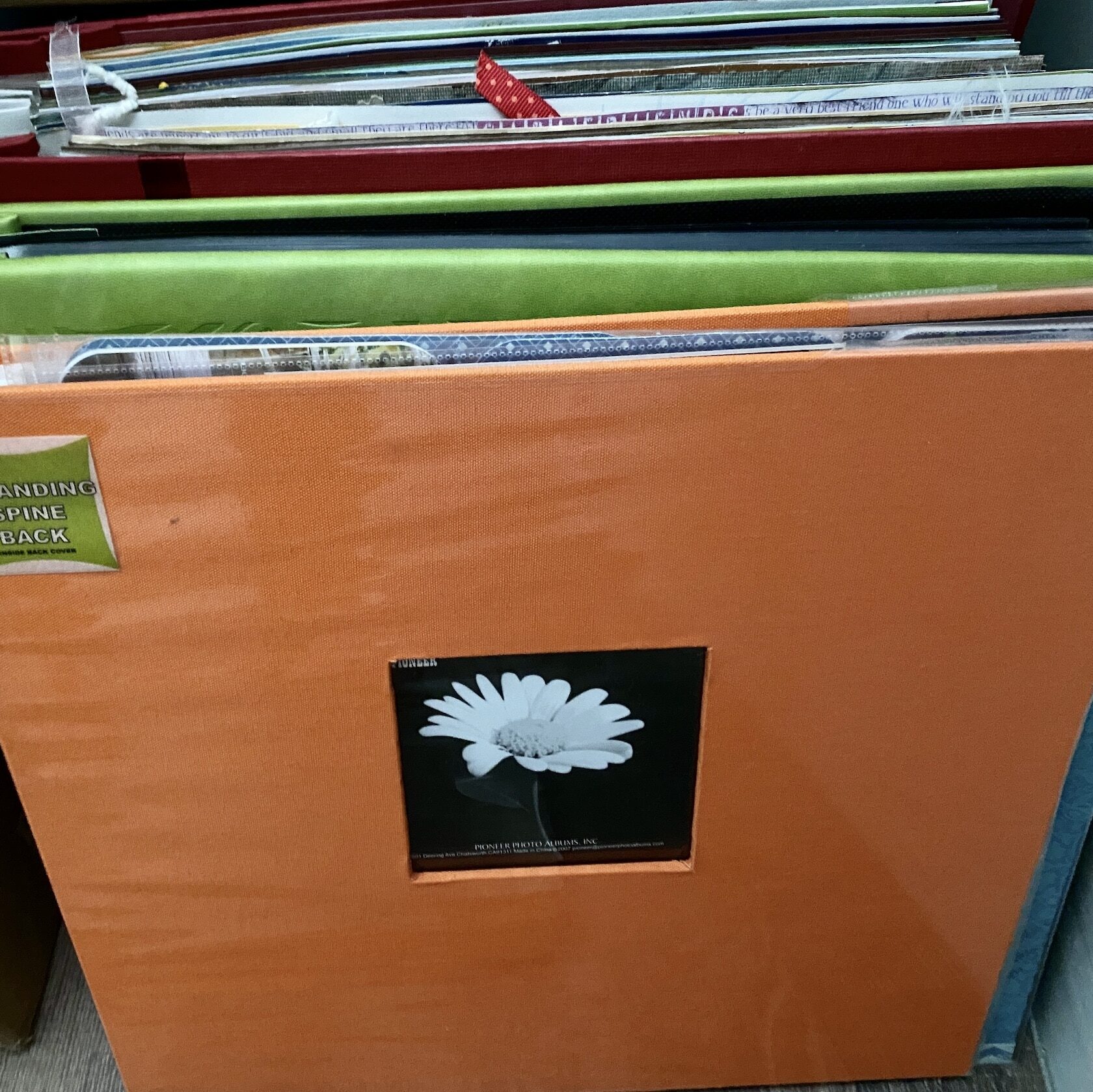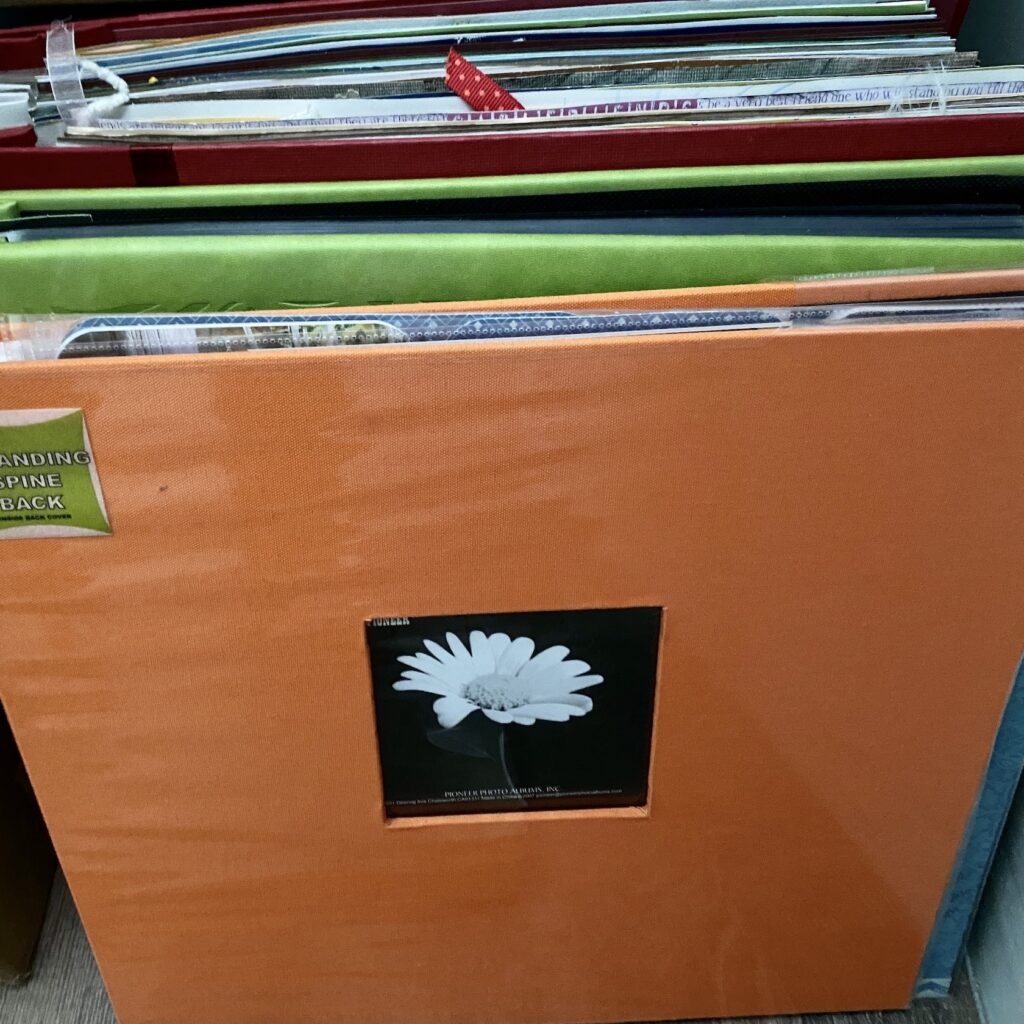 Photo Album
Photo albums are the traditional choice for those who want to document events, vacations, and special moments. They typically come in various sizes, like 8-by-8 and 6-by-6 inches, as well as different binding styles.
Some popular options include post-bound, 3-ring, and strap-hinged albums. The main benefit of a photo album is its focus on showcasing photos, making it the perfect option for people looking to display their memories with minimal decoration.
Different sizes available
Various binding styles
Mainly focused on photos
Creative Memories
Creative Memories is a brand that offers a complete scrapbooking solution, from albums to tools and embellishments. Their 12×12 inch albums are popular among scrapbookers who want to create more elaborate designs and include journaling alongside photos.
These albums usually have a higher capacity and can hold an average of 60 layouts. Creative Memories also provides a wide range of accessories, making it easy to personalize your album and create a unique keepsake.
12×12 inch size
Higher capacity for layouts
Wide range of accessories
Small Business Brands
If you're looking for something more unique, consider exploring small business brands that specialize in scrapbooking. These independent creators offer handcrafted, personalized albums that cater to different tastes and styles.
When choosing a small business brand, it's essential to check the album's construction and durability to ensure it will stand up to years of handling. Many small businesses also support custom orders, allowing you to tailor your album according to your preferences.
Unique handcrafted designs
Personalized options
Custom orders available
By considering these three types of scrapbooking albums, you can find the perfect fit for your memories and creative expression.
Popular Platforms and Brands
When it comes to creating memorable and stylish scrapbook albums, there are several popular platforms and brands that can help make the process more enjoyable and stress-free. In this section, we'll take a look at some of the most popular options available, ranging from online scrapbook makers to physical albums and tools.
Online Scrapbook Makers
One of the top online scrapbook makers is Mixbook, which offers themed templates and an easy-to-use drag-and-drop interface for compiling your memories. This platform is perfect for those who prefer a digital scrapbooking experience, or for easily creating photo books for events like birthday celebrations or vacations.
Physical Scrapbooking Brands
For those who enjoy the hands-on aspect of creating scrapbook albums, there are several well-known brands that produce high-quality albums, tools, and materials. Some of the top scrapbooking brands include:
These brands can typically be found on major online marketplaces such as Amazon, which offers a wide variety of scrapbooking albums, refills, and tools to help you create the perfect personalized album.
Price and Delivery
Scrapbook albums come in a variety of sizes and styles, making it easy for you to find one that fits your needs and budget.
Shop your local stores and see who might offer online orders for albums. You might be able to find:
Same Day Delivery
Drive Up
Order Pickup
These convenient delivery methods allow you to get your scrapbook albums without any hassle.
You can find scrapbook albums at various price points and enjoy free delivery or convenient pick-up options from retailers like Jo-Anns, Hobby Lobby, Amazon, and Walgreens.
Key Features of Scrapbooking Albums
Scrapbooking albums come in various shapes and sizes, materials, and designs. Choosing the right album for your needs is an important part of creating a beautiful, long-lasting scrapbook.
In this section, we will discuss some of the key features of scrapbooking albums, including refill pages, album covers, and specific types like 12×12 album coversets and cobalt album coversets.
Refill Pages
Refill pages are an important feature of scrapbooking albums since they allow you to expand your album as you create more layouts. Many albums come with a specific number of pages, but refill pages make it possible to add more pages as needed. Some common page sizes for scrapbook albums include:
12×12 inches
8.5×11 inches
8×8 inches
6×6 inches
When buying refill pages, make sure they match the size of your album and are compatible with its binding system.
Album Covers
The album cover not only sets the tone for your scrapbook but also plays a crucial role in protecting your precious memories. Choosing the right photo album cover material is just as important as selecting the perfect photographs.
Album covers are made from various materials, with leather being a popular choice due to its durability, longevity, and ease of maintenance. Other materials include fabric, plastic, or even metal.
Leather: Leather has long been a popular choice for photo album covers due to its timeless elegance and durability. It exudes a classic and sophisticated feel, making it ideal for preserving significant milestones like weddings, anniversaries, or family heirlooms. Leather covers come in various textures, from smooth to grainy, and in a range of colors, allowing you to find the perfect match for your personal taste and style.
Fabric: Fabric covers offer a soft and tactile feel, adding a cozy and warm touch to your photo albums. From cotton and linen to silk and velvet, the options are endless. Fabric covers often feature beautiful patterns, prints, or embroidery, enabling you to personalize your album to reflect your individuality. They are particularly popular for documenting baby's first years, family vacations, or themed albums.
Faux Leather or Leatherette: For those who appreciate the look and feel of leather but prefer an animal-friendly alternative, faux leather or leatherette covers are an excellent choice. These synthetic materials mimic the texture and appearance of genuine leather, offering a similar luxurious feel. Faux leather covers are available in various colors and finishes, providing a wide range of options to suit different aesthetics and preferences.
Paper-based Materials: Paper-based covers are versatile and offer countless creative possibilities. Cardstock, patterned paper, scrapbook paper, or handmade paper can be used to cover your photo albums, allowing you to customize them with endless design options. This material is especially popular among scrapbookers and paper crafters who enjoy adding their personal touch through embellishments, stamps, or mixed-media techniques.
Acrylic or Plastic: For a modern and sleek look, consider photo album covers made from acrylic or plastic. These materials provide a contemporary appeal and offer transparency, allowing you to showcase a photograph or artwork on the cover itself. Acrylic or plastic covers are often used for special occasions, such as graduations, achievements, or milestone birthdays.
Wood: For a rustic or nature-inspired aesthetic, wooden photo album covers are an excellent choice. The warmth and natural beauty of wood add a unique charm to your albums. Wood covers come in various types and finishes, from light-colored birch and maple to richly grained mahogany and walnut. They are particularly popular for outdoor-themed albums, weddings, or nature photography.
Metal: If you prefer a modern and industrial vibe, metal photo album covers might be your perfect match. Aluminum, stainless steel, or brass covers provide a sleek and contemporary look, offering a striking contrast to the traditional photo album concept. Metal covers are commonly used for showcasing urban landscapes, architectural photography, or artistic portfolios.
A good album cover should be sturdy and able to withstand wear and tear. The binding system of the cover is also something to consider, as some types like strap hinge or post-bound albums provide better flexibility in terms of adding or rearranging pages.
Styles and Stock
When it comes to scrapbook albums, there are quite a few styles to choose from. They primarily differ in their binding, which is important for easy customization and for keeping your memories safe and secure for years to come. Let's take a look at some popular album styles:
Post-Bound:

A post-bound album uses machine screws and posts that screw together for binding. The page protectors have holes punched in them, which are securely held by the posts in the album.

3-Ring (D-ring):

A 3-ring scrapbook album uses clamp-style metal rings attached to the spine on the inside cover. This style makes it easy to add or remove pages since it works like a three-ring binder, but with a more visually appealing cover.
In addition to varying styles, scrapbook albums come in a range of sizes to suit different needs. Some popular sizes include:
12×12 inch:

These albums are widely available in various styles, colors, and designs. Typically used as the primary family scrapbook, a 12×12 inch double-page spread can easily accommodate 10 or more photos.

8.5×11 inch:

Slightly smaller than the 12×12, this album size is suitable for those who prefer a more compact, letter-sized format.
When it comes to stock, numerous online and physical stores offer a vast selection of scrapbook albums in different styles and sizes. Websites like Scrapbook.com and B&H Photo provide a wide variety to choose from, including albums with unique designs and features.
Remember, choosing the right scrapbook album style and size depends on your personal preference and the memories you wish to preserve. Consider the ease of adding or removing pages, the album's appearance, and its size when making your selection.
Events and Themes
Scrapbooking is a wonderful way to preserve memories and create a lasting keepsake for special events and themes in your life. In this section, we'll explore some popular event and theme ideas to get you started on your scrapbooking journey.
Celebrations and Special Occasions
Many people create scrapbooks to commemorate celebrations and special occasions. Some popular themes in this category include:
Birthdays
Weddings
Graduations
Baby Showers
Anniversaries
Holiday celebrations
Travel and Adventure
Another popular theme for scrapbooks is travel and adventure. Documenting your vacations, road trips, and outdoor excursions can be a fun way to relive the experience and share your adventures with others. Examples of travel and adventure themes include:
Family vacations
Hiking trips
City explorations
Cruises
Camping adventures
Hobbies and Interests
Scrapbooks can also focus on your hobbies and interests, showcasing your passion and expertise in a particular area. Some popular hobbies and interests-related themes include:
Sports
Cooking and baking
Gardening
Art and crafts
Music or concerts
Everyday Life
Don't forget that scrapbooking can also be about preserving everyday memories and moments. Some ideas for everyday life-themed scrapbooks are:
Daily routines
Home life
Moments spent with friends and family
Personal growth and achievements
Seasonal changes and activities
When creating your scrapbook, choose a theme or event that holds special meaning to you. Remember, scrapbooking is a personal and creative expression of your memories, so always go with what feels right and enjoyable for you. Happy scrapbooking!
Making Your Own Scrapbooks
Creating your own scrapbooks can be a fun and rewarding activity. It allows you to preserve precious memories and showcase your creativity. Here are some tips to help you get started on making your own homemade scrapbooks.
Gathering Supplies
Before you begin, gather all the supplies you will need for your project:
Scrapbook album
Photos and memorabilia
Adhesives (glue, tape, adhesive dots)
Embellishments (stickers, ribbons, buttons)
You can find many of these supplies at your local craft store or online.
Designing Your Pages
Once you have gathered all your supplies, it's time to start designing your scrapbook pages. Keep in mind the following tips:
Choose a color scheme or theme for your album, which can help create a cohesive look.
Focus on one or two focal points per page, such as a large photo or a cluster of smaller ones.
Use photo corners or adhesive dots to attach your photos to the cardstock or patterned paper; avoid using glue, as it can damage the photos.
Create balance and visual interest by using a combination of elements, including embellishments, borders, and text.
Preserving Memories and Storing Your Scrapbook
It's important to take care of your scrapbook to ensure that it lasts for years to come. Here are some tips for preserving your memories:
Use page protectors to shield your pages from dust, fingerprints, and moisture. These plastic sleeves are available in various sizes to fit your scrapbook album.
Keep your scrapbook in a cool, dry place away from direct sunlight, which can cause photos to fade.
For digital scrapbooks, Canva offers an online scrapbook maker with customizable templates, backgrounds, and fonts. Remember to save and back up your digital files.
Now that you know how to start making your own scrapbook books, you can begin preserving and celebrating your cherished memories.