The Best Bullet Journal Pens for Your Bujo or Planner
We may earn a small commission for purchases made through affiliate links in this post. For more information go to our Privacy Policy.
Finding the best bullet journal pens (or planner pens) is just part of the process of learning to record your schedule, make your goals, and track your daily life.
Just think of all the fun office supplies you get to shop for. Collections of planners, bullet journal notebooks, washi-tapes, stickers, and even sticky notes. Oh. My.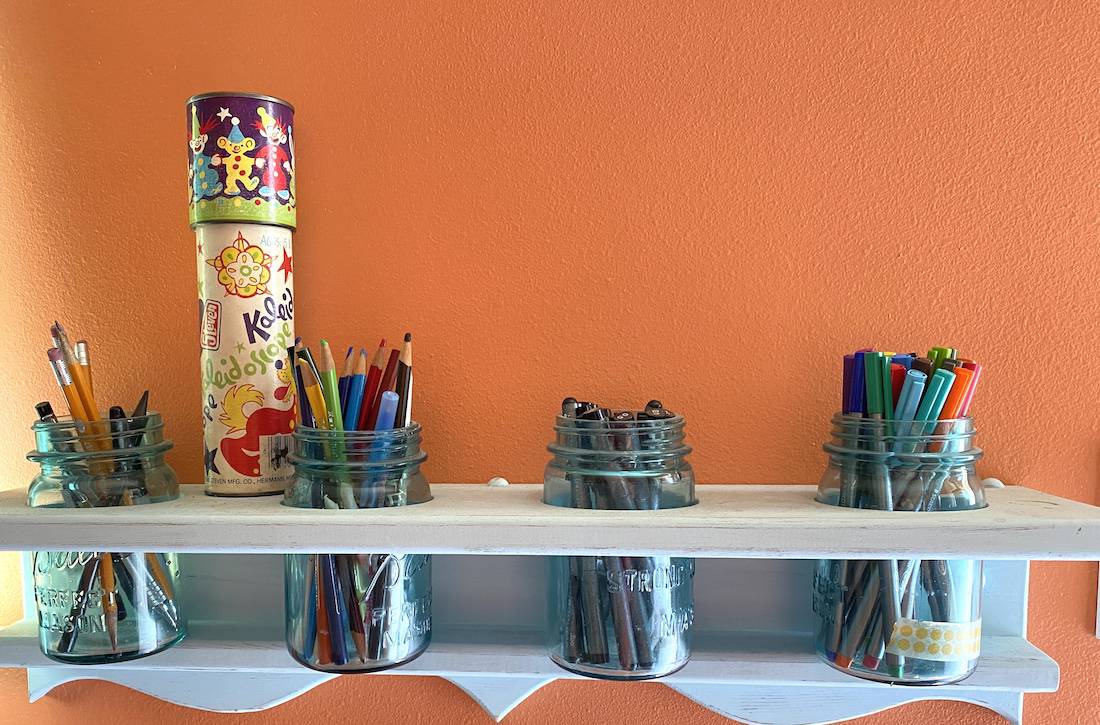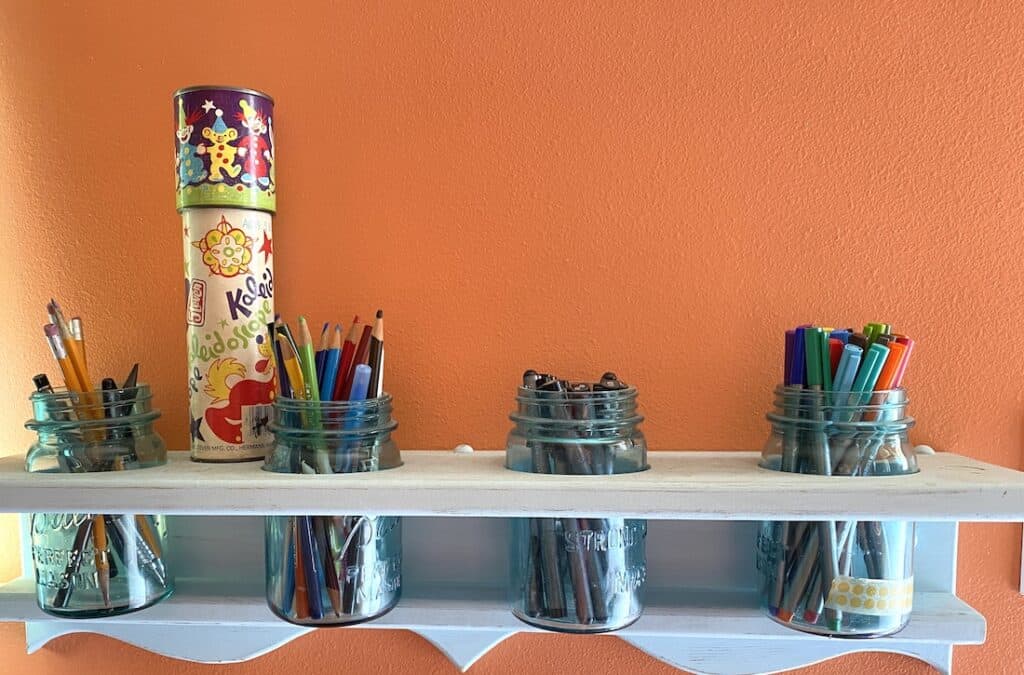 Please don't use "finding the best pen for bullet journaling" as an excuse to not get started. The best planner pen is the one that you will actually use in your planner or journal.
It doesn't have to be expensive.
In all honesty…my favorite pen is a clear barreled blue BIC pen. With the lid. Has to have the lid. If it doesn't have a lid, I feel like my handwriting isn't as good. Quirky. Yes.
Do you need to try all of these journaling pens? Absolutely not. Unless you want to.
There are a number of different sets of pens floating around my home. Two or three varieties in my office. A few in the kitchen by the bills. And a handful (or more) in my craft room.
The pens listed below are good quality, reliable, and they will make planning and journaling a joy. That is the only reason you need them. Right there.
What Markers Don't Bleed Through Paper?
As you dive deeper into bullet journaling and figure out what collections are and which habit trackers you want to use, you will start to see the terms "bleed" and "ghost".
A very popular question for bullet journal beginners is "what are the best pens for bullet journaling that don't bleed?". They are referring to the ink soaking through the paper and making it appear blurry.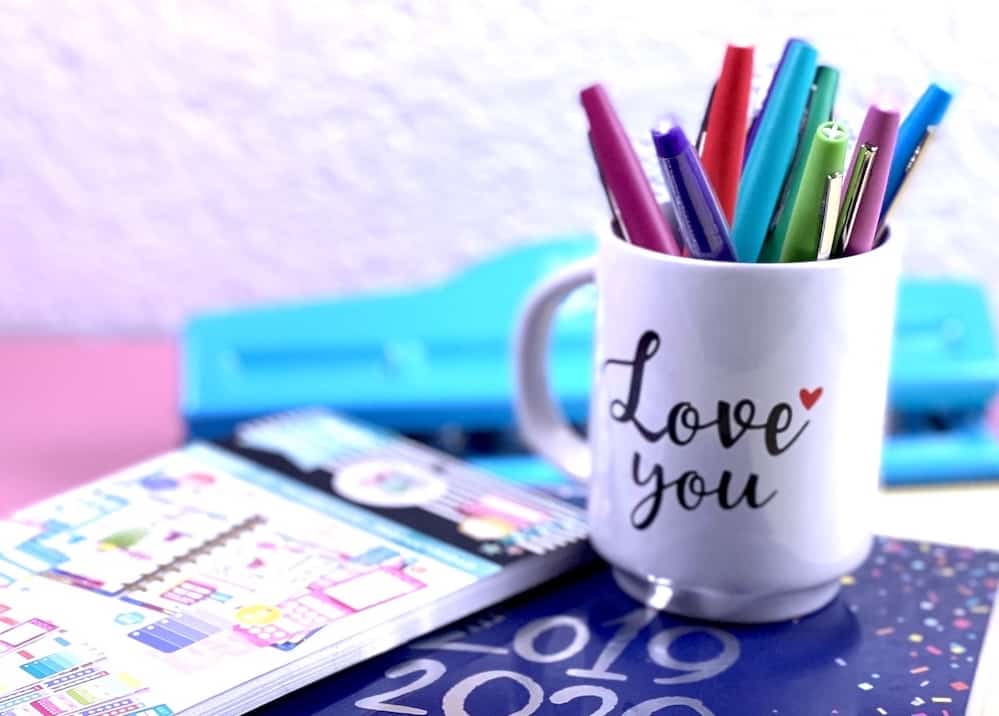 When this happens, it usually starts to show on the other side of the paper as well. This ruins both sides of a page and makes your journal or planner page very hard to read.
Good pens for bullet journaling and good quality paper in your planner or journaling notebook will prevent bleeding. The paper will absorb less ink and it will usually have some type of protective barrier that keeps it from leaking through to the other side (I hear song lyrics in my head with that phrase…did you?)
Ghosting on a journal page is just a lighter version of bleeding. The ink doesn't soak or bleed all the way through. When you turn the page over it isn't super obvious that you wrote on the other side. But you can still see a faint impression of the journaling or doodles.
Unless you use a thicker paper in your journal or planner, you will have a little ghosting. It goes with the territory. Don't fret over it too much. Enjoy your colored pens and markers. Experiment and doodle. Fill in with thicker papers where needed.
Finding the Best Pen for Your Journal
A few questions you should ask yourself when looking for new bullet journal pens would be:
Have I used this brand before, did I like the feel?
It it worth getting the name brand? Should I go with a cheaper option? (if it is a proven name brand…that might be your best bet)
Are they too expensive?
Do they have good reviews?
How versatile are they? Can I use them for multiple journals, planners, and spreads?
Am I actually going to use these pens?
Once you have taken the time to go through those questions (and answer them honestly…don't get distracted by all the pretty colors), then you are ready to buy a new set of pens. Or two.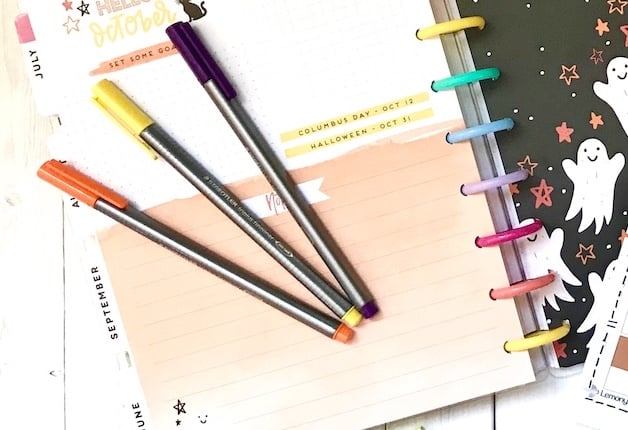 What pens do you use for bullet journaling? Find the best pens for you in this epic list.
Everyday Writing Pens Are Great
Everyday writing pens that you have stashed away in the house are a great place to start. Your favorite pen is the one you will use the most. And it is already your favorite for a reason. Maybe you love the way it glides on the paper. It could be that it is the perfect shade of purple. Or that it doesn't fade after a year of sitting on a journal page. Use that pen if you have it.
Best Colored Pens for Writing in Planners
The Best Fineliners
The fineliners type of pens are probably the most used in bullet journaling. They are the most popular because they tend to not smudge as much. Unlike some of the gel inks, they do not smear across the paper when you accidentally run your hand across them.
Top brands of fineliner pens also use an ink that is less likely to ghost or bleed. This makes them idea for bullet journaling.
What are the best black pens for bullet journaling? What are the best color fine tip pens for bullet journaling? Let's look:
Felt Tip Pens and Markers
Brush Pens and Embellishment Pens
Fude Pens
Highlighters for Journals and Planners
Best Gel Pens for Planners
Are gel pens good for bullet journaling? You bet they are. There are a number of gel pens that are great for journaling and using in planners.
The gel pen technology has gotten much better over the years and there are a number of gel pens that get great reviews by bullet journal artists and the planner community. Check out these ones to see which will fit you best.
Fountain Pens for Art Journaling
Choosing the Pens That Are Right For You
That was a lot to cover. The main take-away from this post is that there are wide variety of bullet journal pens (and planner pens too).
You don't have to just stick with one type or one brand. Experiment and see what works best for your personality, your journal or planner type, and the style you are going for.
Somedays, you may want very thin fine-liner pens. Other days you may want more color and the ability to highlight.
Create your collection. Have fun and enjoy the process.
Want to make your own planner? Check out how to DIY a Frankenplanner to make a system that really works for you.
Do you have any favorites that didn't make the list? I'm always on the hunt for a great pen. Leave me a comment below…