We may earn a small commission for purchases made through affiliate links in this post. For more information go to our Privacy Policy.
Scrapbooking is a cherished hobby for many people, as it allows individuals to creatively preserve memories and craft personalized keepsakes. One essential element in the world of scrapbooking is the wide variety of scrapbook paper available.
These papers come in different textures, colors, and patterns, making it easy for anyone to find the perfect design for their project.
Aside from aesthetics, scrapbook paper also serves functional purposes within a project. High-quality scrapbook paper ensures durability for years to come, as it often features acid-free and lignin-free properties. These elements help prevent the paper from yellowing or deteriorating over time.
With countless options available, from holiday-themed paper to solid colored ones, scrapbook enthusiasts can easily find paper that precisely captures the emotions and significance of the memories they wish to preserve.
Whether you're a beginner or a seasoned scrapbooker, choosing the right paper is an essential step in making your projects come alive.
Scrapbook Paper Basics
Scrapbooking is a popular hobby where people create albums with photographs, stories, and decorations. The foundation of any scrapbook page is the paper. It comes in various types and styles, providing numerous creative possibilities for your scrapbooks.
Types of Specialty Paper
Cardstock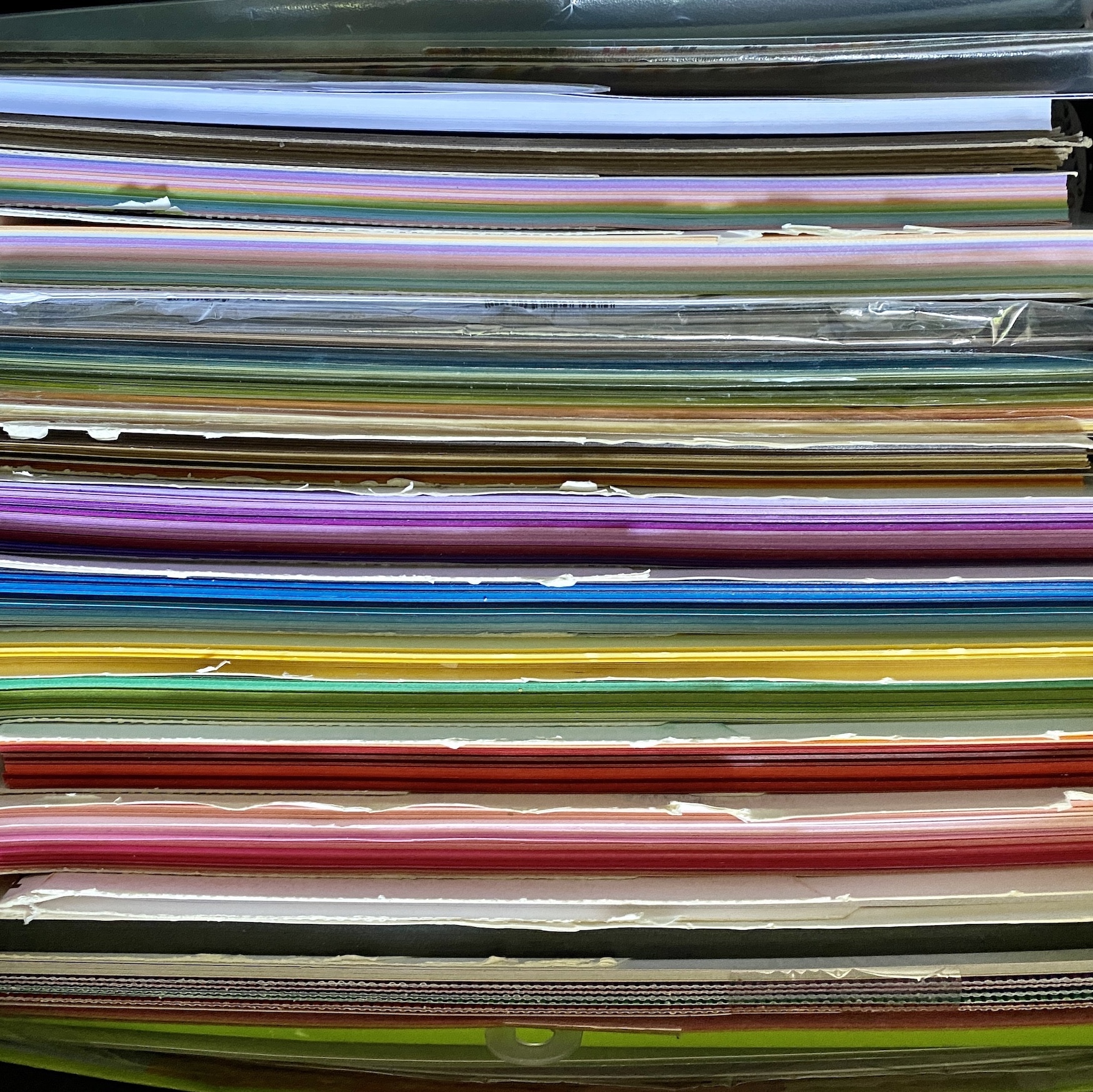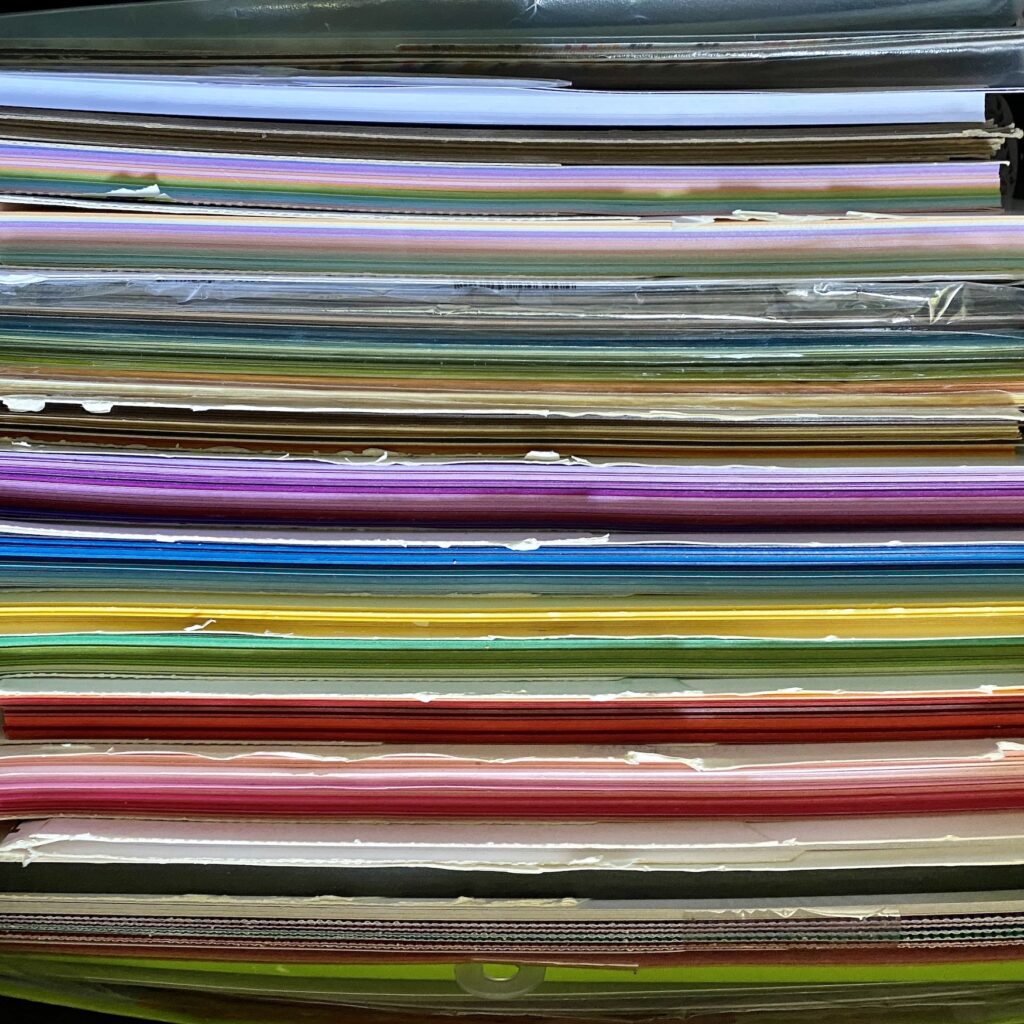 Cardstock is a thick, durable paper used as the base of your scrapbook pages. It's available in various colors and textures, allowing you to choose the perfect background for your photos and embellishments.
Neutral colors are often suggested for beginners, as they're easier to blend with pictures and decorations. Cardstock is mostly used for your base page (one or two-page spread). It is also used frequently for photo mats (the border of color that you see behind photos.
Cutting titles, alphabets, and embellishments from cardstock is a common practice in scrapbooking.
Patterned Paper


Patterned paper comes in many designs, including floral, geometric, and themed patterns. These can be used as background paper or for adding layers and accents to your scrapbook pages. Strips and shapes are most commonly used as accents.
Vellum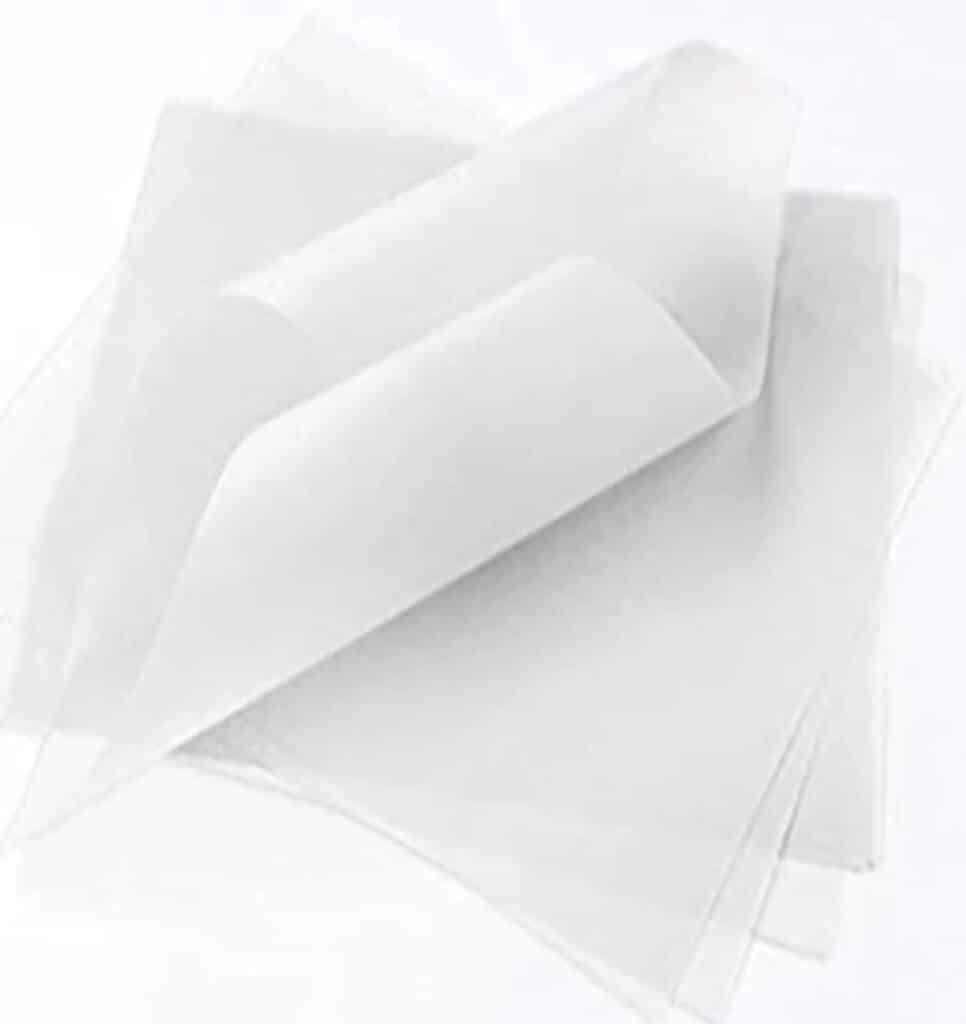 Vellum is a semi-transparent paper that adds a delicate touch to your pages. You can place vellum over photos or other papers for a softened effect. Be careful when adhering vellum to your scrapbook, as the adhesive may show through. One way to work around this is to add an embellishment over that spot. Another option is to attach the vellum using ribbon, brads, or eyelets.
Embossed Paper


This type of specialty paper features raised designs or textures. Embossed paper can add a touch of elegance and depth to your scrapbook pages and works well for creating frames or borders.
You can buy pre-embossed papers or emboss your own using embossing folders and a Big Shot or Spellbinders machine.
Glitter Paper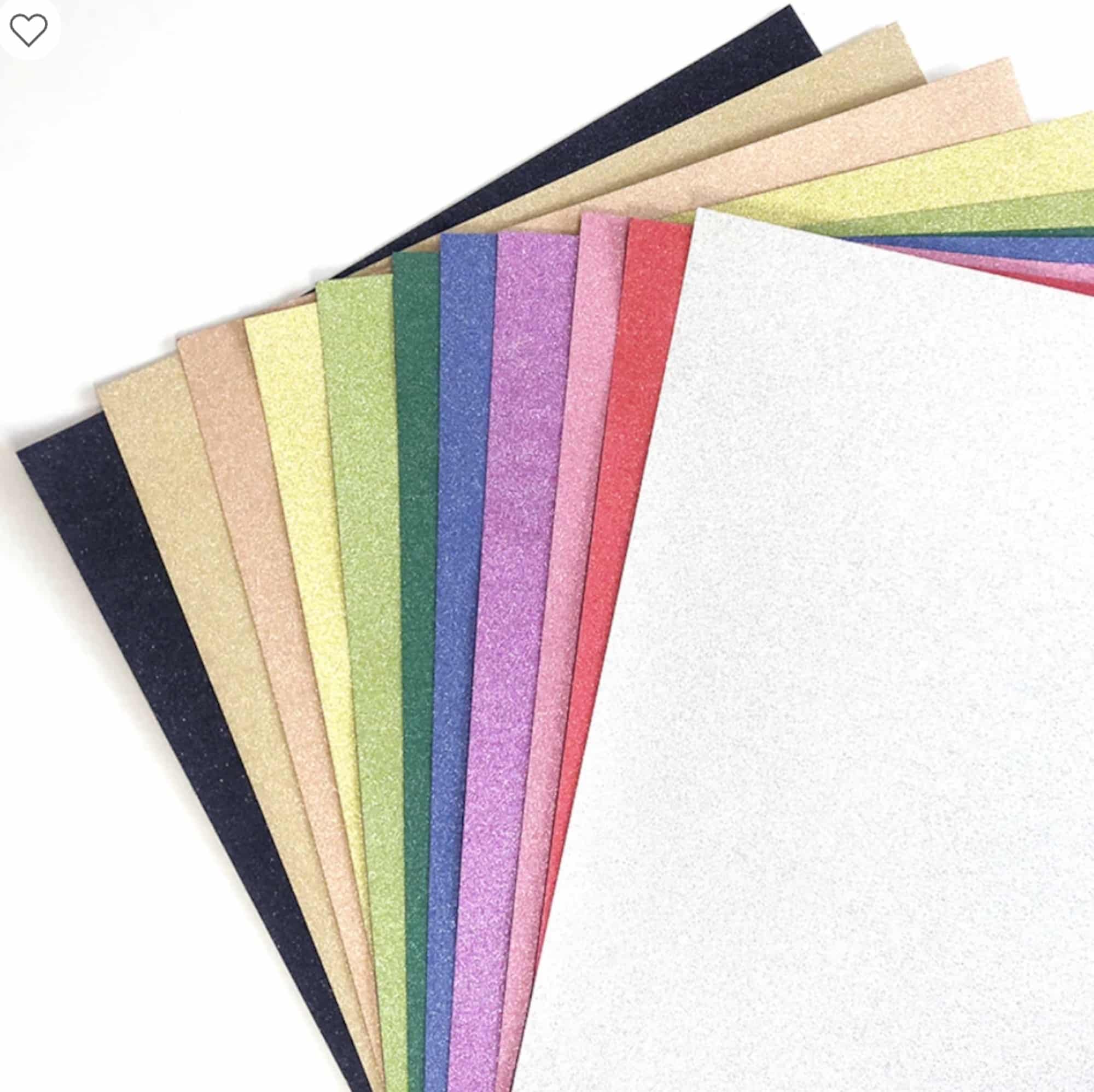 If you're looking to add some sparkle to your scrapbook, glitter paper is the way to go. It comes in various colors and can be used for backgrounds, accents, letters for titles, or die-cut shapes.
Patterned and Decorative Papers
Scrapbook paper is an essential component of any scrapbooking project, and there are many different types to choose from, including patterned and decorative papers. These types of papers are often used to create backgrounds, accents, and other embellishments for scrapbook pages.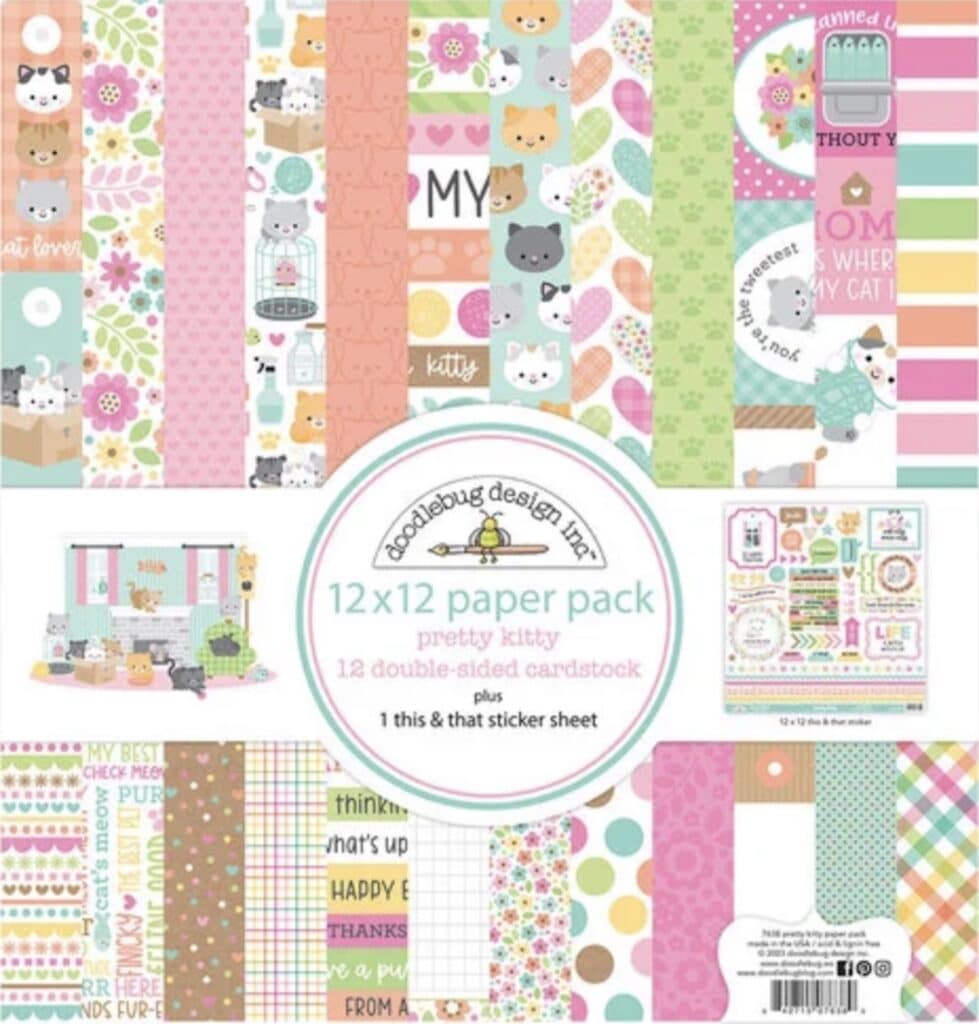 Brands and Manufacturers
There are numerous brands and manufacturers that create beautiful patterned and decorative scrapbook papers. Some of the most popular include:
These brands and manufacturers offer a wide range of colors, patterns, and textures to suit any scrapbooking theme or style.
Popular Patterns
When it comes to patterned and decorative papers, there are countless options to choose from. Some of the most popular patterns in scrapbook paper include:
Floral designs: These timeless patterns often feature intricate detailing and can be found in a variety of color schemes.
Geometric shapes: Adding a modern touch, geometric patterned papers usually feature repeating shapes and bold colors.
Vintage themes: Old-world charm comes alive with vintage-inspired patterns, such as antique maps, old advertisements, and postcards.
Seasonal themes: Perfect for capturing memories, seasonal patterns showcase elements from different times of the year, such as snowflakes, leaves, or florals.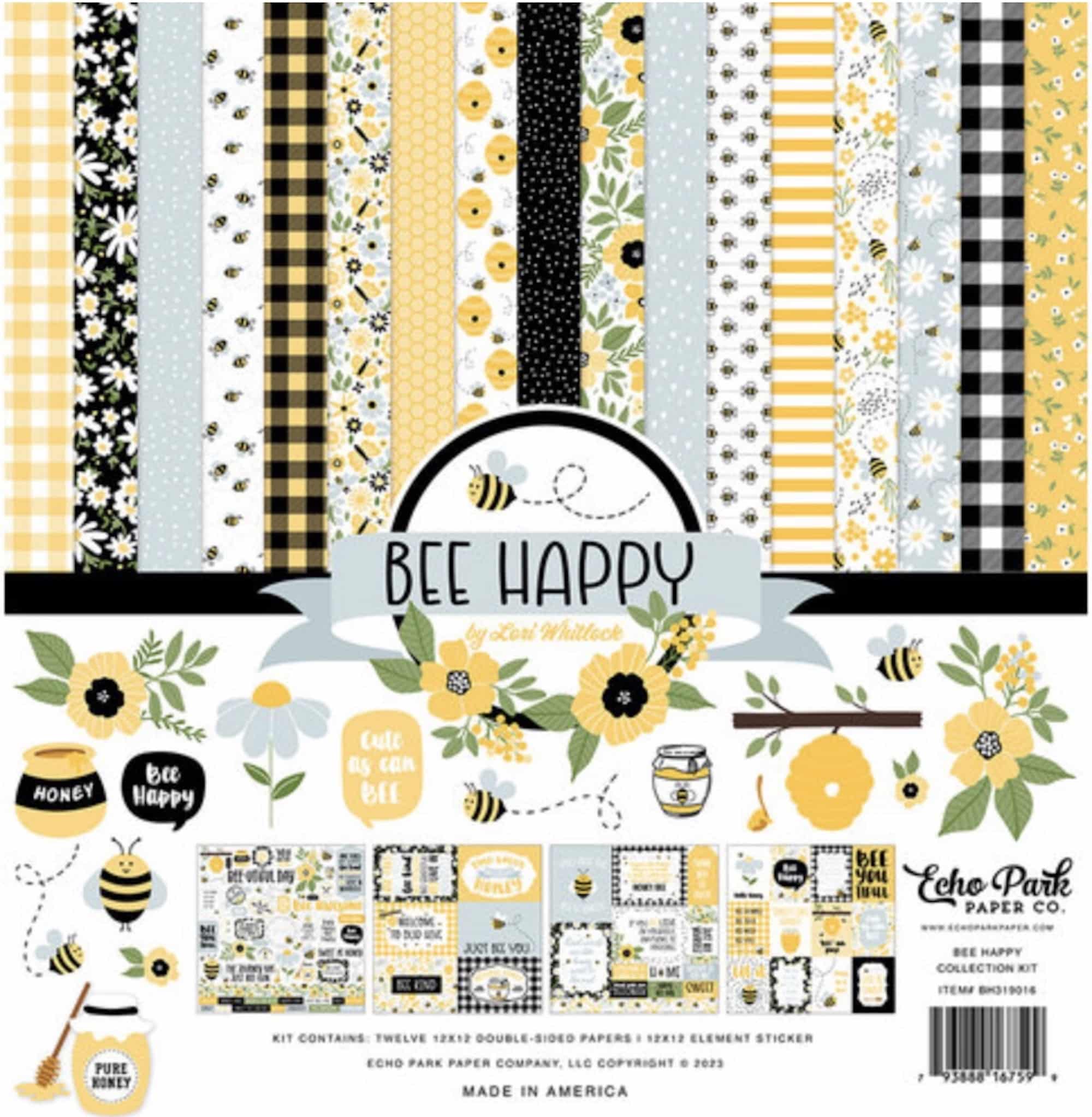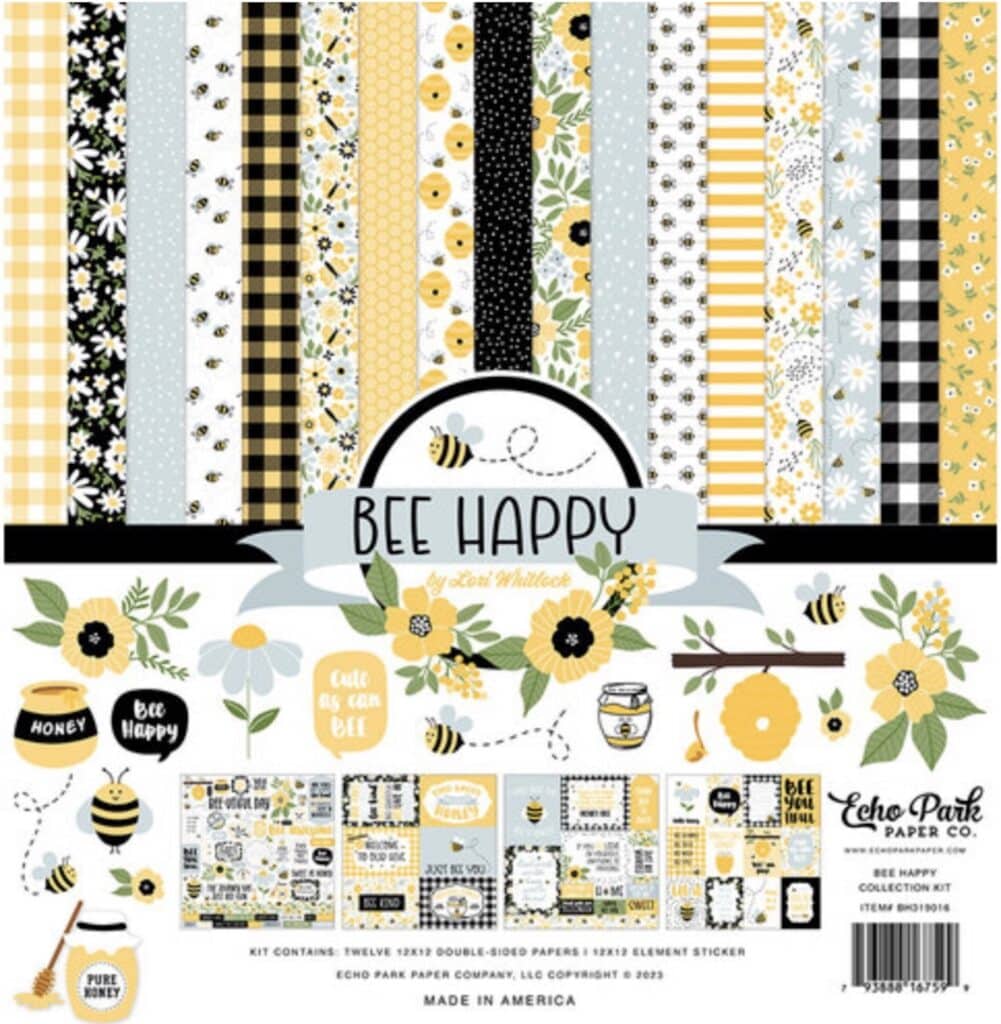 In addition to these popular patterns, you can also find patterned scrapbook papers that fit your specific interests and hobbies, such as travel, sports, or cooking, as well as papers with text and typography.
Regardless of your personal style or the memories you wish to document, there are countless patterned and decorative papers available, ensuring you find the perfect paper for your scrapbooking project.
Vintage and Themed Designs
Creating a Vintage Look
Vintage and themed scrapbook paper can add a timeless and classic quality to your scrapbooking projects. With a variety of designs and patterns available, you can create a unique and nostalgic feel for your memories.
For vintage scrapbook paper, you can find options at various retailers such as Etsy and Amazon. These resources offer a plethora of designs, including:
Floral patterns
Antique maps
Old-fashioned typography
Vintage photographs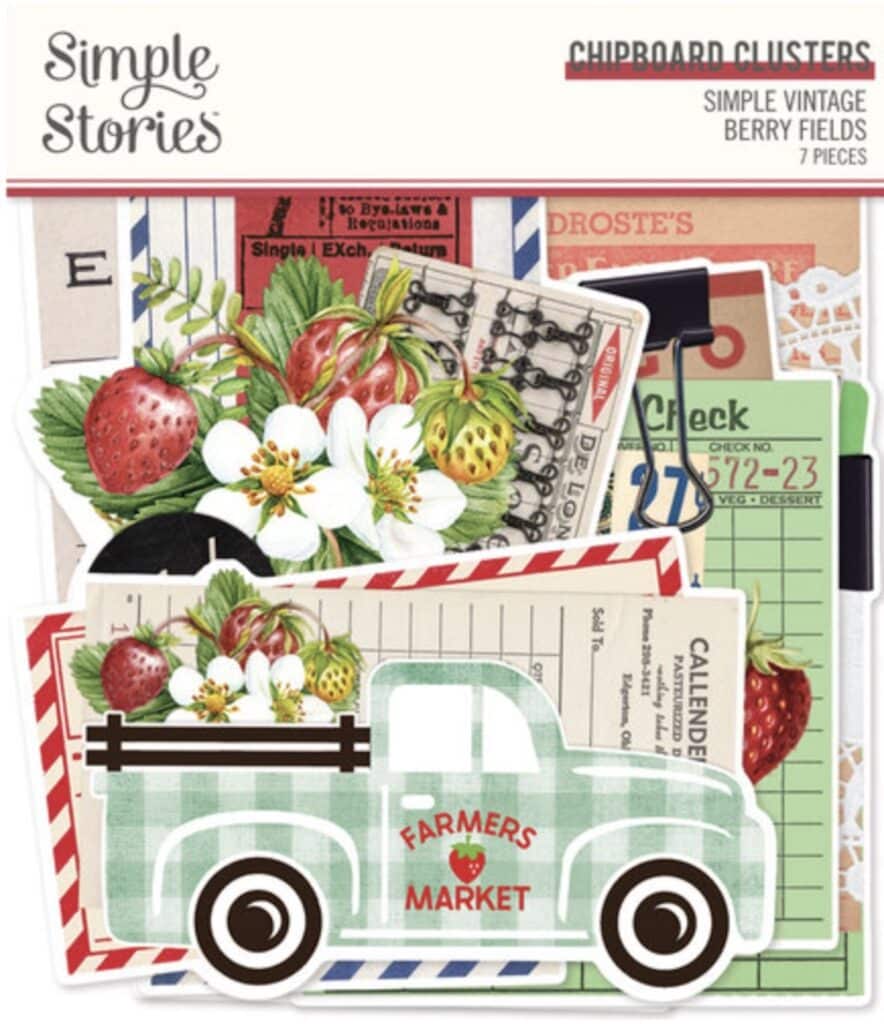 To achieve a vintage look in your scrapbooking project, consider incorporating these design ideas:
Layering:

Use different patterns and textures of vintage scrapbook paper to create depth and dimension on your pages. Layering paper can also help draw the eye to focal points in your layouts.

Distressing:

Adding some wear and tear to the edges of your paper can enhance the vintage appearance. You can use sandpaper, ink, or other techniques to give your scrapbook paper an aged look.

Embellishments:

Complement your vintage scrapbook paper with era-appropriate embellishments such as lace, buttons, or charms. These items can reinforce the theme and time period you are trying to convey.
Incorporating vintage-themed designs into your scrapbooking projects can be a fun and rewarding way to document cherished memories. Be creative and enjoy the process of creating a timeless keepsake with vintage scrapbook paper.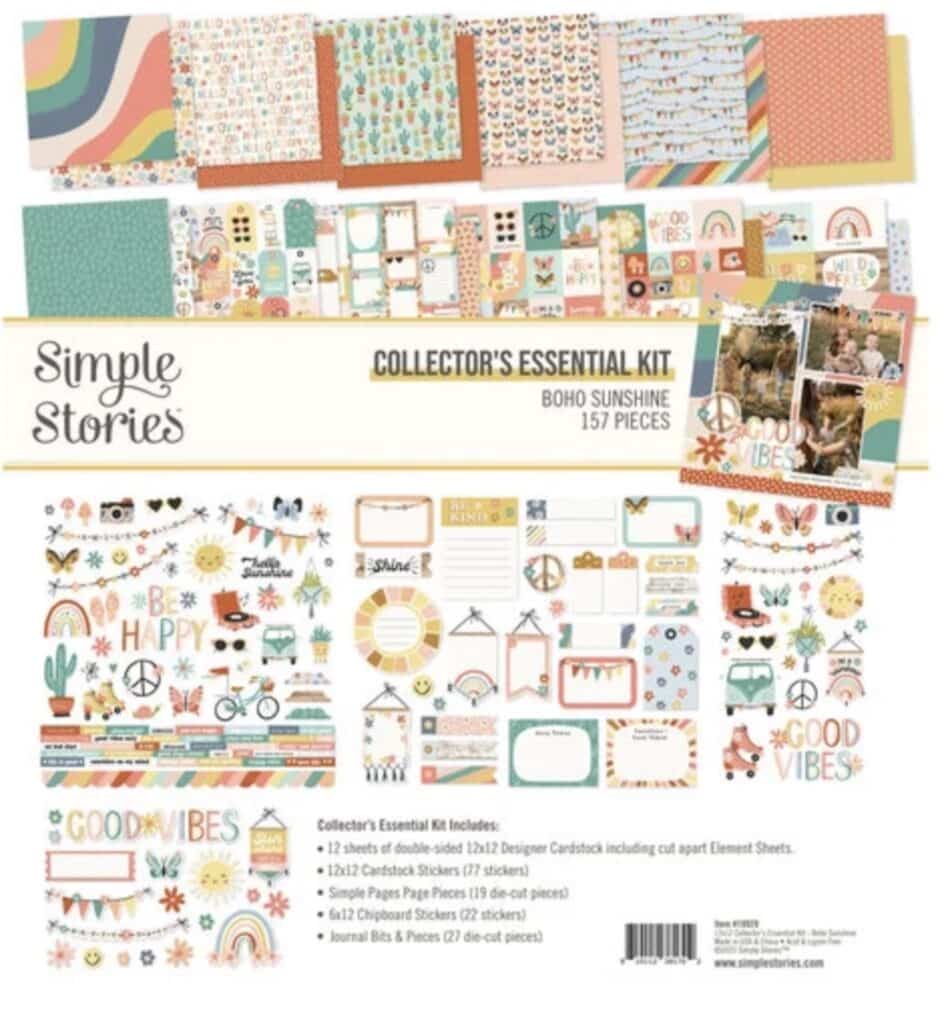 Scrapbooking and Papercraft Kits
Scrapbooking and papercraft kits are a popular way for beginners and experienced crafters alike to dive into the world of paper creativity. These kits come with a variety of supplies and materials, allowing you to experiment with different techniques and ideas without having to purchase individual items. Let's take a look at what's typically included in a craft kit.
What's Included in a Craft Kit
Craft kits for scrapbooking and papercraft generally contain a mix of essential items and decorative elements. Here are some of the typical components you can expect in a kit:
Patterned and solid cardstock
Embellishments, such as stickers, wooden designs, and die-cuts
Adhesives, such as glue and tape
Scissors or a paper cutter
Stamps and ink pads
Journaling pens or markers
Page protectors or clear sleeves
Some kits also include:
A scrapbook album or binder
Ribbon or twine
Washi tape
Templates or guides for layouts
These scrapbooking kits may be tailored to specific themes, such as weddings, travel, or seasonal events. Others may focus on teaching new techniques or offering an introduction to more advanced tools, like stamping and die-cutting.
If you're new to scrapbooking or papercraft, a scrapbooking kit can be a great resource to help you learn the ropes and create a beautiful project in the process. Happy crafting!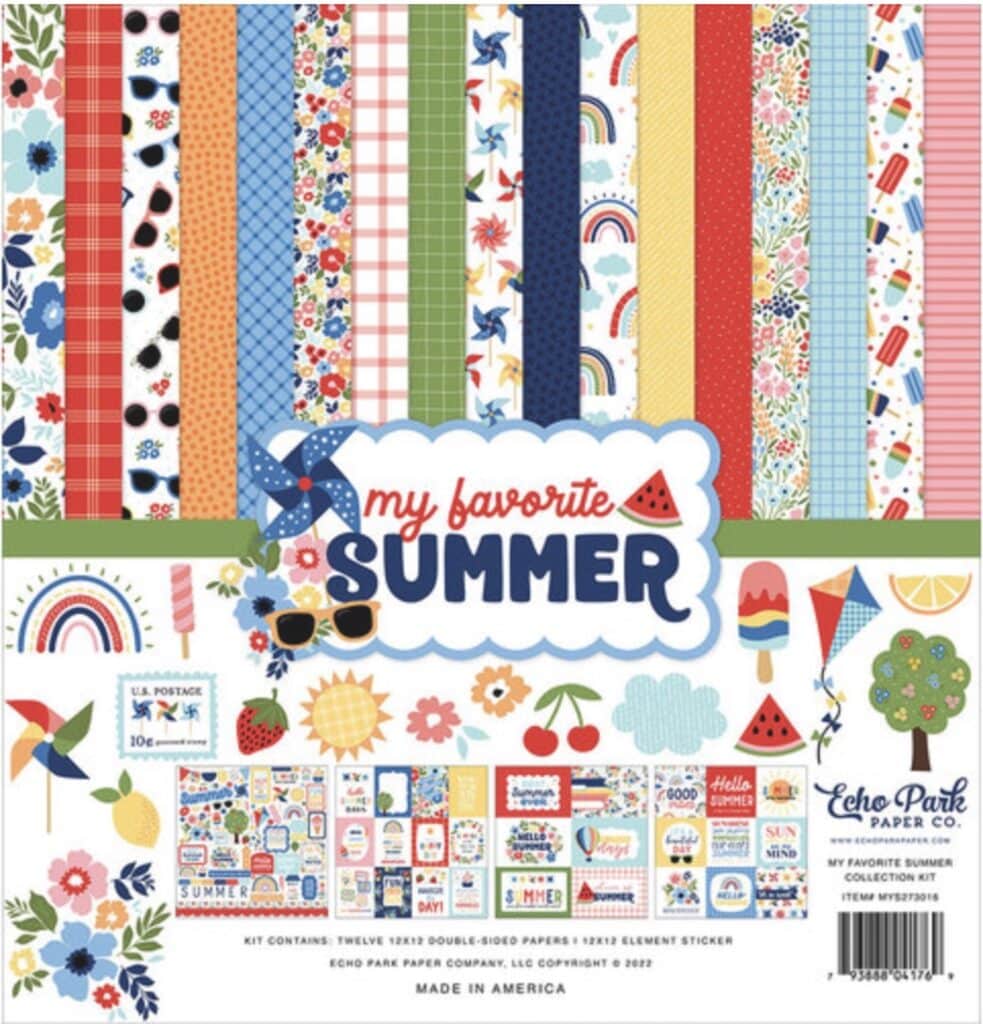 Scrapbook Albums and Projects
Scrapbooking is a popular and creative way to preserve precious memories while also having fun. One of the key components of any scrapbooking project is the scrapbook album, which serves as the foundation for showcasing all your treasured moments, captured through photos, journaling, and more.
Scrapbook albums come in various sizes, but a common size is 12 inches by 12 inches. They are available in different colors and styles, allowing you to pick one that fits your personality or theme.
Some albums come with a few pages included, giving you a starting point for your project. As you continue to create and accumulate memories, you can always add refill pages to expand your album.
When working on scrapbooking projects, consider incorporating the following elements for a unique and personalized touch:
Photos: Select high-quality photos that capture special moments, and be sure to arrange them in a visually appealing way.
Journaling: Add text, like stories or captions, to provide context to your photos and memories.
Embellishments: Use stickers, buttons, ribbons, and more to enhance your pages and add depth to your designs.
Backgrounds: Choose coordinated scrapbook papers for your album's pages to complement your photos and give your album a cohesive look.
For an added layer of creativity, you can also create mini books within your scrapbook to showcase specific stories or collections of related memories, like a family vacation or summer memories with friends.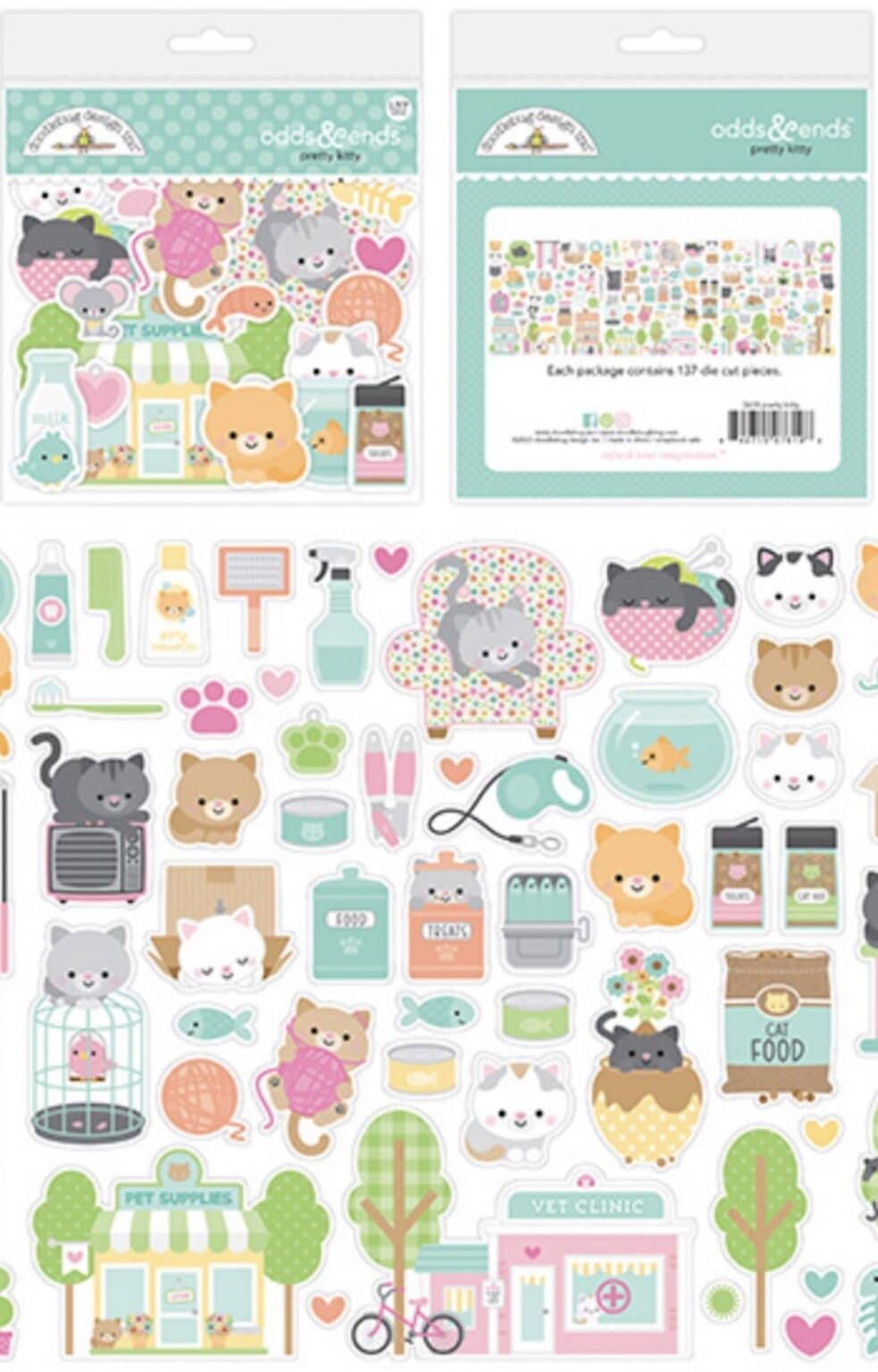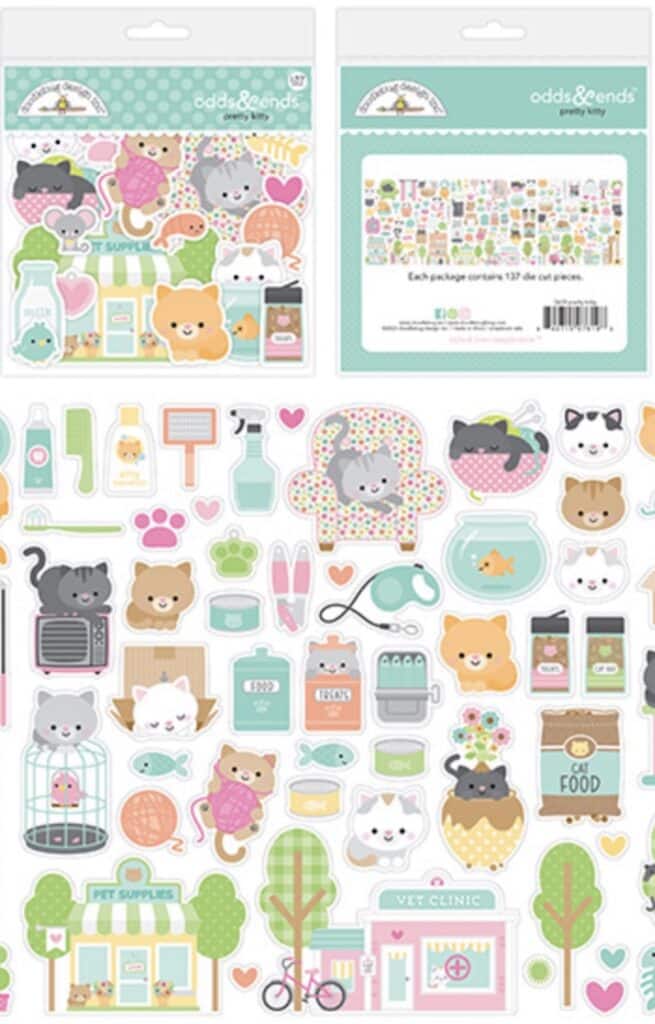 No two scrapbook albums will be the same, as each person brings their own unique experiences, preferences, and ideas. So, dive into your scrapbooking projects with a sense of adventure and have a wonderful time turning your memories into lasting keepsakes.
Discounted and Affordable Options
When it comes to scrapbooking, it's possible to find affordable options without sacrificing quality. There are a variety of discounted and affordable scrapbook paper options available that can help you create beautiful projects on a budget.
A great online resource for affordable scrapbook paper is Cheap Scrapbook Stuff. This website offers an extensive selection of discounted scrapbooking supplies, including patterned papers from well-known brands such as American Crafts and 49 and Market.
They also have a Paper Packs section dedicated to discounted paper pad sets, which can help you save even more.
If you're searching for even deeper discounts on scrapbooking supplies, be sure to check out Scrapbooking for Less. This online store features sale discounts on scrapbook paper, stickers, kits, and embellishments, helping you create beautiful projects while staying within your budget.
Some tips for finding affordable scrapbook paper options include:
Sign up for newsletters from scrapbooking stores as they often share exclusive sales and discounts.
Take advantage of seasonal sales, such as Black Friday or post-holiday clearance events.
Visit websites such as The Penny Hoarder for creative ideas on how to repurpose everyday items or inexpensive materials in your scrapbooking projects.
With these resources and tips, you can easily find discounted and affordable scrapbook paper products to create stunning projects without breaking the bank.