We may earn a small commission for purchases made through affiliate links in this post. For more information go to our Privacy Policy.
Love You Fur-Ever Scrapbook Title and Layout
This layout is perfect for showcasing your love for your furry friends and capturing their adorable moments with a dog scrapbook layout or a cat scrapbook layout.
To create this layout, you will need some basic supplies such as cardstock, designer paper, adhesive, and of course, your favorite photos of your pets. Additionally, we will be using a Cricut machine with a free title (Love you Fur-Ever) and other creative techniques for scrapbooking. Pet scrapbook page ideas are sure to start flowing with these fun techniques.
Using a Cricut Machine for Scrapbooking
One of the most exciting aspects of scrapbooking is using different techniques to create unique and personalized layouts. In this Love You Fur-Ever layout, we will be using a Cricut machine to cut out the title and the layers that add dimension.
The Cricut machine is a versatile tool that allows you to create intricate designs and cutouts with ease. You can use it to cut out shapes of your pets, paw prints, and other fun designs that fit the love theme of this layout.
In addition to the Cricut machine, we will be using other creative techniques such as paper piecing, stamping, and embellishing to add depth and texture to the layout. You can use stickers, ribbons, and other decorative elements to make your layout even more unique and personalized.
Overall, this Love You Fur-Ever layout is a great way to showcase your love for your pets and create a beautiful keepsake that you can cherish for years to come. So gather your supplies, fire up your Cricut machine, and get ready to create a beautiful and memorable scrapbook layout that celebrates your furry friends.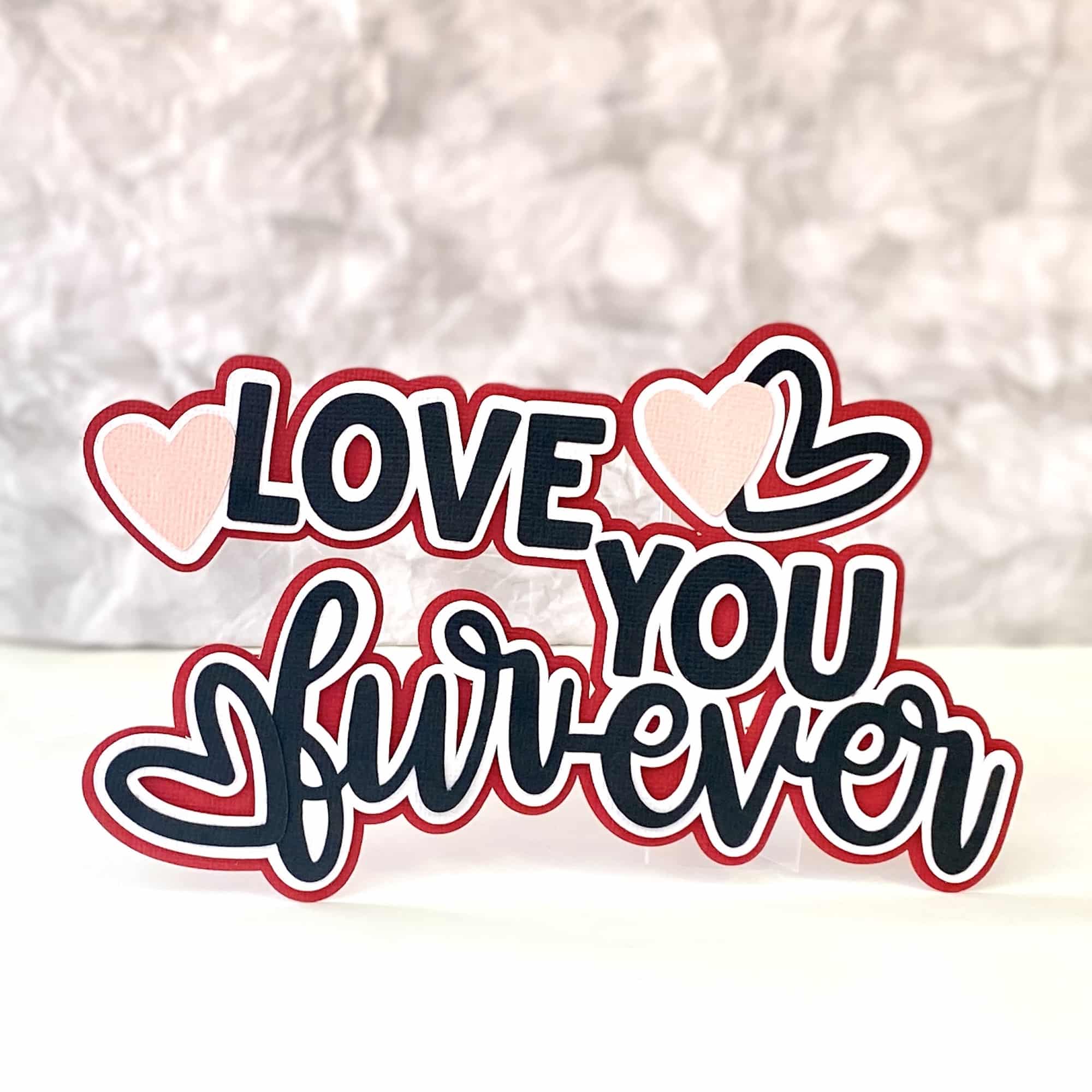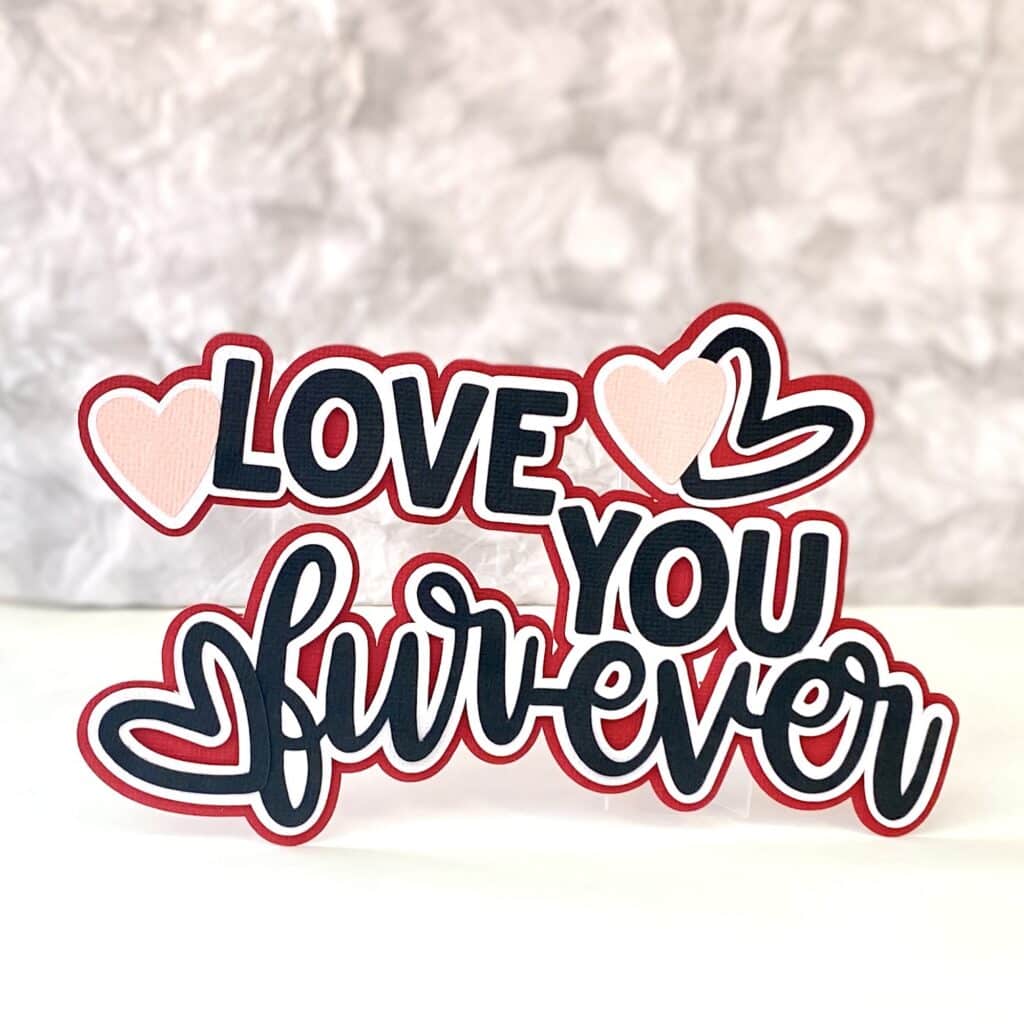 Materials and Tools for Dog Scrapbook Layouts (or Cat Scrapbook Layouts)
To create a beautiful pet scrapbook layout, you will need a few basic materials and tools. Here is a list of the essential items you should have: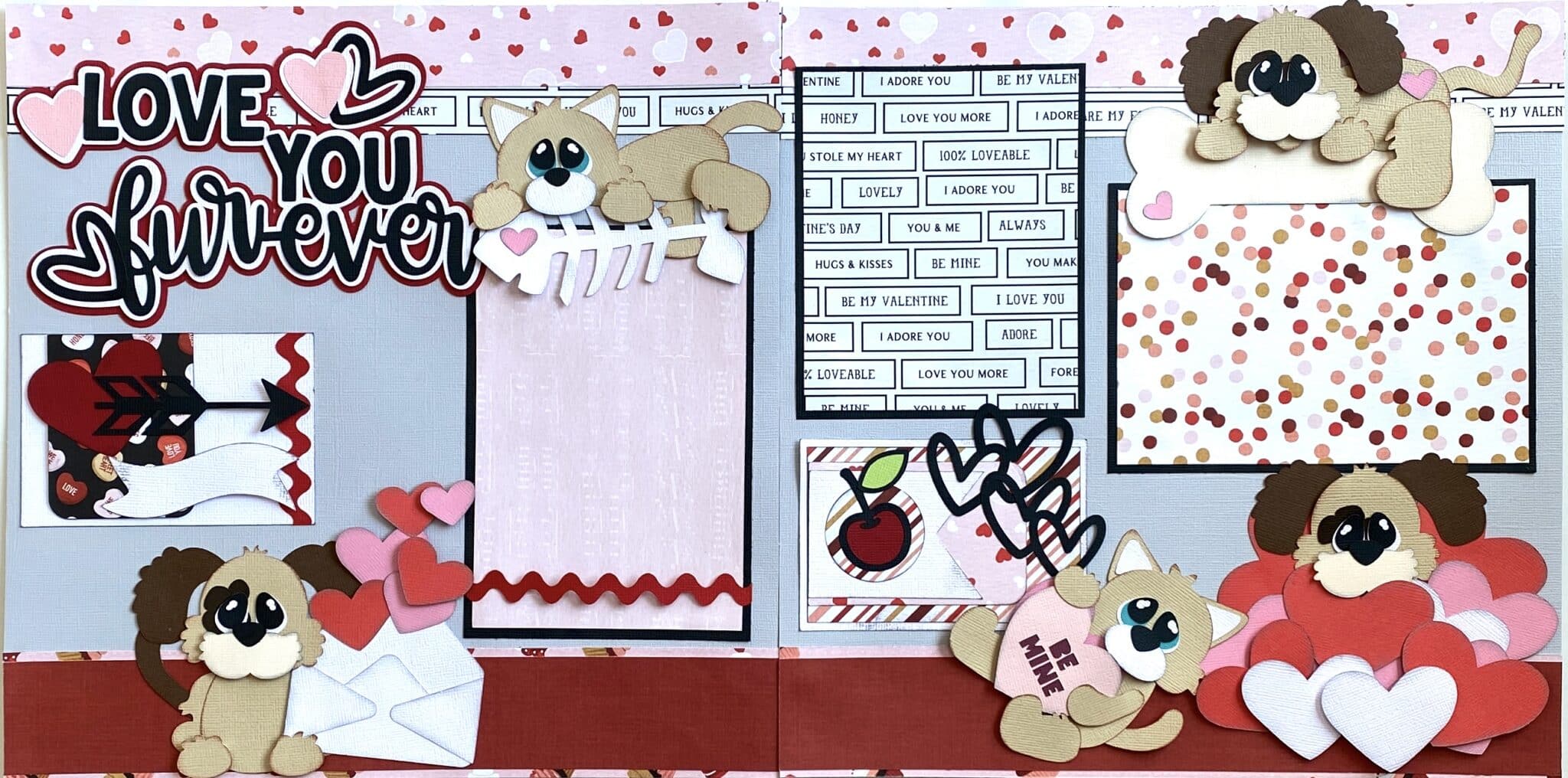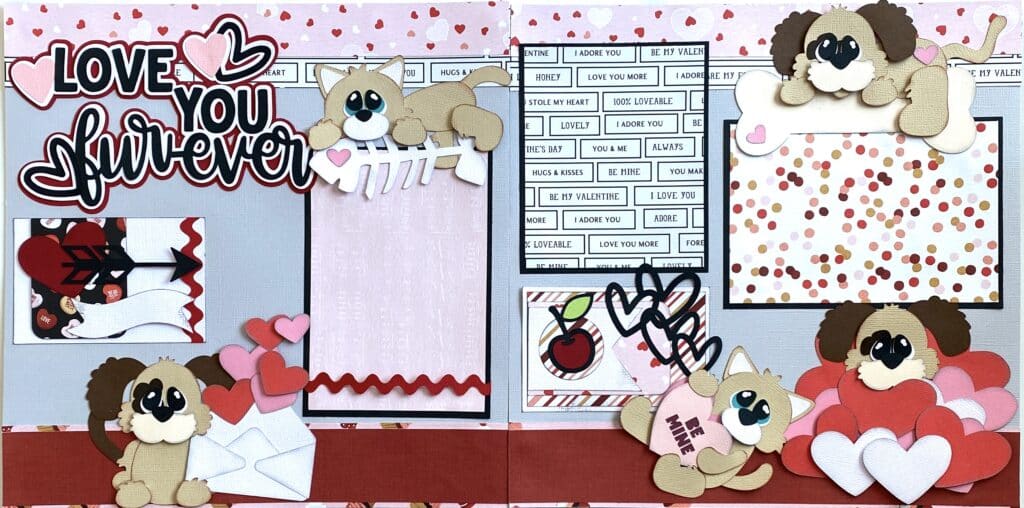 Extra Supplies to Take Your Layout to the Next Level
While the above items are the basics, there are a few additional tools that can take your cat or dog scrapbook layout to the next level. For example, a Cricut machine can be incredibly useful for cutting out intricate shapes and designs. You can use it to make paper piecing quick and easy. (Like these cat paper piecings and dog elements). Foam tape can add dimension to your layout, and patterned paper can add interest and texture.
Other items you may want to consider include:
Ink pads
Stamps
Embellishments (such as brads, buttons, or ribbon)
Creating the Title
The first step for this layout will be creating the title. Using the Cricut machine, you can precisely cut out the title that says "Love You Fur-Ever." Use the free SVG and upload it to your cutting software (if you are using a Cricut you can use these instructions if you need help).
To make your title stand out, I recommend using foam tape or foam dots to give it that desired dimension.
Using Elements from the Valentine's Bundle
Now, let's delve into the charm of the Valentine's bundle. Incorporating paper piecings and tags from this bundle will enhance the overall look of your scrapbook layout.
These elements bring a touch of love and sweetness to your design. Feel free to mix and match different elements to achieve the desired effect. You can also purchase the elements for this layout separately (if you don't want the whole Valentine Bundle).
Once you have your elements cut out and pieced together (there are videos for each of these on my YouTube channel) you will be ready to start assembling the layout.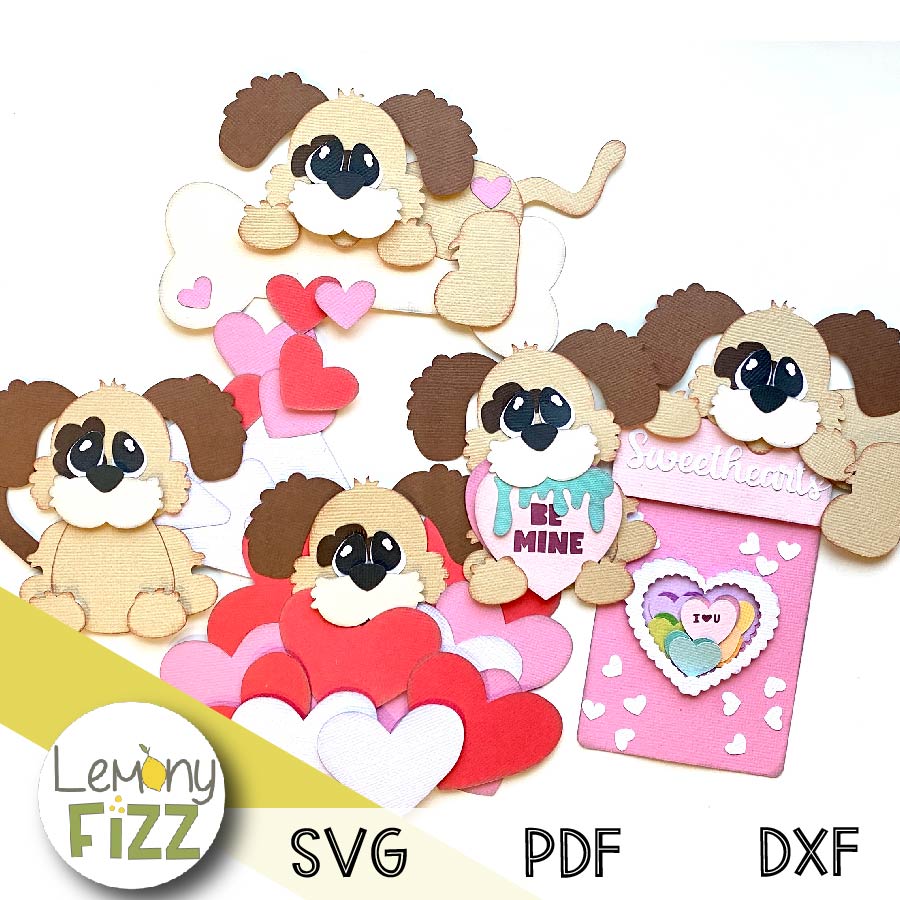 Adhering Elements with Xyron Sticker Maker
The Xyron sticker maker is a fantastic tool for adhesive application. It simplifies the process and ensures that your elements are securely attached.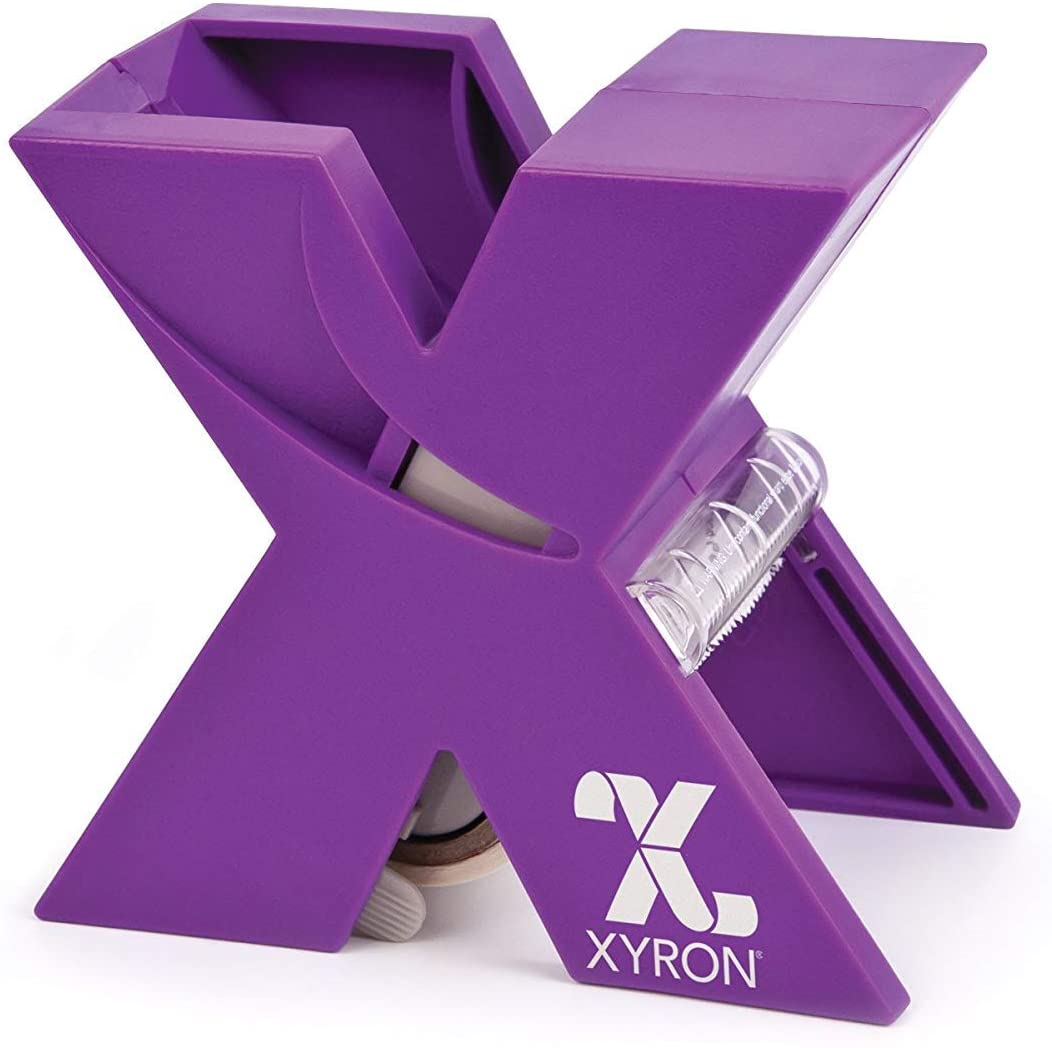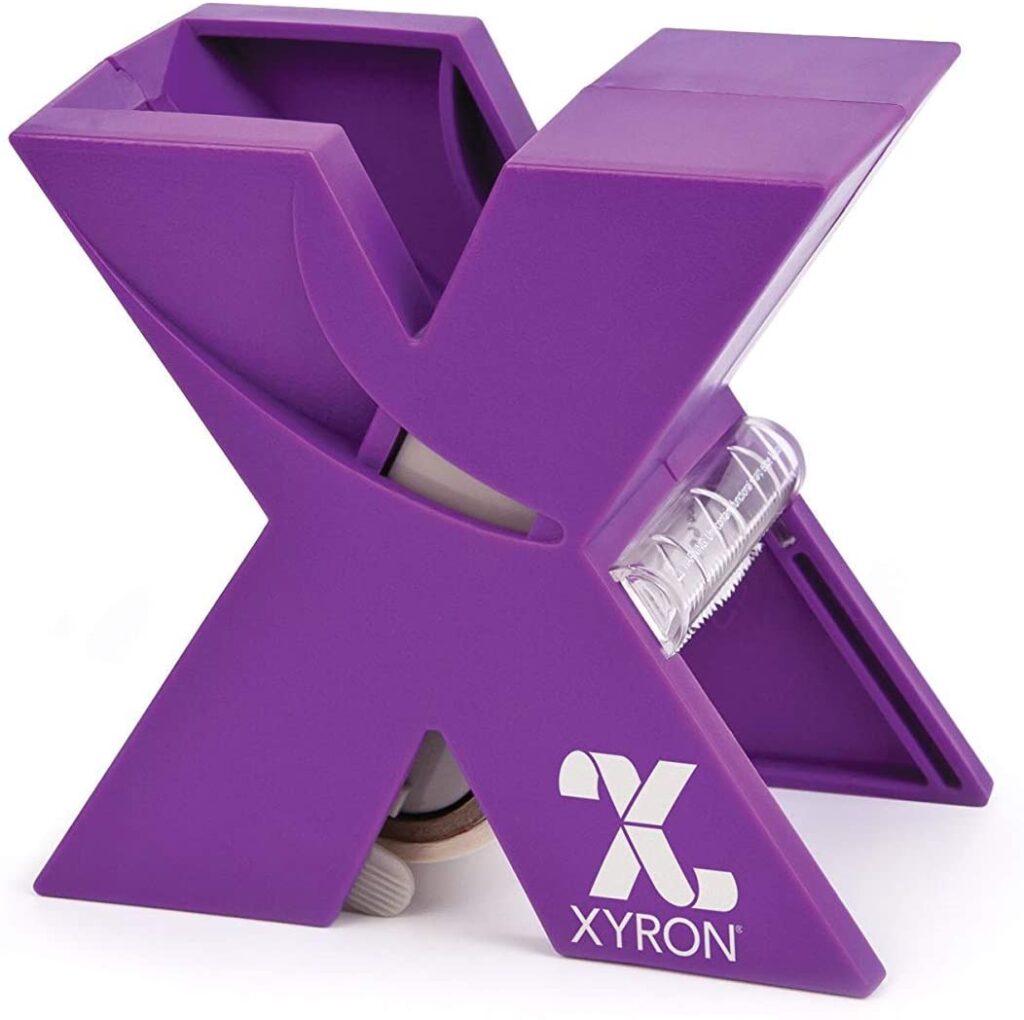 This is a tool that I have used for years and years. I reach for it when I have a lot of little pieces that need to be stuck down.
Learn how to use it effectively, and you'll find that it's a game-changer in your scrapbooking toolkit. Plus, it minimizes mess, which is always a bonus.
Photos Mounts and Scrapbook Layout
Now that your elements are ready to be attached, you will want to decide on the size of your photo mats. It might be that you only have one photo you want to use, so a 4.25″ x 6.25″ paper mat will be best. If you have multiple photos and you have trimmed them down, then just create a photo mat that is about 1/2 inch larger (width and height). This will give you a quarter inch on each side of your photo.
You can create as many photo mounts as you need and add as many layers as you want. Just keep adding 1/2 inch to each of your layers.
What do you put in a pet scrapbook?

In a pet scrapbook, you put all sorts of fun and special things to remember your furry friend! Here's what you can include:
Pictures: This is the most important part! Add photos of your pet when they were little, playing, or just being cute.
Facts: Write down cool facts about your pet, like their birthday, breed, and favorite toys or treats.
Stories: Share funny or heartwarming stories about your pet. Maybe the time they did something silly or made you laugh.
Artwork: If you love drawing or painting, you can create pictures of your pet to put in the scrapbook.
Paw Prints: You can make your pet's pawprints using safe, washable ink and put them in the scrapbook. It's like their signature!
Collar or Tags: If your pet has a special collar or ID tags, you can keep them as a memory.
Quotes: Add cute or meaningful quotes about pets. They can make your scrapbook extra special.
Thank You Notes: If you adopted your pet from a shelter, you can include thank you notes or pictures from the shelter.
Pet's Firsts: Document important firsts like their first day home, first walk, or first bath.
Letters: Write letters to your pet, telling them how much you love them. It's like a message from your heart.