We may earn a small commission for purchases made through affiliate links in this post. For more information go to our Privacy Policy.
Materials Needed:
Patterned paper (various colors)
Adhesive (glue or tape)
Cutting machine (Cricut or similar)
Embellishments (stickers, rub-ons, foam dots, etc.)
Optional: Pens or foiling tools for sentiments
Scissors
All the general supplies for scrapbooking and cardmaking that I use are listed below. Pattern papers and cardstocks are not specific. Use what you have (unless you were eyeballing that new paper release…).
NOTE: This file is part of the 2023 Halloween Craft Stash Challenge. If you are working on this project after the challenge is complete, you can still participate. The file is sold individually in the shop and it is also included in the Mega Halloween Bundle.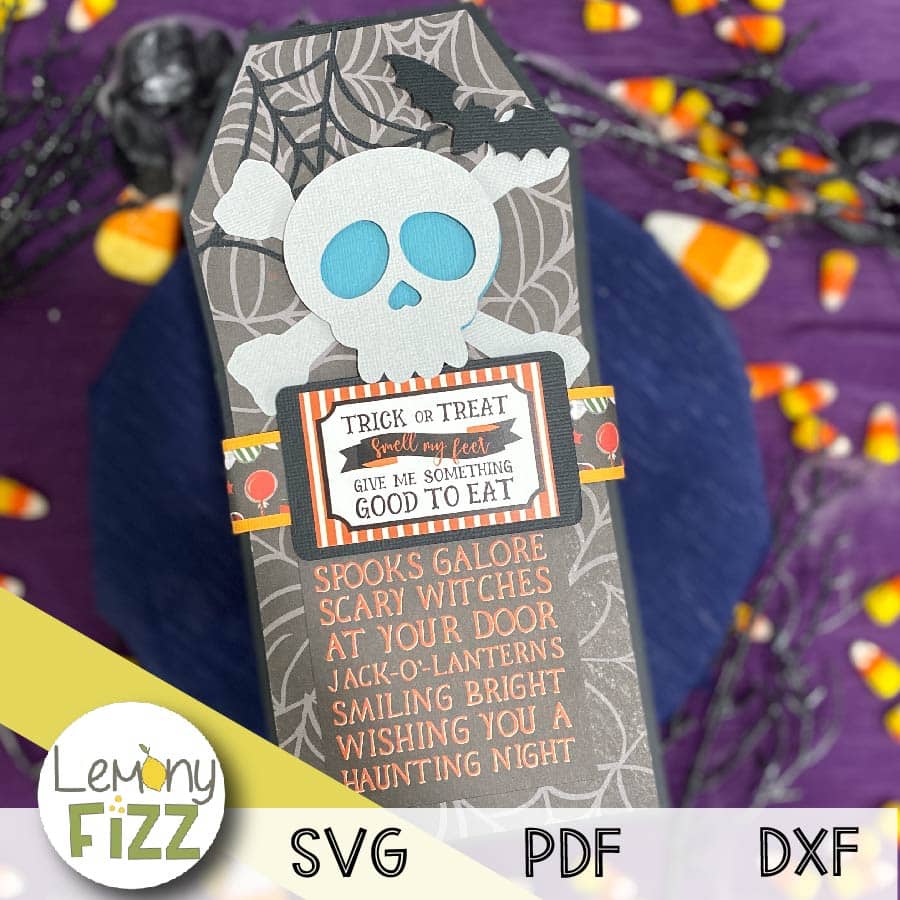 Step 1: File Upload and Preparation:
Choose the file that works best with your machine and cutting software (SVG for Cricut, PNG for Silhouette, etc.)
Step 2: Preparing the Coffin Shape:
Ungroup the imported files.
Identify the score lines on the coffin shape – these will become the fold lines.
Convert the score lines to score settings to ensure accurate folding.
Attach the score lines to the coffin base, ensuring proper alignment. Don't forget you can arrange layers by sending them to the back or front as needed.
Step 3: Choosing Patterned Papers:
The fun part begins! Pull different colored patterned papers from your stash add depth to your project. The pieces that are colored pink within the file represent pattern papers.
Step 4: Assembling the Coffin Shape:
Fold your score lines before gluing any cover pieces on to keep your lines crisp.
Attach layers to each section as shown in the video.
Assemble the coffin shape by using adhesive to secure the front flap and back flap on each panel.
Step 5: Adding Details and Embellishments:
Now comes the creative part – adding embellishments. Position the crossbones, skull, spider web, and bat elements on the front. Feel free to use foam dots for added dimension on specific elements. Attach a belly band to the popcorn box to secure it closed and give it an extra touch.
Step 6: Final Touches and Completion:
Put the finishing touches on our project by adding sentiments. Use stickers, rub-ons, stamps, or handwritten messages to personalize your coffin popcorn wrapper.
Don't forget to share your creation with the rest of us in the Lemony Fizz Paper Crafters Facebook Group.
General Scrapbooking and Cardmaking Supplies that I Use