What is a Bullet Journal: A Beginner's Complete Guide
We may earn a small commission for purchases made through affiliate links in this post. For more information go to our Privacy Policy.
Let's start with the main questions you might have about what a bullet journal is and how to use one. Then we will get into all the details, nitty gritty, and ultimate (or complete) guide stuff.
Bookmark this page. Pin it. However you save information. This is is one of those posts you are going to want to save so you can refer back to it later.
Frequently Asked Questions About Bullet Journaling
What is a bullet journal?
Equal parts day planner, diary, and written meditation, bullet journaling turns the chaos of coordinating your life into a simple fun and creative process. Bullet Journal is a method of personal organization developed by designer Ryder Carroll. The system organizes scheduling, reminders, to-do lists, brainstorming, and other organizational tasks into a single notebook.
What is the journal for beginners?
Any notebook can be used for bullet journaling. If you have a composition notebook or a moleskin journal you could start with those. You can also print parts of a bullet journal and use them in your regular planner. You don't need a specific journal to get started.
How do you start a using a bujo for beginners?
Using a bullet journal is a great way to keep track of life. You don't need to start one. But you might want to have something that does double duty: creative outlet and life organization. Read more in this post: What is a Bullet Journal
What is a BUJO spread?
A bullet journal spread is a group of pages that are all about a related topic. They usually are two pages in your notebook, planner, or bullet journal. It is the space where you can get an overview of the whole subject quickly. Just like with all things bujo, you can make your spreads how you like them and in a way that works best for you.
Why is it called a bullet journal?
The name "Bullet Journal" comes from the use of abbreviated bullet points to log information, but it also partially comes from the use of dot journals, which are gridded using dots rather than lines.
How do these types of journals work?
Bullet journals are a collection of ideas, to-do lists, life plans, menus, weekly and monthly calendars, and anything else you want to add to them. They are a place to hold your ideas and plans. However, you decide to implement those thoughts and plans is up to you. You can be as concise or as creative as you wish.
What Do I Put in a My Journal?
In bullet journaling, you are essentially combining all of your thoughts, finances, schedules, to-do lists, and miscellaneous life notes into a single journal. It is a way to organize all of those different things you try to keep up with on a daily basis. Not only is bullet journaling fun it can help you with reducing overall stress and anxiety.
Any notebook or blank journal can become a bullet journal. Using a planner and tracking your schedule does not mean you are bullet journaling. There is some crossover. However, if it helps keep you on track, is a place for you to note your schedule, and you feel happy and creative using it…
Call it whatever you want. I personally use more a Frankenplanner with my Happy Planner and that works great for me.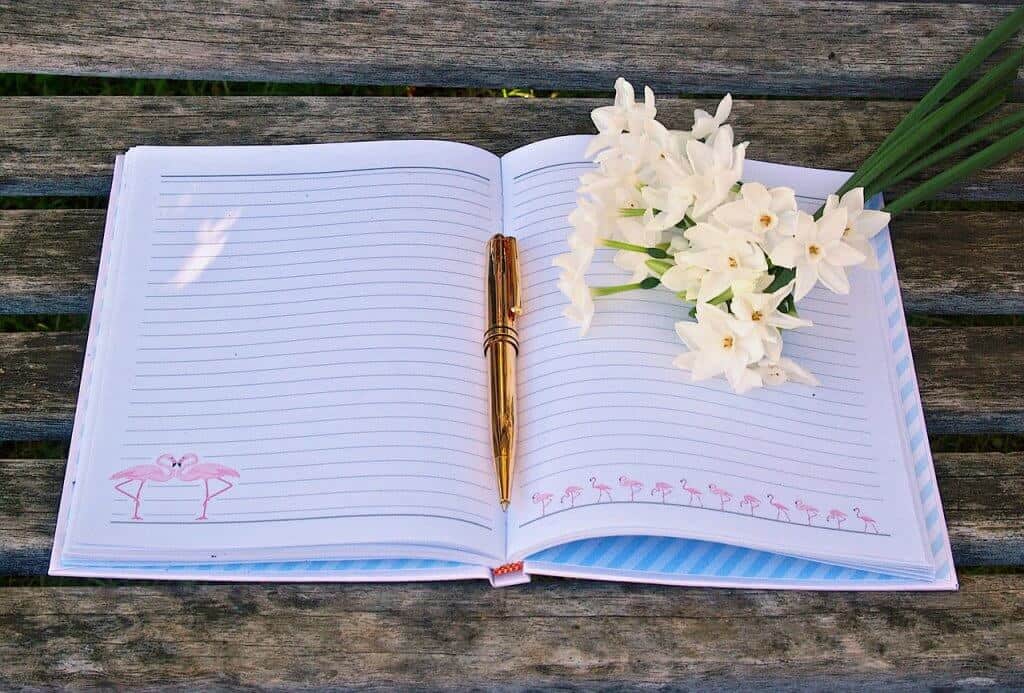 Learn to doodle flowers with these step-by-step tutorials.
Terms You Need to Know
Reading through this ultimate bullet journal guide and browsing the internet for bujo inspiration, you are going to come across some terminology. They aren't super hard. Most you can figure out with context clues. Here is a quick list of some of the more common bullet journaling terms you need to know.
MIGRATION: moving tasks forward to new pages. One of the main principles of using a bullet journaling system is the ability to "migrate" tasks that you didn't finish or accomplish to a new page in your journal. You can move it forward to your current page and keep working on that task.
SPREADS: This is often how people refer to the two pages side by side in a journal or planner. When the book is open (or spread open) you see the whole plan or design for that journaling composition. This is often used when talking about monthlies or collections.
MONTHLIES or MONTHLY SPREAD: the word monthlies is just a quicker way to say monthly spread. It is how a bujo designer refers to the page or two that they have used for their overall monthly planning.
WEEKLIES or WEEKLY SPREAD: similar to the monthlies, this is the term for a page or spread that includes your week-at-a-glance. It is the individual weekly planning that you have included in your bullet journal.
DAILIES or DAILY SPREAD: break it down into daily chunks and you have your dailies or daily spread. These can be a section of a page, a whole page, or even a two-page spread. That is entirely up to you and the space you need to accomplish your tasks, planning, and designs.
Choosing the Right Journal or Notebook
To start your bullet journal, you first need a journal to use. You can pick any type of journal, but choosing one that has enough pages for journaling tasks and a quality paper that doesn't let ink bleed through is a good idea.
Look for one that can stay closed when needed, but when you open to individual pages, the spine isn't so tight that it is hard to write in it. Also, look for thicker pages in case you decide to decorate some of the pages or choose to use markers that might saturate the paper. You don't want anything bleeding through.
Which Type of Pens Should I Use?
If you don't already have a pen problem (like you want to buy all the pens when you see them), then this could be the beginning of said problem for you. Personally, I have always had a pen problem. There is no way for me to tell you how bad the symptoms will become for you. Let's just say that you will want ALL. THE. PENS. And you will want them in ALL. THE. COLORS.
Here are the ones that currently get used the most by myself and my daughter in our bullet journals and planners. Pick and choose which ones you feel will work best for your starting out. Add to your collection from there.
For more about pens for bullet journals and planners you can read this post.
Components and Contents
While you can create the bullet journal however you like, it does help to have some direction for getting started.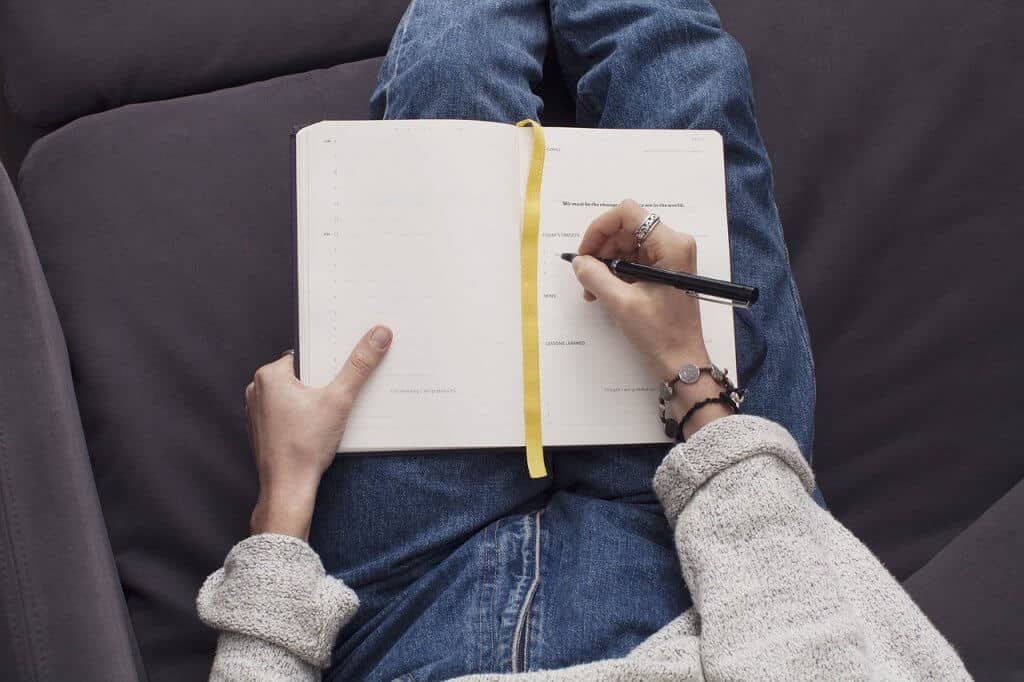 These are some of the basic elements to include:
Index or Table of Contents – Every bullet journal should preferably have an index or table of contents. This lets you know what area different sections of the journal are located, such as grocery and meal planning, or finances. It is a great way to jot down fast notes as you can go right to that page.
Page numbers – if you have an index, you will also need to have page numbers. You can be as creative as you want, but make sure every page is numbered and it corresponds with what is in the index.
Signifiers or symbols – Signifiers are symbols that you use in place of different types of notes. It can be helpful when you want to use them in place of longer phrases. They can be a happy or sad smiley face for your moods, a heart for a date with your significant other, or a pumpkin when scheduling for Halloween.
Future Log – with this type of planner or journaling, you create pages as you go. There isn't a set page for 3 months from now. Designating a page for upcoming events or future appointments that are outside of the months you have already designed helps you to still keep track of those important dates. You can reference this page when you work on the spread or design of that month, later.
Monthly Spread – this is your month at a glance page spread. You can create a calendar or a more traditional way of styling up your overall month if you prefer that look to a bullet list. Set these up in a way that works for you. Barebones basics or make it as artsy and fun as you wish. It is your calendar.
Weekly Spread – the weeklies are designed for a little more detail. You have more space to set up your day, keep track of times, and appointments. There is a load of ideas on how to set up different themes and spreads online. Find a style that works for you or have fun changing it up each week. As long as the system is working for you, that is all that matters.
Daily Spread – this is where your magic happens. It is the ultimate to-do list. It is also where you start to use things like trackers for water intake, fitness goals, meals that you have eaten, minutes you spent meditating. Whatever your goals are, the daily spread is usually where you track that.
Collections or Themes
Using collections can seem a little disorganized (even though the idea of them seems to imply organization). They are basically a round up of all the extra things you want to track in your bullet journal that don't fit into the previous categories that we have discussed.
A collection is where you use habit trackers, make lists, create brain maps, brain dump, and so much more. You can add these in any area of your journal that you wish. Turn to a blank page and get started. Don't forget to add it to your index.
If you want to keep your bullet journal a little more organized, one trick is to create your collections on the very last page of the journal. Work your way forward with collections.
Start your monthly, weekly, and daily spreads after your index at the front of your journal and work your way backward. When you meet in the middle, the journal is done and you get to start a new one!
Using Trackers for Goals or Planning
There are HUNDREDS of ideas for collections. I'll list a few here and then you can check out this other post for more.
HABIT TRACKERS – any type of habit you can think of can be made into a tracker. Steps walked, ounces of water drank, minutes you meditated, days you didn't eat sugar. etc.
GRATITUDE JOURNALS – a daily sentence or two that expresses what you are grateful for. (need ideas or prompts you can check out this post for ideas to incorporate into your journal)
MEAL PLANS – a monthly plan of what to make for dinner is always a great place to start. Or you can use it as a calorie tracker
GOALS AND REWARDS – what do you want to accomplish this month? How will you reward yourself once you reach those goals? Track this in your planner to hold yourself accountable.
HEALTH TRACKERS – these are similar to habit trackers but more focused on your physical symptoms and health-related items that you want to track like sleep, medications, etc.
WEIGHTLOSS TRACKERS – this is similar to the health trackers but can be made more specific to weight loss if that is your goal.
FINANCIAL PLANNING – keep track of bills you are paying off to become debt-free. You can also track your spending habits. Create a goal tracker for saving and mark off steps in increments of specific dollar amounts.
Dealing with Blank Journal Doubts or Fear
There is just something about a fresh new journal that brings you joy. And then it doesn't. That blank space stares at you and you know you will have to put something on the page at some point. But what do you put on there? What if you mess up?
I'm here to tell you that some of my most creative moments happened because I made a mistake. Trying to figure out how to fix that mistake or blend it in resulted in the best project or spread I could have hoped to make.
Don't waste your creativity or all those supplies by not actually starting a bullet journal. No one is perfect. If it appears that they are, they probably edited all the mistakes out. Your spreads, trackers, and journaling does not need to be perfect. It needs to just be you.
This quote just popped up for me yesterday. It was perfect timing.
"Better to do something imperfectly than to do nothing perfectly."
Draw in it. Make crooked lines. Smear the ink. Just do something. (side note: if you want a journal that helps you to get over your fear of making mistakes, try the Wreck This Journal original…it was my first real journal and I loved it.)
What to do When You Finish a Notebook
At some point (if you get started) you will fill up a journal. The most obvious next step is to get a new journal and keep up your momentum.
There might be a few logistics to think about first:
what do you do with ongoing collections
what things should you move over to your new journal
what things didn't work for you
Not all of your collections need to move to the new journal. If it wasn't serving you or it was a one off list…you can leave it behind in the old journal. Reference it when you want to (or if you just want a whiff of nostalgia).
Things that you reference frequently will need to migrate over. This is the perfect time to update your master grocery list or your pantry inventory list. Give it a new look. Freshen it up and reuse it in your new journal (this is also a great way to bust past that "fresh new journal fear").
When in doubt, put a sticky note in your old journal or make a note in the new journal as a reference point. You can always flip back and forth and copy things over as you need them. It is better to wait and see if you need it. Don't waste the time to copy over things you won't need. The idea is to only continue on with the collections, trackers, and spread styles that truly work for you.
What are the Benefits?
First of all, you will benefit a lot by starting a bullet journal. Remember there is really no right or wrong way to do it. It is supposed to make life easier for you, not more difficult, so don't be pressured to have it organized or look like others.
The following are ways that having a bullet journal will benefit you:
Everything is in one place
You can track your regular habits
First of all, all your different to-do lists, schedules, and notes are in a single journal. Many people like to keep journals or digital to-do lists with this type of information, sometimes it is inconvenient having one for journaling or task list for finances, another for home chores, and another for business to-do lists.
The bullet journal lets you have everything in one place since you are using symbols and short phrases instead of long paragraphs of notes.
A bullet journal is also very easy to put together. You can do this how you like, but typically you start by creating the index, which also becomes a broad selection of what to include. Depending on the type of journal you purchased you will need to number your pages and start writing. These journals have prenumbered pages. You just need to write and doodle!
Since you are writing in the bullet journal daily, you are able to track your habits and see what needs to change. It can help you see that you spend too much money on coffee and eating out, or that you aren't exercising enough.
Bullet journals provide an easy way to track all of your thoughts, feelings, appointments, and goals for your life, whether for today, next week, or 10 years from now. The following are some of the different benefits of having a bullet journal.
You Can Reduce Stress and Anxiety
First of all, if you have struggled with stress and anxiety on a regular basis, a bullet journal can help with that. Being able to record your moods and behavior changes, and noting what was happening when your moods changed can help you determine triggers for your anxiety and panic attacks.
If you are using a bullet journal to track your schedule you won't be missing appointments or schedules and become more focused on a daily basis. This will help you to find great stress relief.
Don't compare yourself to others who bullet journal. You have no idea what their artistic background is, how long they have been journaling, or any of their history.
This will only cause you to stress out (or worse resent your journal). Be you. Be original. Mimic styles you like. Print things out to add to your planner. Use all the stickers. If it makes you happy…then it is the right way to do it.
It Helps Keep You Organized
You can also become a more organized person with the help of a bullet journal. Perhaps you remember to get to work on time and bring your kids to their dentist appointments, but you tend to forget about your daily fitness regimen or donít feel organized enough for meal planning. The bullet journal can help with these tasks and much more.
The Journal Replaces Your Traditional Planner
Planners are great, but there tend to be some limitations with the store-bought varieties. Most of them aren't designed to be very customizable, so you are forced to use whatever calendar layouts and note pages are provided to you. This limits you to how much you can include on each page and what sections there are.
With a bullet journal, it replaces your planner and includes absolutely anything and everything that you find important.
You can also start a hybrid planner or journal that combines all the aspects that you like about bullet journaling and traditional planners. This is Frankenplanning and it works well for those people who don't fit the "traditional" models of either format.
You Get More Information About Your Personal Goals
Bullet journals can give you a better idea of what your personal goals are and what is required to reach those goals. You will start including lists, aspirations, and bucket lists. These, when looking back on it, really give you a good idea of what you want out of life and what tasks you need to do in order to achieve them.
You Can Track Your Regular Habits
When you enter detailed information in your bullet journal about your daily life, you will then be able to track your regular habits.
For example, if you have a food and exercise log section, it lets you see what you are eating on a regular basis, how often you eat out, and what areas of your fitness routine need work.
You can also track your moods and resulting anxiety or stress, or track your daily expenses to see where you might be able to cut back.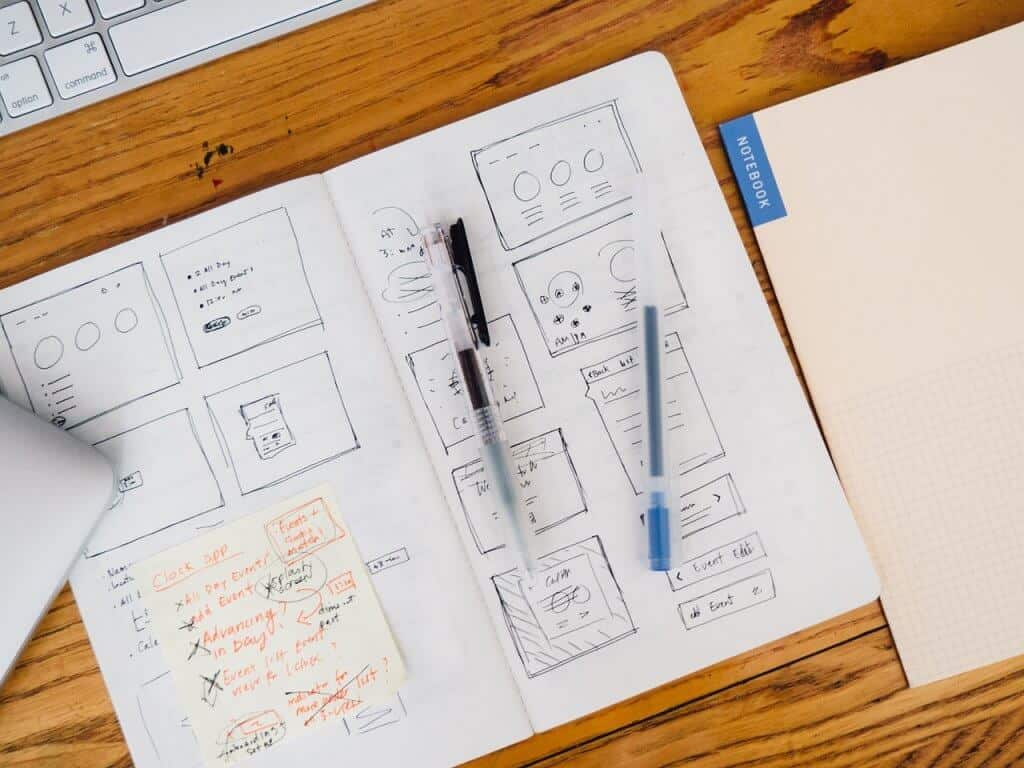 Mark Things Off Your To-Do List While Being Creative
I think we saved the best for last. There is nothing better than accomplishing some of the mundane things that you HAVE to do each day in a creative format.
Why not add a little color and pizazz to your lists, schedules, and planner?
Color and a little creativity make everything better!