This post may contain affiliate links. If you purchase through one of these links I may earn a small commission at no extra cost to you. For more information, please read my disclaimer.
How can you increase your planner productivity? Being more productive is the key to finishing tasks, meeting your deadlines, and completing goals. Unfortunately, this can be exactly where people go wrong with all the various distractions that pop up in life.
If you want to use a planner to improve your productivity, keep reading to learn how this might be the best thing for you. You can increase your blogging productivity, your product creation productivity, and maybe even get those dishes done!
Customize Your Planner with Printable Pages
Starting with a basic planner is great, but for maximum planner productivity, you may need to personalize it a little bit. You can make it a customized planner with printables that work exactly for what you need.
This might mean adding pages to track your social media posts, time management pages when you are working on a product, or just additional blank pages when you need to jot down notes or use it as a journal.
These types of pages are easy to find. There are different types on Etsy, in bloggers shops, and all over Pinterest.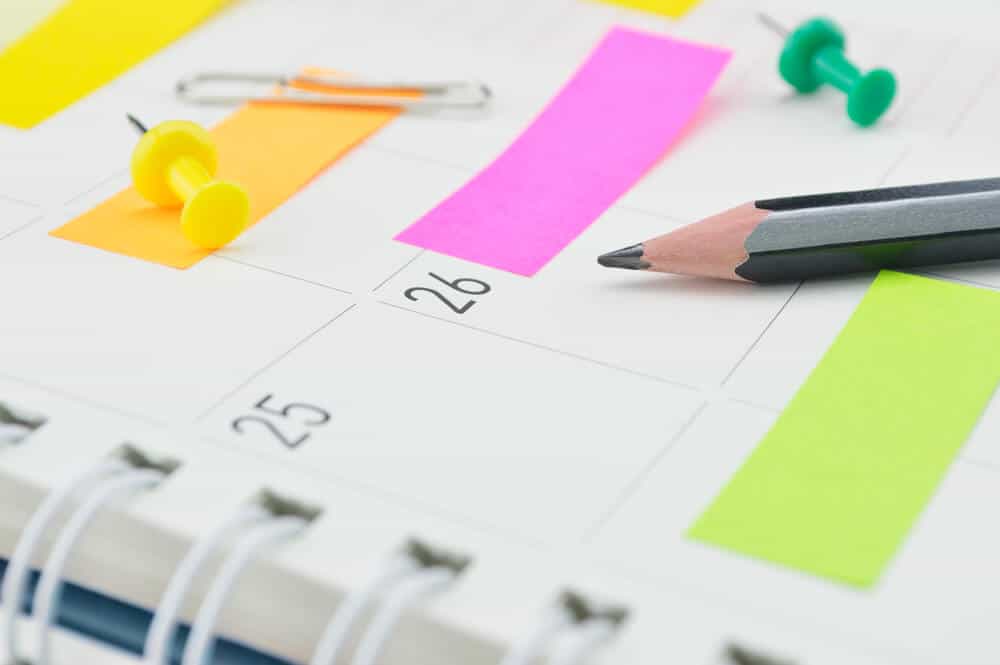 Take the Time to Set it Up Properly
You will hear a lot about how to set up your planner, and the reason is that this is an integral step to using it effectively.
Take the time to see all the pages that are in your planner, write down important dates, events, and appointments, and then decide how you are going to use each of the pages it includes. Knowing that the main dates and events are already written in your planner will make your planner easier to use (and more efficient which makes you more productive).
Find other printable pages to add when needed, and keep adding to your planner when things in your life change. This is how you can make the most of it.
Use the Planner for Clear and Concise Goals
Instead of just writing a short list of goals, make them clear and concise. Be detailed and explain what each goal is, what is expected, and when you will complete the different tasks required.
Use the S.M.A.R.T. method of setting goals, as this really encourages you to think about realistic, achievable goals that will allow you to keep moving forward in your personal and professional life.
It also helps to think about where you want to be in 5 years. What steps do you need to accomplish to get there? Break those down into one-year goals. What will those goals look like so that you can accomplish your 5-year plan?
Then, break down your yearly goals into monthly plans for each year. After that, you will break it down into weekly goals for each month.
This way you can take little steps toward something that seems really big. Little bites. Baby steps. Whatever phrase helps you move in the right direction. It all helps with increasing your planner productivity.
Don't Just Set it and Forget it
A big part of using a planner is using it!
It is not meant to simply be a calendar that you write in once, then don't check back in again. You should be using it on a daily basis, even if you are just double-checking the next appointment, or adding a few tasks to your to-do list.
Take full advantage of the planner and all it can offer you. If it helps, get a smaller planner that fits in your purse or laptop case so that you can carry it with you.
Now that you have it set up and know what you need to track in your planner, you need to make sure that using it becomes a part of your routine.
How to Add Your Planner to Your Daily Routine
A daily routine is a great way to focus your mind on one thing, get more done, and set yourself up for a productive day. If you want to use a planner, you can add it to your morning routine, your bedtime routine or even something you check in with a few times each day.
Create a Regular Routine
Start by figuring out your daily routine and how to add using your planner to that routine.
Do you find that you sit at your kitchen table in the morning with a cup of coffee, and have a few minutes of quiet time? If so, this is a great time to start a daily routine where you write in the planner, and maybe your journal as well.
It's possible that your day needs to be scheduled a little more. You may need to check your planner once in the morning and then use it during your lunch break at work, or maybe in the evening before bed to mentally prepare for the next day.
There are no rules here except consistency. Keep it in an area you know you will see and it and use it. Attach the habit to something else you use regularly. Maybe you check your calendar on your phone at certain times during the day. Use that same schedule to use your planner.
Be Consistent
If you want to be successful with your planner productivity, you need to stay consistent. This is why creating a daily routine for using the planner is so vital.
It adds it to your schedule, it helps you know what to expect during your day, month, and year. It will help you so that you don't keep putting things off for the "right time".
Think of it like any other part of your routine, like taking a shower or cooking a meal. Write in your planner around the same time every day, and it easily becomes a daily routine.
Fit it Into Your Normal Lifestyle
Be realistic about using your planner daily. You might like the idea of a morning planner and journal session, but if you already struggle getting to work on time, this isn't realistic.
Instead, think of a time during the day when you do have a spare minute, or where you can move things around in your current routine. You know your life best, so work with your current lifestyle and schedule.
This also goes for how cute, pretty, or creative you expect your planner to be. If it takes you 2 hours each day to color code your planner, that is not increasing your productivity and is not a realistic expectation for your planner.
Which leads me to my next point…
Keep it Simple
This probably won't be the last time you hear this advice – keep it simple! If you are just starting your own planner and struggling to use it every day, don't bother trying to turn it into an ordeal.
You don't need a bullet journal or a planner with 500 pages just to be effective. Have 5-10 pages to start with, then when those pages fill up or you get new ideas, gradually add in more to your planner.
If you have time on a Saturday morning and coloring is one of your hobbies or fun activities then, by all means, be creative in your planner. Just know that you don't need to add all of the doodles and fun things to make your planner effective. (or you could buy stickers and color it up with those!)
Use a Planner You Love
Using a planner you absolutely love that works best for you will encourage you to use it. You will be excited about opening it up every day.
If you are one of those extra organized people and you are addicted to planners or you have been using them for more than a few years, there is nothing wrong with having more than one for different topics.
That's entirely up to you.
If you are starting out and still working on making this a routine then start with one planner until you are comfortable and are using it consistently to increase your planner productivity. Then add more!
Want to remember this? Post this planner pin to your favorite Pinterest board!