We may earn a small commission for purchases made through affiliate links in this post. For more information go to our Privacy Policy.
This May bullet journal spread is inspired by the busy little bee.
There probably isn't a harder working entity on the planet. Most people don't usually choose their favorite insect (other than ladybugs) but if I would say my favorite is definitely a bee.
Not sure what a bullet journal is or why you should make one? Click here to read about being creative and keeping a bullet journal.
We owe a lot to the bees. My 2nd-grade students were just having a discussion this morning about how we wouldn't have any apples if we didn't have bees.
That led to a larger discussion about how we really wouldn't have anything if it weren't for the bees. For being as little as they are…they sure are mighty.
Bullet Journal Supplies
For this bullet journal spread I chose to go with a few shades of yellow and grey Copic markers and a bunch of bee-themed doodles. I did a quick rough draft on scratch paper so I knew how I wanted to design the two-page spread.
BlackLeuchtturm1917 Bullet Journal (this is the one I have)
Copic Markers (I used Grey and Yellow)
a piece of chipboard cut as a hexagon (because drawing them when you are concentrating is HARD)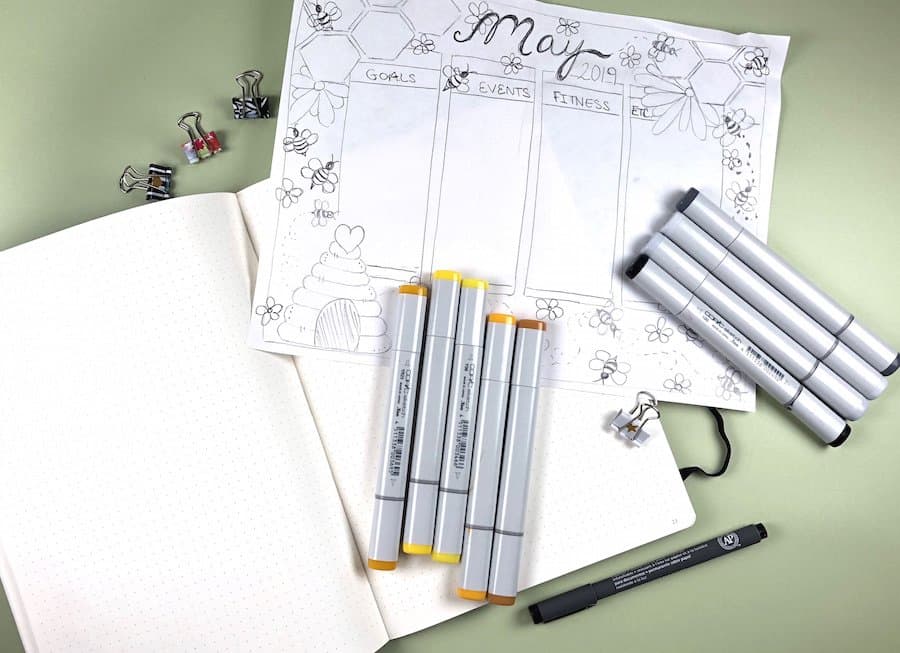 I found a few doodles of bee themes that I liked online and then I blended the images together. A beehive here, a bee doodle there, and then the layout that I wanted for actually tracking my goals.
The mood tracker in the corner has a key for different moods during the month. I went with happy, neutral, mad, and sad. Each bee and flower doodle can be colored for each day of the month.
I placed 31 bees and flowers around the layout. One for each day.
The boxes are for tracking my goals for the month. These could be anything from household related, work-related or personal goals.
Fitness is to track the days I walk and the days that I do yoga.
Events for the month. This is another reason why I chose a bee for the May bullet journal theme. May is just a crazy busy month.
Between the end of school activities, our anniversary, my son's sports, and multiple graduations, it fills up fast! Oh. And Mother's Day. Throw that in there too!
It is necessary to always find time to create, doodle, and be do something with our hands so we stay happy. Sometimes the other activities start to crowd in. Making a few minutes each day to work on a bullet journal, a quick drawing, some coloring, or anything that you create with your hands is a great way to calm the crazies.
It's a form of self-care.
Stay creative. Stay happy and healthy.
This month we take care of the bees and ourselves. Maybe I should put "plant a bee garden" on the top of my ETC. list and get that done before time gets away from me again!