We may earn a small commission for purchases made through affiliate links in this post. For more information go to our Privacy Policy.
Shadow boxes have been around for memorabilia for a long time! You probably remember all the different shadow box ideas from the '80s and '90s.
Graduation memorabilia, tassels, class rings, and letterman patches.
Or maybe you have used a shadow box for baby memorabilia.
There are so many ways that they have been used for memories. Now they are being used for home decor.
And you can paper craft and add a TON of character and style to your shadow box.
Things You Can Add
Paper flowers.
Vinyl designs.
Quotes.
Scenery.
Funny sayings or jokes (one of my favorites is probably the chocolate kiss filled frame that says "break in case of emergency…mine would be empty).
Gifts
Candies
There are a number of shadow box materials that you can use. Paper, memorabilia, non-perishable foods like candies and coffee beans, rocks, fake flowers, paper flowers, and anything else that you can think of that fits your theme. A personalized shadow box is unique and makes great home decor or a gift for a loved one.
Make a Mother's Day Gift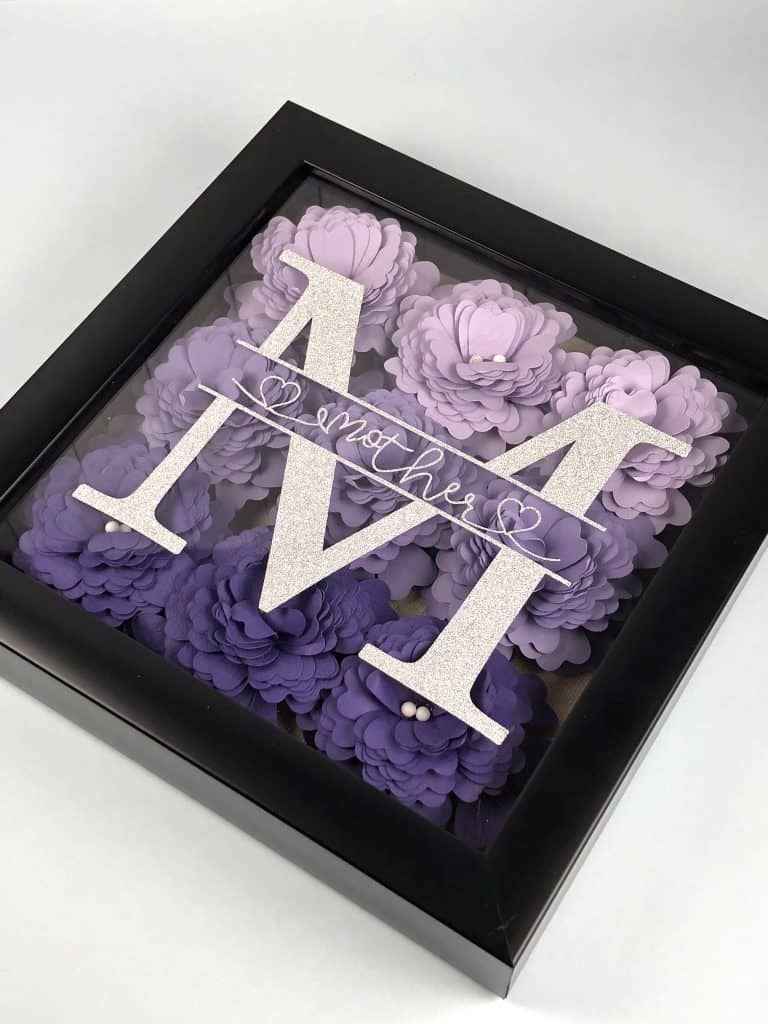 Maybe you have been looking at the newer ways to use shadow boxes, and you are not sure which project to start on.
It's easy to see all the beautiful ideas and then draw a blank when you finally have a few minutes of time to spend crafting.
This easy tutorial will get you started on how to make a shadow box frame.
I'm not going to promise that it's fast (even though you could get it done in a few hours…it really depends on the flowers you use and how many you need to make!).
Step-by-Step Mother's Day Gift Idea
You will need the following supplies:

Make a Pile of Paper Flowers
Start by measuring your shadow box and deciding how many flowers you want to go across and then down.
The shadow box that I had was an 8×8 frame from Amazon. The glass actually measured a little more than 6.5 inches square. This is perfect for making a flower shadow box.
My flowers needed to be just a little larger than 2 inches.
This means that I needed to make the cut flower spiral a little over 8 inches. When you are wrapping the flower you can tighten it or loosen it to fit the space that you need.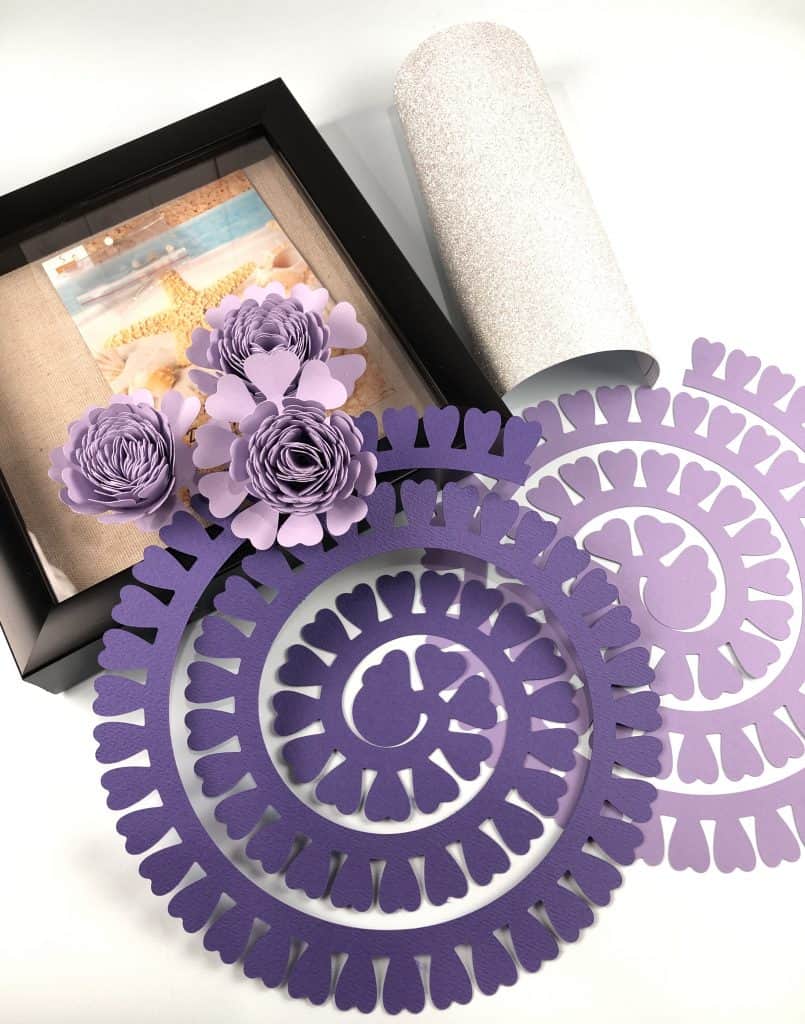 If you want to create an ombre look, you will want at least 3 colors in a monochromatic tone (all reds, all greens, all purples, etc. in different shades).
Flowers that are 2 inches or larger are going to take up most of a 12 x 12 sheet of cardstock. You will need one piece of paper for each flower. If they are smaller than 6 inches you will be able to use one sheet if you get creative on the way you put it on the paper.
Pro Tip: Wrap your flower once around a smooth pencil or pen to start breaking the fibers. To make your flowers more realistic, curl the petals on the outside edge outward first an then randomly fold and bend your other petals.
Add A Vinyl Quote
Once you have all your flowers made you can move on to making your vinyl quote.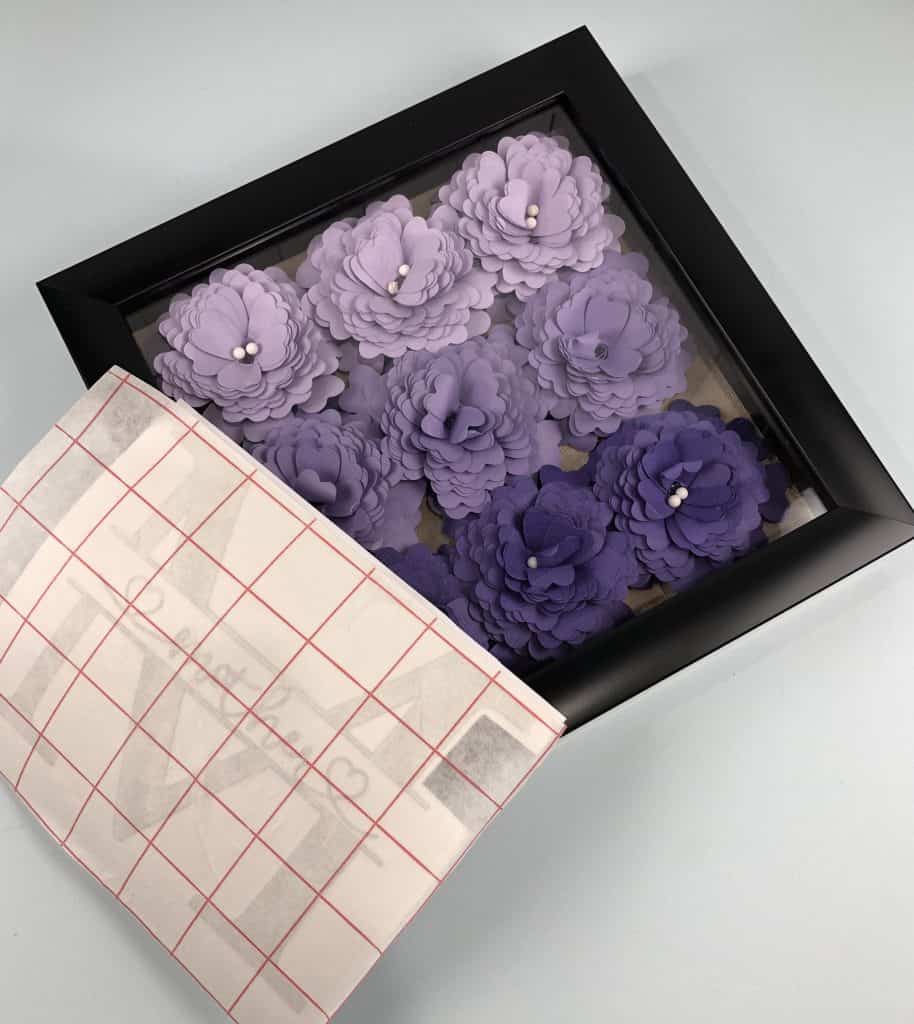 Measure the inside of your glass on the shadow box and make sure your design has a little space on the top and bottom.
For an 8×8 frame, the glass will measure a little over 6.5 inches. Your quote will look best if it fills most of the space but doesn't go right up to the edge. Try a design in the 5.75-inch range.
I chose to use a glitter vinyl and a monochromatic pattern for the flowers. Using glitter vinyl added a little bling and made the design a little more classy.
Put Your Flowers and Quote Together
Once you have the vinyl design placed on the glass or plastic window of the shadow box, it's time to start adding the paper flowers.
You can use pins with white or yellow heads to attach them to the back of the shadow box, if the box you have came with a foam layer.
If it didn't you can still add some bling to the center of your flowers and then glue the flowers down to the backboard with hot glue.
TIP: Make sure your petals are bent down far enough that they don't get squished by the glass when you put the whole thing together. If your flowers are too tall…they will squish up against the glass.
Put all the pieces of your shadow box back together.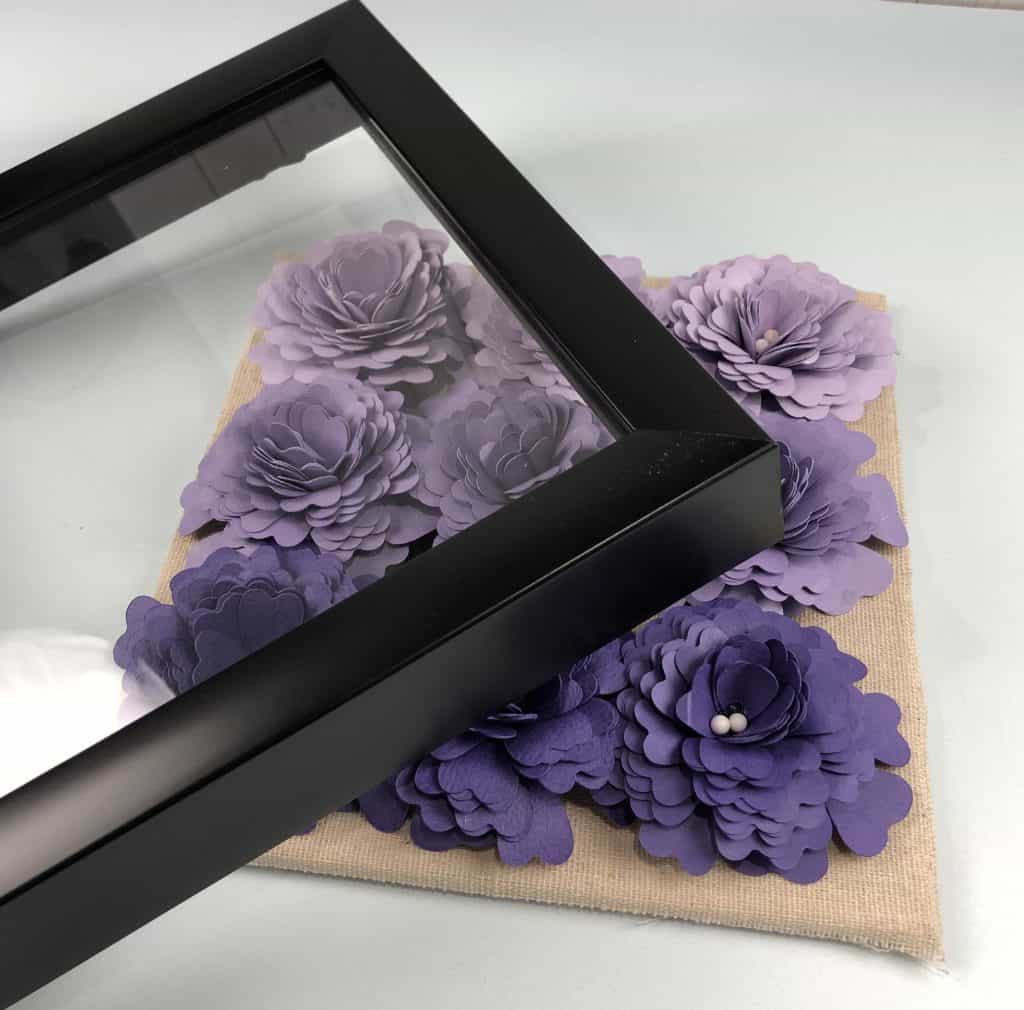 Voila. You now have a beautiful work of art to hang on the wall or to give away as a gift. Shadow boxes with flowers are a great way to add something beautiful to your home at a very small cost.
People love to receive handmade gifts. Making these paper flowers and shadow boxes is a sure way to wow them with your craftiness and talent!
Need More Ideas?
Want more shadow box display ideas or what to put in your shadow box window? Check out all these amazing shadow box designs that you can make for yourself, to sell, or to give away to loved ones and friends.
Pick on of these DIY shadow box frames and see what you can create.
A Unicorn and Glitter
A fun and sparkly unicorn shadow box. Great for any unicorn lover in your life. Sarah offers a free printable and then directions on how to decorate it and add it to a shadow box.
I wish my daughter was still little so we could make this for her bedroom. My nieces are going to end up with all the unicorn home decor!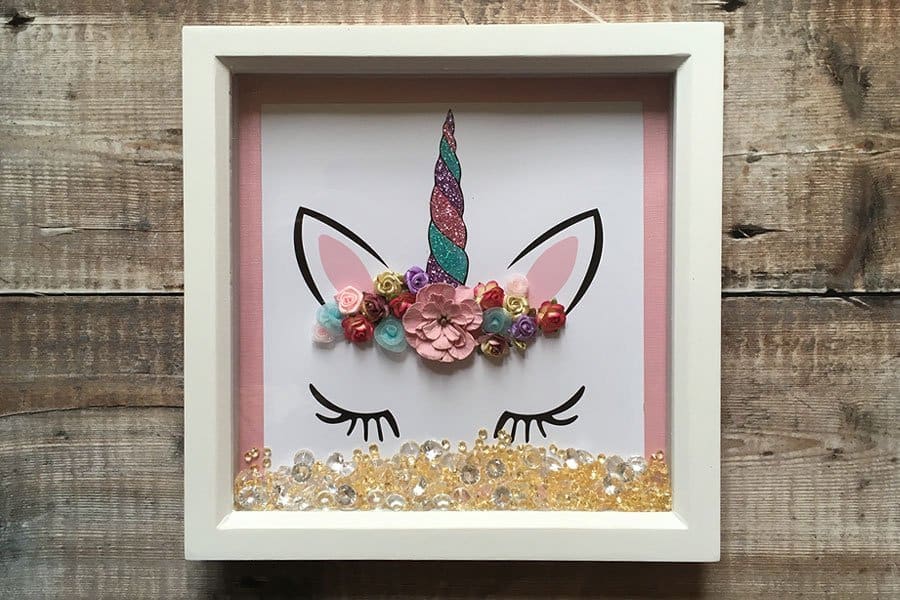 Paper Roses for Home
This beautiful shadow box has gold sparkles behind the flowers and the word "home" on the front in vinyl. It's a super simple design and so elegant. Customize it for your home by changing the colors of your flowers.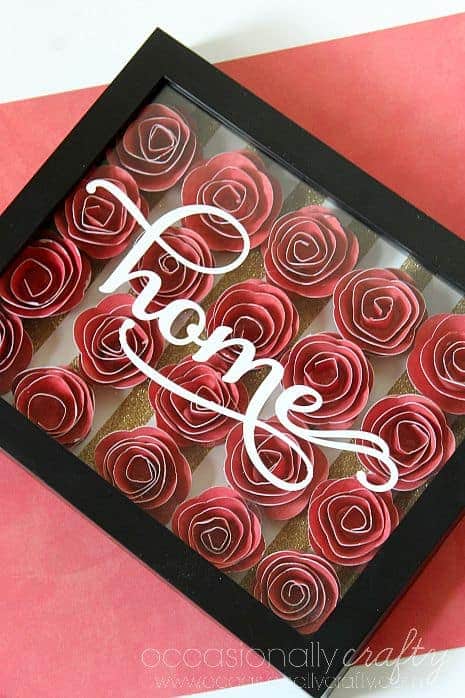 Paper Art in Layers
This shadow box idea can be customized to fit all sorts of themes. The example is a girl on a swing in the garden. You could also do butterflies and flowers, dragonflies and pond plant life, geometric designs, and so much more.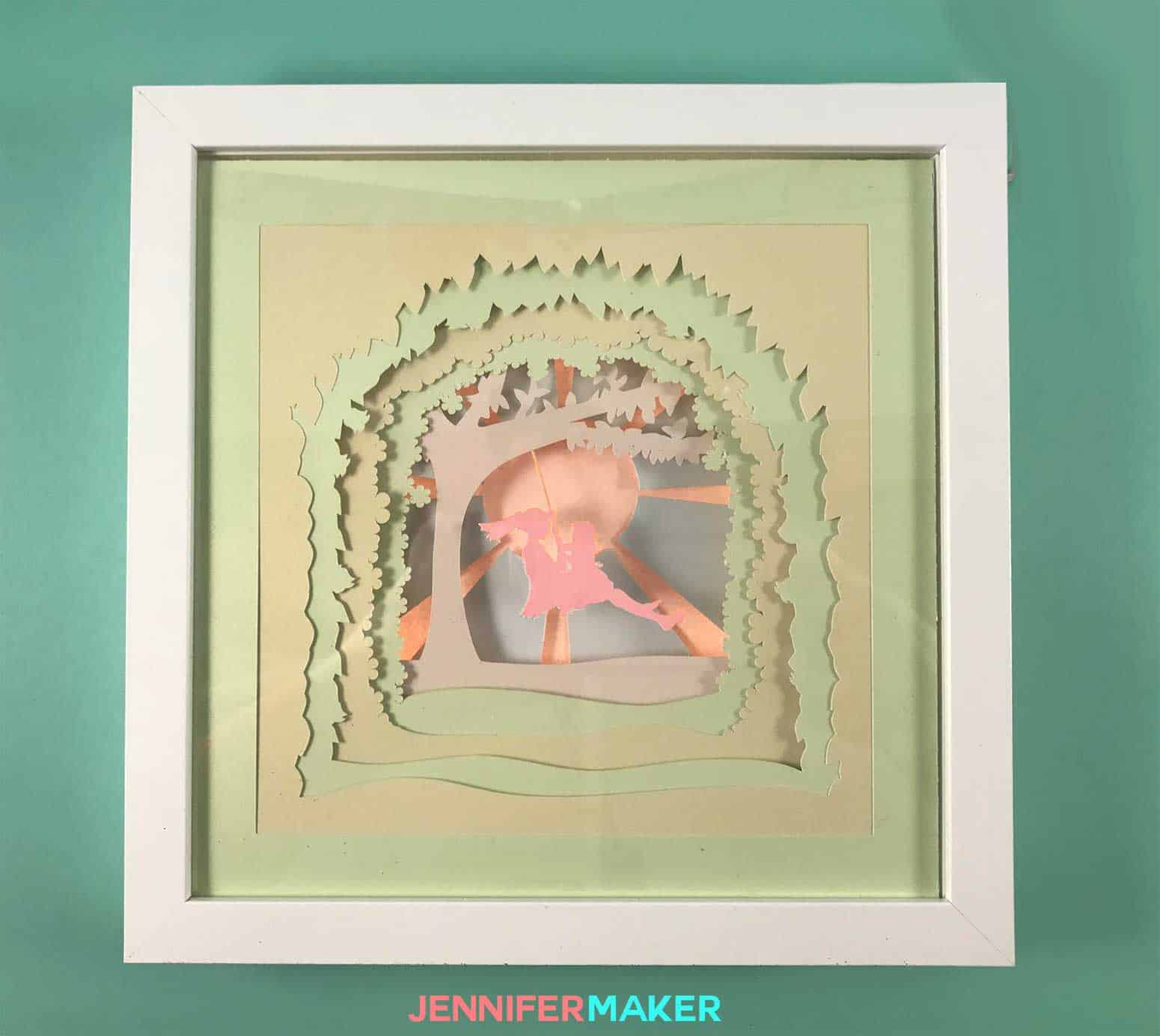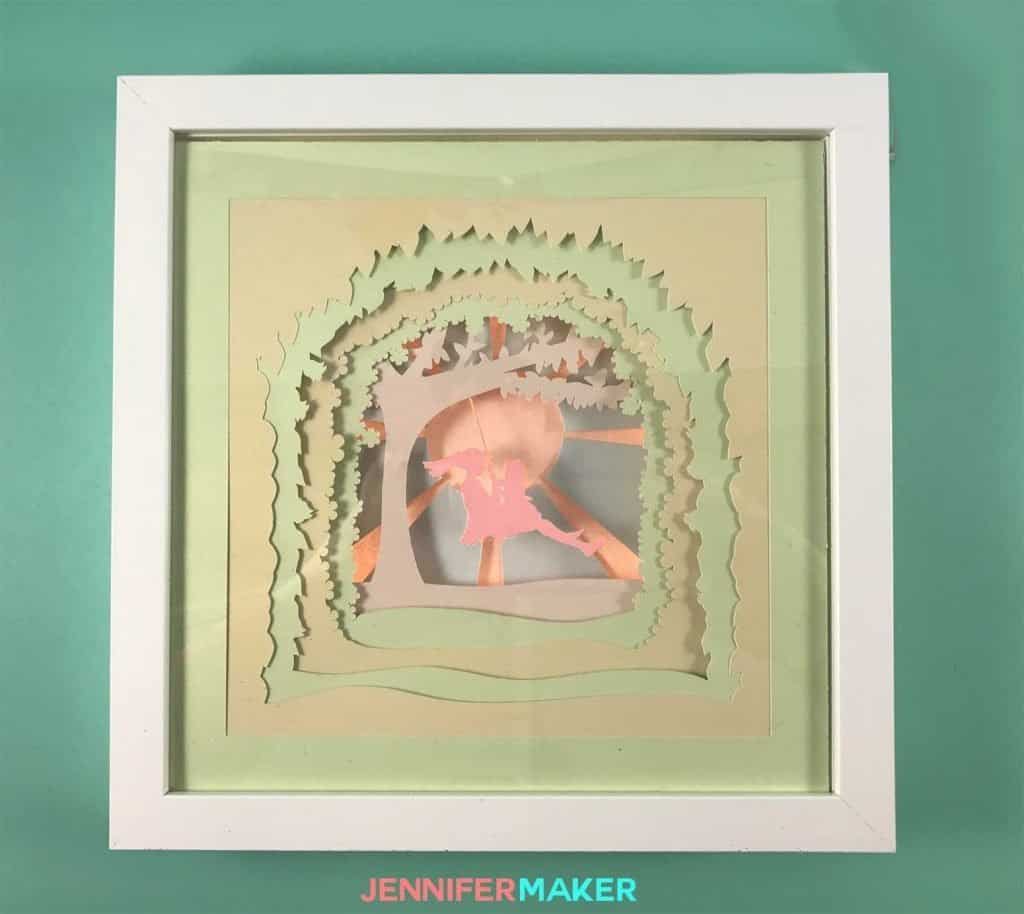 Nuts for Fall with Acorns
This is one of those shadow boxes that is so cute because it has something unique inside. The quote on the outside and the colors of the background bring the whole design together for a piece of home decor that says "welcome fall".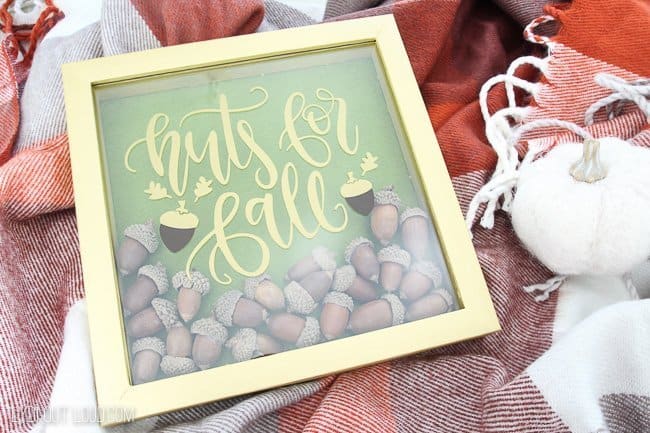 In Case of Emergency Shadow Box
I think this one we can all relate to. It would make a perfect gift for teachers or the chocolate lover in your life. I have also seen emergency shadow boxes with coffee inside. Either way…I might have to make one of these for my craft area or kitchen!