We may earn a small commission for purchases made through affiliate links in this post. For more information go to our Privacy Policy.
You might be aware of the basics of using a daily planner, but have still not discovered the many benefits. Take a look at the reasons why everyone – including you – should start using a life planner.
It Helps with Time Management
Do you find that there is never enough time for everything?
If so, it is probably because you are not scheduling your time effectively. This happens when you just run constantly, going from one thing to the next, without really thinking about everything as a whole.
Using a planner allows you to schedule each event, appointment, errand, and task so that you know what to expect and don't run out of time. Set specific due dates and deadlines for everything to help you stay on track, and have extra time left for yourself and your family.
You Can Improve Your Productivity
This is important for your personal and professional life. While many people think of productivity as it relates to their job, you also want to be productive at home.
This might include getting your household cleaning and home organization finished or working on projects you keep putting it off.
Regardless of what it is, planners help you to stay on track with each individual task you need to complete and encourages you to move on to the next one effectively and efficiently.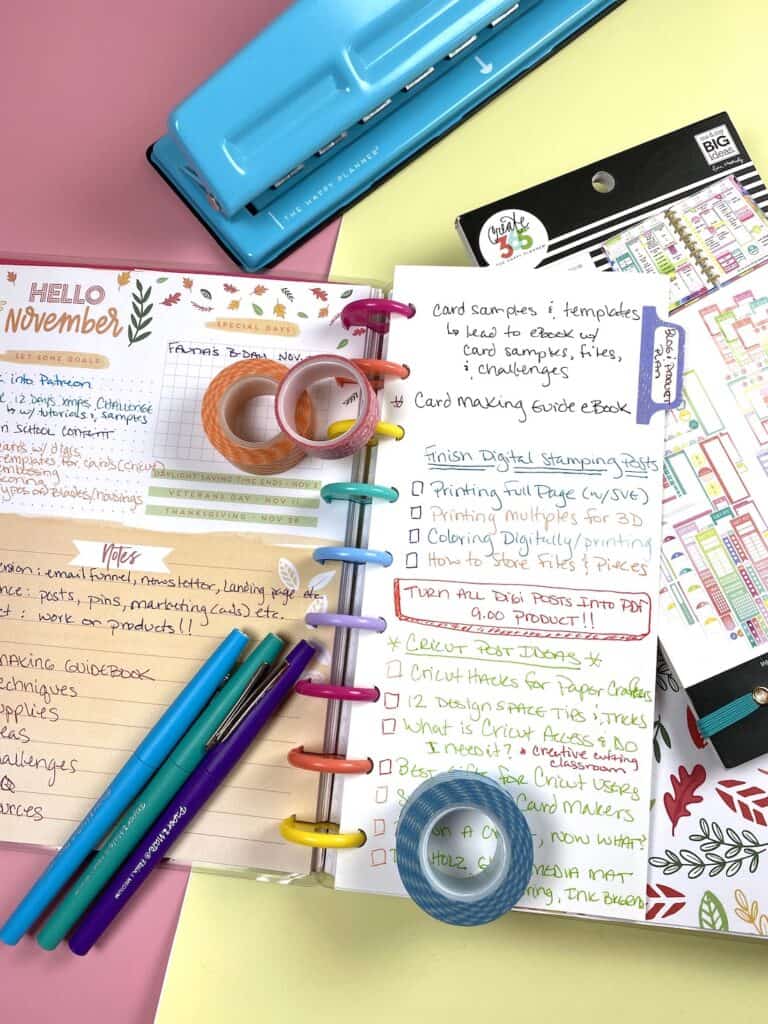 They Provide Excellent Stress Relief
Stress has many forms, but one thing they all have in common is that it comes from being overwhelmed. You are often stressed due to a hectic schedule, having too many demands, or just putting too much on your plate.
Outside influences do also affect your stress level but think of how different it could be when you actually have time for everything and are able to seamlessly go from one responsibility to the next without having to worry about missing something, being late, or having to back out at the last minute.
There are a Multitude of Health Benefits
As you might imagine, planners help you stay healthy in a wide range of ways. It helps your physical health by helping you track things like diet and exercise, you can schedule regular doctor and dentist appointments, and make sure you are getting enough fresh air and vitamin D by scheduling days spent outdoors.
You get mental health benefits by reducing stress and anxiety, and even having journaling pages for when you just need a good brain dump.
More Time for Creative Activities
Another benefit of using a planner is that because you are sticking to a schedule for all the mandatory responsibilities, it leaves a little free time for your artistic endeavors, whether that means working on a hobby or trying something new.
6 Different Types of Planners You Can Use
In the world of planners, there seems to be an endless amount of information and tips. Even just the types of planners don't have just one option.
If you're a little stuck with how to begin, take a look at these different types of planners you can have.
Personal/Daily
The first type is the main type of planner, which is one that is for all daily planning, with an emphasis on personal. Many people use their daily planner for everything, including work and other areas of their life, which is definitely encouraged!
This keeps you from having too many planners all over the place, causing too much chaos.
However, others fill up a work planner very quickly and need additional room, so that is where the personal planner comes in.
Home and Family
If you prefer using different daily planners, you might want a separate one just for home and family planning.
This is good for keeping track of doctor and dentist appointments, scheduling important dates for the kids, planning date nights with your spouse, and even doing some meal planning.
You can also use a planner or binder to help you keep track of important family documents. This makes it easier to get information when you need to make appointments, register your kids for school, and sell a vehicle or RV.
With a busy home life, you can definitely fill up an entire planner just for this purpose.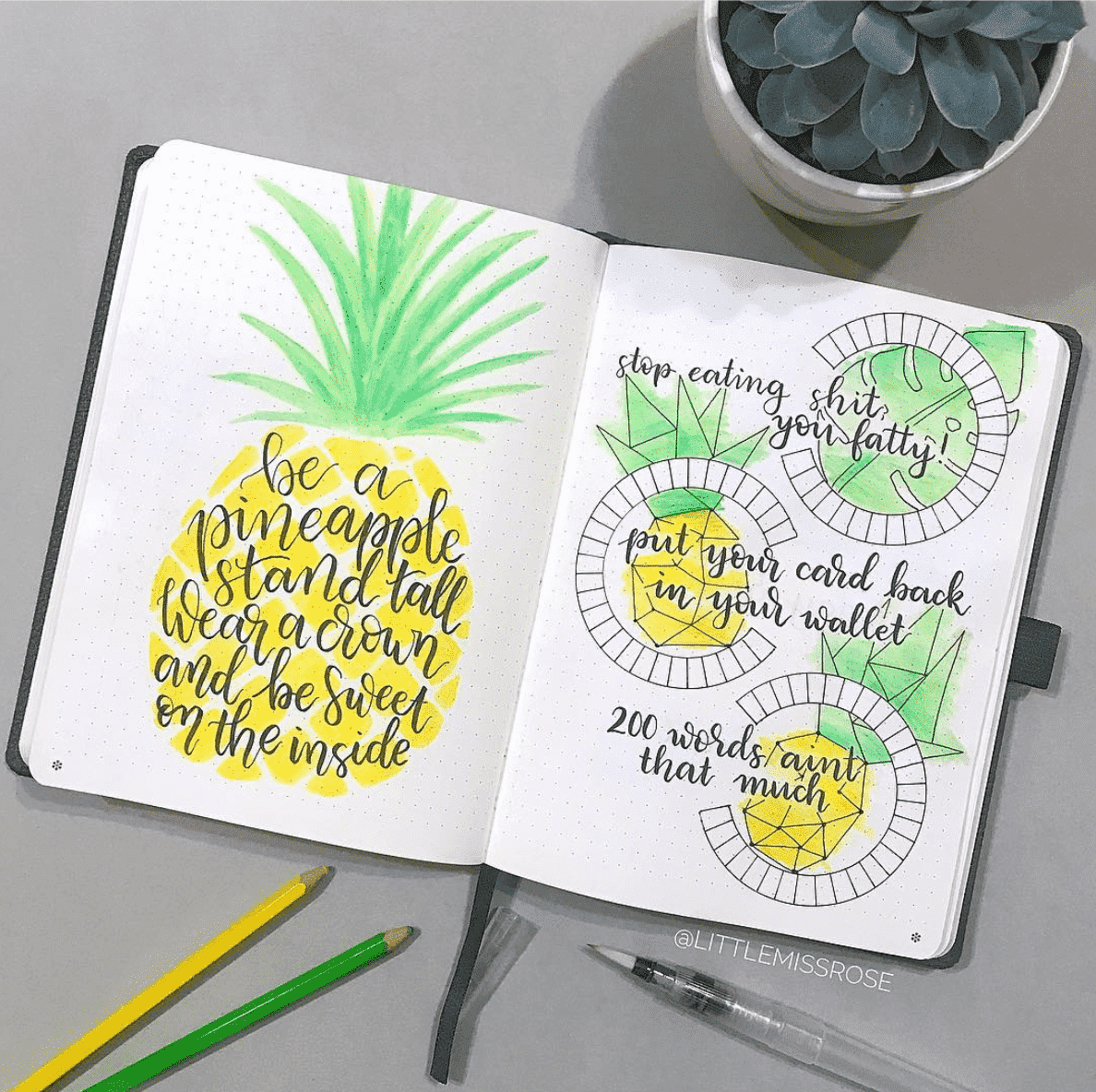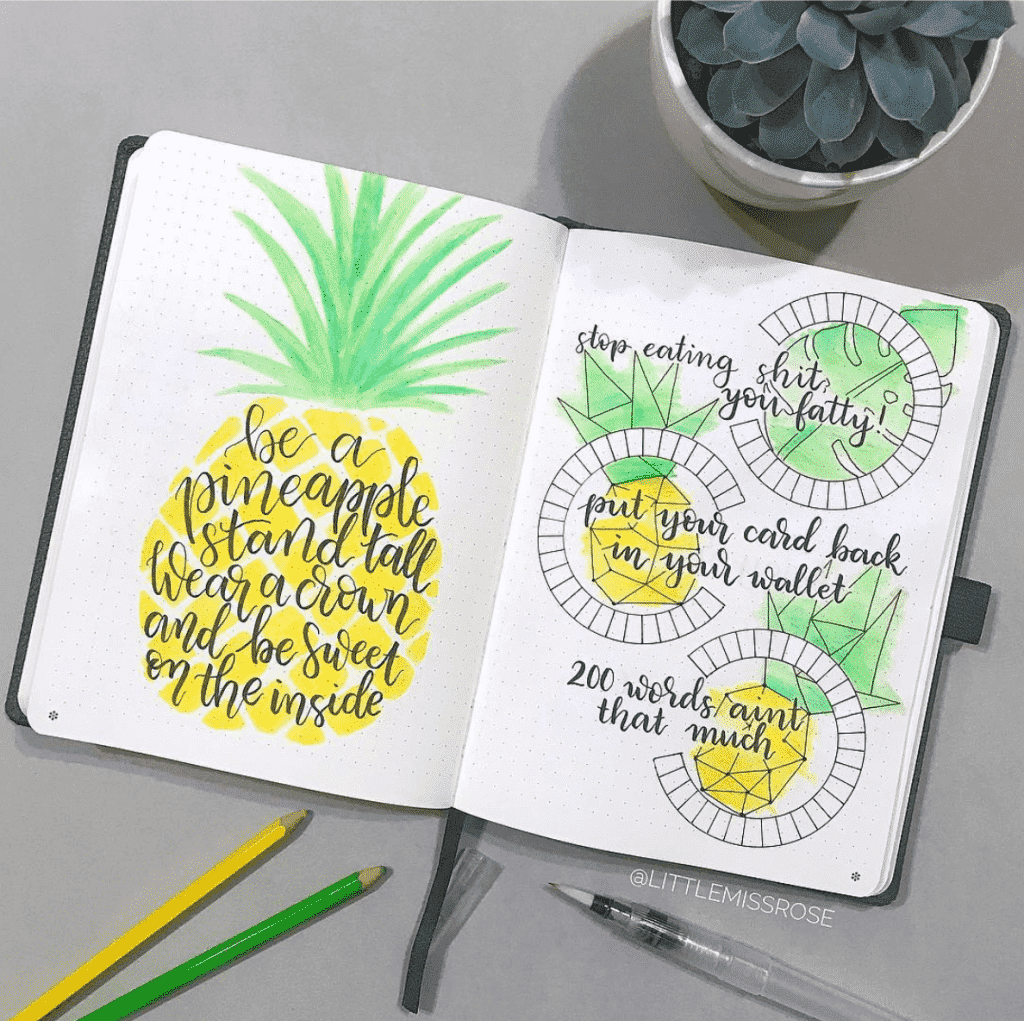 Finance and Budget
For people who are working on saving money for something big, trying to save for retirement, or just want better control of their finances, this is a great planner to have.
Here are some things you might want to track in a finance and budget planner:
Money coming in and going out
Bills and debt
Regular expenses
Savings for specific goals
General savings
Building your investment portfolio
Setting a budget
Bullet Journal
If you like using a bullet journal, you can definitely use it as your daily planner as well. Many people do use it for both since you have plenty of calendar and schedule places included.
(Read this complete guide to learn all about bullet journals.)
With a bullet journal, you are in full control of each page, whether you set it up yourself with pen and ruler, or you get printable pages to add to a binder that is being used as your bullet journal.
Work Projects
If you are a project manager or run your own business, you might be in need of a planner just for work and various projects you are managing.
This keeps everything organized and in one place so that you don't have computer files, notebooks, and journals everywhere that is filled with random notes.
Health, Diet, and Fitness
There is also the health planner that you can use just for things like diet, tracking weight loss or inches, fitness routines, and just general health and wellness information.
Whichever type of daily planner you choose to use, they will help you to organize your life and your schedule. Sometimes it takes a while to get used to adding a planner to your routine, but anyone can learn to be more organized and productive with a daily planner.
Find the Best Planner for You
How do you pick the best daily planner for you and your style? There are loads of planners out there on the market that are already printed. And then there are loads of planners that you can purchase a digital version of and print to fit your needs.
So how do you go about choosing what will work best for you? Ultimately, you need to pick a daily planner that you will actually use. That's the whole point, right?!
Here are some comparisons between the two options of a pre-printed daily planner and a printable daily planner.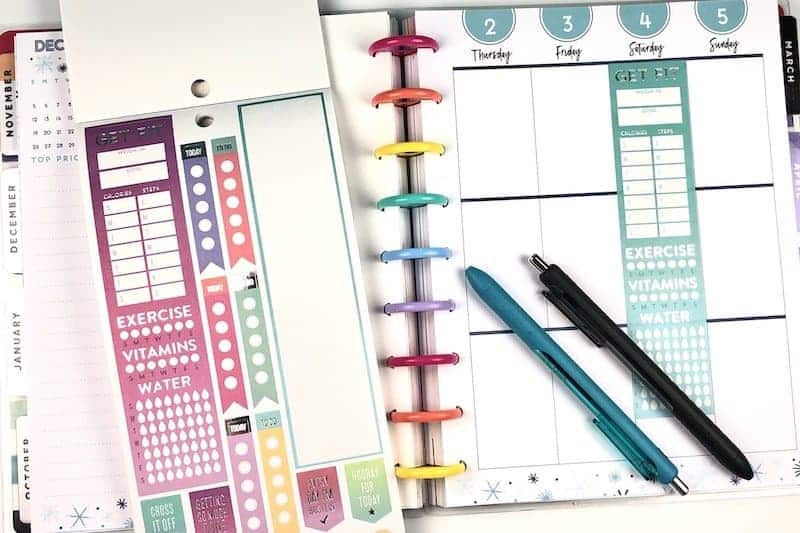 Printable Planners Save You Money
If you are looking to start a planner without spending a lot, using printables is your best bet. Of course, this depends on whether or not you have the paper and ink already, otherwise, it might cost you more.
However, with everything else ready to go, you can start small by just printing a few pages, then printing more and adding them to any binder you have as needed.
Eventually, you might decide on other customizable options such as additional pages, stickers, trackers, or you may want to switch to a different type of planner.
*this post contains affiliate links, please read my disclosure for more information
Store-Bought Planners are Already Set Up
As far as simplicity goes, a store-bought planner might be good for beginners since it is already set up and ready to go. There is no choosing the types of pages or the order they are in, or how many pages you need to print. That's all done for you.
You can still skip over some pages or add more, but this is a great first step if you want to choose one from the store. Just be sure to look inside each one before making your choice, as they are all a little different.
Just a little heads up though…trying to decide on a just right pre-printed planner can get a little overwhelming.
Try starting with a list of elements you want in a planner. Box sizes. Daily prompts. Quotes. Whatever you are interested in and then narrow it down to your favorite from there.
Printable Planners Have Customizable Options
If you are looking for a planner you can completely customize to work with every section you want to include, printable is the way to go.
All you need is a folder or binder to start with, then you can choose and print any planner pages you want.
Some places offer packages of 10 or more pages that go together, or you can customize them with your own colors and images. Be creative with your printable planner so that it is absolutely perfect for you. This will encourage you to use it more often.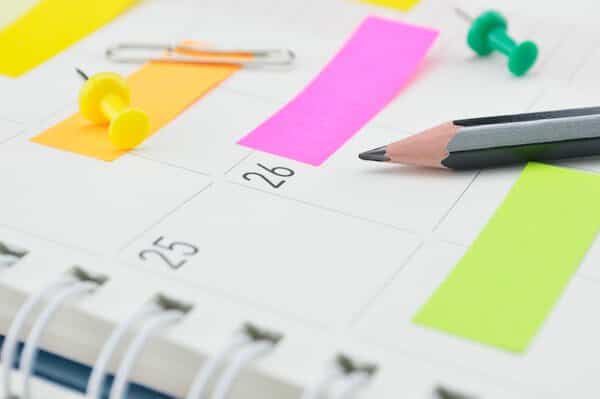 Store-Bought Planners Don't Have to Be Printed
Another benefit of the store-bought variety is that there is no printing to be done. You don't have to worry about how to print on either side of the page, making sure you have enough ink or printing the right size.
In the end, it all comes down to personal preference. You can also combine them by buying a binder planner, then printing and adding pages as needed.
Tips for Choosing the Right Planner
Using a planner on a daily basis provides an excellent way to organize your life, relieve stress, and complete goals. The very first step is to choose the type of daily planner that will work best for you. Here are a few ideas to start with.
Consider the Size
This is one of the most important factors, not only because you need to consider where you will be using the planner, but also what printable pages to include. While many people who offer printable planner pages allow you to choose from different sizes, it is still something to consider.
There are small, medium, and large sizes to choose from. The larger ones are great for a desktop, so if you want to keep it on your desk, it's a good option. Otherwise, one of the smaller ones is ideal to keep in your purse, car, or anywhere on the go.
Look at the Layouts
While you will probably fill this planner with more pages as you think of additional things to track, look at the layouts of pages it comes with. This is when you think about what you will be tracking, and how many pages you need for writing or adding your own custom information.
What Pages do You Want?
As you are looking at the spread of the pages, look at the different types of pages as well. Some planners keep it very basic where it is primarily the monthly and weekly calendar pages. Others fit in a lot of extras, such as blank pages for journaling, to-do lists, task lists, and a lot more.
What is Your Planner Being Used for?
Still not sure what planner you want? Think about what you are going to use it for. This might be for your daily life and schedules, work and projects, home life, or your personal life. Do you need to be more productive? Or find a way to organize your life?
Figuring out what your ultimate goal is will be the first step in deciding which type of daily planner will fit your needs.
This determines everything from the size to the type of pages included in your planner. Knowing what size daily planner you need will also help you figure out if a store-bought planner works for you. You may just want to get a small binder or some Happy Planner rings and make your own planner.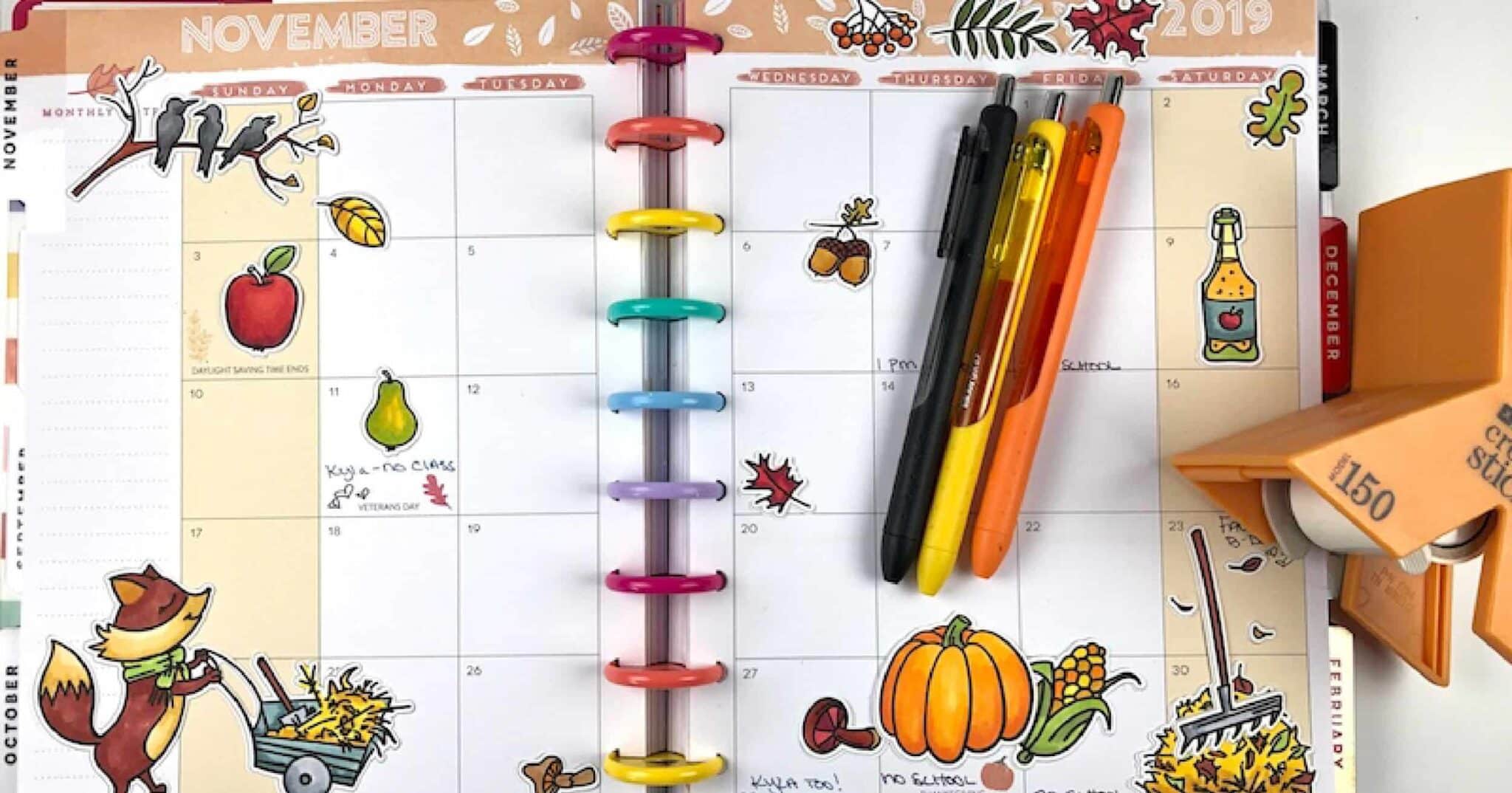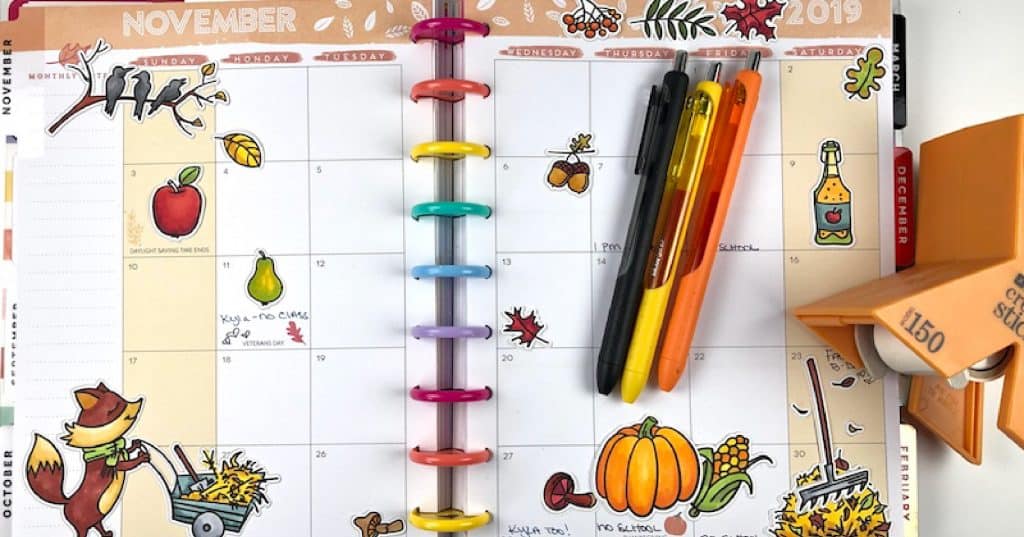 Think About Room for Extras
It is always good to choose a binder-style planner with extra room to add additional pages. Many people offer some amazing printables so that you can customize any planner to your own needs.
All you need is a printer, paper, and 3-hole punch.
There are also loads of printable stickers on the market that you can use to customize the look and style of your planner. Love Halloween colors? Add some stickers during the month of October. Want to jazz up your Christmas planning? There are stickers for that.
No matter what you choose as your daily planner, there are ways to make it unique and so that it truly works for you. Don't be discouraged if you purchase a planner and find that it just doesn't fit your style or personality. Think about why it didn't work and then try another type.
There are daily planners out there for everyone. You just need to find the one that fits you!