We may earn a small commission for purchases made through affiliate links in this post. For more information go to our Privacy Policy.
Have you found a homeschool planner that works for you yet? It seems that you can always find a planner for your personal life, customize a planner for your work schedule, and make do with a teacher planner for lesson plans.
It would be so much easier if you could have planner pages that worked specifically for your homeschool schedule.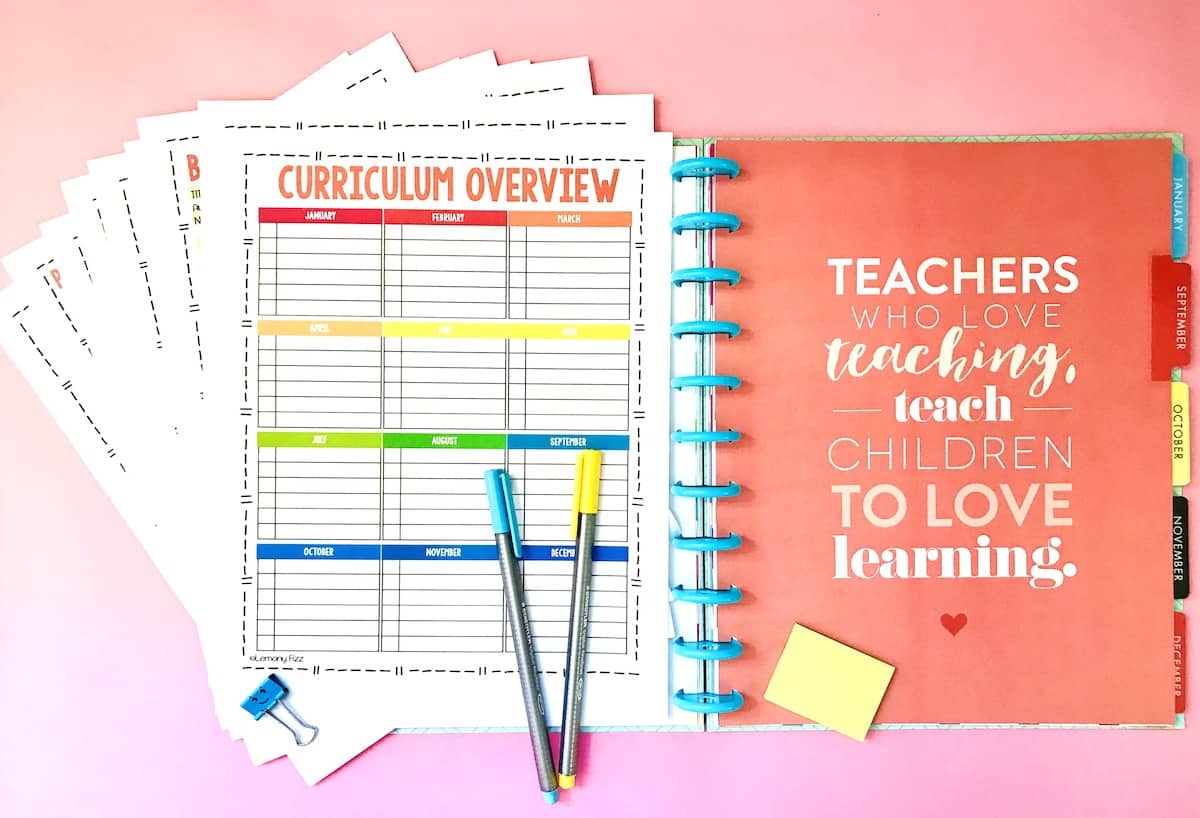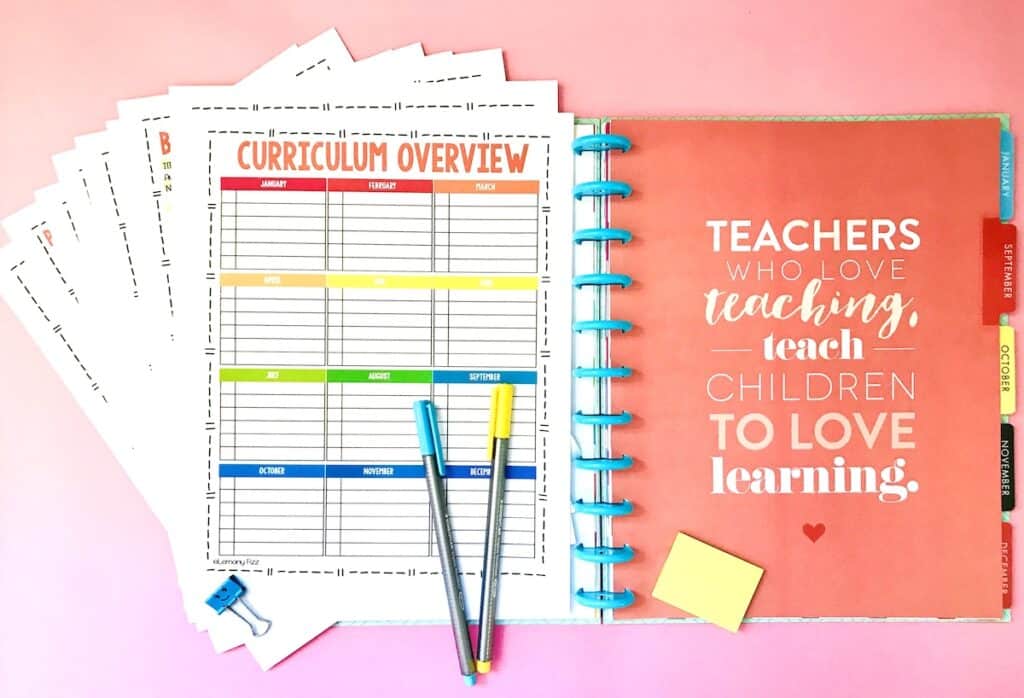 Planner printables make it super easy to print out pages for your homeschool lesson planner without all the extra fluff. Pick and choose the pages you want. Reprint as many pages as you need (like the weekly lesson plans).
The Best Homeschooling Planner
The best planner for homeschooling is the planner that you use. There is no point wasting money on a store bought planner that doesn't have the correct style of pages to fit a homeschool schedule. Tracking curriculum, lessons, reading logs, and daily schedules is very chaotic. Add in multiple kids and you can count on grey hairs sooner rather than later.
Teacher planners (like the Happy Planner disc style) were one of my favorite planners when I taught elementary school. But even as a teacher, I had to customize it to make it work for my lesson plans. Weekly plans were great. Sometimes I needed more details for a day plan and then what about all the information you need to track for individual students and their data.
Customizing a lesson planner has become one of my favorite things to do. Silly, right?! But I just love knowing I can make a page that will help me organize my thoughts, track a student's progress, and help me make a plan to meet their needs, the best way I possibly can.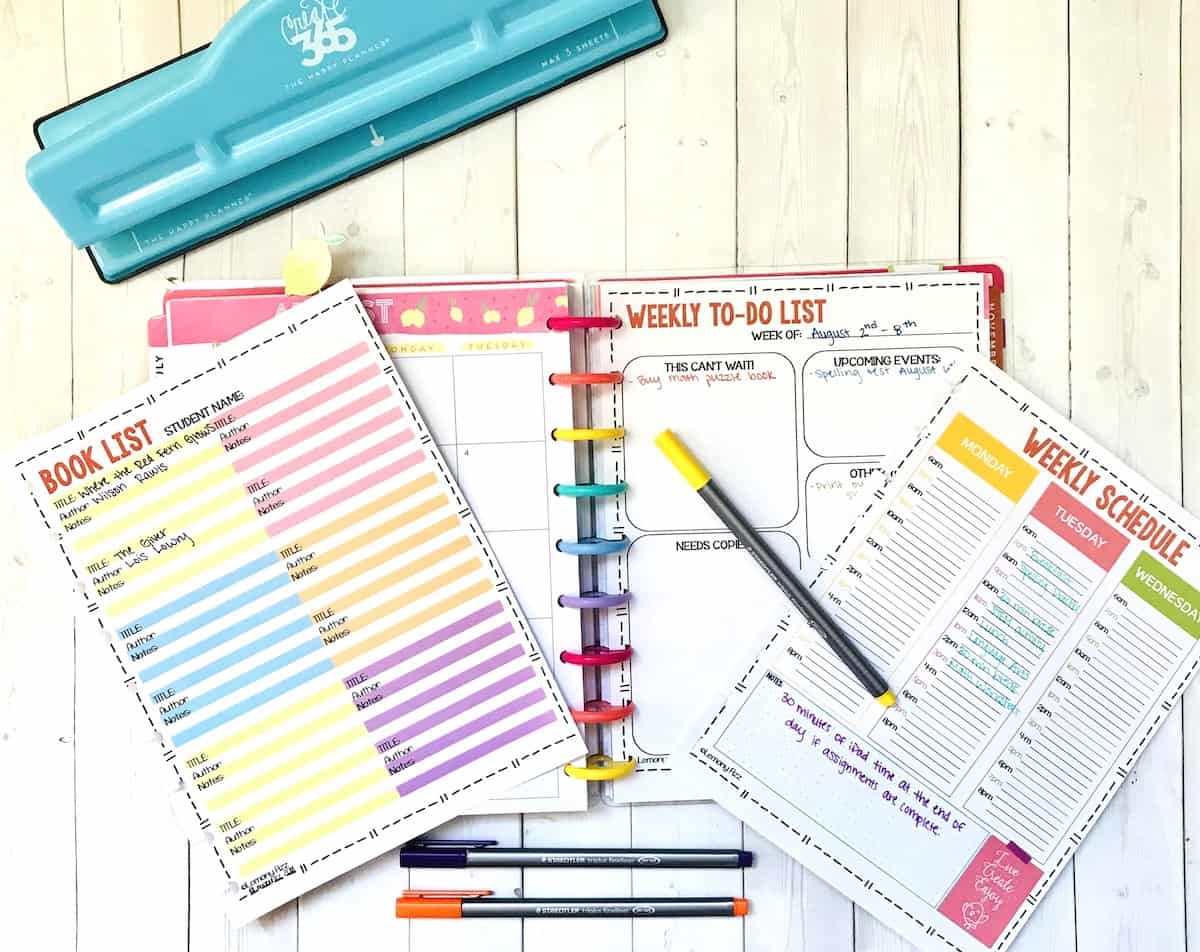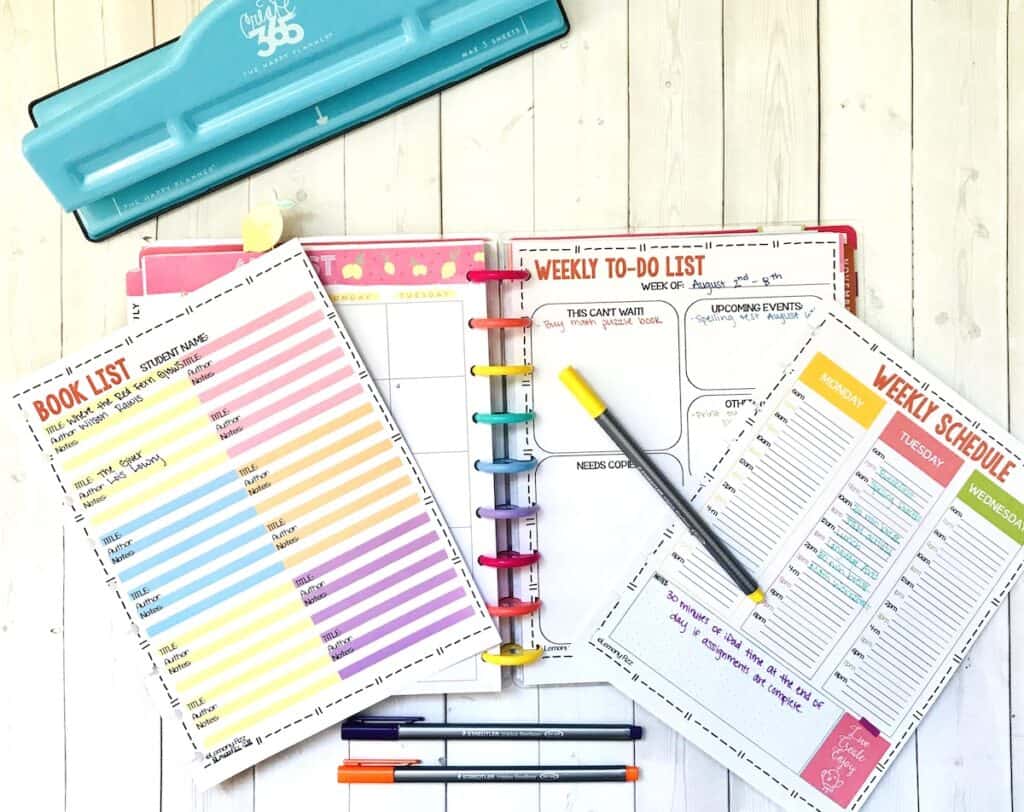 What Do You Need in a Planner for Homeschool?
There are a few key ingredients that you need when you are printing and designing your own educational plan for homeschooling.
Curriculum Plan
a way to track standards that each lesson is meeting
overview for the year
weekly homeschool plan
daily homeschool lesson plans
checklists
reading (book) trackers
home education expense tracker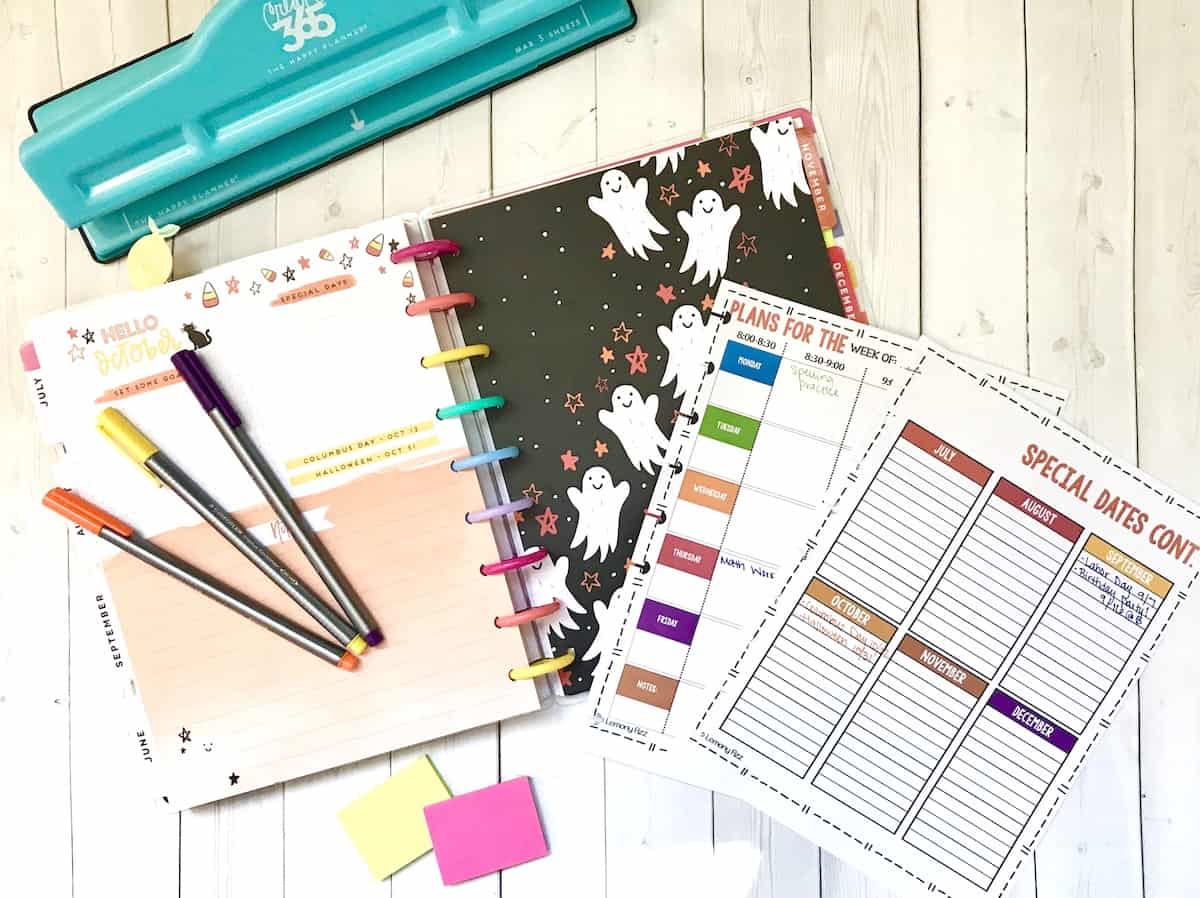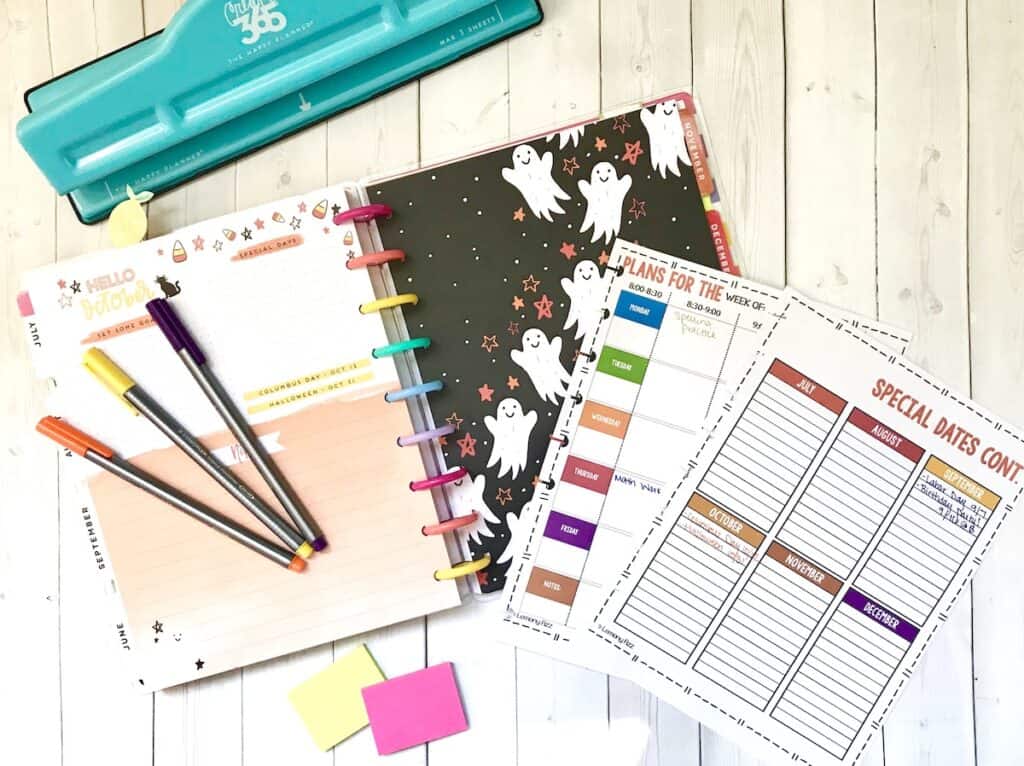 Your homeschool lesson planner will be more effective with these components. They definitely are not all you will need. Every situation will be different and need to be adjustable. But it is a start.
Making a Plan for Homeschool Lessons
Planning out curriculum, lessons, cross curricular activities, education trips, and your regular daily schedule is a lot for one planner.
Heck. It is a TON for you to wrap your brain around and try to keep track of. That is why planners are a thing.
You should take into account a few different things when you are designing your planner. One trick is to just print out a month and give that a try first. Then you will have a better idea about which sheets you will definitely use and which ones you can trash and not worry about printing for the remainder of the school year.
The last thing you need to do is waste time filling out planner pages that just don't work with your personality type. You will start to dread the activity. Despise it even. And then you will avoid it.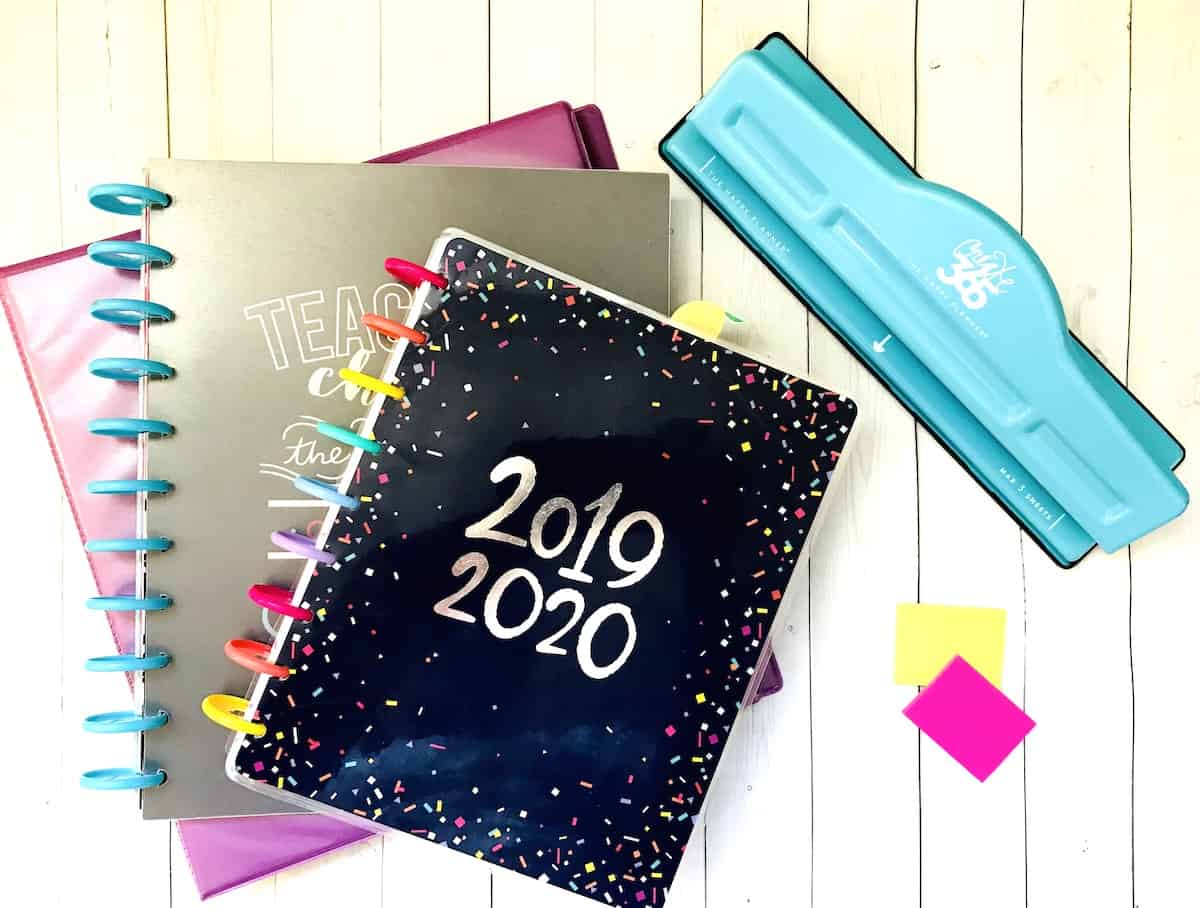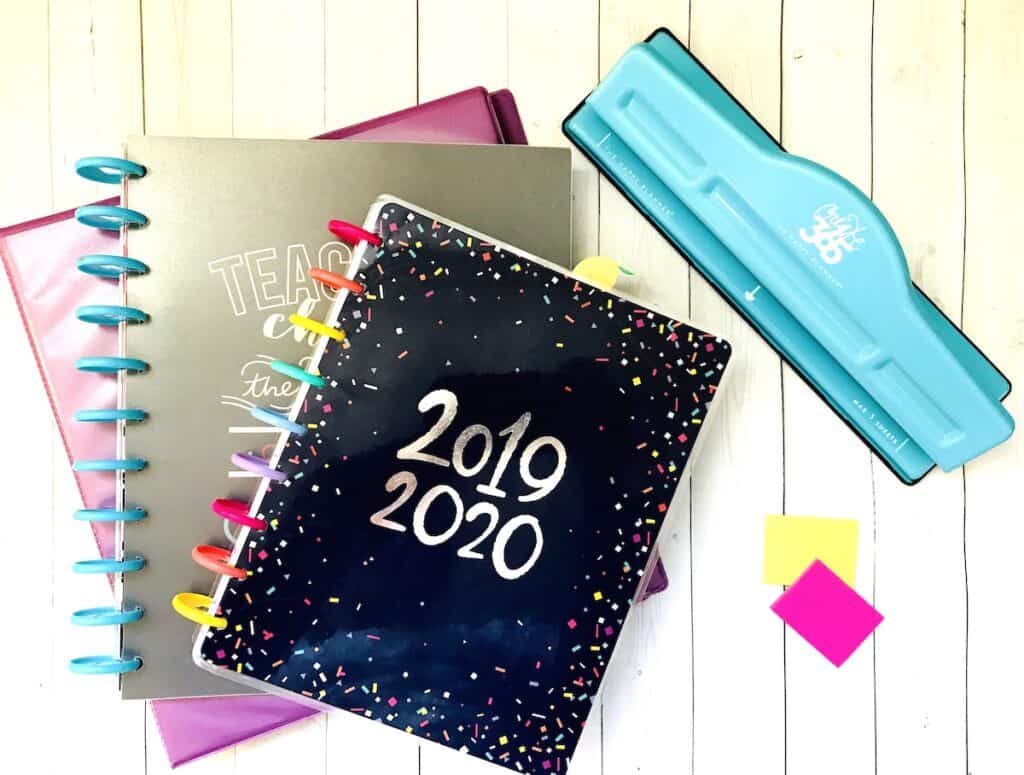 Making a plan that works for you and your kids is one of the joys of homeschooling. Set your days up for success by making them work for your personality, teaching style, and the modalities of learning that work best for you children.
Using a planner system that lets you add pages in, remove unused pages, or rearrange pages is going to help you simplify and organize the process. A binder or a disc planner system works best for this.
Homeschool Planner Supplies
There are a few planner supplies that you will need to get to make your homeschool planning process easier. My choice is the Happy Planner disc-system. My second choice would just be a sturdy 3-ring binder.
This makes it super simple to re-organize when unexpected events come up. Pages can be reprinted and added. Copies can be added. You can even add pockets to hold stickers, sticky notes, your favorite planner pen, or notes that you need for next months planning session.
Resources to make a traditional homeschool planner:
Your Planners Should Work for You
Pick and choose the things you want to include in your planner system. Start with a binder. Move on to the dis-system. It really is meant to be a flexible system. There are no hard and fast rules.
When you are printing out your planner pages to add to the Happy Planner disc system (if you choose that route) there are a few things to keep in mind.
You can resize your printed planner pages to fit the Happy Planner system. The following measurements make it super easy to resize your pages BEFORE you print.
Classic Happy Planner – This planner measures 7 inches x 9.25 inches. To resize your planner pages adjust the print size to 82%. They will print perfectly (just use a paper trimmer or scissors to cut off the white space on the borders).
Mini Happy Planner – Most likely you won't be using this size for your homeschool lesson plans, but just in case. This planner has 7 holes and measures 4.5 inches x 7 inches. You need to scale your print size down to 54% to fit this planner.
The BIG Happy Planner – This is a full size planner. You can print all of your pages at the regular size because it holds an 8.5 inch by 11 inch paper size. It is an 11 hole planner so if you can only find the teal blue paper punch you will need to do a little creative hole punching to make it work.
Homeschool Planning is a Big Job
Keeping track of your child's education is a big task. You need a planner that makes that process a little easier for you.
Mix and match until you find the right fit for your style, personality, and your families schedule. You got this!