19 of The Best Step by Step Doodles to Draw in Your Scrapbook
We may earn a small commission for purchases made through affiliate links in this post. For more information go to our Privacy Policy.
When you want step by step doodles for your bullet journal, you want them to be cute.
These easy doodles fit the bill.
Use step by step doodle tutorials to learn to draw a rose, doodle cacti and cats, cover a page with summer treats, and even draw fish.
All of these doodles are easy to draw and you will be able to replicate each doodle after a few practice rounds. Refresh your layouts or find journal ideas with these cute doodles.
How to Draw Fruit Doodles in Your Scrapbook
Make up your bullet journal fruit salad. A little pineapple, watermelon, and strawberry mix.
Or maybe turn some lemons into lemonade with a how to draw a lemon doodle tutorial.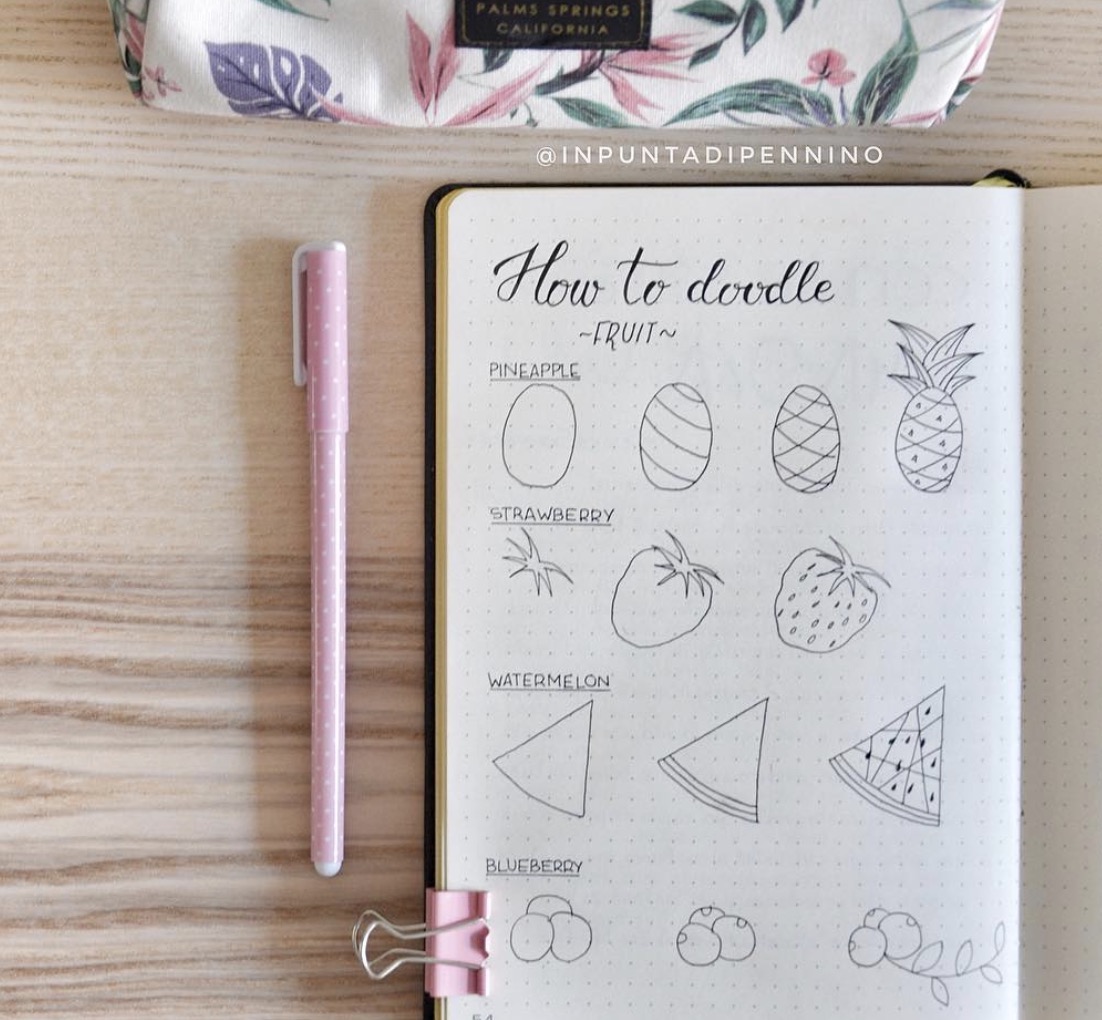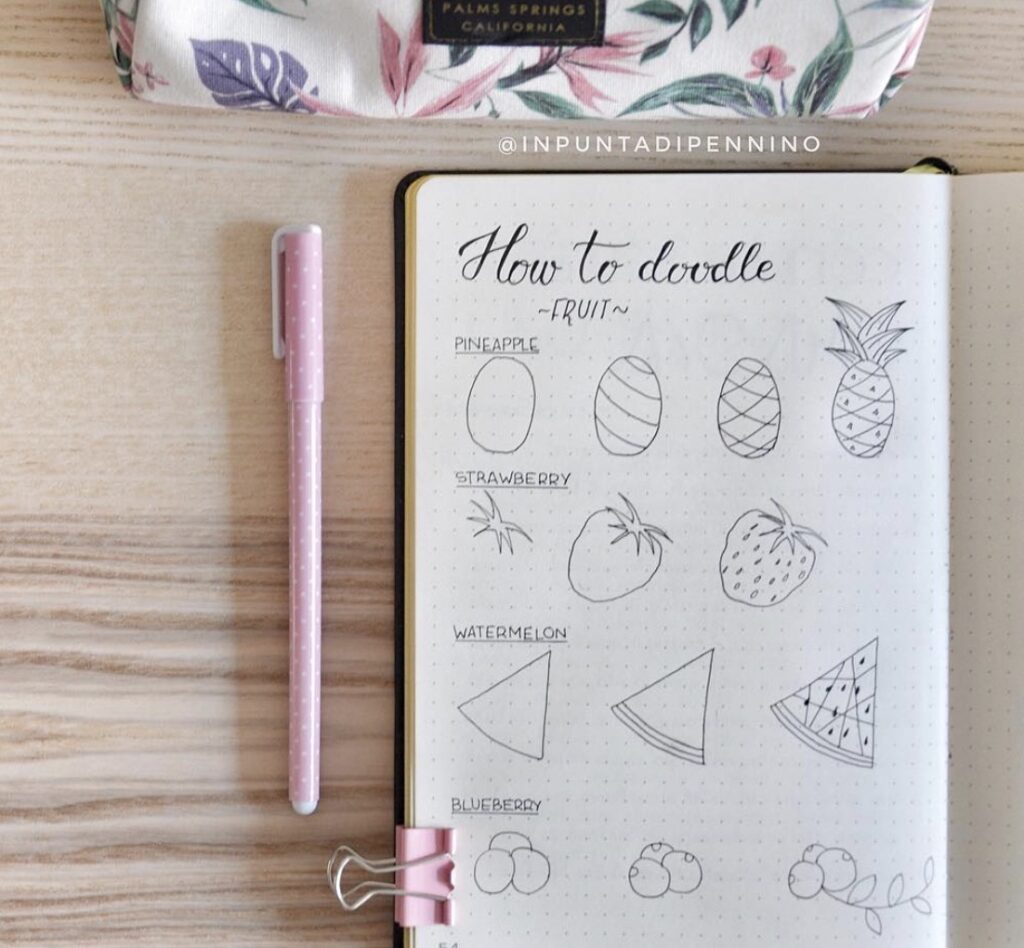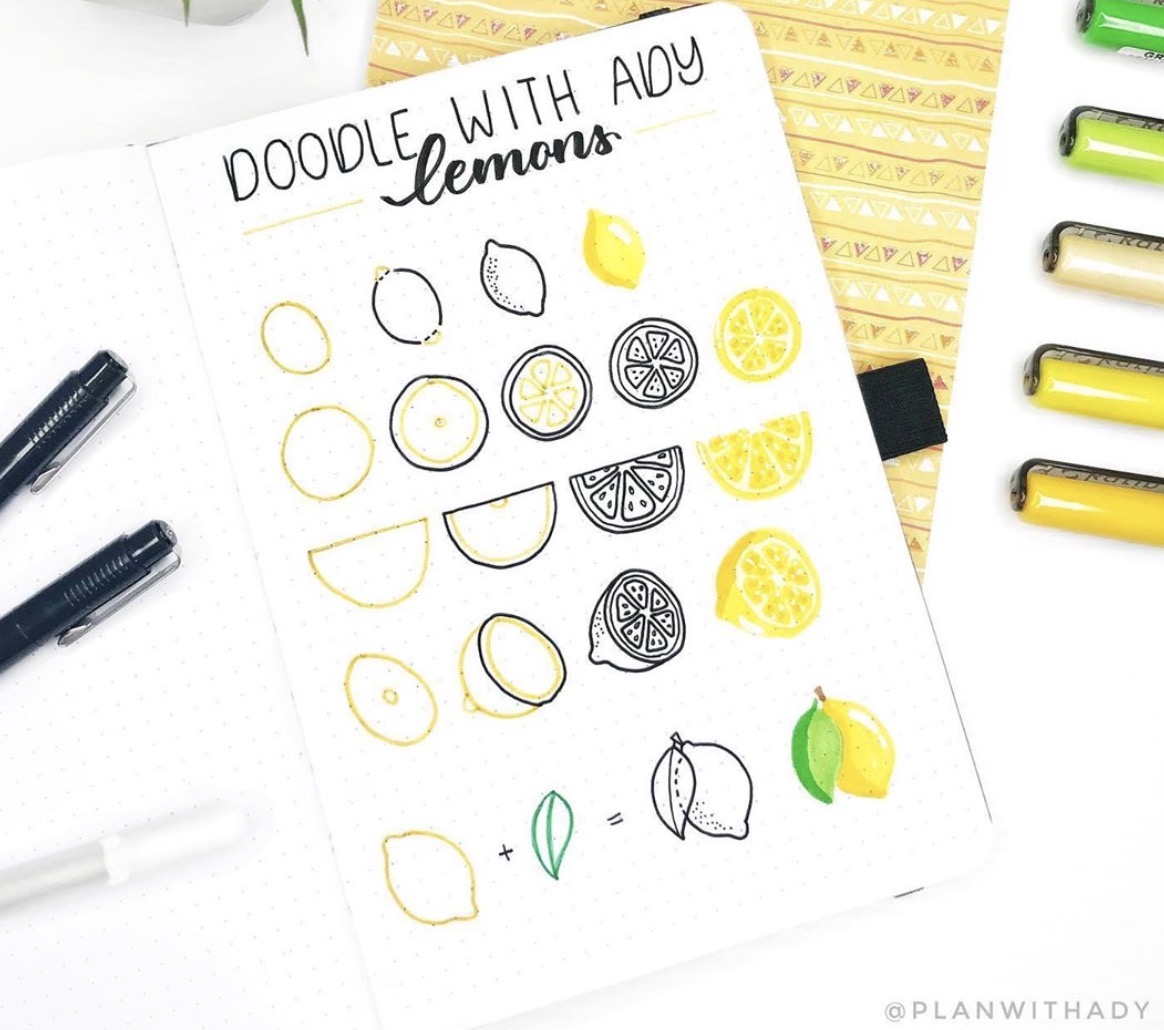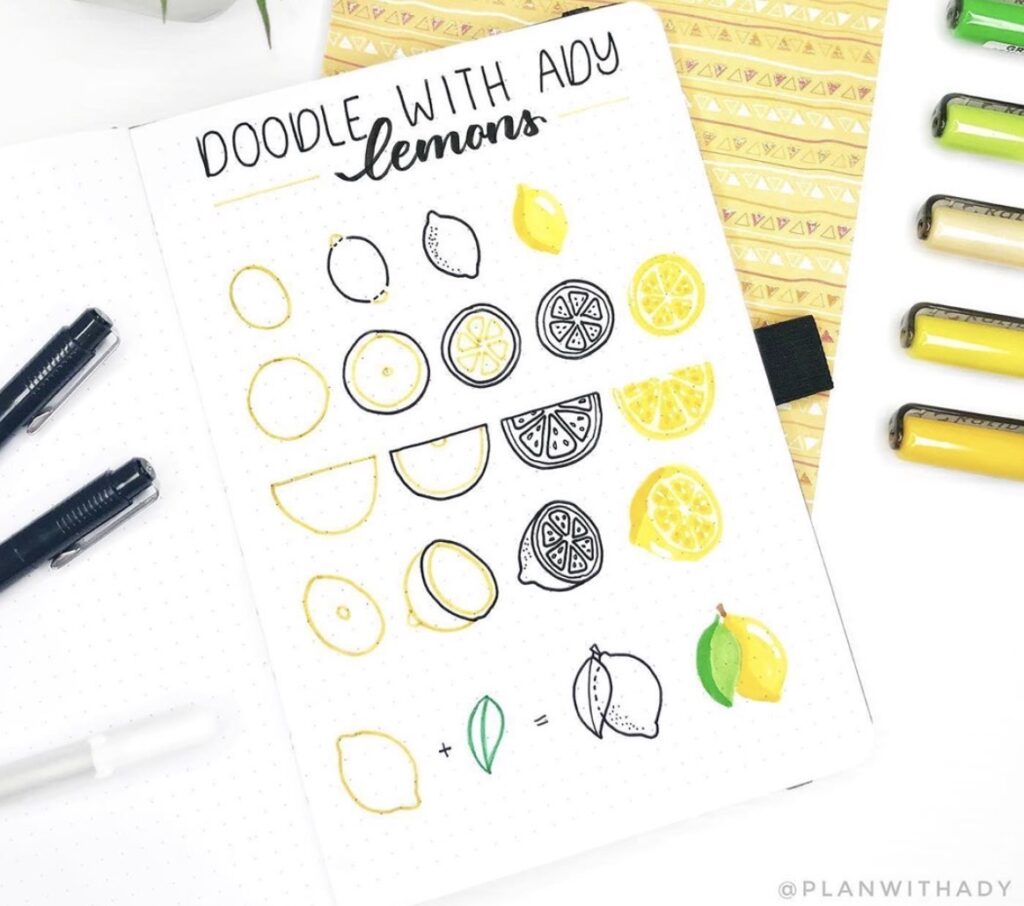 How to Doodle Draw a Rose
Roses can be very simple or very complex. This how to draw a rose tutorial is very easy to follow. When you are finished you will have bouquet of beautiful roses similar to a primrose.
After drawing roses, you can move on to some other flowers. If you want some specific and realistic flower doodles you want to see this post.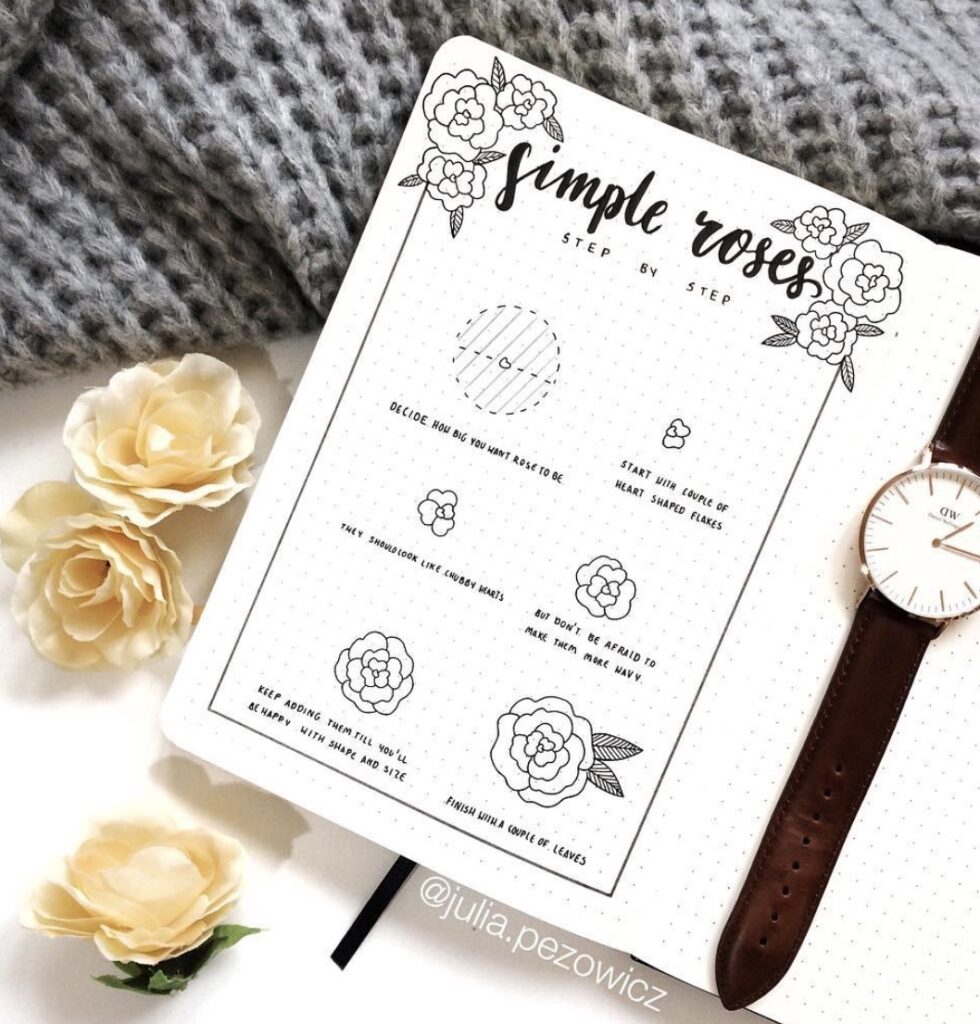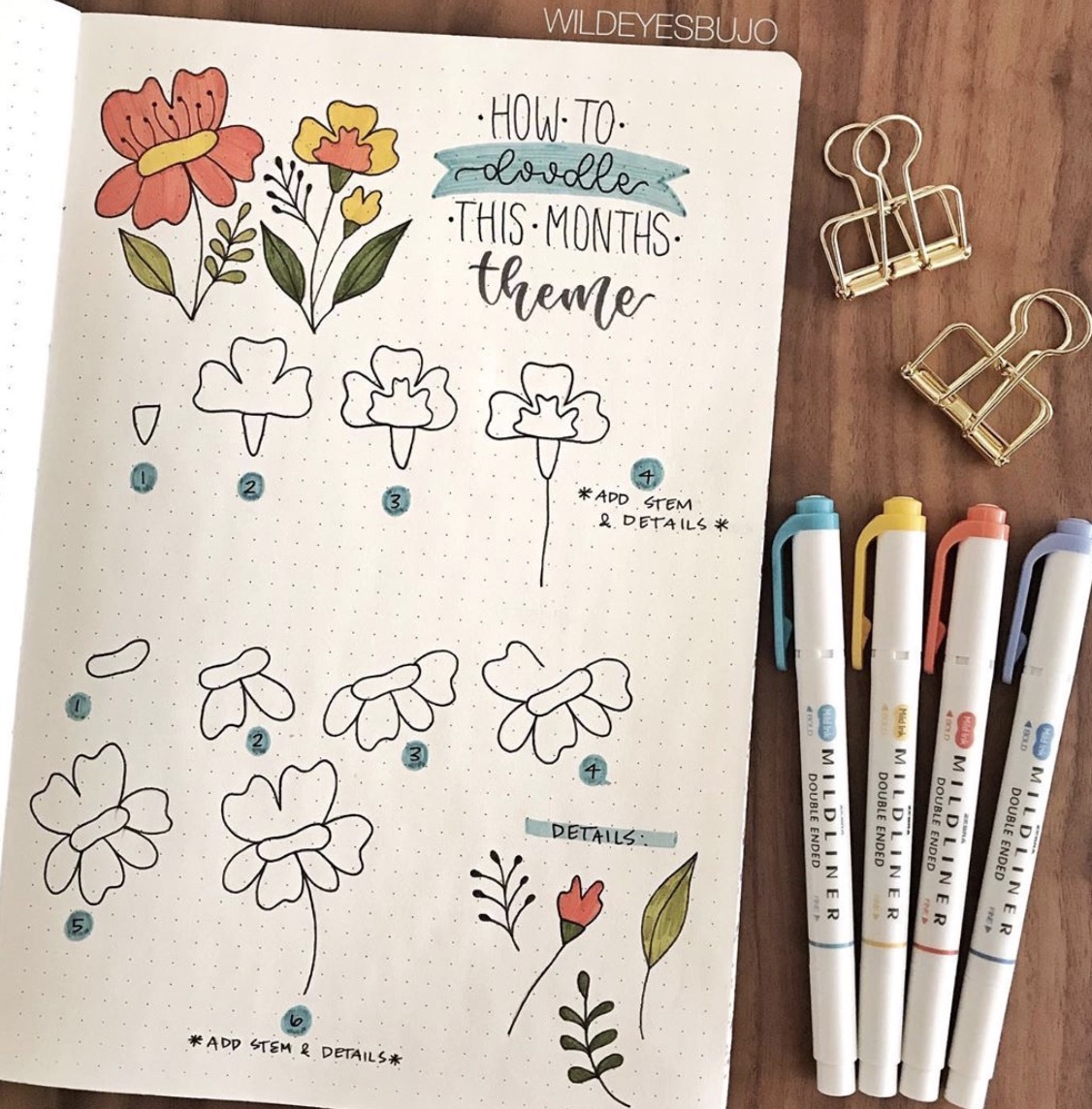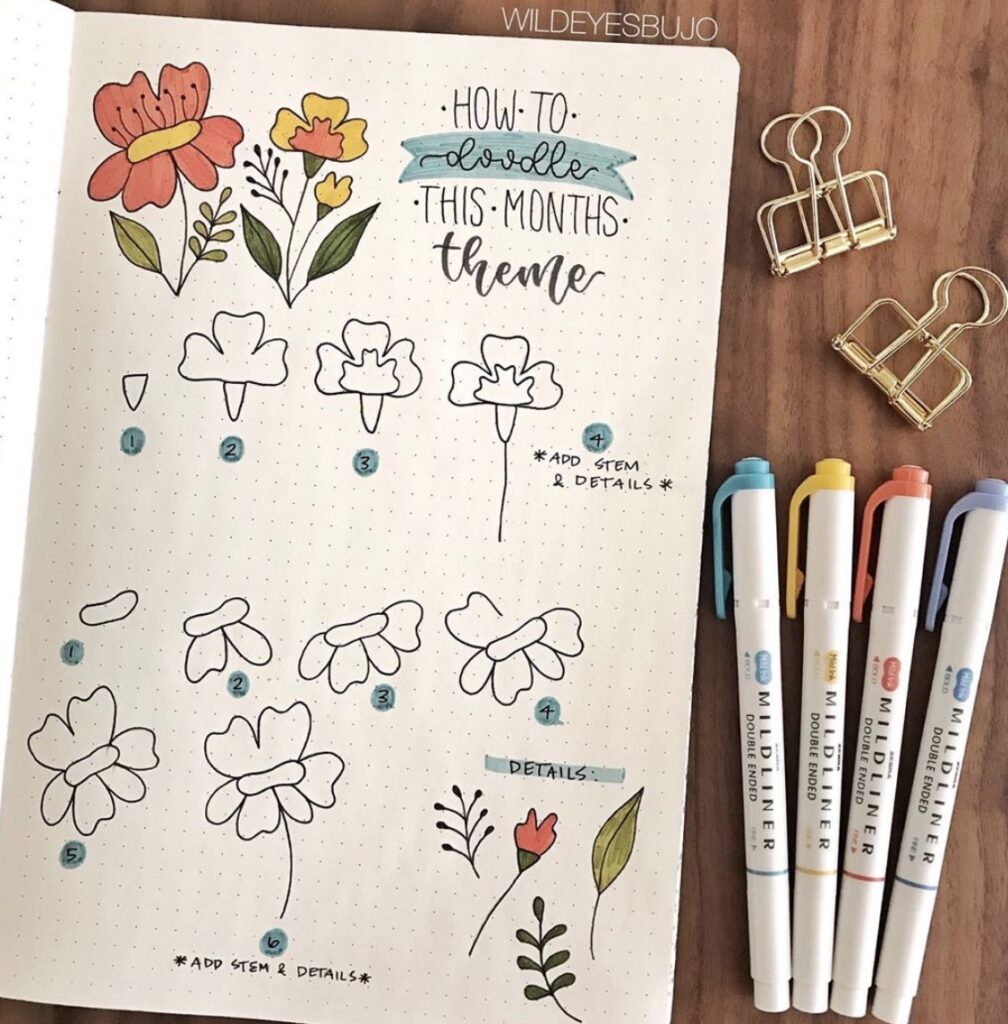 How to Draw a Cactus
This tutorial gives you four steps to a cactus doodle. And it shows you how to draw four different types of cacti.
The second drawing tutorial will show you how to draw them without the pot and color them with watercolor. Beautiful images of a variety of succulents. These would make a great doodle scrapbook border.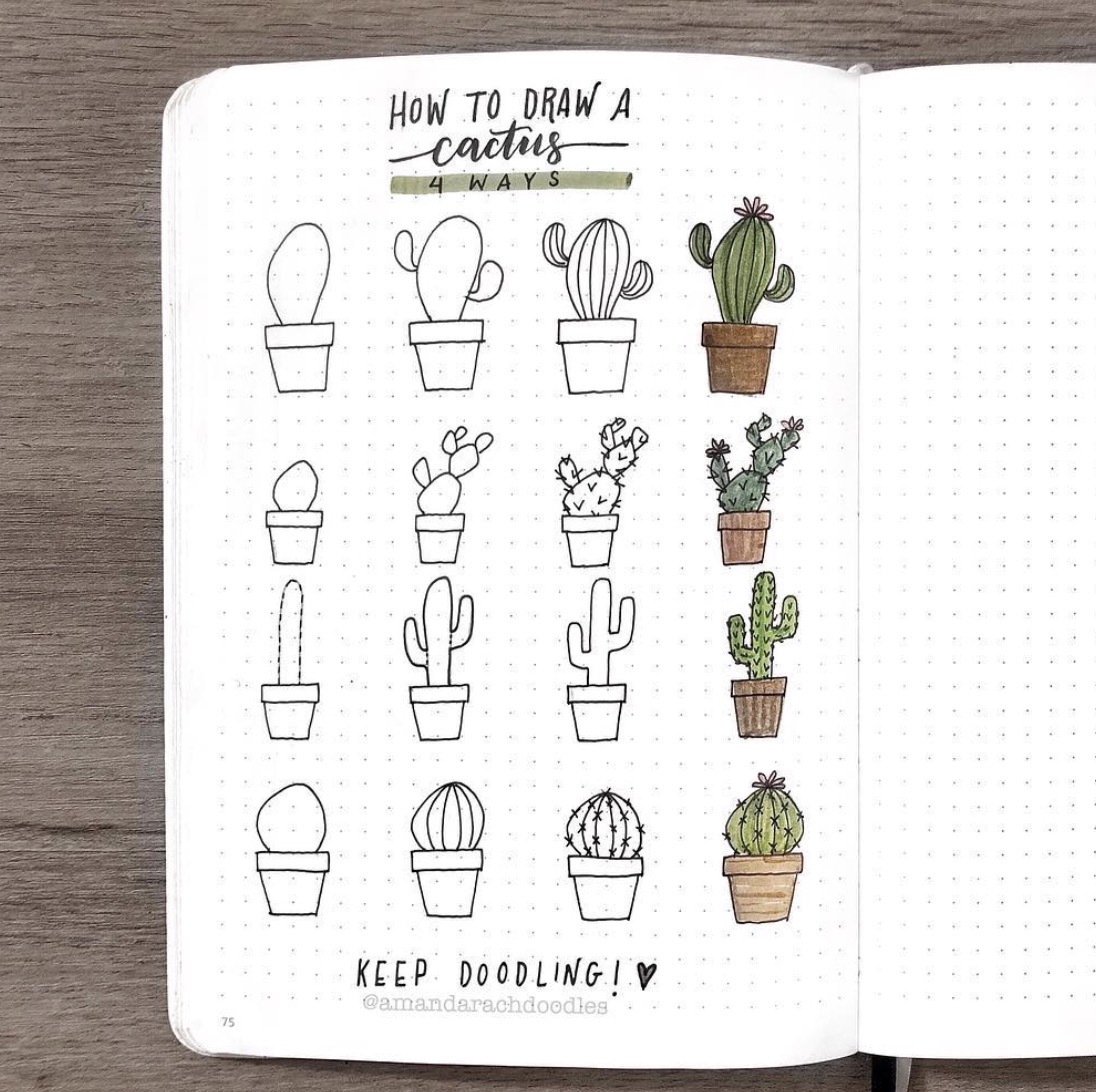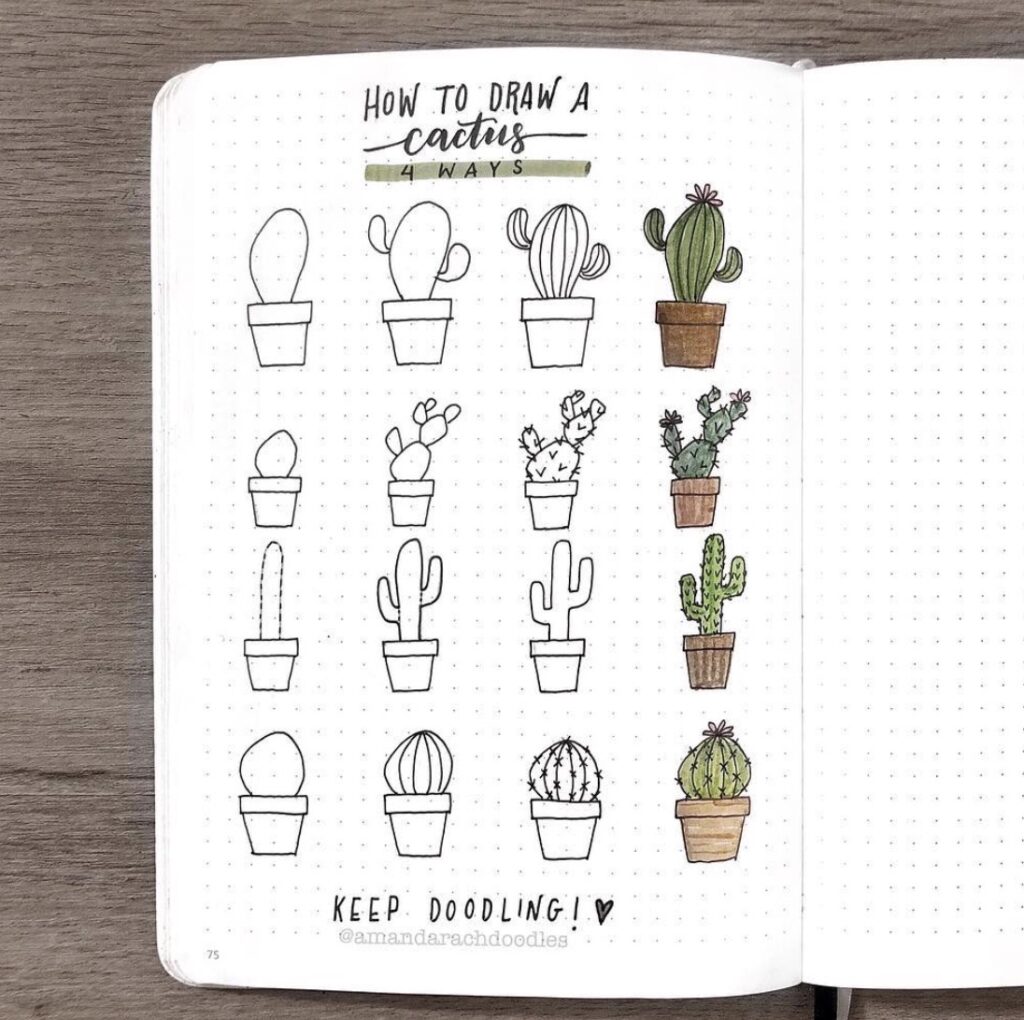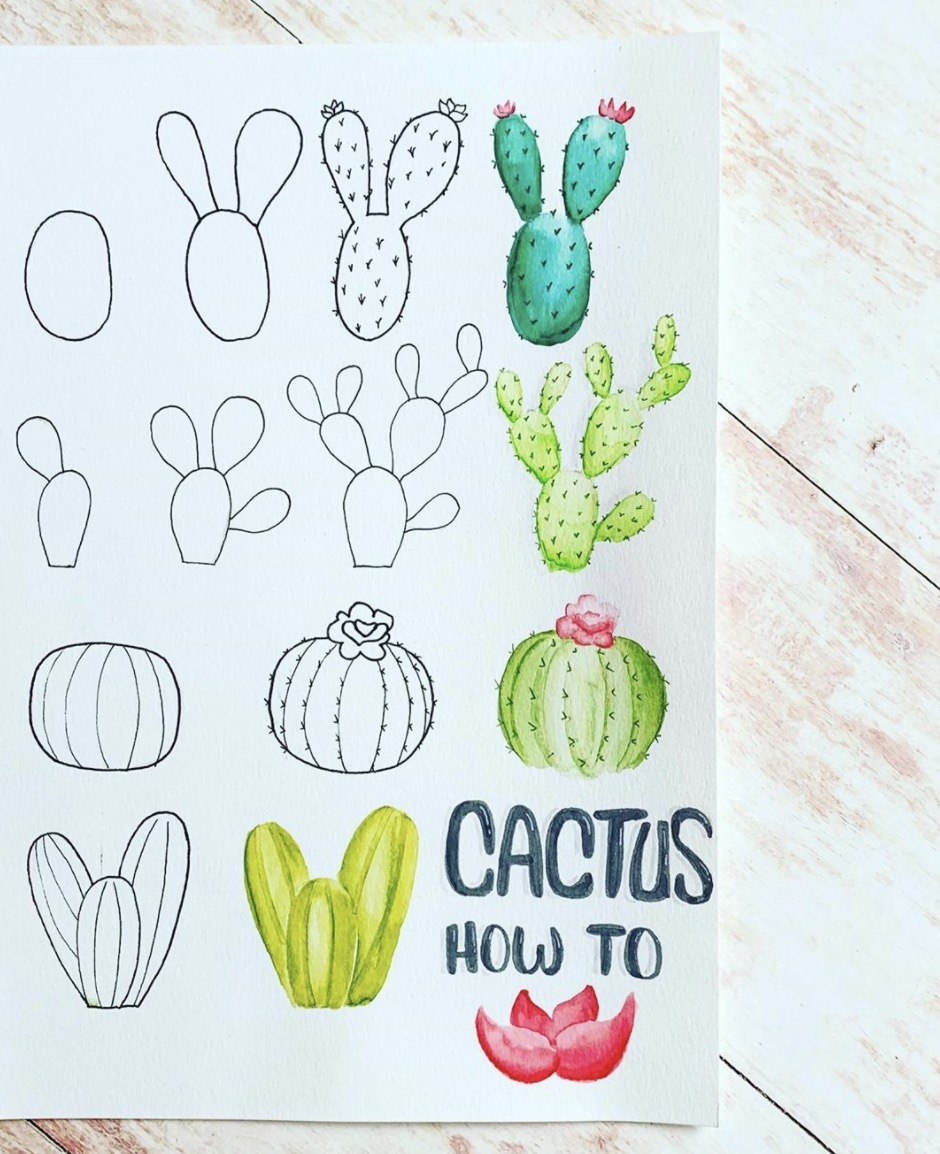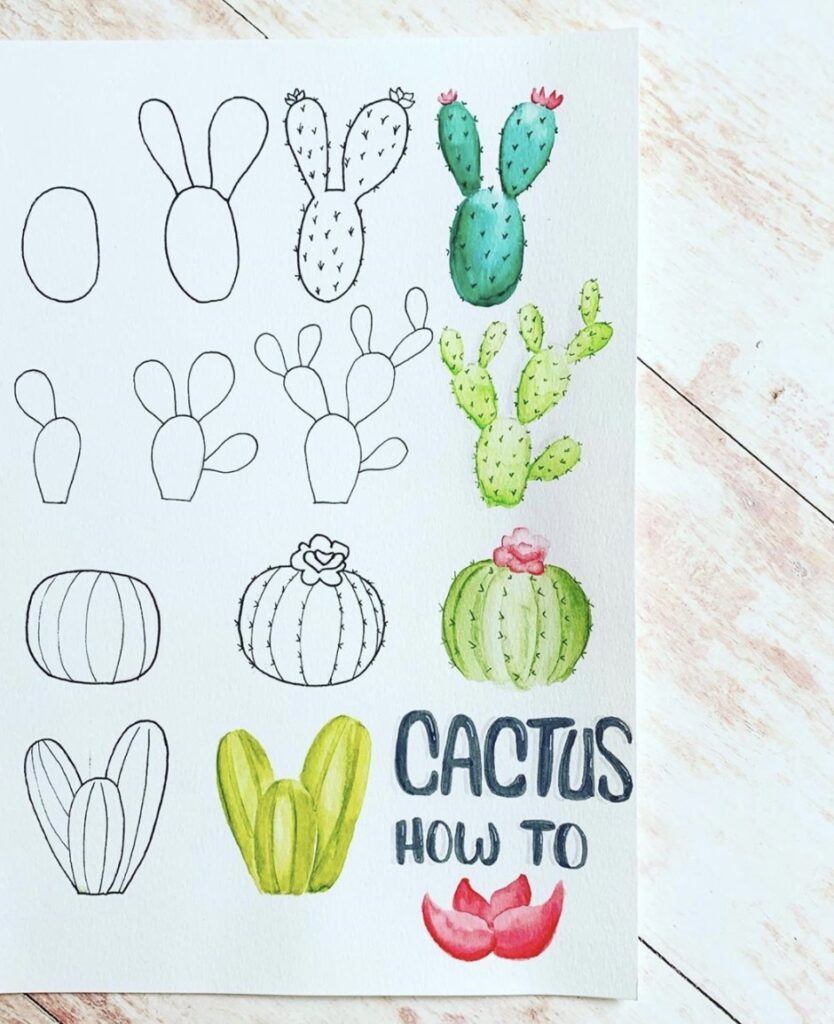 How to Draw Wonderwoman
Follow this super simple doodle tutorial to draw your favorite Avenger.
There are many more super heroes on this IG account. Check them out and find your favorite character (she even doodles Harry Potter characters).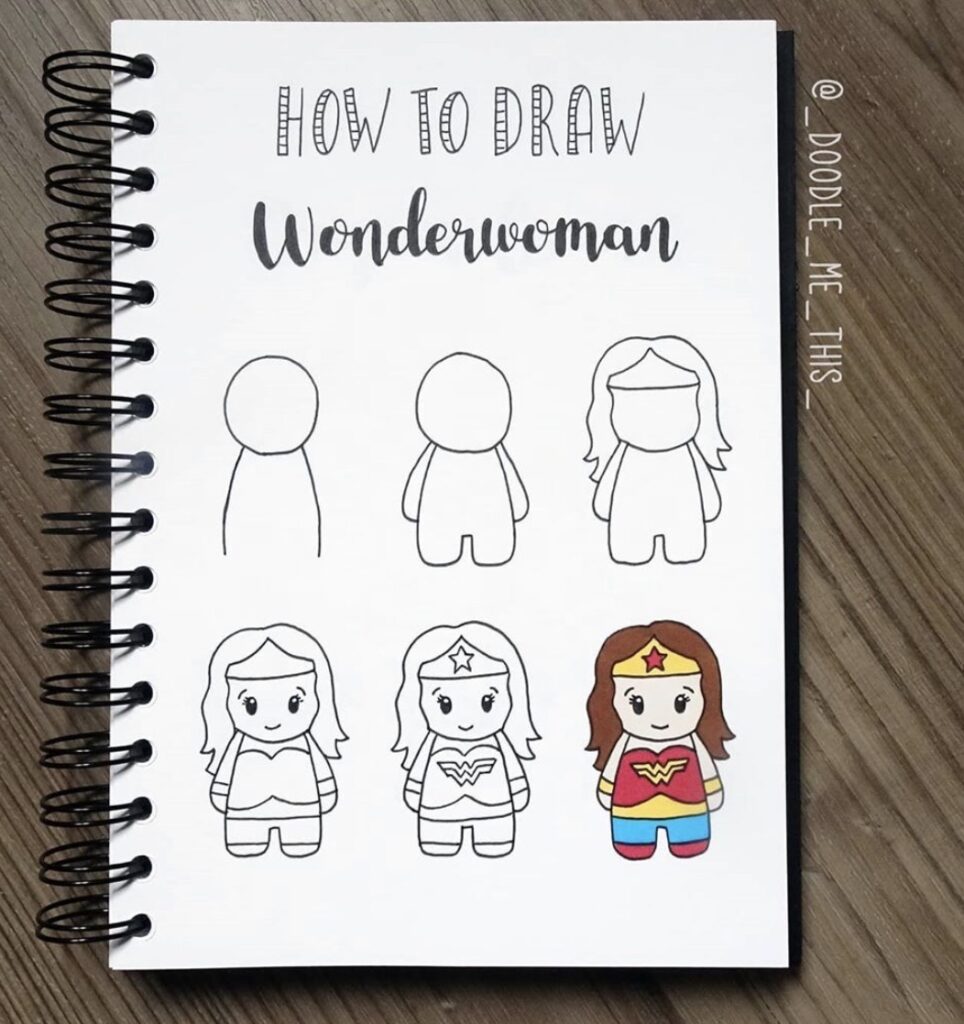 How to Draw Batman
Grab your pencil and get busy drawing batman and his bat symbol on your next bullet journal collection.
This step by step doodle tutorial is super easy to follow.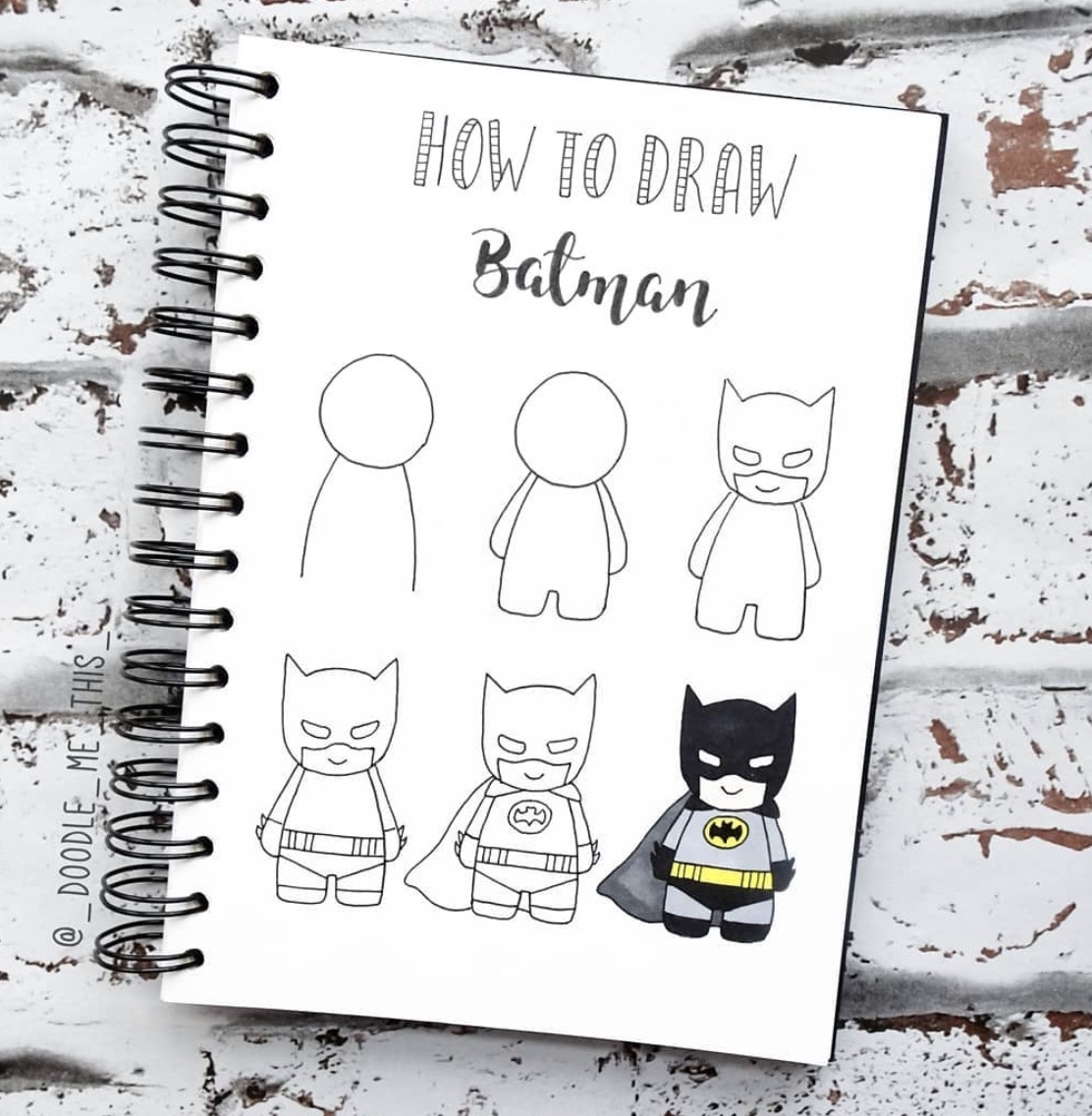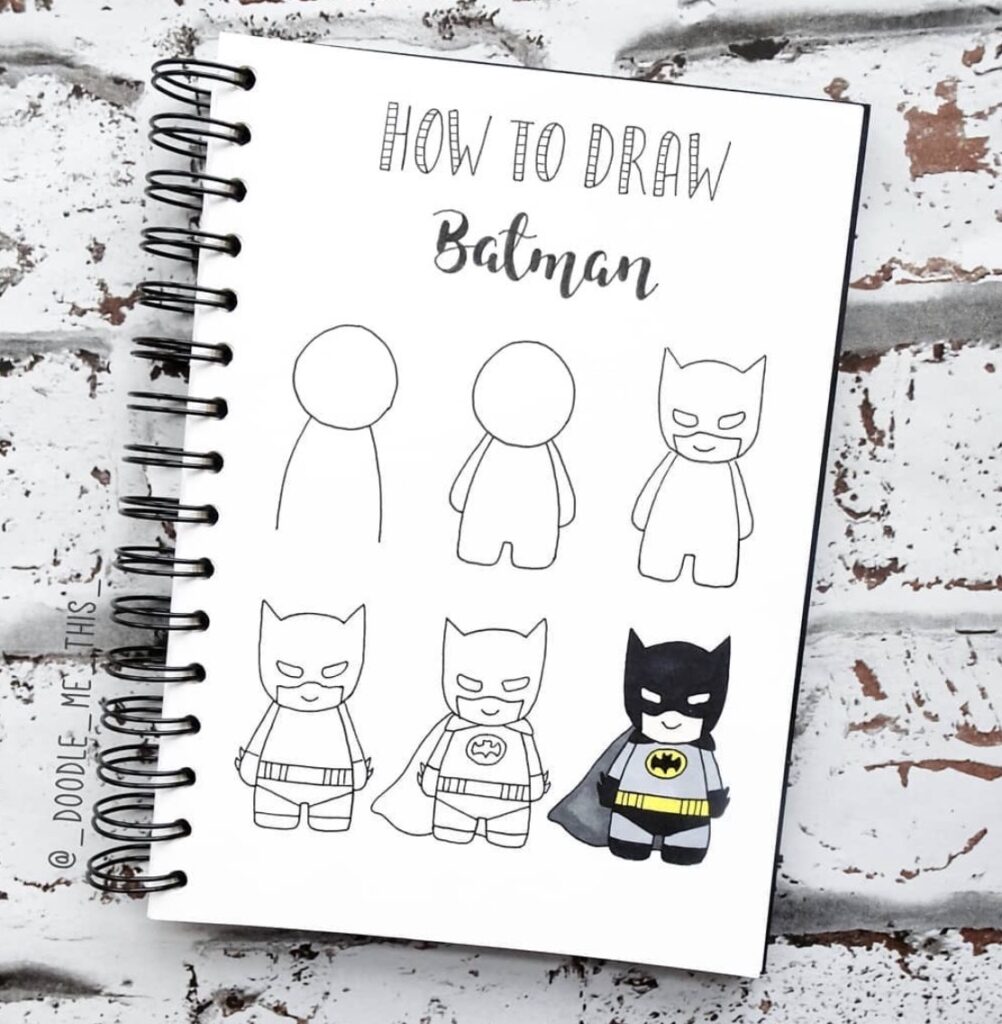 How to Draw a Jar or Bottle
This set of doodles is for a potion bottle or a jar of fireflies. You can use the tutorial for just the glass and add in any ingredient of your choice.
Follow the next tutorial and add in some floral arrangements and succulents. Doodle your favorite terrarium arrangement.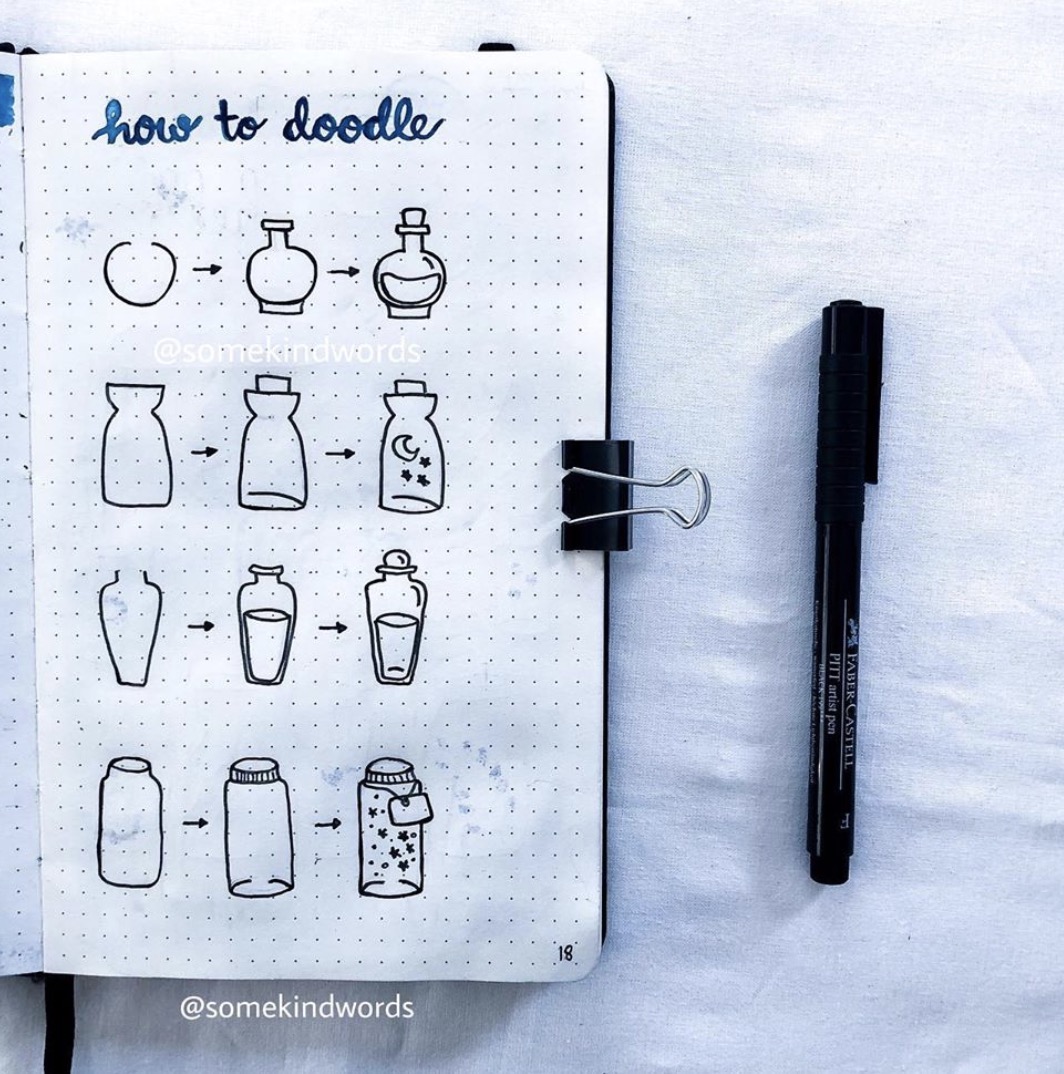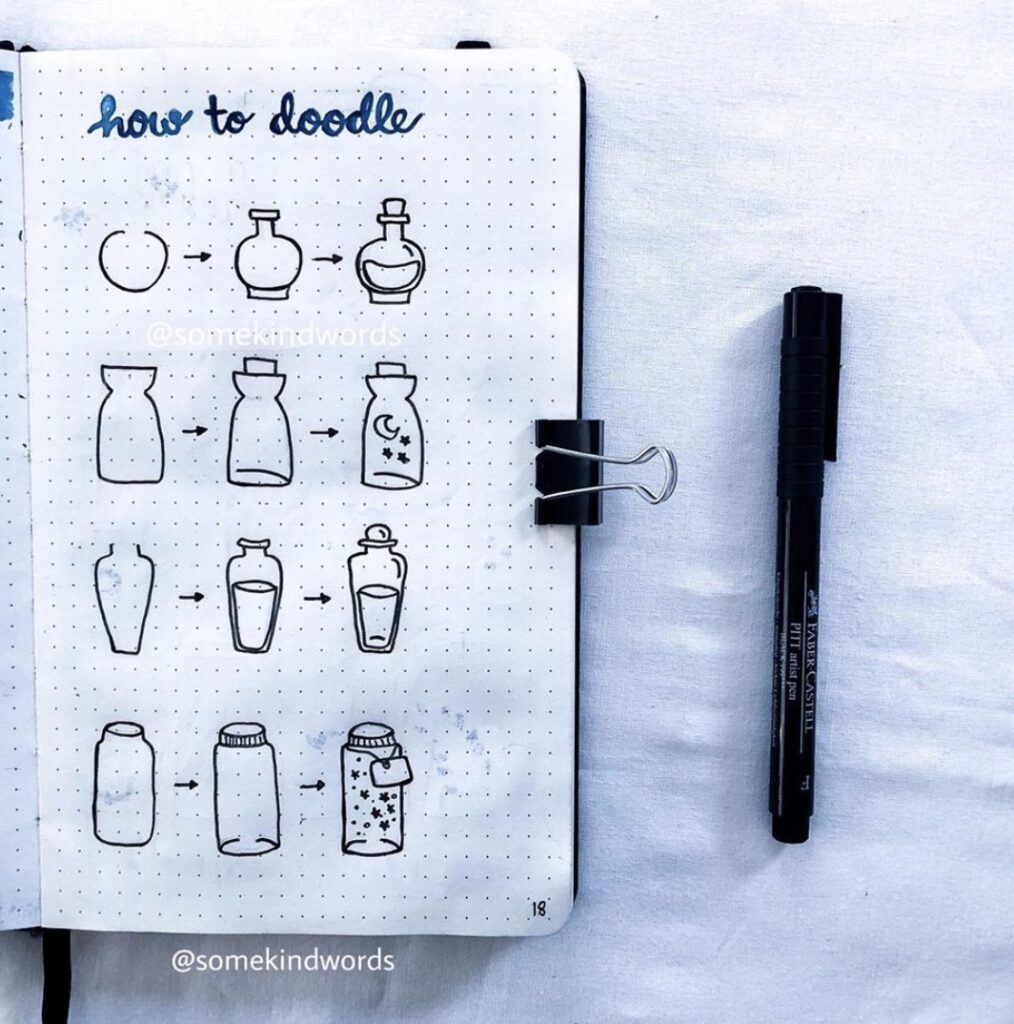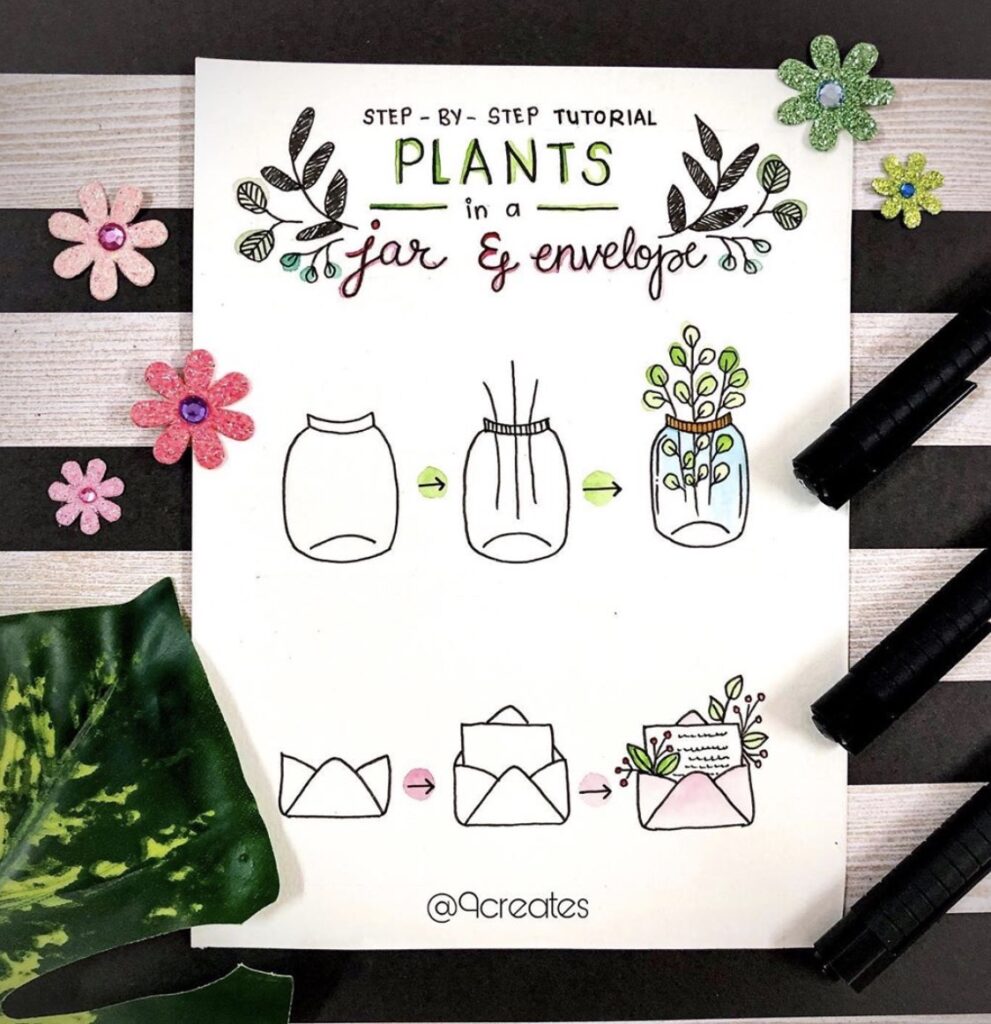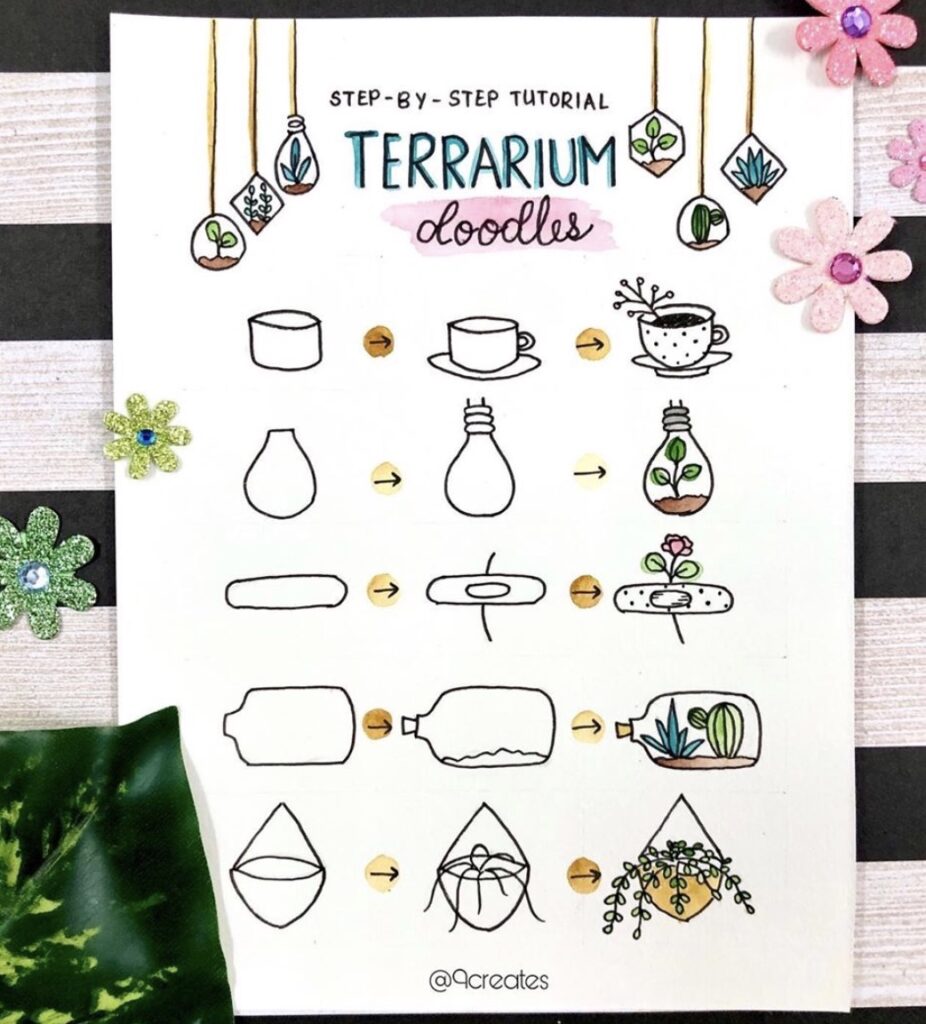 How to Draw Ice Cream
Pick these bullet journal doodles to draw your favorite sweet treats. Popsicles, ice cream cones, soft serve, or sorbet.
Summertime colors and cool treats are fun doodles to add to your planner, scrapbook, handmade cards, or bujo.
Want to turn them into fun characters? Check out the next doodle tutorial for fun expressions…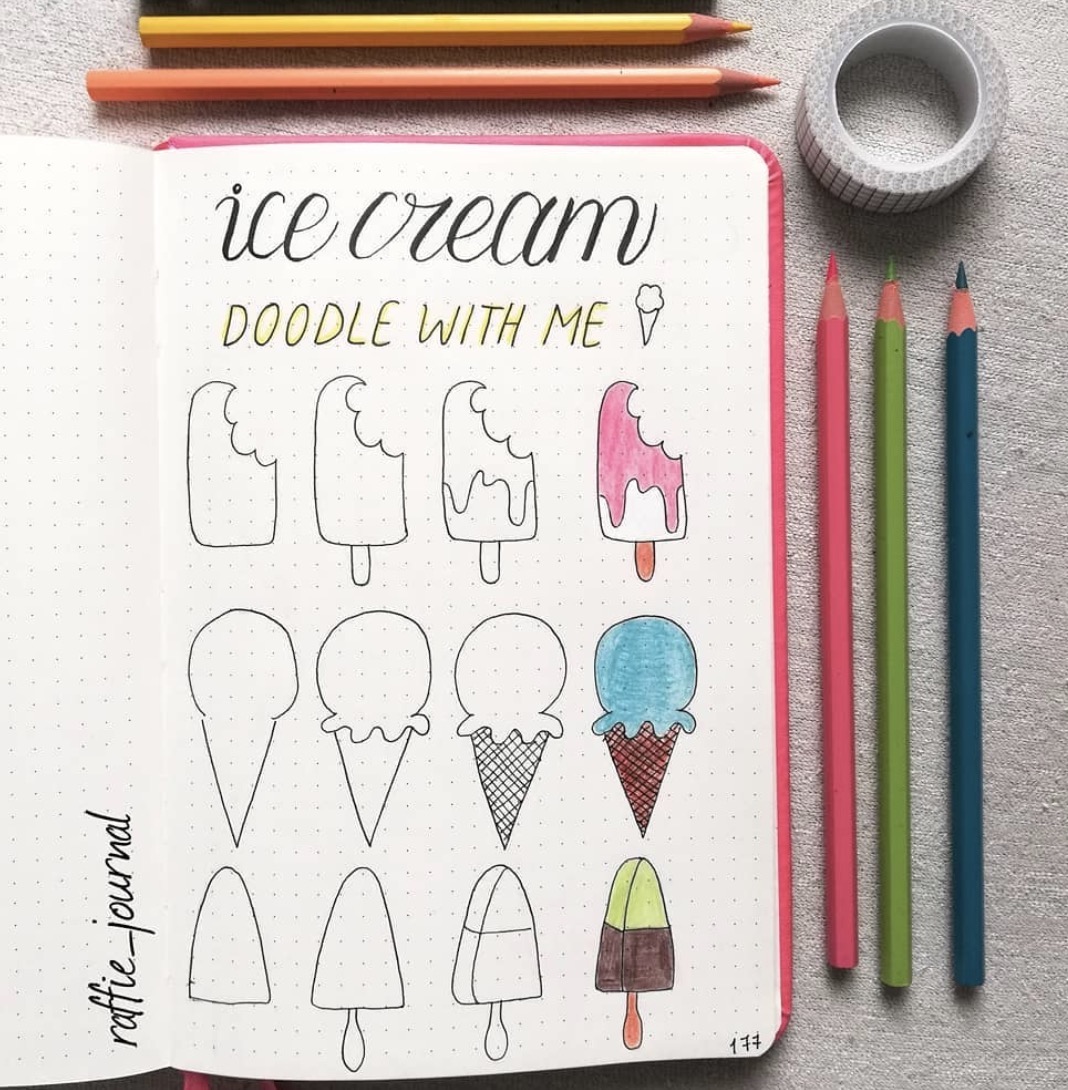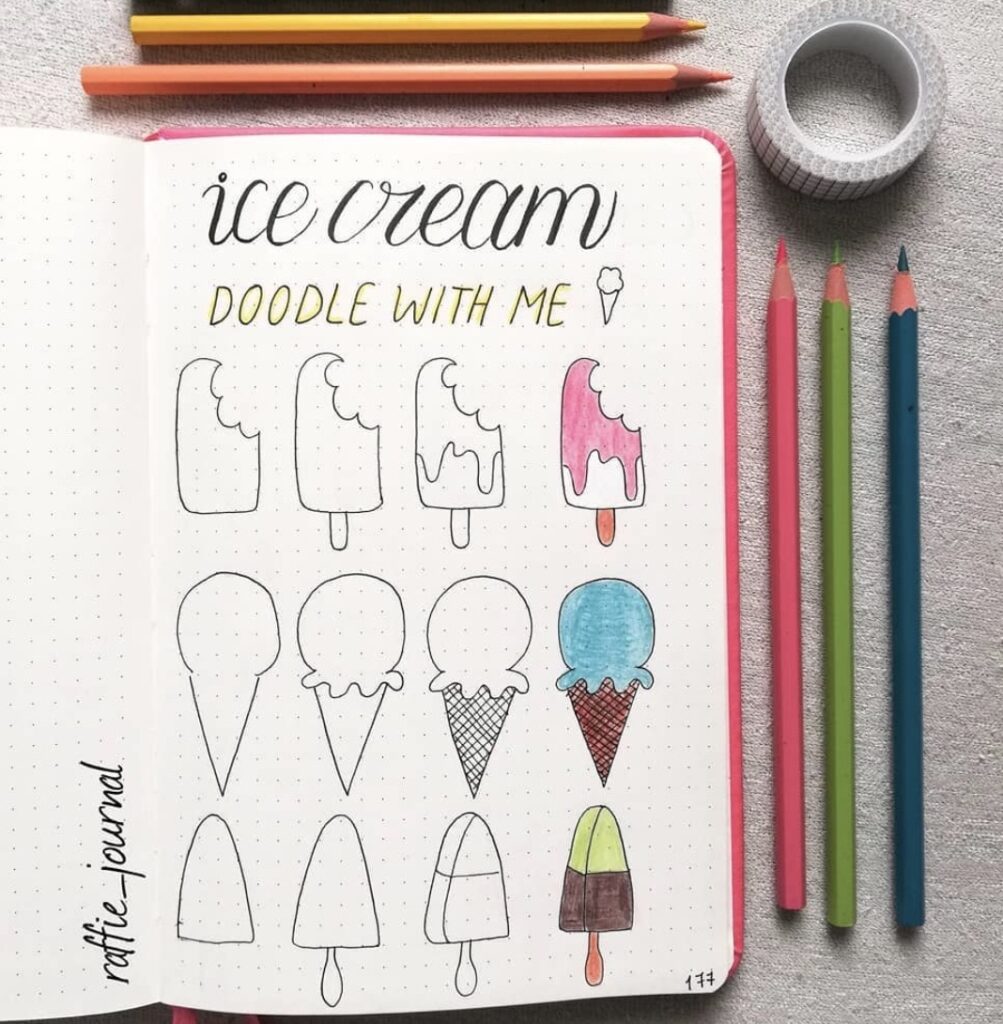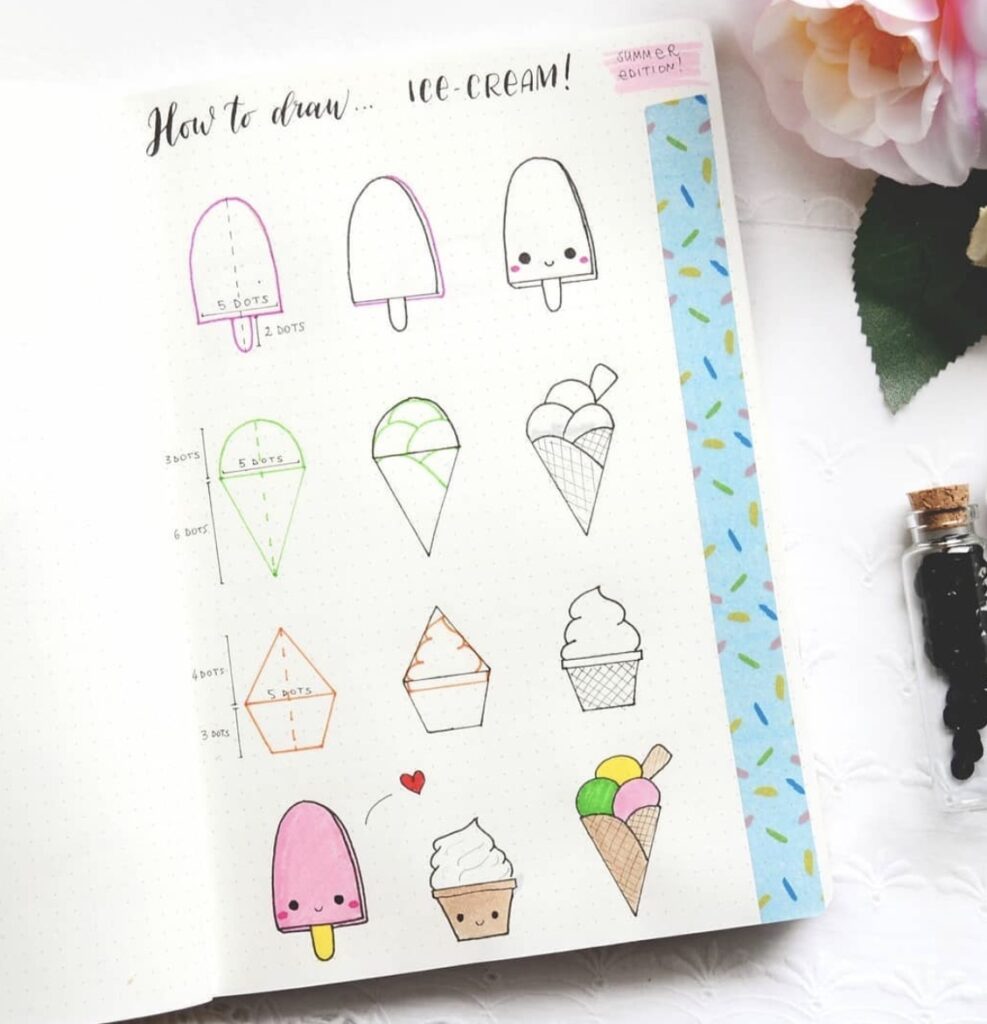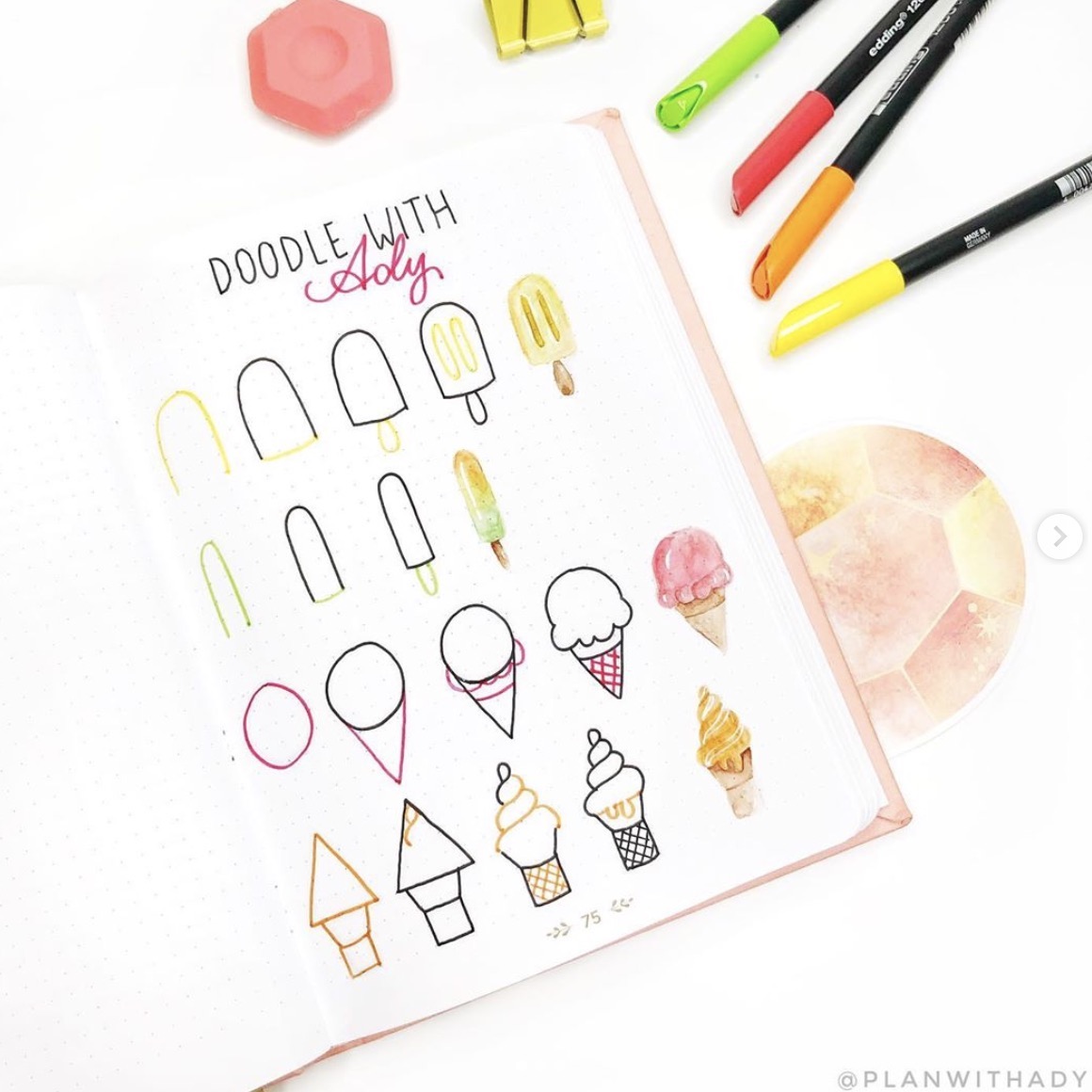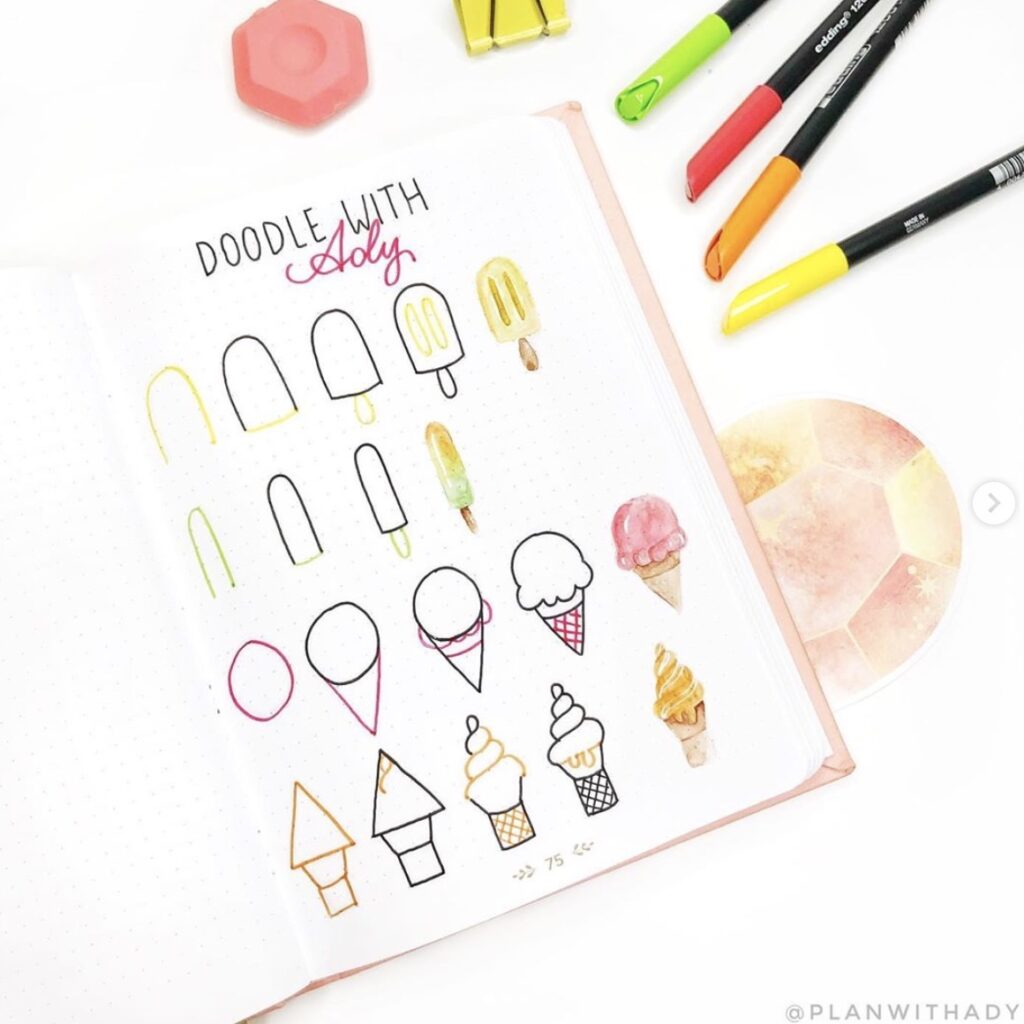 How to Draw Emotion Faces
Turn any of your doodles into a Kawaii character or add some personification.
These different emotion face doodles will help you figure out which face you want to make.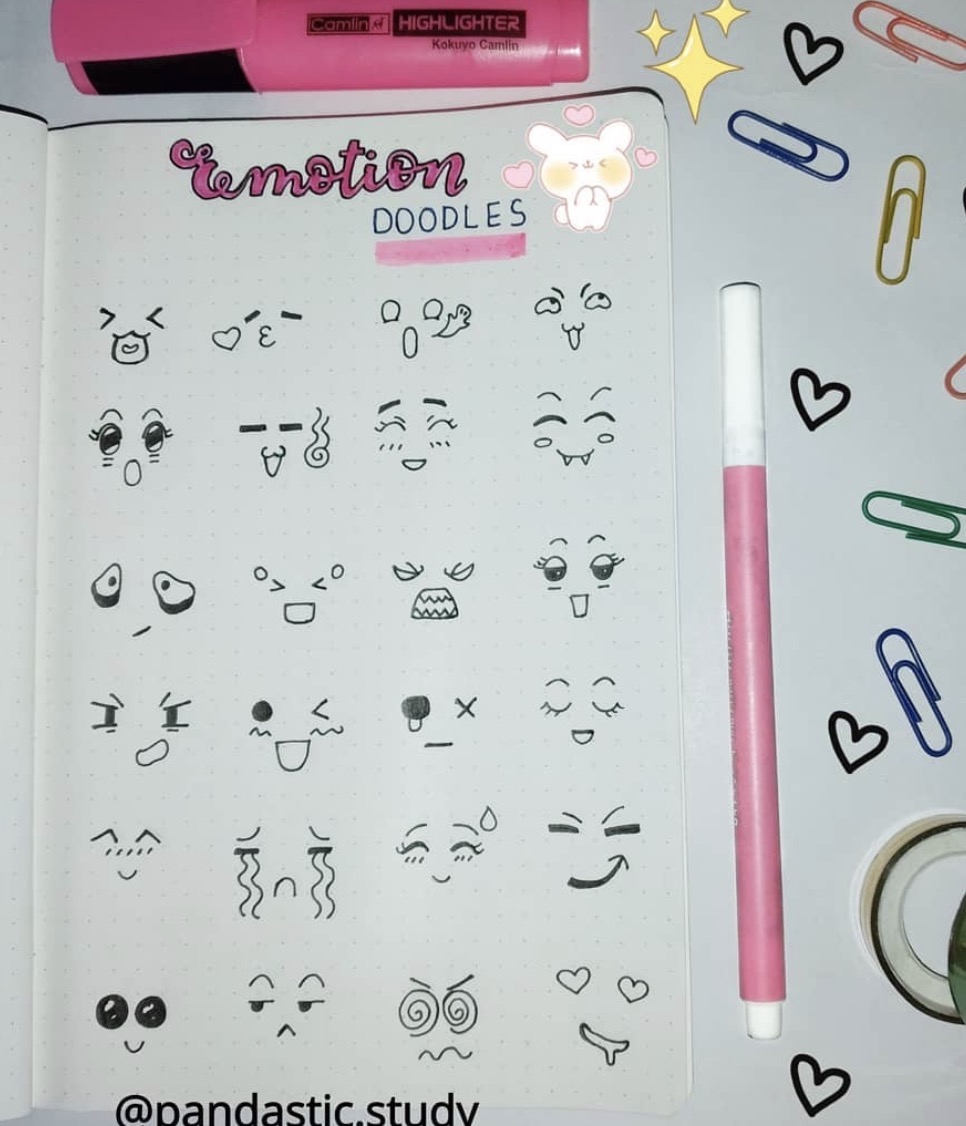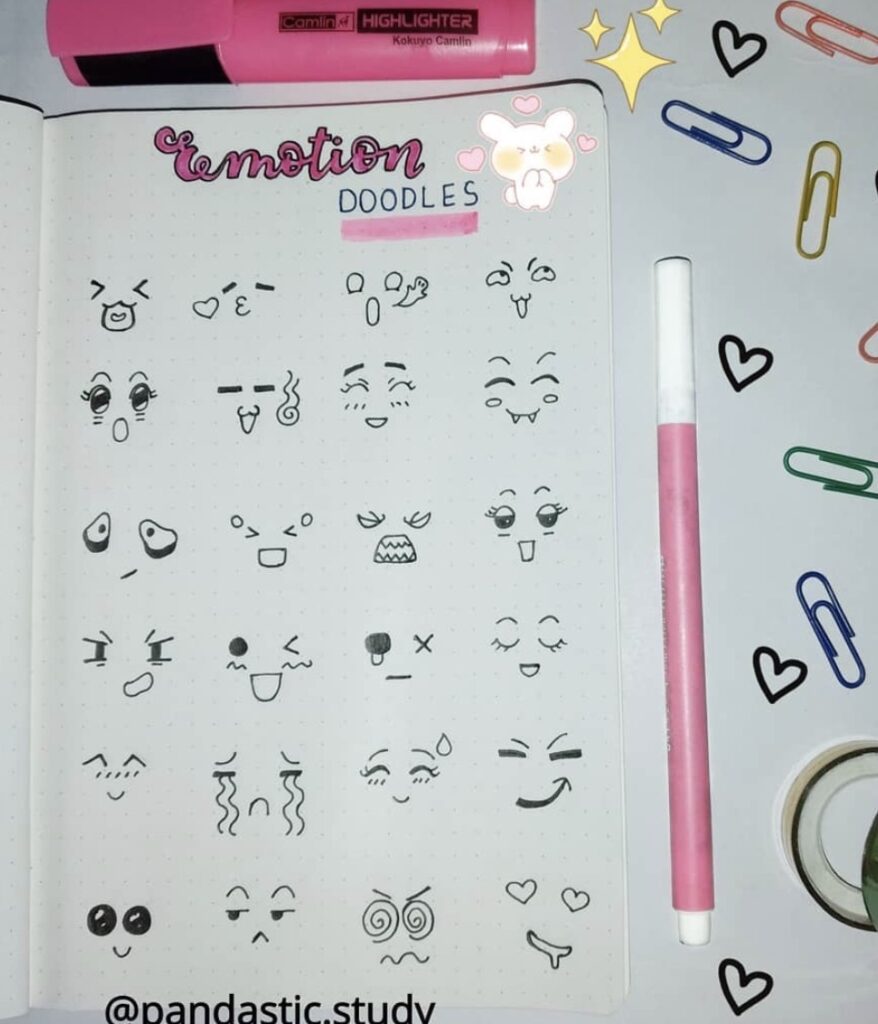 How to Draw a Unicorn
Choose a step by step unicorn doodle or a shooting start. Or draw a horn on a pile of…clouds.
Easy unicorn doodles and rainbow elements can be colored in soft pastel colors or vibrant rainbow colors. Choose your style and start doodling.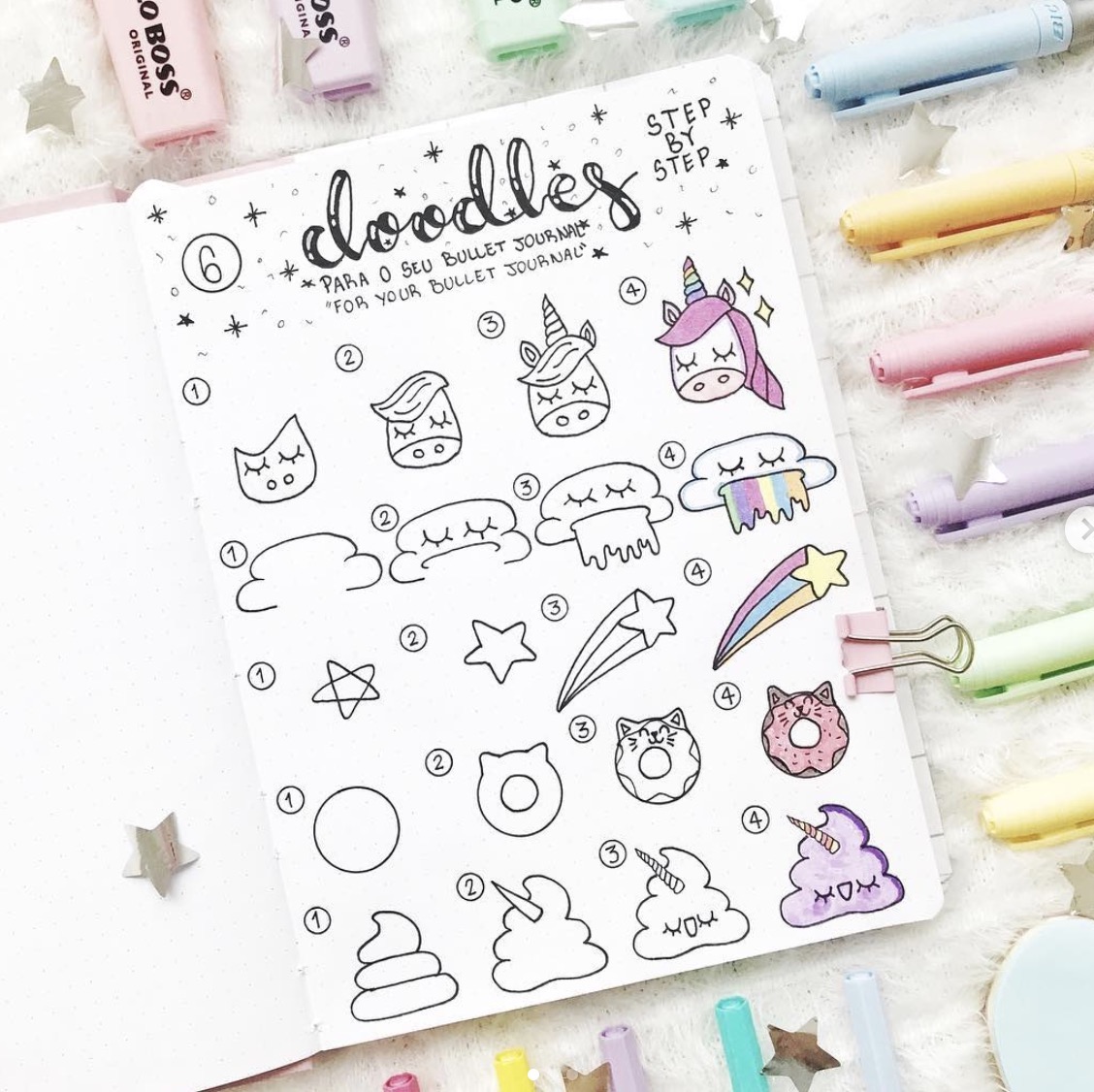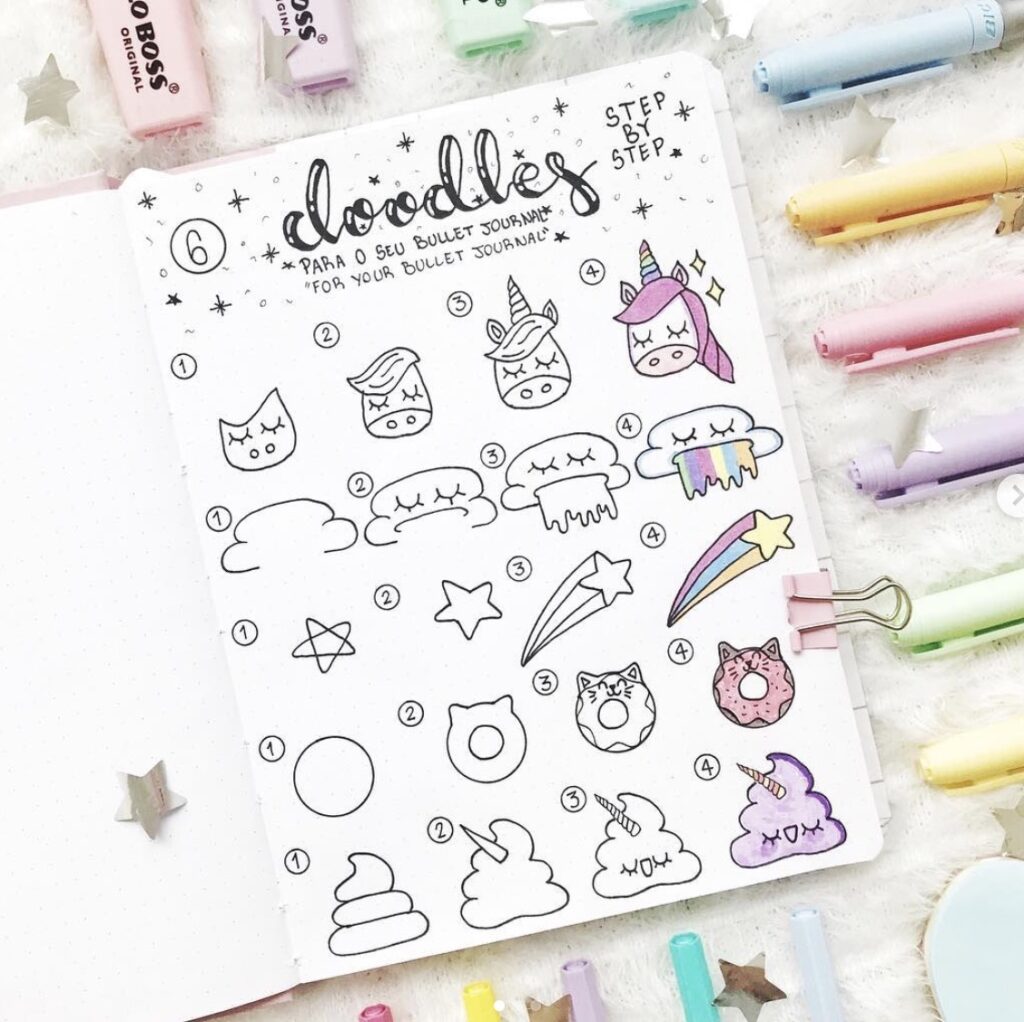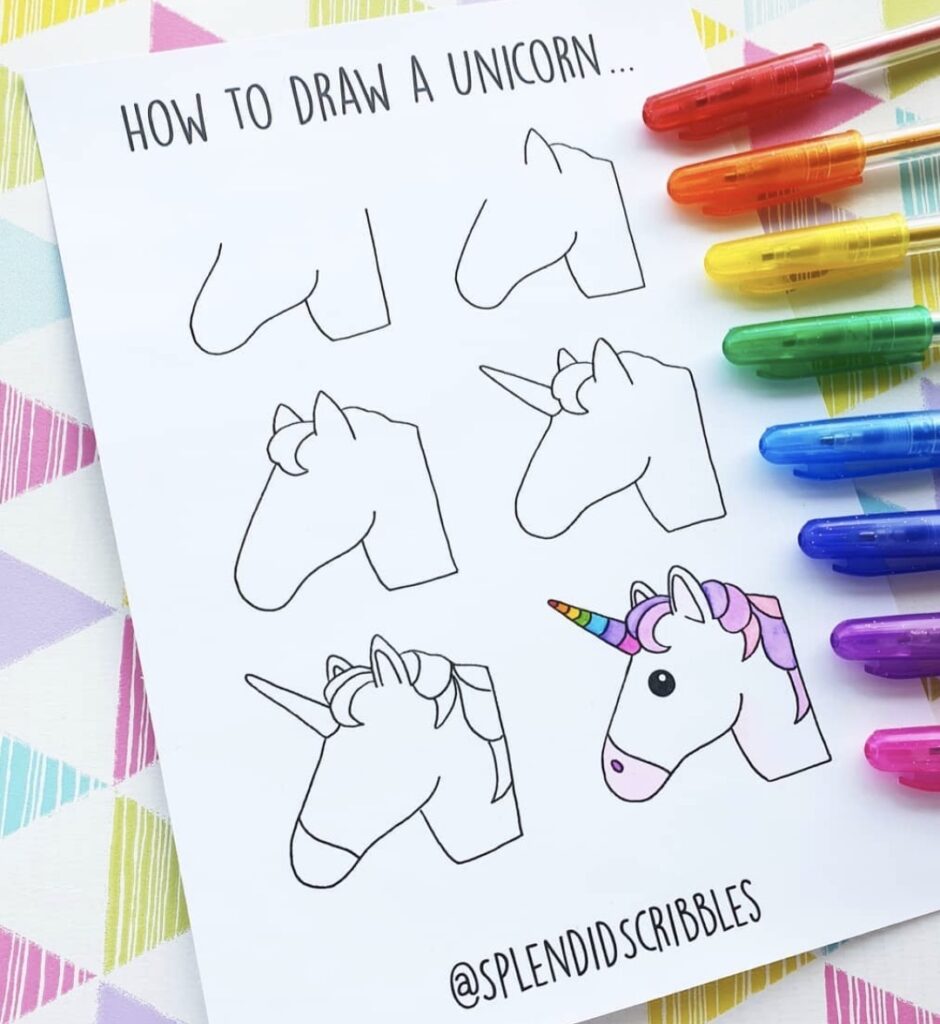 Simple Sea Side Doodles
Use these journal doodles to add sea and ocean elements to your bullet journal or planner spreads.
You will find sea shells, crabs, seals, fish and more.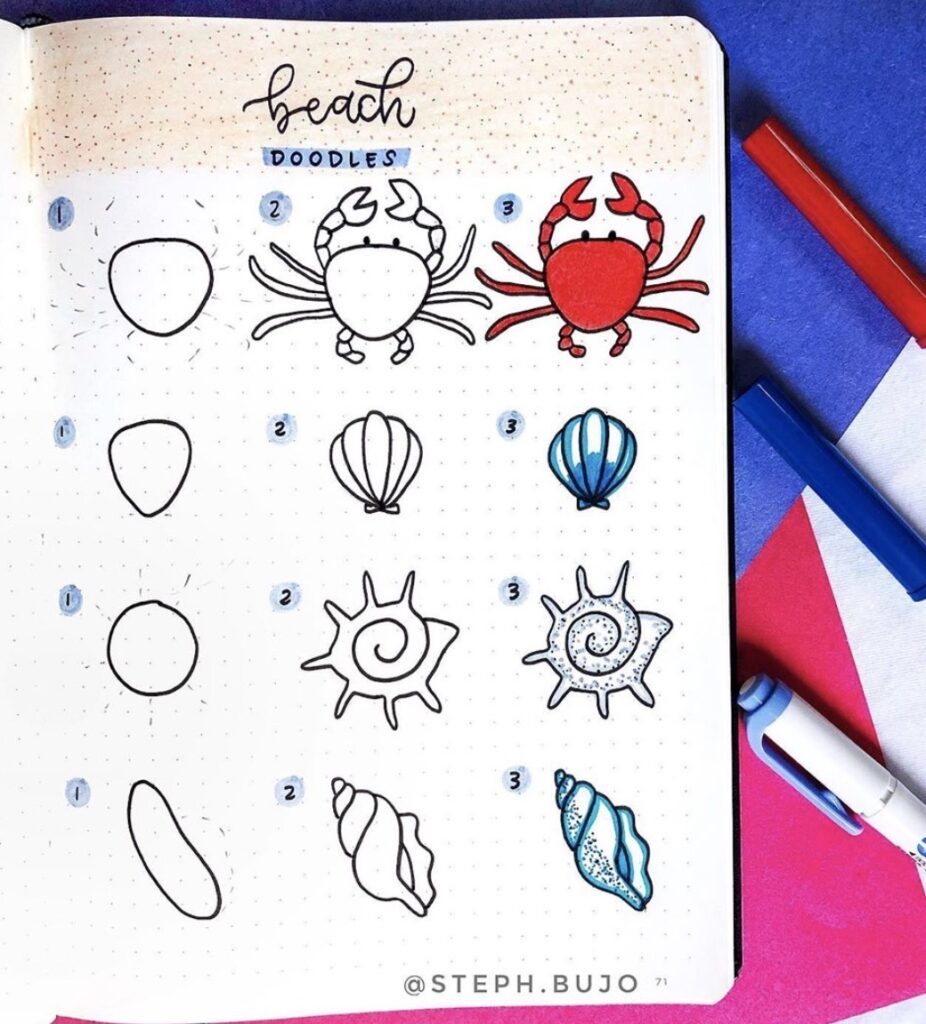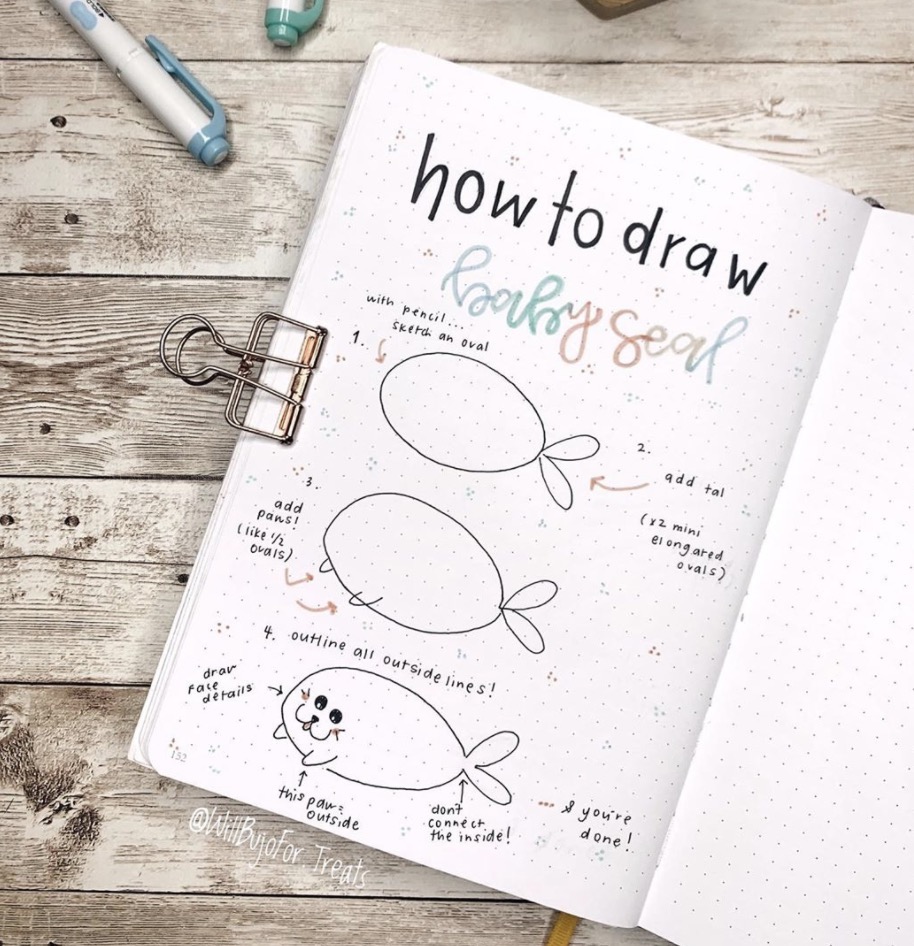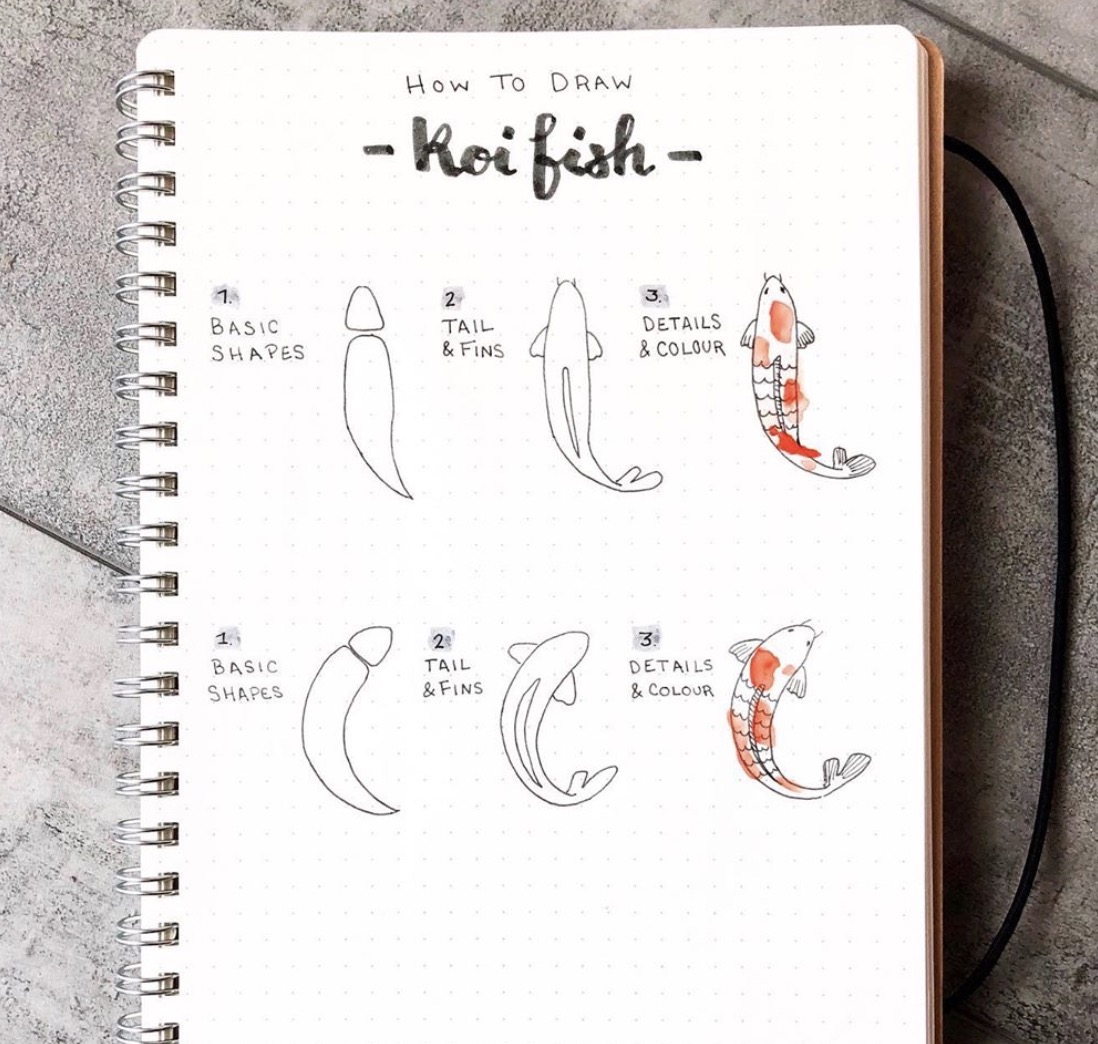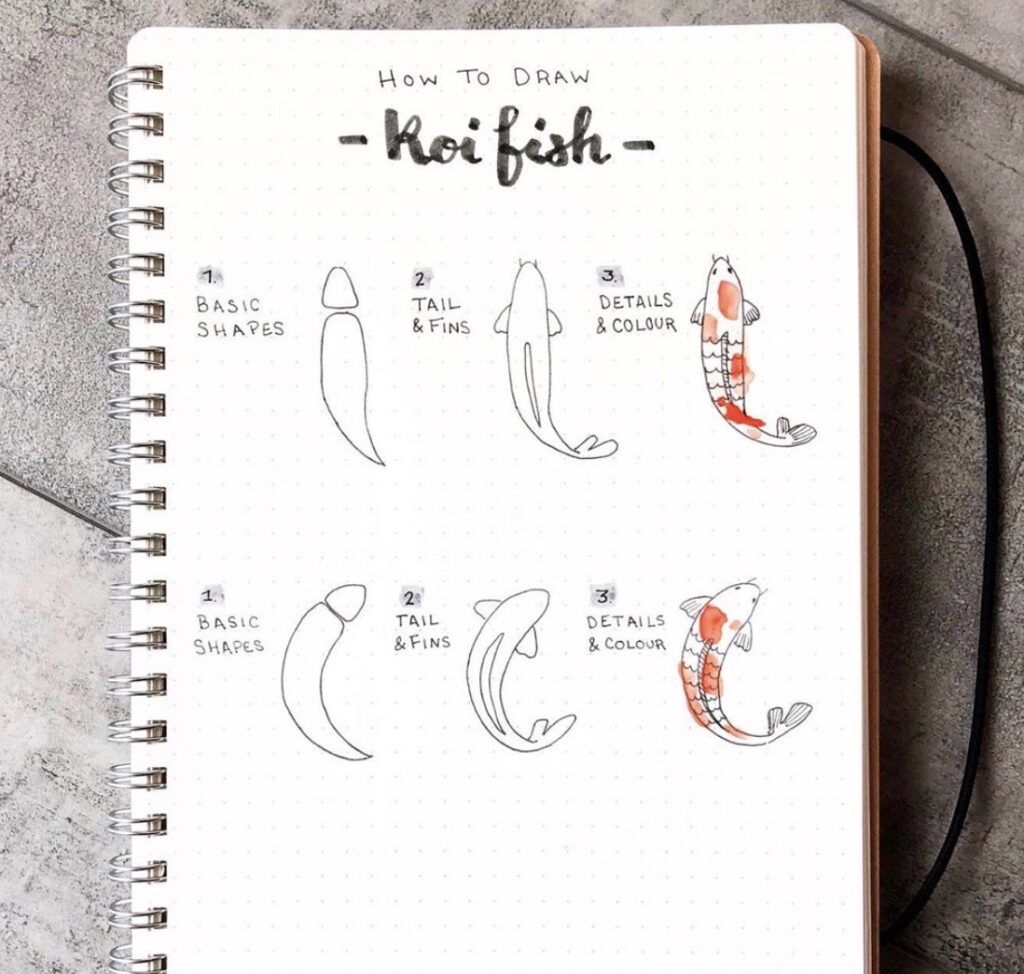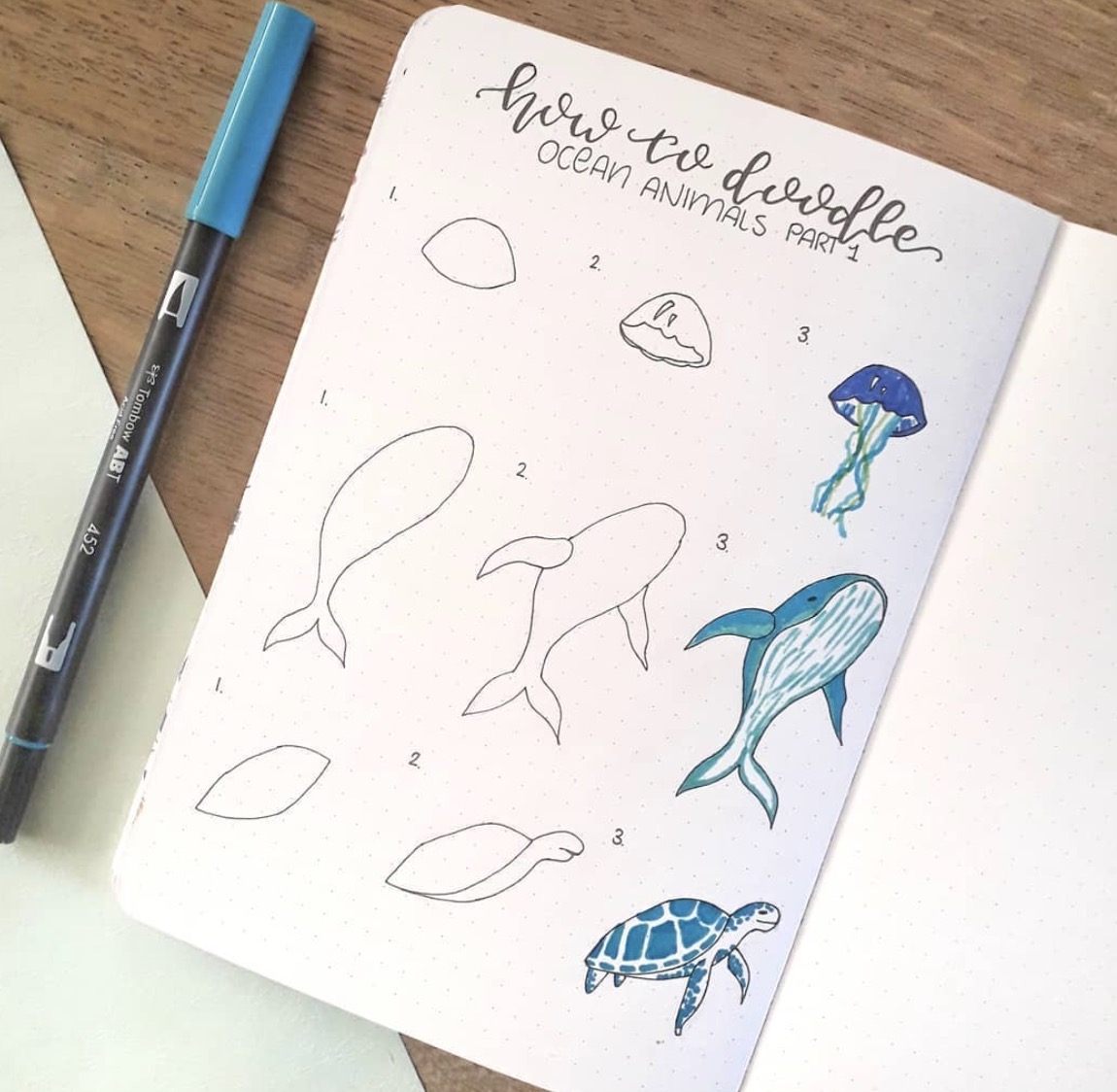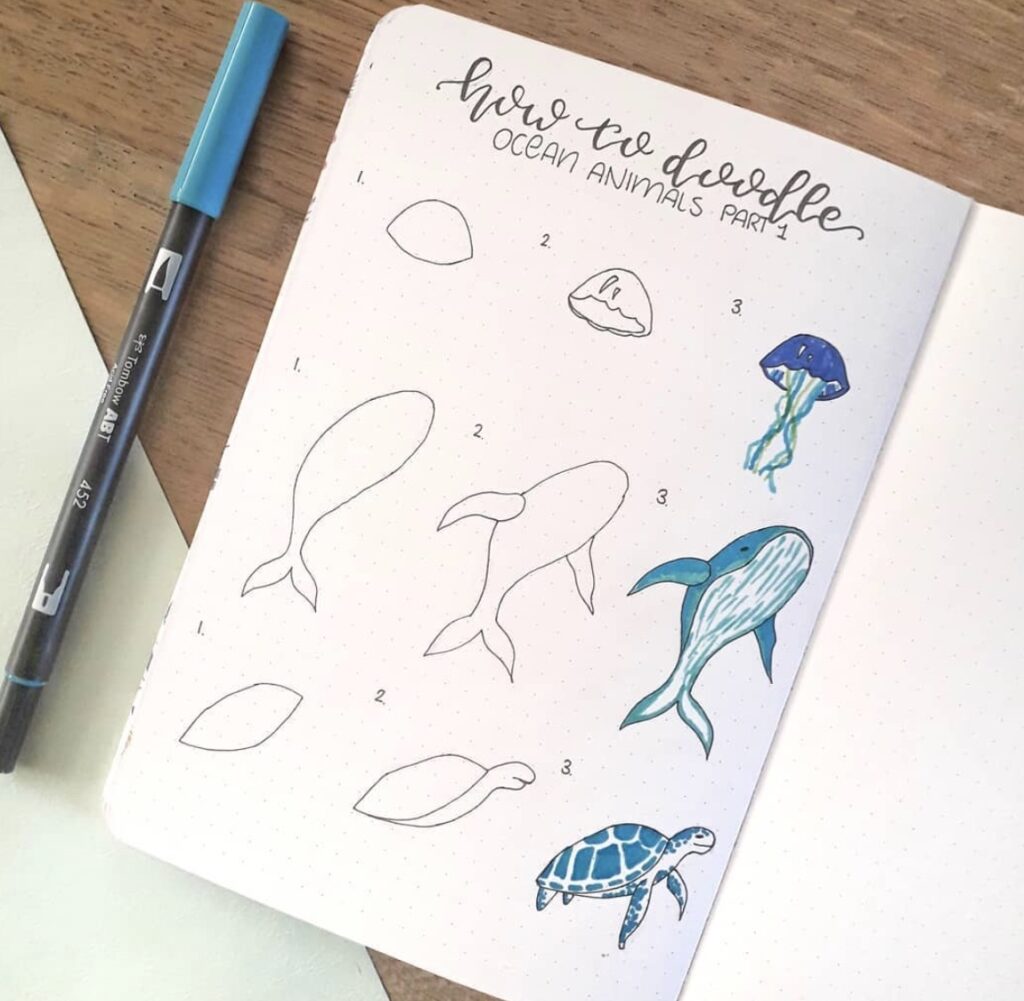 Summer Bullet Journal Doodles
I don't know about you, but a bike just says summer. This step by step tutorial will help you to draw a bike on your spring or summer bujo pages.
Add a set of flowers to the basket and as extra doodles around the page for a beautiful fresh summer spread.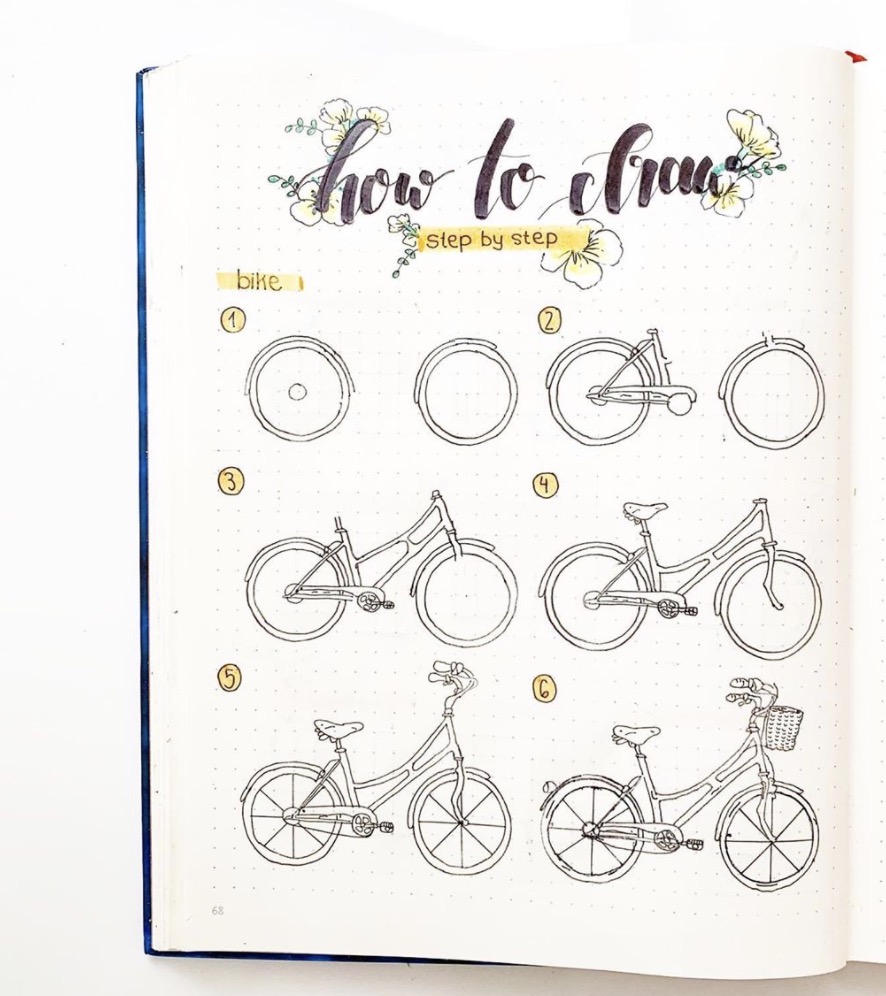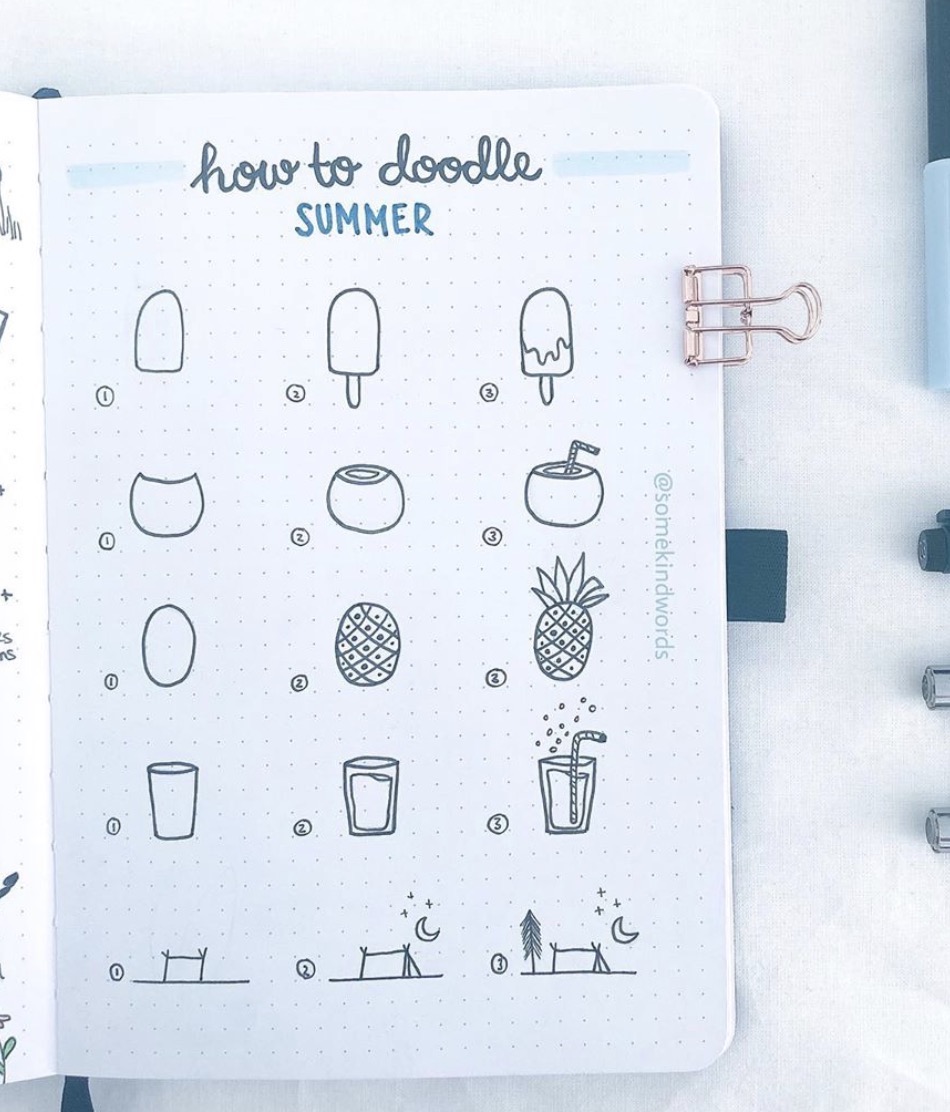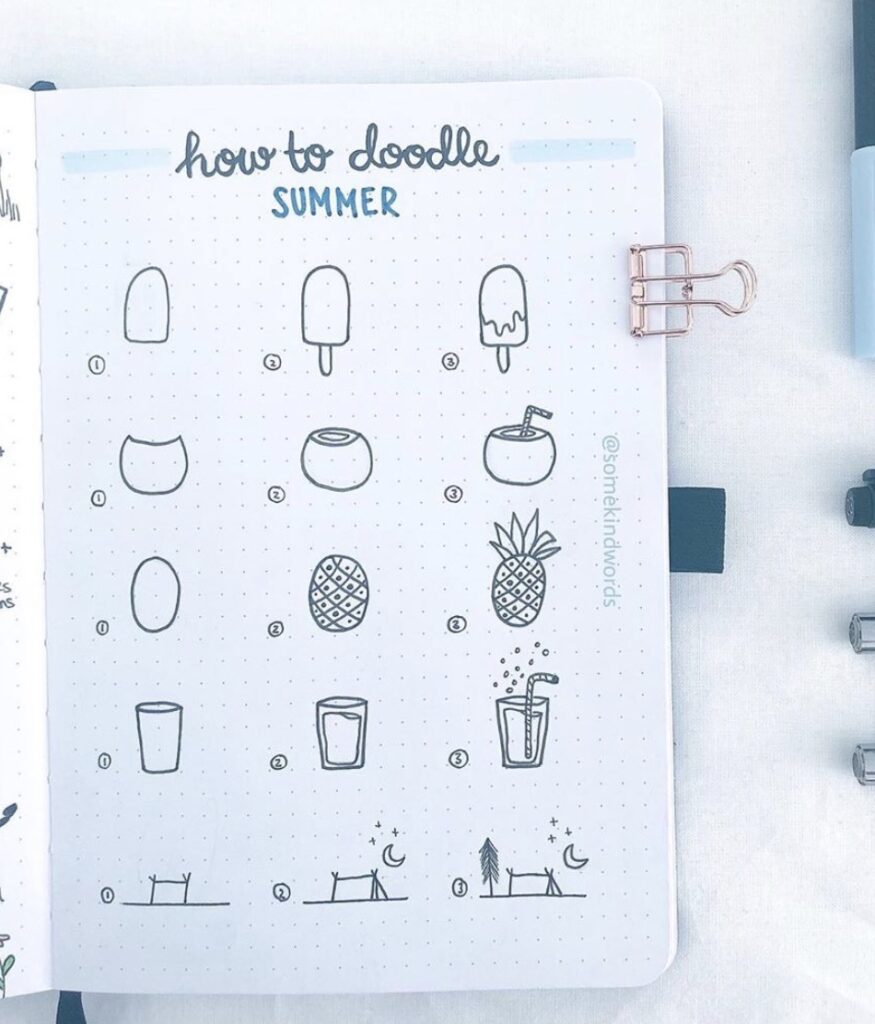 How to Draw Food Step by Step Doodles
This set of food doodles is all about the summer BBQ. Draw out the whole menu or just sketch out your favorite Sunday menu.
It isn't summer (or a picnic BBQ) without bugs. Use the next doodle tutorial to add some of your favorite bugs, in cartoon fashion.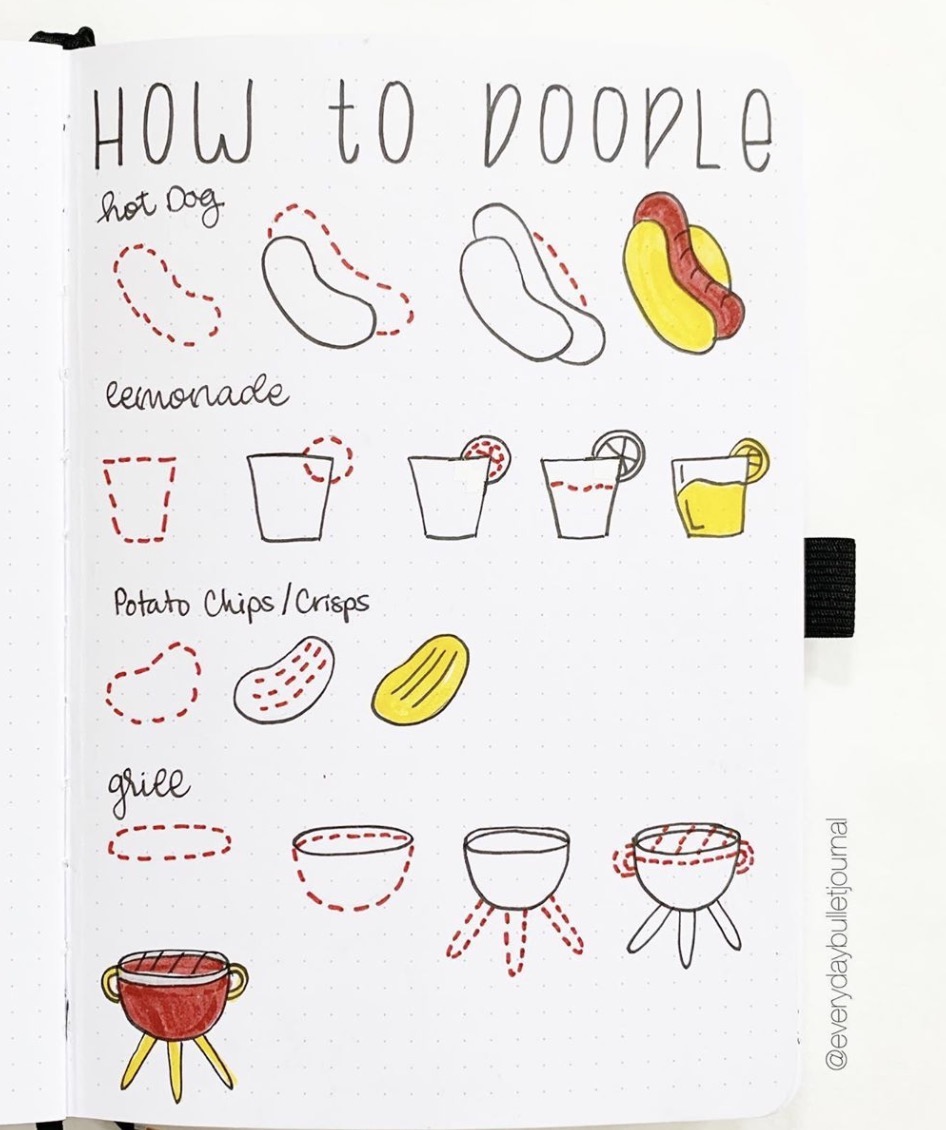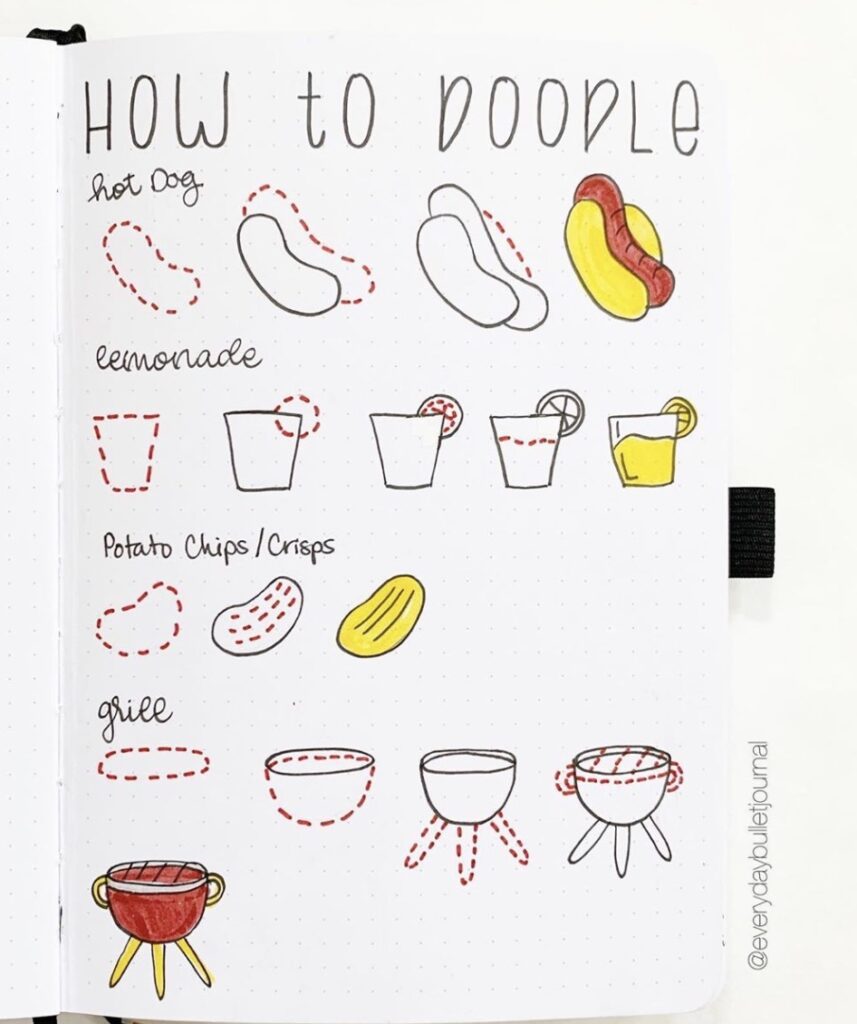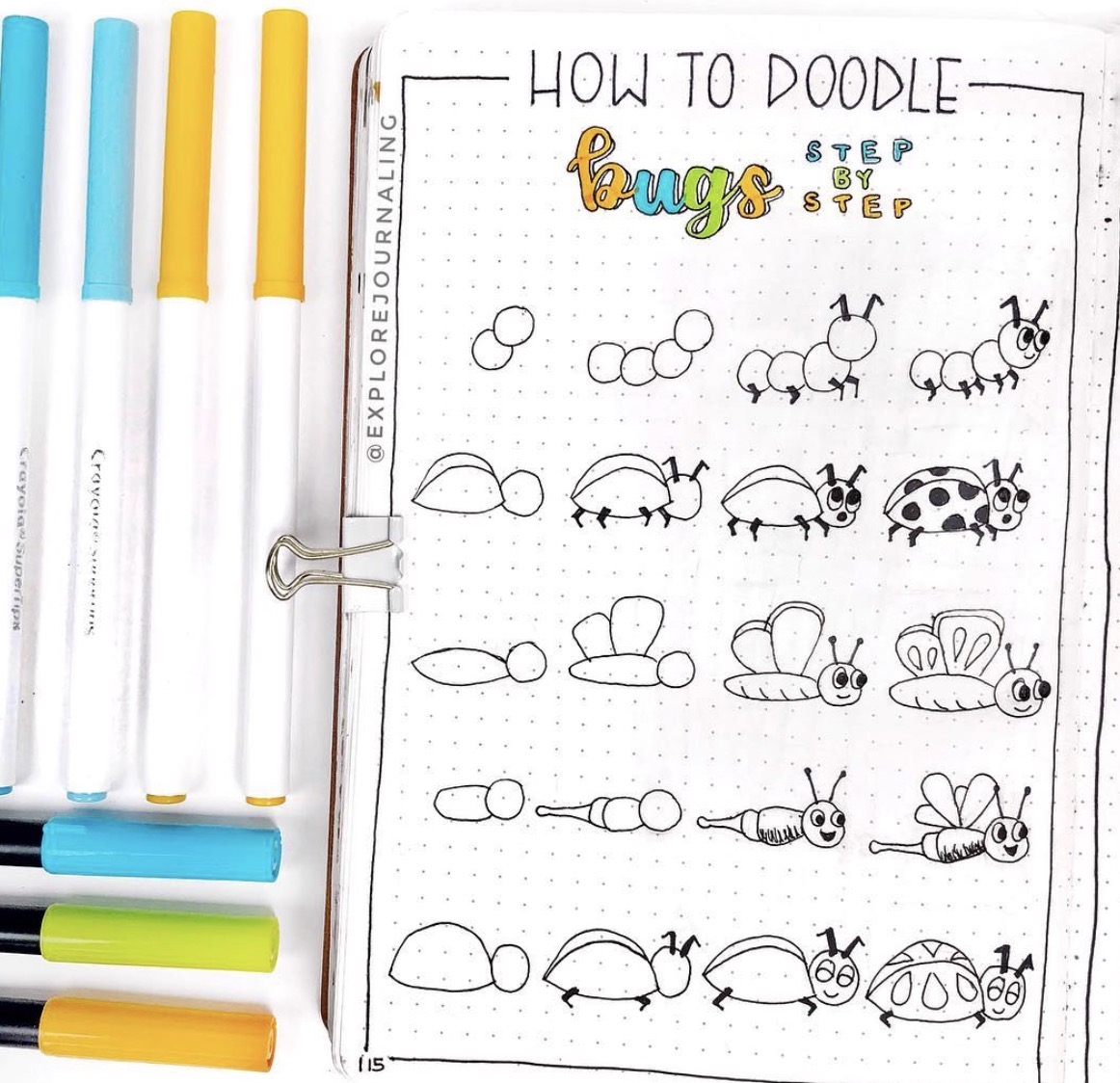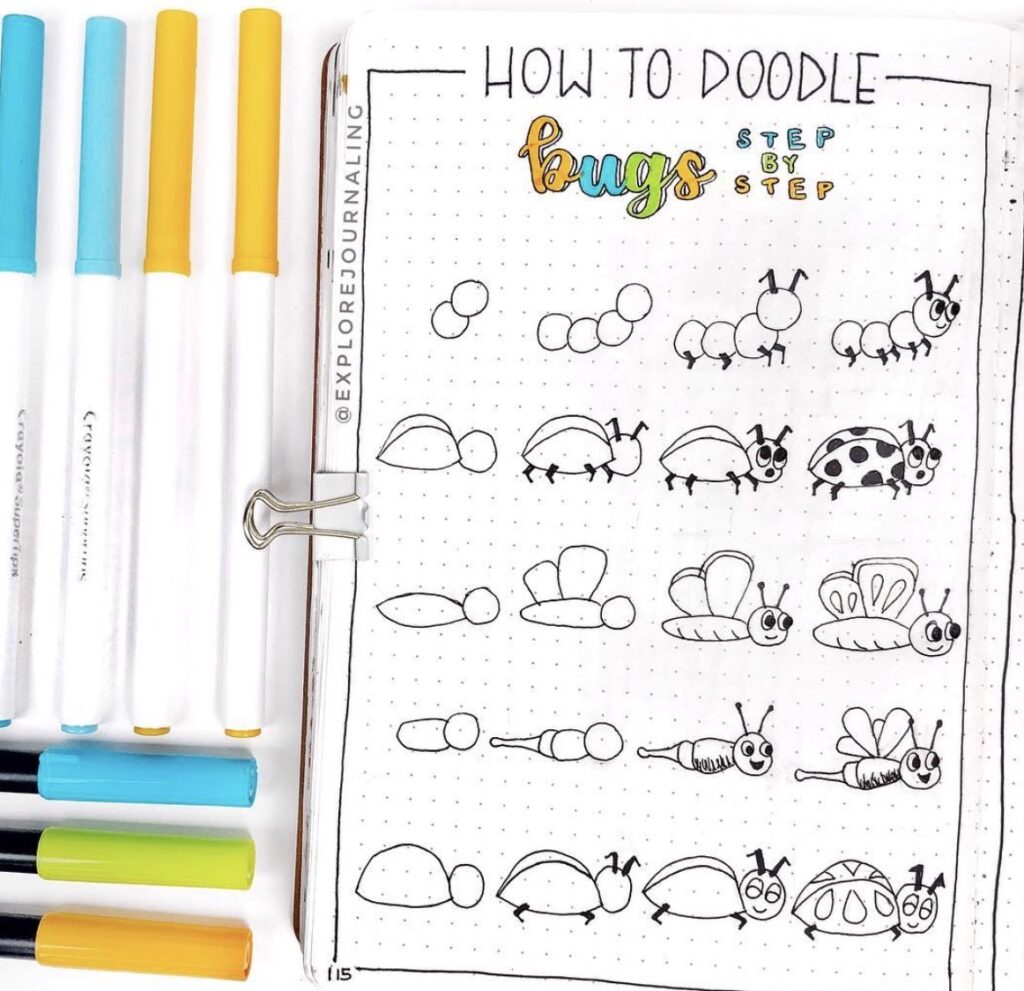 How to Draw a Camera
Step by step doodle draw instructions to draw an instant camera. This is a great doodle idea to add for picture day, Instagram prompts, or family photo day.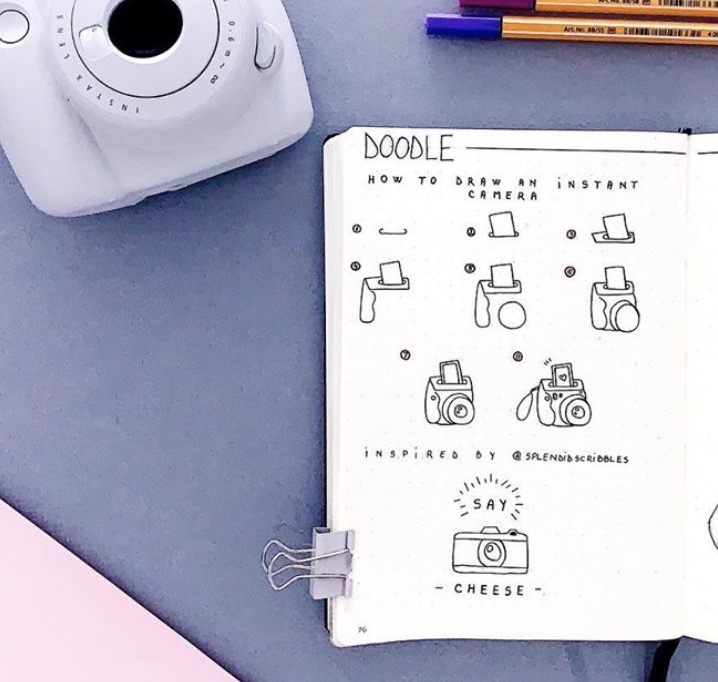 How to Draw Sewing Supplies
I love these sewing doodles. Draw a sewing machine, measuring tape, thread bobbin and buttons on your sewing project spread.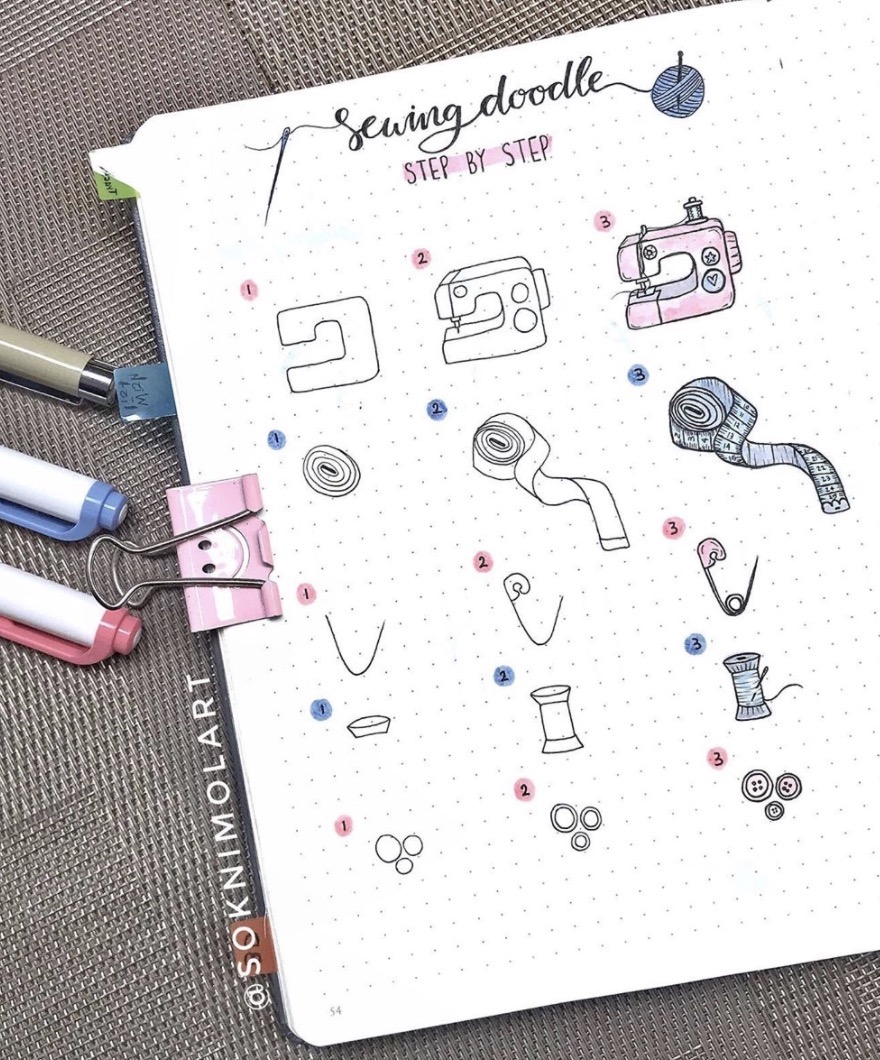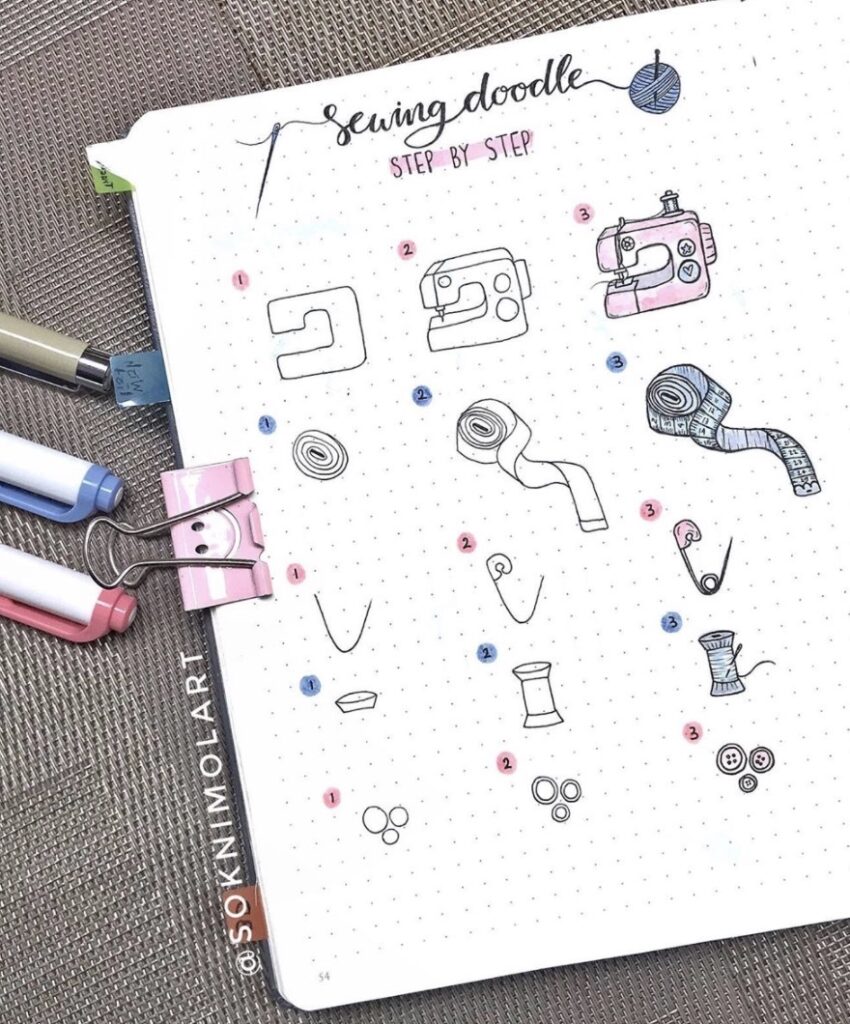 Coffee and Cupcake Snacks
Draw your favorite coffee drink with this step by step doodle tutorial. Add a new symbol to the front or even one of the emotion faces from above.
Add a cupcake snack and you have a perfect combo.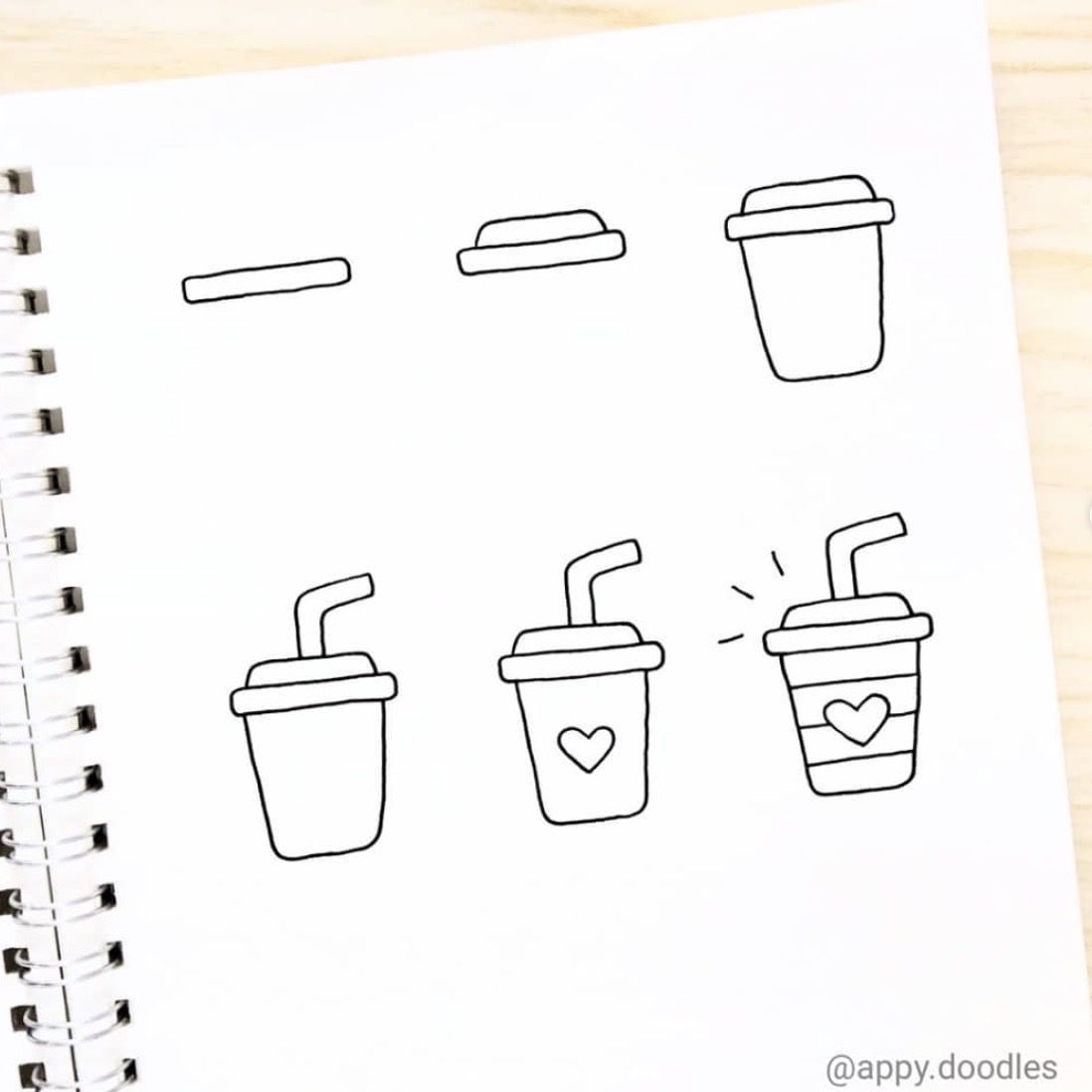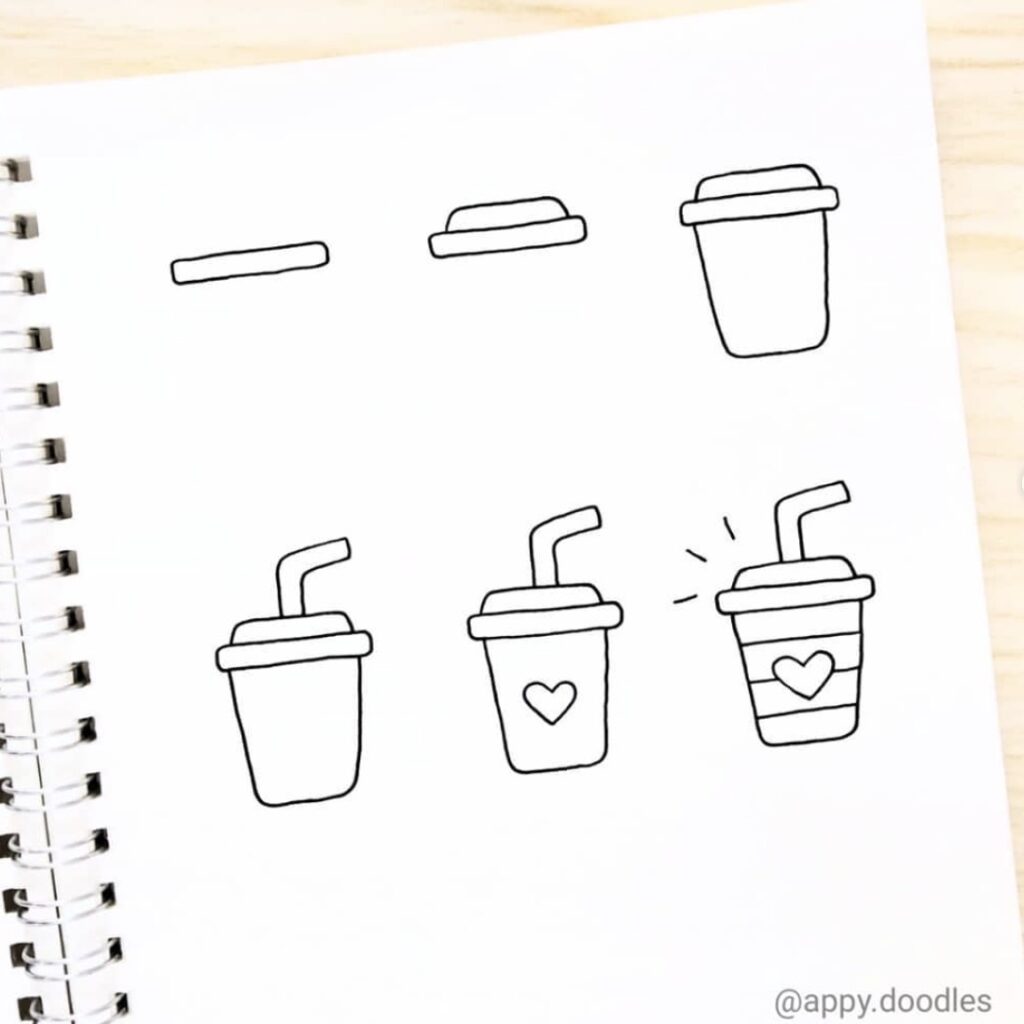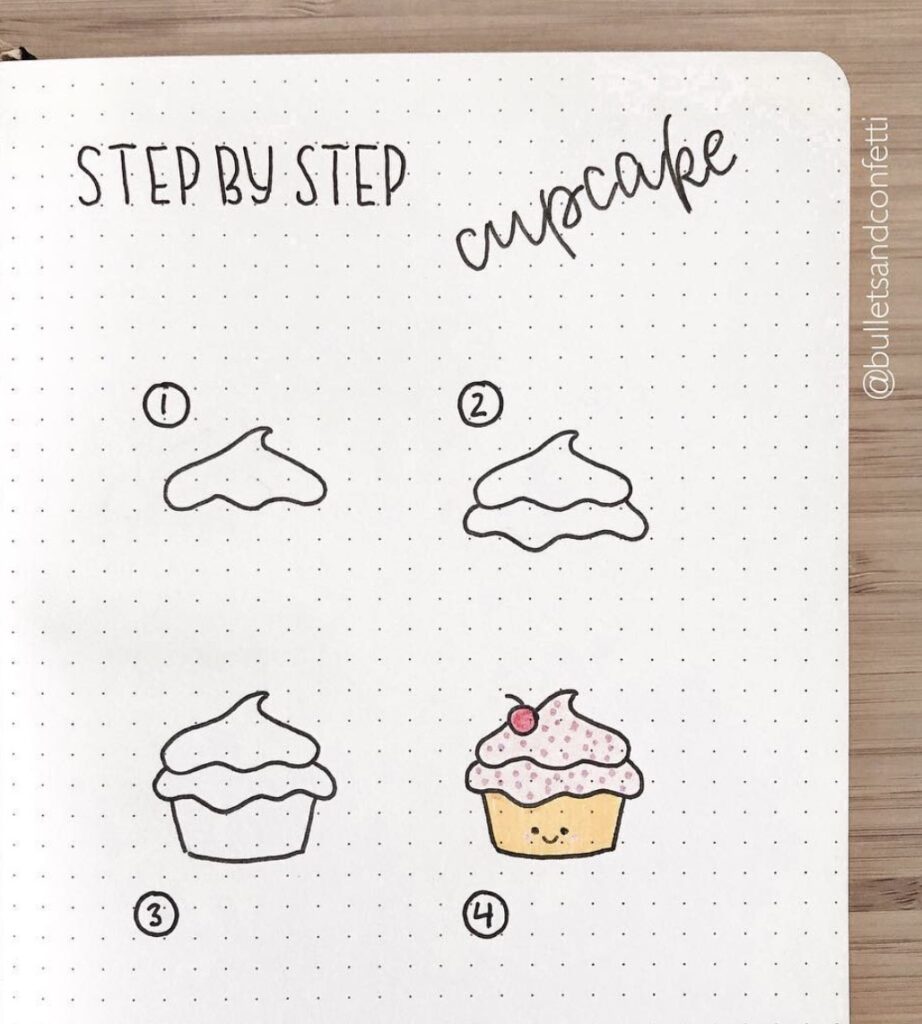 How to Draw a Cat
Start with the simple elements of this pusheen cat and then add details from there.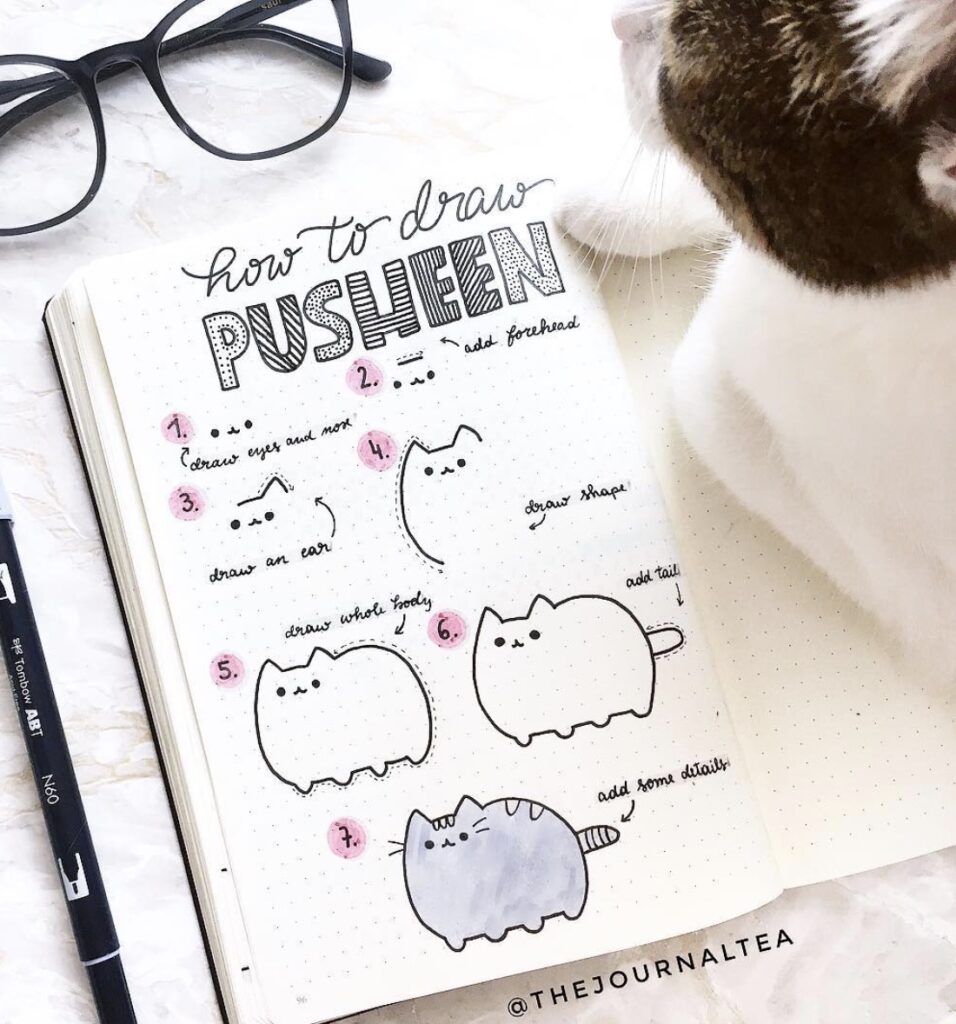 Office and School Supply Doodles
Draw your to-do list, your favorite backpack, or learn how to draw a book in this post.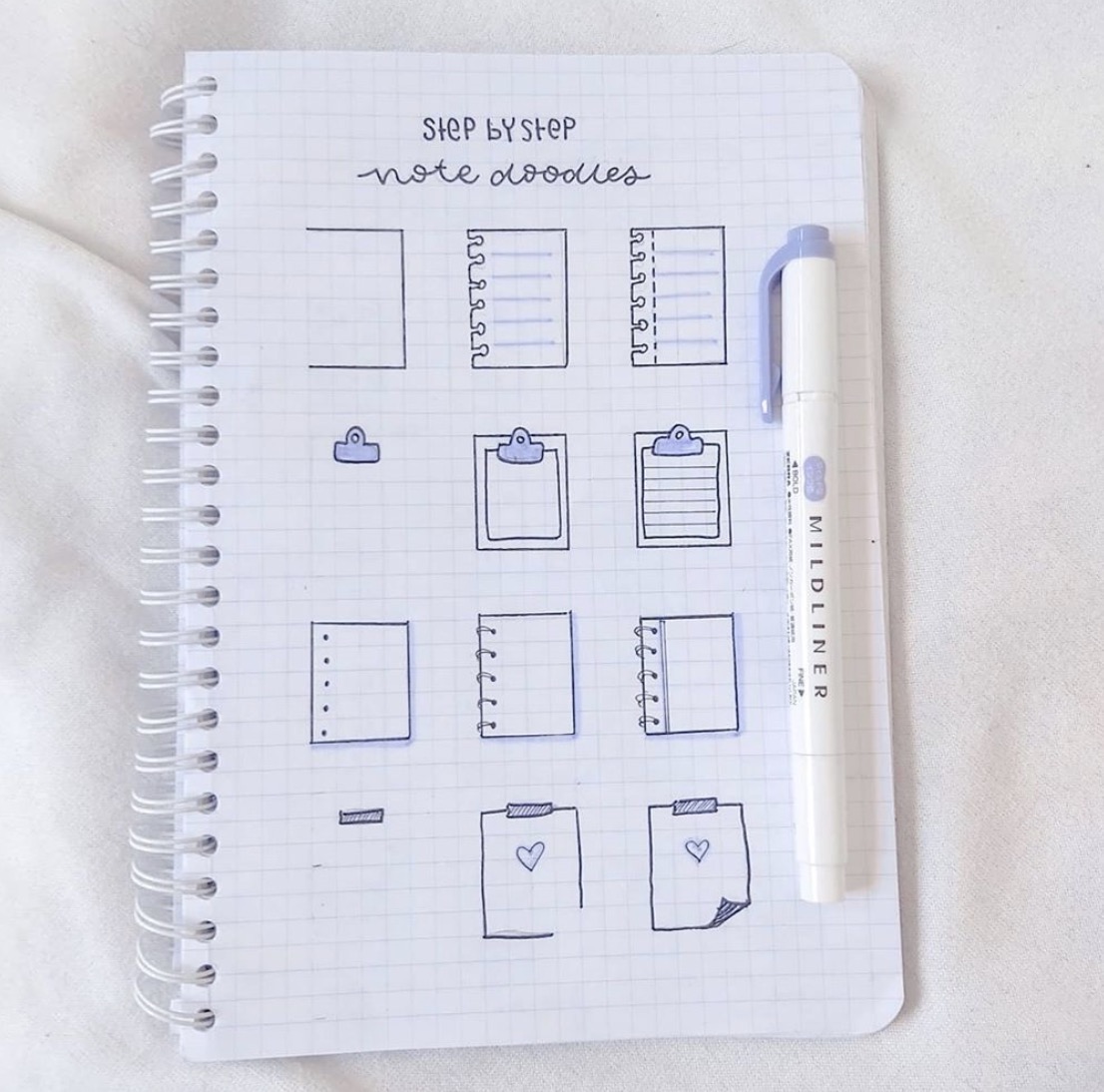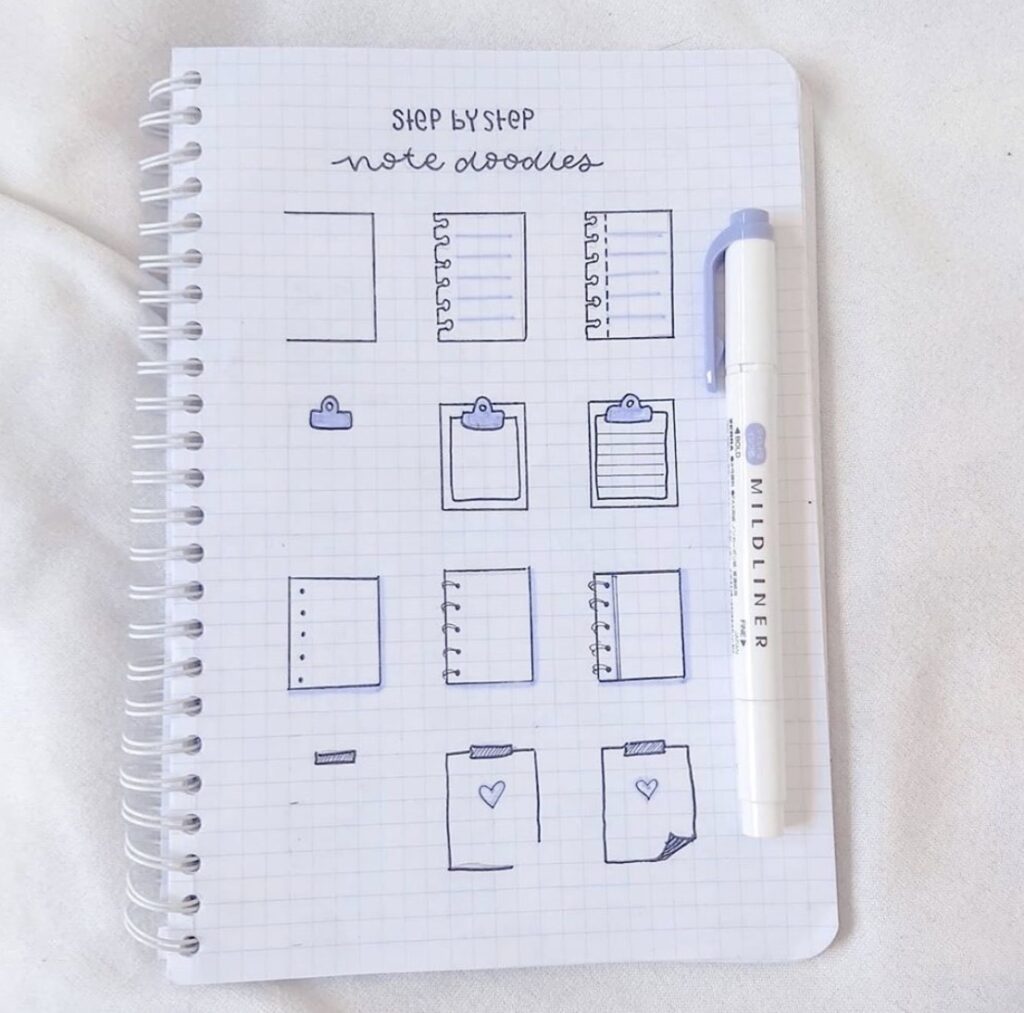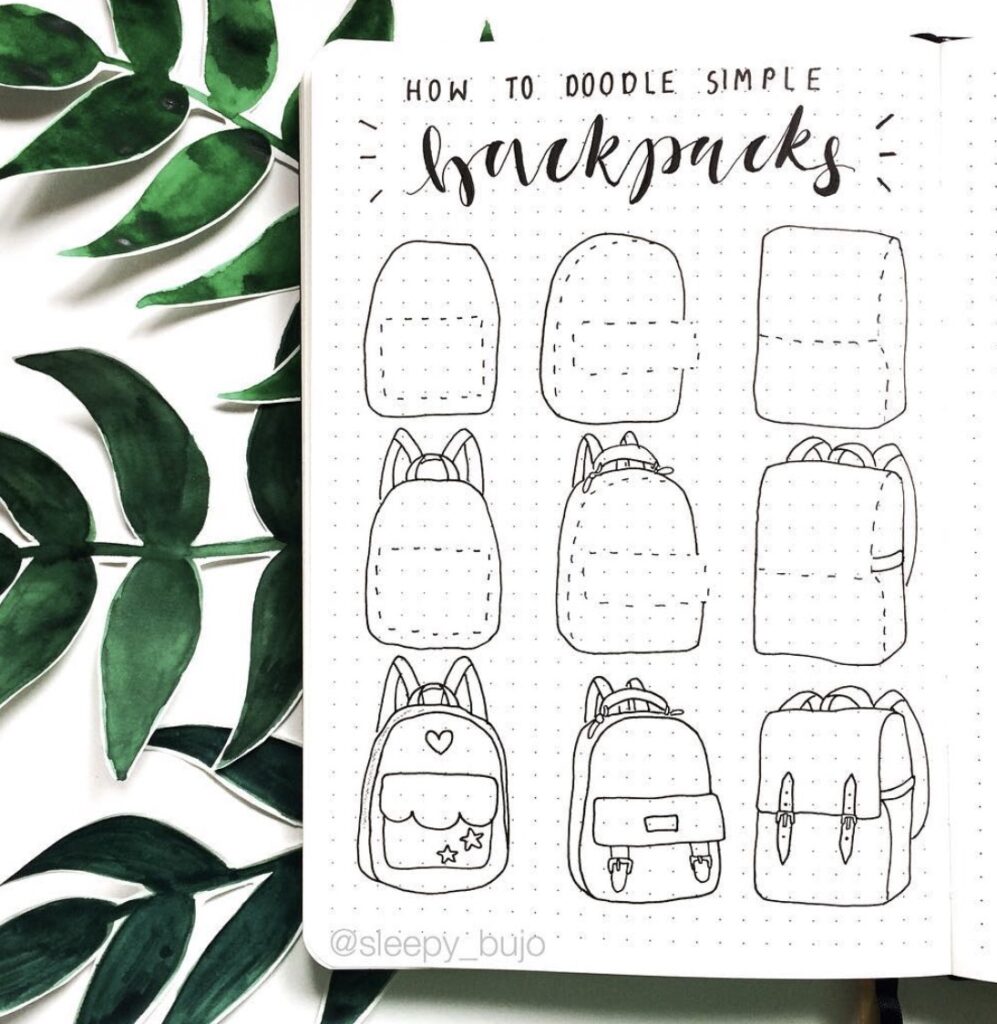 Lightbulbs and Lanterns
Have a great idea? Add a lightbulb moment to your bullet journal notes or schedule.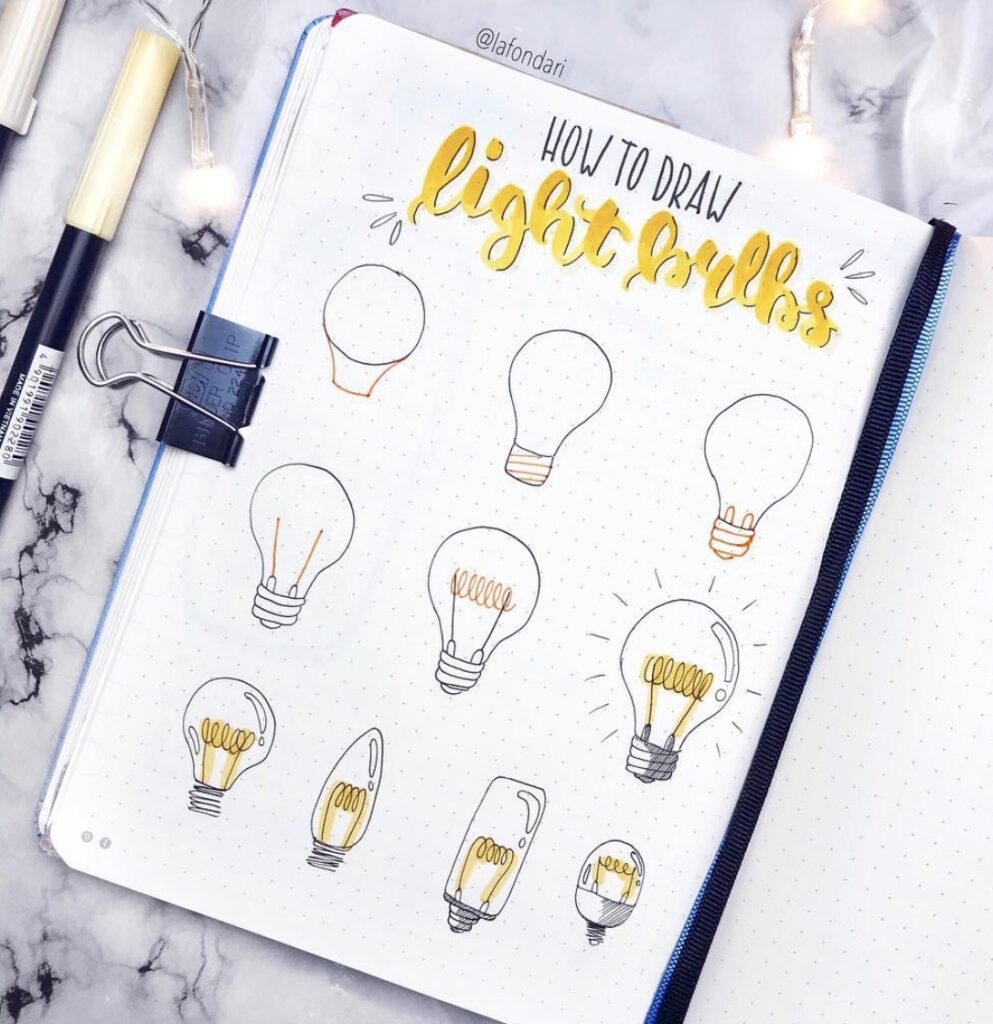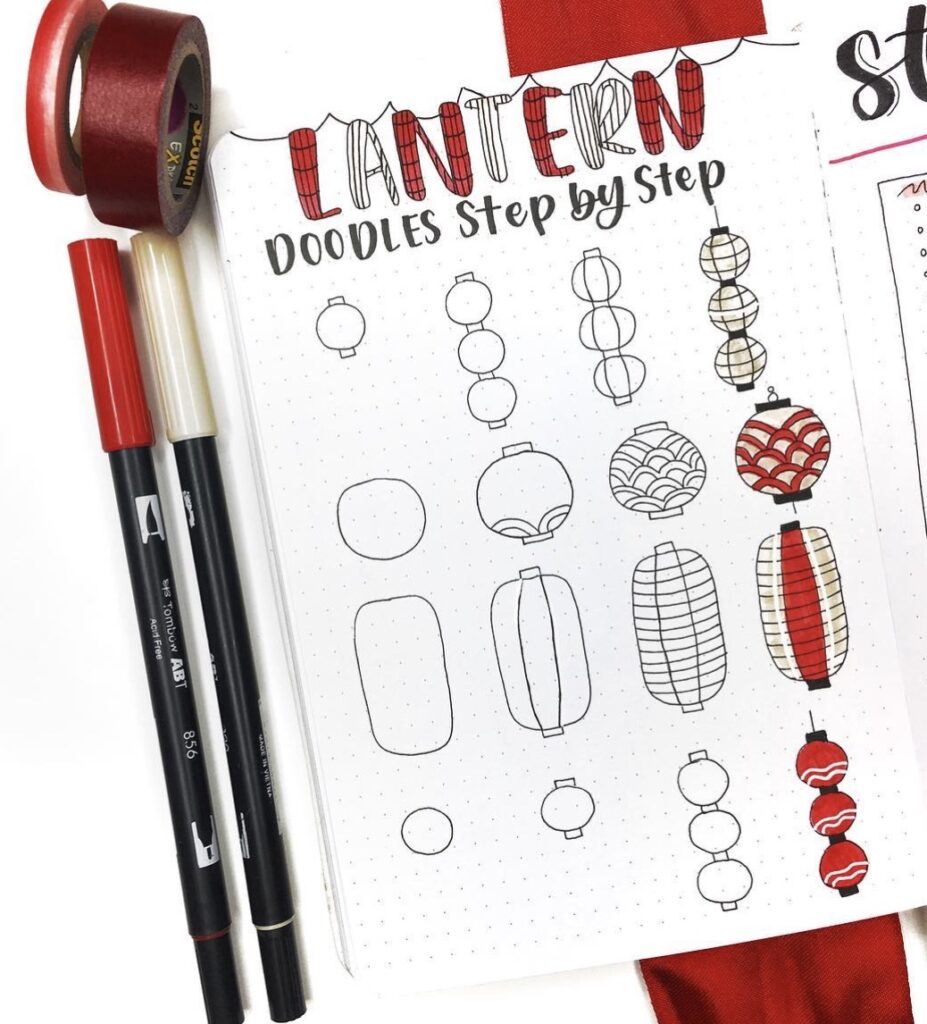 Autumn Doodles
Follow these bullet journal doodles to draw a pumpkin, a fall hat, a sweet fox, leaves, or your favorite fall tea.