We may earn a small commission for purchases made through affiliate links in this post. For more information go to our Privacy Policy.
Digital stamps have been popular for a while now. They started to be "a thing" during the scrapbooking craze of the early 2000's. Then card makers picked up on them and they have been offered online for years now.
I have tried to be a "stamper" in the past. There was a drawer full of acrylic and rubber stamps. Just begging to be used on projects.
Usually, I would use a generic stamp a few times and then forget about it. What usually happened was I would ignore them because I wasn't very good at applying them.
Never enough ink. Or I would wiggle and get a double image. (They didn't have those stamp helper tools when I was attempting to be a stamper!!)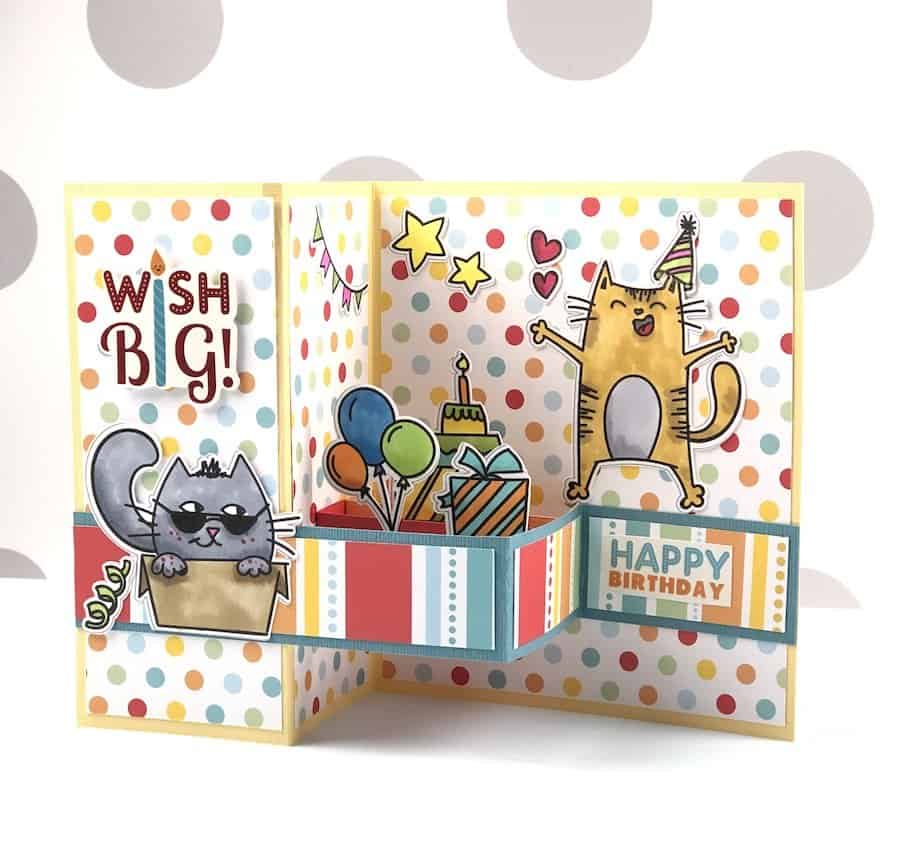 Digital stamps are popular because you can print the image in the size you need (you are not restricted to the set size of a physical stamp). They also turn out perfect. No "stamping chatter" or grey areas where you didn't get enough ink on the stamp.
What Are They?
A digital stamp (also referred to as a digi or digi stamp) are PNG or JPG images that you can download and store on your computer to use in your papercrafts. Some sites and shops offer free images for you to add to your collection. They also offer paid digital stamps that you can use.
Once a digital stamp has been printed out, it can be used just like a rubber or photopolymer stamp. They can be decorated, cut out by hand, colored, and used as design elements in your crafts.
There are a few features about digital stamps that appeal to crafters and stampers more than a physical stamp.
You can resize a digital stamp to any dimension you need (within the range of your printer).
They are stored on your computer or in a cloud-based folder. No need to take up room in you craft area.
Digital images can be flipped or mirrored easily. No stamping tricks needed!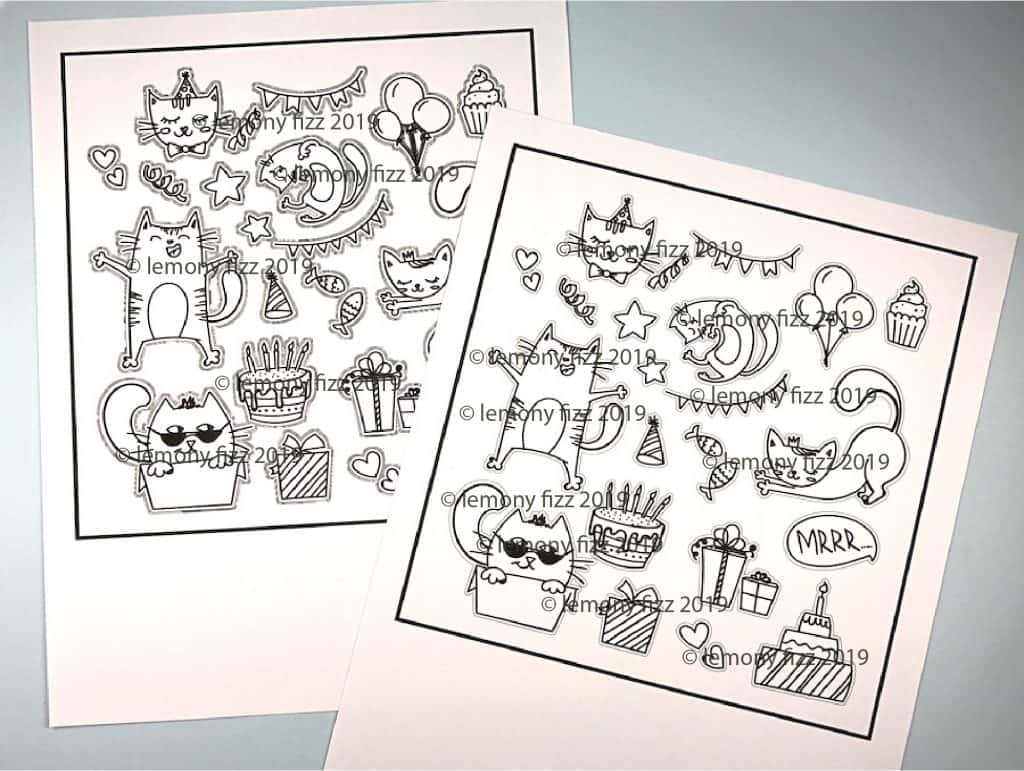 How Are They Used?
Digital stamps are used in the same way that you would use a rubber or photopolymer stamp. They can be added to handmade cards, used as elements on scrapbook layouts, added to gift tags, made into stickers for planners or journals, and turned into coloring activities for kids.
Usually, an image is printed out on a thicker type of cardstock paper. It is then trimmed to the size needed for the chosen craft project and colored using colored pencils, Copic markers, watercolor, or any other coloring medium.
Coloring Digital Stamped Images
This is the best part. Really!
As an adult, I really miss the good ol' days when you could go to King's or your local toy store and pick out a new coloring book and a fresh box of Crayola crayons.
Probably showing my age with that comment. Oh well…
Coloring stamped images is a lot like coloring in your favorite coloring book as a kid. You get totally engrossed in the images you are decorating. Little stories about the characters might play in your head. Or you just zone out and find that quiet happy place inside.
Digital stamps can be colored with any medium you want. Colored pencils and Copic markers are probably the most popular ways to color stamps. Acrylic paint, crayons, markers, pens. Whatever you favorite way to color…you can use it with digital stamps too!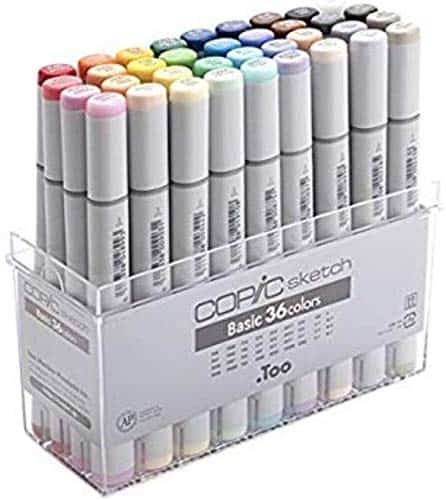 Watercolor can be a little trickier with a printed image because your black ink line might run when it gets wet. There are a few tricks to get past this.
One trick for this is to use a waterproof ink in your printer. If you love watercolor and that will be the medium that you pick most often, then I would invest in waterproof ink.
The other trick would be to heat set your printer ink. If you have an embossing heat gun, you can heat up the paper once the digital stamp is printed and this will help to set the ink into the paper.
Digital stamps can also be colored using a digital coloring software or app. Because they are already in a digital format, you can bring them into the app or program of your choice, color them up and then print them out!
What Do I Need to Use Digital Images?
To use a digital stamp you will need a device that accesses the internet and a printer.
You can use an iPad, your phone, a laptop or a desktop. Some digital files that you download will be zipped or compressed. If they are in this format you will need to be able to unzip or extract the images from the file. There are apps available for phones and tablets that make this super simple.
Digital stamps can be stored in your downloaded files on your computer or in a cloud-based folder like DropBox or Google Drive.
Once you open up a digital file, you will want to be able to manipulate it and change it to fit your needs. This might be resizing it. Mirroring or flipping it. Or you may need to cover up part of the stamp so it doesn't print.
Any basic photo editing software or word document program will work for the basic things you will need to manipulate and adjust.
Can You Use Them with a Cricut?
Cricut offers a feature called Print then Cut. The Design Space software lets you upload a PNG or JPG file and you can adjust the background and some parts of a design.
After cleaning up or adjusting the image, you can tell the Cricut to print the design (it send the image to your printer) and then cut out parts of the design.
Most digital stamps that you purchase will need a little "clean up" done to them before you can have them cut. You will have to erase parts of the background so the machine can "read" where to cut.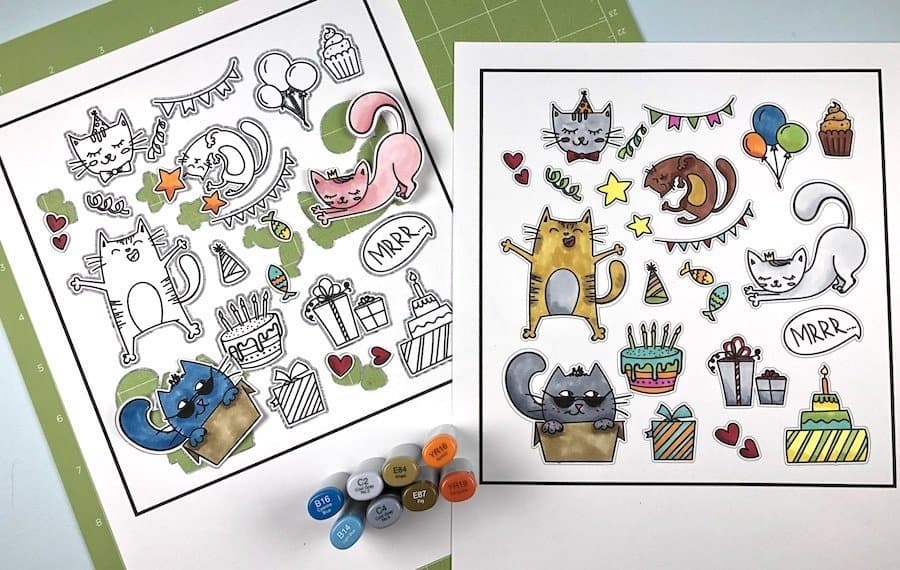 There are some digital stamps that are made specifically for a Cricut. They are quick and easy to upload with little to no touchups needed.
They are already sized or they only need a few minor tweaks to be "just right" and the cut lines are easy for the machine to read. This makes working with digital stamps MUCH easier. Especially if you don't have the time to be fussy cutting all those little pieces.
Photopolymer stamps and the metal die cuts that go with them are adorable! But they are so darn expensive. If you already have a Cricut, it is really hard to justify the cost of another tool (to cut with the metal dies) and the cost of the dies themselves.
Another benefit of using digital stamps that are designed specifically for the Cricut. This saves a ton of money. All of those photopolymer stamps and metal dies can add up FAST.
Special Effects
One of the drawbacks of using a digital stamp is that you can't put them on paper with special inks. This makes it harder to heat emboss a stamp design to get those fun metallic special effects. Or you can't make the ink sticky and add different colored embossing powders.
If you have an embossing pen, you can trace parts of the image and still add some pizazz and flair to your designs.
Not to mention all the glitter and decorative vinyl that you could cut and use on your design as well.
Limitations
Unlike traditional stamps, a digital stamp can only be placed on a surface or material that can be run through a printer.
This will limit some crafters. However, if you are primarily a paper crafter, you will be able to find a workaround for most crafting situations and projects.
It is part of being crafty. Your brain will always be looking for a way to be creative and to solve a problem. That is part of being a crafty creative person, right?!
Psst. The other thing to think about if you own a Cricut Maker is all those new blades they have come out with. You can find a way to emboss or deboss an image onto leather, thicker cardboard, balsa wood, and more. Where there is a crafty will…
Stamps and Copyright
Copyright is something you should always be aware of. Digital stamps are just like physical stamps. They are the property of the person who created them.
Most terms of use or angel policies for digital stamps will be similar to physical stamps. They may allow limited commercial use. Digital stamps should never be shared with friends or with people in a group on Facebook.
Someone spent a lot of time making that digital stamp, formating it to work with technology, and then offering it for others to use online. Respect their rights as an artist and follow their terms of use. If a friend really loves a stamp design or what you have made with a digital stamp, give them the link so they can purchase their own copy!