19 of the Best Bullet Journal Banner Ideas for Your 2023 Doodles
We may earn a small commission for purchases made through affiliate links in this post. For more information go to our Privacy Policy.
A bullet journal banner can dress up a heading, title or date, with just a few simple lines. They don't need to be over complicated, shaded, and perfectly measured out (unless of course that fits your style).
How to Use Banners in Your Bullet Journal
When I am doodling in my bullet journal or planning out my weekly spread, I like to add a banner or two around my main titles and headers (be inspired with these header ideas).
Banners on your bullet journal or planner page are a great way to bring focus to an idea or reminder. They help to fill some of the empty spaces, and they just look great on a page full of notes and doodles.
Simple, Yet Colorful
These banners are fun because they are simple boxes for the most part. With a bit of coloring to add depth. You could make them rainbow, themed colors, or stick to the monochromatic scheme.
There are enough banner ideas on this page to keep you busy for awhile. And to make your bujo pages cute!
Header and Banner Ideas
This set of examples is fun because not only do you learn how to draw a banner, you also learn where to place the text.
I have a thing for all caps when printing so these appeal to me even more with the "text" examples.
Banners with the Grid
Not sure how to use the bullet journal grid? This collection of banners will give you an idea of how to use the grid to help you space and design your banners.
Added homework bonus points for adding the texture lines, stitch lines, and shading. Try it with colored pens for more depth and details.
Journal Banners with Mildliners
These banner ideas were created with Mildliner colored pens (one of the top rated bujo pens).
Your banners don't have to be overly complicated to be beautiful. Pick a color pallet for your page and start decorating.
How to Draw a Banner
Now that you have a few ideas about which banners you like, you might want to look at the mechanics of drawing a banner.
Using this simple banner tutorial will help you to draw a banner without the fuss and frustration.
Follow the steps and you will have a flowing banner in no time. Add your header to the center. Perfect.
A Floral Banner
Now that you have the basics of how to draw a banner down, it is time to add some stylish details.
This banner has sweet and simple floral designs that make the whole thing look really complicated. But it really isn't. Break it down into pieces. Draw the simple floral elements and you will have a stunning banner for your titles.
Simple Banners
The following set of banners are really just simple shapes that overlap to give the illusion of something layered.
The idea is to use these shapes as your base and then take off from there. Add more details. Draw your favorite geo designs or floral elements on the edges. Color them in your favorite shades. Add dates or titles and enjoy.
Colorful Banners and Cartoon Styles
These are probably my favorite types of banners. I'm a sucker for color. And also a good cartoon doodle or comic style design.
Banners with a touch of "movement" from the expression lines out the side are fun when you want some added emphasis on your title or main idea.
All the different colors can be used to set the mood. Sometimes it just takes a touch to finish off the design and make it pop.
Dividers as Banners
A banner does not need to be a box or a waving flag. It can also just be a divider that provides separation between your header (title) and the content below it.
These simple straight line doodles also work as banners or dividers.
You can add elements to them to create a theme. In these examples they are floral and hearts.
Add pumpkins and leaves to make a fall banner. Or holly and ornaments for Christmas. You can really personalize these and make them work for you and your themes or styles.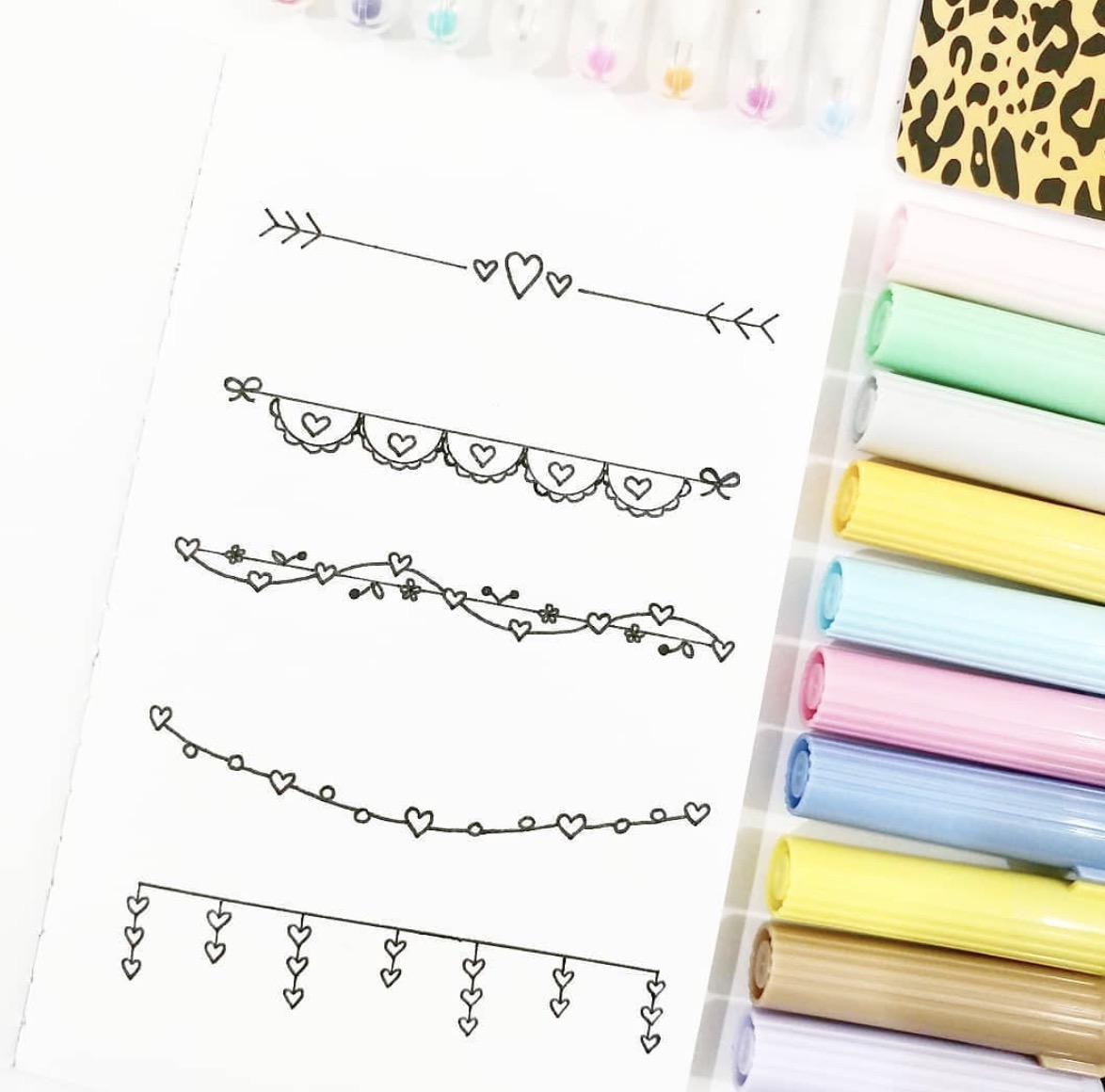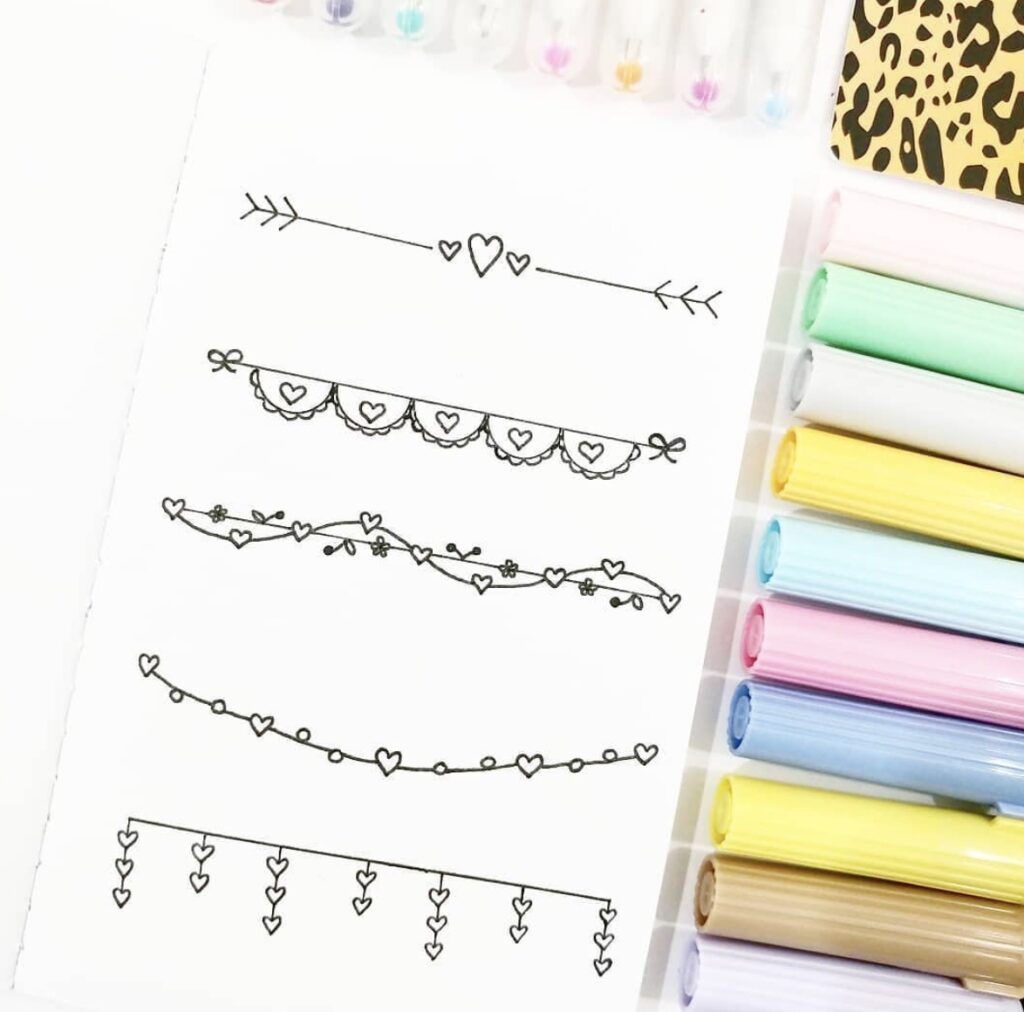 Banner Ideas
I hope this list inspired you and gave you some great banner ideas. Remember, it is about practicing and actually putting what you learn to use.
Go get your planner or journal and start doodling your banner ideas. Color them up. Shade them. Add headers. Keep trying until you develop your own style and the banners that you love the most.
Ready to learn how to doodle more? Check out these easy tutorials to learn how to draw a book. Or these step-by-step doodles.