We may earn a small commission for purchases made through affiliate links in this post. For more information go to our Privacy Policy.
You want the best markers for coloring in your planner when you are doodling, highlighting, or making eye-catching word art. Colors need to be vibrant and you don't want the pigment to bleed through the page.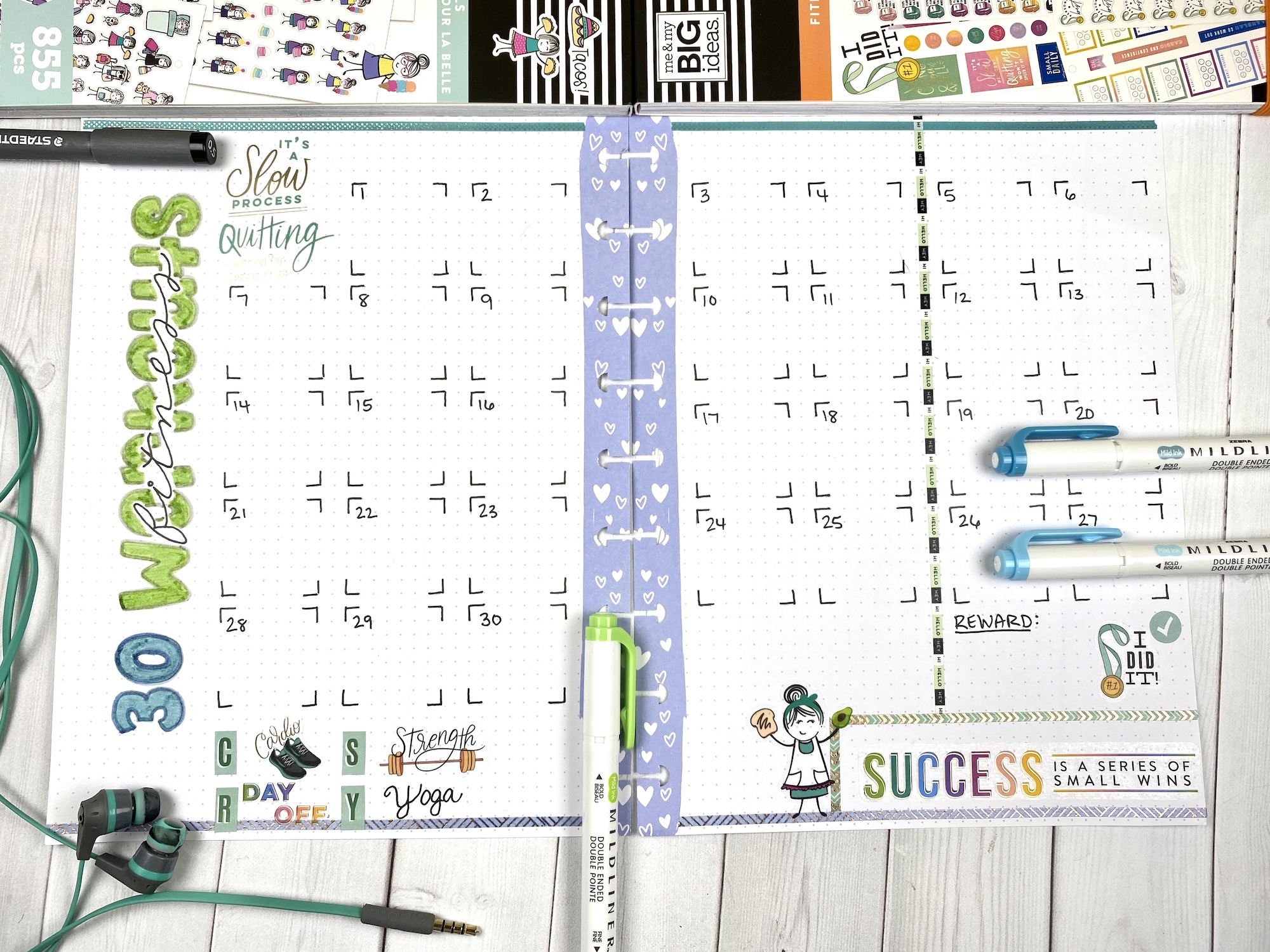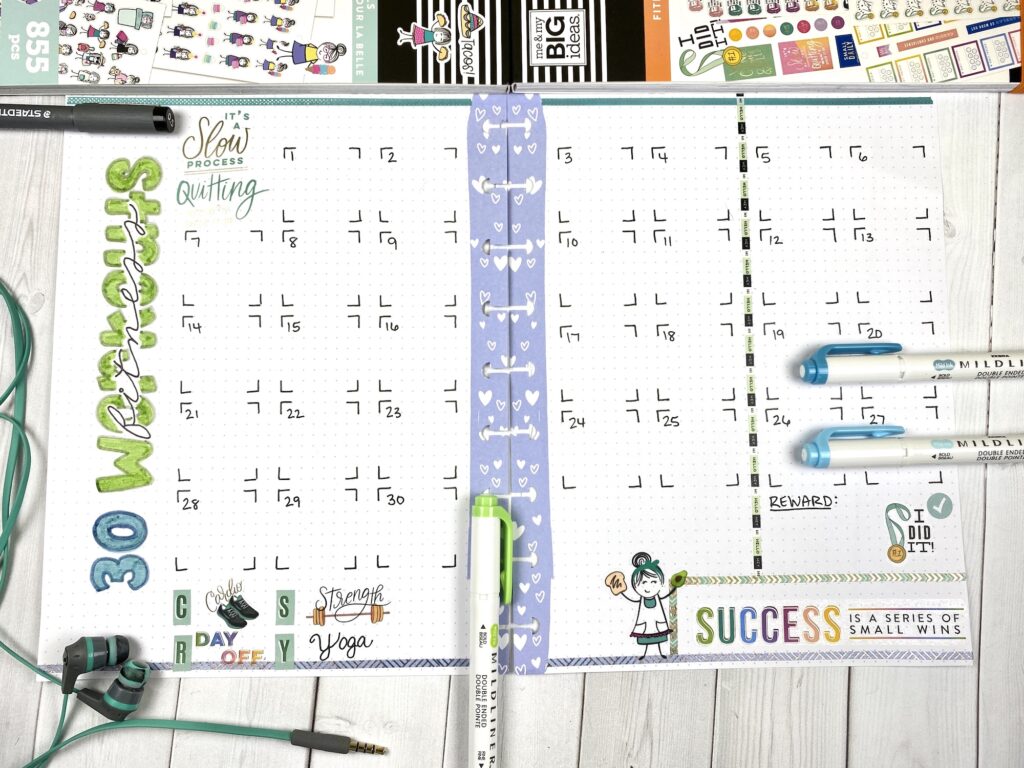 NOTE: the quality of Happy Planner paper has been discussed frequently in Facebook Groups lately. Always, always test your markers on a piece of scratch paper from your planner before you just jump to it.
Choosing the best markers for coloring
The best markers for coloring in a planner have different types of nibs (or tips). There are brush tips that are used for bigger spaces and more coverage.
There are also fine point tips. These are used for more detailed work, fine lines, and writing. Some marker sets include replaceable nibs for long-term use as well as refillable ink options.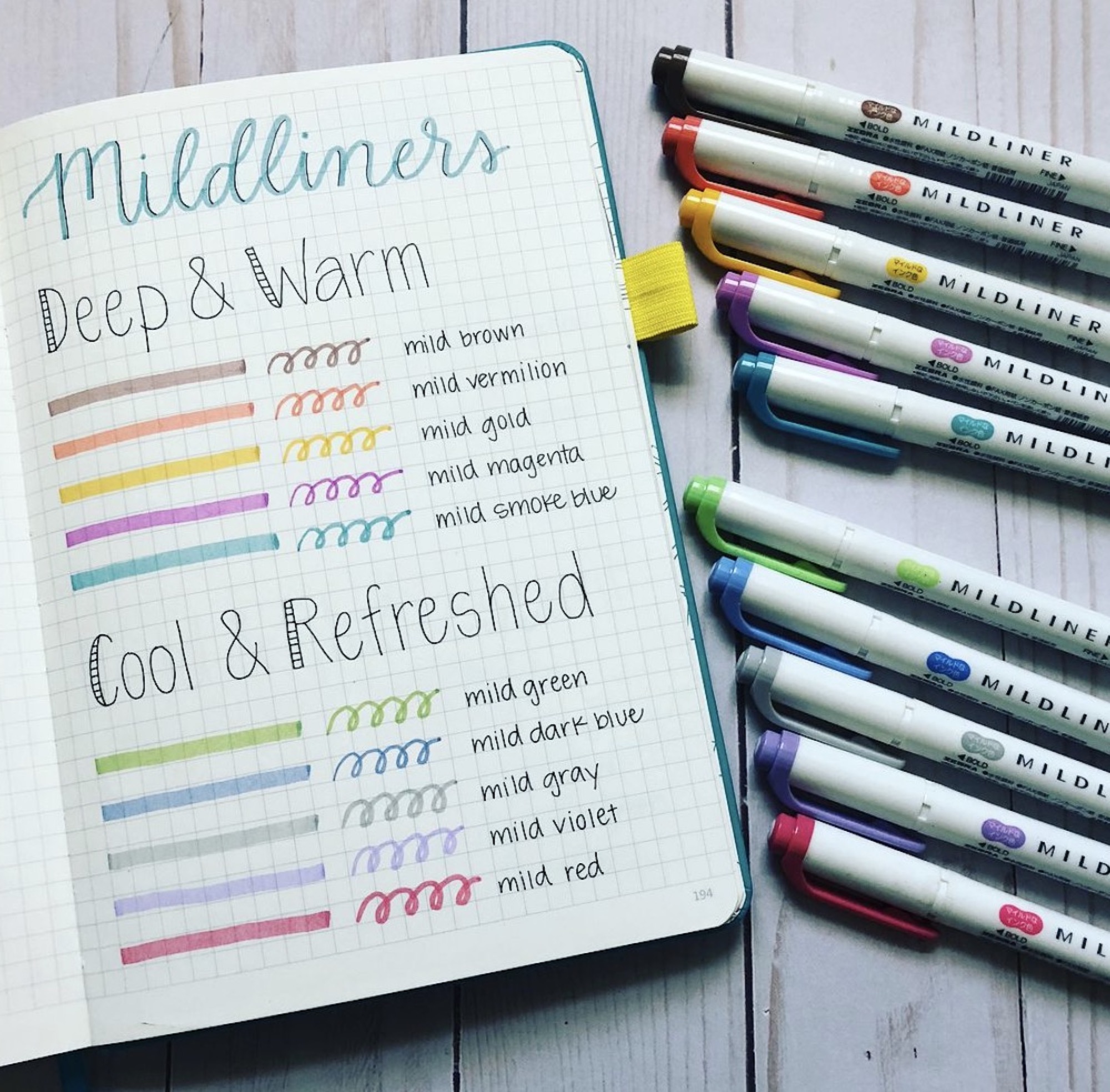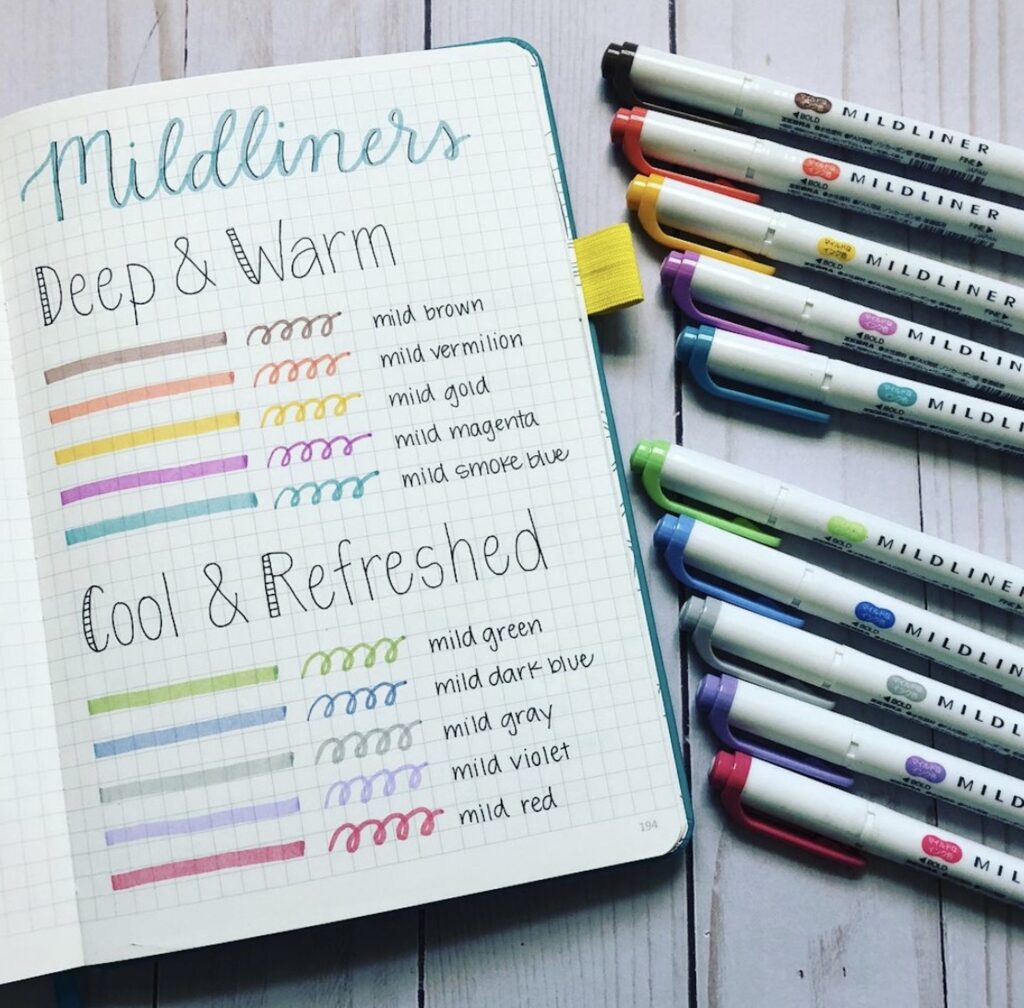 Choose markers that fit your hand comfortably. If you don't like the way a marker feels in your hand, you will be less inclined to use it.
Some points to consider when you are choosing the best markers and pens for coloring:
Color selection – I start with this one, because it is all about the colors. You need to choose a set of colors that you will actually use. Don't choose a huge set of 150 because you think more is better, but you will only end up using about 20 of them. Choose a set because you know you will use the majority of the colors included. Buy a set that has all the shades and hues you need, and not too many of ones you may never use.
Pigment base – Water-based markers are very easy to use and are more affordable. They also ruin thin paper if not used properly. Think about all those times you colored with a Crayola and it made the paper pull and wad up. Alcohol-based markers are a little more expensive. However, they create vivid, bright, amazing colors. They dry very quickly and blend beautifully if you are planning to be more artistic with your coloring. They do have a strong odor depending on the brand. I personally love the smell of a Copic marker. If you are sensitive to this, you will want to test a few brands to find the one you can tolerate.
Color vibrancy –High-quality markers dispense solid colors without washed-out or faded streaking. You want an even pigment flow that produces consistent coverage and quality color.
Ink and tip quality –Fine tips are great for detailing, while brush tips are for shading large areas. Some markers are dual-tipped, which means they have a fine tip on one end and a larger brush tip or wedge tip on the other. This is great for flexibility and offers two sets of markers in one. You want to look for a type of tip that doesn't get frayed quickly. Some marker brands offer tip replacements. This is a great option for sustainability.

The best ink type is the kind that comes out of the nib consistently, vibrantly, and not streaky. The choice between alcohol and water is personal. Choose a marker that works with your paper of choice and that you can refill if possible. Similar to changeable nibs, this saves money and is more sustainable. Markers shouldn't dry out easily even when uncovered. Look for sets that offer this as a feature or that guarantee their markers.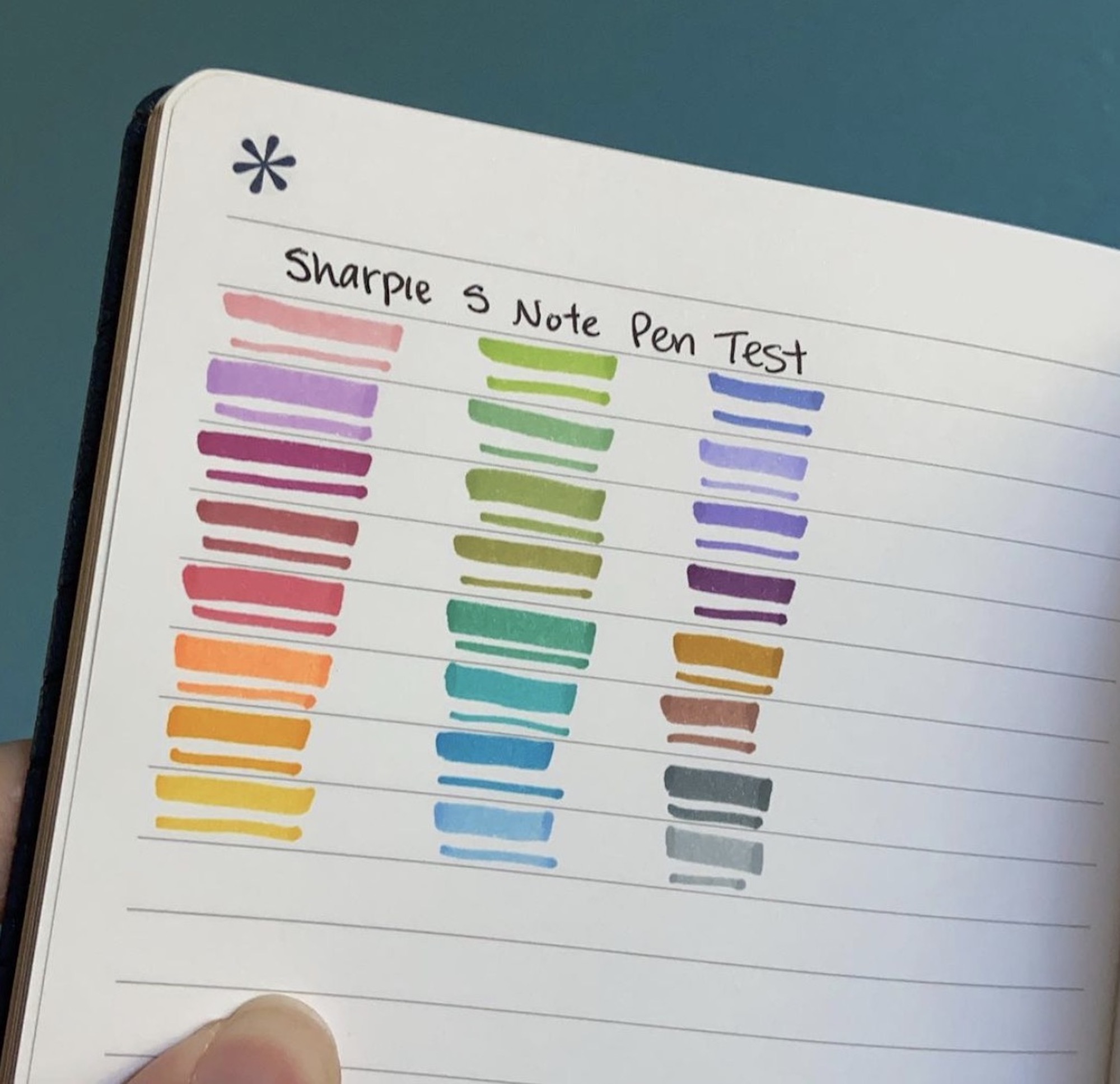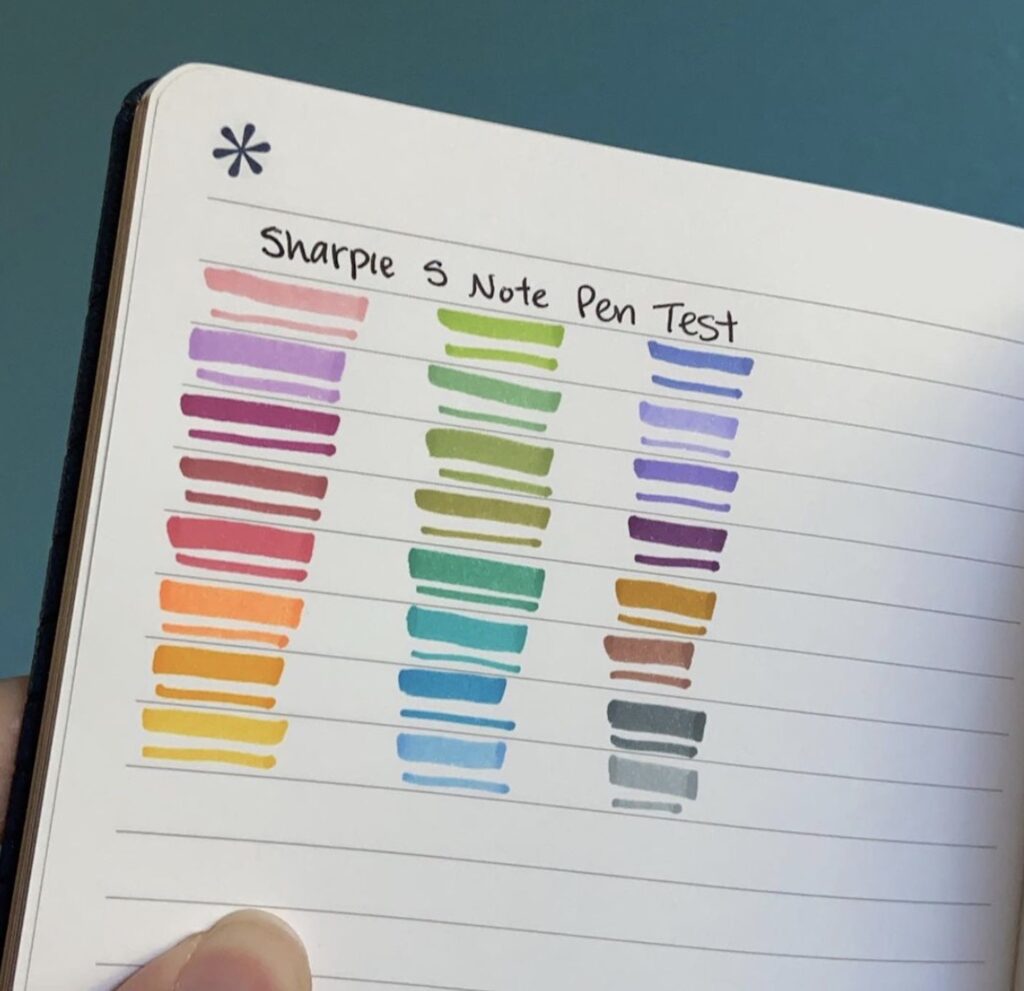 Bleeding – This is the most common problem when using markers. Even with single-sided doodles on thicker paper (which most planners do NOT have), some markers still bleed through. Test your markers on your planner pages before you start using them all over the page. Most alcohol markers are meant to "bleed" into the paper to make blending easier. They will almost always soak through to the other side of your page.
Blending – Not all markers blend easily, no matter the pigment base. If you're like the idea of shading and using gradients in your coloring, look for markers that are specifically designed to achieve that style. If you know that you will be coloring images to add to your planner pages, you can color them on thicker paper and then cut them out to make your own design elements in your planner.
Barrel shape –pick a marker shape that you can grip comfortably and use for extended periods of time. Thicker markers with triangular stems are more ergonomic, but if you don't like the way they feel, that doesn't mean you need to buy them. Choose a marker that feels good to you so that you will actually pick it up and use it. If you have been coloring for an extended period of time, take a break. Wiggle your fingers and wrists. Shake them out and then you can start again.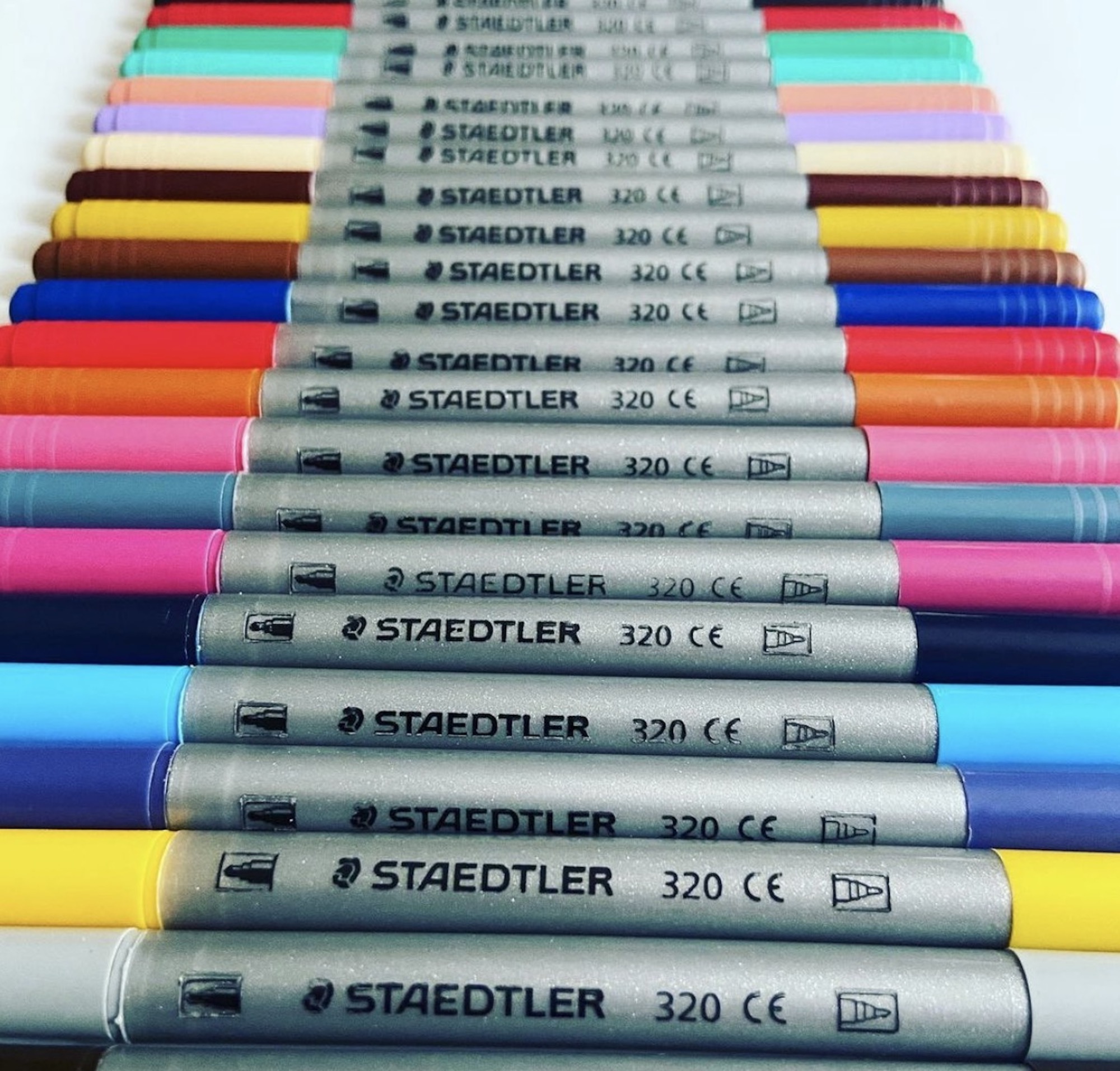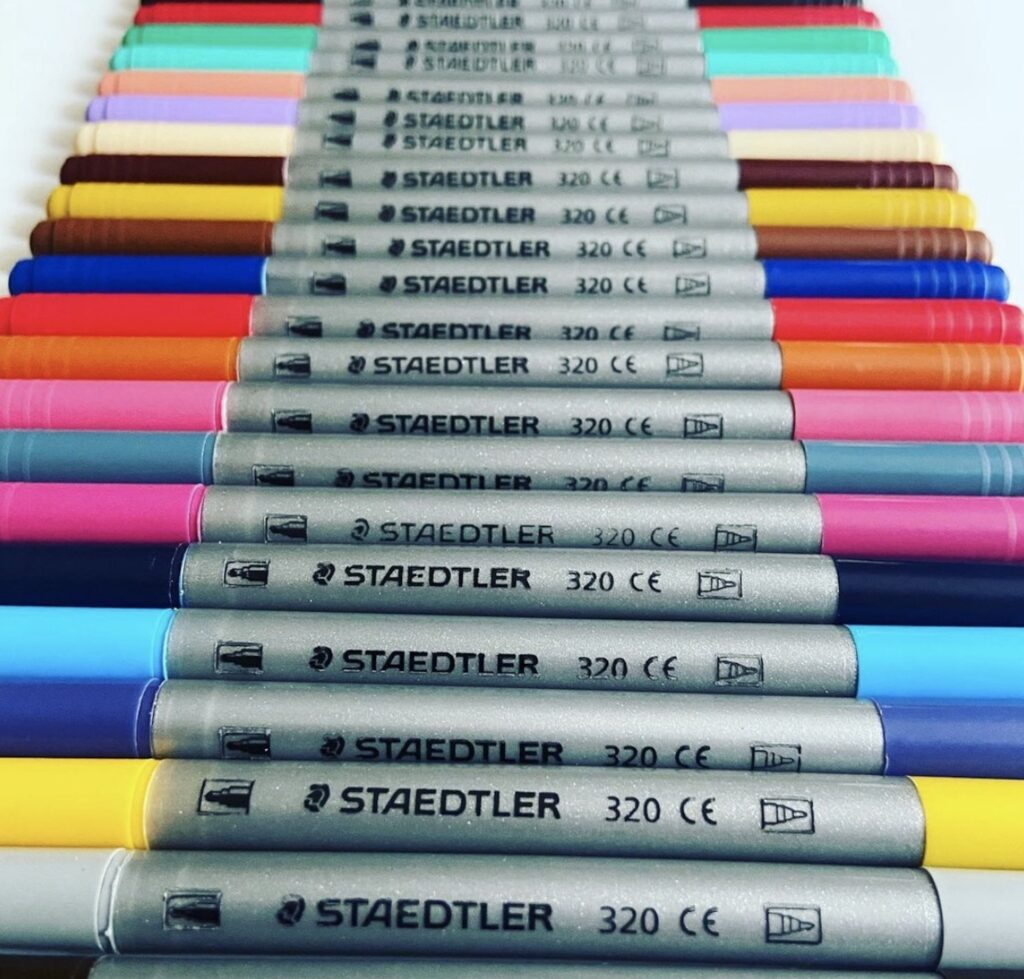 Best Art Markers For Coloring
Choosing the right type of markers for your artistic intent is important. You don't want to buy cheap Crayola if you plan to create an intricate drawing and amazing word art on your planner page. These art markers are the best for any artistic creations you might have in mind. Use these pens for coloring on scrapbook pages, stamped images, your journal or planner pages, or on mindful coloring pages.
Tombow Dual Brush Pens
Sakura Koi Assorted Coloring Brush Pen Set
Faber-Castell Pitt Pens
Arteza Watercolor Brush Pens
Cheap Markers For Coloring
If you are planning on adding a few touches of color to your stickers, highlighting important dates, or writing a quote in you planner, then cheap markers are fine. Crayola still holds my heart for basic pops of color and quick notes and doodles.
Crayola Bold Line Markers
Crayola Supertip Markers
Colored Felt Tip Pens
These two different brands of markers are some of my favorite. They last forever, work great for writing, doodling, and emphasizing your plans. Colors are vibrant and even. And even if you only use them occasionally, they stay fresh. I think my Steadtler pens are over 7 years old.
Steadtler Triplus Fineliner
Papermate Flair Felt Tip Pens
Alcohol-based markers
Alcohol-based markers are great for vibrant colors and blending. If you want to add shading, color gradients, and depth to your drawings and doodles, then consider alcohol markers.
My personal favorite is Copic markers. They have replaceable tips, refillable barrels, and blend beautifully. Because they are designed to soak into the paper and be blendable, you might want to consider drawing and coloring on a thicker paper, cutting out the design, and then adding it to your planner page like a sticker.
Caliart Marker Set
Chameleon Pens
Copic markers
Prismacolor Art Markers
Sharpie Permanent Markers
Dual Tip Markers
Dual tip markers are like getting two sets in one. Most will have a fine tip on one end and then a brush or chisel tip on the other end. Use the fine tip for detail work, fine lines, and outlining. Then flip it around and use the wider tip to color in larger areas.
ColorIt Dual Tip Art Markers
Prismacolor Premier Double-Ended Art Markers
SouColor Dual Tip Brush Markers
Ohuhu Art Markers Dual Tips Coloring
TANMIT Dual Tip Brush Marker Pens
Frequently Asked Questions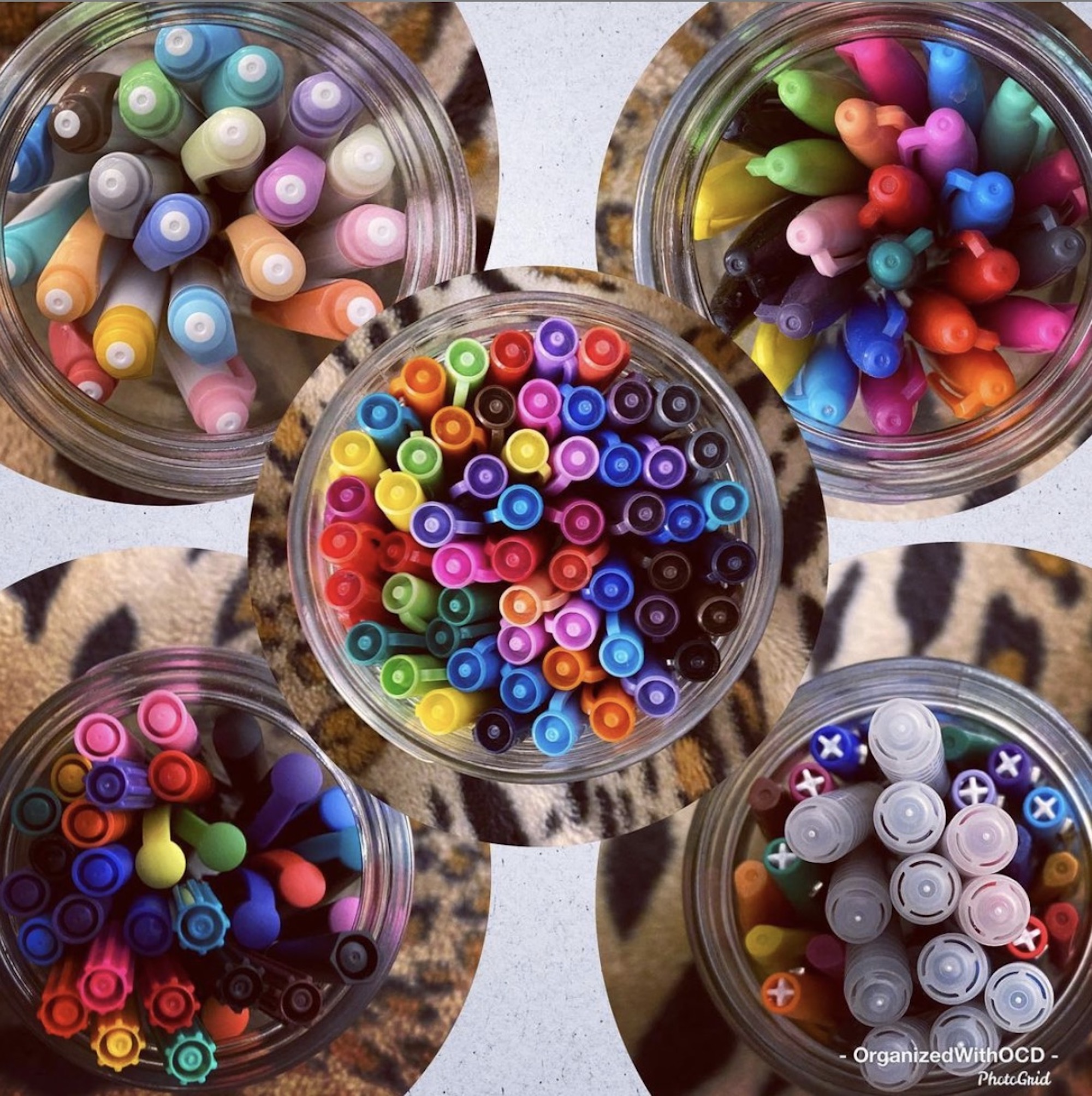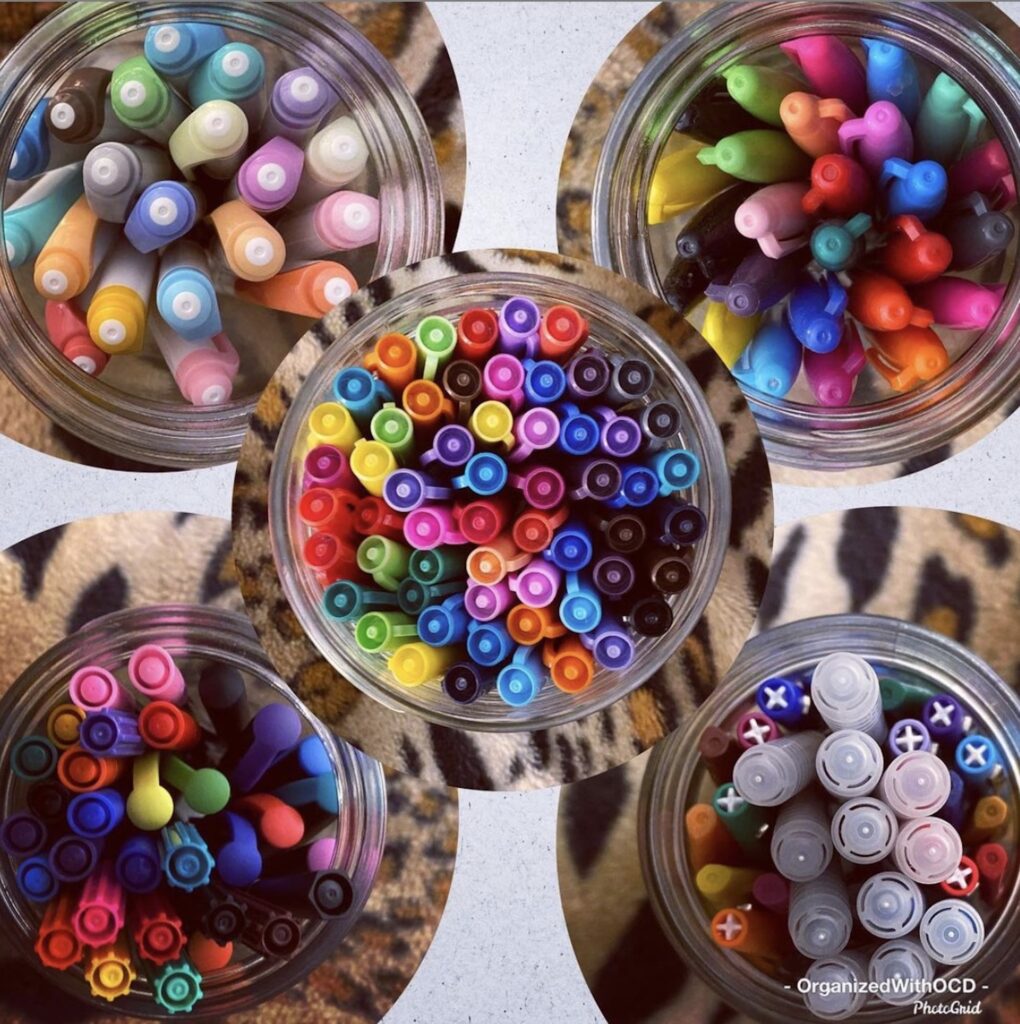 Why do you need good markers for your planner?
You invest a lot of time and money in your planner. The last thing you want to do is use a marker that ruins your planner pages. You can choose between the different tips and ink quality across all the brands of coloring markers. You can also make a choice between alcohol-based markers and water-based markers. Honestly, you can use whatever kind of coloring marker you want. If you want to maintain consistent color quality and not destroy your valuable pages, then you want to find a marker that works best for your style of coloring and doodling as well as the quality of your planner paper.
Can I use coloring pens and markers on my scrapbook layouts?
You most certainly can! Coloring pens and markers are fantastic tools for adding color, details, and personalization to your scrapbook layouts.
What types of coloring pens and markers should I use for scrapbooking?
There are various options available, including water-based markers, alcohol-based markers, gel pens, brush pens, and colored pencils. It's a matter of personal preference and the effect you want to achieve. Experiment with different types to find your favorites.
What is the best way to use markers and pens in a planner?
Fine tips are the best markers for detailing. Use pens with a nylon fiber brush nibs to cover large areas. Markers work great to color in black and white stickers, create eye-catching details around events that need to stand out, and make amazing word-art. One reason to use markers in you planner is to add your own style and color scheme. Get creative.
What are the best brands or markers for your planner, bullet journal or scrapbook?
Faber-Castell, Prismacolor, Copic, Staedtler, Crayola, and Pentel are a few examples. Choose your markers based on your budget, how frequently you will be using them, and the color choices that fit your creativity.
How do you make markers for journaling and scrapbooking last longer?
Decent color markers should last a long time, as long as you take care of them. Always put the cap on your markers properly so they don't dry out. Store your markers appropriately so they last longer. Dual-ended tips should be stored horizontally so the ink in the barrel won't settle on one end or the other. Single-tip markers should be vertical, with the capped end facing down. This keeps the ink pressed up against the color nib and your coloring "juicy". Many marker sets come with a stand-up case that will make storage simple and easy. If not, a mason jar or short vase works great.
Where can I buy the best markers for planning, journaling, and scrapbooking?
Local stationery shops are a great place to start. They usually have sample pens that you can try out. Take an extra page or two from your planner to test on for smearing or bleeding. Stores like Target, Wal-Mart, Jo-Ann's, and Michael's all carry best markers for coloring in your planner. And of course, all of the markers in this list can be found on Amazon, and are linked above.
How do I prevent bleeding or smudging when using coloring pens and markers?
To minimize bleeding and smudging, it's best to work in layers and let each layer dry before adding more color. Place a scrap paper underneath your working area to prevent any marks or ink from transferring to other pages. If you're concerned about bleeding, opt for markers specifically designed for precision or fine-point work.
Can I blend colors with coloring pens and markers?
Yes, blending colors is possible with certain markers and pens. Alcohol-based markers like Copics are known for their excellent blending capabilities. Water-based markers and brush pens can also be blended using a water brush or a blending pen. Experiment with different techniques to achieve the desired blending effect.
Are coloring pens and markers archival-safe for preserving memories in scrapbooks?
Many coloring pens and markers are acid-free, fade-resistant, and archival-safe, specifically designed for use in scrapbooking and other paper crafts. Look for markers labeled as "archival" or "acid-free" to ensure the longevity of your scrapbook pages.
Can I use coloring pens and markers on photographs in my scrapbook?
It's generally not recommended to use coloring pens or scrapbook markers directly on original photographs, as they can damage the photos. However, you can use them on photo mats, borders, or other areas around the photographs to add color and embellishments.