This post may contain affiliate links. If you purchase through one of these links I may earn a small commission at no extra cost to you. For more information, please read my disclaimer.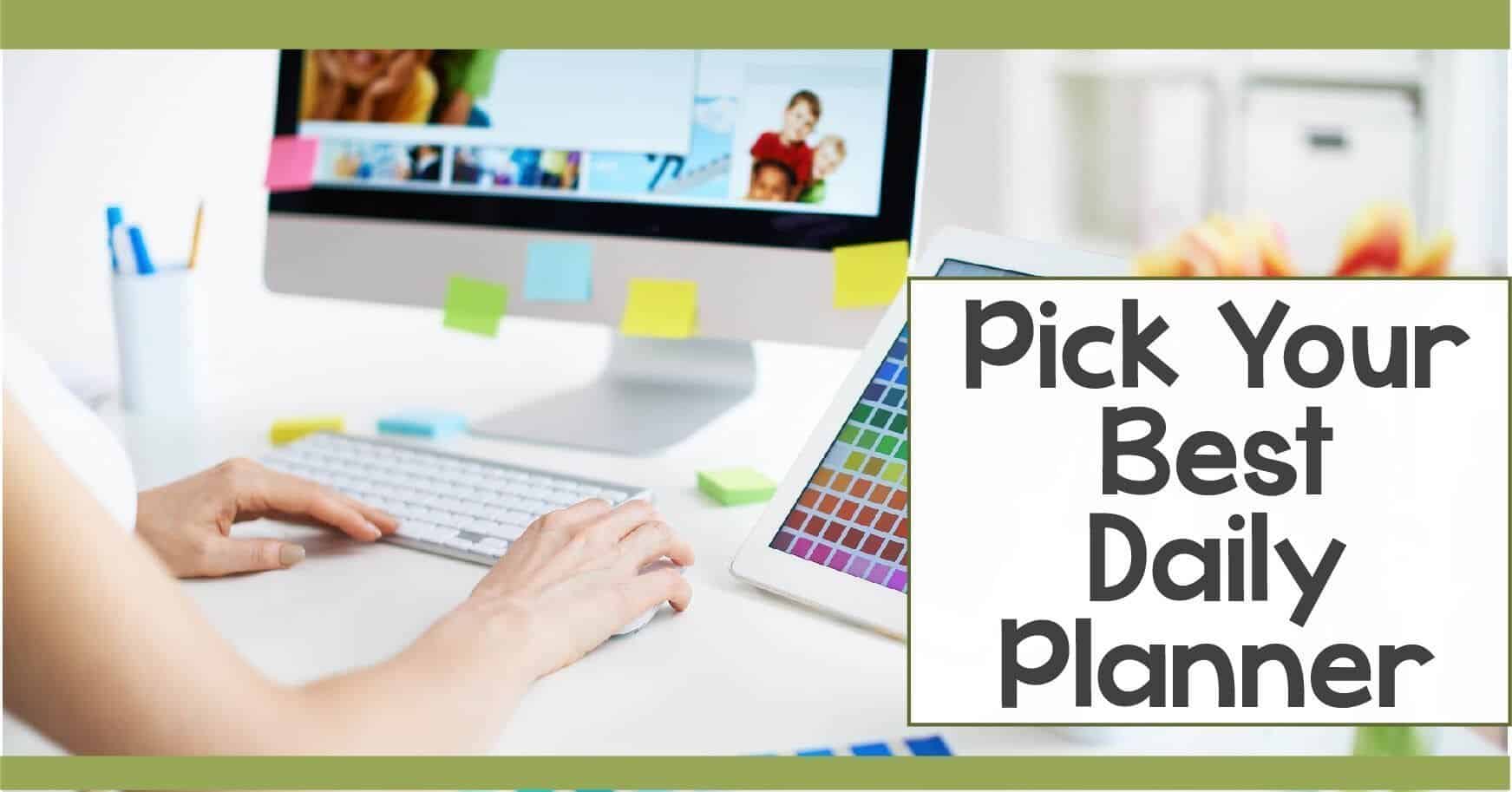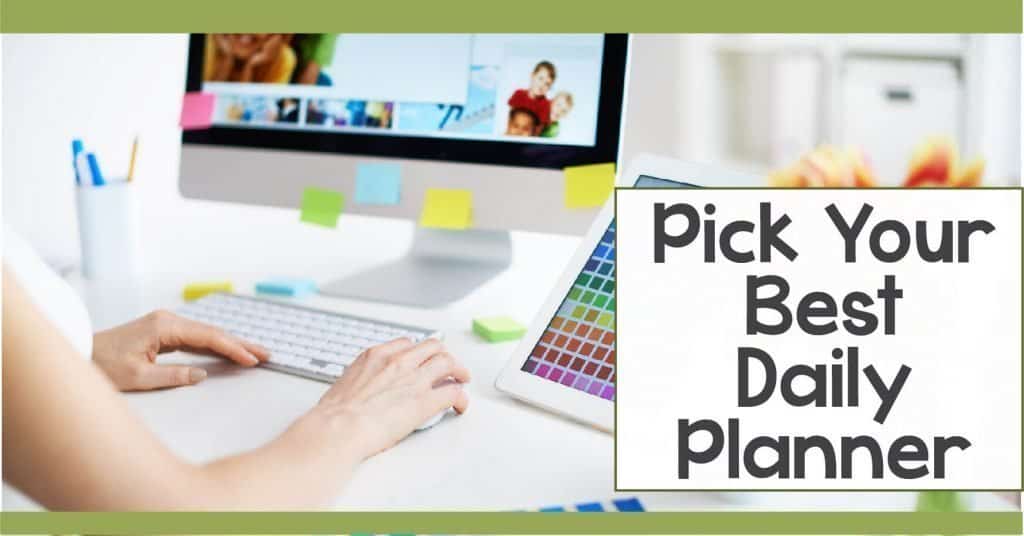 How do you pick the best daily planner for you and your style? There are loads of planners out there on the market that are already printed. And then there are loads of planners that you can purchase a digital version of and print to fit your needs.
So how do you go about choosing what will work best for you? Ultimately, you need to pick a daily planner that you will actually use. That's the whole point, right?!
Here are some comparisons between the two options of a pre-printed daily planner and a printable daily planner.
Printable Planners Save You Money
If you are looking to start a planner without spending a lot, using printables is your best bet. Of course, this depends on whether or not you have the paper and ink already, otherwise, it might cost you more.
However, with everything else ready to go, you can start small by just printing a few pages, then printing more and adding them to any binder you have as needed.
Eventually, you might decide on other customizable options such as additional pages, stickers, trackers, or you may want to switch to a different type of planner.
*this post contains affiliate links, please read my disclosure for more information
Store-Bought Planners are Already Set Up
As far as simplicity goes, a store-bought planner might be good for beginners since it is already set up and ready to go. There is no choosing the types of pages or the order they are in, or how many pages you need to print. That's all done for you.
You can still skip over some pages or add more, but this is a great first step if you want to choose one from the store. Just be sure to look inside each one before making your choice, as they are all a little different.
Just a little heads up though…trying to decide on a just right pre-printed planner can get a little overwhelming.
Try starting with a list of elements you want in a planner. Box sizes. Daily prompts. Quotes. Whatever you are interested in and then narrow it down to your favorite from there.
Printable Planners Have Customizable Options
If you are looking for a planner you can completely customize to work with every section you want to include, printable is the way to go.
All you need is a folder or binder to start with, then you can choose and print any planner pages you want.
Some places offer packages of 10 or more pages that go together, or you can customize them with your own colors and images. Be creative with your printable planner so that it is absolutely perfect for you. This will encourage you to use it more often.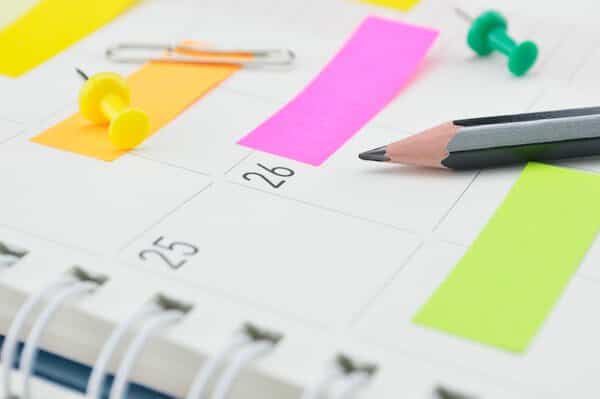 Store-Bought Planners Don't Have to Be Printed
Another benefit of the store-bought variety is that there is no printing to be done. You don't have to worry about how to print on either side of the page, making sure you have enough ink or printing the right size.
In the end, it all comes down to personal preference. You can also combine them by buying a binder planner, then printing and adding pages as needed.
Tips for Choosing the Right Planner
Using a planner on a daily basis provides an excellent way to organize your life, relieve stress, and complete goals. The very first step is to choose the type of daily planner that will work best for you. Here are a few ideas to start with.
Consider the Size
This is one of the most important factors, not only because you need to consider where you will be using the planner, but also what printable pages to include. While many people who offer printable planner pages allow you to choose from different sizes, it is still something to consider.
There are small, medium, and large sizes to choose from. The larger ones are great for a desktop, so if you want to keep it on your desk, it's a good option. Otherwise, one of the smaller ones is ideal to keep in your purse, car, or anywhere on the go.
Look at the Layouts
While you will probably fill this planner with more pages as you think of additional things to track, look at the layouts of pages it comes with. This is when you think about what you will be tracking, and how many pages you need for writing or adding your own custom information.
What Pages do You Want?
As you are looking at layouts of the pages, look at the different types of pages as well. Some planners keep it very basic where it is primarily the monthly and weekly calendar pages. Others fit in a lot of extras, such as blank pages for journaling, to-do lists, task lists, and a lot more.
What is Your Planner Being Used for?
Still not sure what planner you want? Think about what you are going to use it for. This might be for your daily life and schedules, work and projects, home life, or your personal life. Do you need to be more productive? Or find a way to organize your life?
Figuring out what your ultimate goal is will be the first step in deciding which type of daily planner will fit your needs.
This determines everything from the size to the type of pages included in your planner. Knowing what size daily planner you need will also help you figure out if a store-bought planner works for you. You may just want to get a small binder or some Happy Planner rings and make your own planner.
Think About Room for Extras
It is always good to choose a binder-style planner with extra room to add additional pages. Many people offer some amazing printables so that you can customize any planner to your own needs.
All you need is a printer, paper, and 3-hole punch.
There are also loads of printable stickers on the market that you can use to customize the look and style of your planner. Love Halloween colors? Add some stickers during the month of October. Want to jazz up your Christmas planning? There are stickers for that.
No matter what you choose as your daily planner, there are ways to make it unique and so that it truly works for you. Don't be discouraged if you purchase a planner and find that it just doesn't fit your style or personality. Think about why it didn't work and then try another type.
There are daily planners out there for everyone. You just need to find the one that fits you!
Want to remember this? Post this Planner Guide pin to your favorite Pinterest board!