7 of the Best Types of Creative Journaling You Should Try
We may earn a small commission for purchases made through affiliate links in this post. For more information go to our Privacy Policy.
Did you know there are several different types of creative journaling?
If you're looking to nurture and boost your creativity, it can be beneficial to experiment with different styles of journaling. So, what are the different types? Below, you'll discover just 7 types of creative journaling and the benefits they can deliver.
A gratitude journal is a great way to incorporate positive affirmations and heartfelt journaling into your creative journal. You can find journal prompts in this post.
Written journal
Written journals tend to be the most common type of creative journal. Whether you opt for free-writing, or you use it to simply jot down your experiences and thoughts, a written journal can prove useful for all creative types.
It's worth noting that a written creative journal is different from a traditional journal. While you're still using it to write in, you're not using it to get your feelings out or talk about your day. Instead, you're using it for inspiration and to record ideas, thoughts, and feelings which may ignite your creativity.
Art journal
An art journal is perfect for artists and graphic designers. Used to draw, paint, or attach cuttings out of newspapers and magazines, this type of journal can really get the creative juices flowing.
The magazines that are available for this type of creative journaling are amazing. There are also a huge amount of online resources to help you get started and to provide inspiration.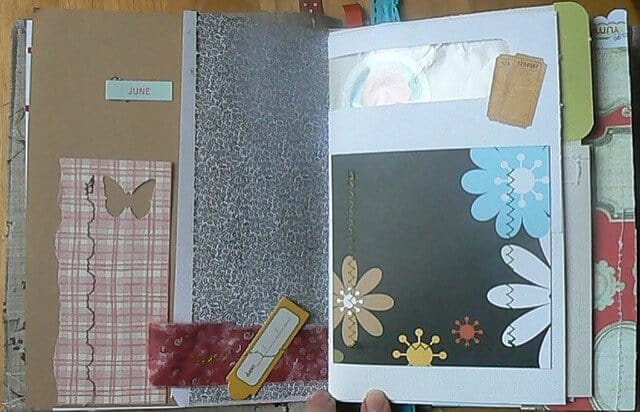 Scrapbook
A scrapbook is one of the easiest types of creative journaling you can do. You simply cut out images, quotes or anything you find inspiring and stick them into the journal.
You can look over all of the things you've stuck into the scrapbook whenever you need a little inspiration.
This is one of my favorite ways of journaling. It takes very few words and the images can speak for themselves.
You can add a few embellishments or make each page a work of art. Then you can use the scraps for a hand-built one of a kind journal.
Scraps or Mementos Journal
This type of journal is made up of all the different scraps of your daily life. You can save and use pieces of scrapbook paper, envelopes from gifts or even your bills, and other everyday papers.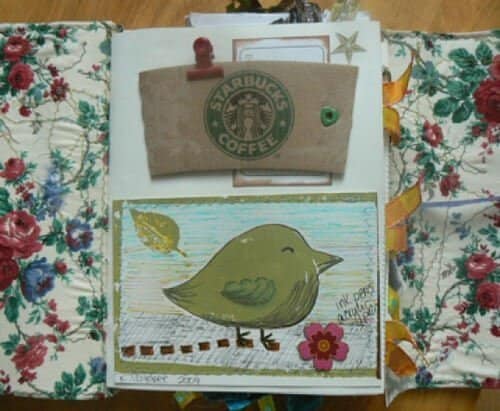 Coasters and wrapping paper are two of my favorite pieces to add. I've even added paper coffee cozies. It's all about what will remind you of a day, event, or what catches your eye.
Prompt journal
Another type of creative journal which can help trigger and nurture creativity is a prompt journal. This is basically a journal that asks you questions each day. You can either pick these journals up online, or you can create one yourself. This one is my all-time favorite and I bought copies for my sisters, kids, and friends!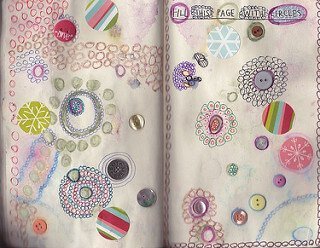 The idea is, each question is designed to make you really think before you write your response. You'll get used to analyzing the questions and answering them in as much detail as possible. The answers themselves can help spark creativity.
Mind mapping journal
Mind mapping is a fairly new journaling technique that can work wonders for creative people. It's a visual style journal, similar to scrapbooking.
However, rather than cutting out random images and sticking them in the journal, mind mapping works by recording your ideas in a visual way.
For example, write down the main theme of your idea, draw a big circle around it, then think of other ideas that relate to it. You then connect your sub-ideas to the main idea, creating a mind map.
These are just 7 types of creative journaling you can try out. Each has its own benefits and potential drawbacks which need to be considered. Think about the type you're most likely to benefit from and remember, once you start it's important to keep it up.
Bullet Journaling
This is a type of creative journaling that you can use to document your day, keep track of your schedule, form new habits, and use it to organize your life. (read the Ultimate Guide to Bullet Journaling here)
There are templates to get you started. Especially if you would like to have a weekly planner included or other more formal means of tracking your day to day plans.
You can also add pages by gluing them in after you print a template.
Usually, a bullet journal has a dot background to help you create uniform boxes, layouts, and keep your handwriting in a straight line. I use this one. And I also glue in printed templates, change pages with scrapbook paper, and doodle on other pages.
Start Using the Different Types of Journals
Now you've discovered the benefits of keeping a journal as a creative person, you may be wondering where to start. What should you write in the journal and how often should you be using it? These are just a couple of common questions you may have.
If you're unsure how to start a creative journal, below you'll discover some of the best tips and advice you can follow.
Determining how to use the journal
The first thing you need to decide is how you want to use the journal. Will it be a place to simply record your ideas, or would you prefer it to be a place you can practice your creativity? Maybe you're looking for a place to set goals for your creative projects?
The goal of the creative journal will make a big difference in how you should use it. Therefore, it's important to establish its purpose early on.
Consider "Free writing"
One of the best ways to start a creative journal is to practice free writing. This is basically where you take the time to sit down and start writing. Just write whatever comes into your head.
You don't need to follow a certain structure or have any prior ideas of what to write. The things you jot down don't even need to make sense.
Write as little or as much you want to, on any topic which pops into your head. You'll be surprised how much creativity this type of writing can conjure up.
Questions to ask yourself
If free writing doesn't appeal to you and you need more a prompt to get you started, there are a few questions you can ask yourself. Just a few ideas include:
What makes me happy?
What makes me feel creative?
When was the last time I felt like myself?
These seemingly random questions can have a surprising impact on your creativity. They're great prompts to get you to write in as little or as much detail as you like. Just the process of answering these questions can help to unleash your creative side.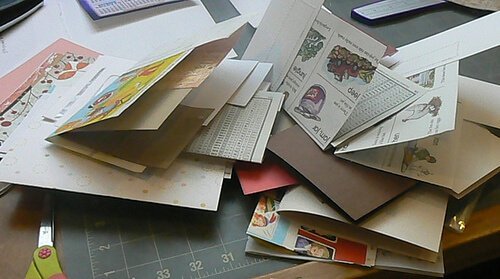 Remember, there are absolutely no rules you need to follow. A creative journal should never be forced into sticking to a certain structure or limited in any way.
The above is some of the best ways to get started with one of the types of creative journaling. Often, starting the journal is the hardest part. Once you've actually made a start, it becomes much easier to keep it up and continue to nurture your creativity.