Personal Planner and Happy Planner Sizes: A Complete Guide
We may earn a small commission for purchases made through affiliate links in this post. For more information go to our Privacy Policy.
With so many personal planners on the market (as well as Happy Planner options) it is hard to know which planner sizes you need.
If you love making your own planner pages and inserts but hate the fuss of trying to figure out which planner size you need, then this post is for you.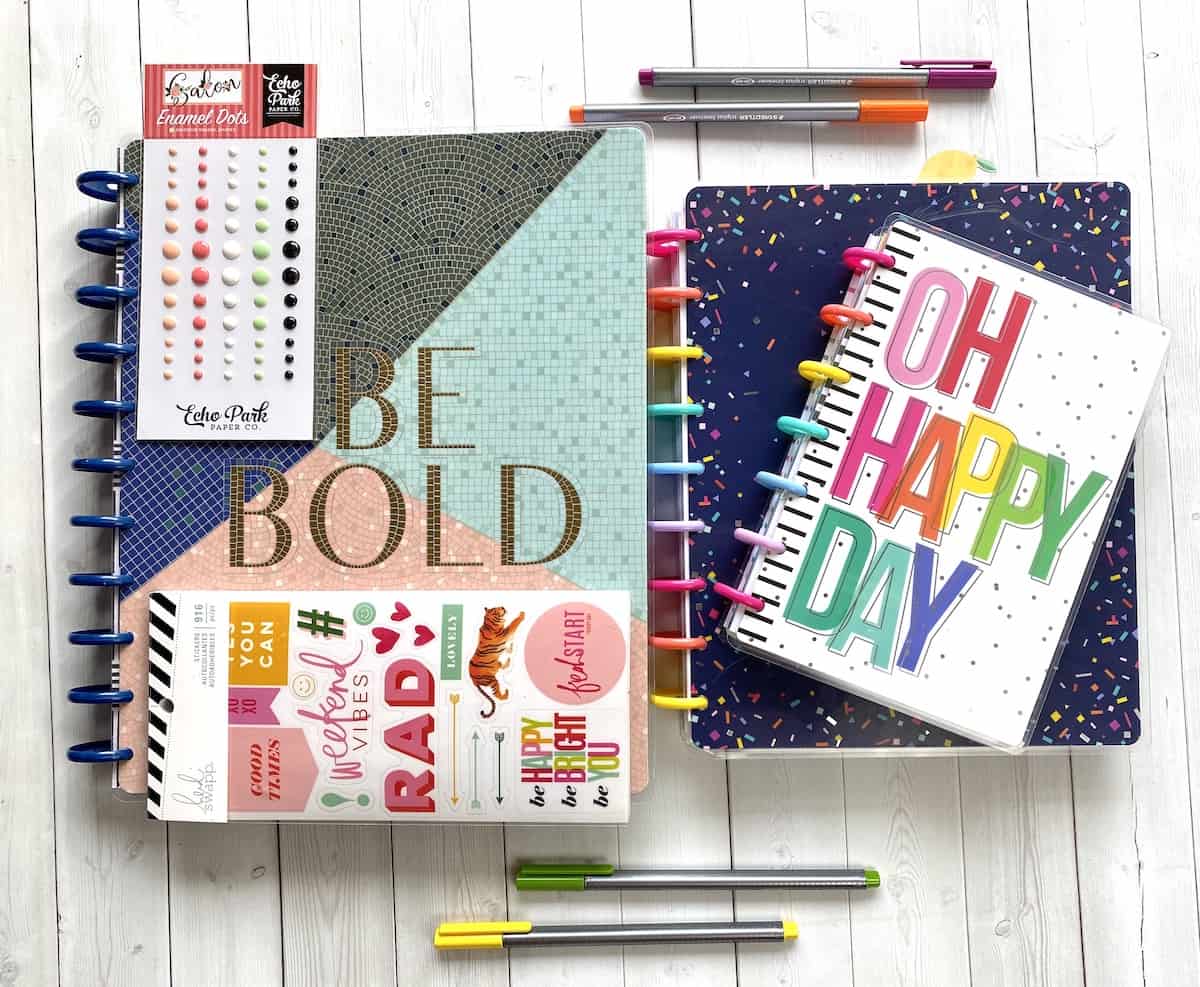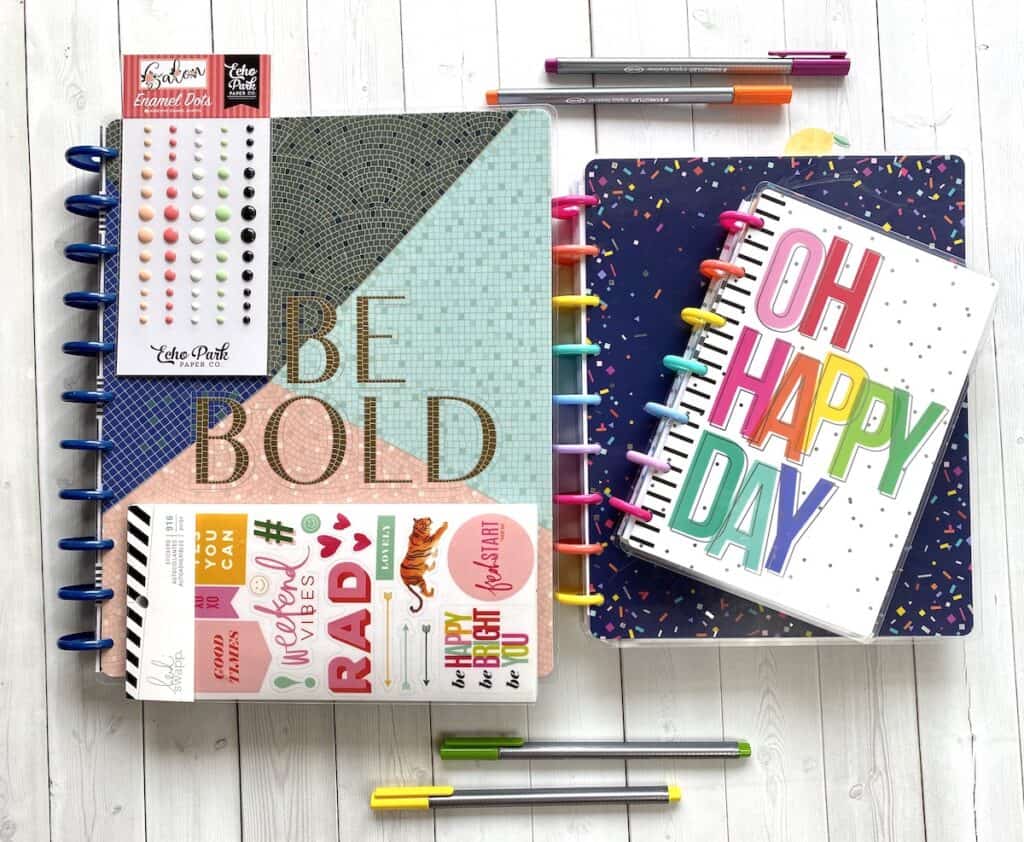 The Happy Planner sizes do not really fit into the traditional "personal planner" system. The measurements and sizes of all but the BIG are unique to just the Happy Planner Disc system. Below is a break down of both systems.
How to choose paper for planner printables and resize them:
The paper that you choose for your planner printables will depend on the size of your planner (more on resizing planner pages coming soon) and the elements you want.
Making a custom planner with a Printable Planner Companion Kit leaves some of the finer points of design up to you. Do you want your dashboard and dividers to be printed on card stock or heavyweight papers?
Once you know what you are using the printable for, you will know what type of paper you want to print on.
After that it is just knowing the size of your planner and if you can resize it in the printer settings before printing or if you will need to do some digital editing, folding, or creative adjustments to make it work.
You can cut your papers before you print on them (this makes it easier if you are printing on both sides of the paper).
For any of the smaller sizes, you can cut the paper yourself with a paper trimmer or you can take it to the local printer and have them cut it. They have machines that cut through stacks of paper quickly and easily.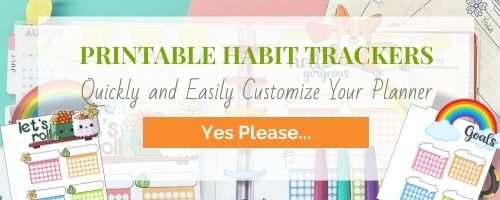 Happy Planners
It is no secret that I am a fan of the Happy Planner system. It is the first planner that I have used consistently.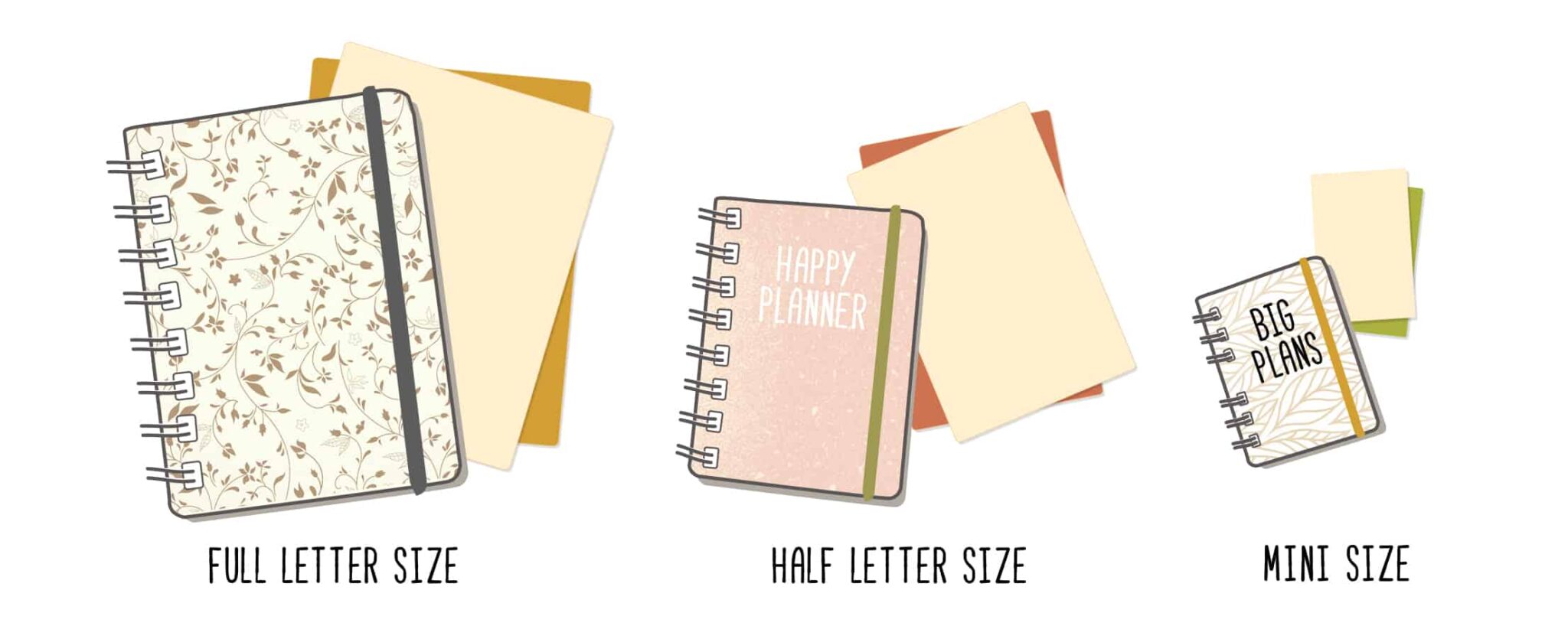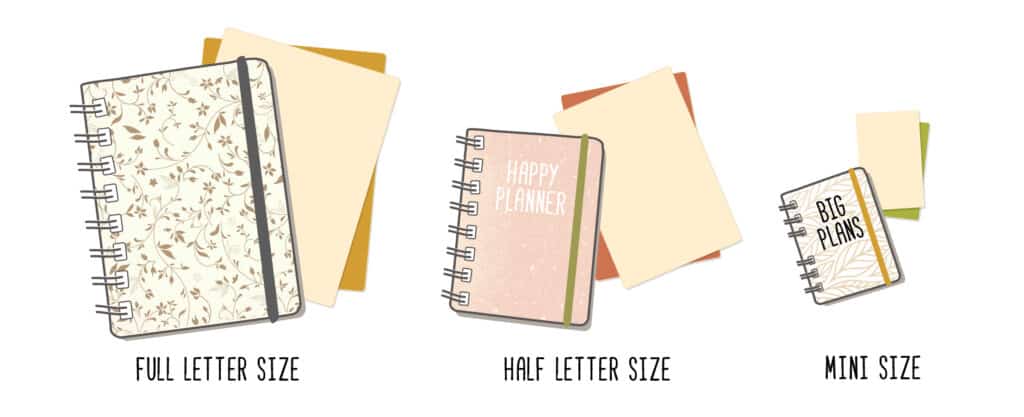 The disc system is a great way to keep your planner pages organized, I love all the options that MAMBI offers as additional planner accessories, and I also love to make my own.
Using planner hacks to make my own Frankenplanner is what keeps me using this planner system. I can make it a mix of planning, bullet journaling, creative journaling, and to-do lists.
What are the sizes of Happy Planners?
Big Happy Planner: page size: 8.5 x 11 inches; number of discs: 11
Classic Happy Planner: page size: 7 x 9.25 inches; number of discs: 9
Mini Happy Planner: page size: 4.5 x 7 inches; number of discs: 7
Skinny Classic Happy Planner: page size: 4.125 x 9.25 inches; number of discs: 9
Skinny Mini Happy Planner: page size: 3.39 x 7 inches; number of discs: 7
Big Planner
This is the largest size of Happy Planners. MAMBI uses this size primarily for "teacher planners" but they also use this size for a regular personal planner. I get the impression it isn't as popular as the Classic, just because of its size.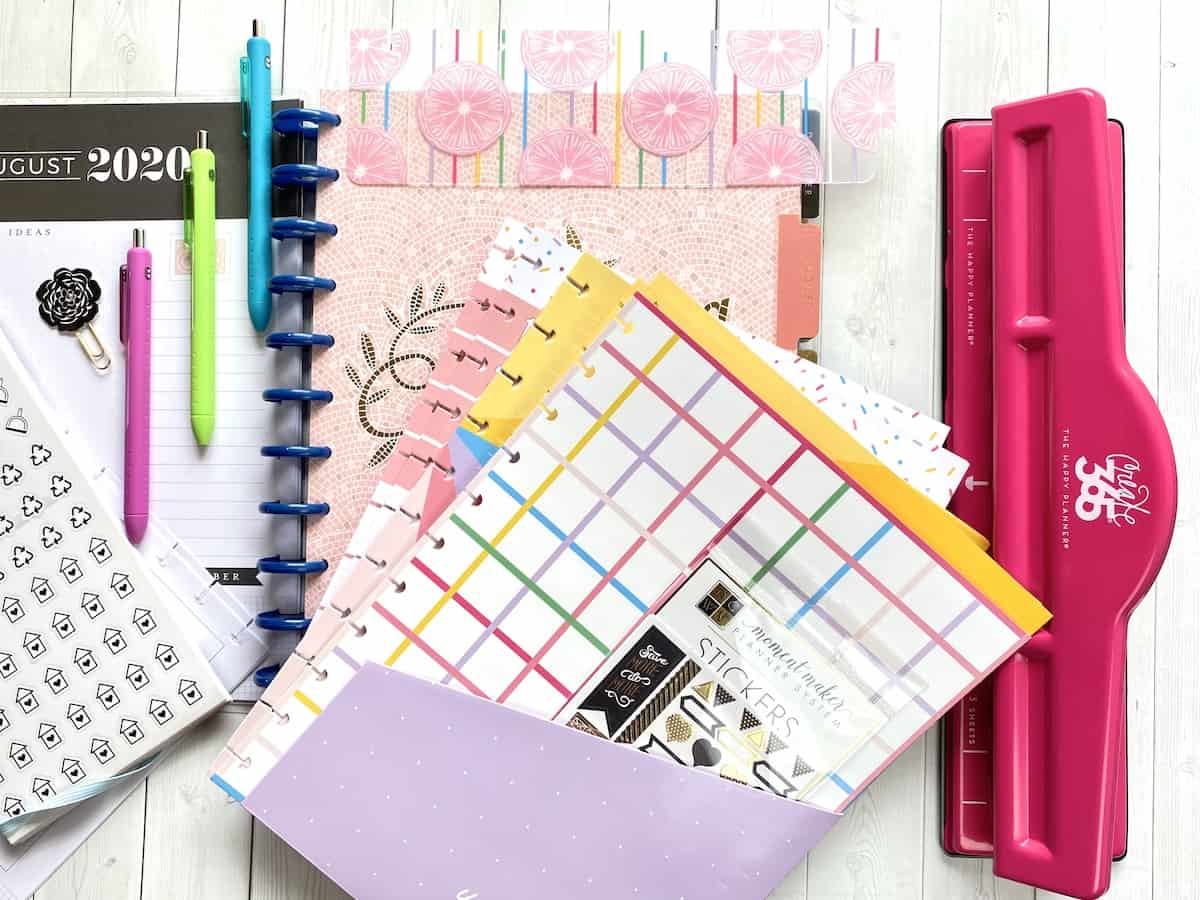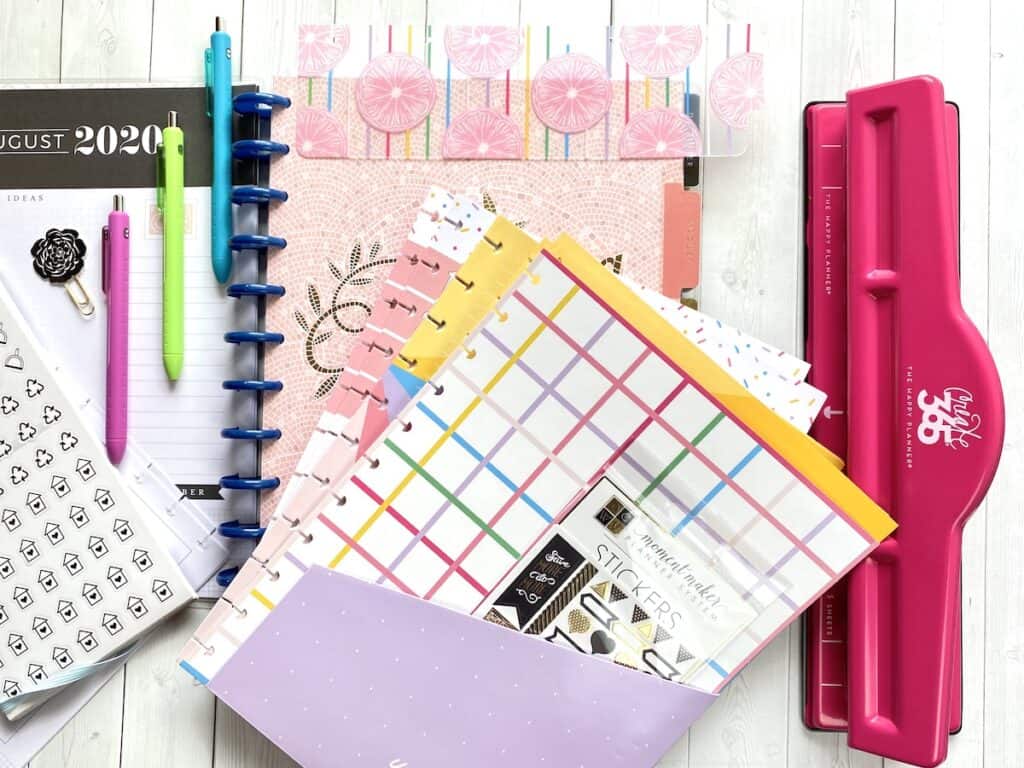 If you are homeschooling, using it to run your household, or you have a business, then this planner size would be ideal.
Printing on letter paper is the best way to make your own planner pages with this size. No altering or resizing needed. Straight to the printer it goes (unless you want double sided or card stock…then you have some fiddling).
Big Happy Planner Details: cover size: 9.75 x 11.5 inches; page size: 8.5 x 11 inches (standard U.S. paper size); number of discs: 11
Classic Planner
This is the workhorse for the Happy Planners. You can find the most planner accessories for this planner size and it is the perfect size to meet all of your planning needs.
If you aren't sure which planner size you want to start with yet, then I would recommend this one. Using the Classic size will give you a great feel for the disc planner system as well as all the ways you can customize it with your own planner inserts, printables, stickers, and more.
When you are printing planner pages for this size, you will need to modify the way you print. Adjusting the size to 82% will make it work perfectly for this planner.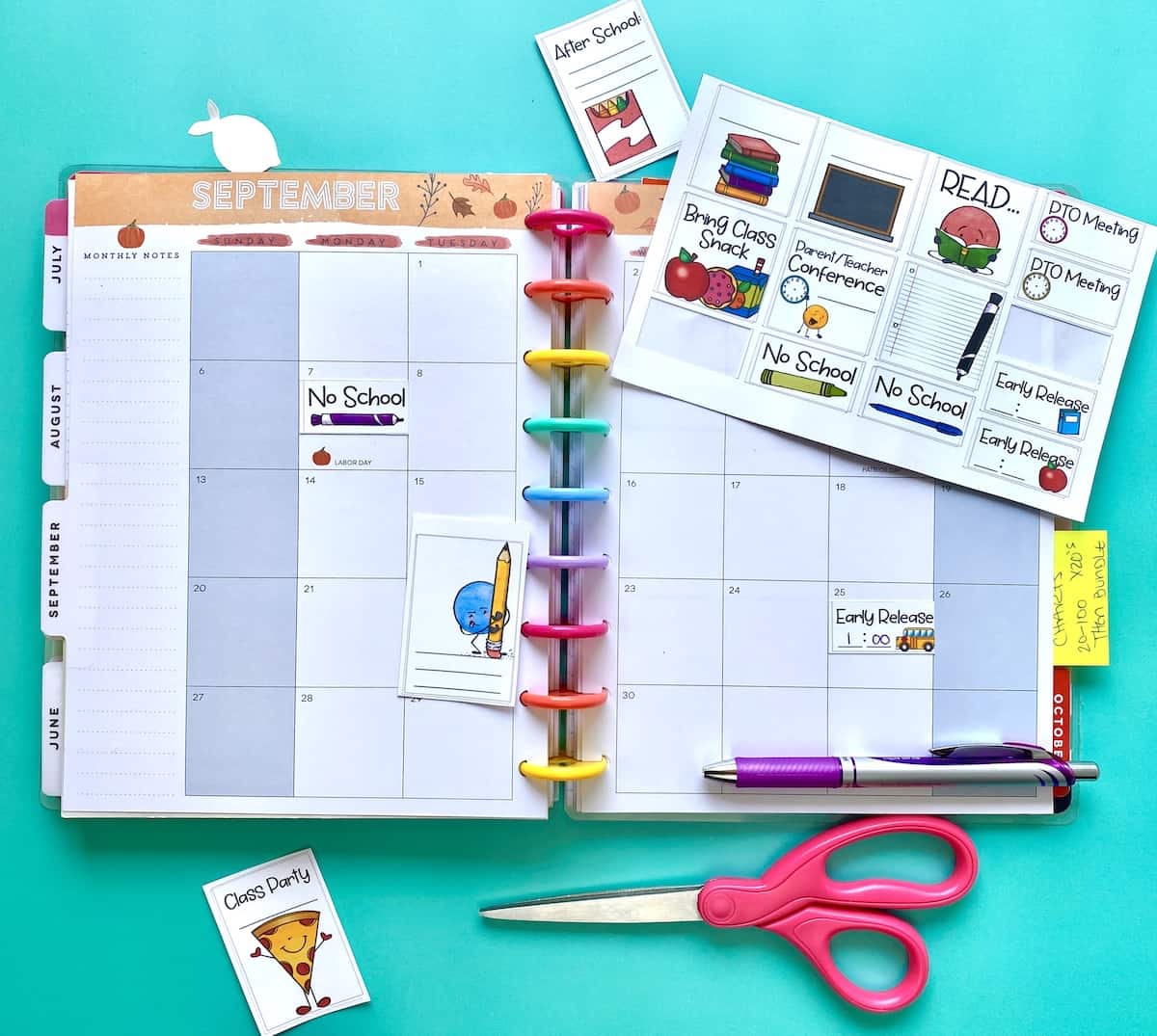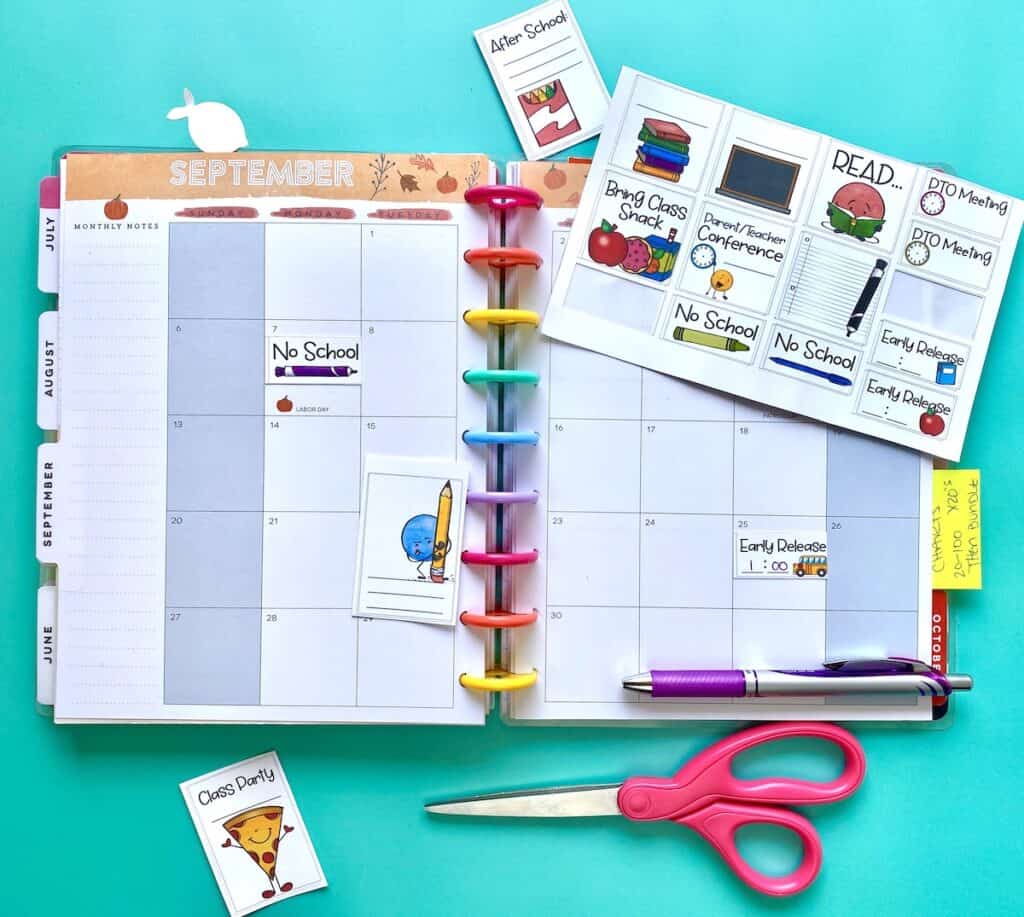 Classic Happy Planner Details: cover size: 7.75 x 9.75 inches; page size: 7 x 9.25 inches; number of discs: 9
Mini Planner
This is the pocket-sized version of the Happy Planner. It can fit in your purse or bag, ride along in the car glove compartment, or fit anywhere you need reminders (in the mini version).
Although this planner isn't as popular as the classic, it will still be fun to design and make a DIY planner with. It is customizable and would work great for specialty plans like Holidays or special occasions.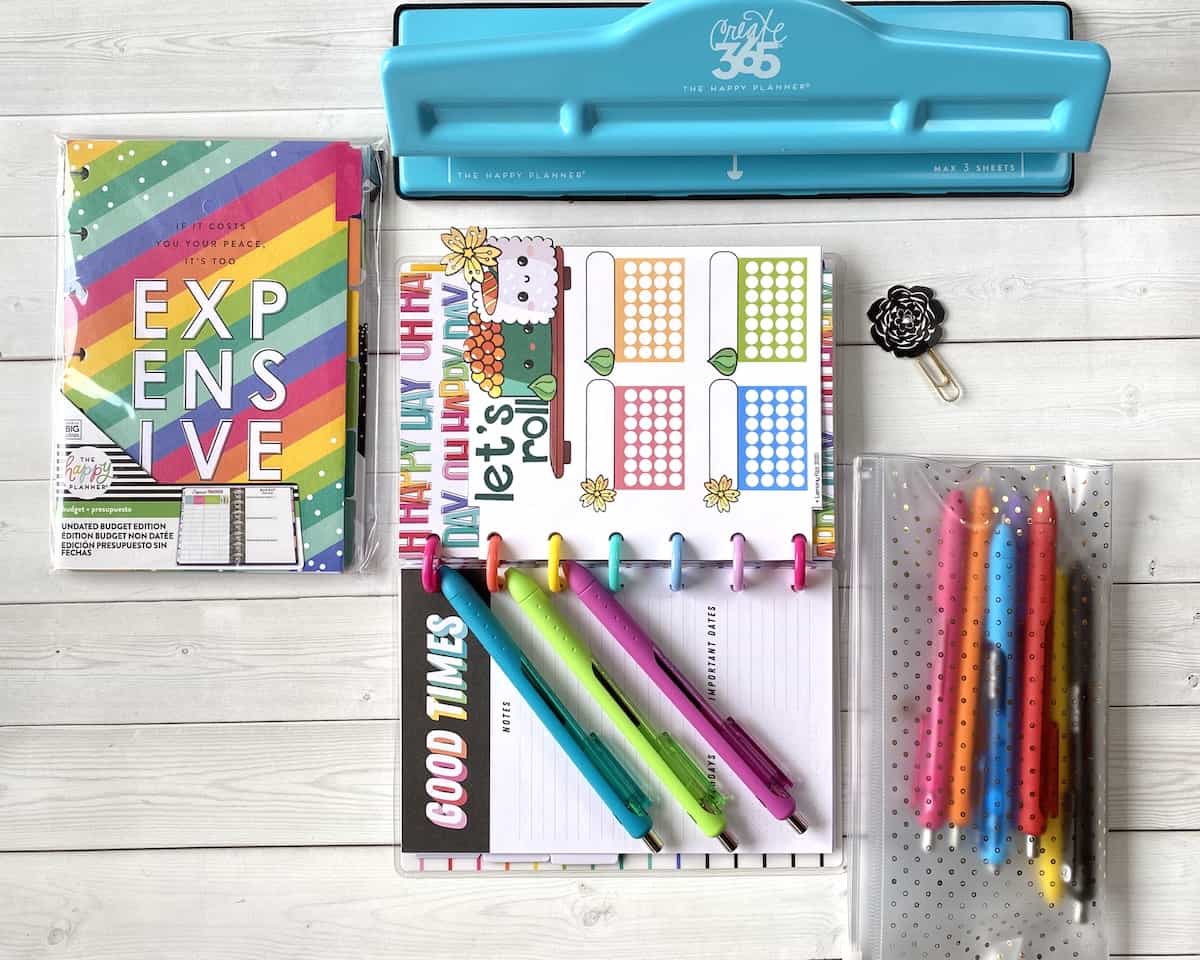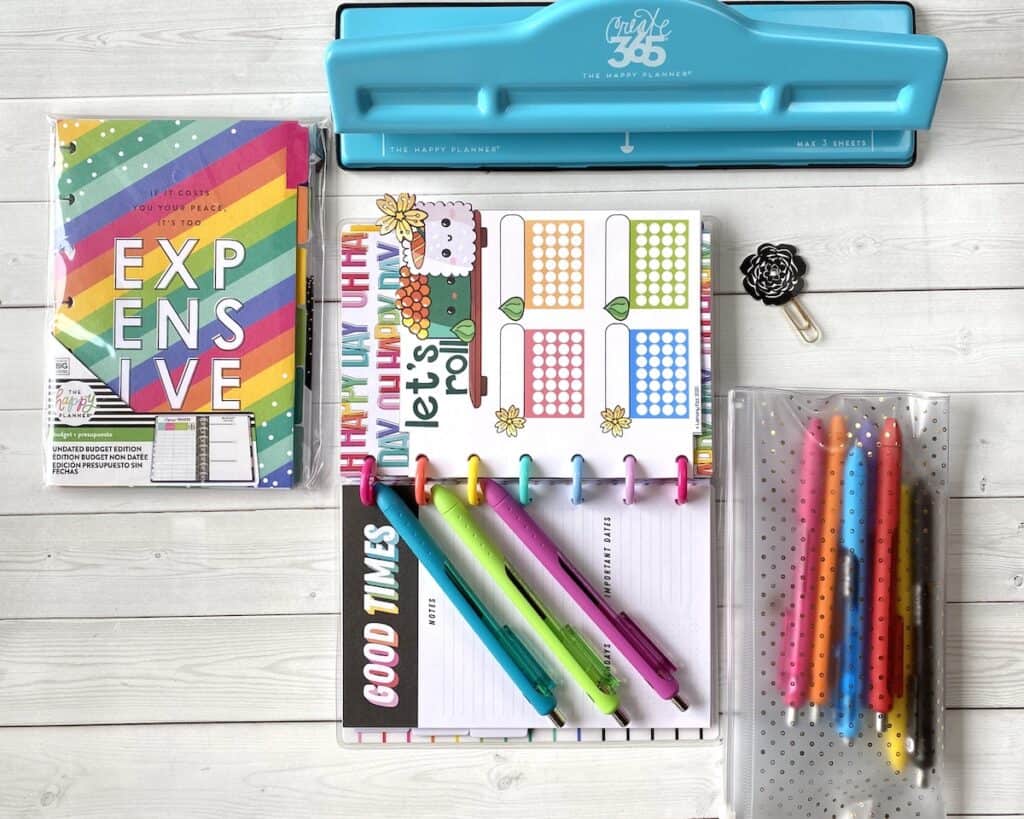 You can adjust your print size for this planner when you are printing planner pages. Just adjust the print size to 54% and it will be sized correctly.
Mini Happy Planner Details: cover size: 5.125 x 7.5 inches; page size: 4.5 x 7 inches; number of discs: 7
Skinny Classic
There are two versions of the Happy Planner that I didn't even know existed. It looks like they were released in 2019 and they just are not as popular as the main 3. I found them on the Happy Planner website but I have never seen them in the local craft store.
The issue with resizing these planner pages is that the length stays the same, but the width changes. This will make a squished and skewed image when resizing by a percentage.
This size and the Skinny Mini are not really ideal for printable planner layouts where you want to cut your own pages. Not without some experimenting (and probably cuss words).
Skinny Classic Happy Planner Details: cover size: 4.875 x 9.5 inches; page size: 4.125 x 9.25 inches; number of discs: 9
Skinny Mini
This is the second version that I didn't even know they made. There are a few unboxing videos and reviews on YouTube around November 2019 so I am assuming that is when they were first released. I might have to place an order online and experiment with these.
Skinny Mini Happy Planner Details: cover size: 4.875 x 7.5 inches; page size: 3.39 x 7 inches; number of discs: 7
Personal Planners
Personal planners come in all sizes, number of holes for the ring system, and from an assortment of brands.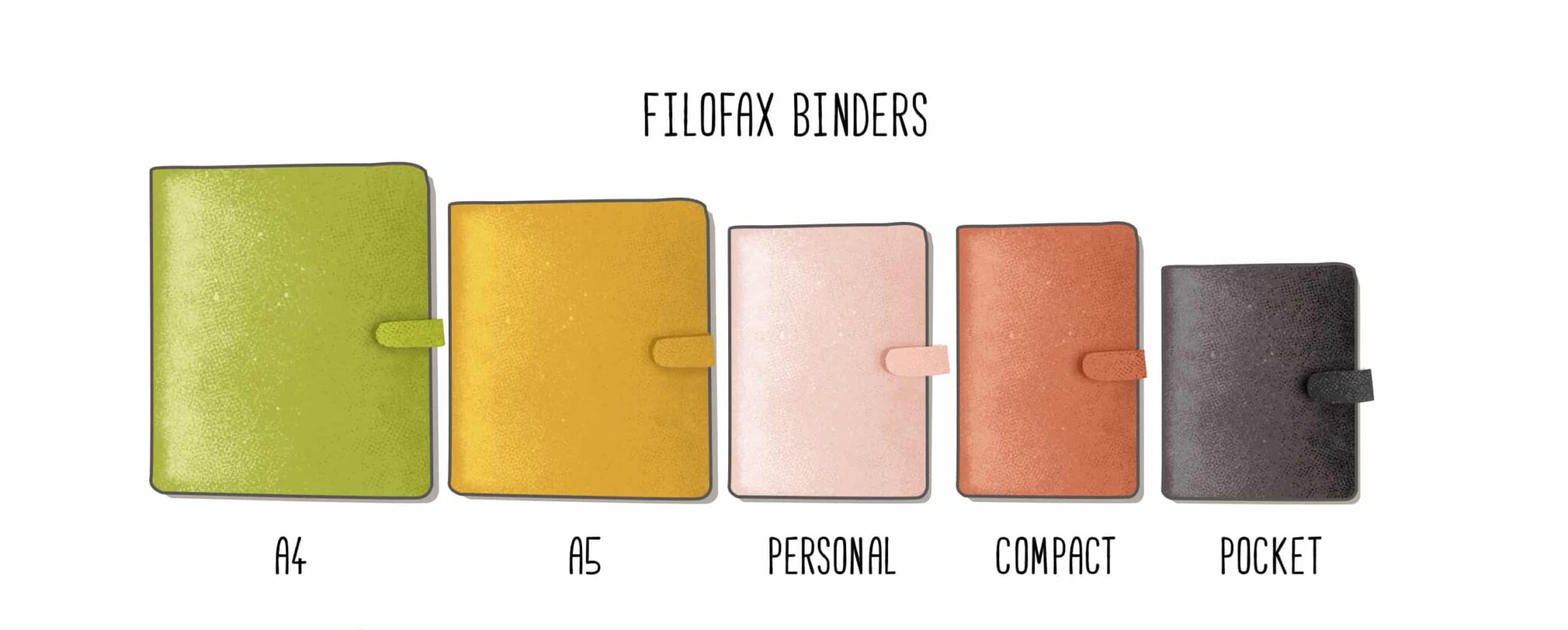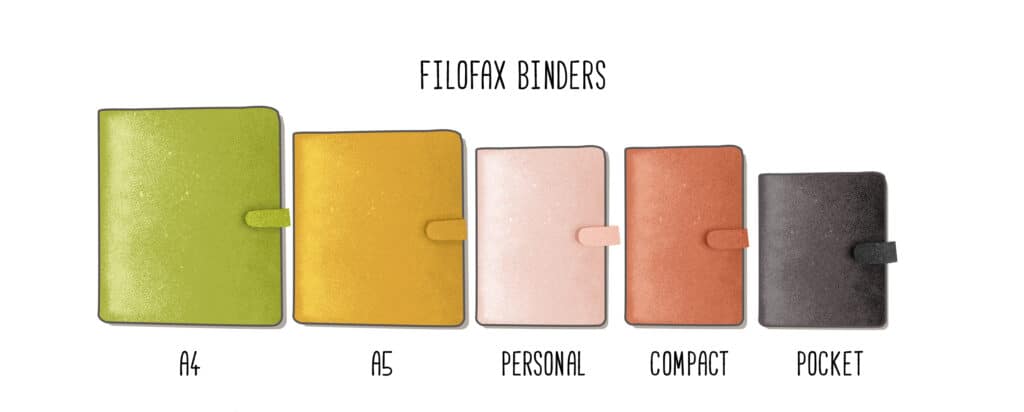 A planner could get lost in all the different variations, options, styles, and information about which planner is the best.
I sound like a broken record some days (ok…most days). The best planner is the planner that you will use. You have to like it. And you have to actually use it.
Creating your own custom planner set up with a printable planner companion kit with a hybrid of pages, dashboards, inserts, etc. (a Frankenplanner) is what makes your planner adaptable and unique to your planning style.
A4 & Letter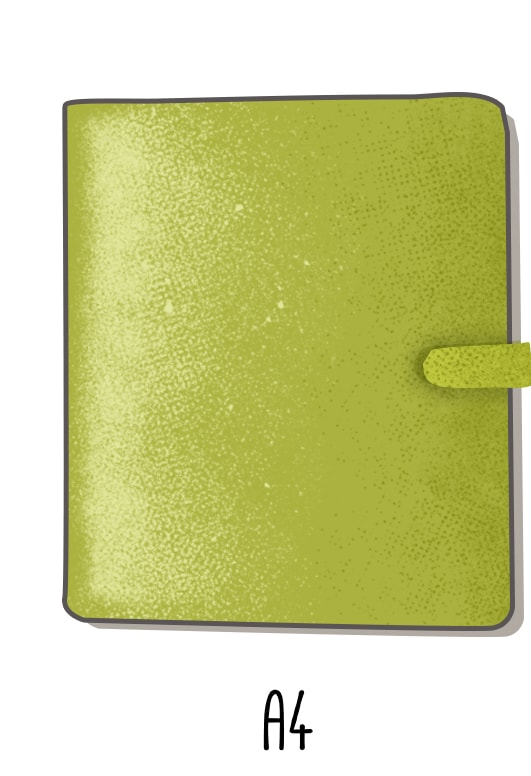 The two large sizes of paper that you will see referenced and discussed are A4 and Letter.
A4 is used in countries outside of the US. It is 8.27 x 11.7 inches (so a tad longer and narrower than our Letter size). I'm not going to cover this as much, just because Letter size is easier for myself (and most of you) to buy.
Most everything that is printed or referenced for letter can be used with A4 and minimal adjustments.
Letter is the standard paper size in the U.S. It measures 8.5 x 11 inches. Specialty colors (think Astro Brights, card stock, etc.) are all available at your local office supply and online in this size.
Filofax
Franklin Planner
Day-Timer
Happy Planner Big
Because the two sizes are relatively similar, most planner printables can be printed on the two paper sizes interchangeably. You can make either of these sizes of paperwork for your planner.
A5 & Half Letter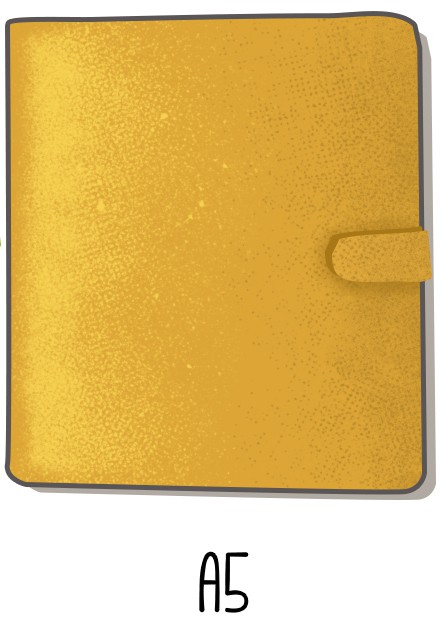 Just like the full sized papers above, A5 and Half Letter are the sizes for countries outside of the U.S. and then the U.S. paper size.
Both refer to a half page of the fuller version. So, A5 is half of an A4 piece of paper and measures 5.83 x 8.27 inches.
Half Letter is just what is sounds like. Cut a piece of full letter paper in half (width wise) and you have Half Letter. It measures 5.5 x 8.5 inches.
Kikki.K
Webster's Pages Color Crush
Simple Stories
Filofax
Day Designer
My Minds Eye
Franklin Planner
Day Timer
Day Runner
Because they are just half sheets of the full paper sizes, you can also print these sizes interchangeably.
Personal ( A6)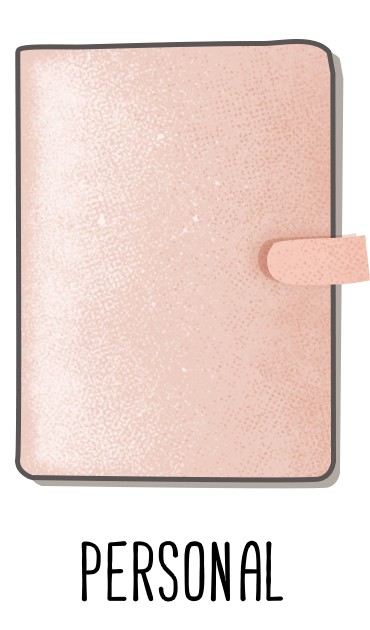 This size of paper was made popular by Filofax and their line of personal size planners. It is a great size that is portable and still has enough room for details and writing.
Personal size is an A6 for all countries outside the U.S. It is the size you get when you cut a piece of A5 in half (3.74 x 6.73 inches).
You can scale this size before printing just like you can with the Happy Planner sizes. Resize to 44% and your printable is ready to go.
Webster's Pages Color Crush
Kikki.K
Filofax
Kate Spade
Day Runner
The personal size works in Filofax, Kikki K and any of the other 6 ring binders. It will require a special 6 hold punch.
Pocket
With the pocket-size we are getting pretty small. It is 3.19 inches by 4.72 inches and is great for portability. However, it doesn't allow much room for writing and is best for quick notes, dates, and reminders.
There are fewer options for purchasing this size of planner. Mostly because if you are going to carry something this size, you might as well just use your phone.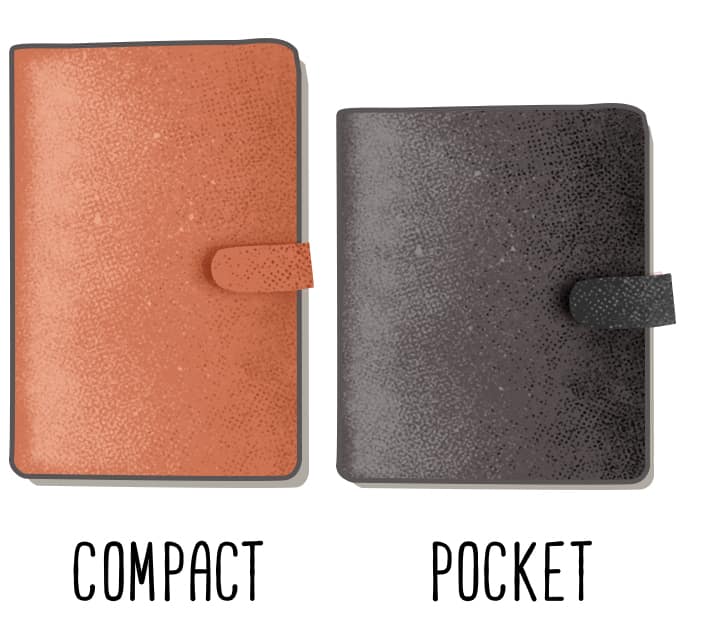 Mini
The smallest of them all. The mini is 2.64 x 4.13 inches. Filofax still makes this size of personal planner, but it is getting harder to find. Most likely you won't be using this size or the pocket size for a DIY planner or planner printables.
Planner Sizes Cheat Sheet
That was a ton of information about planner sizes. Once you have an idea of which planners you like the best, you won't really need to reference page sizes of other planners. You will only need to know the resize tips and tricks for your own planner.
It is possible that you become a two or three planner person (because planner addiction is real and that is just the way it works. Just like pens and other journaling supplies.)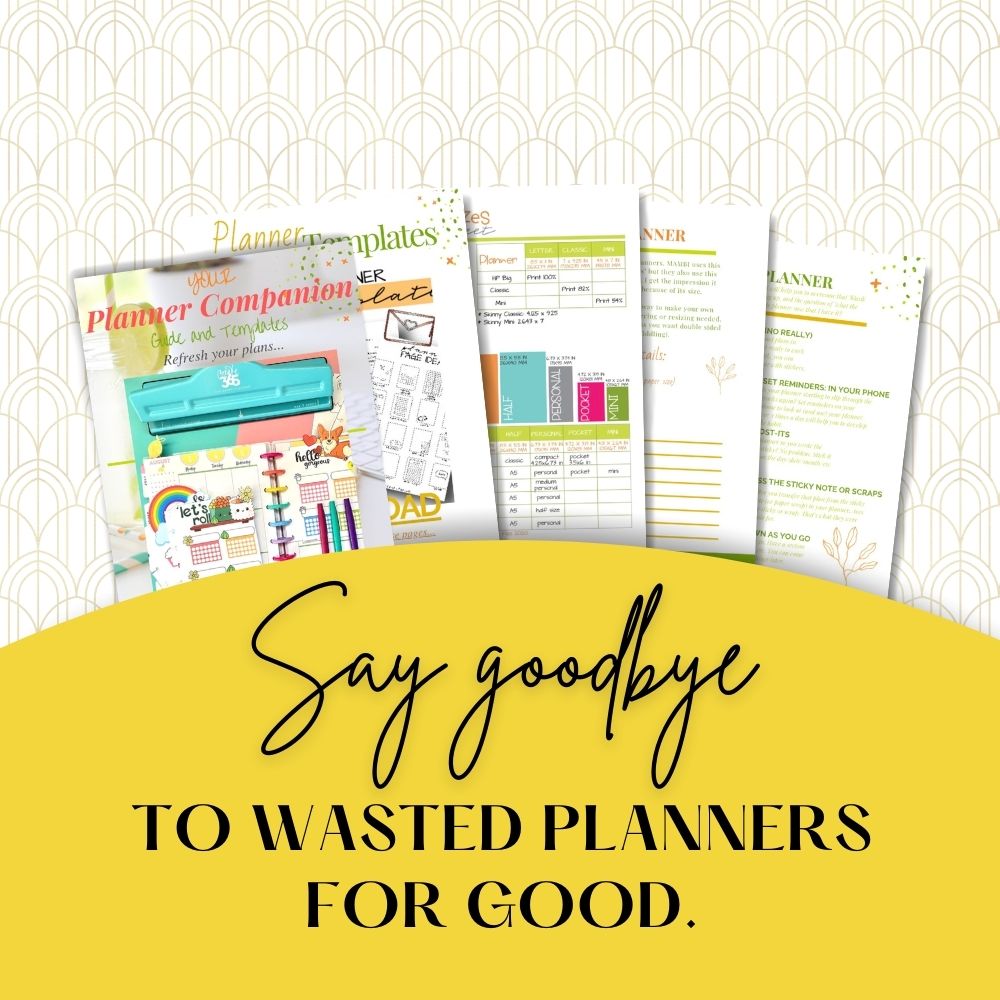 You can use the cheat sheets found in this printable planner companion guide that gives you planner pages, helps you resize and print them, and provides tips and tricks to set up your own custom planner (bring on the Frankenplanners).