We may earn a small commission for purchases made through affiliate links in this post. For more information go to our Privacy Policy.
So many planners…so little time to choose just one! I'm reviewing the Happy Planner Dashboard layout and giving you ideas on how to use this fun new planner layout.
Until recently, the Happy Planner had two basic weekly layouts for their planners: Vertical and Horizontal. Then they released a limited edition Super Mom planner that introduced the Dashboard layout. It was so popular that it became one of the main layout designs for the Happy Planner.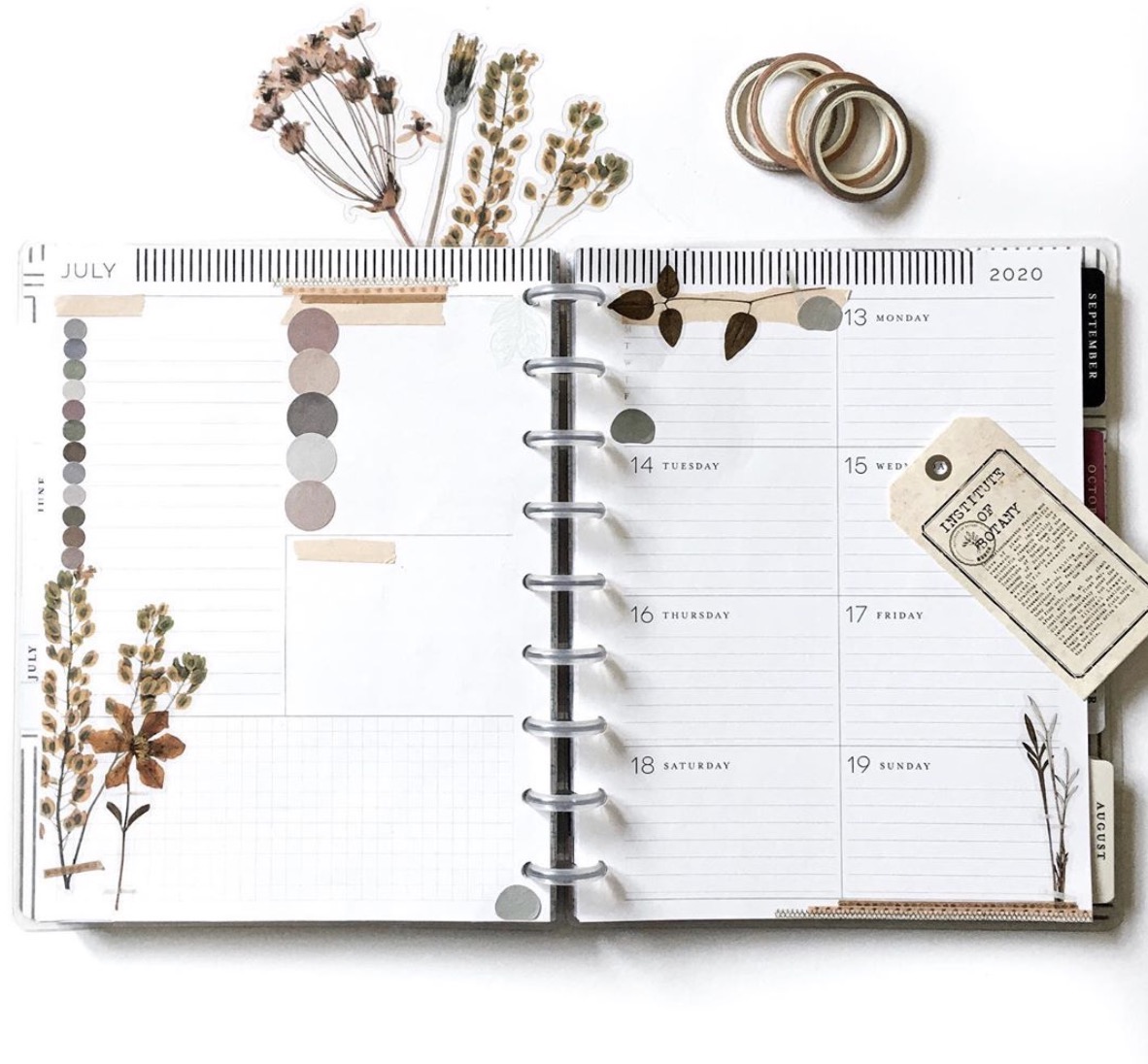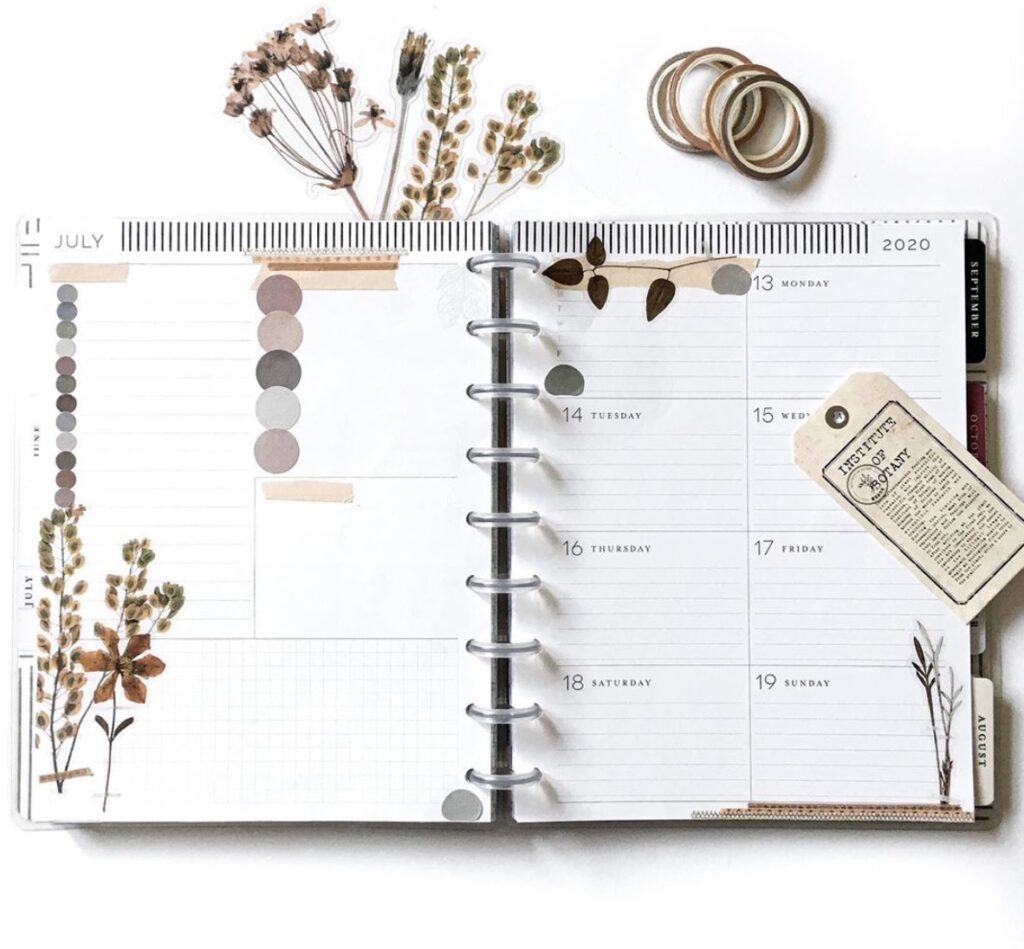 What is a Dashboard Layout Planner
Quickly becoming a new favorite in the planning community, the design of the Dashboard layout puts functionality at the forefront. Although it was originally called the Super Mom planner, it's arrangement appeals to both moms and other busy women.
Note: there aren't many references to being a mom – just in a few of the quotes and on a few covers. You could always cover them up if you don't want to see them (more on that below). 🙂
In a nutshell, the dashboard layout planner is a design that lets you see your whole week at a glance on a two page spread. The days of the week with space to plan, your top weekly priorities, and enough room to still create a fun layout and use your creativity.
Why Review This Happy Planner Layout?
Confusion and frustration can often accompany change. I once spent almost 6 months looking for my favorite planner before I had to switch brands because I couldn't find what I wanted. Then I had to adjust to the layout differences (sigh).
If you're anything like me, changing something as crucial as a planner design can take weeks to adapt to. I hope that by reviewing the new(ish) dashboard layout from the Happy Planner, you can use this information to help you more easily incorporate this new planner layout into your lifestyle.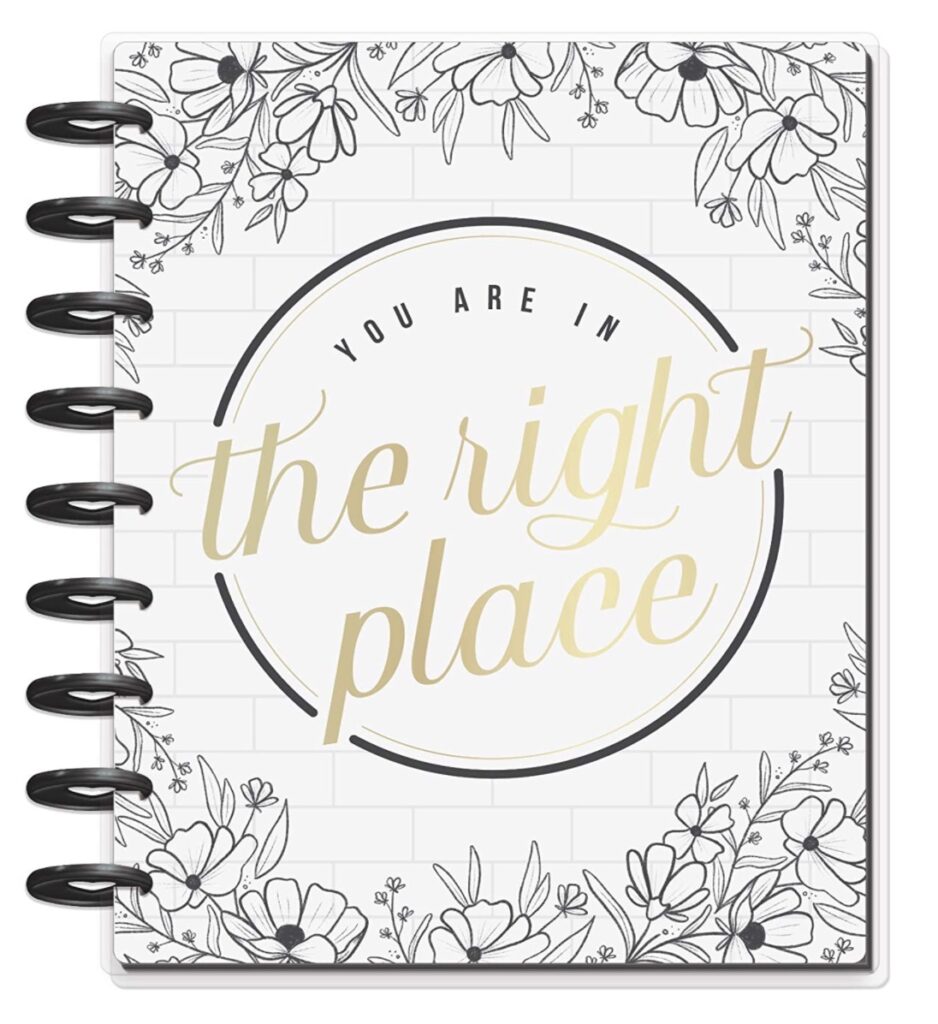 The Right Place
A Happy Planner Dashboard planner. Classic size. Ready to become your next favorite planner.
What's the Difference Between the Different Layouts?
With the Happy Planner you now get the choice between 3 main layout options: vertical, horizontal, and dashboard. Here's a quick rundown of the differences between them.
Vertical – if you like that top-to-bottom format that follows a daily schedule, this is the format for you.
Horizontal – this style is meant for the person who likes to add lots of details as she plans out her week.
Dashboard – this format is designed for the person who likes to see everything for the week (errands, appointments, monthly goals, to-do lists, shopping lists, and more) at a glance.
Each layout design offers plenty of space to add creativity as you plan – which is at least half the fun of planning, right?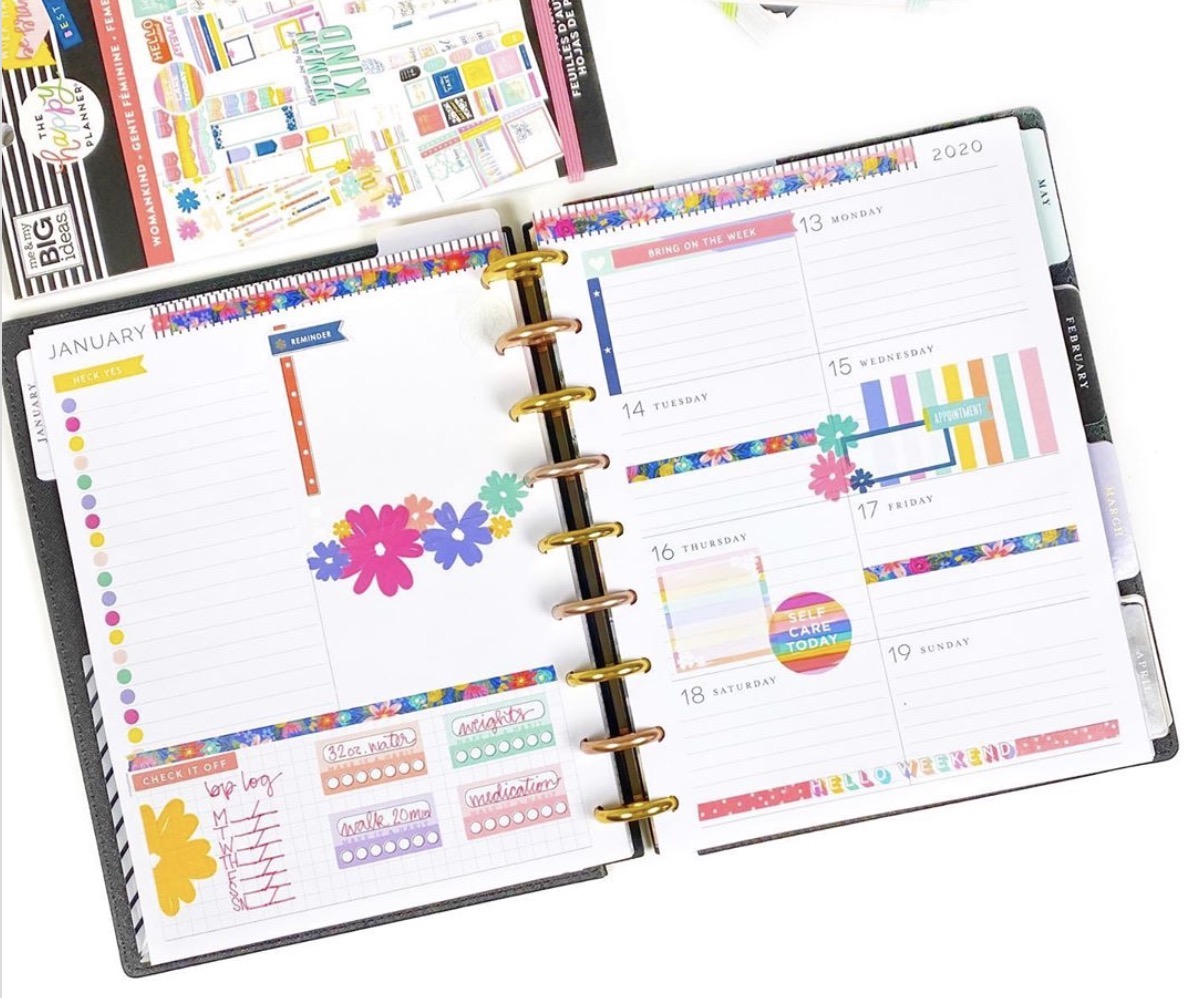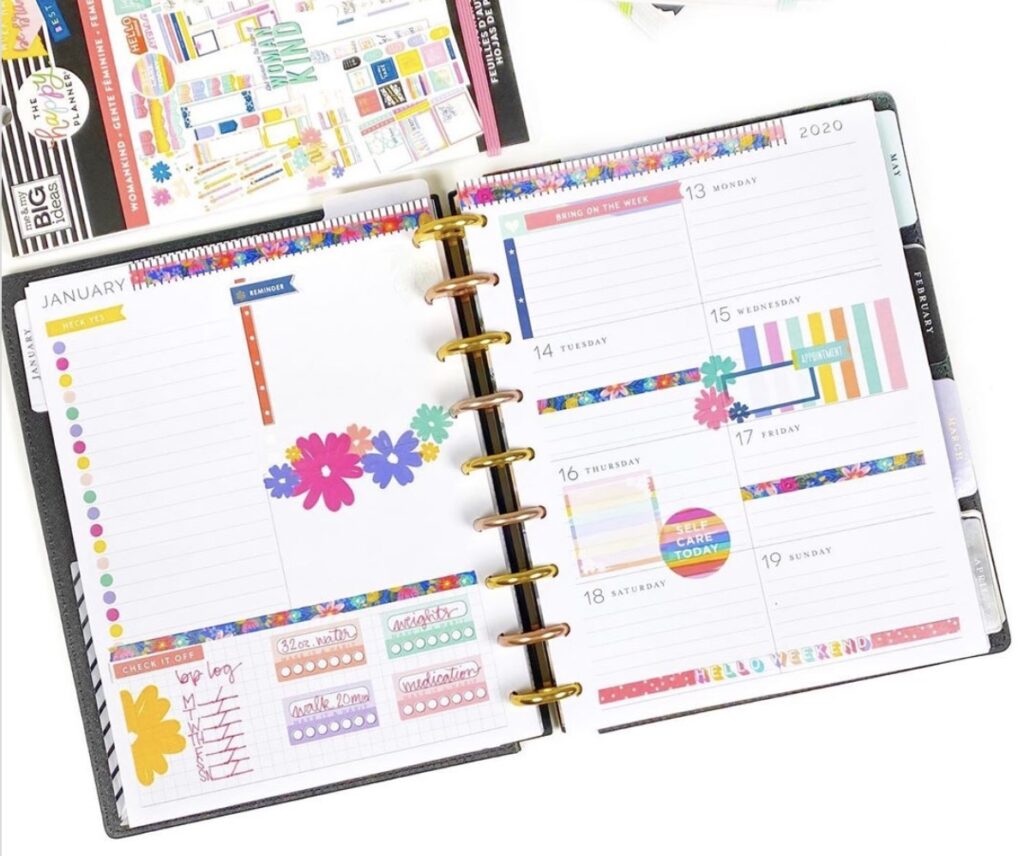 Happy Planner Dashboard Layout – An In-Depth Look
In order to know whether this layout would work for you, let's dive into its arrangement so you can get a better feel for it.
By the way, I firmly believe in making your planner work for you. If you like to adapt your planners and make them really personalized, you can easily print your own planner companion pages!
Specs
Here's a quick look at the specs for this dashboard before we take a deeper look at its functionality.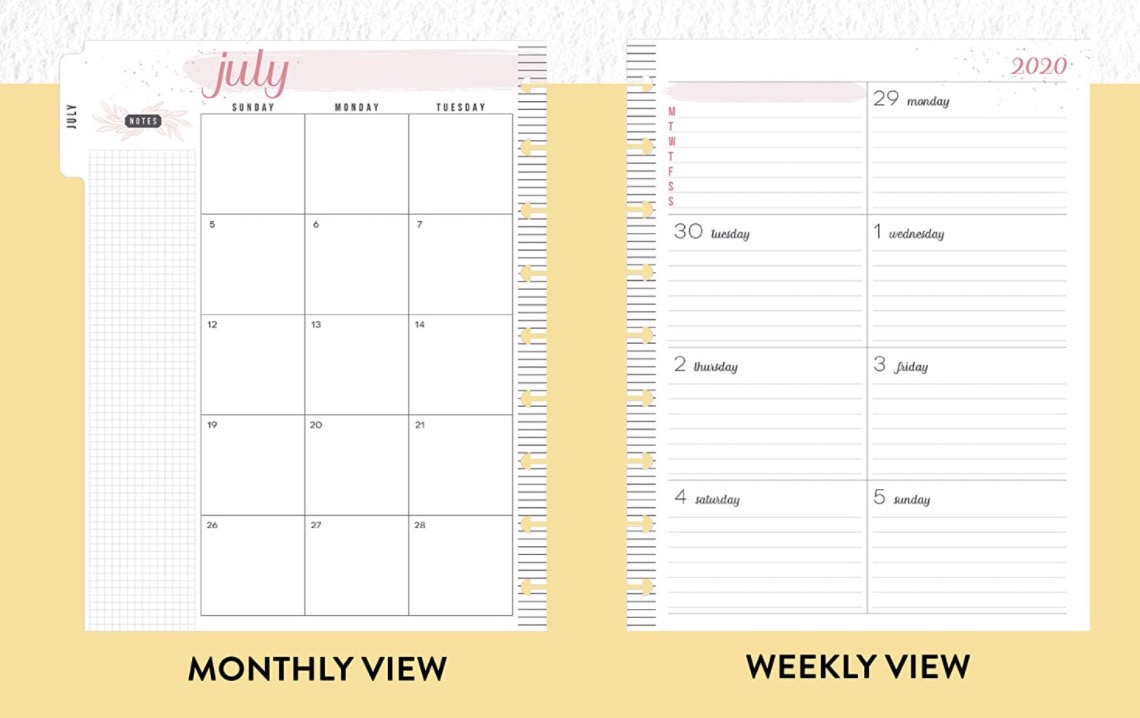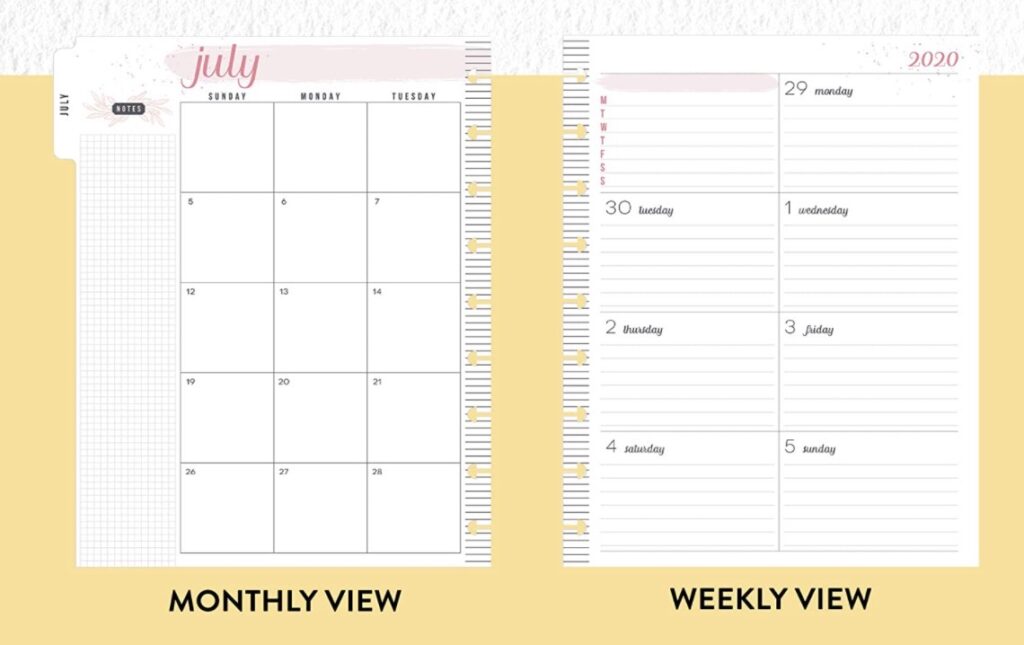 Size: 7" x 9.25"
Binding Style: discbound
Cover Material: laminated cardstock cover
Colorful design and pages
Tabs to quickly flip to any month
2-page Monthly Calendar for each month (starts on Sundays)
2-page weekly layout (starts on Mondays)
The Cover and Monthly Dividers
The cover is a laminated cardstock that's pretty standard for Happy Planners and many other planners too. It's strong enough to be durable but will likely show some wear and tear with use over the course of a year.
Each monthly divider has a different color scheme and design. Some are geared towards moms, but not all of them. You don't need to be a mom to successfully use this planner – if you aren't a mom, you could simply put stickers over the "mom parts".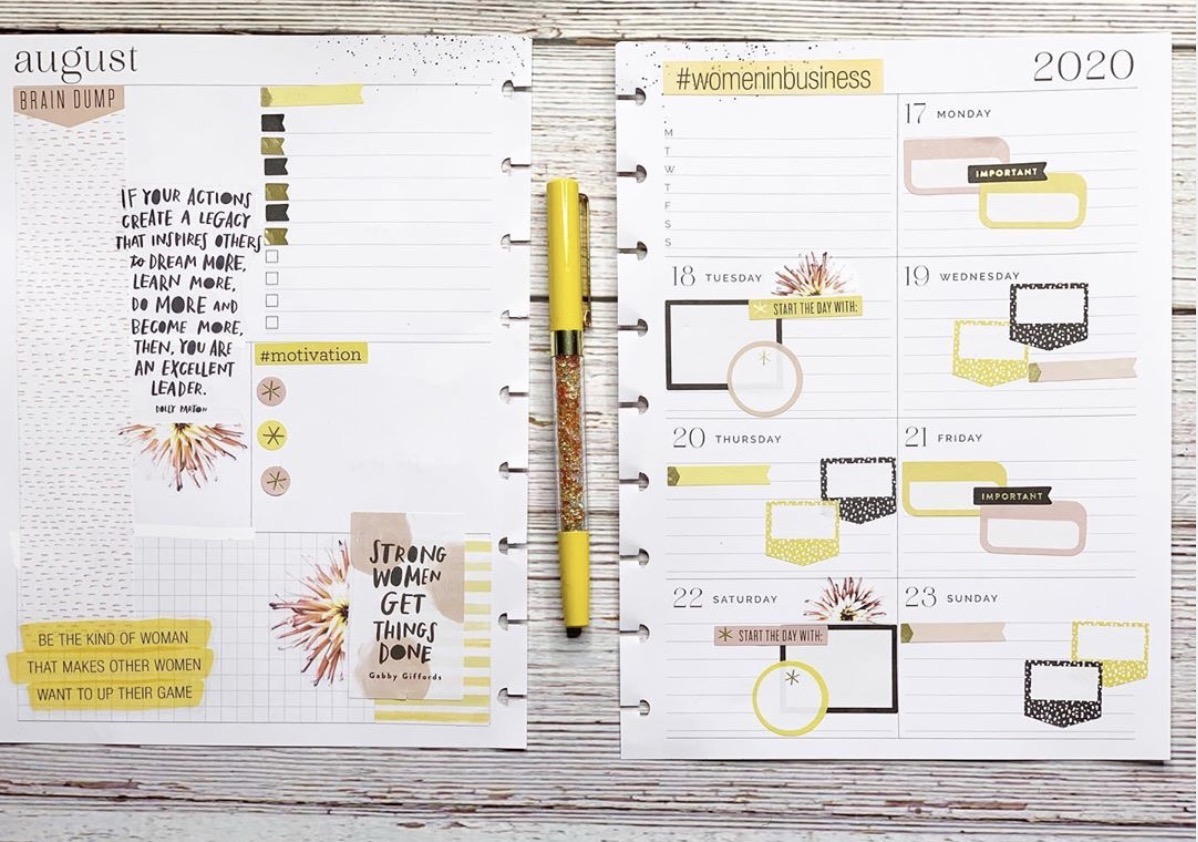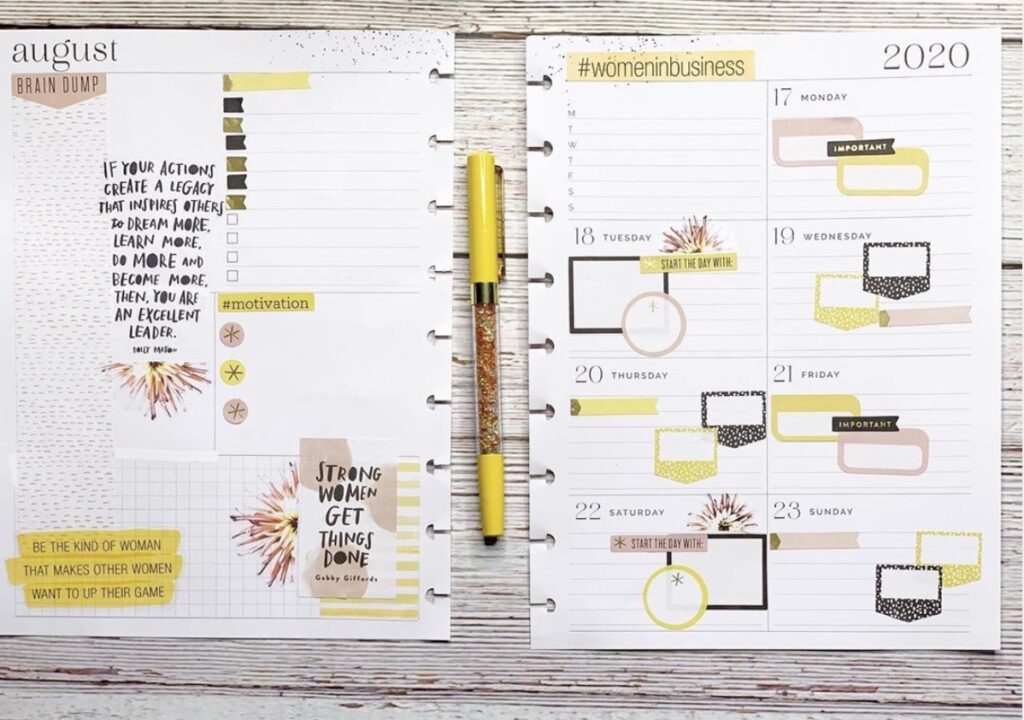 Monthly Calendars
These are standard monthly calendars sprinkled in logical monthly increments through the planner (and have tabs to allow you to quickly flip to the one you want). The week begins on Sundays on these calendars – which differs from the weekly planners.
Bonus: I love the shaded weekend days which are awesome for those who like to take quick glances at their calendars.
Weekly Planners
I was so happy when Happy Planners released this new dashboard layout – it's a 2-page weekly layout that presents a refreshing change from the horizontal and vertical styles. Let's dive in!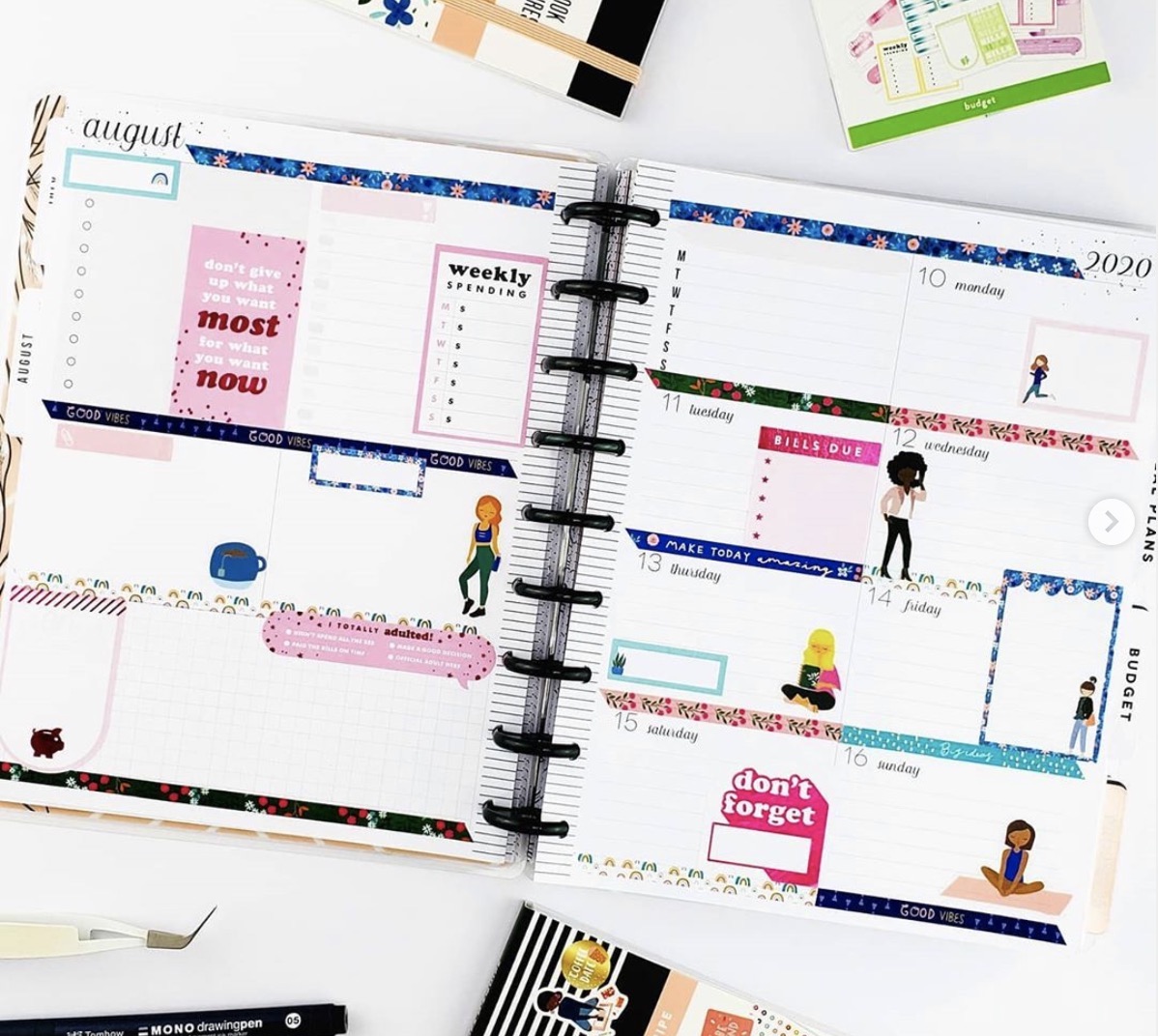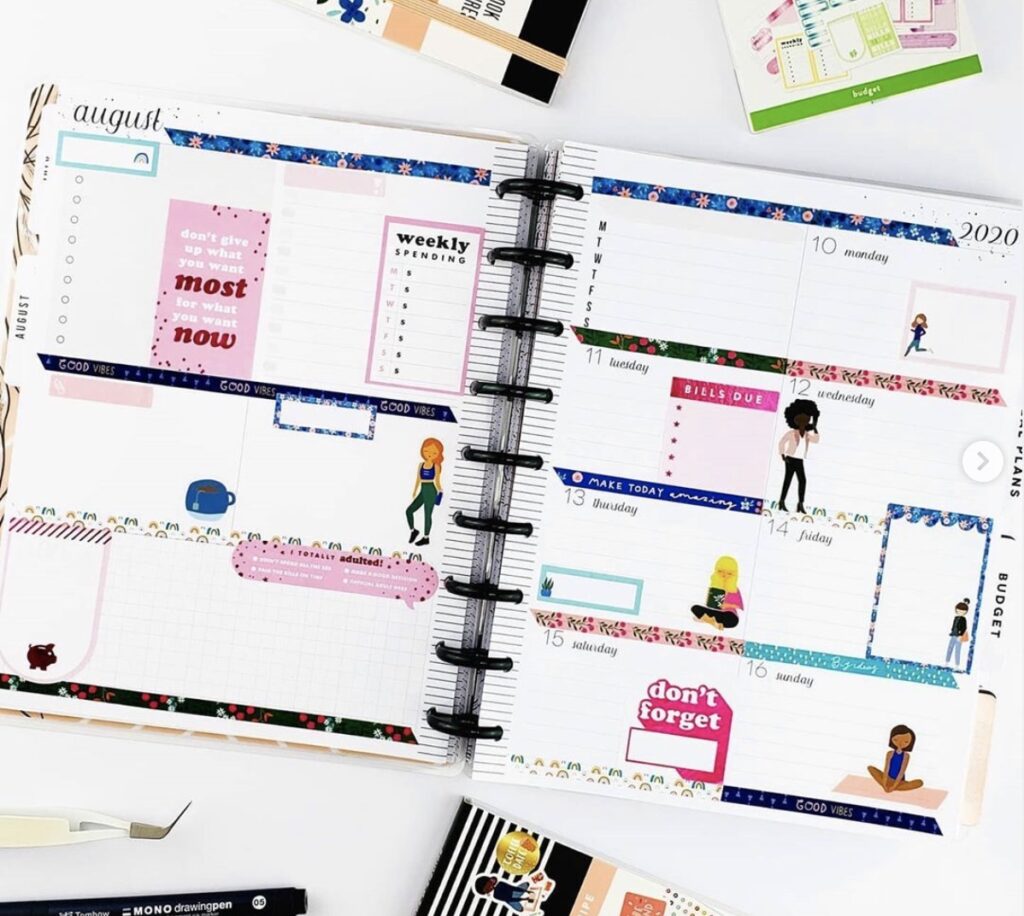 Right Page
There's a lot of list-making room available within the different blocks of space on this page. The way it comes labeled, you have space for errands, shopping list, calls/emails to-do list, bills to pay and more.
Essentially, it functions much like a bulletin board – can't you just imagine all the sticky notes with items written on them? It's that idea but in a much more organized fashion.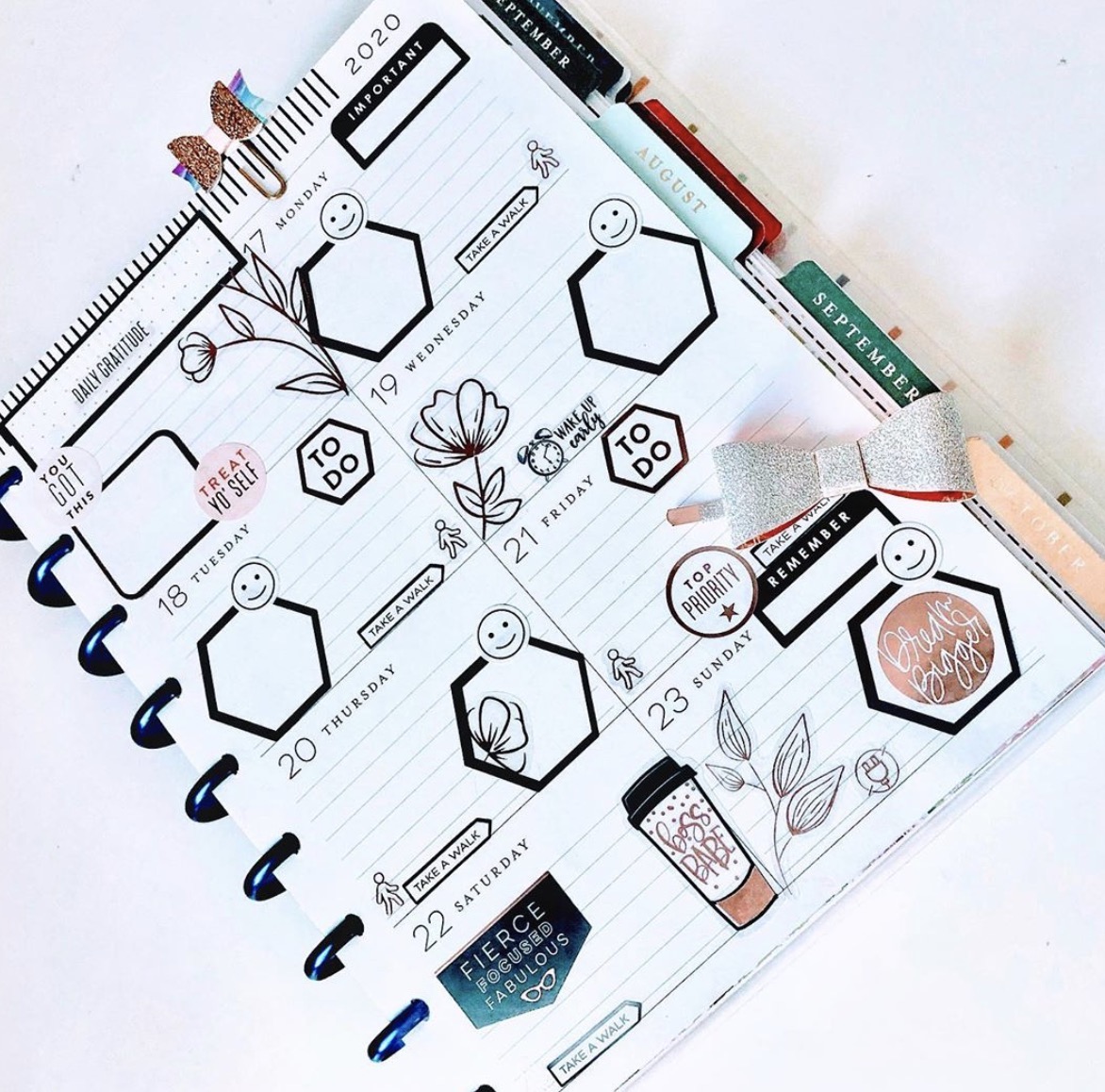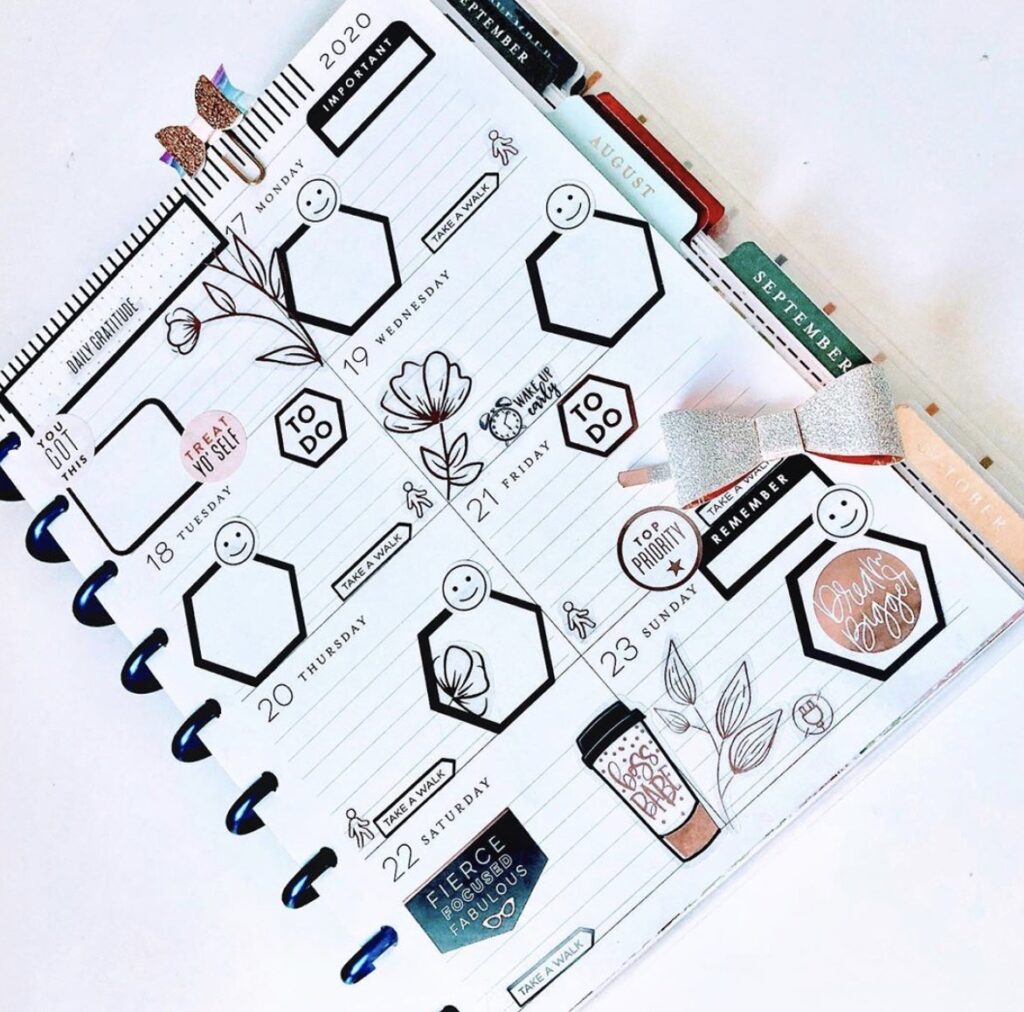 It's a well thought-out catch-all space. However, if you want any of the sections to cover something different, you can easily re-label any blocks that you want so that they fit your week more effectively.
A couple of ideas that spring to mind are an exercise tracker, habit tracker, water tracker or anything else that would be useful for you..
Left Page
This page provides lined space for each day of the week plus a section for meal planning (my favorite part!) However, if you would prefer to change the meal planning section to something else, it could be converted to gratitude, cleaning, carpool, etc by simply adding a sticker over the title.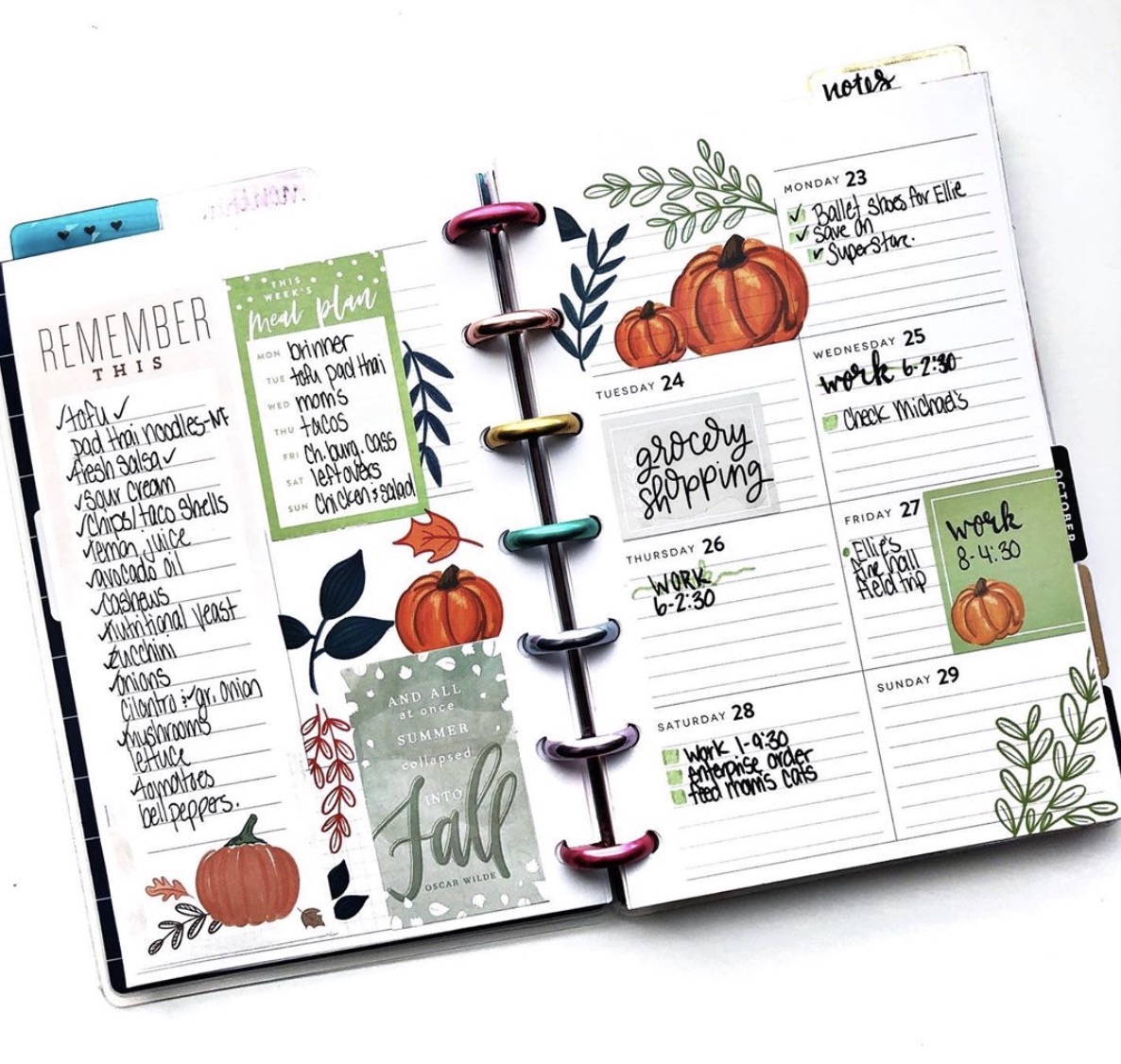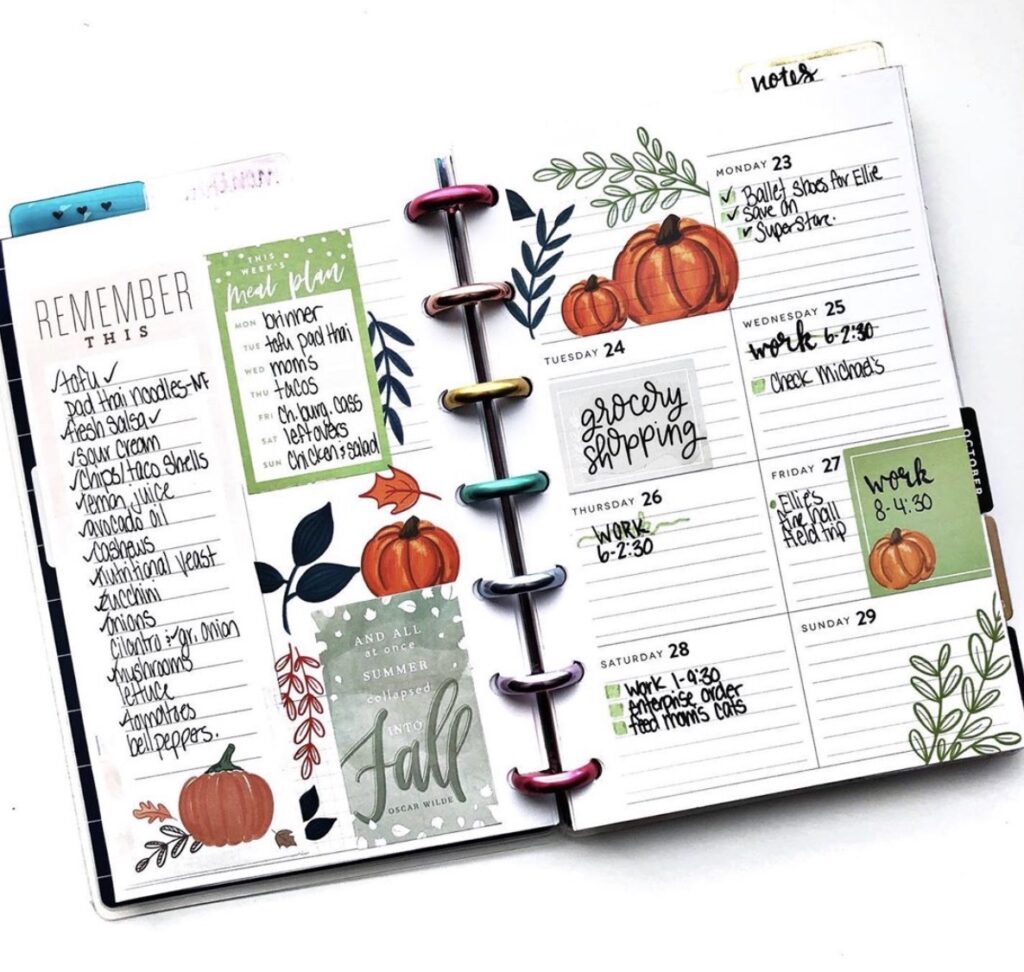 Note: The weekly planner pages start on Mondays, which could potentially throw some people off since it isn't consistent with the monthly calendars.
Extra Included Pages
This planner comes with the 1-page weekly planner, which I love. I am drawn toward bright happy colors, and this page nails it! If you like these condensed rainbow week pages, you can buy them as separate refills.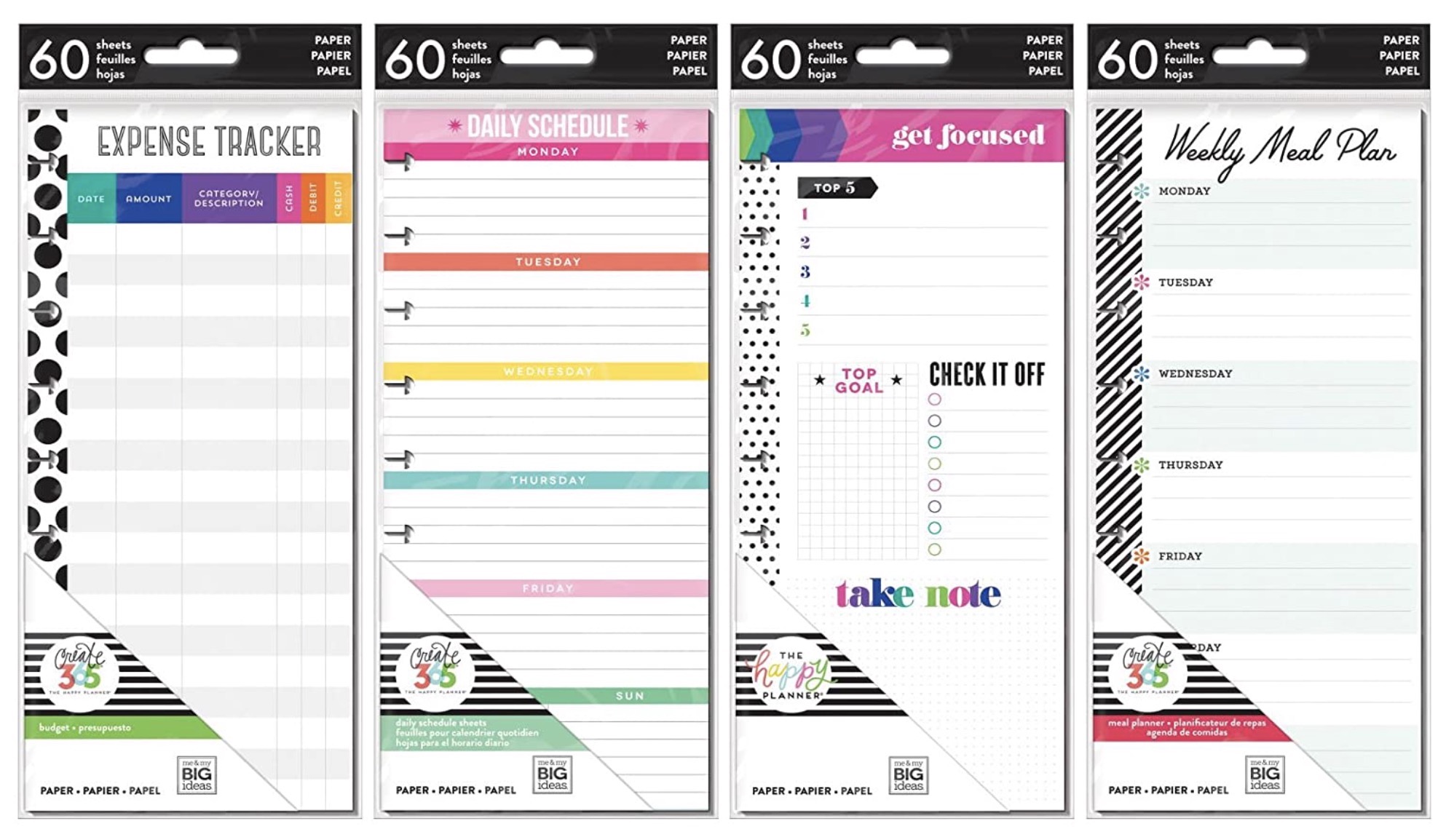 Pen Test Results
In my opinion, this is one of the most important tests for a great planner – second only to the layout. The Happy Planner has some of the thickest planner paper, with bleedthrough mostly only happening with Sharpies or marker pens. Here is an entire post filled with the best pens for your planner!
Pros of The Dashboard Layout For The Happy Planner
Just like with anything new (or new to you!) there are potential pros and cons, and knowing them helps making decisions about trying out new items much easier. Here are some of the pros I see with this layout design.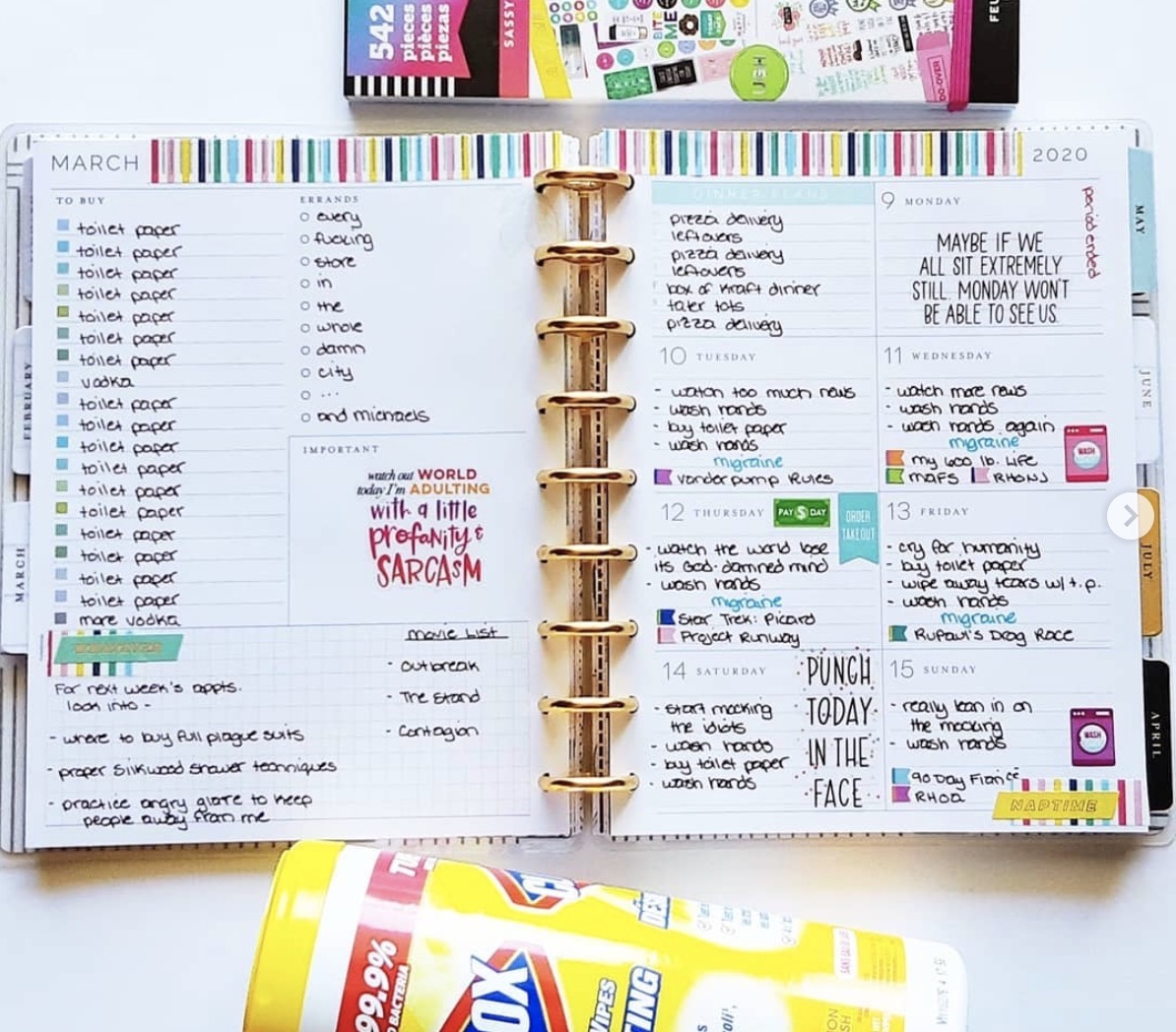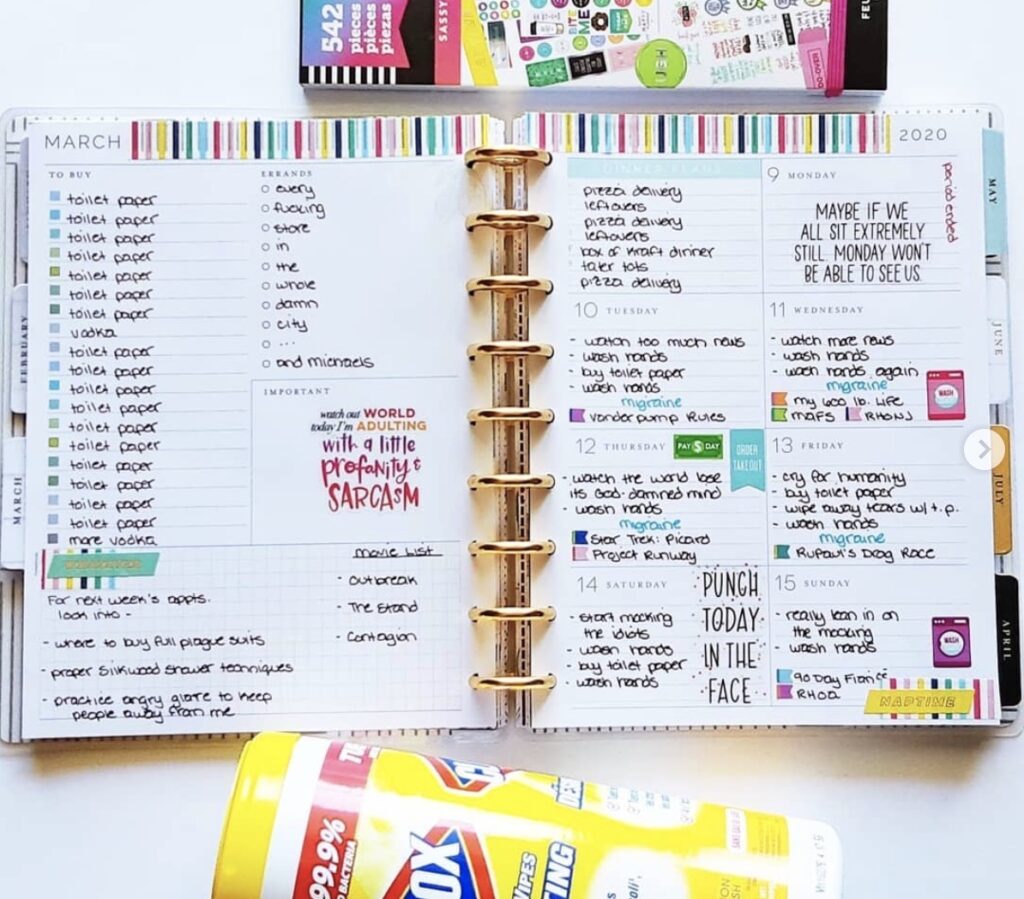 At a Glance Layout
Some people may find this layout busy or the layout may not quite fit their needs, I love having the ability to open my planner and see everything I need to see very quickly.
Discbound Design
I love discbound planners because they offer so much flexibility to easily add, remove, or rearrange pages any time you want. The discs with the Happy Planner are either metal or a hard plastic, so they're good quality and durable.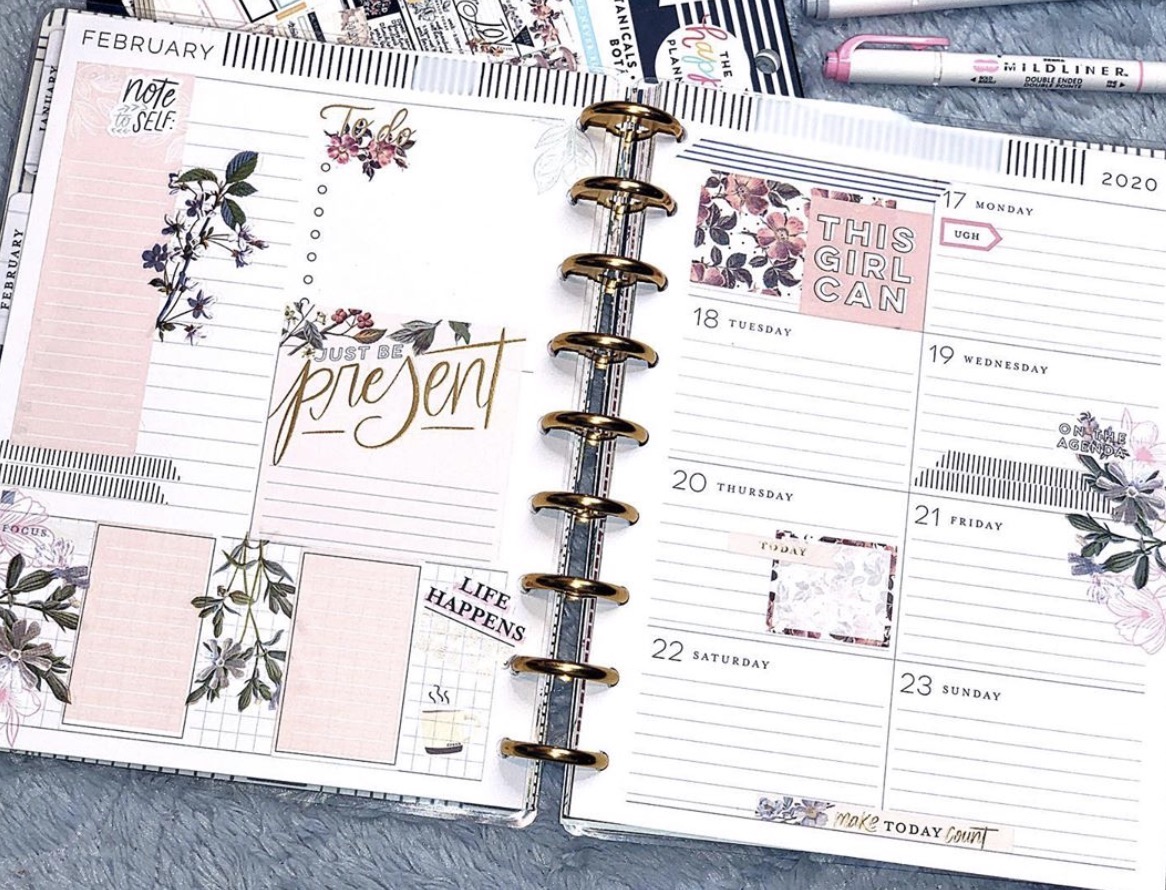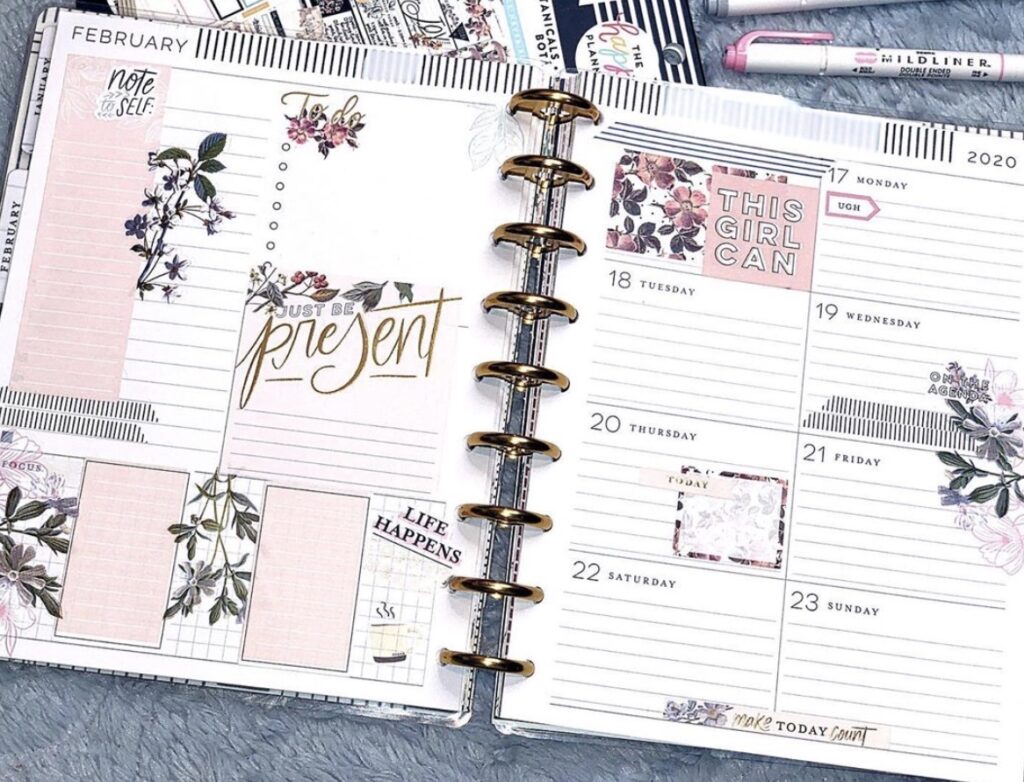 Monthly Overview Pages
Sometimes I'm just like a kid trying to count down the day until Christmas.🙂 Having monthly calendars allows me the ability to add in important dates and see at a glance when they are in relation to the current day.
Colorful Pages
There's something about colorful pages that makes me feel happy and more on top of things. This planner has got it covered.
Thick Pages
The pages are thicker than most planners available, meaning there's less bleedthrough of your ink (a major frustration of mine!).
Great Extra Pages
Not all planners come with extra helpful pages, but the Happy Planner does!
Potential Cons of the Happy Planner Dashboard Layout
Here are a few potential downsides to the dashboard layout of the Happy Planner so that you proceed forward with eyes wide open.
The Headings
Ok, those headings on the left side of the weekly planner may work for some, but they may not work for others. If you feel constricted by the headings, simply white them out and write over them or cover them up with stickers and re-label.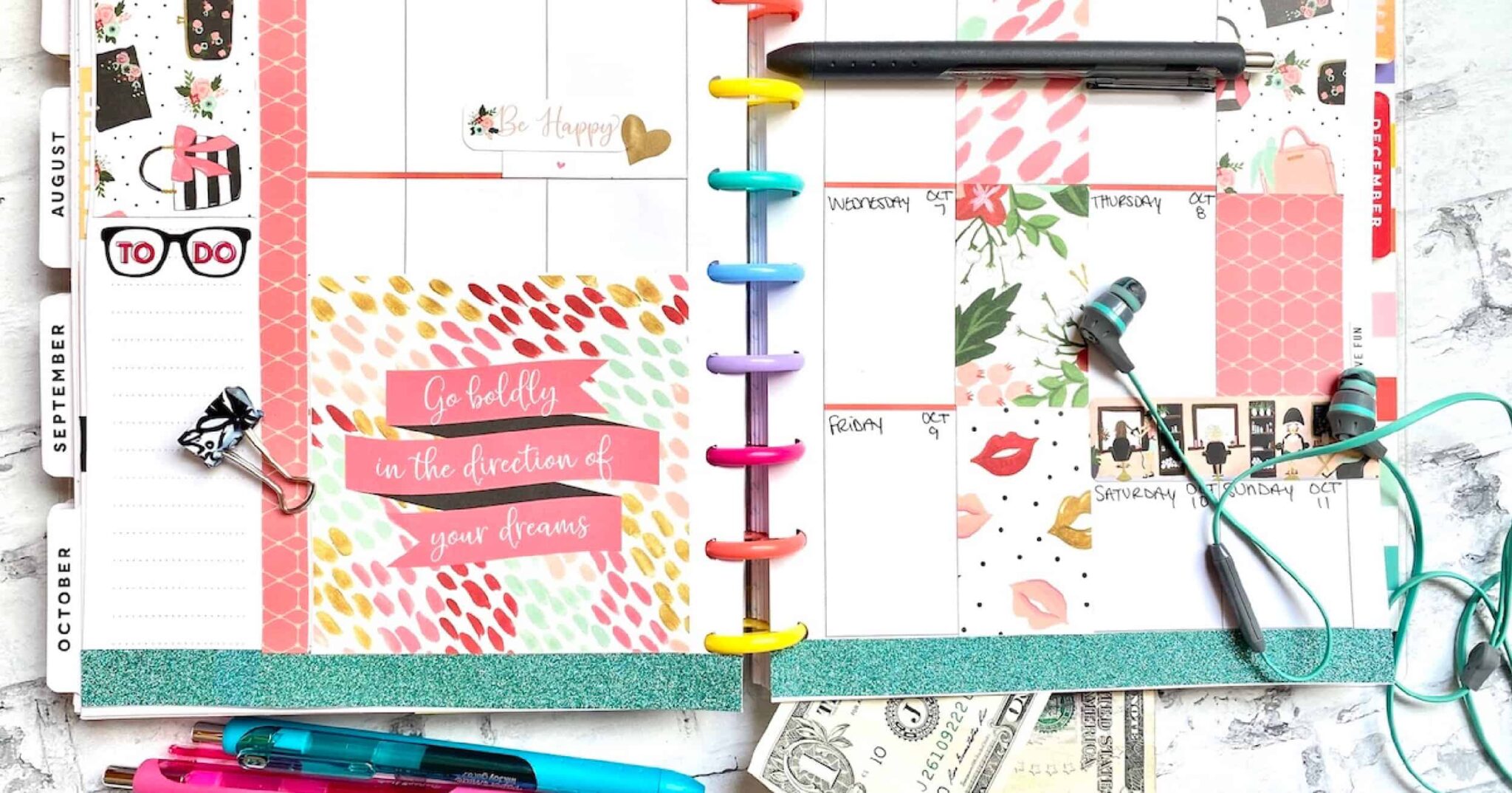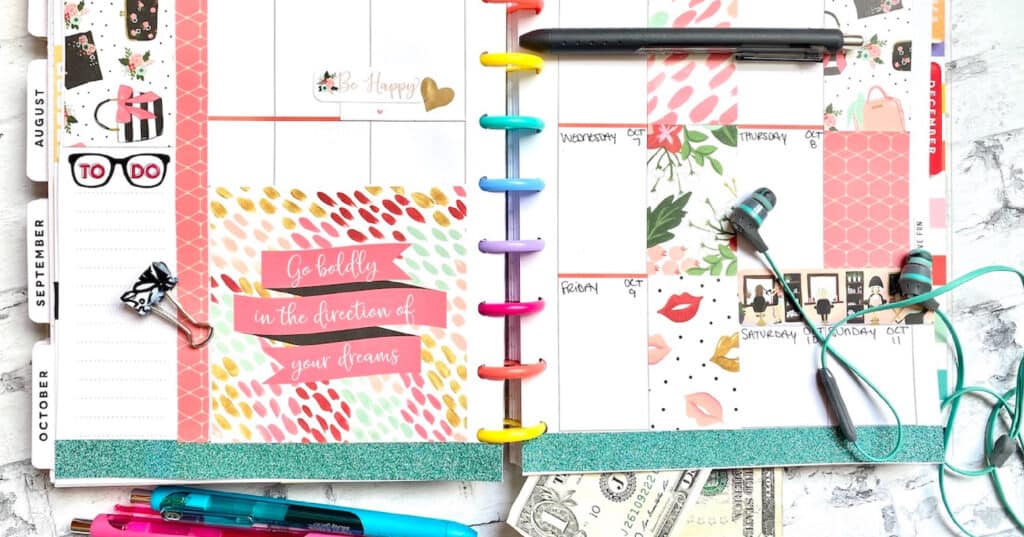 If you want the ability to make your planner work exactly the way you want it, check out Printable Planner Companion Kits.
What to do About the "Mom Sayings"
If you're not a mom and don't want to see the "mom sayings" that are part of this planner, it's easy to cover them up with MAMBI stickers, washi tape, scrapbooking paper or anything else you want to use!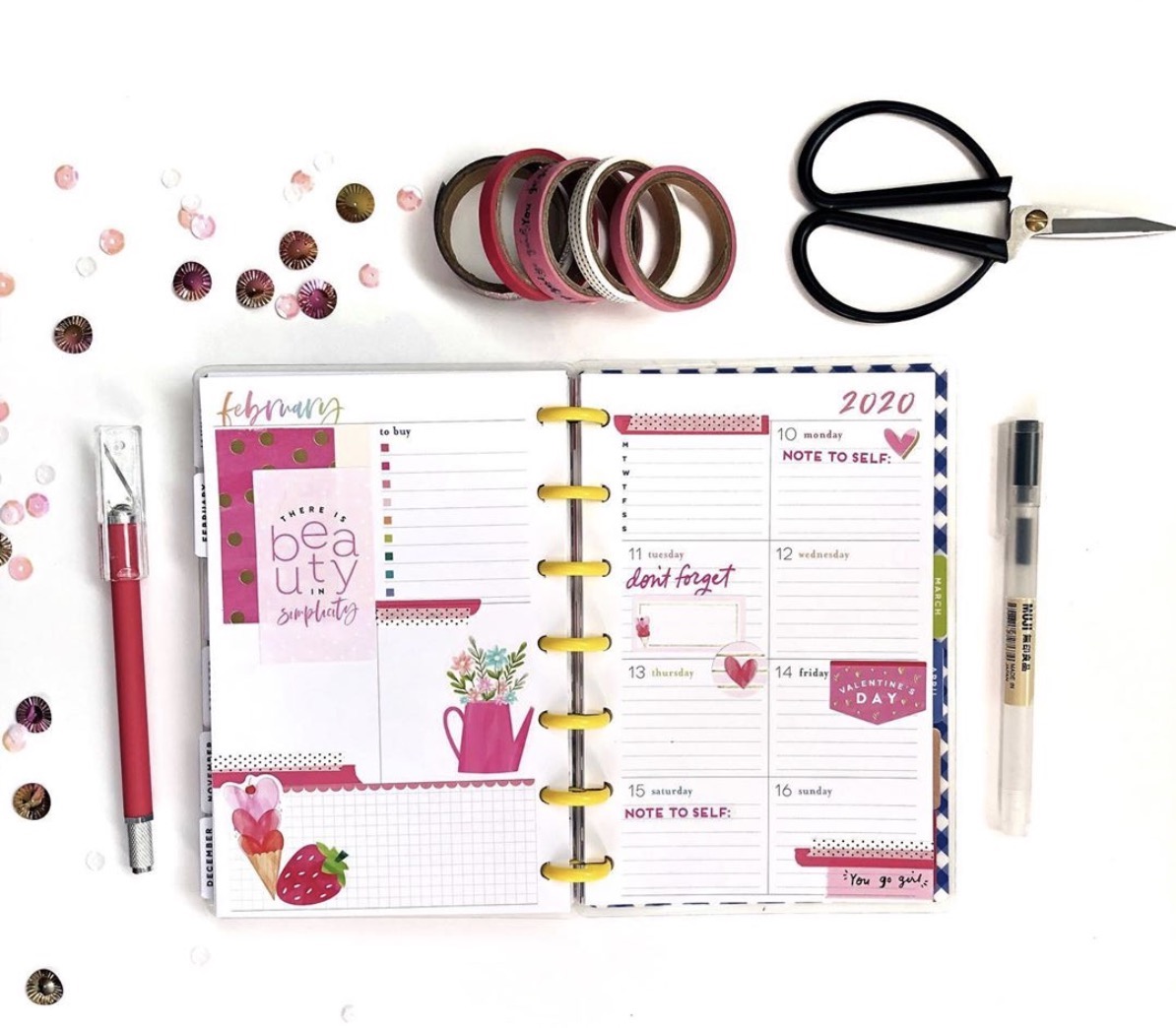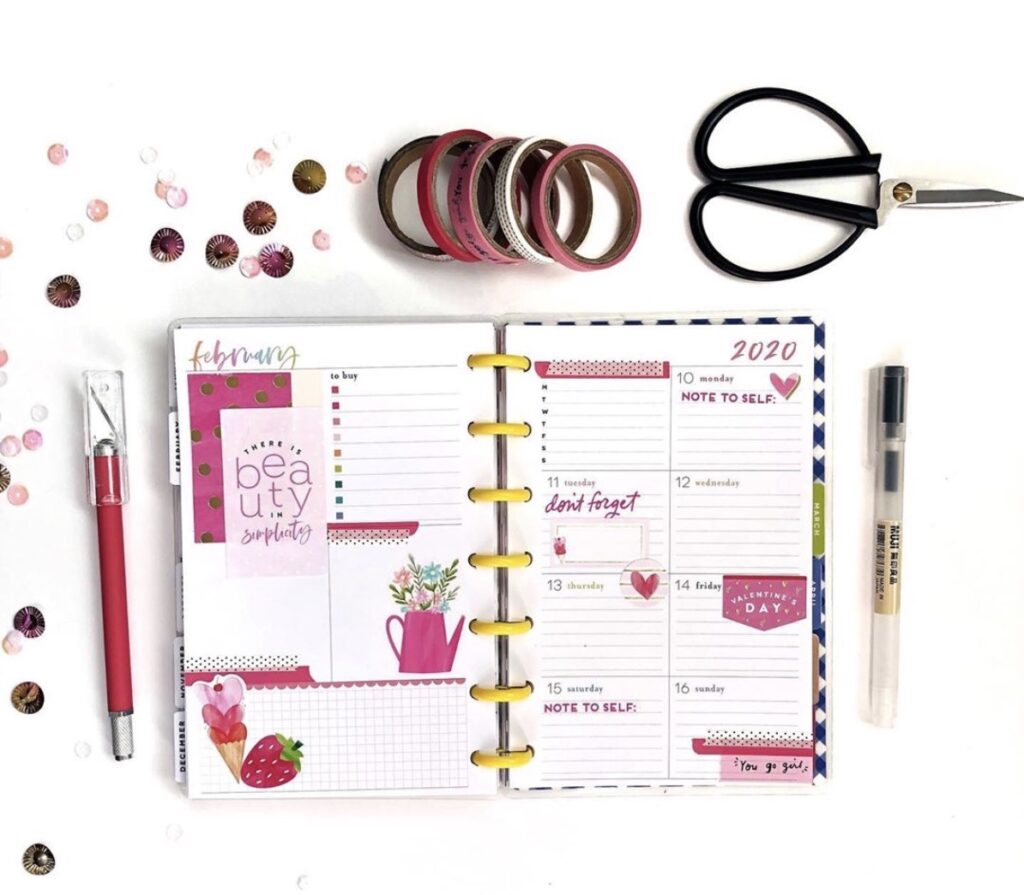 Not Enough Planning Space
If you need to follow a schedule by time through the day, this layout won't provide the dedicated space that you need to write down your appointments throughout the day.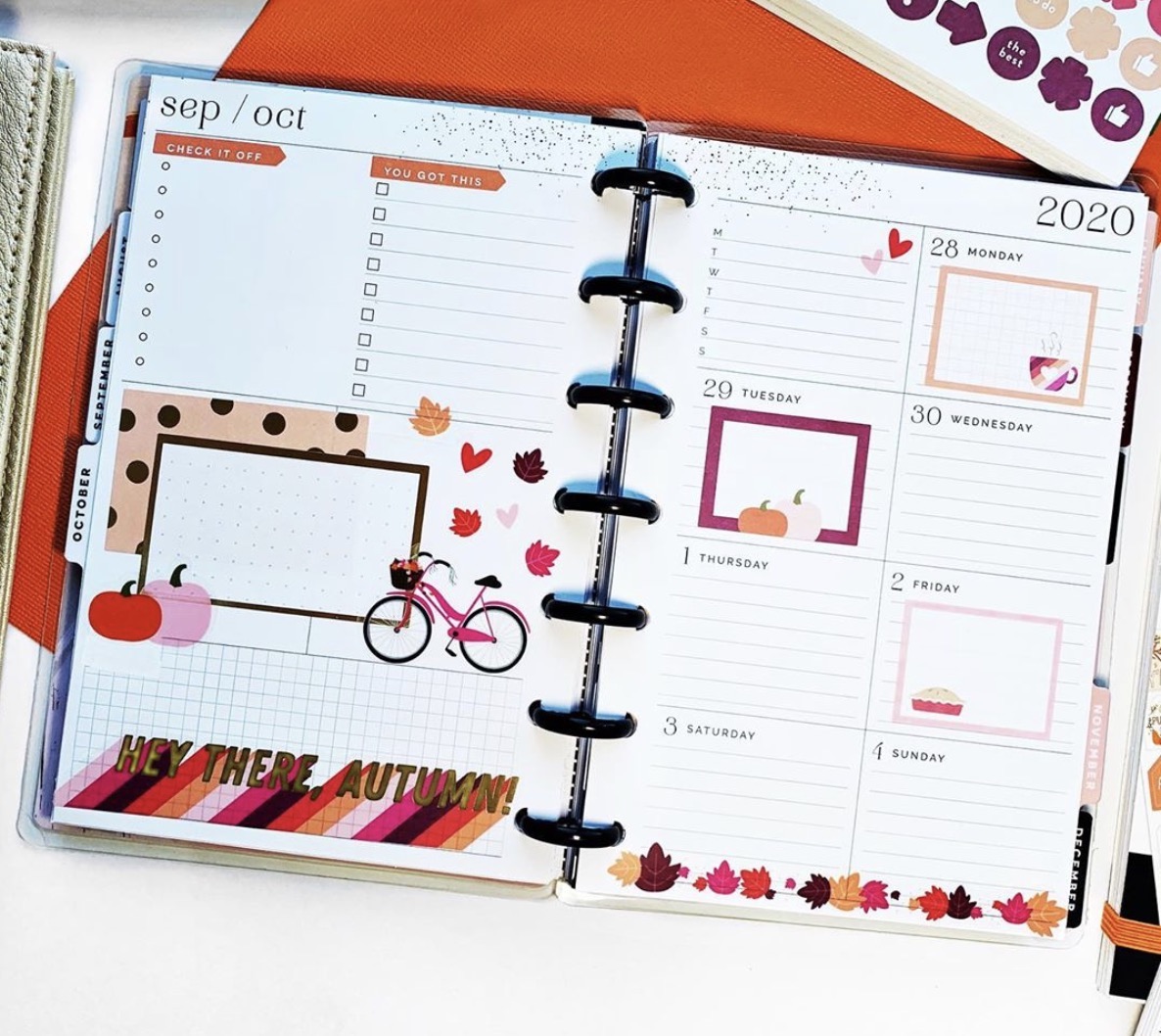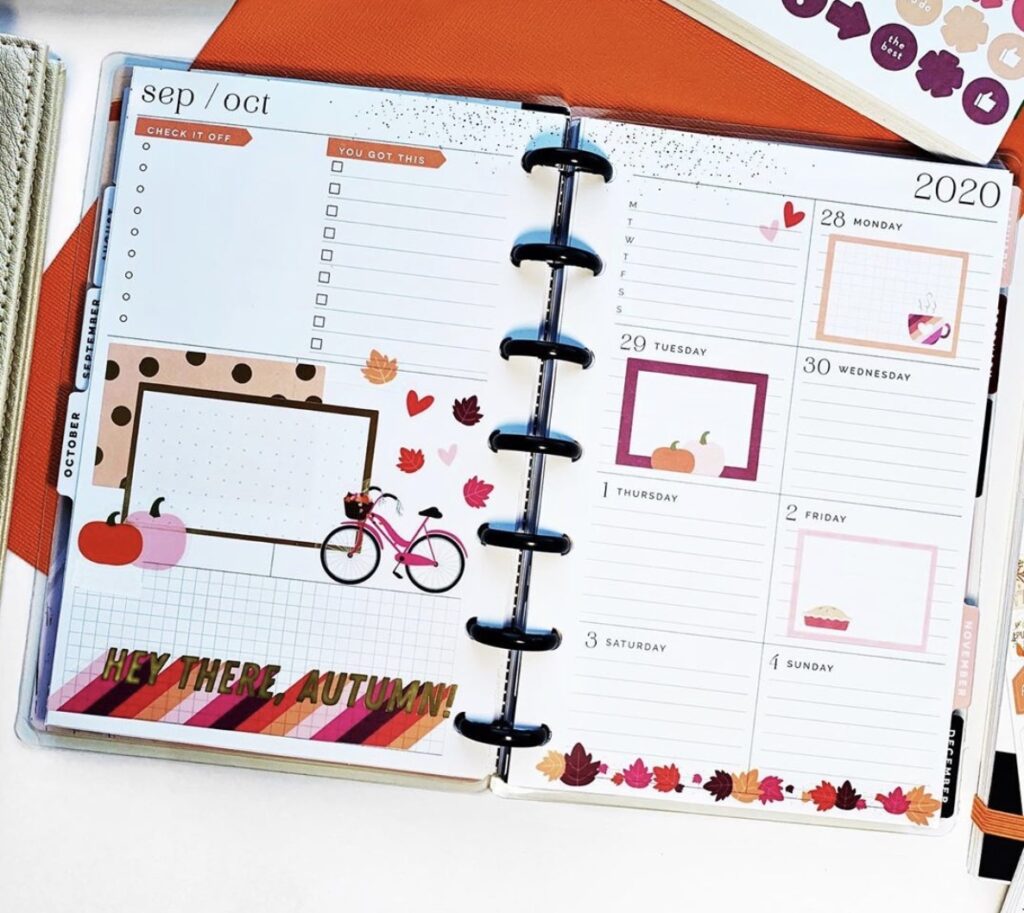 Accessories for the Happy Planner Dashboard Layout
Half of the fun of using a planner is the ability to be creative with it. Adding your own personal touch in the form of stickers, markers, highlighters, DIY headings, graphics (and more!) allows you to stay organized while also flexing your creative muscles.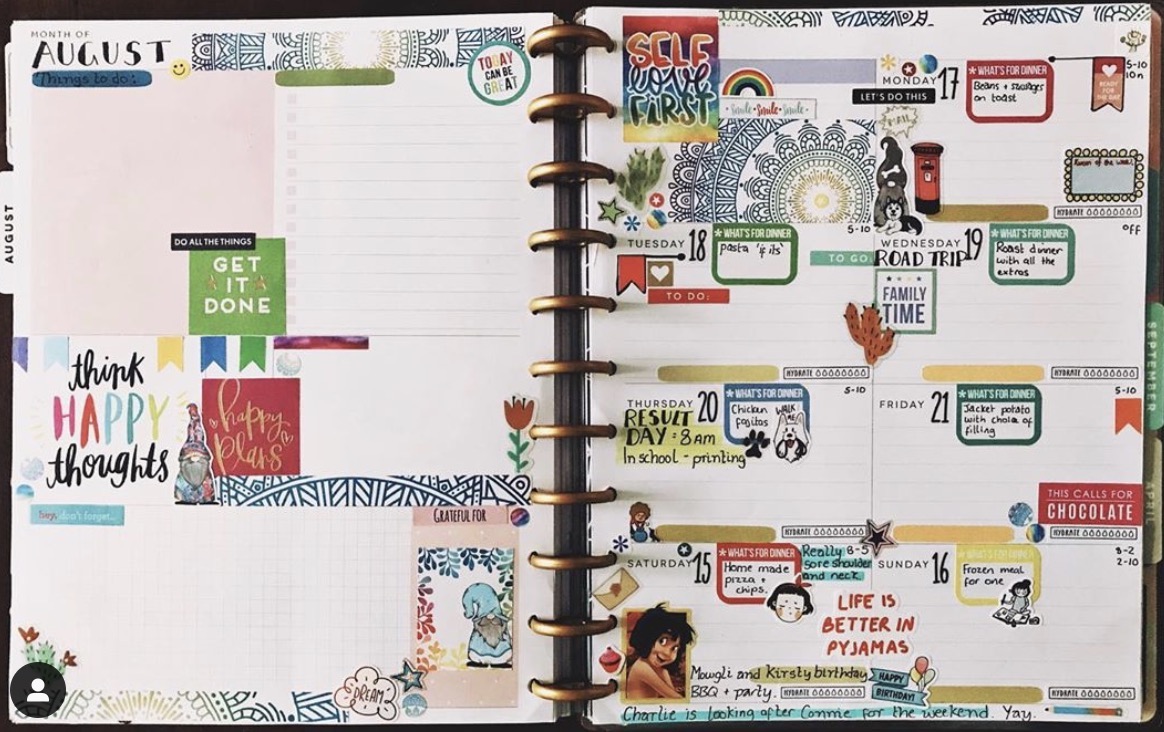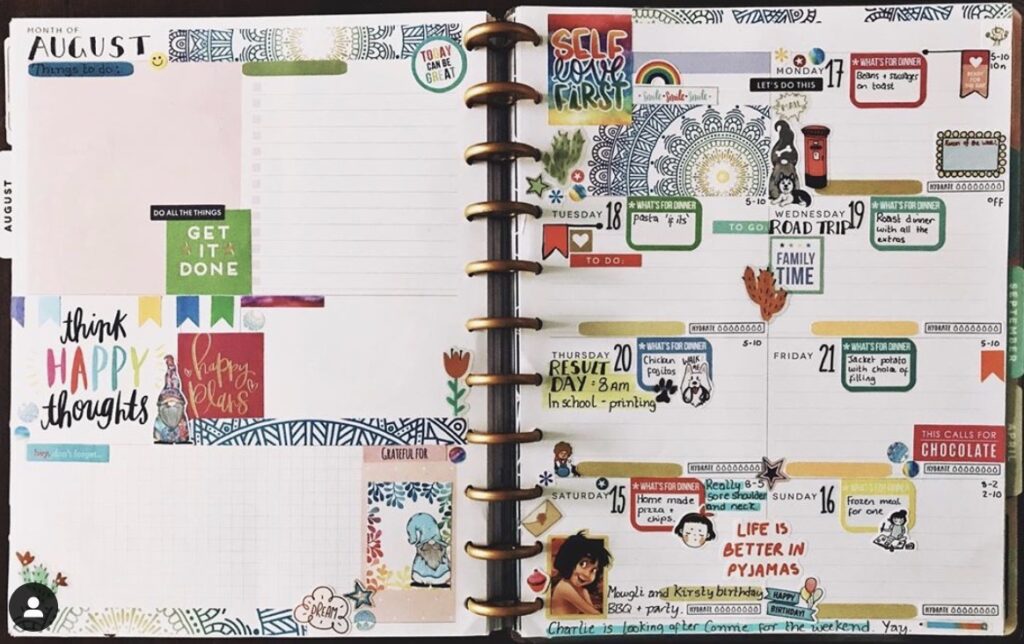 Happy Planner Dashboard Layout Ideas + Final Thoughts
You can find various dashboard sticker kits on Scrapbook.com. Different sellers on Etsy also offer sticker packs that work with the dashboard layout.
If you're like me (and so many others) who love personalizing their planner, the dashboard layout for the Happy Planner makes it a snap. You can make it work for you by easily changing it into whatever you want it to be.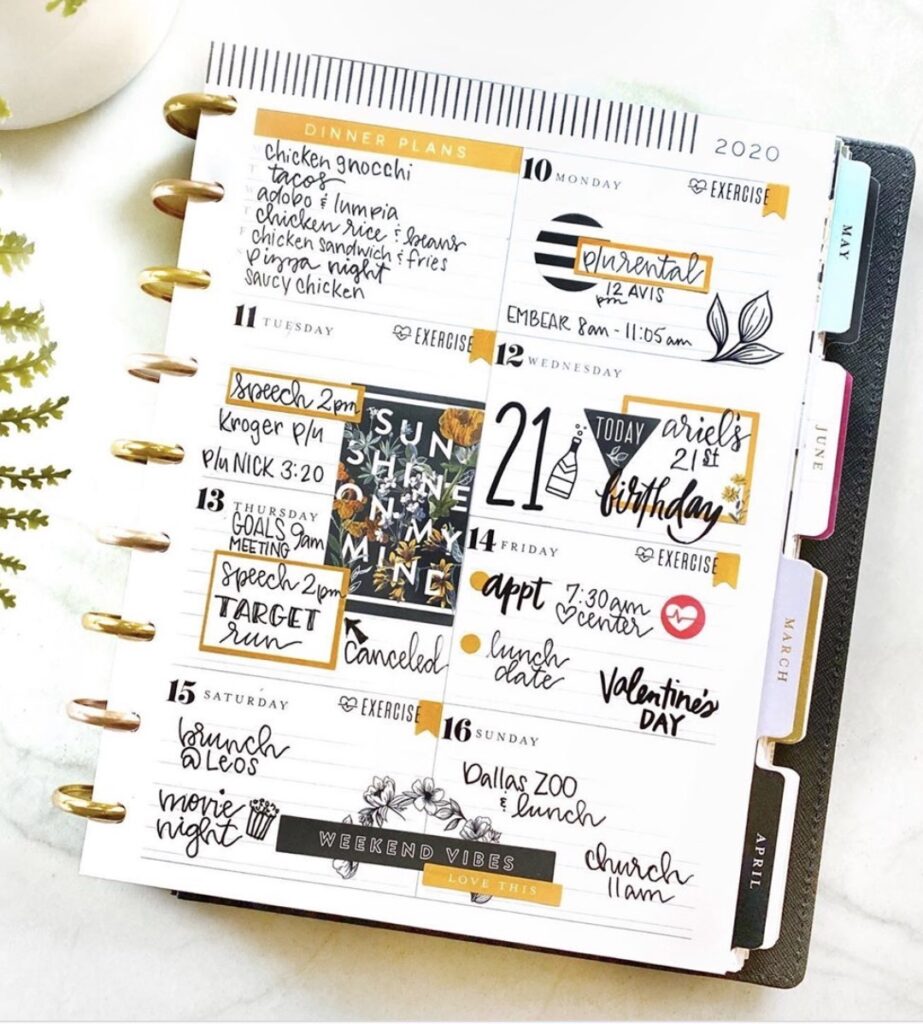 There's no need to settle for what comes on your pre-printed pages. If you think outside the box and use your creativity, the Happy Planner Dashboard will provide the means for both decorating and staying organized.
Overall, I love the flow and versatility of the Happy Planner Dashboard layout and think you will too!
More About The Happy Planner: