Doodle Art: Top Resources To Learn How To Doodle
We may earn a small commission for purchases made through affiliate links in this post. For more information go to our Privacy Policy.
Are you interested in learning how to doodle? Creating doodle art yields many benefits and is just plain fun! Learn how to get started creating easy doodles so you can improve your skills and reap all those benefits quickly.
How many times have you gazed at doodles on Pinterest or Instagram and wished that you could create them yourself? Some people seem to doodle regularly while others find the very thought of it intimidating.
Doodles are fun, graphic representations of…life. They can represent anything and everything in a simple way with a touch of creative flair. But the best part about doodles is that ANYONE can create them. There is very little artistic talent required to enjoy making unique and adorable doodle art.
Some Benefits That Doodling Provides
Art can help develop the creative side of the brain, sure, but you may wonder, is doodling good for your brain?
I'm happy to report that the answer is a resounding, "yes!" Doodle art can provide many benefits including:
Increased Productivity
Improved Focus
Stress Relief
Making Listening Easier
Improved Memory
Although some people will only doodle when listening to others speak, there are many people who enjoy doodling alone – such as in their bullet journal or planner. Doodling can add a nice, personalized touch to those items and is a great creative outlet as well.
What You'll Need To Get Started
Which pen do you use for doodle art? Can you use markers? What supplies do you need to begin practicing doodle art?
The good news is that you don't need much. In fact, you can probably even start with items you already have and do a great job.
However, if you're looking to take your supplies to the next level (getting new supplies is so fun!), here are a few things that I recommend:
Planner, bujo, or sketch pad
Pencils – You can use any #2 pencil, but I personally like mechanical pencils that I don't need to sharpen after drawing 2 doodles
Pens – Pick some that write smoothly but don't bleed or ghost on your paper. Check out this list of my top journal pen recommendations and see which work best
Colored pencils – These aren't necessary, but they're a great way to add in some color
Markers – I think these are very optional and a matter of personal preference. Some markers can bleed through the paper, so I personally prefer using colored pencils or pens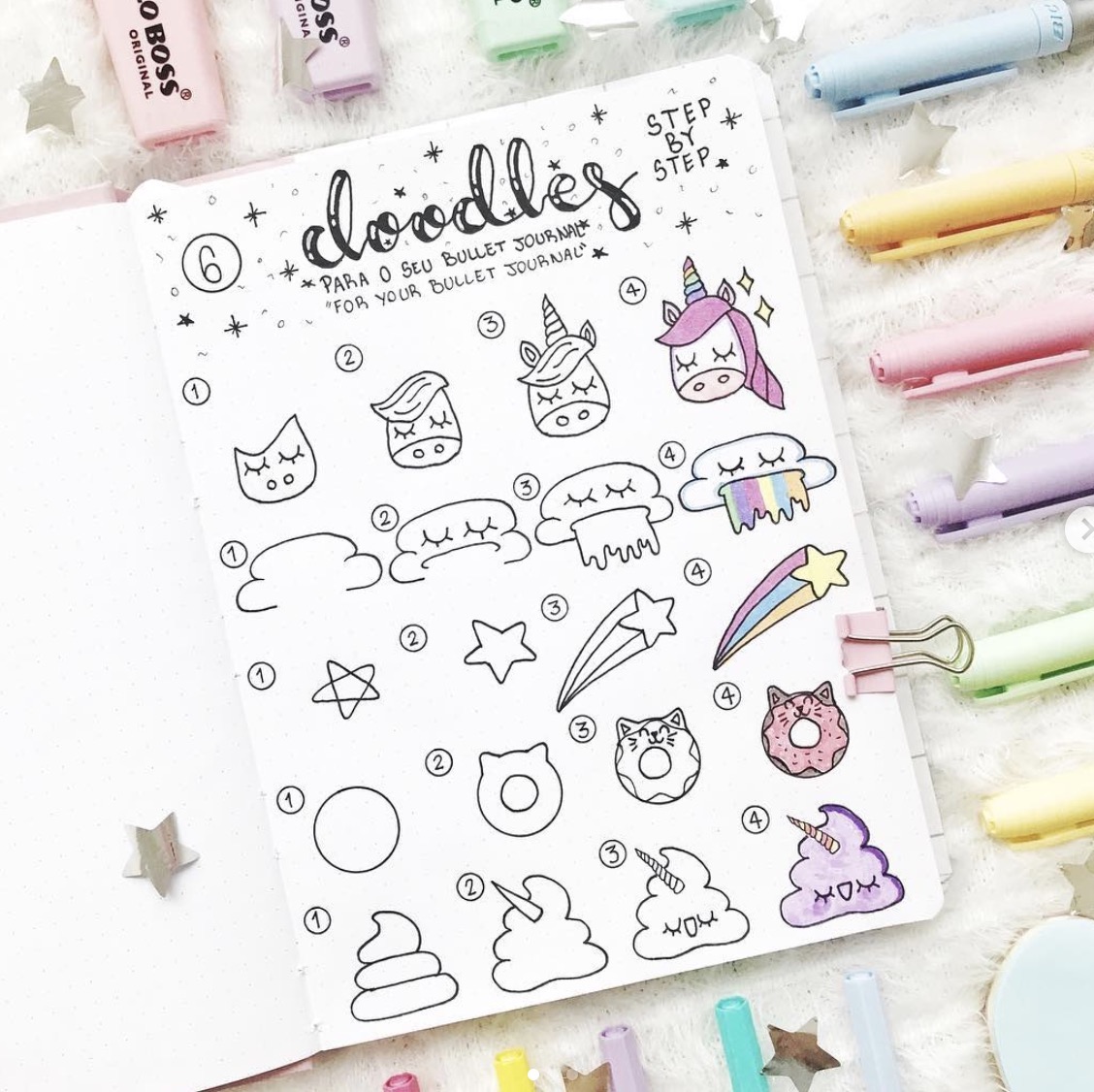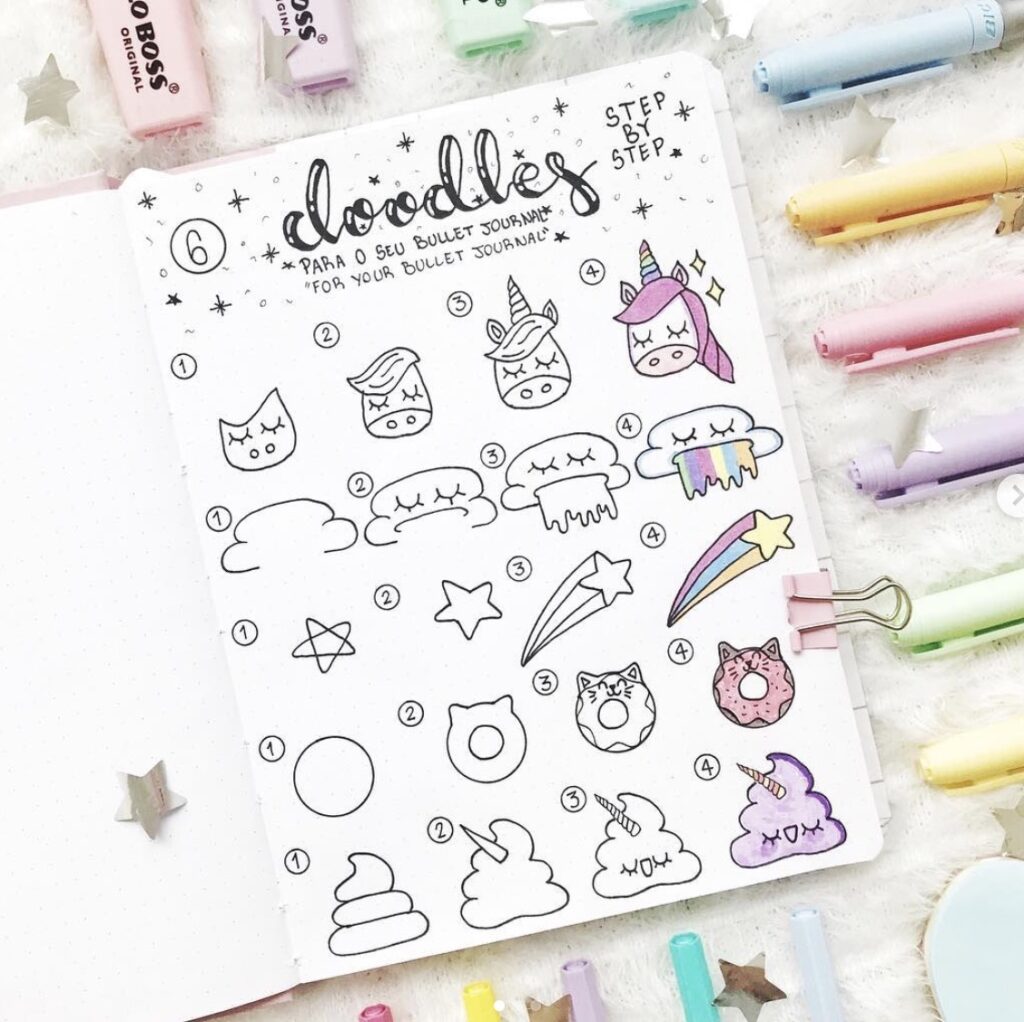 Learning Doodle Art – The Basics
From experience, I know that the best way to tackle feeling intimidated by something like doodling is to just DO IT. Adopt the mindset that it doesn't matter if you mess up or if the picture doesn't turn out as you envisioned it.
In other words: stop thinking and start doing. 🙂 Just remember that reward only comes with a little risk!
Ok, so how do you DO easy doodle art? When you are first learning how to doodle, start with the basics: lines and shapes. Here are some ideas:
Lines: straight, curvy, angled, random, arc, etc
Shapes: circles, squares and rectangles, and triangles
Varied shapes: turn those basics into different shapes such as clouds, ovals, diamonds, etc
Practice them and experiment with them – your shapes shouldn't be perfect. In fact, they're meant to be imperfect and just a little different each time you create them.
Finding The Time To Practice Doodling
Practicing will boost your confidence. Before you know it, you'll feel much more comfortable and willing to test your skills even more. When can you possibly find time to practice? Anytime!
Practice easy doodles when you arrive early to pick up your kiddo from sports practice. Do a little when you're waiting at the doctor's office. Doodling doesn't require a lot of time or materials, so it's easy to squeeze in some practice anytime and anywhere.
If you're anything like me, your next thought is probably "what should I doodle when I'm bored?" I found it best to just work on easy doodles like shapes and lines. Then, you can move toward building on those basic skills.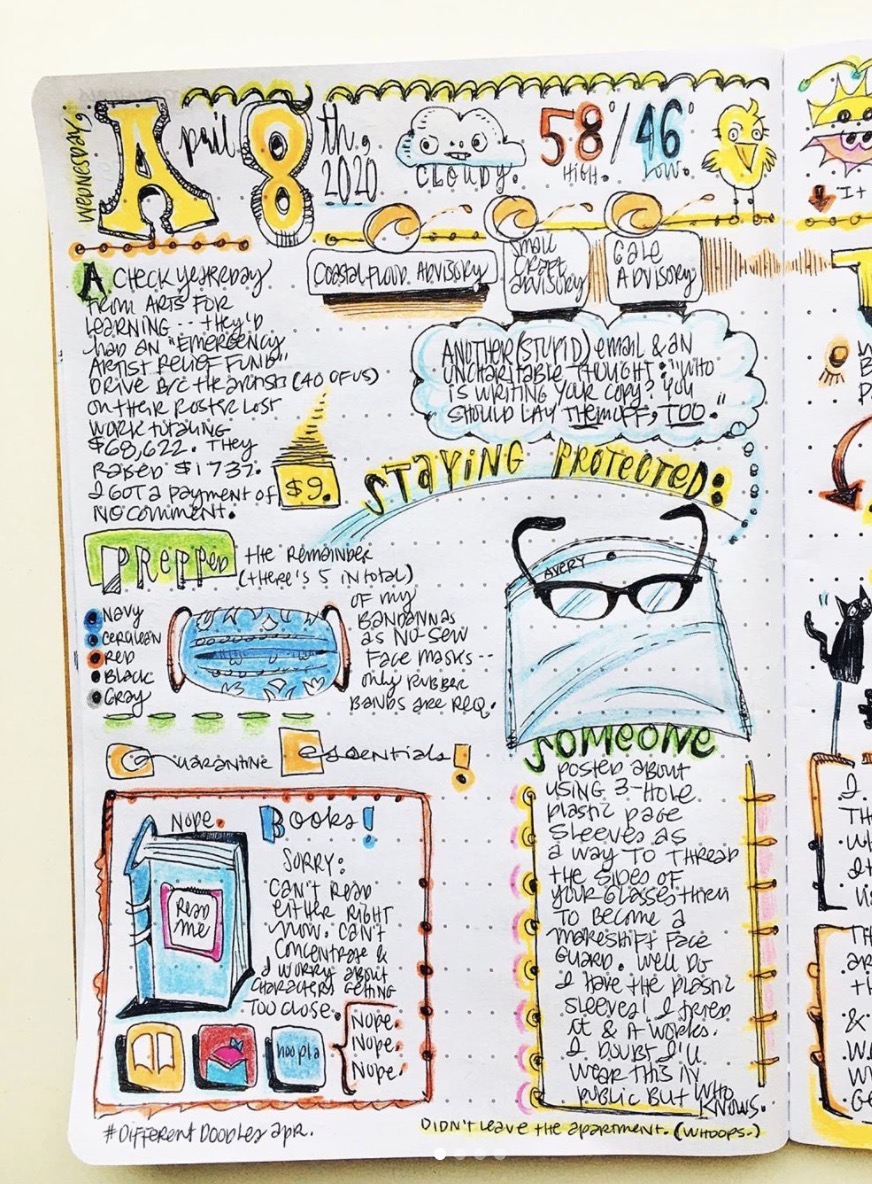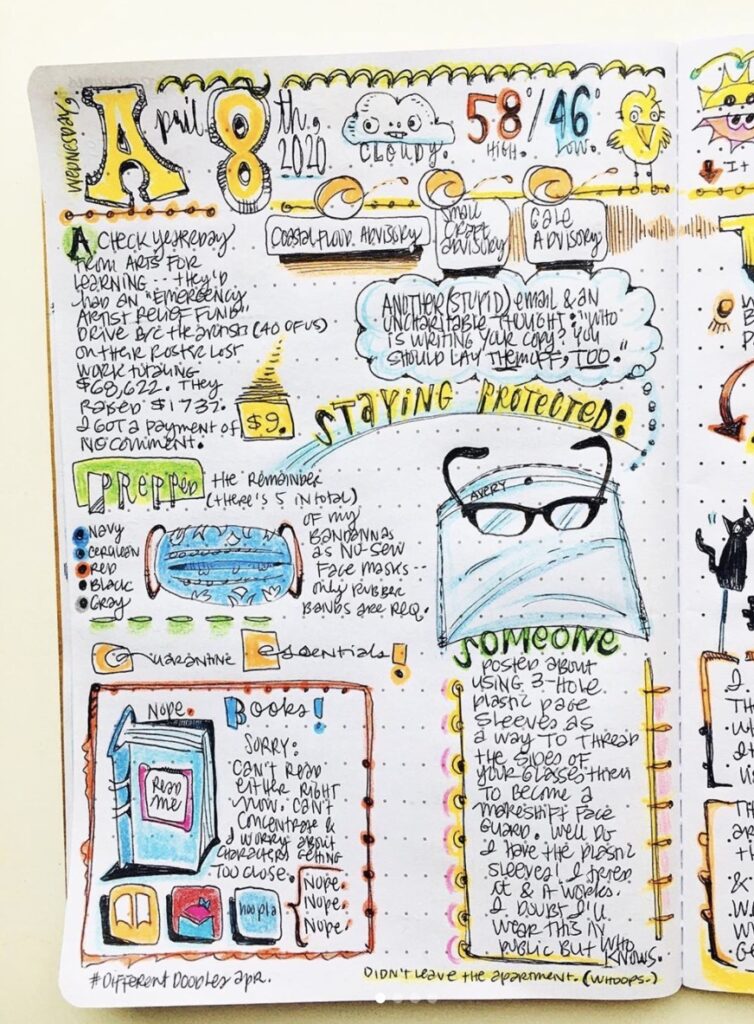 Build On The Fundamentals
Once you get comfortable with making basic shapes and lines, then you can start to add more detail or branch out into different areas. Doodling can be as abstract as simply gliding your pen around a page and coloring in those random shapes.
Or, doodle art can mimic aspects of life with simple, uncomplicated representational images. Either way, it's meant to be relaxing more than concentration-based. This is unlike mandalas, which are often confused with doodling.
What's the difference between mandala and doodle? Doodling is simple or abstract, while mandalas are geometric. Mandals originated in the Hindu and Buddhist cultures and hold great symbolism in those cultures as a meditation aid.
I highly recommend starting with practicing doodle art for beginners. After I got comfortable with basic shapes, I moved into drawing doodles that only required 3 steps. Similar to learning math, once you learn a new skill, you can move on to learning a slightly more advanced skill.
Free Resources To Learn How To Doodle
Want a little more guidance as you start learning the art of doodle? I've got you covered! Here are some free resources that will help you learn this new skill and build confidence.
Instagram
Instagram has a vast visual collection of doodle ideas and tutorials. There are several Instagrammers who provide simple, free doodle art guides that anyone can follow. You can sometimes find a few short videos, but you'll mostly just find images.
Check out these Instagrammers for inspiration:
YouTube
YouTube has a huge library as well, and it differs from Instagram in that all of its content is video-based. It's also free and – I think – excels over Instagram for anyone who benefits from seeing the process in action.
It's definitely one of my favorite platforms for improving my doodling skills. Plus, I find YouTube more entertaining than Instagram simply because you often get some personality along with your tutorials.
I highly recommend these channels to help you learn how to doodle or improve your skills:
Pinterest
Pinterest is a wealth of doodle information too! Over the years it's expanded vastly to offer more than recipes and kid's activities.
Pinterest is a visual search engine, so all you have to do is simply type what you want into the search bar, and voila! I find it to be a time-saver over Google when I'm researching something like this.
I even have an entire board dedicated to doodles!
Note: When you click on one image, other similar images will appear underneath it to help you hone in on what you're searching for.
Want to take your search every further? After you receive your search results, click "boards" from the drop down options to the right of the search bar. Pinterest will then show you boards, or collections, of similar results.
IQ Doodle
IQ Doodle is a pretty amazing site. It offers hundreds of free tutorials as well as some courses in learning how to doodle that are paid and unpaid. Their library is vast, and their tutorials are very simple and easy to follow.
IQ Doodle is a must for learning to up your doodle art game!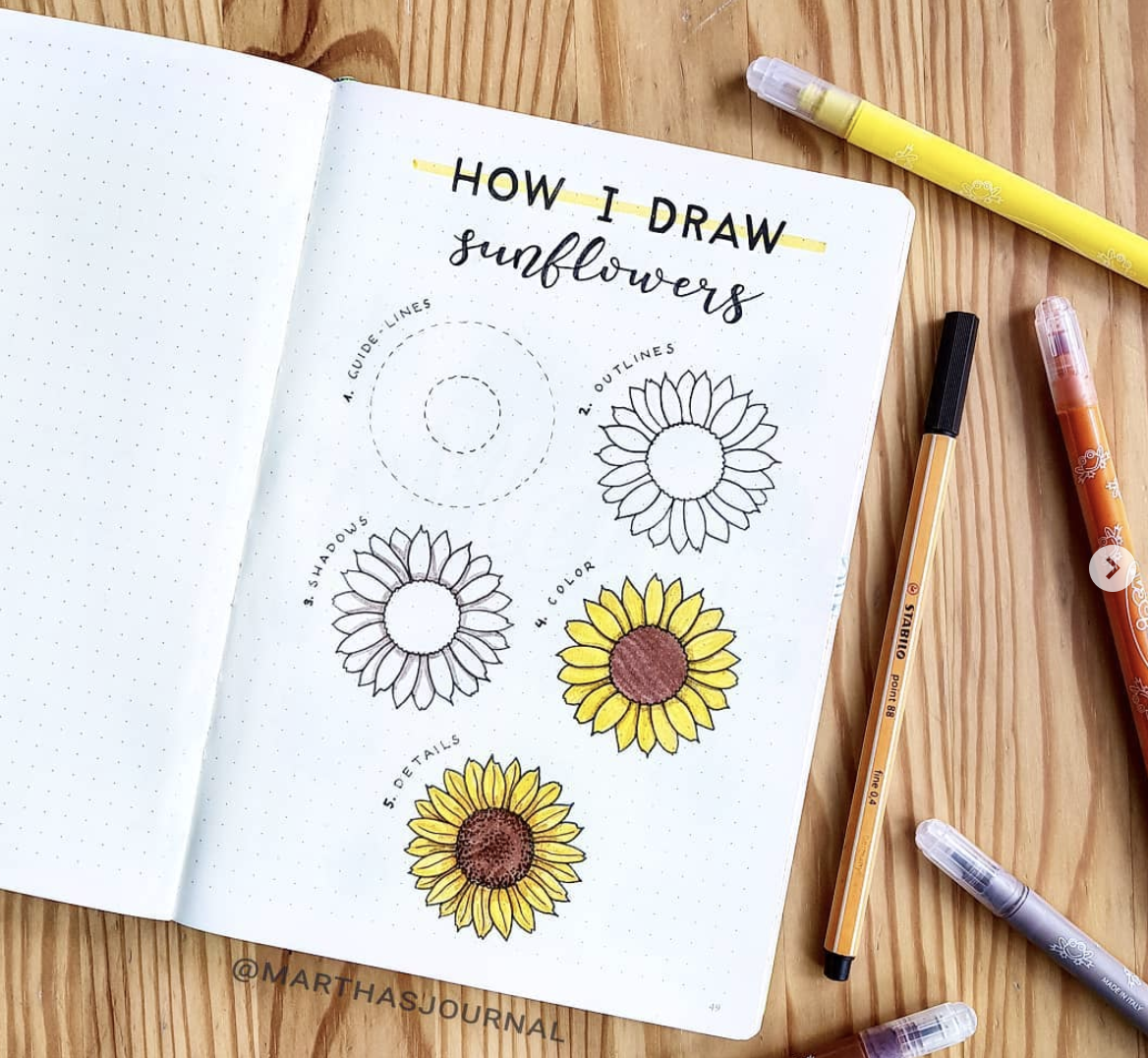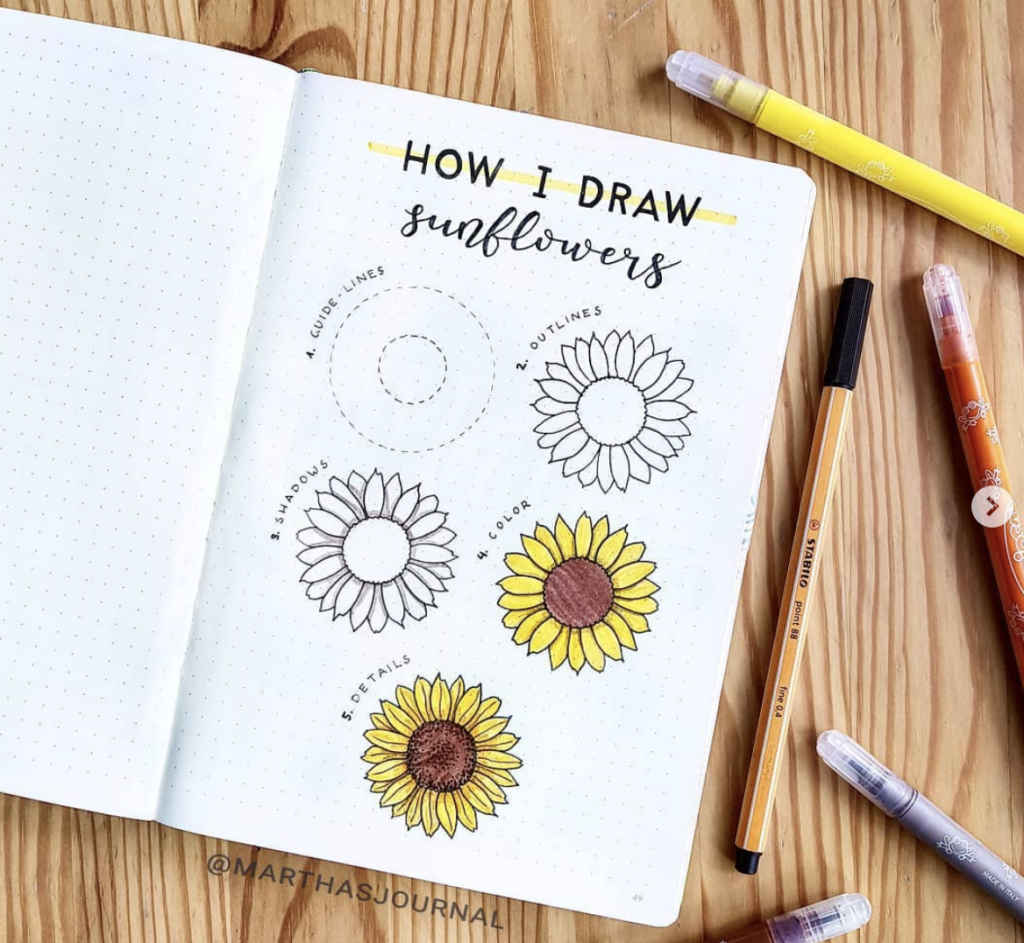 Growing Library Of Doodle Art Ideas And Tutorials
Finally, I have an ever-growing library of doodle ideas that might be helpful for you. The benefit of libraries like this one is that they usually focus on certain topics such as seasons or flowers. That makes it easier for you to find what you want a little quicker.
Check out these pages of doodle ideas and be sure to let me know if there's a topic of doodles you want me to cover more in-depth.
Doodle art is a form of art that doesn't require artistic ability. With a little practice, anyone can excel at and benefit from doodling.
I hope these tips and free resources help you go from feeling intimidated to enjoying the process of doodling. And as you gain confidence in your skills, you'll love adding easy doodles to your bullet journal or DIY planner!
More Journaling And Planner Inspiration