We may earn a small commission for purchases made through affiliate links in this post. For more information go to our Privacy Policy.
Half the fun of a planner is being able to add planner stickers! Decorating the monthly or weekly page spread. Coordinating colors. Making it fit a theme.
Stickers are the best part of a planner. Well, that and all the colorful pens.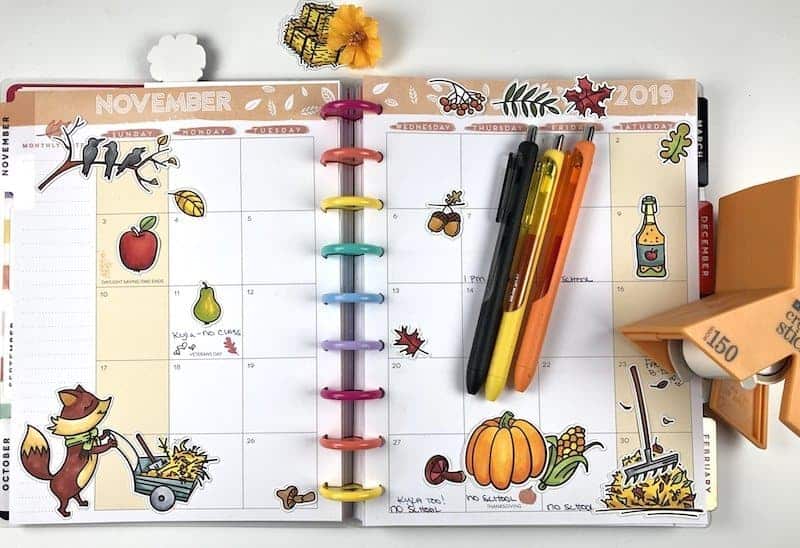 Am I dating myself if I talk about the pen that had 4 clickers at the top and you could switch the color while you were writing?
Probably.
Back to stickers for planners.
Adding Stickers to Your Routine
Adding stickers to your planner as an adult is the equivalent of getting a smelly sticker on the top of your paper when you were a kid.
It is a "job well done" acknowledgment if you are adding them to your to-do list. Or a quick visual reminder of what you need to do at a specific time if you use it as a time-slot holder.
Do you remember when you used to get sticker stamps in the Rice Krispies box as a "treat". And they were monster heads that said things like "gross". They were fun to stick on your notebooks and on the notes you wrote to friends.
I still have those in a notebook around here somewhere.
Dating myself again.
Crap!
Customize Stickers: Make Them Yours!
You can make your own stickers (and they can be retro or current!!).
To do this you can upload images or image sets to Design Space. Follow the prompts to print your designs with your regular printer on sticker paper.
Next, follow the prompts and load your sticker paper into your Cricut to have it cut them out.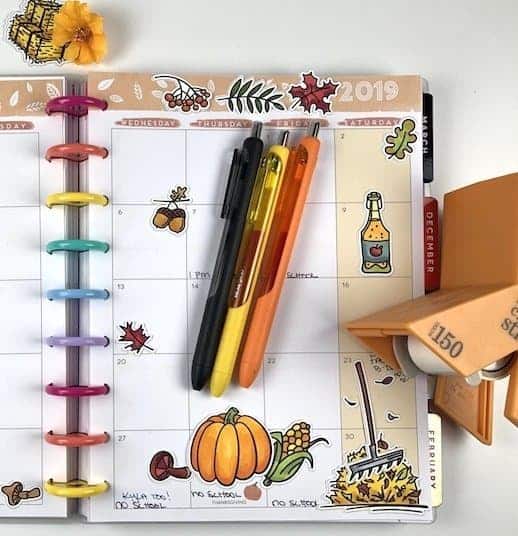 PRO TIP: You don't have to print on sticker paper…you can also print on a medium cardstock and then run it through a sticker maker (like Xyron) after you color and cut it out.
If they are black and white images (like the ones in my digital stamp sets) you can color them up to fit your style and then you can use them to dress up the theme in your planner!!
There are different mediums that you can use to color your planner stickers. My favorite is Copic markers. Others use watercolor paints. You can even color them digitally.
Other Places to Use Them
Stickers are not just for your planner (even though that is where you might use them the most). Using them on your cards can be fun too (and saves you from getting glue everywhere!!).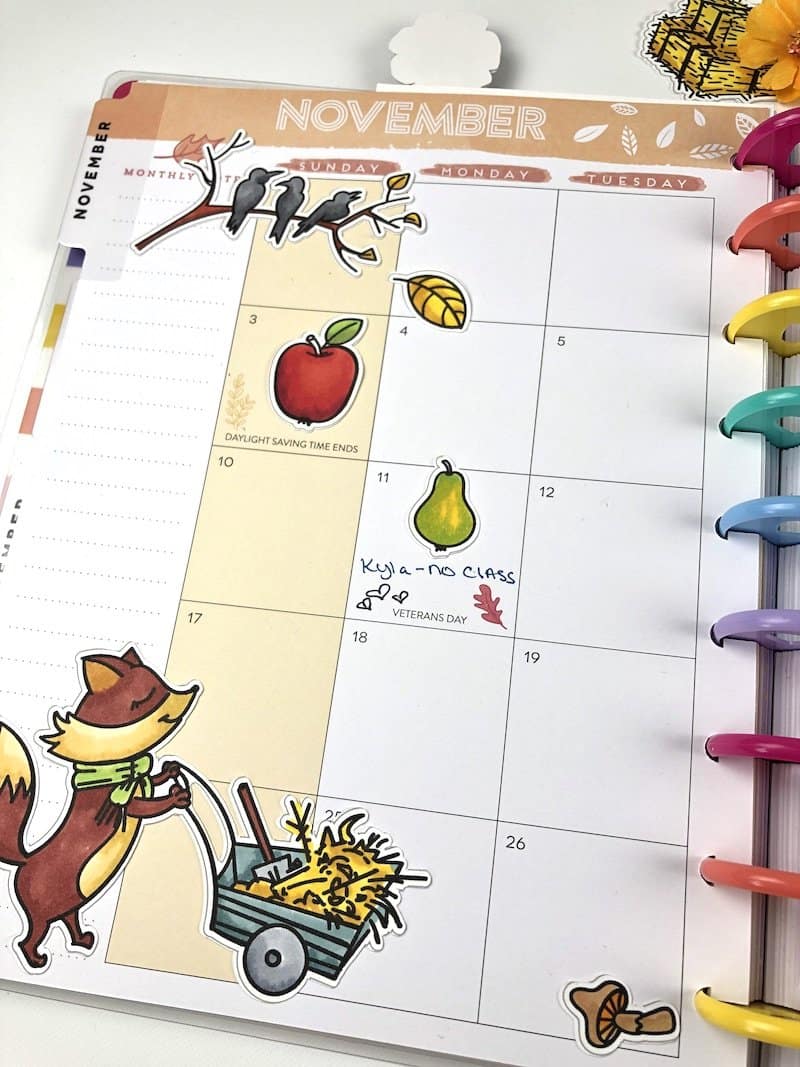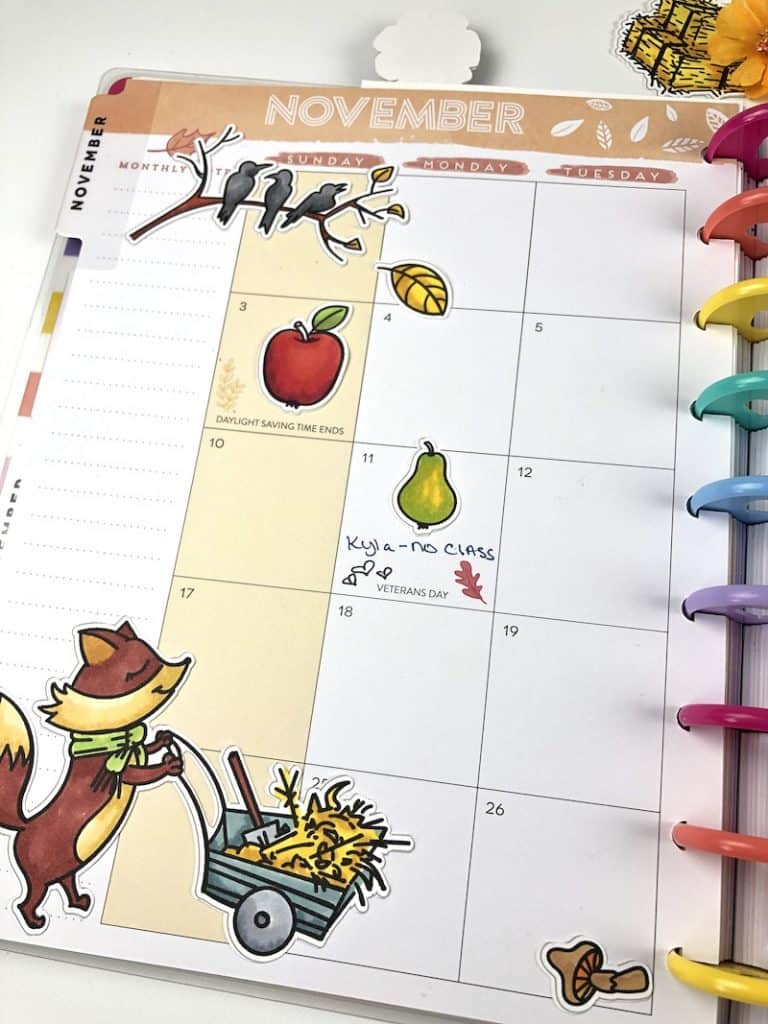 Or you can add them to the outside of your envelopes (if you are one of those people that actually SENDS the cards that you make!).
You can also use them on your home decor projects (I was thinking about making a shadow paper box with some).
How about using them on the kids' chore charts? Or your own calendar.
The joy of the digital stamps is you can resize them to fit your project. You can take one stamp and make it coloring page size.
Or you can repeat a stamp on the page as many times as you wish and make it the size of a quarter. This is where they are perfect for making stickers to use in your planner!
Storing Your Stickers
Storing digital images is way easier than storing physical products.
Once you print the stickers to use in your planner, there are a number of ways to store them. These are my go-to ways to store stickers:
in a box with planners and bullet journals (if they are in the book format)
in baggies in the box (if I have already cut them apart)
on the sticker sheet that I printed them on (and I tuck this into the box with the planners and bullet journals)
What do you like best about stickers for your planners and journals? What do you like least?