Discover Cute Easy Doodles: Ideas for Your Bullet Journal in 2023
We may earn a small commission for purchases made through affiliate links in this post. For more information go to our Privacy Policy.
The amount of ideas and different resources for cute easy doodles that you can draw in your bullet journal or planner can get a little crazy.
It is easy to start collecting all sorts of ideas, following a load of artists on social media, and then never actually using the resources you find.
Bookmark this page. It will keep you busy for hours.
Now grab your bullet journal and actually start practicing how to draw easy and cute doodles. The only way to get better at drawing is to practice. Start now. Make it a daily habit.
I have broken the following doodle ideas into sections based on theme. There are easy nature doodles, food doodles, our favorite tea and coffee doodles (because you can't journal or keep a planner without coffee icons, right?!).
There are also cute animal doodles, bugs, butterflies, magic creatures, how to draw a book, and office or journal supplies.
If this doesn't make you want to break out the art pens and get busy drawing and coloring…I don't know what will.
Easy to Draw Nature Doodles
Drawing things like leaves, flowers, and the seasons (including weather) is a natural topic for creative journals, bullet journals, and planners.
As humans we are drawn to things that represent our natural world and our surroundings.
The landscape, the weather, the seasons, plants, and animals all make great topics.
Can't think of what to draw?
Pick your favorite place or your favorite animal and then make a simple doodle or representation of that topic. See if you can make a whole collection. Just keep expanding on the theme.
Easy to Draw Leaves
Leaves and plants are one of my favorite things to draw. I have always gravitated towards drawing flowers and plants.
Simple or complex. It doesn't matter which you prefer. Finding ways to show your favorite plant as an icon will help you to dress up your planner spread or your weekly to-do list.
Mix it up and use colors that might not naturally occur for a plant or leaf. See if you can make something different with these easy to draw doodles.
Flower Doodles
Cute and easy flower doodles are great in a bullet journal. You will find a few easy to draw roses, sunflower doodles, and other beautiful flower drawings.
(If you want even more flower doodles, you will want to check out this post.)
I don't know about you…but I never get board with cute flower doodles. The variety of colors, different ways to represent my favorite flowers, and the way they can be mixed and matched just always brings a smile to my face.
Flowers are definitely my all time favorite. You will find a few ideas here and if you want more.
Plant Doodles
Animal Doodles
Animals are the second most fun thing to draw. We really love seeing them personified and given different human qualities and characteristics. Look at the cartoon characters that we love.
These super easy doodles are a great inspiration for characters in your own journals and planners. Dress them up. Give them props. Make them unique and into fun personalities that you can use over and over.
Butterflies and Bug Doodles
When I was in high school, I had a signature doodle. It was always the same flower with a bent leaf and a lady bug.
I loved that lady bug.
She was my favorite quick and easy doodle and I added her to everything.
Easy Weather Doodles
It is all about our surroundings again. Weather dictates our day. Somedays it even dictates our moods. So you can use these little weather doodles to track your mood, track the weather, or even add the forecast to your weekly spread.
And besides, rainbows are fun to draw and color.
Everyday Doodles
These are the bullet journal doodles that you can use for anything and everything.
There is a random smattering of all sorts of topics here. Love, flowers, drinks, daily life, self care, and more.
Browse through. Try your favorites. Come back and try some others later when you are ready to add something new to your drawing and doodling lessons.
Summertime Doodles
Wintertime Doodles
If you would like to draw the 25 days of Christmas with doodles, you can get ideas in this post.
Bullet Journal Elements to Draw
These are the bread and butter of a planner or bullet journal. And probably the easiest sketches and easiest doodles to draw.
The basic elements of a bullet journal include boxes, banners, arrows, frames, and scrolls.
Use the following images to find your favorite designs and start a page of basic elements in your bullet journal.
Bullet Journal Element Ideas
Bullet Journal Banners
Banners are a great way to dress up that empty space in your journal or planner. They are also a great way to highlight dates, titles, etc. Get more banner ideas in this post.
Bullet Journal Dividers
Handlettering
Letting for a bullet journal is a topic all by itself. There are a number of great resources out there on decorative alphabets, fonts, and more.
I will be adding more as time goes on, but for now I had to include this hand-lettered alphabet because of the flowers and the colors. I'm in love.
Easy to Draw Food and Drink
Track your food intake, your coffee dates, or your favorite treats with these easy to draw food doodles.
Personally, I would add ice cream doodles and coffee doodles to everything in my journals if I could. But it would be like binging on the chocolate cake. After awhile…you just can't handle any more!
Ice Cream and Sweet Treat Doodles
How to Draw Fruit
How to Draw Cute Tea Doodles
How to Draw Coffee Doodles
How to Draw Books and Bullet Journal Supplies
How to draw a book for your bullet journal is one of the basic doodles that most journalers start with. After that it is your favorite supplies or the essential bullet journal supplies.
Like pens. Who doesn't love pens?!
Draw post-it notes, your favorite mid-liner pens and markers or your open book. There are all sorts of ideas and easy doodles to follow here.
Magical Unicorns and Dragons (and Harry Potter)
How to draw magical creatures and Harry Potter just seemed to go hand in hand.
Below are a few of my favorite easy doodles. Including unicorns and dragons. The best magical creatures. Ever.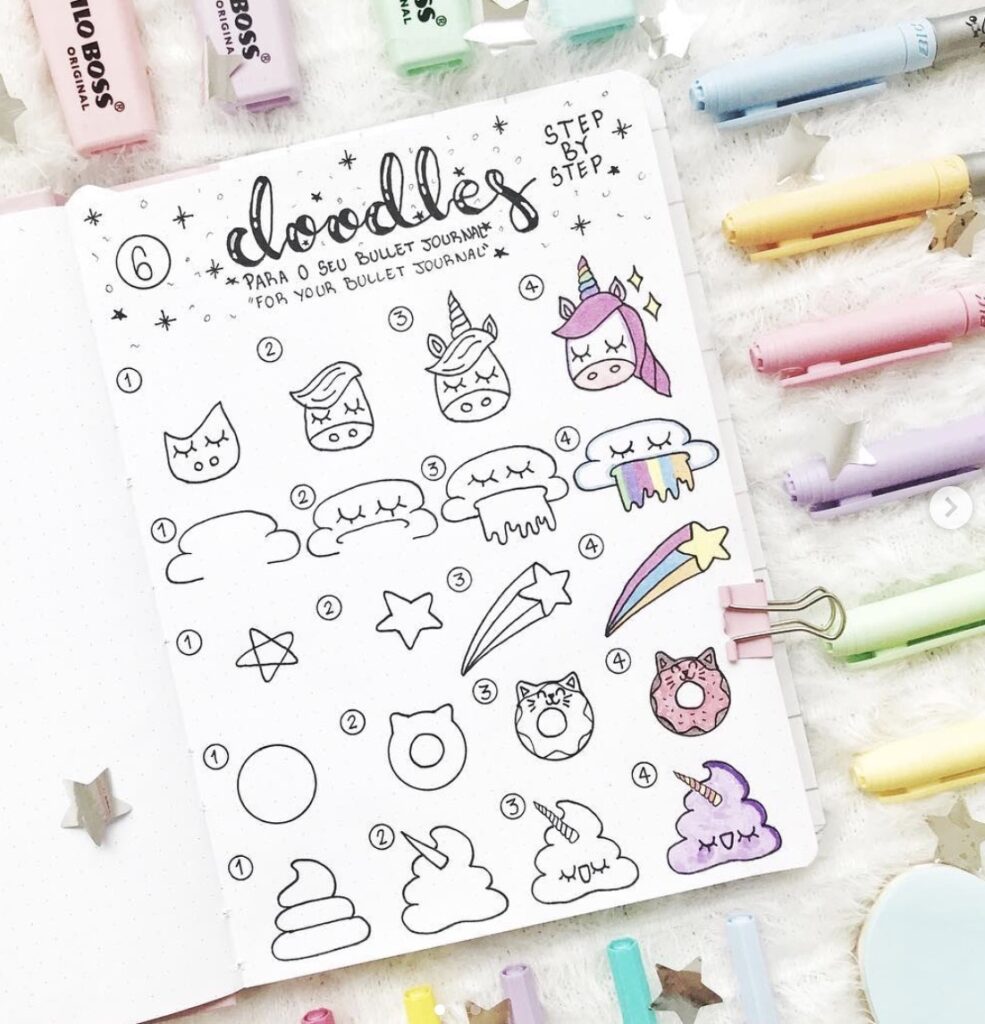 Ok. I know that a dinosaur is not a "magical creature" but he needed a home in the list. And he is so darn cute that I couldn't just leave him out. Enjoy!
Other Cute Doodles to Draw
These are just a few how-to-draw doodles that caught my eye and I wanted to share with you.
Movies and lights. Especially the fairy lights. They were just too cute to pass up. Pick your favorite cool doodles to draw and get started.
There are so many amazing artists out there that are creating really cute doodles for bullet journals.
The way they break them down into step-by-step instructions just makes them that much easier to practice in your planner or art journal.
I know that I didn't cover everything in the easy drawing list, but I think it is a really great place to start as a beginner or if you need inspiration for new cute doodles in your bullet journal.
Happy drawing!