9 Most Used Cricut Tools You Should Invest In
We may earn a small commission for purchases made through affiliate links in this post. For more information go to our Privacy Policy.
Besides just buying the Cricut machine, you are going to need a few essential Cricut tools. Which are the best Cricut tools or the Cricut accessories that are actually essential and which tools can you skip?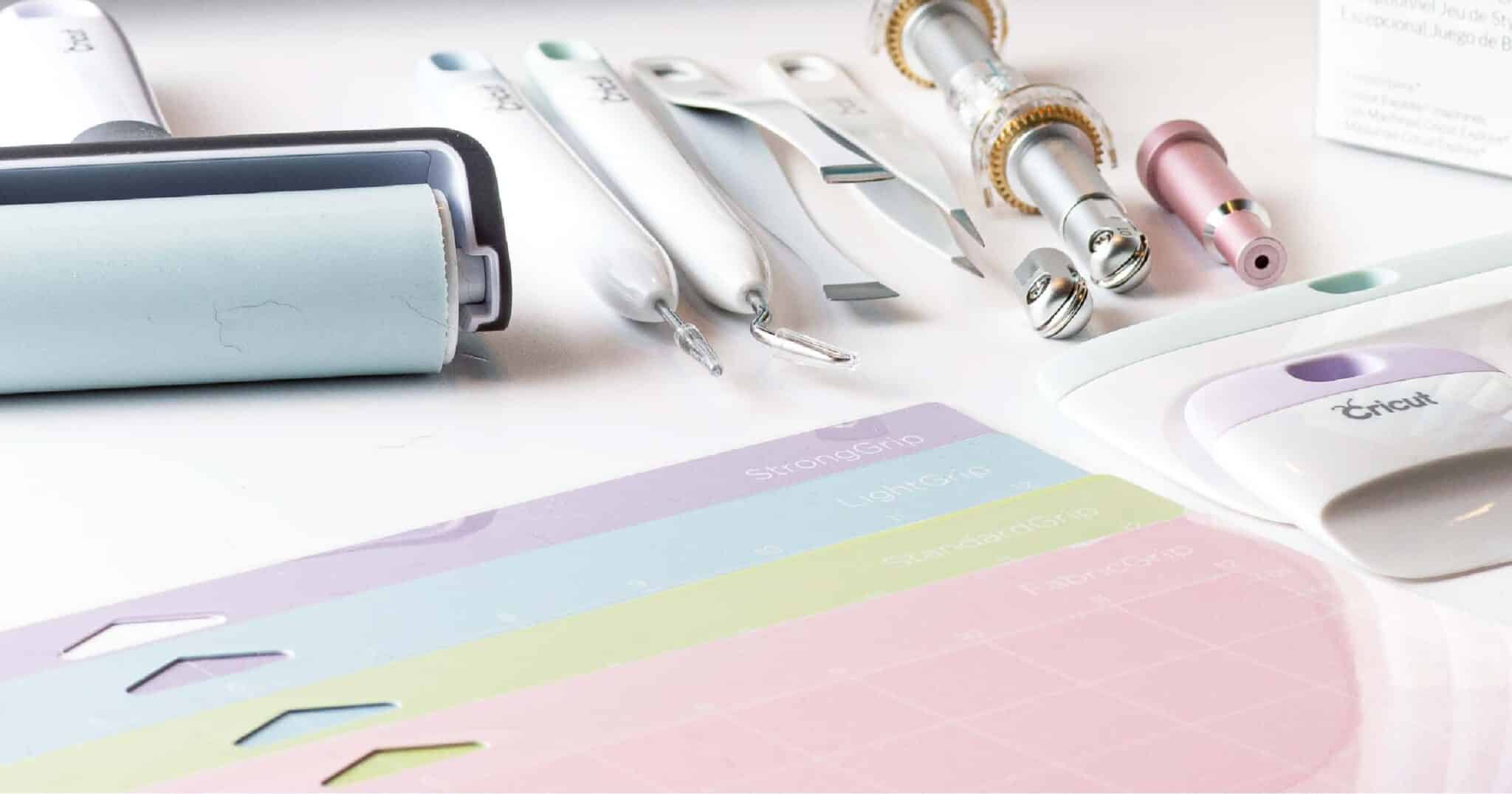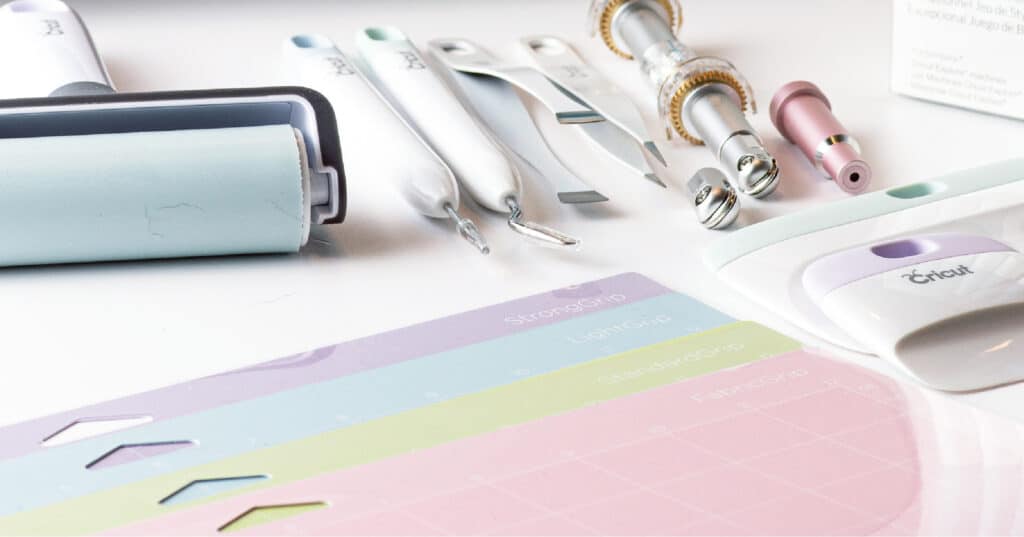 Like anything else, it is a matter of opinion. I'll do my best to give you the rundown on each tool and then you can decide if you need to purchase the tool or not.
You know what you have in your supply stash already. And you know yourself as a crafter well enough to know if you will ever use a Cricut tool or not.
Sometimes, you come across a great deal that is set up as a Cricut bundle. It is possible that you end up with an assortment of tools and some duplicates. When this happens, you can donate the extras to your local school's art department, 2nd hand stores, or your craft bestie who needs a set of tools too.
I keep a few extras in my drawer, just to cover my bases when I misplace a tool (or my husband "borrows" it for one of his own projects). A good rule of thumb is to have an extra of your ALL TIME FAVORITE. It doesn't hurt to have another one on hand. You never know when they will stop being made.
What do I need to get started with a Cricut?
Which Cricut cutting tools do you need to get started? Bare minimum you are going to need the follow supplies:
Cricut cutting mat
Weeding tools
Scissors
Material to cut (vinyl, paper, fabric, etc.)
A device to connect to the machine (desktop, laptop, iPad, iPhone)
What are all the Cricut Tools Used For?
Some of the Cricut tools are really self explanatory. Scissors and tweezers are common crafting tools that you probably have floating around your craft area.
The dental pick-looking tools? Those are a little more strange and take some consideration. As well as the flat metal spatula and scrappers.
Not every tool and accessory is necessary to use your Cricut machine effectively. However, a handful of them will really make your crafting process a lot smoother. Read through the following tool descriptions to figure out which new Cricut tools you absolutely need, and which you could skip.
Cricut Weeding Tools
This is probably one of the most used tools for Cricut DIY crafters. If you are crafting anything with vinyl or heat transfer vinyl you will be using this tool. (Not sure what the difference between the two types of vinyl is? Check out the Vinyl Guide). This one is most commonly included in Cricut tools bundle sets.

These tools look a lot like a dental pick. In fact, you could use dental picks as weeding tools if you wanted to. Check out 2nd hand stores in the tool section. You'll be surprised at what you can find.
Cricut weeding tools are used to remove the negative space (or extra vinyl) from a design once you have cut it with your Cricut machine.

There is a regular weeding tool and then a hooked weeding tool. Which one you choose to use is based on personal preference. Many people prefer one over the other.
If you don't want to purchase a weeding tool, you could use a craft knife, a safety pin, or a dental pick in place of a Cricut weeding tool.


Cricut Spatula
One of my very first tools was the Cricut spatula. It came with my very first machine (back when they were cartridge-based).
These are wonderful if you craft with paper frequently. It slips under the cut paper pieces to help you remove them from the sticky mat. Pulling the paper off without a spatula can be difficult if it is a little piece of paper.

Larger pieces of paper will rip or curl if you just pull them off the mat. There are a few tricks to limit curling. Slipping a spatula under the design to lift it off the adhesive is a great way to remove paper pieces without having it curl.
You can also use a spatula to scrape off the negative pieces of paper or vinyl that get left behind. They work well to clean small spaces on your Cricut mat.
You can use a credit card or a small metal kitchen spatula instead of a Cricut spatula if you have one on hand.
Tweezers
Sometimes you are going to have to pick up little pieces. And they can be hard to grab! Tweezers are a lifesaver.
They are also wonderful for holding a smaller piece of paper or material that you are trying to add adhesive to. Cricut has made a few different types of tweezers and included them in their essential Cricut tool kits.
I used to just try and pick everything up with my fingers or use my nails. The problem with that is you can always get something up off the mat or table without curling an edge or bending it. You also become covered in adhesive if you are trying to glue the smaller things. These are the best Cricut accessories for holding onto fine pieces of material (or picking them up when you can't get your nail under them).
Fine Tweezers
These are the most common tweezers and they come in a few of the different Cricut tool sets. You could get by with just these tweezers. You could also just use a pair of regular beauty tweezers!

Reverse Tweezers
I had no idea what I was missing out on until I bought these tweezers. O. M. Goodness! You squeeze the body of the tweezers toward the center and this causes the jaws to open. When you release pressure, the jaws clamp shut and hold whatever you have picked up.
This is great because you don't have to apply continual pressure to hold the item you picked up. You can move it around where you need to. Hold it for longer periods of time if you are waiting for adhesive to dry a little.
I didn't realize how often I would reach for these. But the longer I have them…the more I find myself relying on them.

Hook Tweezers
These are better for picking up larger pieces of paper or vinyl. They hold larger pieces of material better because there is more surface covered by the end of the tweezer.

Broad Tip Tweezers
These tweezers are great if you are crafting more with fabric. They pick up fabric without pulling out tiny threads. It is also a great idea to use these tweezers to remove small bits of fabric from your mat so the oils from your fingers aren't touching the mat.
Broad tip tweezers are sold with a brayer that is also great for pressing and securing your fabric to the cutting mat.
(Get vinyl Cricut project ideas in this post…)
Cricut Scrapers
Cricut makes two different sizes of scrapers. Use these tools to get scraps of material off your cutting mats.
They are also great for burnishing transfer tape. Or to use as a bone folder when you burnish the edges of paper folds.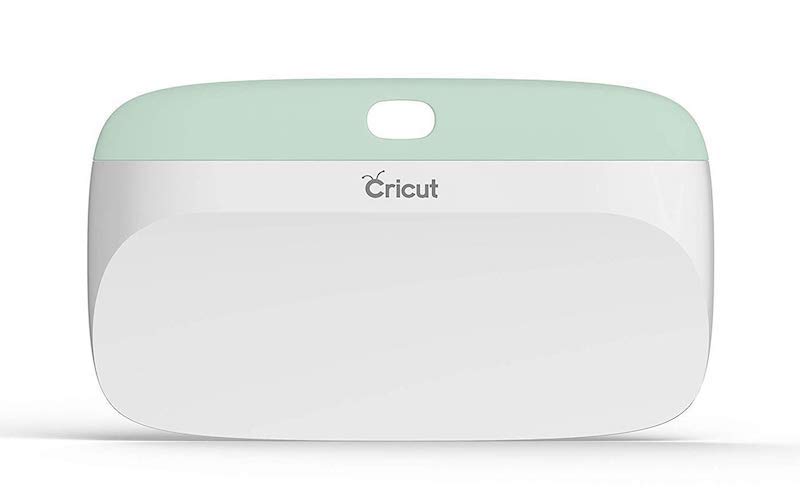 The larger size scraper works similarly to the small scraper. It just covers more surface area at once. You definitely don't need both sizes. Pick one that you like the best.
You can also use a credit card to do similar things as the scraper. Check out these Cricut Hacks to see what other household materials you can use.
Cricut Blades
Cricut has made a number of different blades to use with the Cricut Maker and Cricut Expression. There is enough information to learn about blades that it is a separate post. You can read it by clicking here: Learn All About Cricut Blades
Cricut Brayer
This tool might seem a little silly. You can smooth a material flat on your mat with your hands. Or if it needs a little bit "more" you can use a scraper.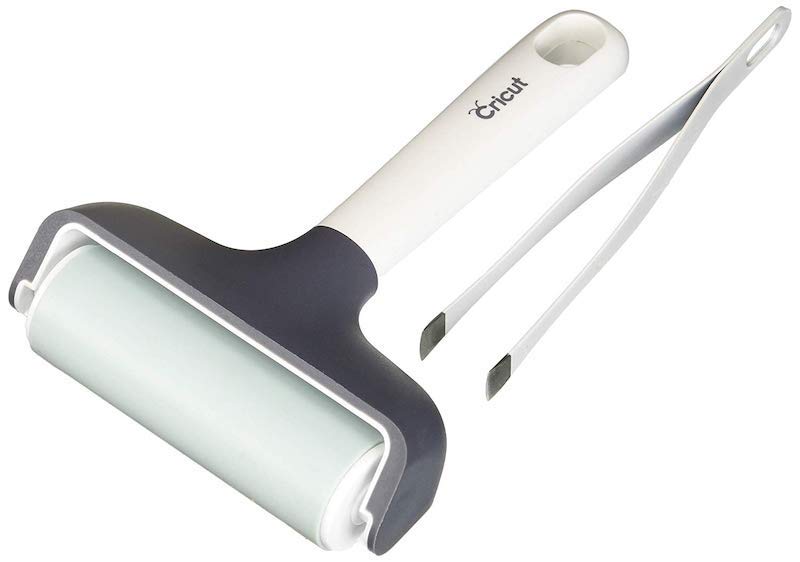 But a brayer really does help stick down a material even better. And it will help you to get a few more uses out of your mats. Especially when they are nearing the end of their life and usefulness.
It's a great tool to get your material flat (especially fabric) and to remove air bubbles that could cause your material to catch on the blade and mess up a cut.
Cricut Scissors
If you don't already have a great pair of scissors, shears, or snips, then Cricut scissors would be the way to go.
Obviously, if you already have a pair of scissors, there is no point in buying a new pair just because it has the Cricut name on it.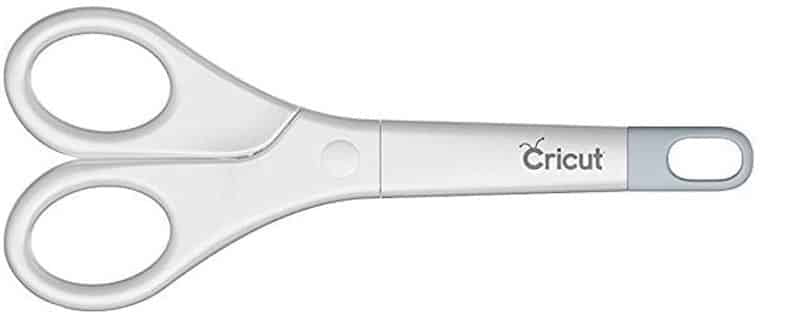 My absolute favorite pair are Cutter Bee scissors. I bought them the 2nd or 3rd year of scrapbooking. They are my all-time favorite for paper and fussy cutting. I haven't really needed to use them with vinyl, but I imagine they would work wonderfully with that as well.
Cricut Scoring Tool
Using a Cricut scoring tool is great if you are working on cards that need to be folded, a 3D paper project that has score lines, or for any project that needs something with a crisp line to follow.

You can use this scoring tool in the secondary tool holder on your machine (the Maker or the Expression). If you have the Maker you can also use the scoring blade (Cricut Blades post to read as well).
If you aren't sure about the Cricut Maker and want to learn more you can read this post: 13 Things You Should Know About the Cricut Maker
Cricut Bright Pad for Weeding
The idea is that you can put your vinyl or HTV on this pad and it will help you see which pieces you need to remove. (Read about the best vinyl to buy here!)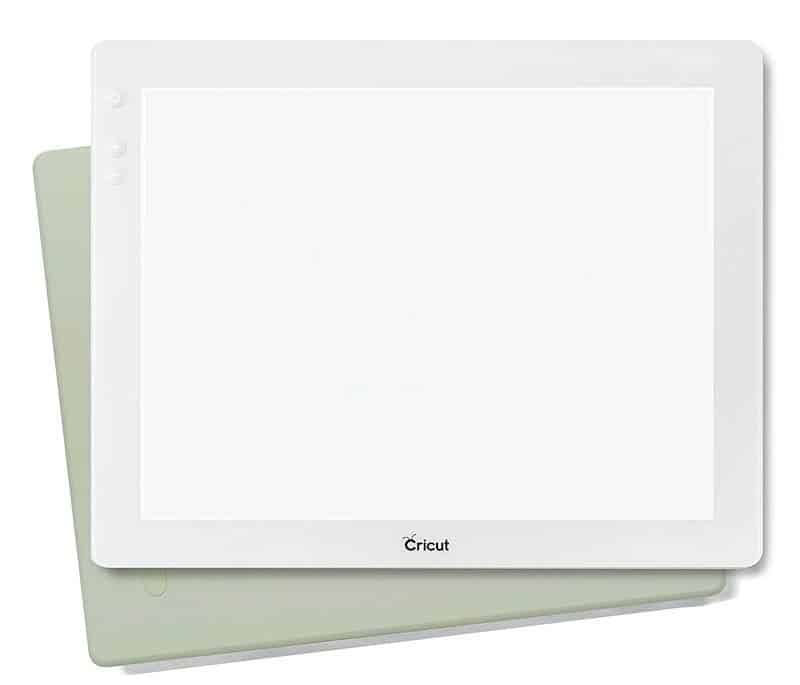 It could be handy, but I'm not sure it is worth the money. Some crafters buy the Bright Pad and then use it for tracing and drawing as well. It would work as a double-duty tool if you used it that way as well.
What Other Cricut Accessories Do I Need?
There are a number of Cricut accessories that are sold in combination packs. These are labeled as Cricut essential tool sets and they cover the basics. Watch what is included. You could end up with a load of repeats and extras that are just stashed away.
Besides the tools listed above, you can also start looking into the other tools and accessories for Cricut such as the Easy Press for Heat Transfer Vinyl, smaller machines, and supplies like the Cricut mats (learn about Cricut Mats and their care in this post).
It doesn't matter which machine you have. Cricut Maker tools are the same as Cricut Explore tools (other than the different blades). Cricut tools are used AFTER cutting by the machine has been completed.
Where Do I Buy tools and accessories for my Cricut?
Cricut basic tool sets are available at most of the major craft stores like JoAnn's, Michael's, and Hobby Lobby. They are also available in sets and individually on Amazon. Pick your favorite retailer, get your basic Cricut tools, and get busy crafting.
Cricut Supplies
Basic Cricut supplies that you need to get started with your Cricut projects and crafts. Use this list to grab the basics or to finish your collection of Cricut tools.
This post may contain affiliate links. If you purchase through one of these links I may earn a small commission at no extra cost to you. For more information, please read my disclaimer.