We may earn a small commission for purchases made through affiliate links in this post. For more information go to our Privacy Policy.
When you are making planner spreads or bullet journal collections, food doodles will be a key ingredient.
We build community around food and drinks. Treats for holidays and gatherings. Drinks for girls night out or the big game on Sunday.
Having a few food doodles in your skillset will make it possible to create a quick and fund layout. No stickers needed (not that we don't LOVE stickers…)
Cocktail Doodles
This fun doodle set is not only a variety of cocktail drinks it was also designed as a set of tabs on the side of the page (or a really large dutch door).
Summer layouts and spreads will be fun with a set of fun glasses and refreshing colors.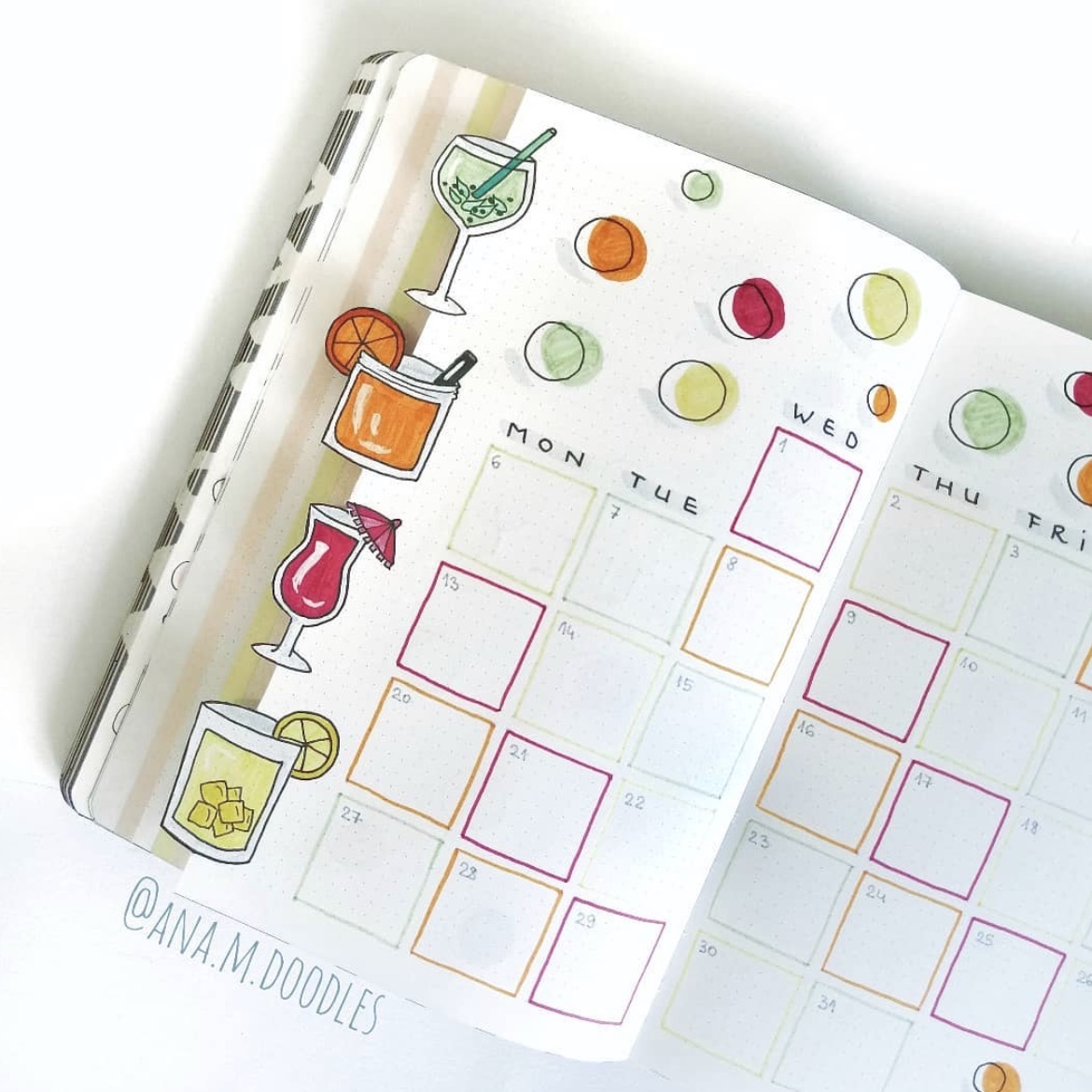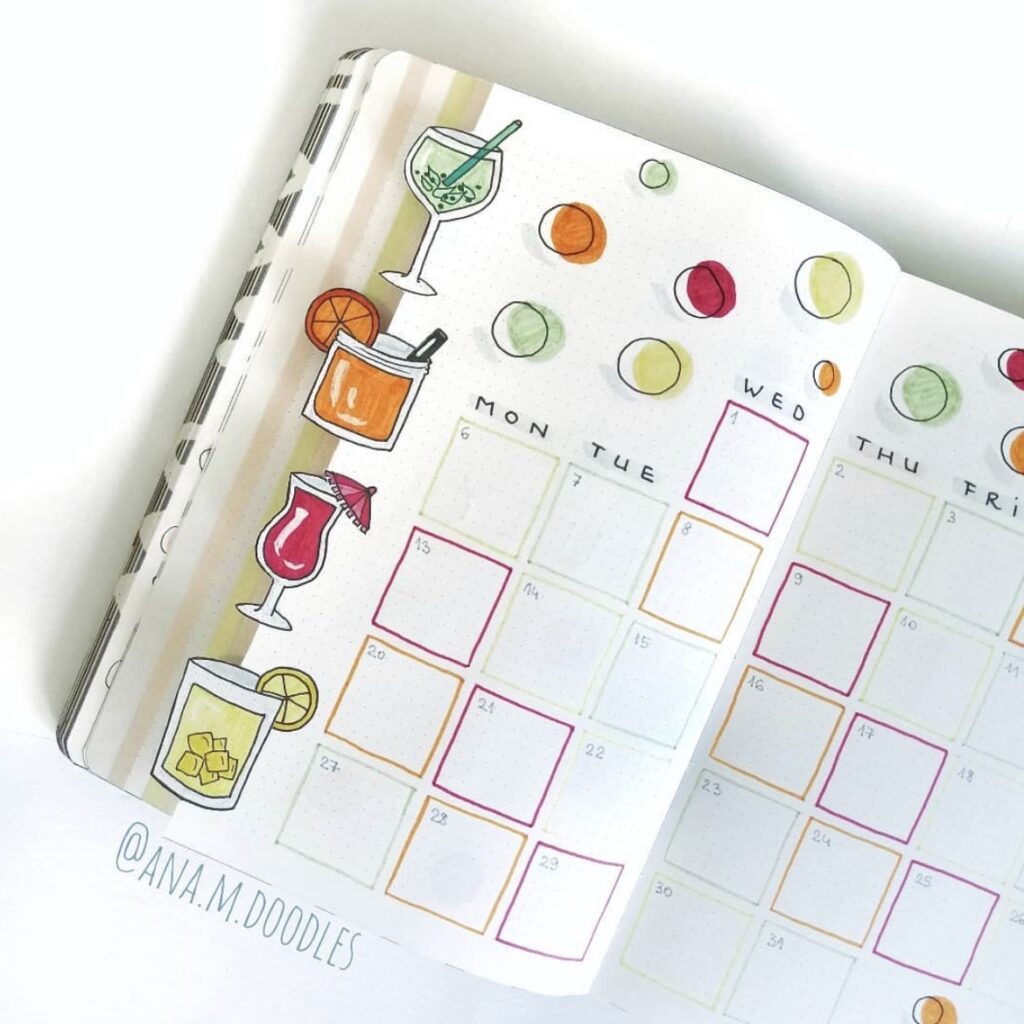 Sweet Treat Doodles
There are so many variations of treats that you can doodle. Cupcakes, candies, donuts, and even gumballs.
These would be really fun on a February layout. You can also doodle sweet treats for Santa and his elves as part of your Christmas doodles.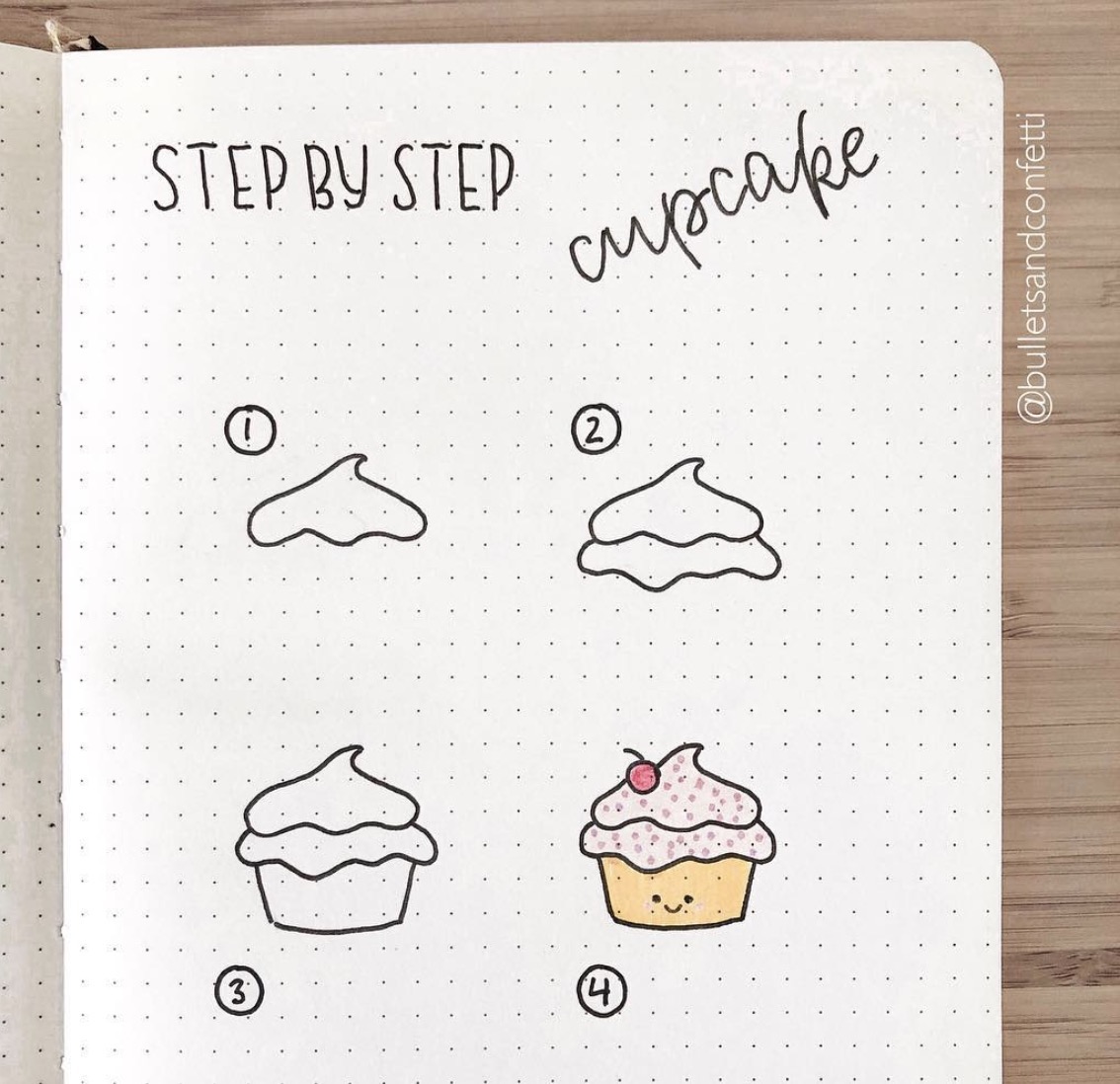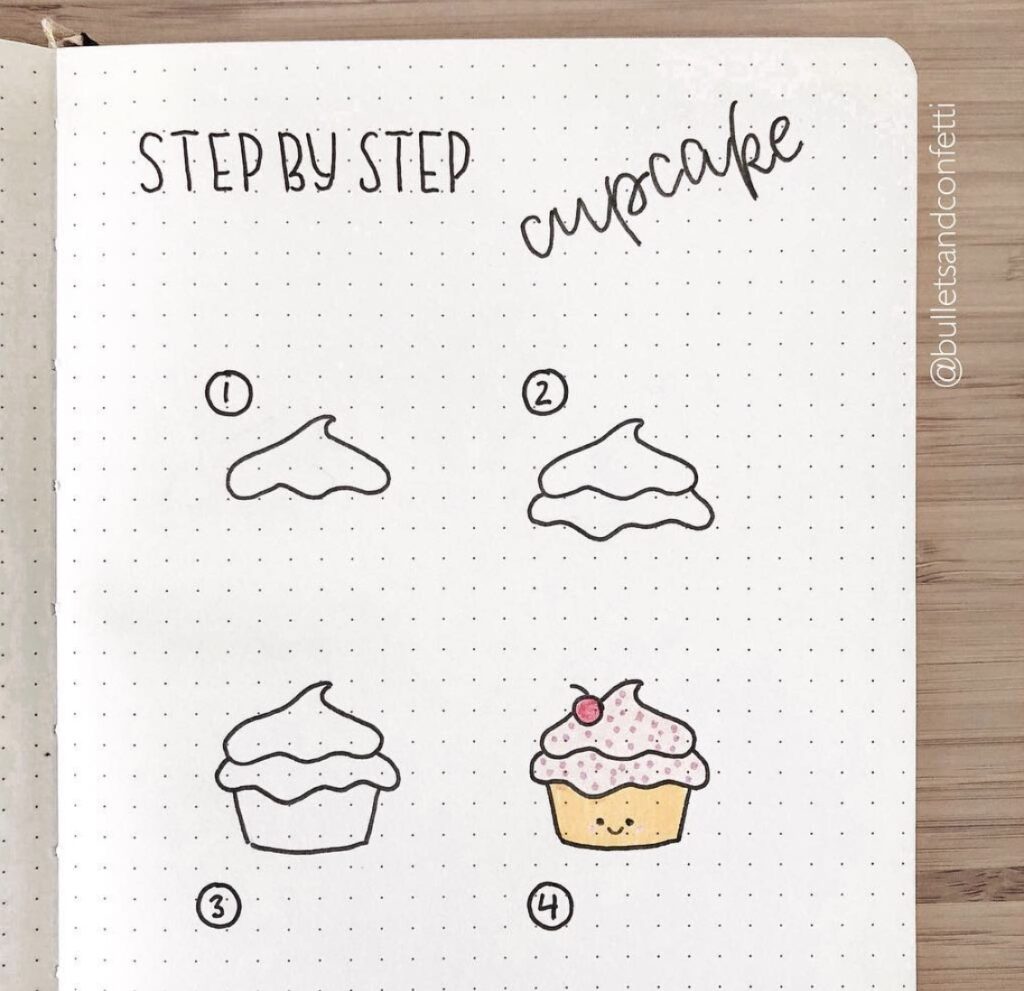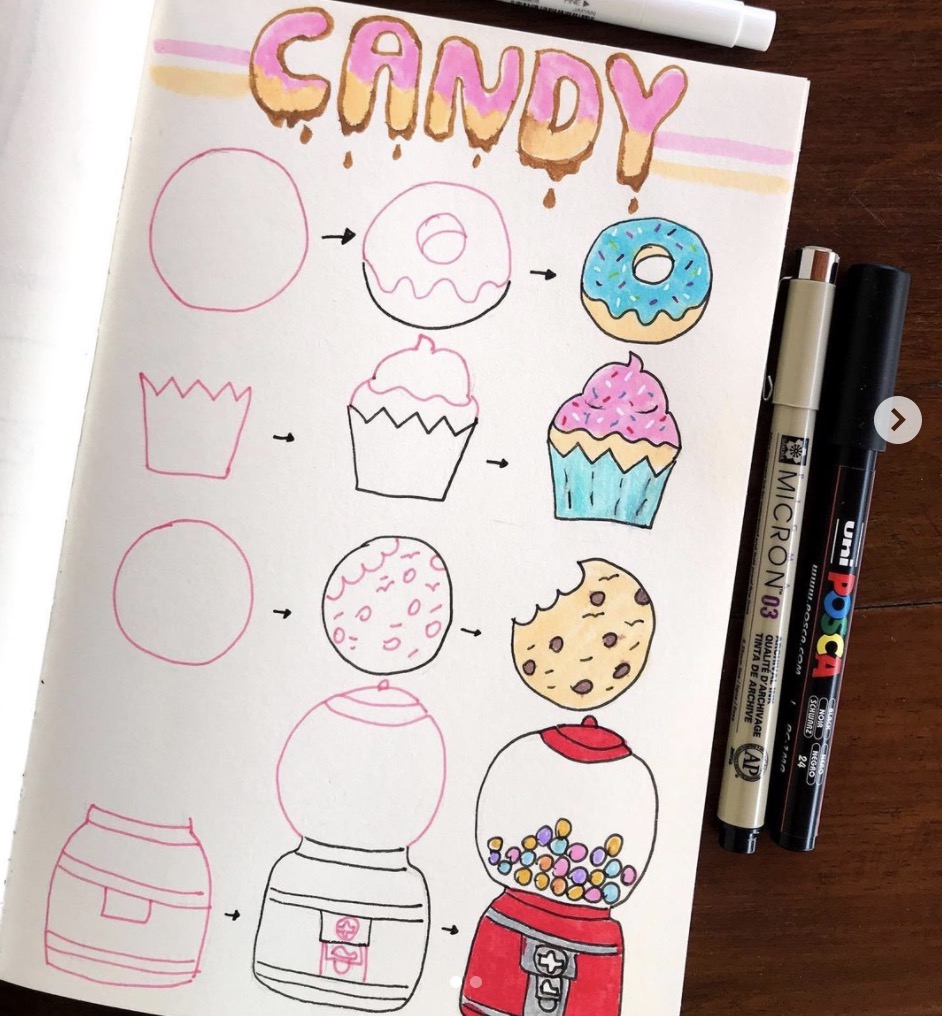 Donut Doodles
This mood tracker and habit tracker spread are great with all the variations on donuts. Different sizes. Different toppings. The contrast works great and it is a fun and sweet spread.
You could do the same thing with lollipops, gum balls, or even sugar cookies.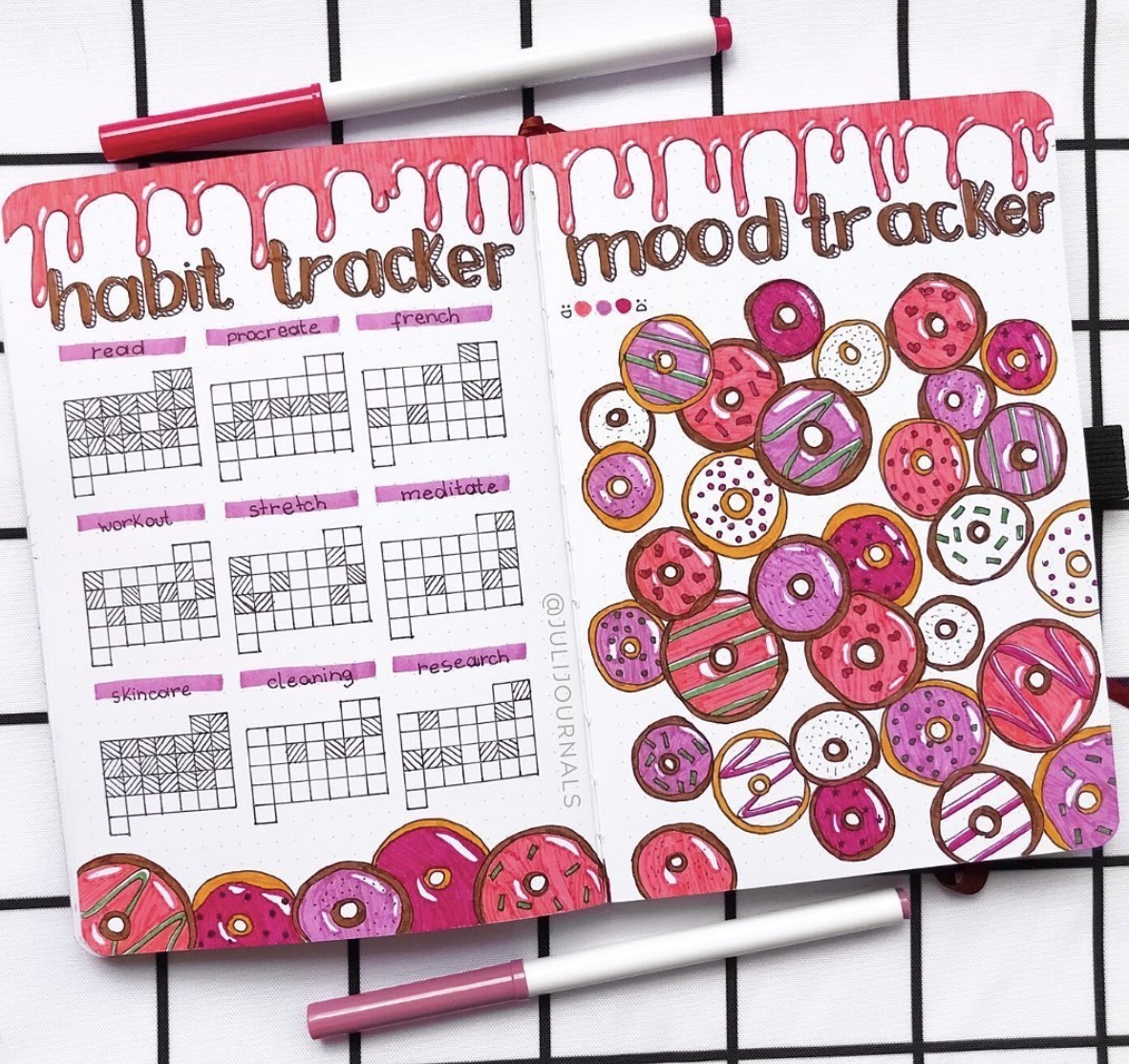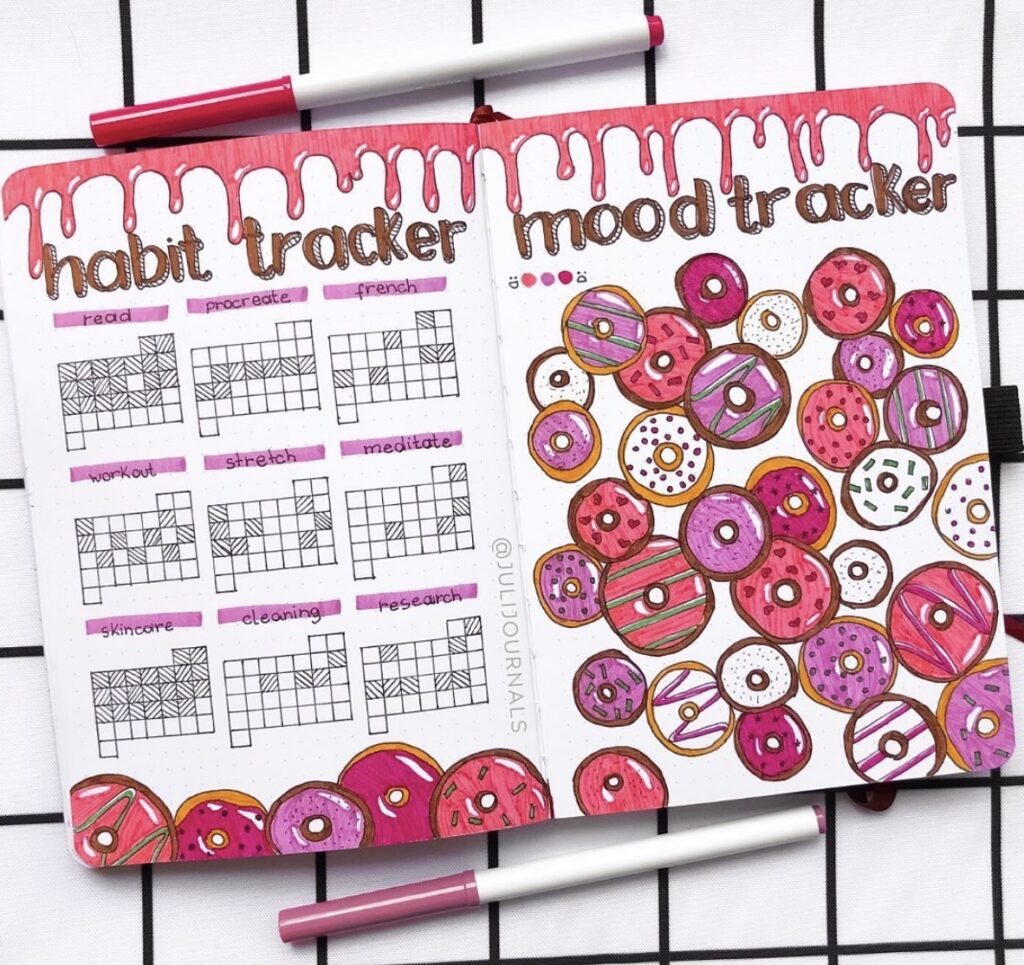 Draw Pumpkins
These pumpkin illustrations are easy to follow with step-by-step instructions.
Once you get good at a few of them, you can stack them around the edges of your planner layout, use them for mood trackers, or decorate a fun heading.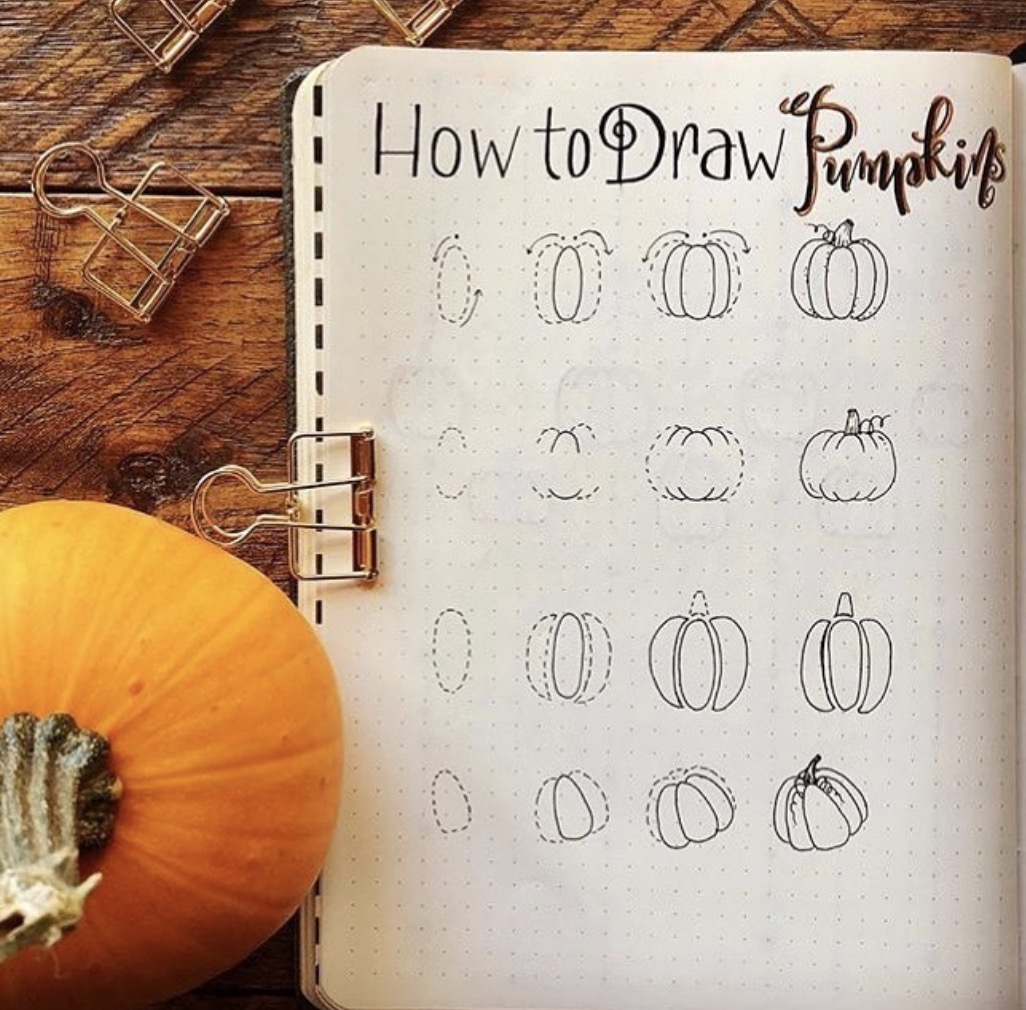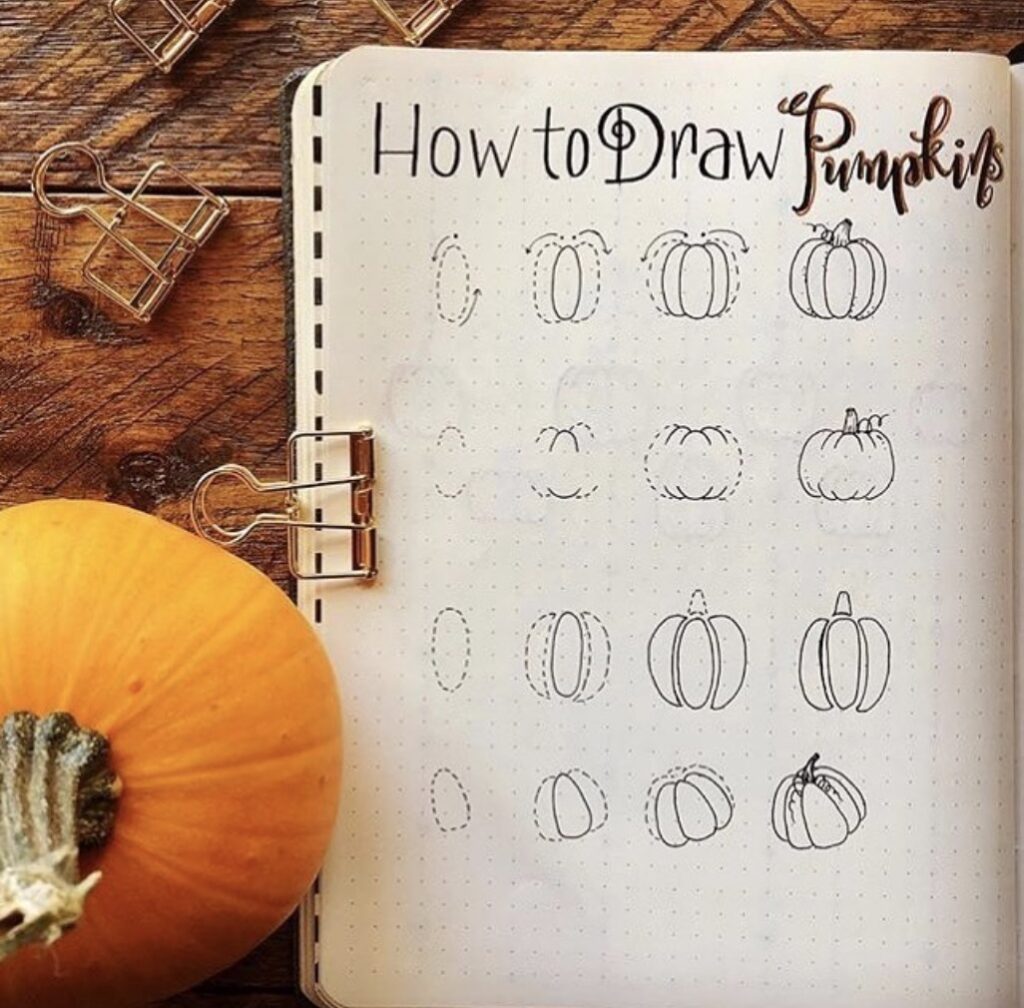 Draw a Taco
Who is ready for Taco Tuesday?
This cute little illustration will be fast and easy to add to your daily or weekly spread. Add a note about where and when and you are good to go.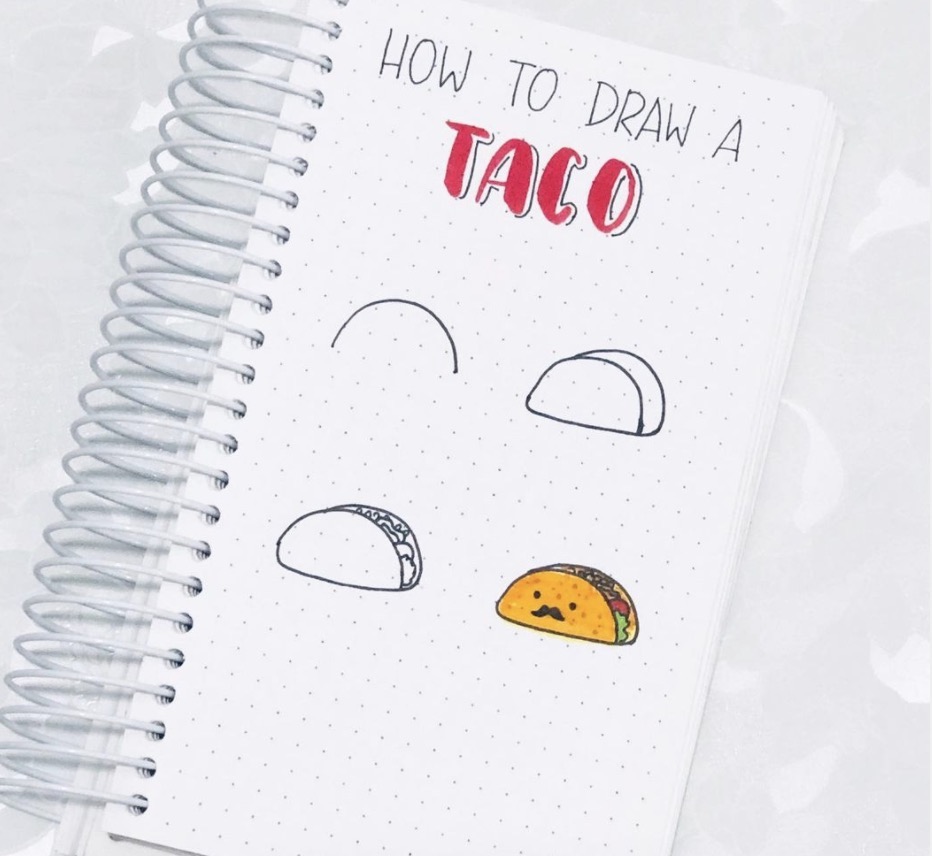 Refreshing Drink Doodles
I don't know why, but when I see this spread I want to start singing the Fanta song.
Do you wanta Fanta, Fanta?
It must be the colors. It is adorable and the brightness in fruity colors is refreshing.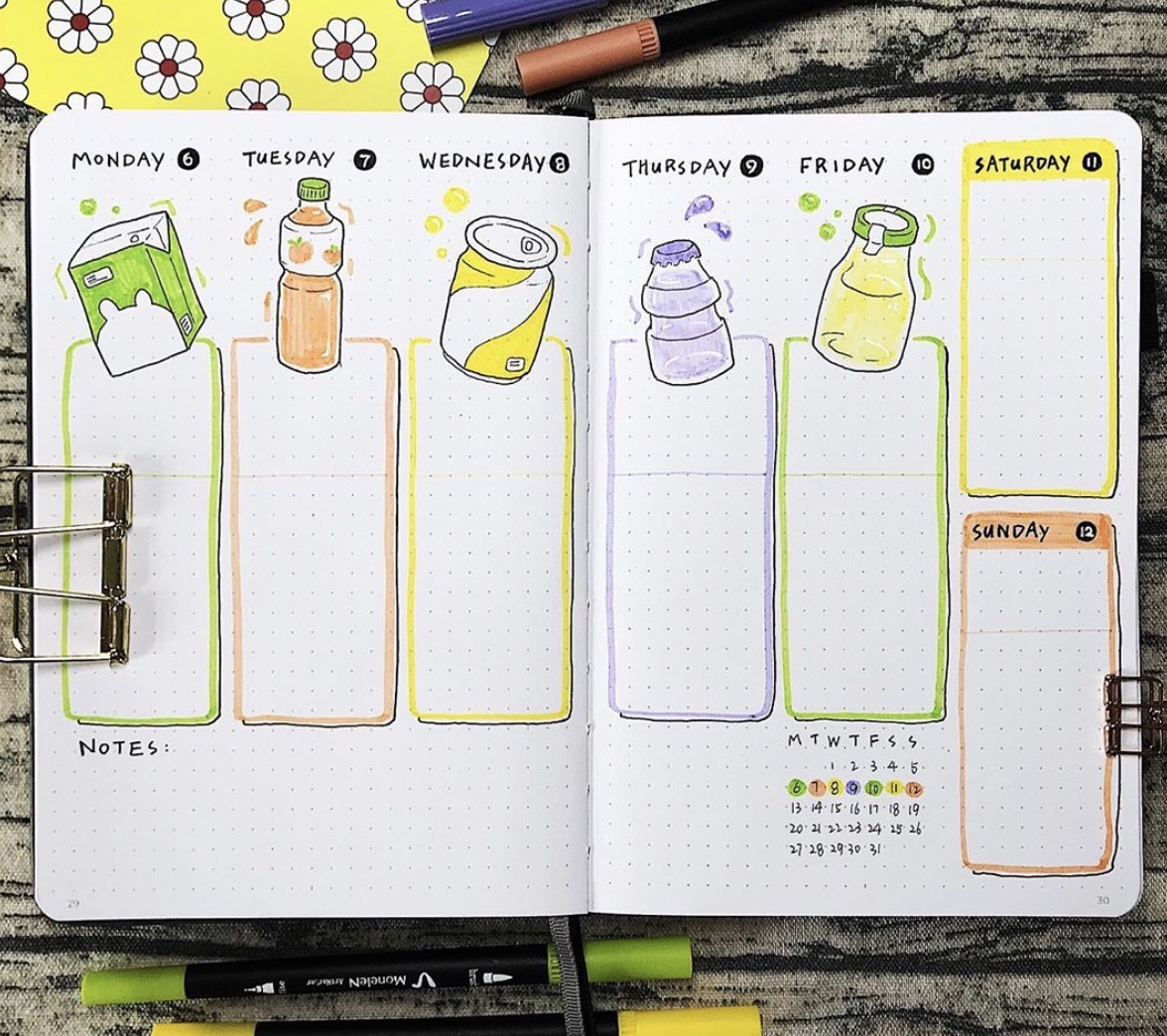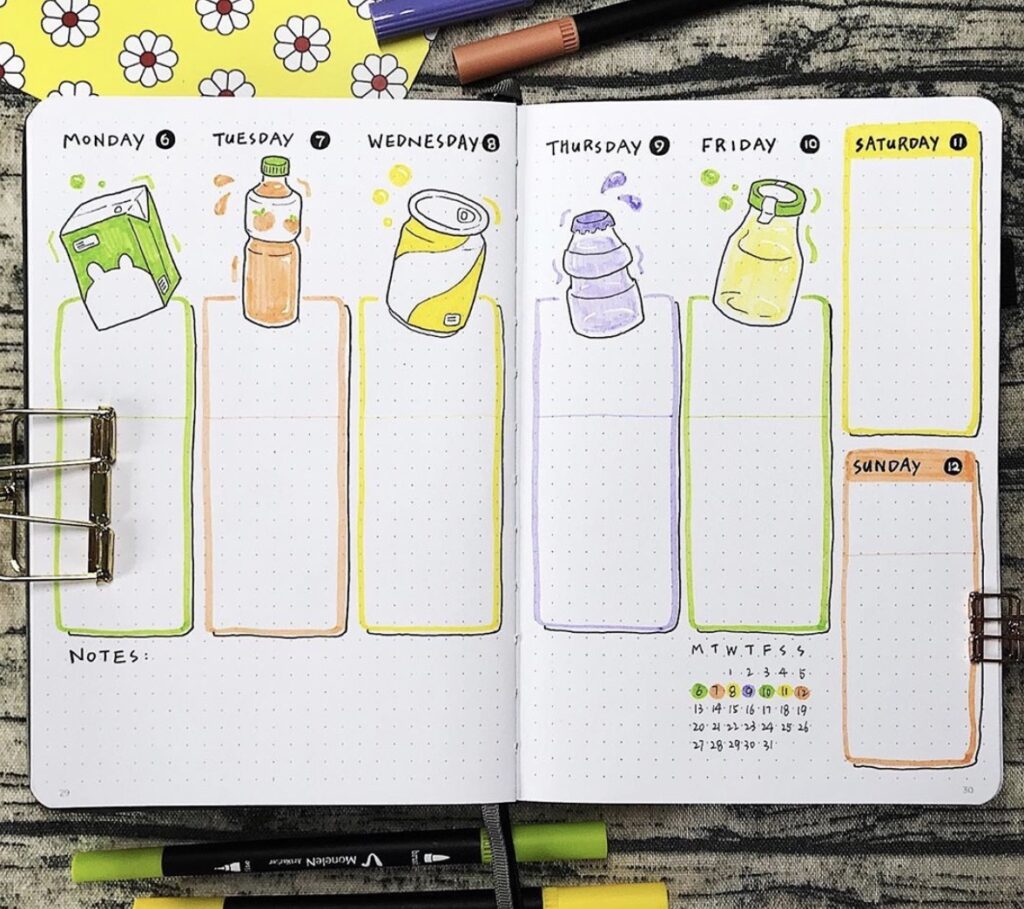 Coffee and Donuts
These doodles are a perfect combination. Coffee and donut dates are one of my favorite. You don't even need to write the words on your planner spread.
Draw a coffee and a treat to mark down your coffee date. Or maybe a trip to Barnes and Noble. Because you can't go browse for books without a coffee.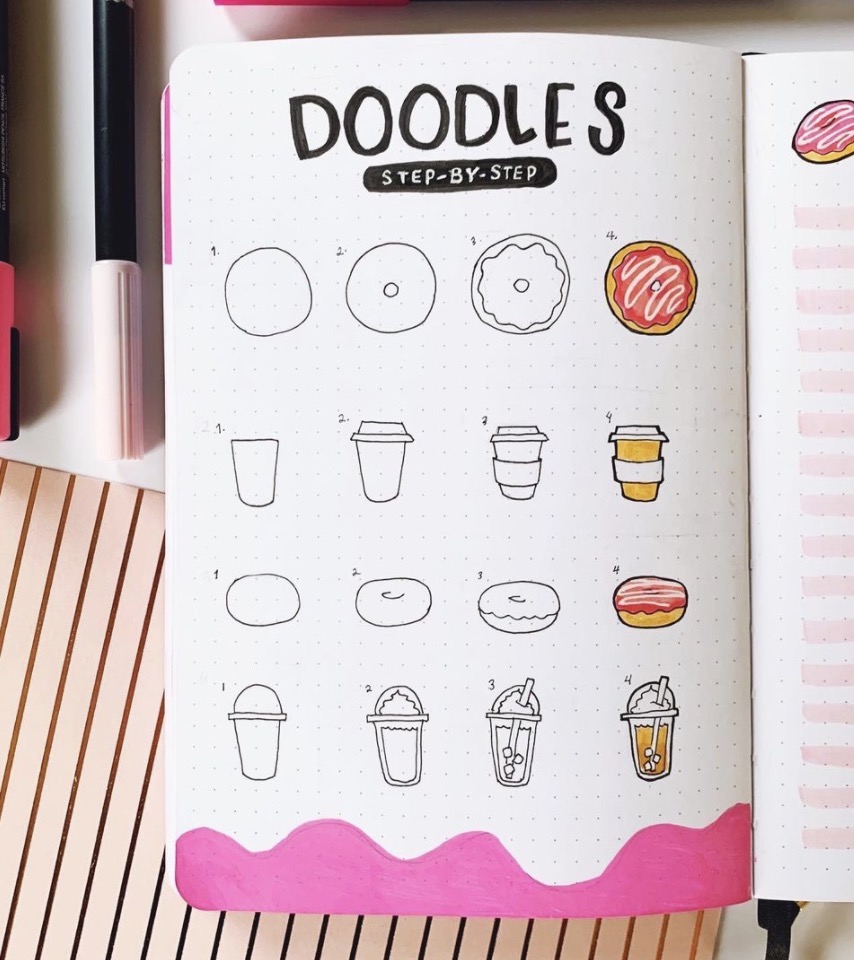 Fast Food Doodles
Kids will love that you can doodle these fast foods. Each of the food doodles is broken down into simple steps that you can draw.
I love the addition of the condiments and the way they have dribbled them on the header. There are so many great elements that you could use on your food pages.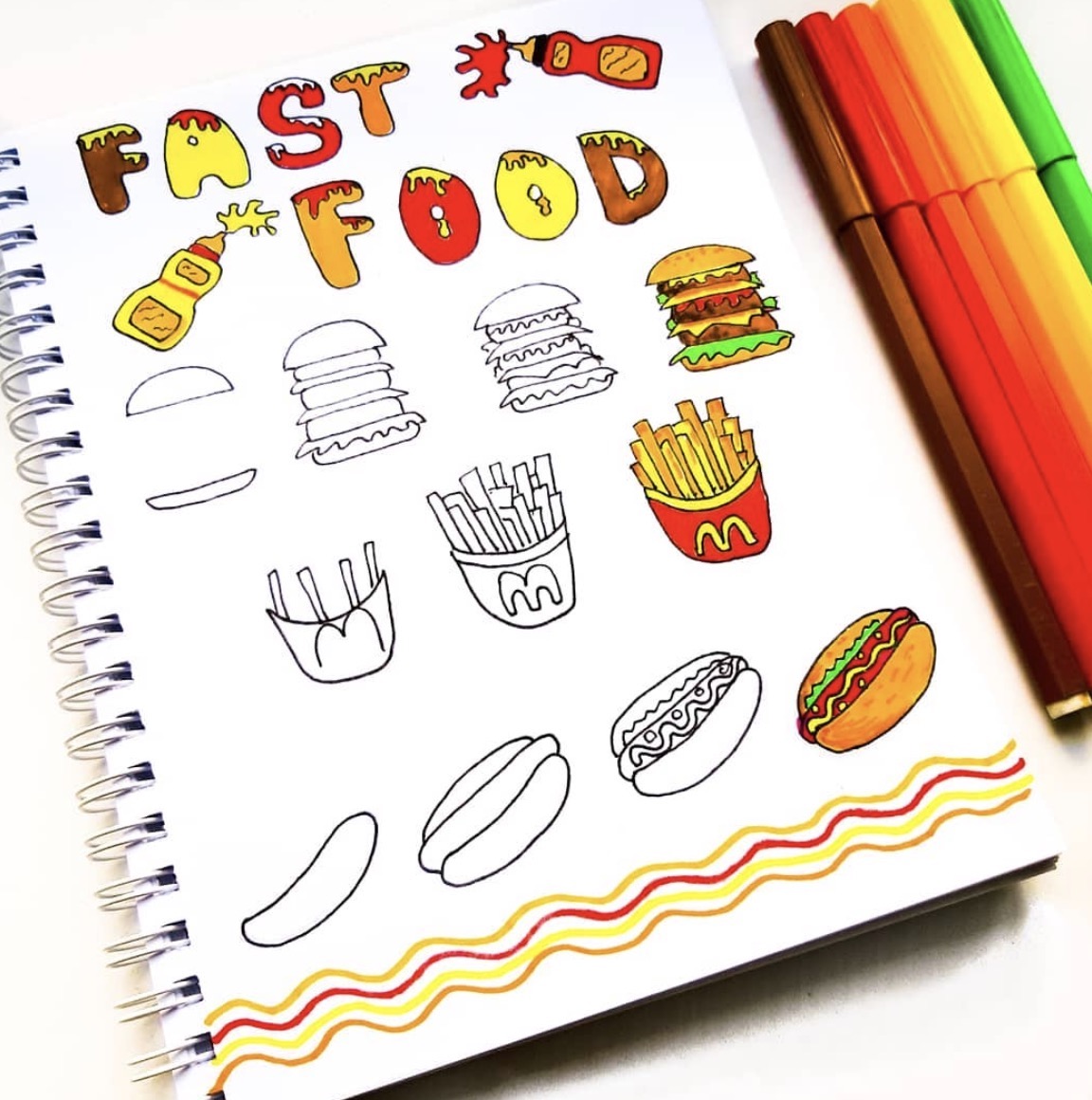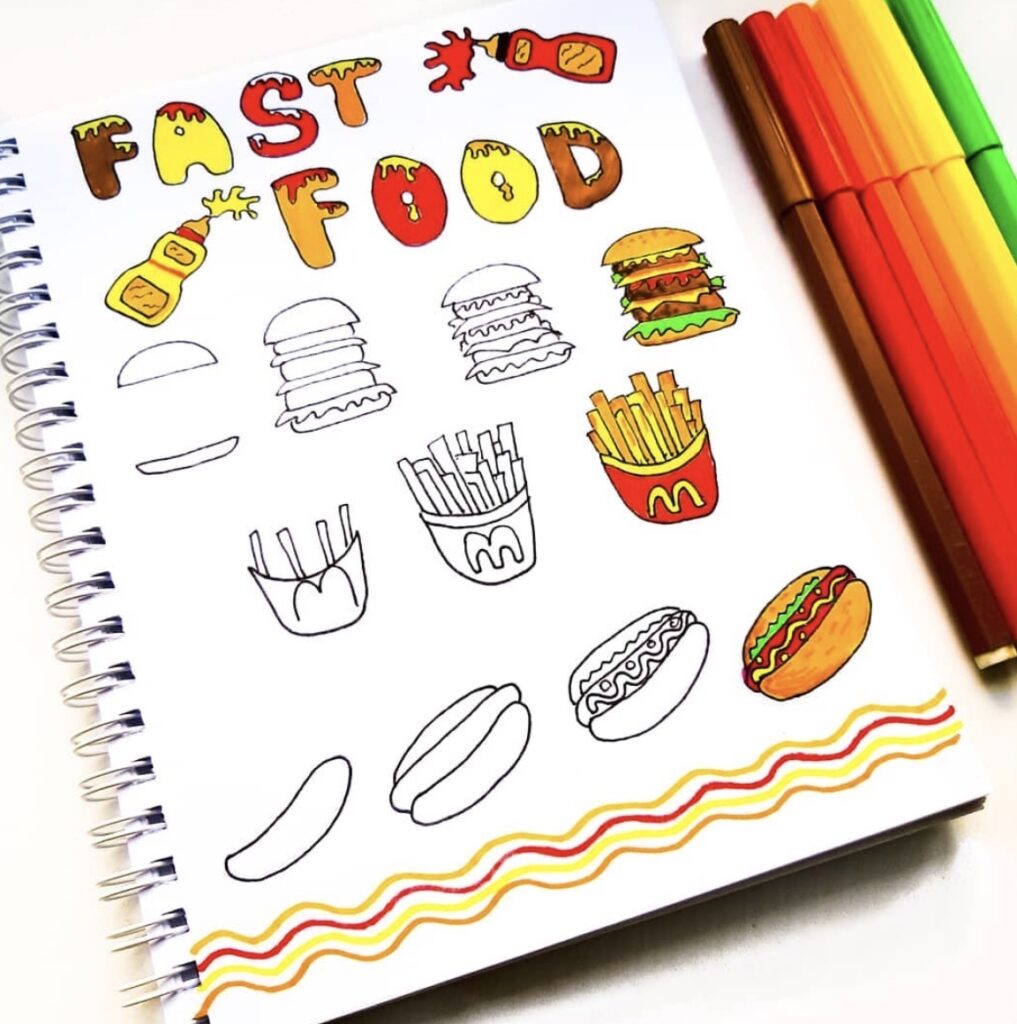 Random Foods
I think it is funny that these doodles are labeled "foods of the office". Maybe it was a journal of all the foods that were brought in by co-workers.
A few of them make total sense. But then there are foods like the beets, ice cream sandwich, and lobster. Too funny.
This is a great collection of random foods.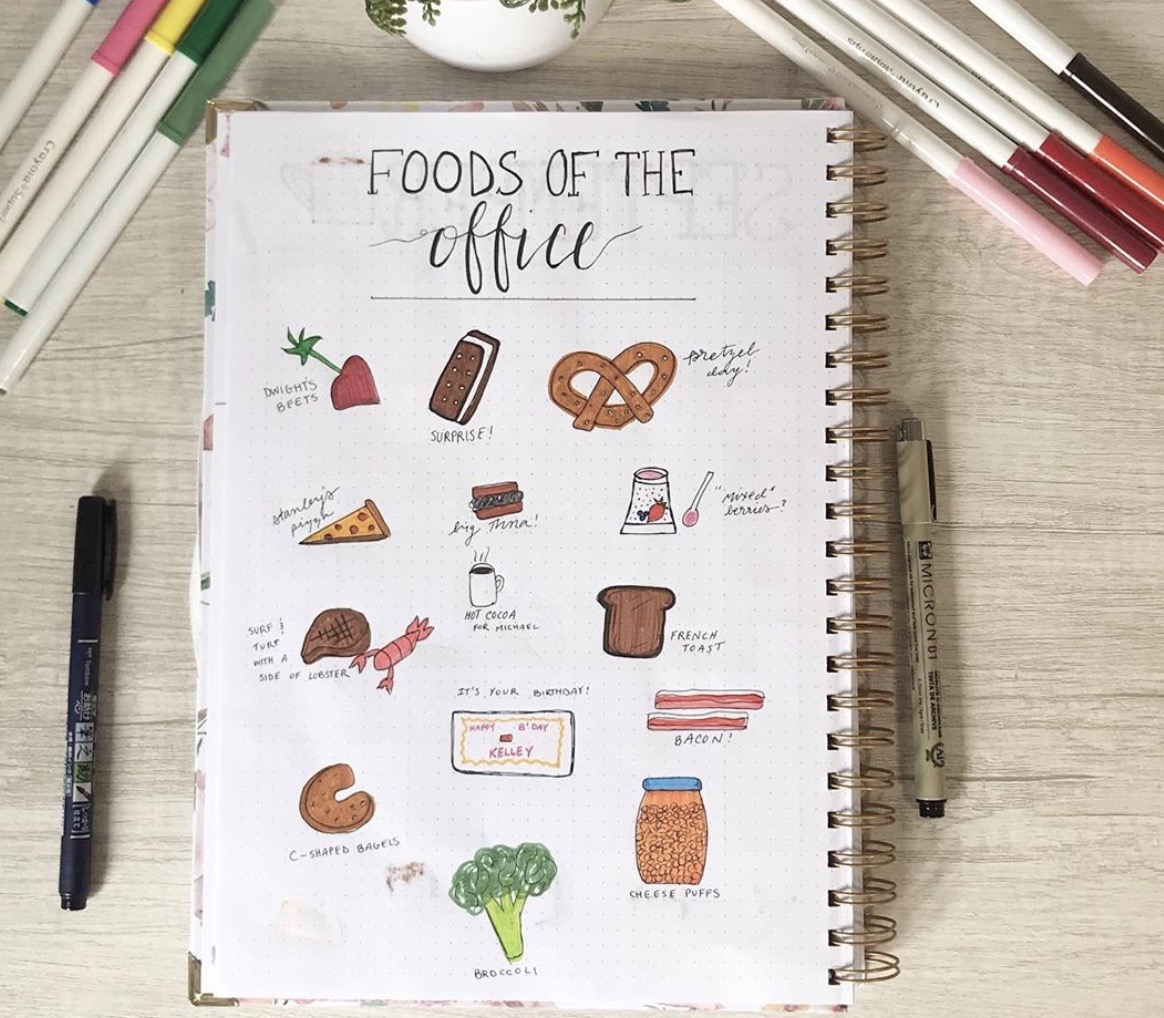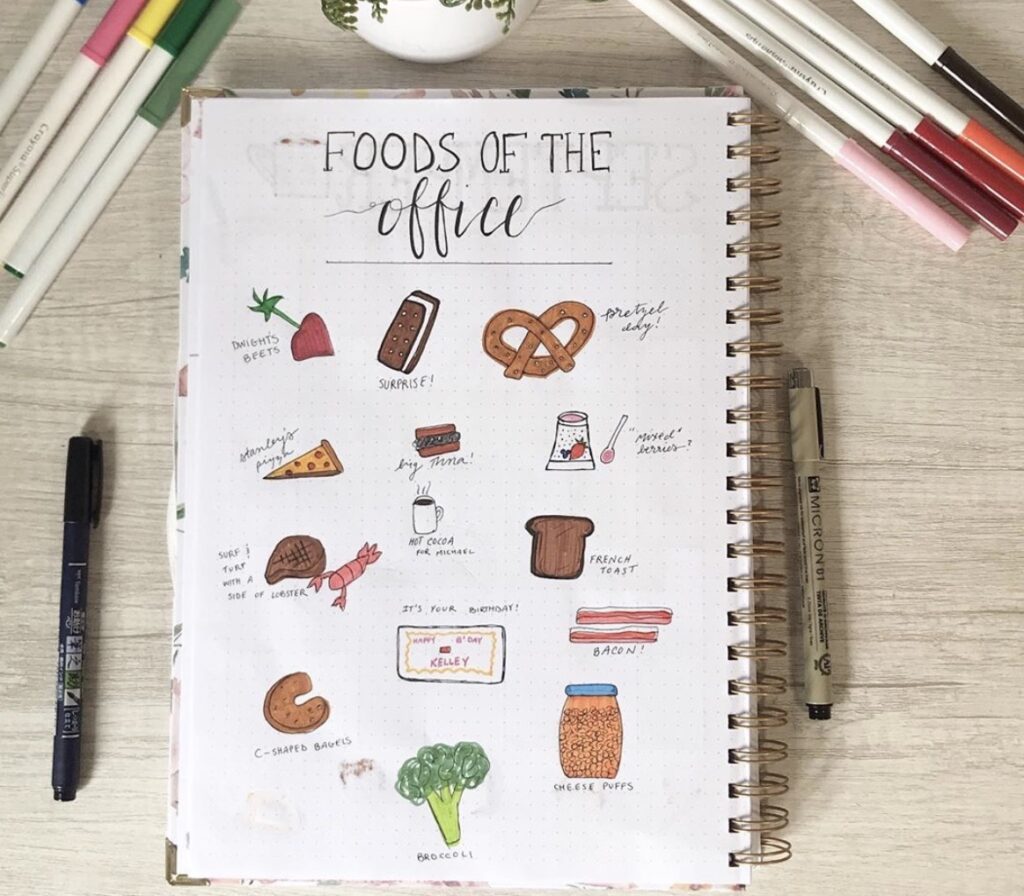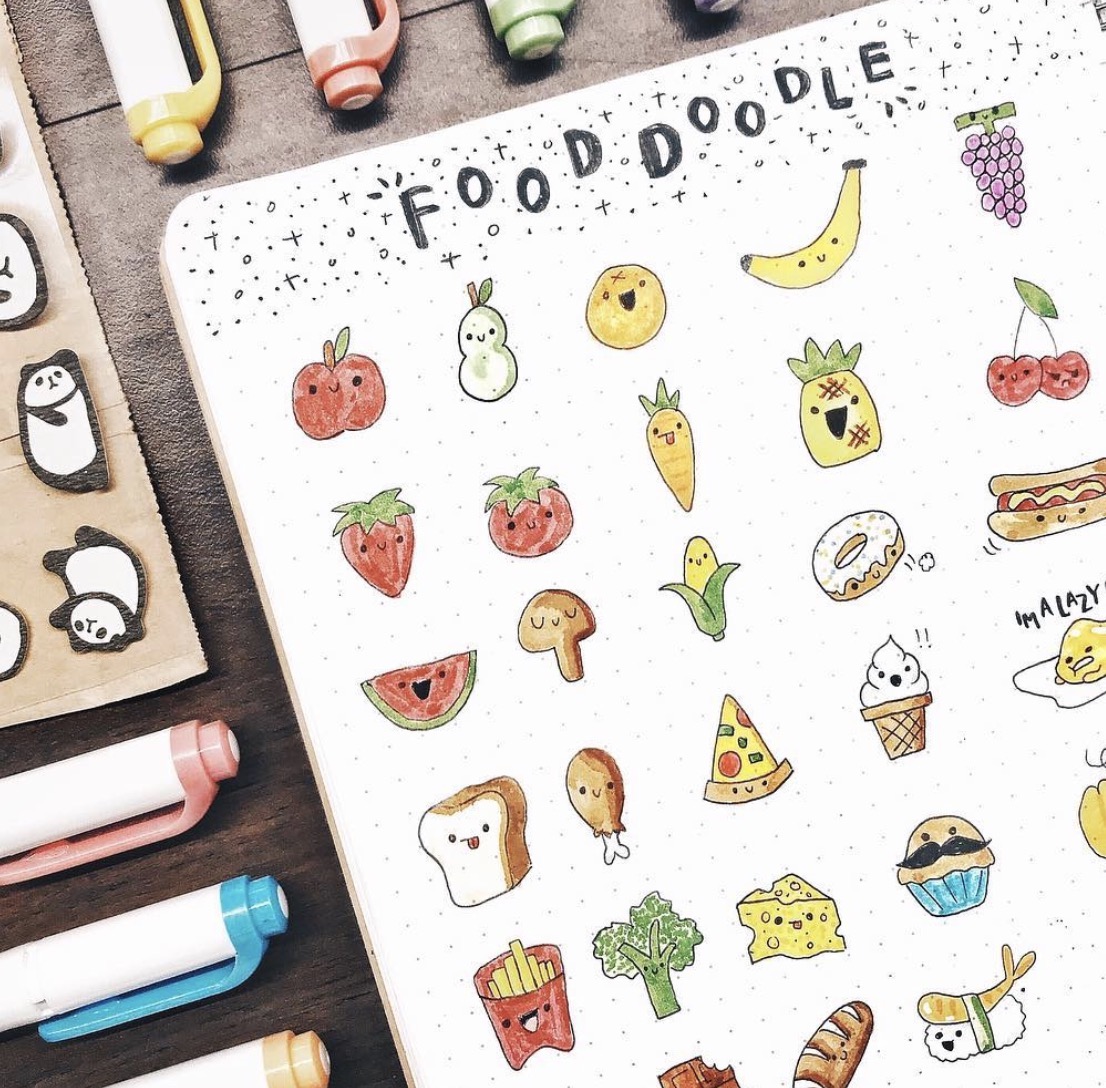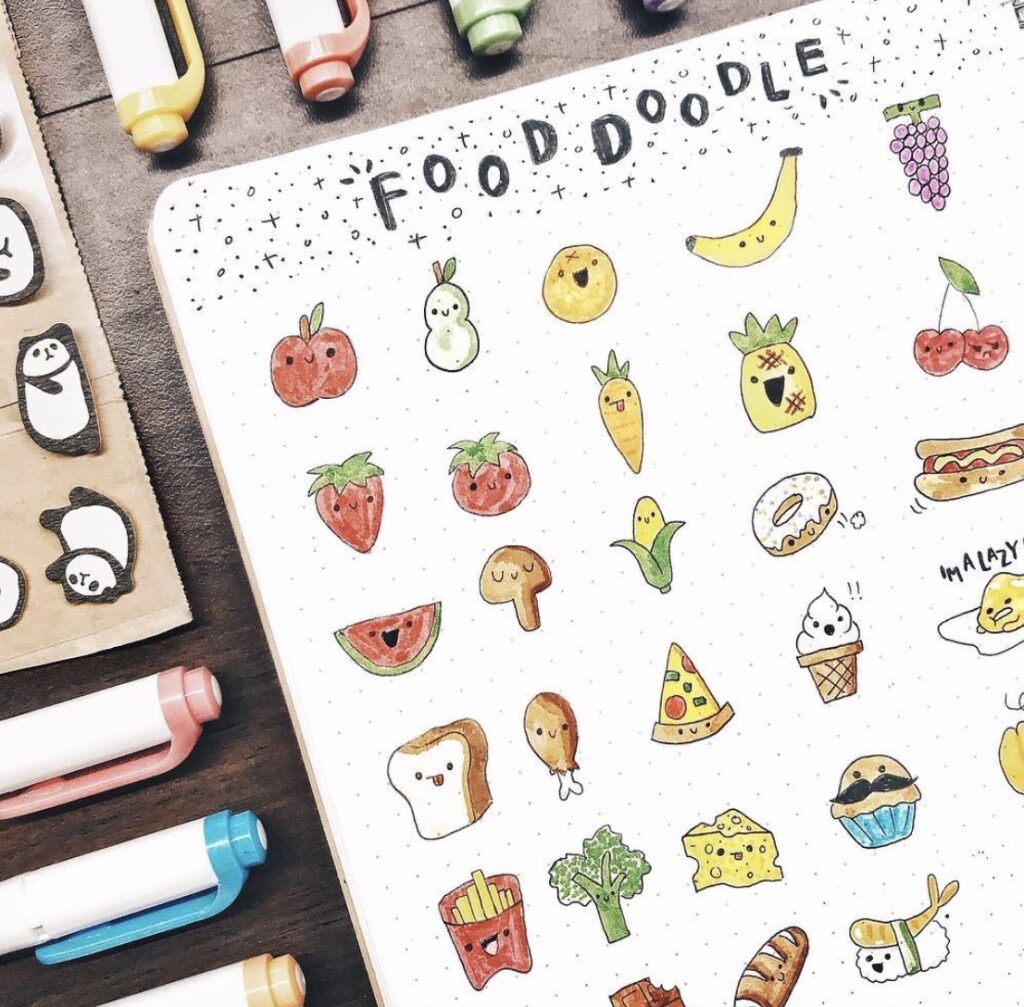 Fruits and Veggies
If you are a gardener or just love all the different varieties of fresh food, then these doodles are for you.
These would make a great garden planning spread or even a garden harvest doodle spread.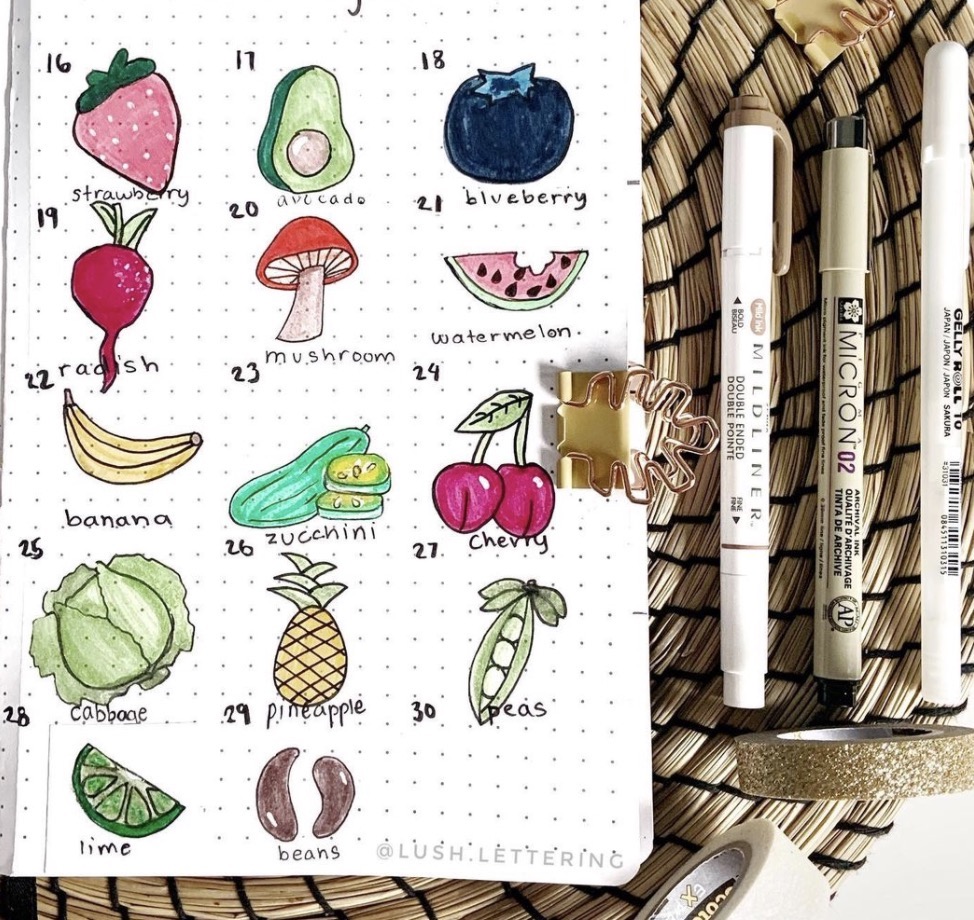 Macaron Doodles
Learn to draw a macaron with this step by step drawing tutorial. Then add any of the colors in the rainbow to show your flavor.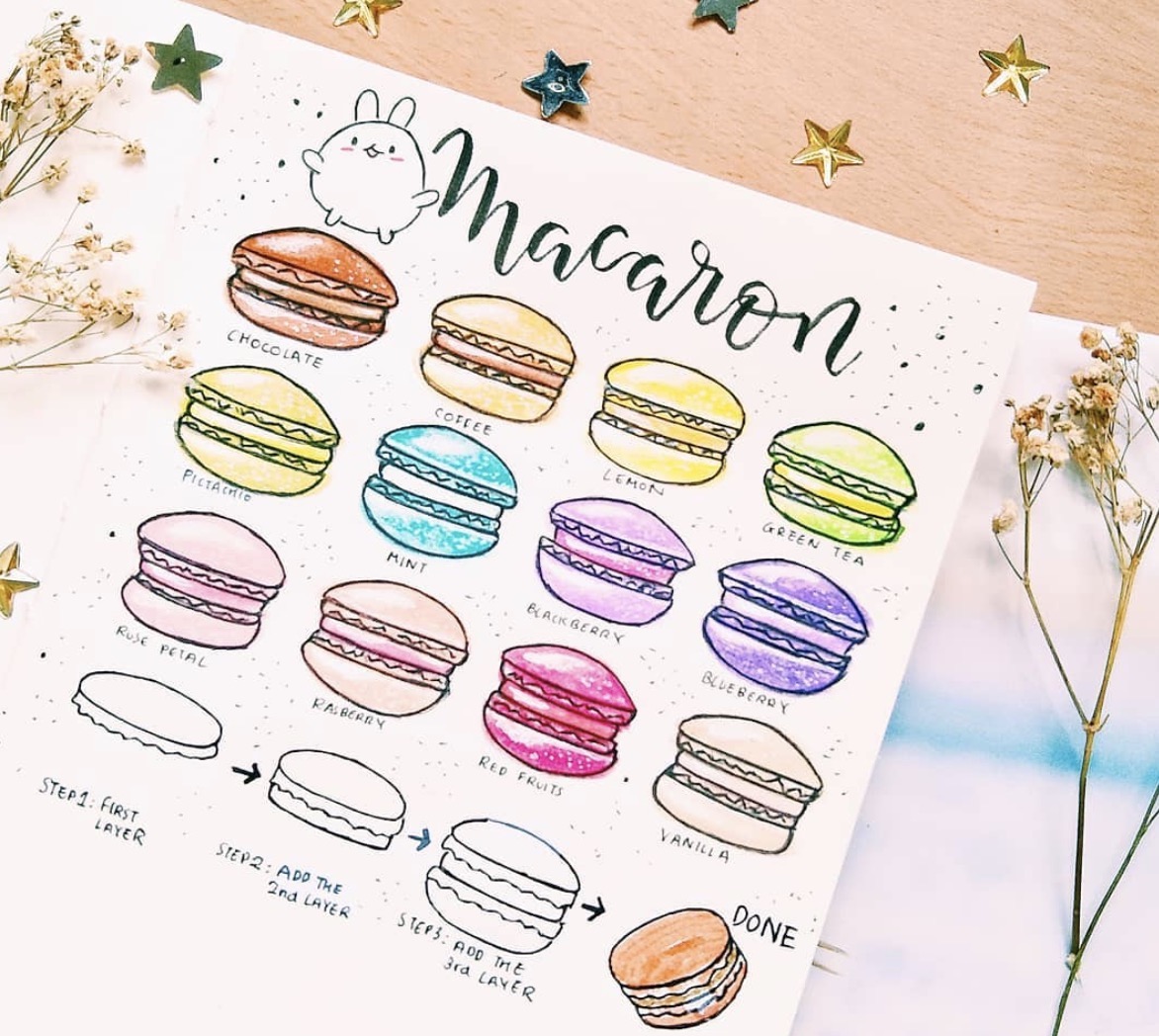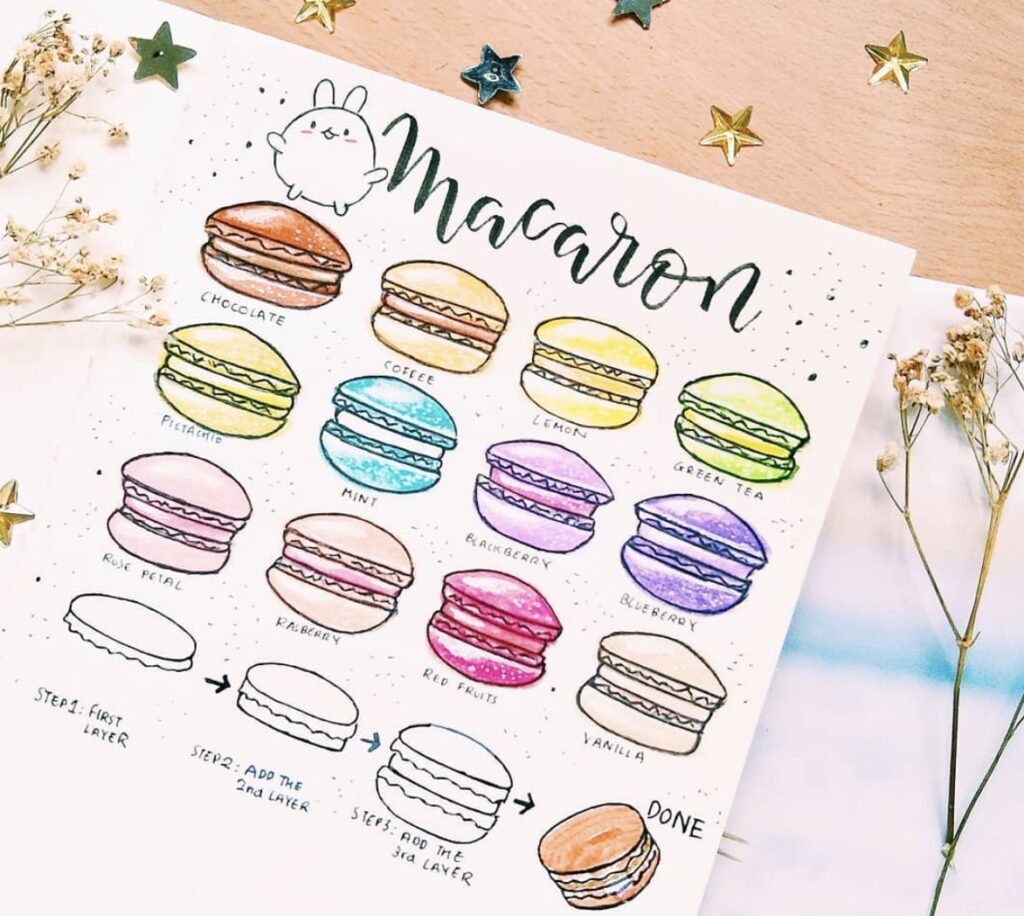 Baking Doodles
There are doodles for the ingredients to your favorite baked goods, ways to label what is in the pantry, or to even add to your shopping list.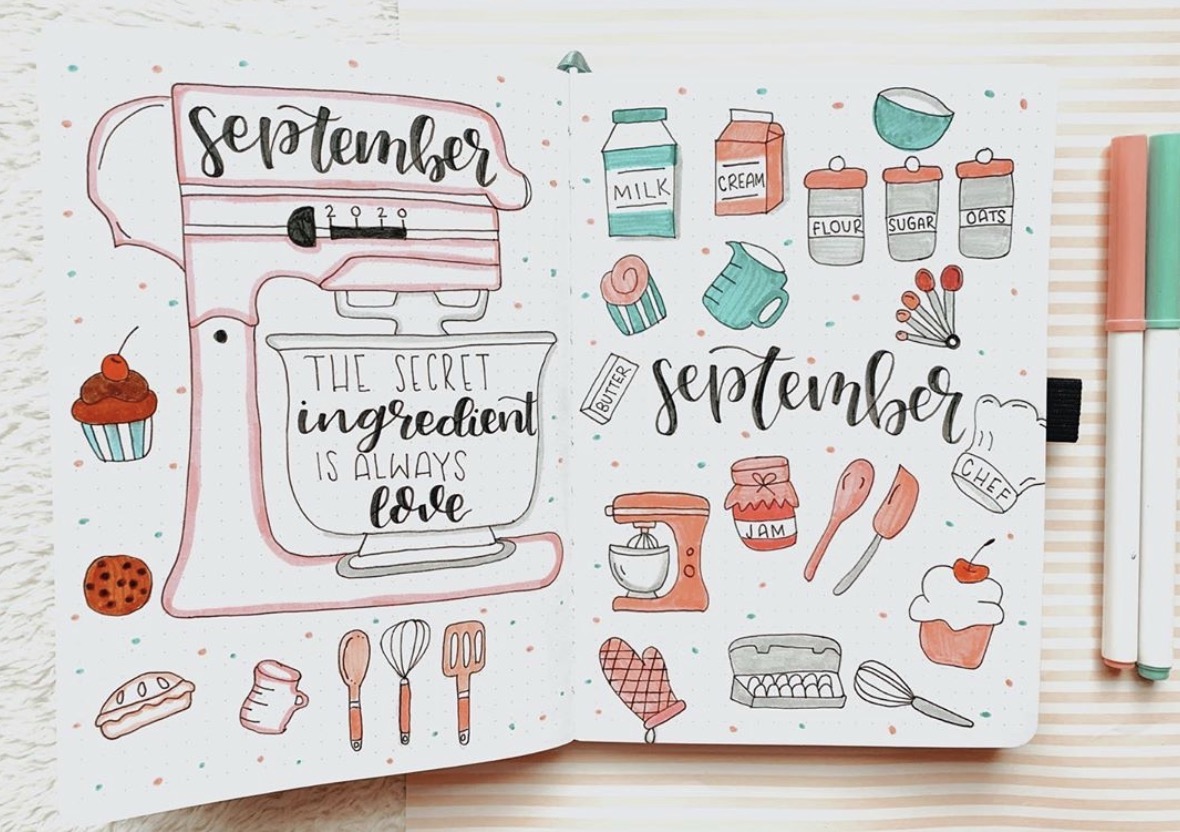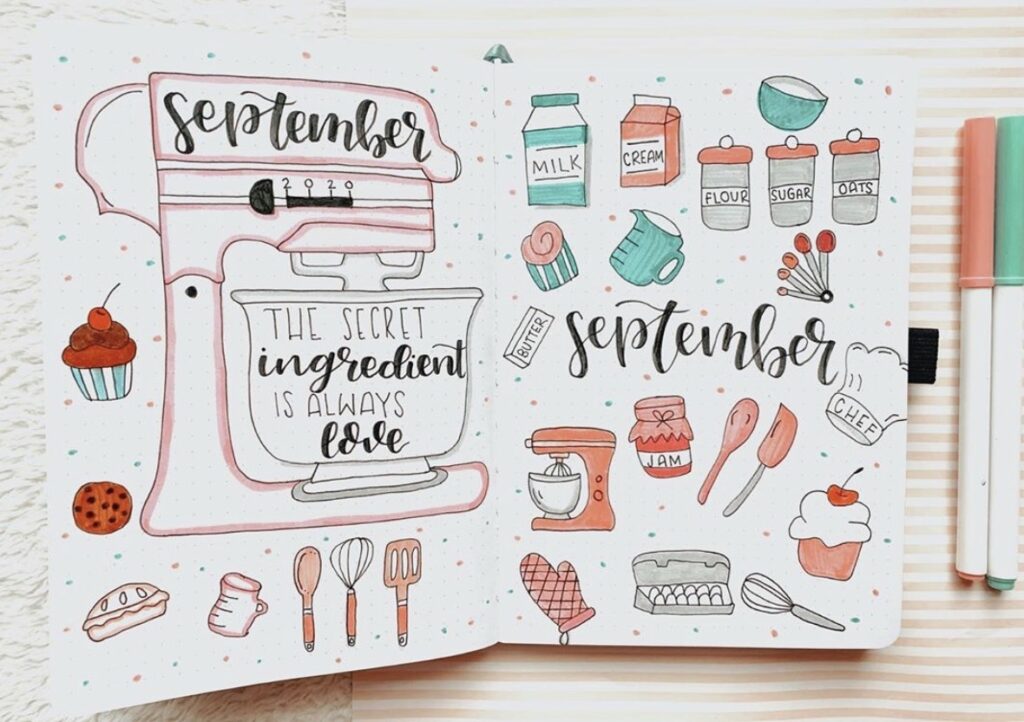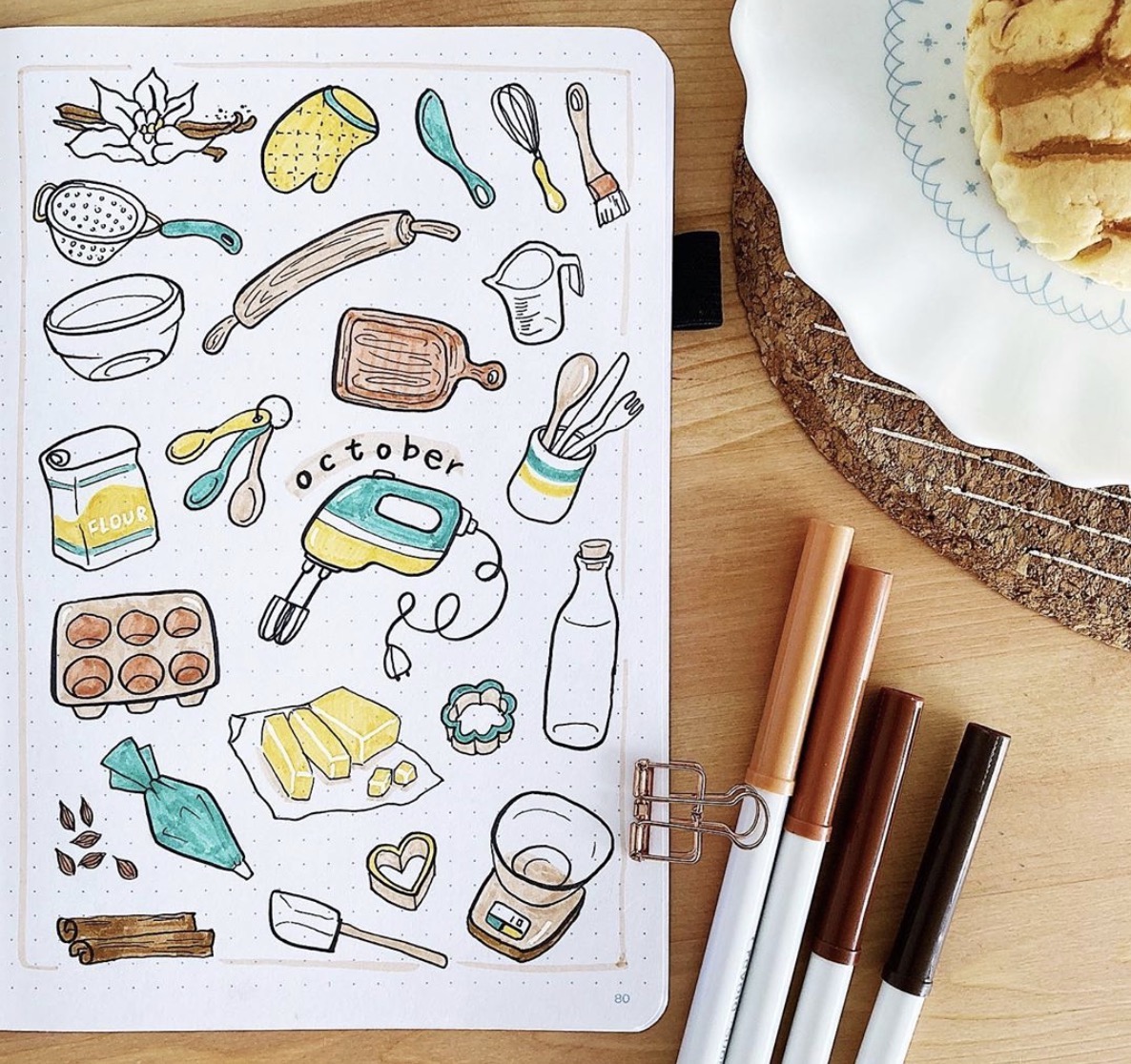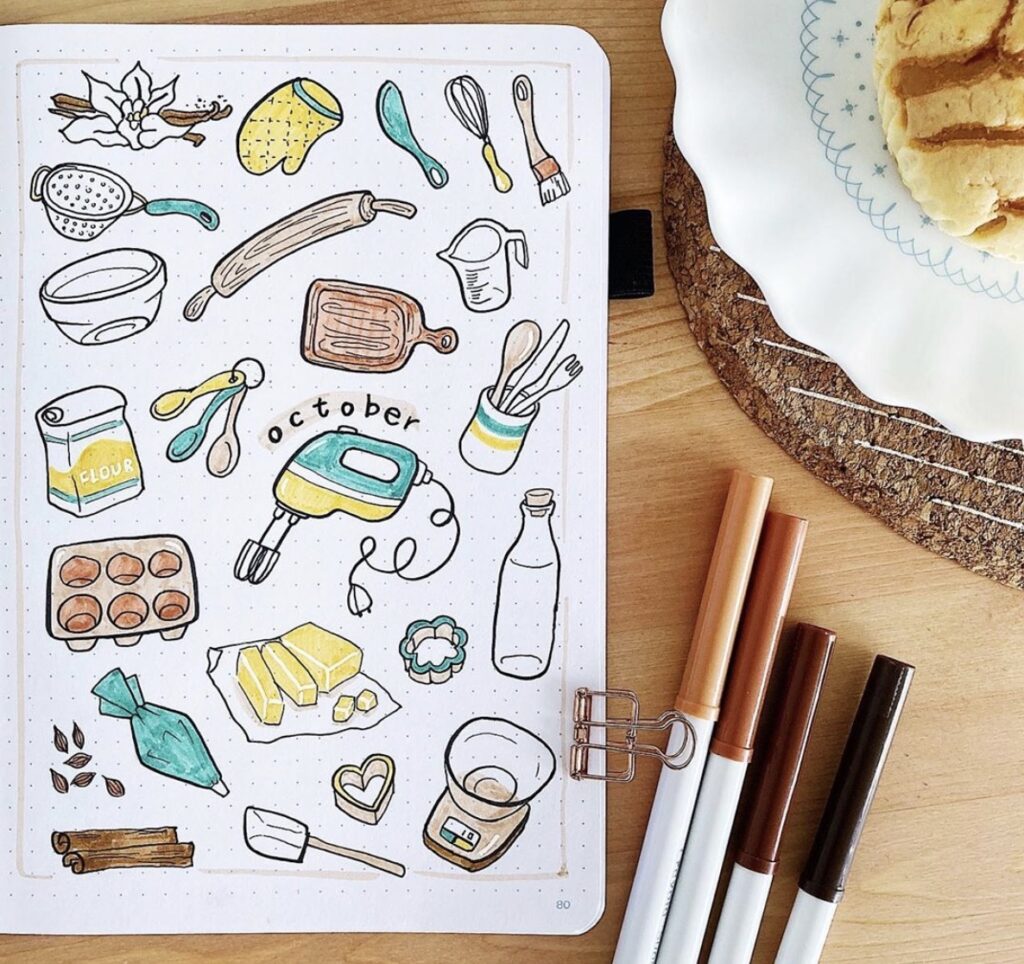 Pizza Slice Doodle
Grab a slice and start doodling. This step-by-step pizza doodle is broken down into basic geometric shapes and is super simple to follow.
Add the toppings of your choice. Yum. This will be one of the easiest food doodles to add to your planner.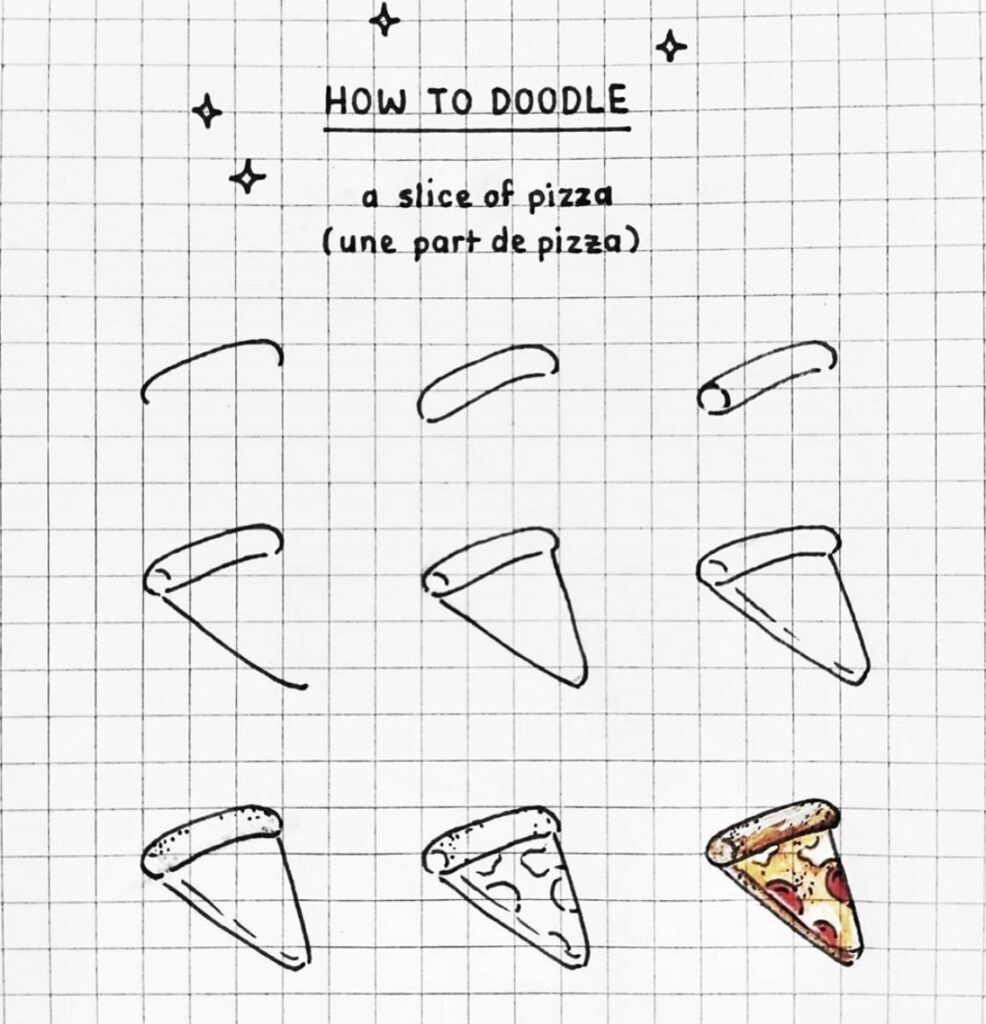 Sushi Doodles
Doodling sushi in your planner or bujo is similar to a coffee date. If you are a sushi lover, then you probably have sushi dates somewhere in your schedule.
My kids have always requested sushi dates for their birthdays and special occasions. I love that they enjoy eating something different on their special day.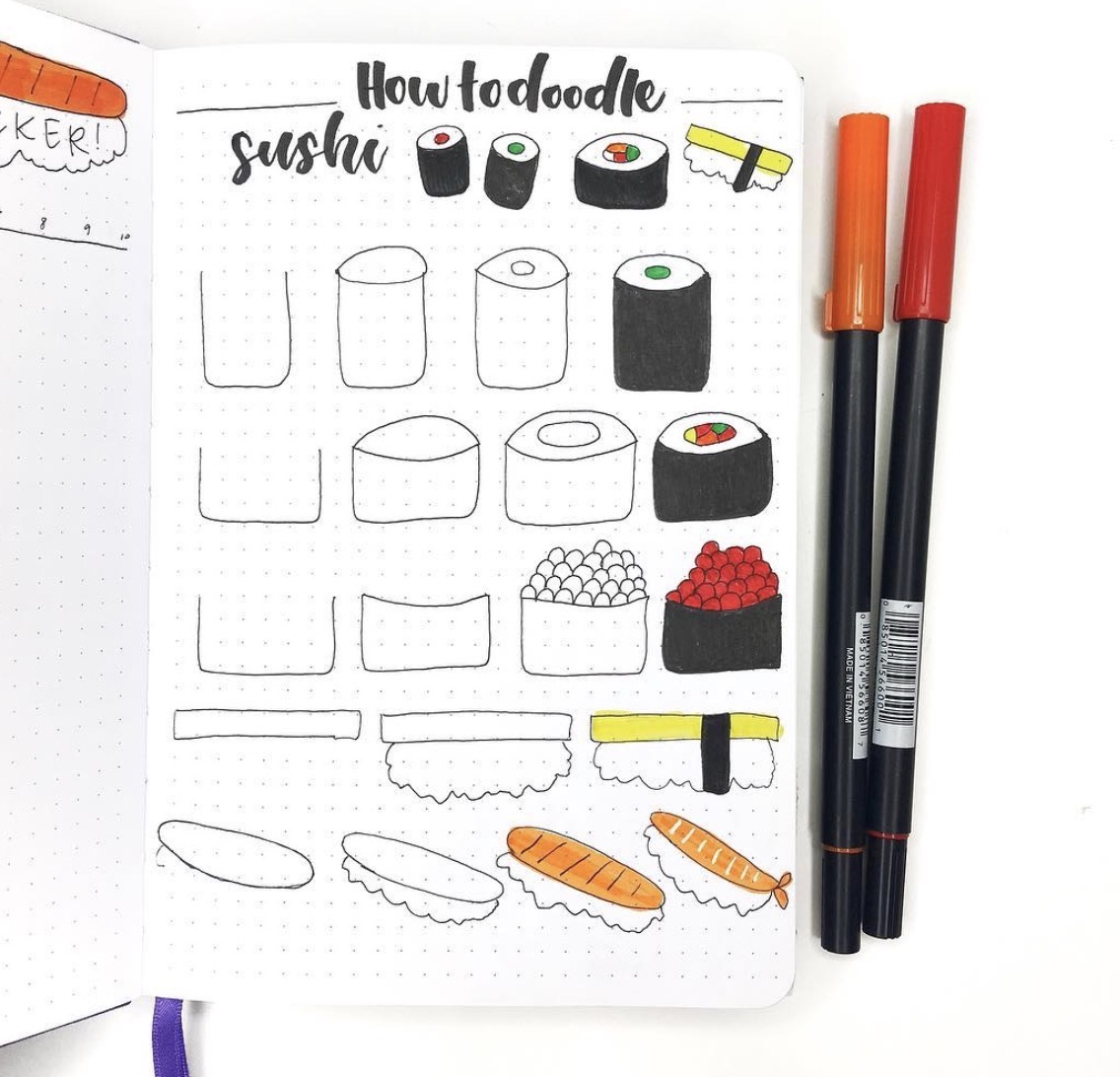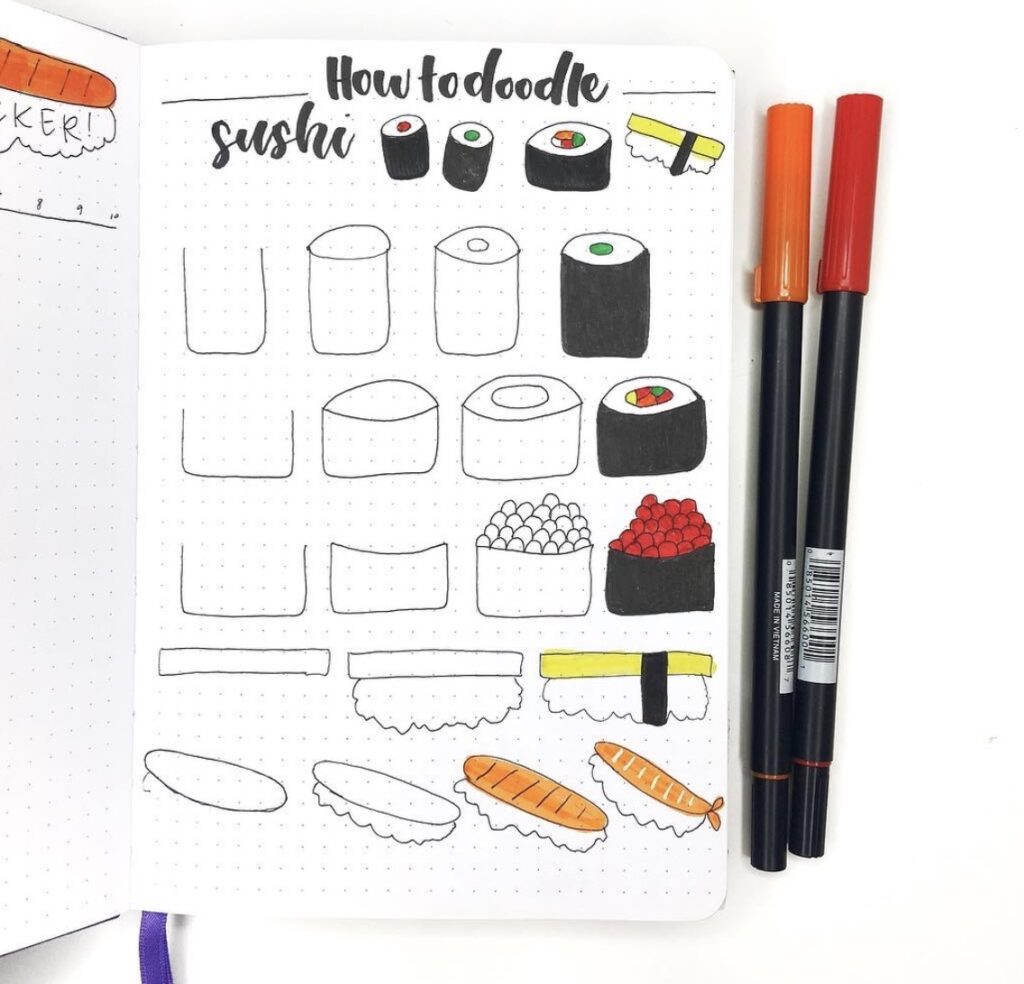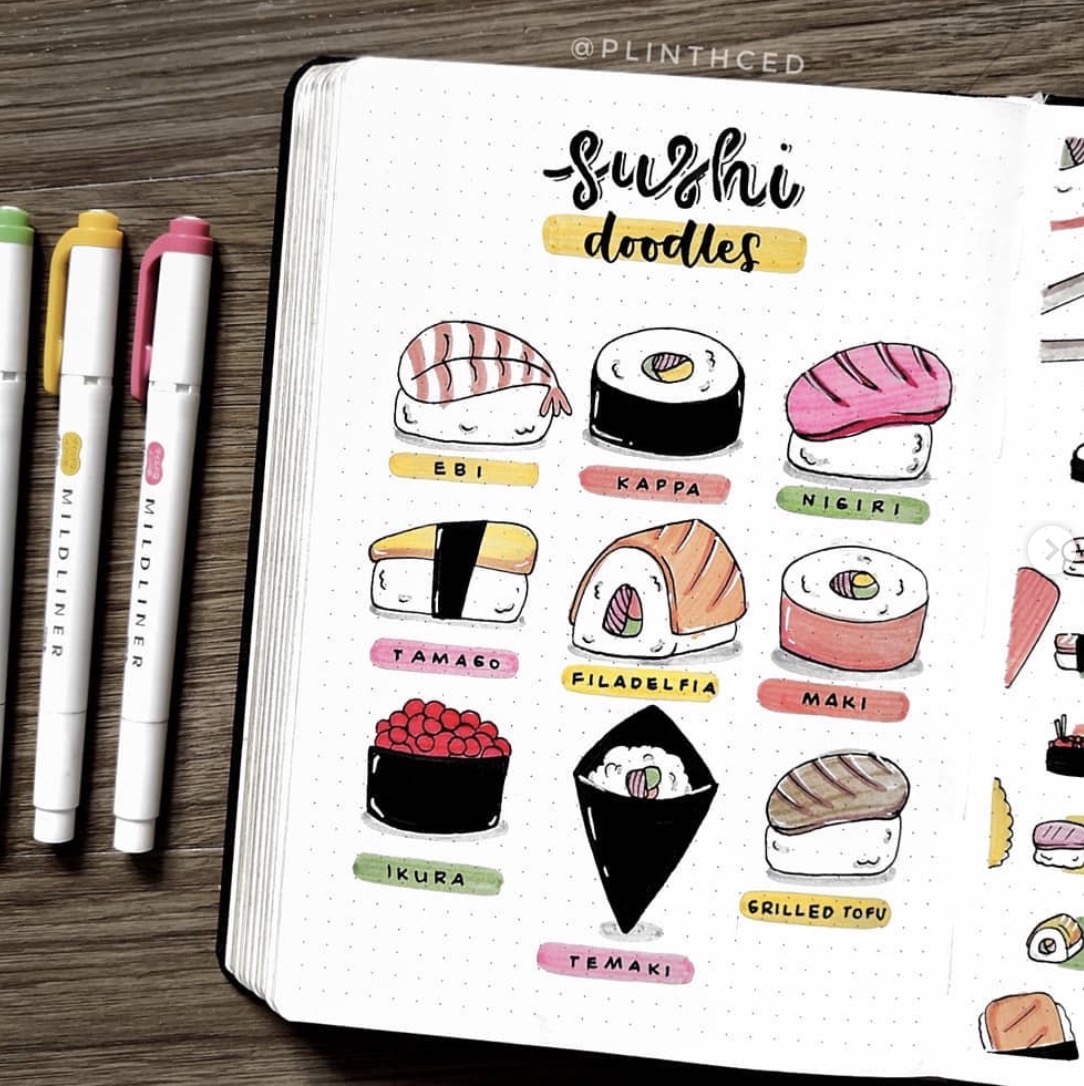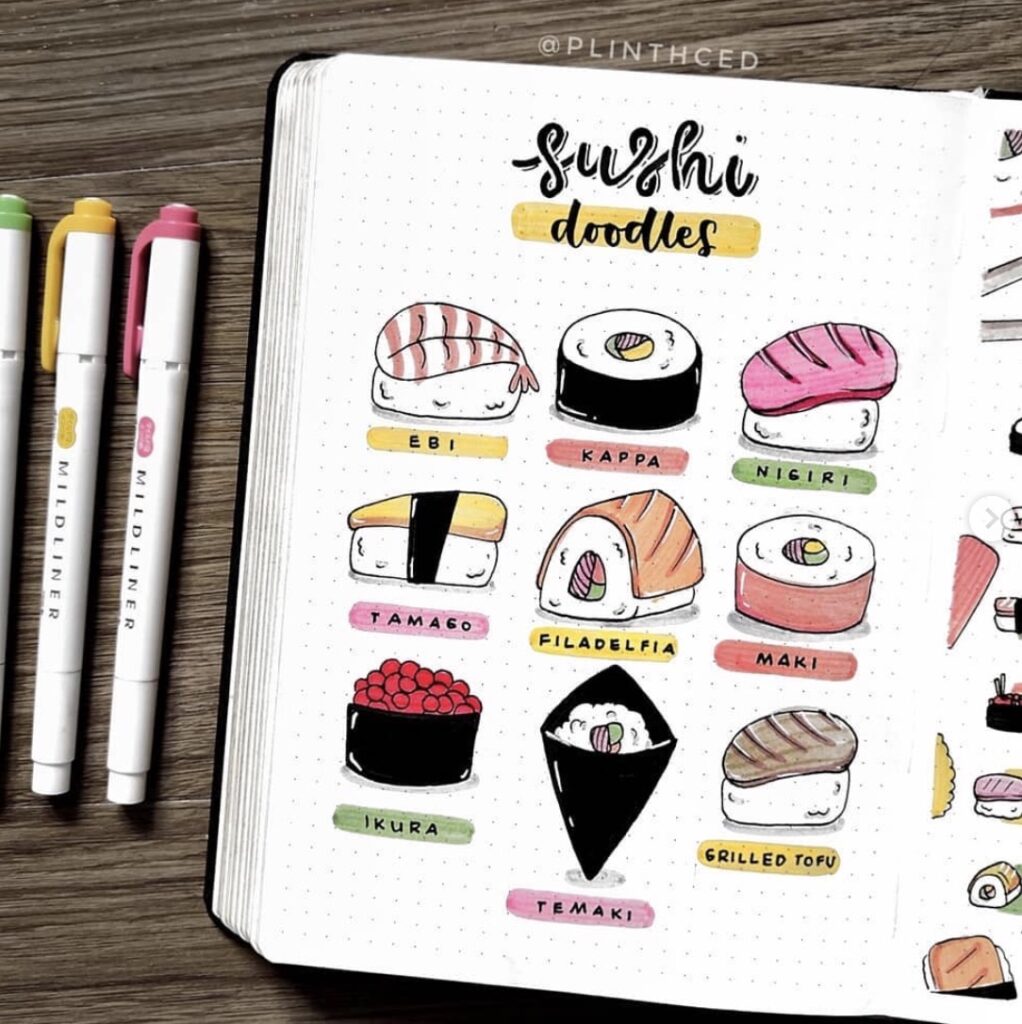 Fruit Doodles
These fruit doodles would pair wonderfully with the drink doodles. Or you can cover a page for a summer time spread with them.
The pineapple is adorable and I could see a whole bullet journal collection with just pineapples and fruit pieces.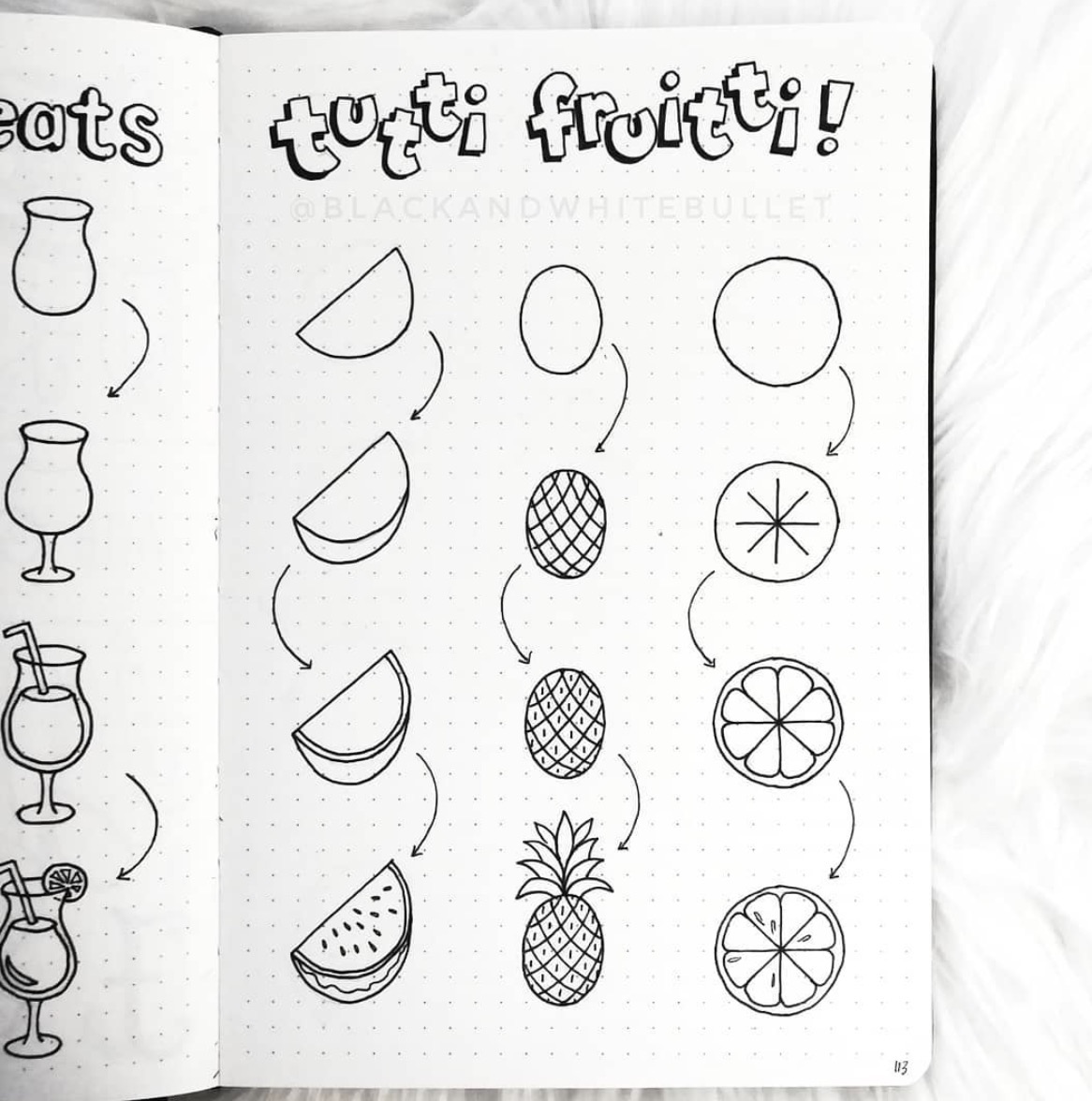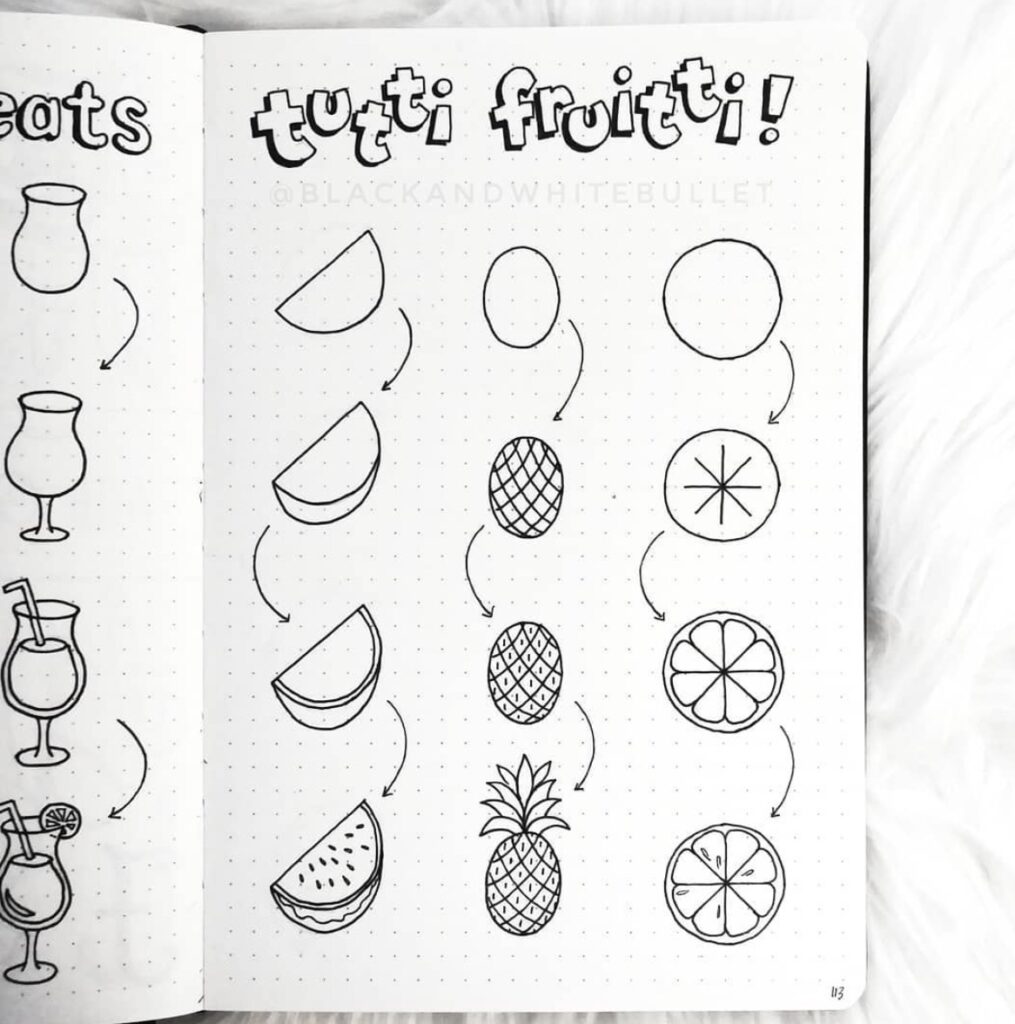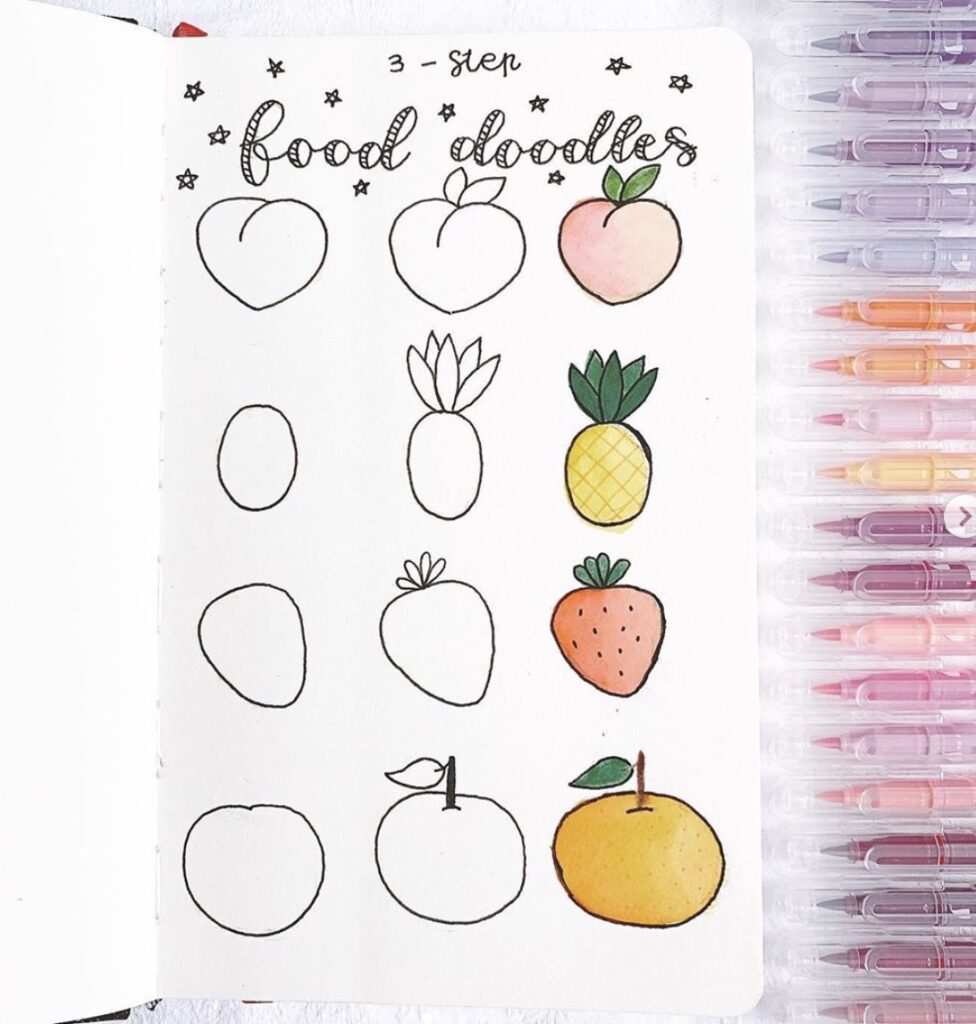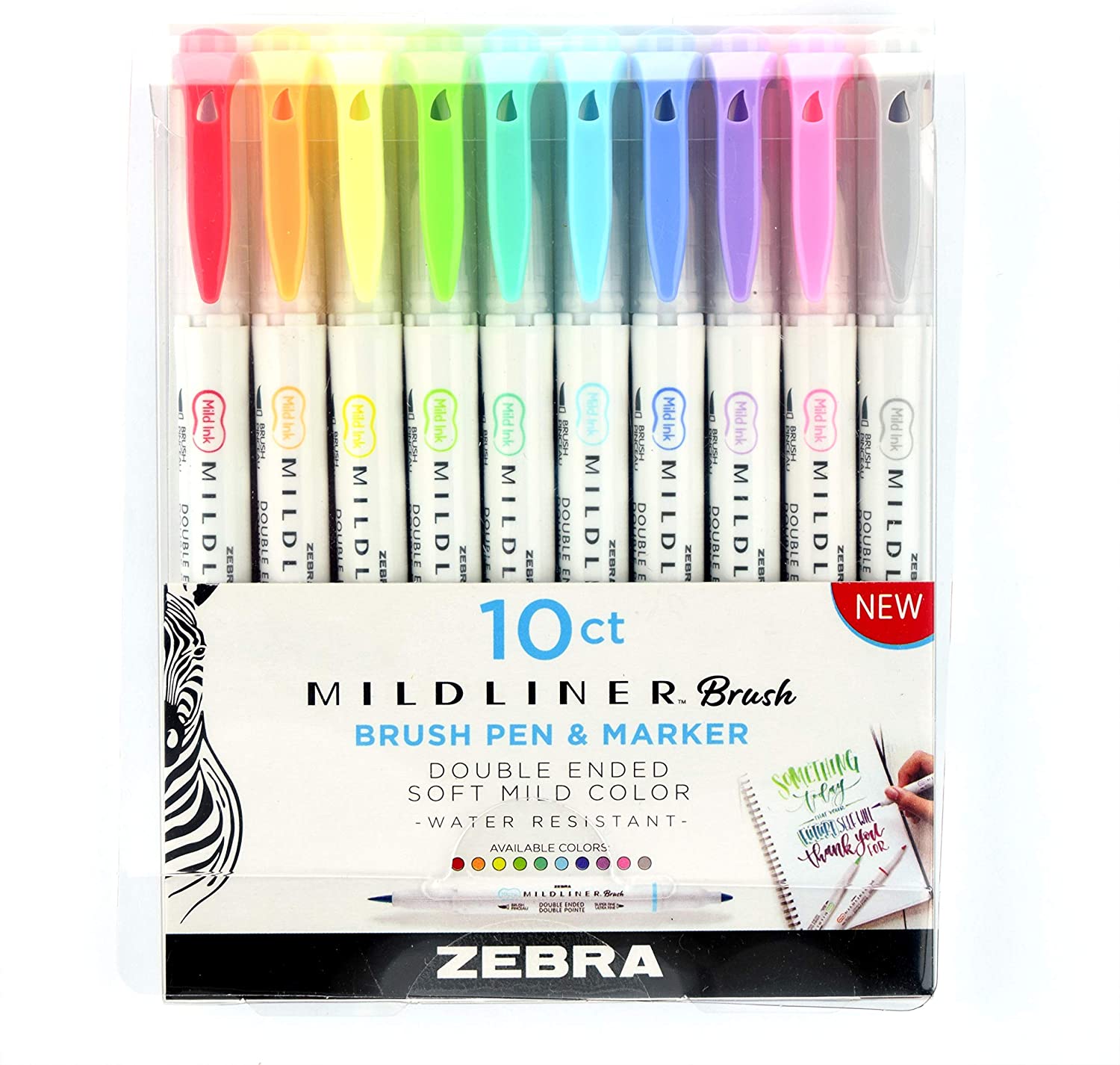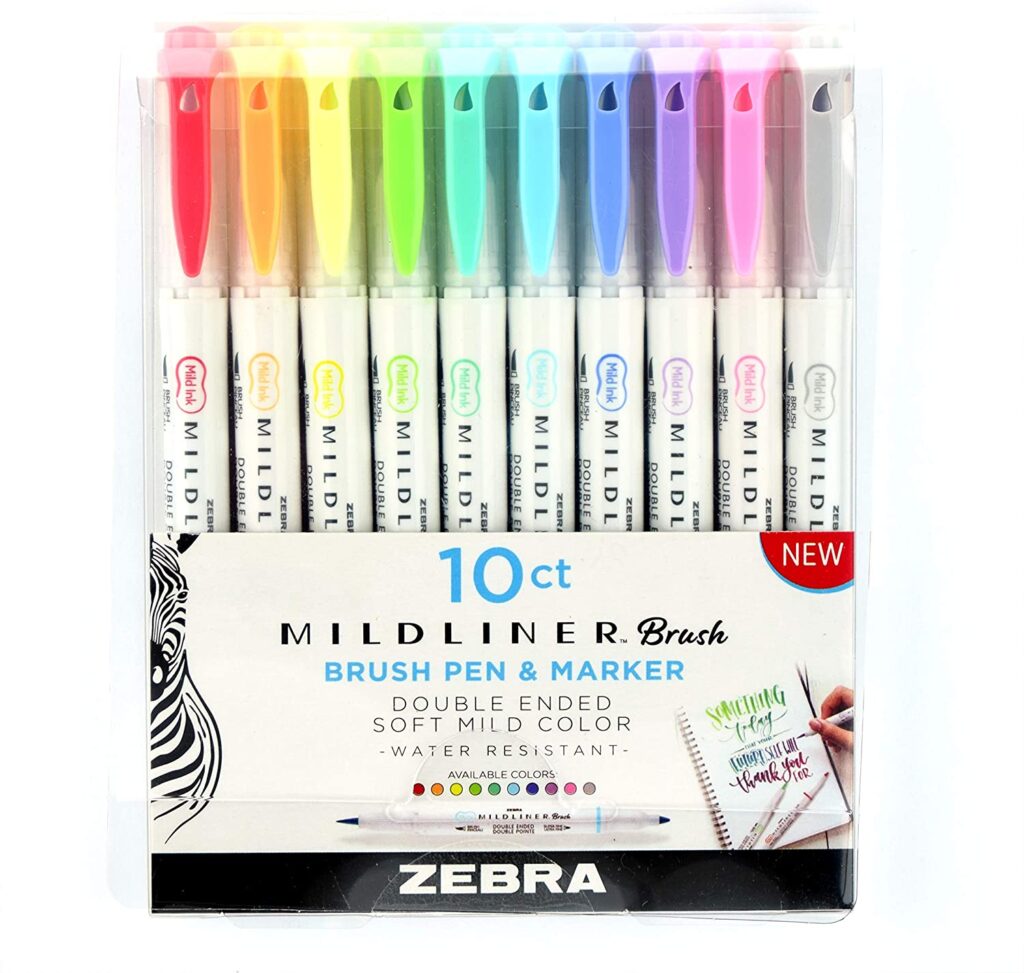 Mildliner Pen & Marker
These double ended pens have a fine tip and a marker tip. If you are new to bullet journal doodle ideas, these would be a great starter set.