7 Spooky Halloween Crafts That You Can Copy
We may earn a small commission for purchases made through affiliate links in this post. For more information go to our Privacy Policy.
Hey! What kind of pants do ghosts wear?
Boo-Jeans.
Are you completely stoked about Halloween and all those Halloween Crafts?
There is just something about all those fall colors, Halloween characters (scary or cute…whichever you go for), and the fall Harvest.
It probably has something to do with the slow-down after all the summer running around and playing too. Is it just me or does summer seem a little exhausting?!
Now that the kids are back in school, there might be a few minutes to just breathe (and play with craft supplies!).
These Halloween crafts are my favorite. But there are so many more that could be added to the list!
Are You Chicken Halloween Trading Card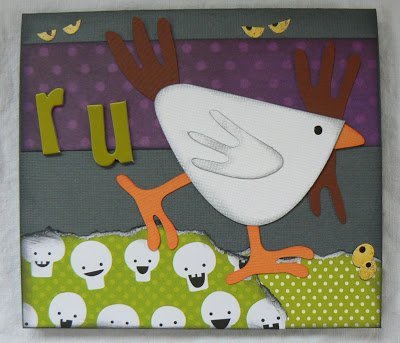 Do you remember Quickutz dies? The handheld alligator that cut little shapes and alphabets? I sold mine to buy a Cricut…but I saved a few dies that I can still use in my BigShot.
This chicken was one of my favorites. And I loved making this trading card out of it!
Hocus Pocus Home Decor
There are so many different ways that you can make new home decor and incorporate a Halloween Craft.
Not only can you decorate pumpkins for the front porch, but you can also make signs. And scarecrows. And all things Hocus Pocus.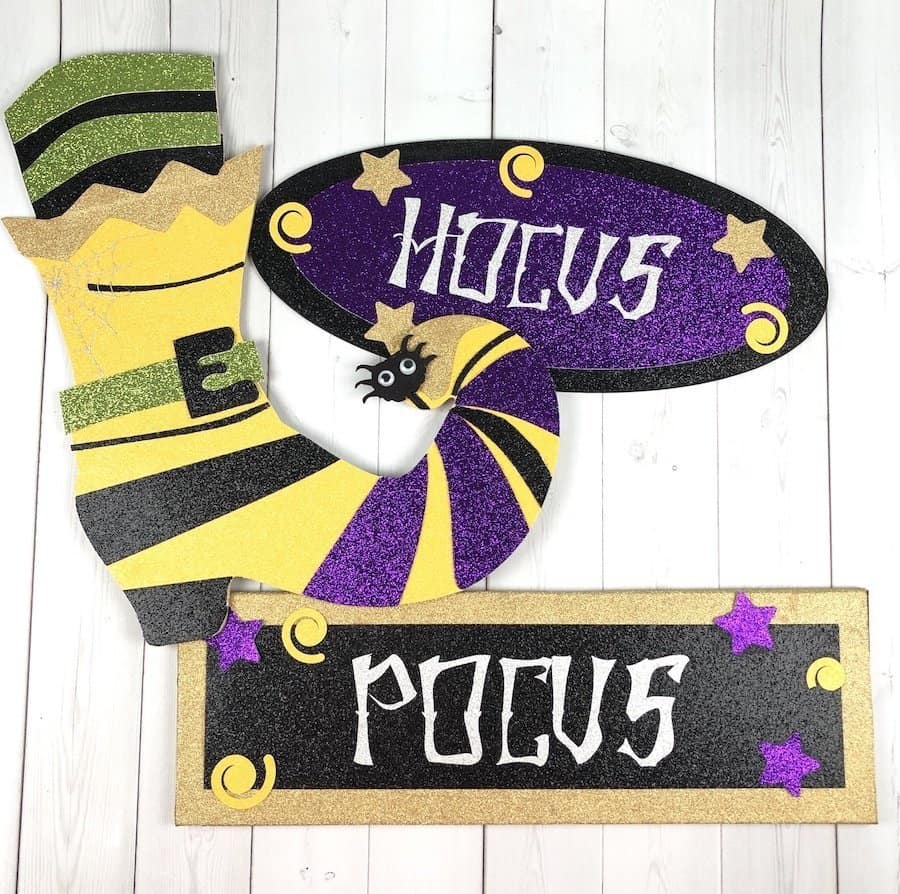 I really wanted to try cutting wood on my Cricut Maker. I was inspired by a different sign that I found at a craft store…but mine had to say Hocus Pocus.
Now my sister has decided that it belongs to her.
I'll just have to make more Halloween themed crafts I guess.
Boo To You Halloween Album
Halloween scrapbook paper is my all-time FAVORITE.
It was pretty apparent when I started organizing all of my scrapbook papers and there were 3 times as many Halloween papers as there were any other themes!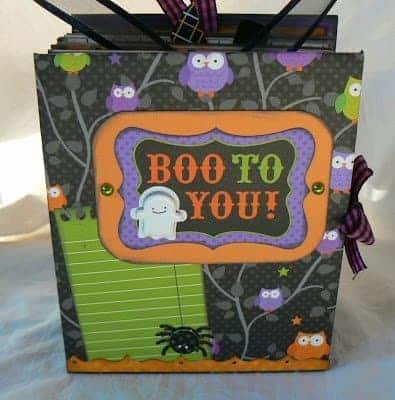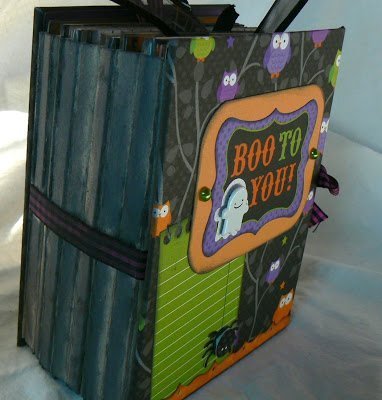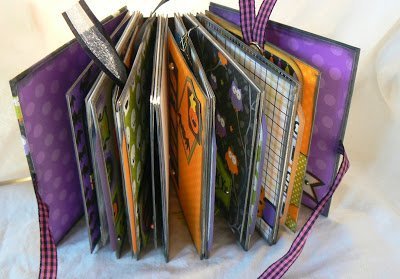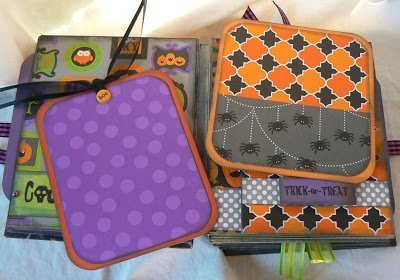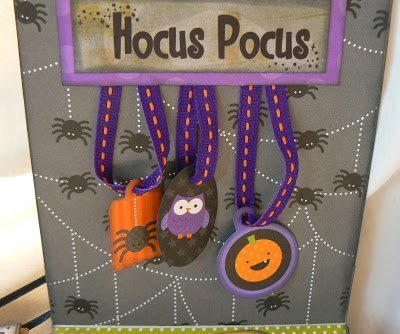 This is probably one of the most detailed mini-albums that I ever created. The paper was mostly from Pinecone Press.
It was a perfect combination of blacks, greys, purples, greens, and oranges. What is it about those colors that just makes a crafter want to giggle?!
Black Cat Halloween Box Card
Now that I use my Cricut to cut files, it feels like my paper crafting has gone up another notch. It is very satisfying when you sit down to make a Halloween card (or any other Halloween craft) and the pieces just go together smoothly. Like butter!
No fussy cutting.
Not nearly as much swearing when things just don't line up.
And only a few mistakes to cover up (well…because I get excited and rush things sometimes, who doesn't).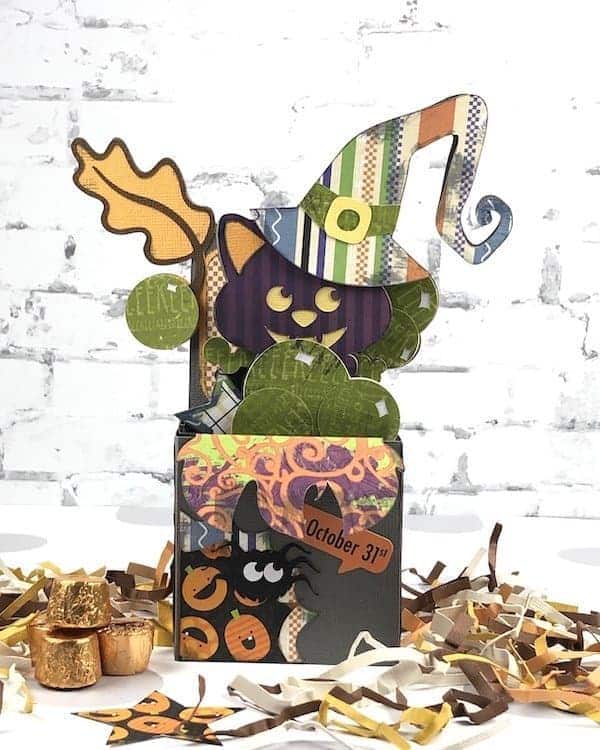 This sweet little witchy cat went together so quickly. And if you are looking closely, you will see that there are some older Halloween papers that went into the design.
Because, well, the stash is HUGE!
Fall Decor – Paper Acorn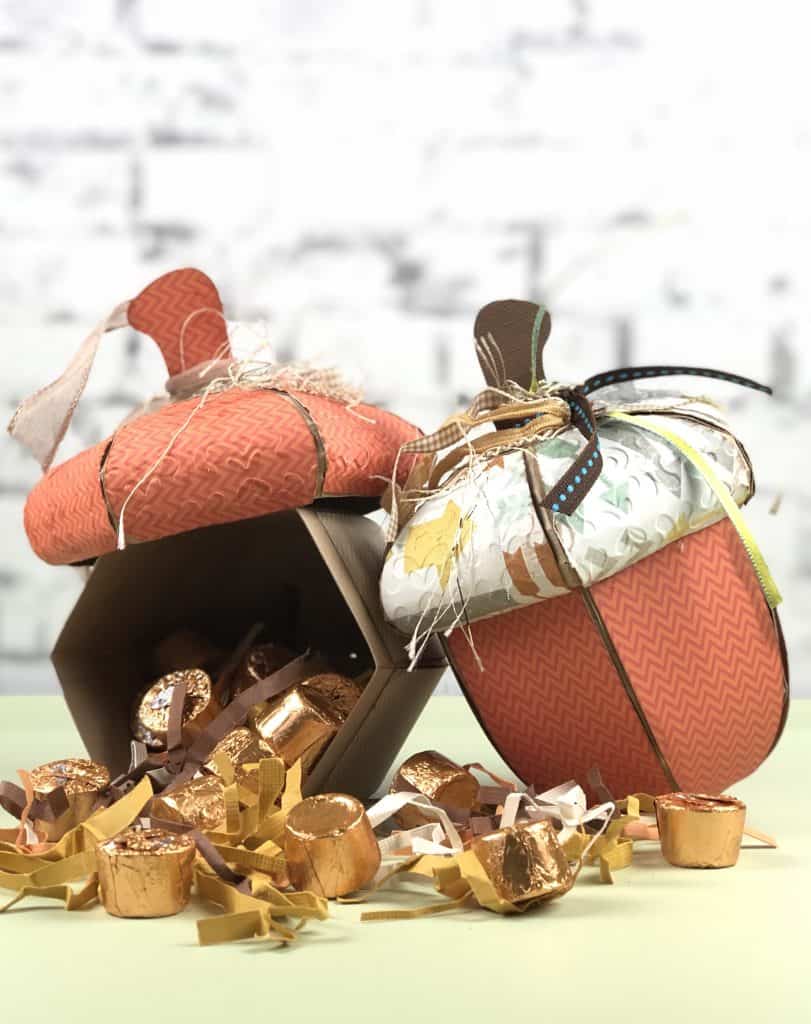 I can't believe how well these paper acorns came together.
They are very sturdy (considering they are just paper) and the lids go on and off really well. My kids loved that I bought candy for the photos (that stash is long gone!).
These would make a great centerpiece on a table or a hostess gift at a fall celebration.
Halloween Treat Bags
This is one of those Halloween crafts that you can get the kids to help with.
Or maybe make a whole classroom set during an art lesson.
The pieces are easy to cut with your Cricut and assemble. Adding some glitter or stickers as embellishments would make them even more unique.
These Halloween treat bags are so dang cute on their own. I have the whole Boo Crew sitting on my counter right now.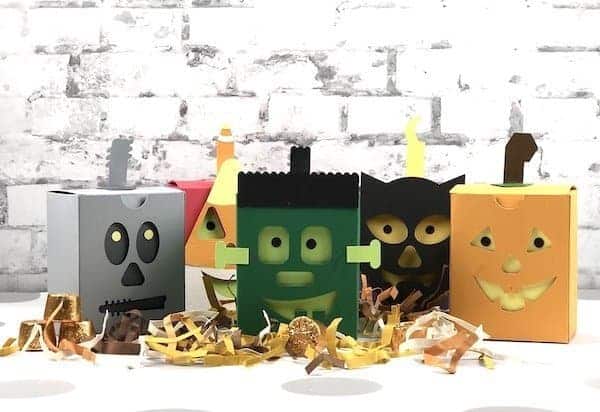 Halloween Greeting Card
Making cards is fun. And it's the perfect "quick" craft that you can do when you only have a few minutes of crafting time.
It's also one of those projects that you can do in stages.
1: cut and color the embellishments and accents.
2: put all the pieces together
3: add the finishing touches and give it away.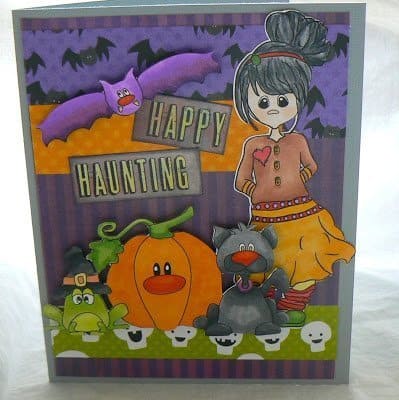 One tiny little card can become a work of art.
And it is just enough color and crafting time to make you feel like you had "just enough" time to be creative and really focus on some YOU time!
Using Your Cricut
That noisy little Cricut bug is so dang handy when it comes to making home decor, paper art, and Halloween crafts.
If you haven't had a chance to play with your machine yet, it is time to get it out of the box!
Start with something easy like the treat boxes. You will be amazed at how much fun you have and how easy your machine is to use.
Once you have mastered those fun little paper monsters, I suggest you try the acorn or the black cat card. They are a little more complex but they will make you love your machine even more!
Do you have a Halloween craft project that you love? Feel free to share it with me in the comments. I would love to see it!
Halloween Planner and Bujo Ideas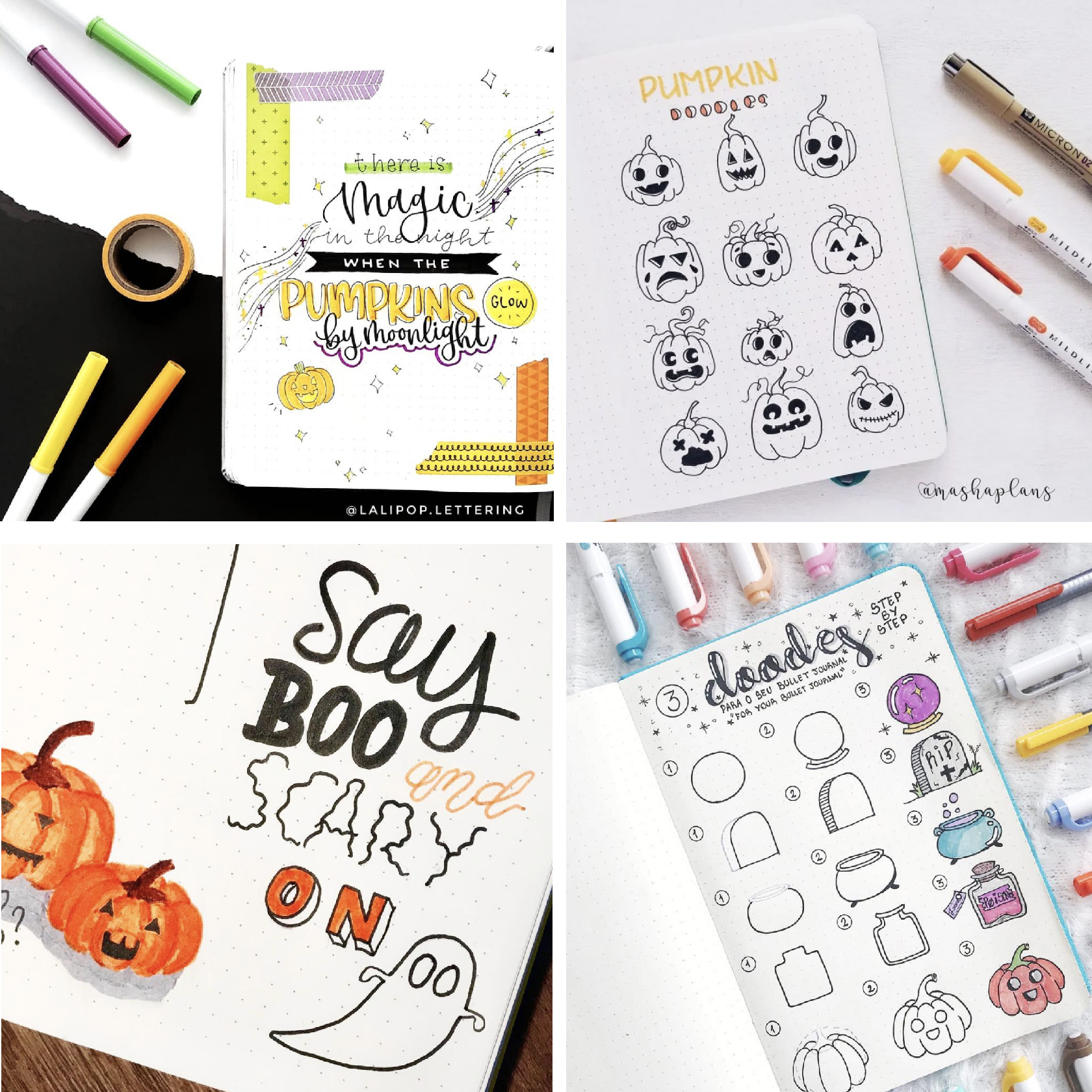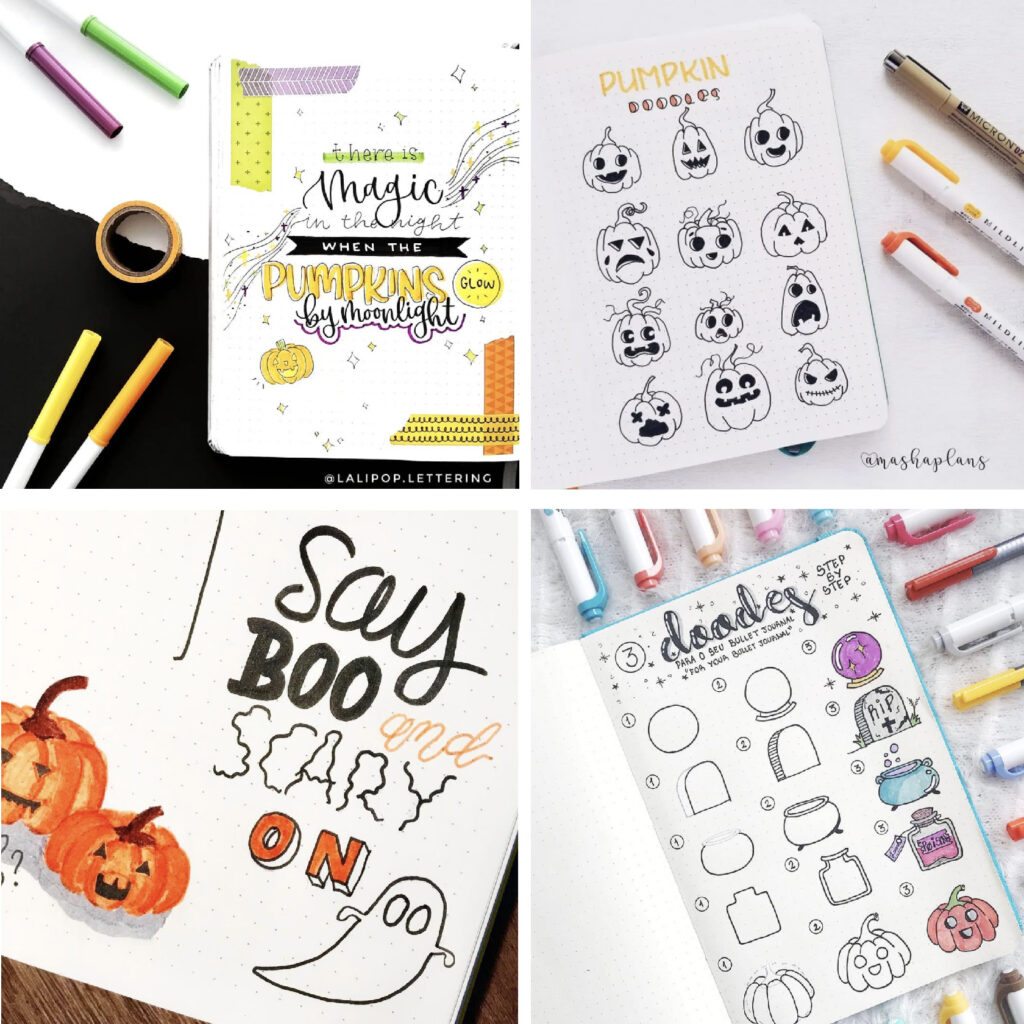 Be inspired to doodle and create your own unique Halloween images with these October doodles, quotes, bullet journal spreads, and more.