We may earn a small commission for purchases made through affiliate links in this post. For more information go to our Privacy Policy.
Are you looking for a list of teen crafts that don't suck? There are a number of crafts out there that you could be doing…but some of them might not be your style.
Maybe you want something a little more bright? Or something a little more retro (whichever form of retro you like most).
Check out this list of teen crafts that don't suck. You can add your own twist and style to any of them so they fit who you are.
Want to make a project with the Cricut and vinyl? Check out this post.
Bullet Journaling for Teens
You probably already make lists. And doodle all over them. There isn't much difference between that and a bullet journal. (If you aren't sure what a bullet journal is, you can read this post here.)
Add a cute cover with some fabric or stickers and you are halfway there. Make a few checklists with the things you need to get done, doodle some inspirational quotes, and add a tracker or two and you will be a professional.
Bullet journals are an easy way to accomplish your goals, stay focused, and be creative. All at the same time! You can do the same with a Printable Planner Companion Pack.
Leather Earrings for Teens
Leather earrings are the "thing" right now. And they are super simple to make. You don't even need a Cricut machine to make the blanks. You can get them on Etsy, pre-made!
Once you start making these super simple earrings, you might not want to stop. And that is okay! You can give them as gifts. Make enough to go with all your favorite outfits. Sell them at craft fairs.
DIY Your Own Personalized Mug
Do you have one of those names that you can never find a personalized bauble for? I have NEVER found my name on anything personalized. Not once. There are a ton of Rhonda keychains and mugs. Forget about Rhoda.
The best I can get is my initial. That is okay too. But what if you want your full name on there? Well, now you just make your own!
You can customize your favorite coffee cup, your tumblers, and all your bedroom decor. But, let's start with the dishes.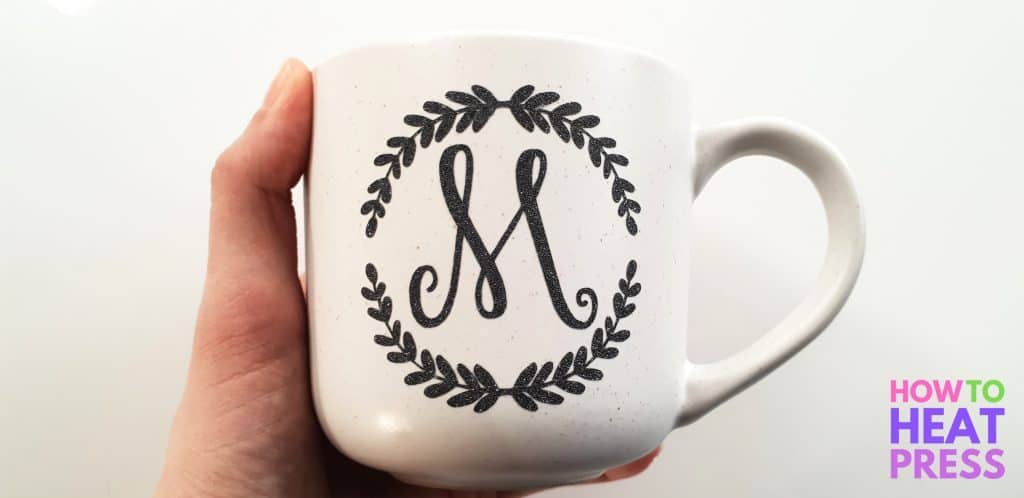 Pillows for Bedrooms
Do you have to dig under all the pillows to find your bed? Or spend 5 minutes taking them off every night and then spend 5 minutes every morning putting them back on?
You are probably going to love this next teen craft then. You can personalize your own throw pillows. It is even possible to personalize your own pillowcases for regular pillows!
Hello, custom bedroom decor!!
Flowers For Decor
I've seen some pretty cute bedroom decor with paper flowers. One of my favorites was a paper flower swag around a dressing mirror. That is a must-try!
Have you seen the flower garlands that are super popular? A whole wall of flowers by your bed or along your headboard. Super cute!
There are a number of ways to decorate your room with flowers. They are super easy to make and only require a few templates, some paper, and maybe a Cricut machine if you don't like fussy cutting.
Tie Dye T-Shirts
Tie-dye t-shirts are a timeless classic. Teenagers always seem to LOVE tie-dye. These fun kits from Tie Spy have a white resist design that shows up after the shirt has been colored.
Choose from quotes or designs. Shirts come in multiple sizes and the dye kits include everything you need to complete the project. The dye-kits are sold separately from the shirts, but they include enough supplies to color at least 2 shirts. My daughter made 3 shirts and had a blast!
Nail Polish Decorations
These beautiful nail polished ornaments do not need to be seasonal. You can make them match the colors of your bedroom, your bathroom, or all the colors of the rainbow!
If you do decide to make them for Christmas, they would make great gifts for friends and relatives! And they are really easy to make. Just grab a few jars of nail polish in your favorite colors and some clear glass ornaments.
You can also grab them on Etsy if you don't want to take the time to make them!!
Bow Scrunchies for Hair
Learning to sew can be a little frustrating. It is best to start with something that is smaller in size (and difficulty).
These scrunchies are the perfect craft for teens who are learning to sew. You don't need to have a huge stash of fabric. Scrunchies don't take long to sew, so if you make 5 or 6 and get board, that is okay!
You can make enough of these for the whole volleyball team in your school colors. It will only take a few episodes of Bachelor in Paradise to whip them out!
Did you know that you can use your Cricut Maker to cut fabric? Not sure how to use Design Space to set up your cut lines? Check out this Cricut Guidebook that will teach you all the basics!
DIY Leather Monogram Keychains
If you are going to monogram your coffee mugs and personalize all your pillows, you may as well have a custom keychain!
And you can make these from the leftover leather that you used to make earrings. Or the other way around.
Doesn't matter.
The point is you will have some creative projects to make and you will be using up the craft stash!
Shadow Boxes with Flowers or Unicorns
There are so many cool things that you can add to a shadow box. Besides adding all your high school memorabilia, you can also just make fun room decor.
Pick colors to match your room and then fill the shadow box with paper flowers.
You can also fill it with your favorite candy and add a vinyl quote to the glass. Super cute.
There are even paper shadow boxes that double as nightlights. Pick your favorite movie scene and cut out a bunch of paper to add to the box. Your friends will be begging you to make them all one!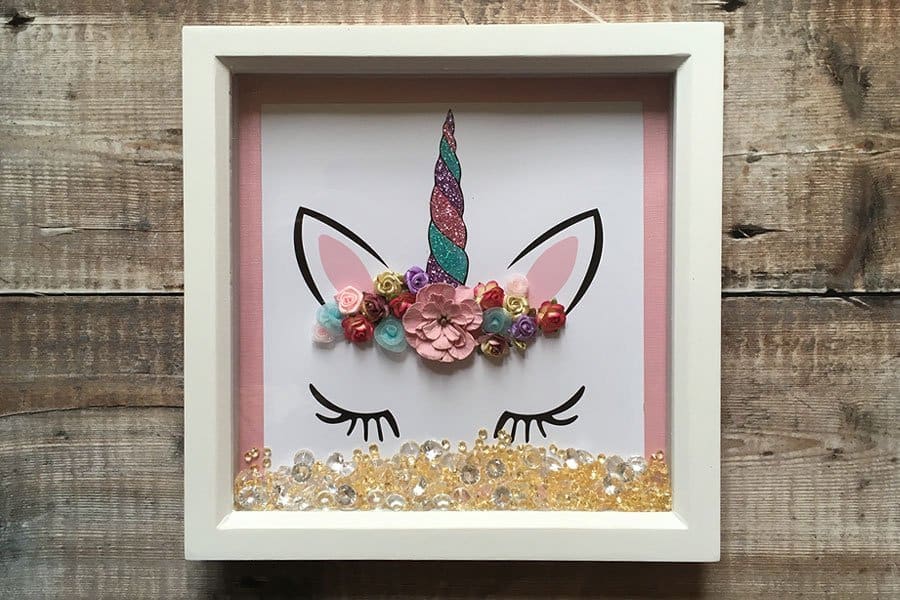 Photo Hangers
Making a way to hang your photos is a must. You can grab a frame from the local craft store or online and add some ribbon or string.
If you grab a chalkboard type of board you can add vinyl decals or quotes to make it even more personalized.
Find some cute clips and you will have a super chic way to hang all your pictures of you and the besties. This is one of those quick and easy DIY crafts for teens!
Psst. Want to make your own cute clips? Add washi tape to clothespins! You can customize the colors and patterns to fit your style!
Dream Catchers
There are all types of styles for dream catchers.
You can make them very natural with real looking feathers and natural earth tones and sticks from the willow patch for the hoop.
Or you can go really colorful and add tons of ribbons, bright-colored feathers, and more!
The hoops to make dream catchers can be bought at most craft stores or you can go out and harvest a bendy branch. Wrap it in ribbon or yarn, add some beads and other bling.
Like any DIY project, make it unique and make it yours!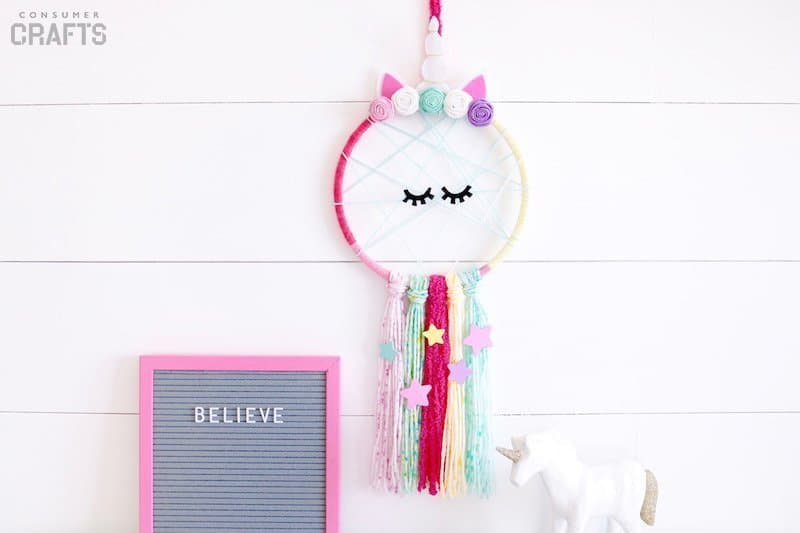 Art on Canvas
Being creative doesn't need to be just doing crafts. You can also work on some fine art skills.
Grab a little washi tape or vinyl and some paints (you can use acrylic, stains, and even watercolor on canvas).
Go find your favorite design or make up your own. Mask it out with the tape or vinyl and then get creative with some color.
This could be one of those projects that graduates you from teen crafts to adult crafts!
DIY iPhone Stand
Have you seen those super cute stands that have a pattern all along the back of them? You can add your own custom prints to them.
You can also just DIY a phone stand out of scrap wood. Someone may need to help you cut the wood.
If you don't have a way to get the woodcut, check your local hardware store. They might be able to cut it for you! This is the ultimate in teen crafts…because who doesn't want a custom phone stand?!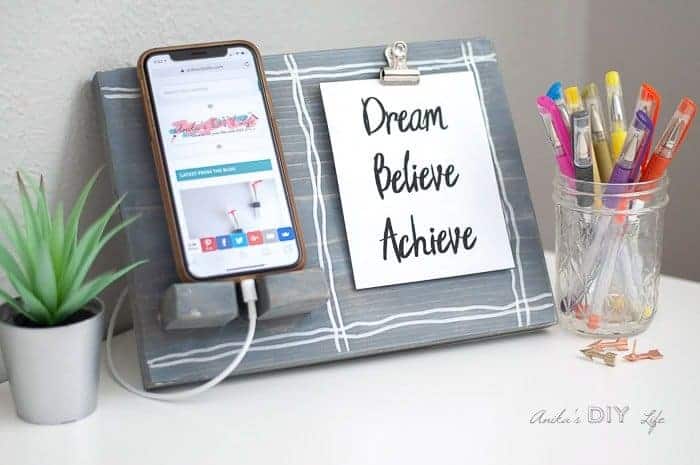 Repurpose Old Sweaters into New Mittens
Popping tags at the thrift store is still popular right? Anytime you can repurpose something and give it a new life, that is a good thing.
You may not like to wear old hand me down sweaters unless it is to an ugly sweater party, but how about making mittens?
There are ways to make some SUPER cute mittens from used sweaters. Not only is this a great DIY craft for teens (and adults), it is a great way to recycle some materials and keep them out of a landfill. Super affordable too!
DIY Bracelets
Have you seen the Pura Vida bracelets? I am in love!!
But not so much in love that I can justify paying over $42/month for a baggie full of beautiful colors and designs.
If you want an arm-full of fun bracelets but don't have the cash, you can make your own!
Yup!! Just follow the tutorial below to make your own Pura Vida inspired bracelets.
Your Very Own Gnome
Are you in love with garden gnomes?
Who wouldn't be! These little guys and gals are just adorable.
Looking for teen crafts that are "no-sew"? This one is perfect. You only need a little bit of glue.
The tutorial is super easy and it can be adjusted for any occasion and to fit any style. Add a little more bling. Maybe a bow to make a girl gnome. Get crafty with this one! You'll have the time because it is so quick and easy.
Terra Cotta Pots
It is crazy the number of things you can do with a terra cotta pot. That doesn't even include planting growing things in them!
Decorating terra cotta and using it for containers around the house is a really fun way to be creative.
You can also make decorations for outside.
Making Your Own T-Shirts
If you have a Cricut and some heat transfer vinyl, you can make all the different t-shirts you can imagine.
Quotes. Funny images. Your favorite sayings. Printable images. The sky is the limit.
Pocket tees with something peaking out of them are super fun! Learn to apply HTV and make the whole crew a shirt. They will love you for it.
Spend Some Quality Time
Teens are old enough to make crafts on their own. It is one of the joys of having them be a little more independent. Making time to be creative with your teen is a great way to bond.
Shopping for supplies. Browsing Pinterest and seeing if you can make the craft the way the tutorial shows or if it will be a Pinterest fail. The whole process teaches life lessons.
Go ahead. Pick a project and have a little fun making some teen crafts!