Creative Planners for Creatives and Free Flowing Souls
We may earn a small commission for purchases made through affiliate links in this post. For more information go to our Privacy Policy.
Creative planners are a new take on your everyday Filofax type of planners. Dump the time-stamped list that regiments your time into 30-minute increments.
As a creative, you are probably thinking that you can't use a planner. It is impossible to tie down your process and it hinders your creativity.
I felt the same way until I discovered creative planners and all the different ways you can use one. There is no reason to stay trapped in those little vertical grids. Break out of the box.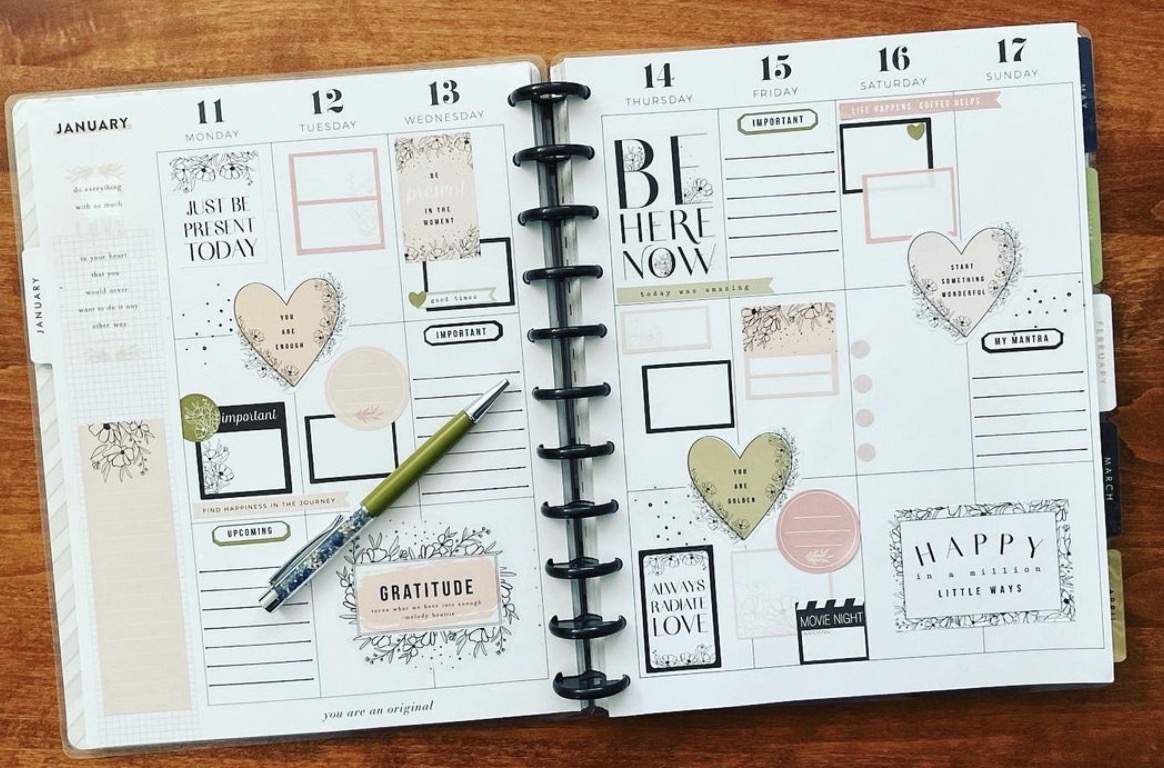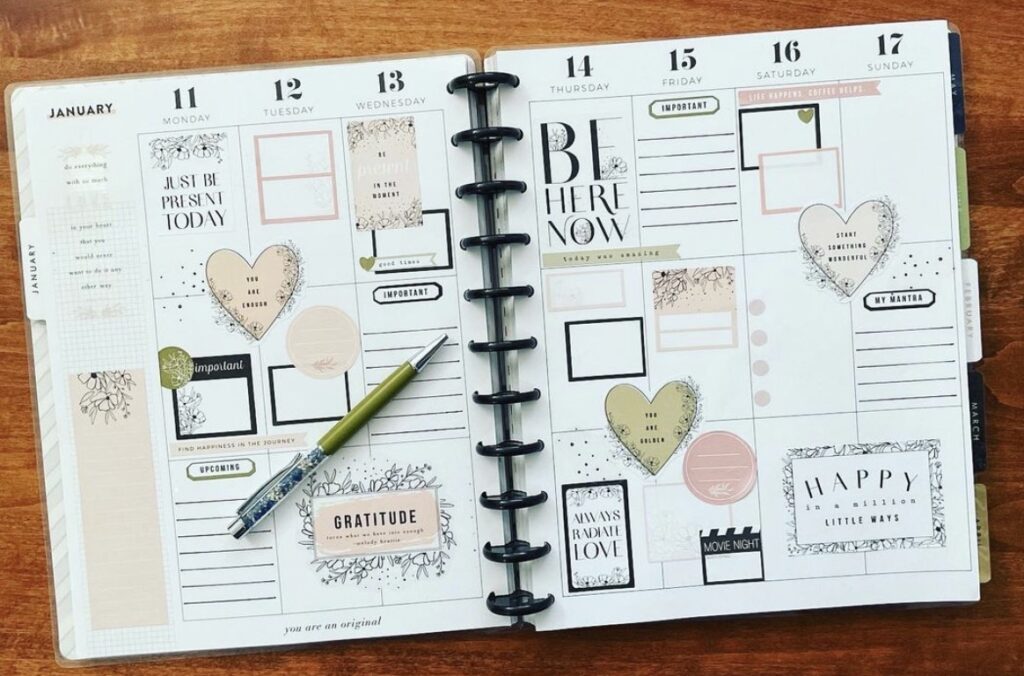 What is a creative planner?
A creative planner is a way to track your ideas, write down your to-do list, calm your creative mind, and accomplish your goals.
It isn't a specific planner. More a style of planner that allows you more freedom to plan out your day without being stuck in a time grid.
As a creative person, you need a way to direct your flow of thought. Hold onto ideas for later so you don't lose them. And find a way to keep yourself accountable and on task. That is a pretty tall order.
Write down your ideas and goals
Studies have proven, time and again, that writing down your goals makes you more likely to achieve them.
A study of Harvard MBA students shows the importance of writing down your goals. At the time of the study:
3% of the students had written goals and an action plan to accomplish those goals
13% of the students reported having some goals in mind but not having them written down
84% of the students reported not really making goals (at all)
The results when they checked up on those students 10 years later:
The 3% who actually had written goals and an action plan were earning, on average, 10 times more than the other 97% of students who had participated in the study (the ones who didn't write their goals or have a clear plan of action).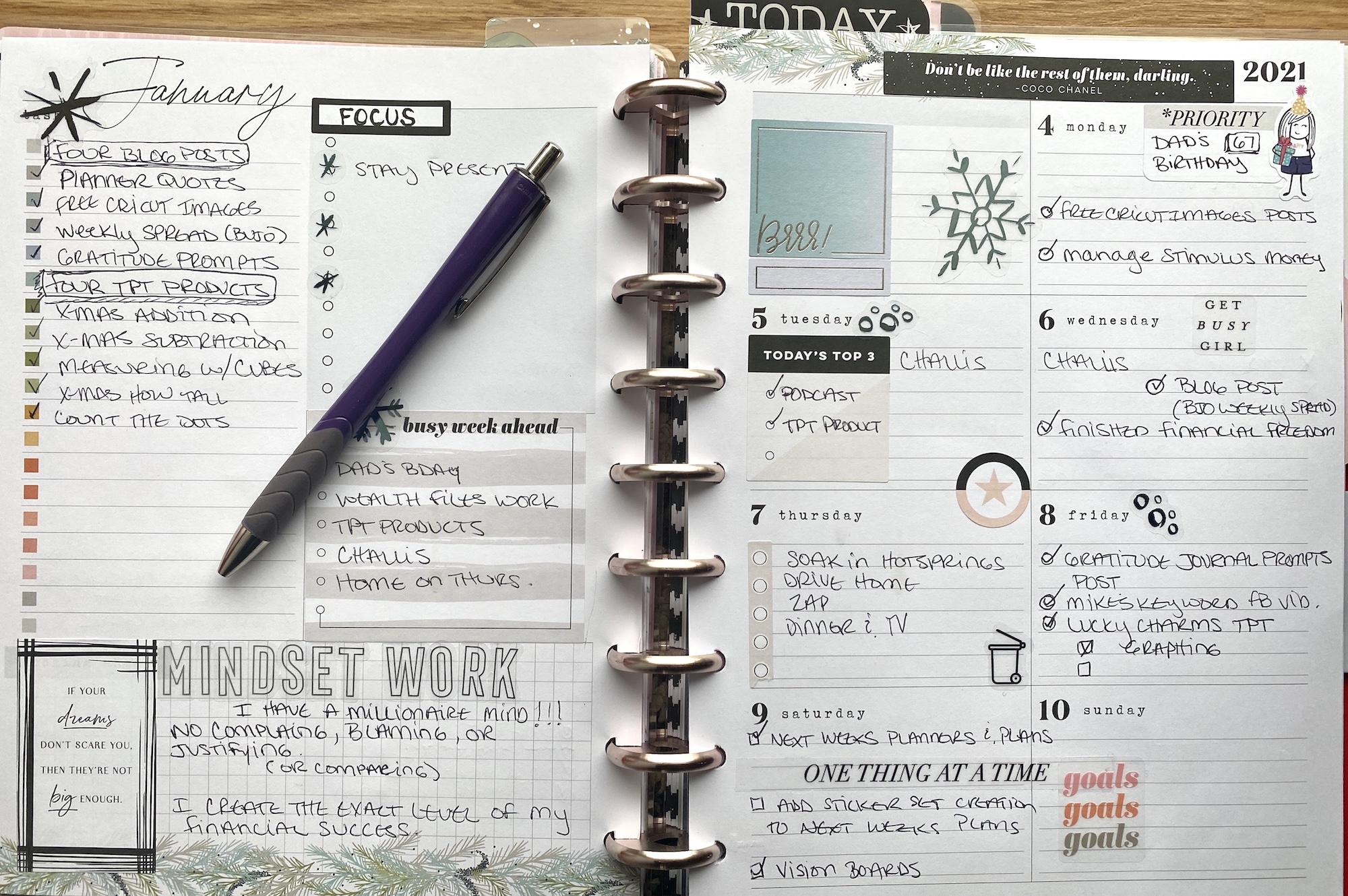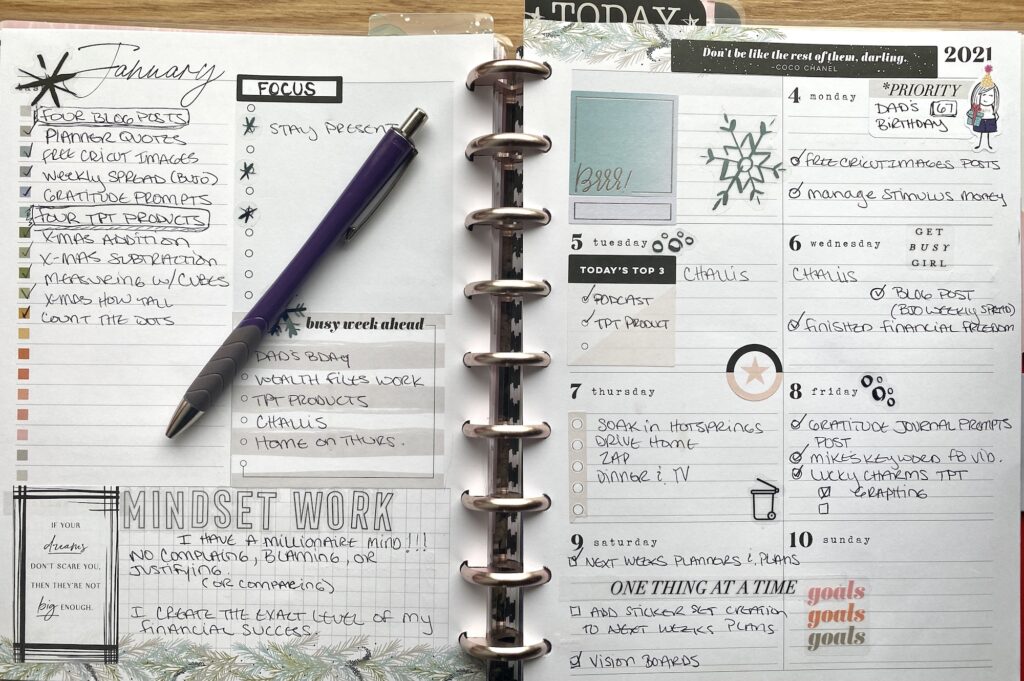 They have also shown that when you write down the ideas you are holding in your head, it frees up room to problem solve, think more clearly, and focus on the task at hand. No more squirrel brain (or less of it maybe).
How do I fit my creative life into a planner?
You don't fit your life into the planner, you make the planner fit you.
This is a question that I asked myself so many times. I would try a planner and give up after a week or two. It would go on the shelf because I didn't want to "waste it". However, I never really went back to it. It just haunted me…from the shelf.
You might have to do some mixing and matching to make your planner work for you. That is how I finally found my own "planner piece". Here are a few posts that show you how I did it: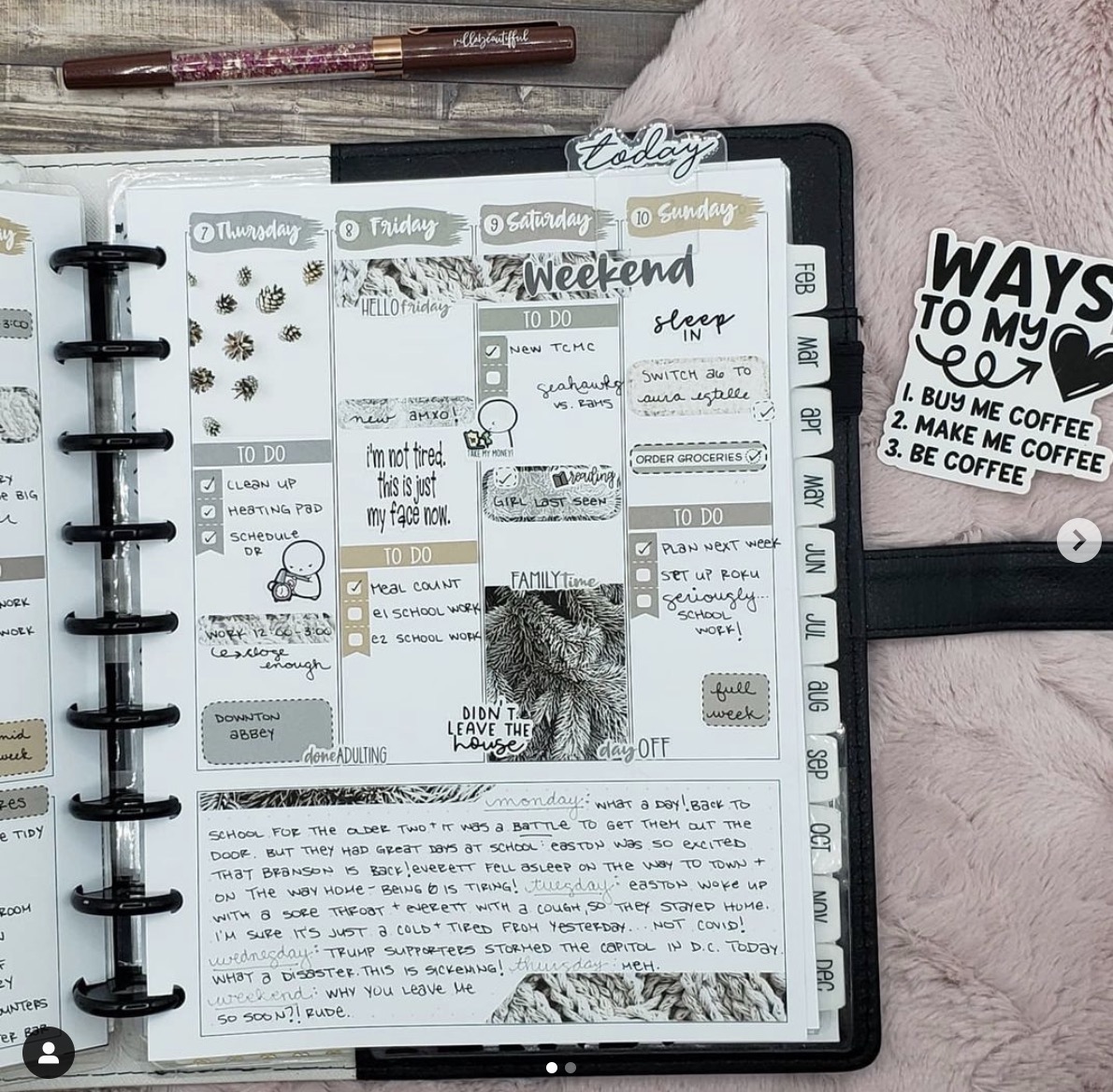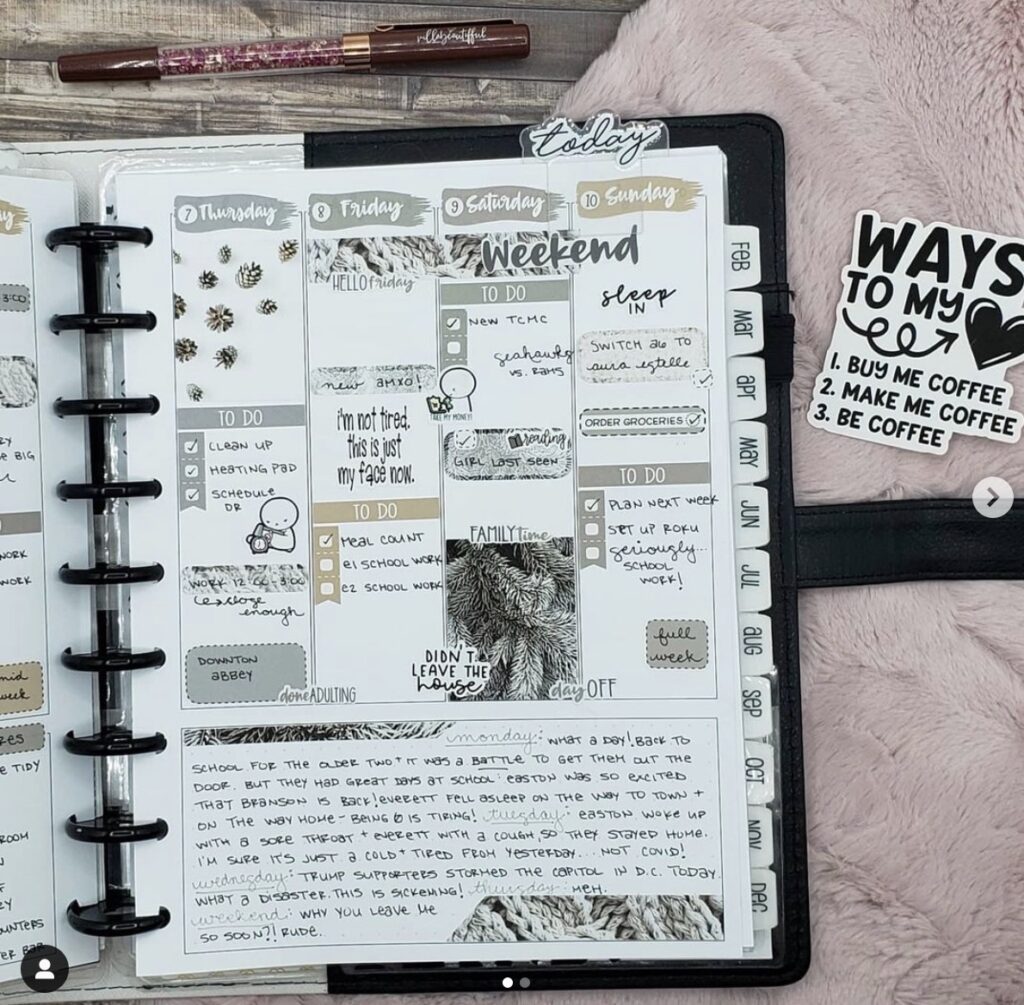 What are the best planners for creatives?
This is my most standard answer when asked about the "best planner".
The best planner is a planner that you will actually use.
Vague and lame. I know. Bear with me a minute. You probably already have a few planners that you tried to use and couldn't seem to get the "hang of it". They are on a bookshelf, stashed in a box, or somewhere in a pile. Taunting you.
You can still use these planners. There are a few adjustments that you will need to make. And a few supplies. This technique is designed to make it so you can use the Happy Planner disc system.
Planner Punch (I recommend the Big Punch so you can use it on 8.5 x 11 pages if you need to. But it also works on smaller pages. Double duty.)
A set of planner discs (I love these because you can select various colors to fit your style. Some are plastic. Some are metal. You can read more about these in this post about planner sizes).
Stickers (There are so many different types of stickers. I would recommend starting with: days of the week, numbers, and colorful boxes. This will help you cover up old dates and get started with the basics.)
Those old planners that you have stashed away.
If you want to use a 3-ring binder and a regular hole punch because you already have those items on hand…then by all means. Use them!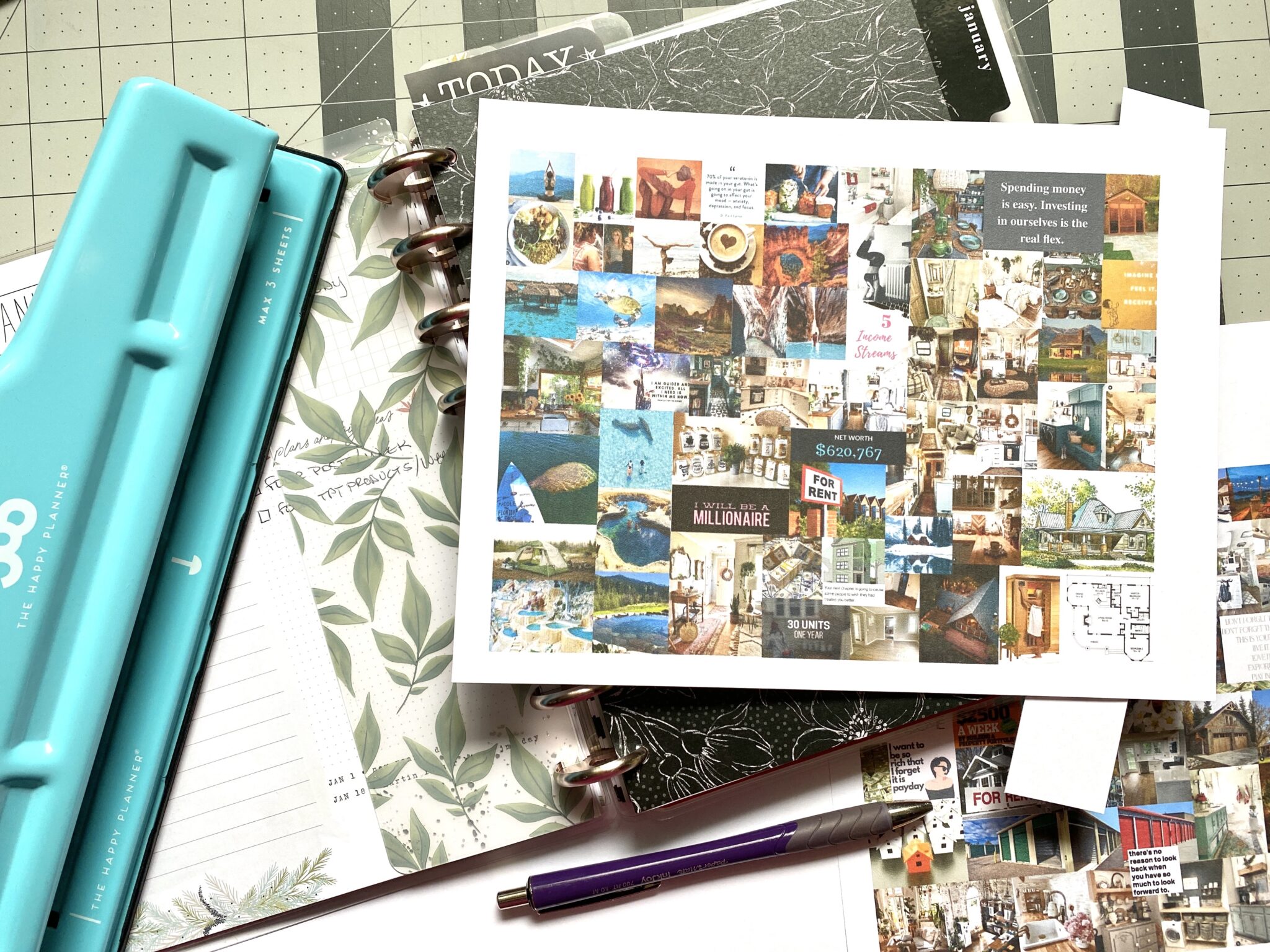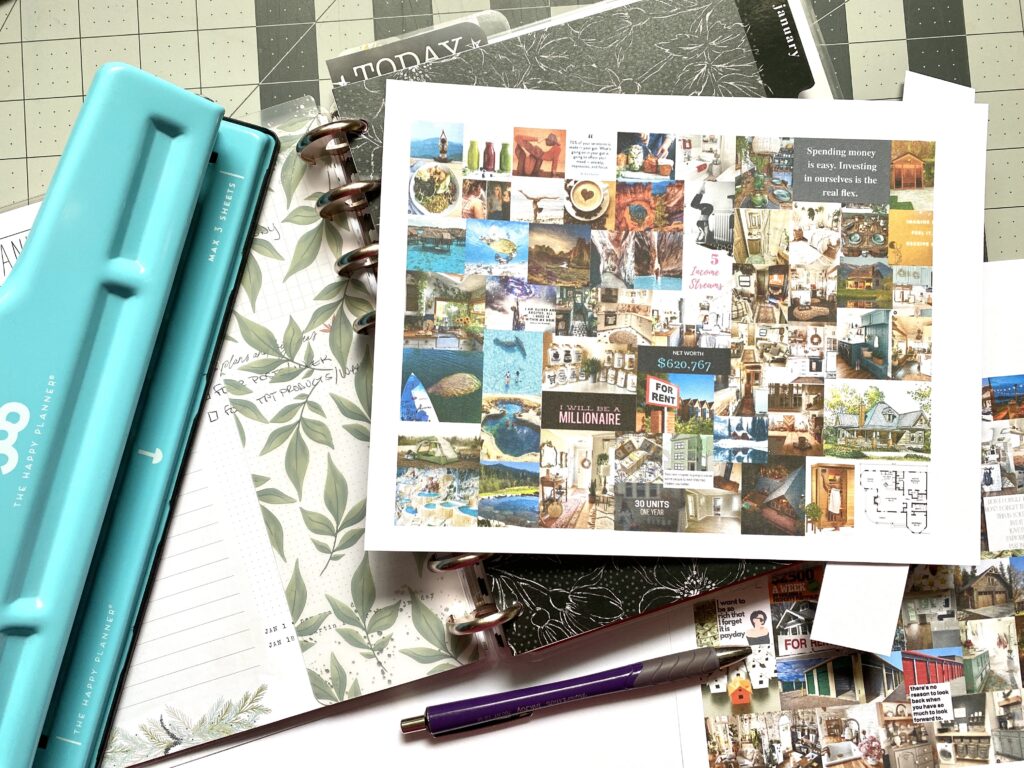 How to adapt your old planners:
This is where the fun comes in. You are going to tear apart those old planners. Not like rip, slash, and tear. Just remove them from their current bindings.
After you have all the pages loose and in a pile (preferably in some form of organized chaos by month or a system you prefer), you are going to punch new holes in the side. Happy Planner style or 3-ring binder style.
Next, you are going to put all the pages into the new binding system. Add in creative pages, fun dividers, pocket envelopes, daily memorabilia. Make it as creative and unique as you want. As long as it is still functional for you.
Last, you are going to cover the old dates that are no longer accurate with stickers, glued down scrap paper, washi tapes, or whatever you choose. Re-write the new dates and start using your planner.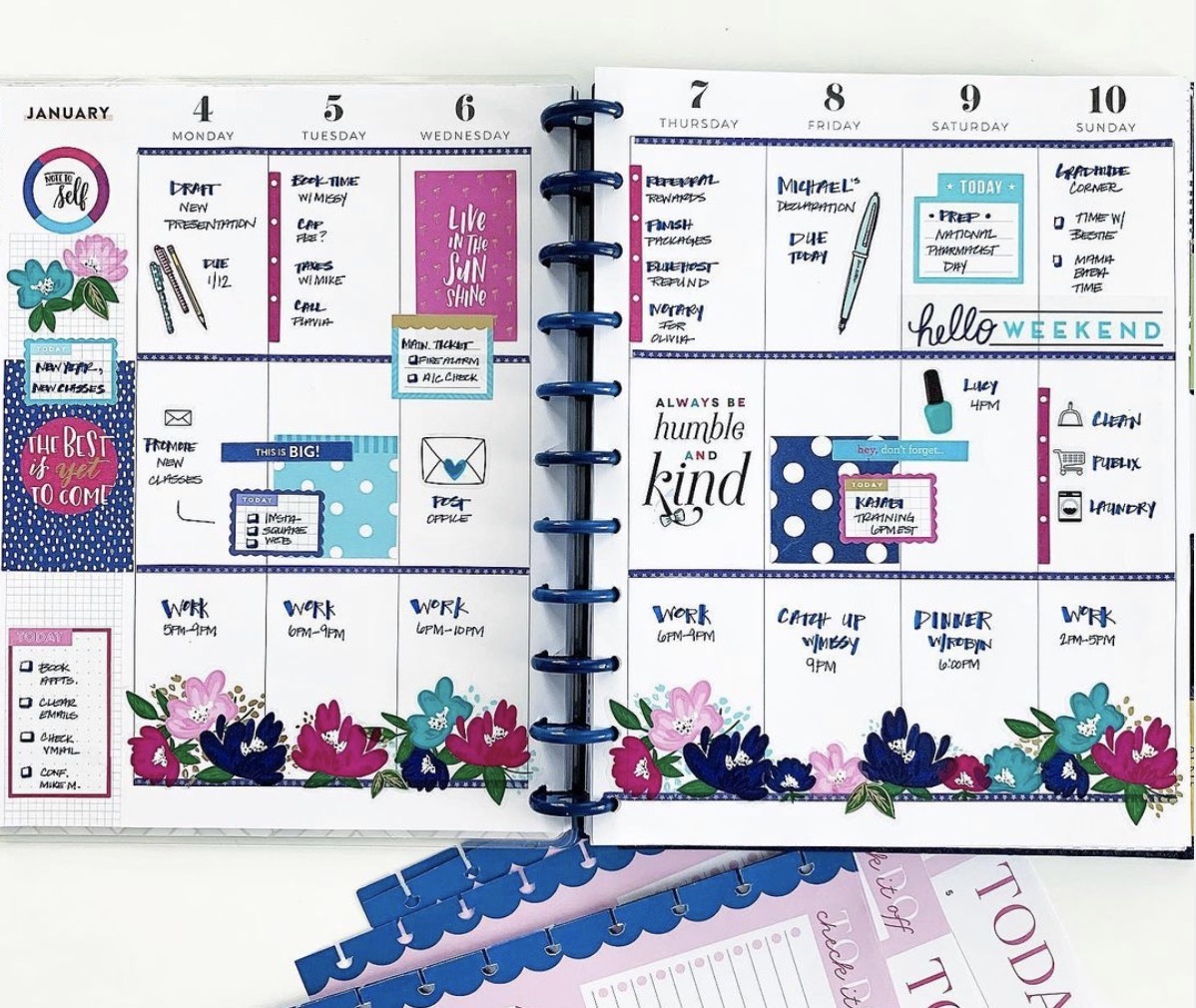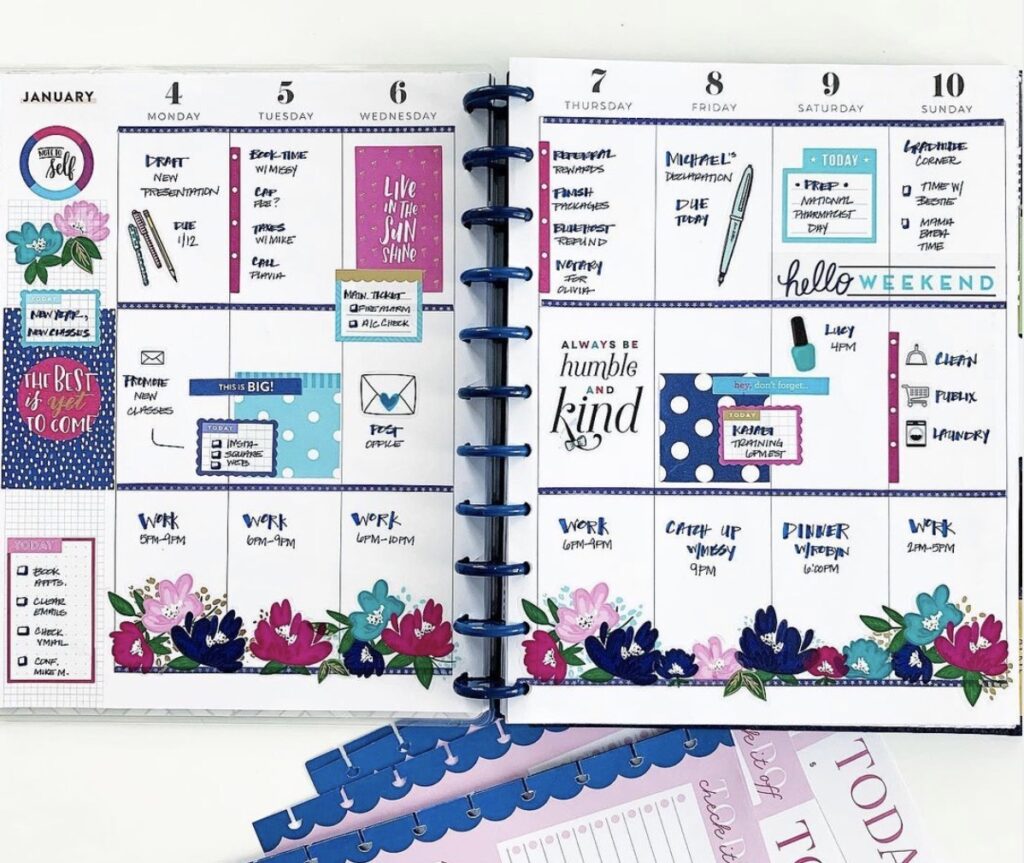 What do I add to my planner if I don't have a schedule or plan?
You do not have to keep a busy schedule to use a planner. Let me repeat that. You do NOT have to be a "busy scheduled out" person to have a planner.
I work from home. Make my own daily schedule (and it is different every single day). Create my own work load. Mix in household chores when they come up. I like to be creative and fly by the seat of my pants. And I keep a planner. In fact, I am very in LOVE with my planner. And I never thought I would be "that person".
Here are the things you can keep in your planner that will help you organize your thoughts, meet your goals, and calm some of your chaos (without being rigidly stuck in boxes):
You to-do list (for the house, your business, your next project, etc.)
A list of project supplies
The ideas and thoughts you have for your next creative project
Inspiration that comes out of no where that you don't want to lose
Motivational quotes
Your goals and the action plan to reach those goals (most important)
Gratitude journaling space
Your fitness and mindfulness plan (also very important as a creative…because we get to caught up in our projects)
Daily memorabilia (just hole punch it and add it in)
Sketches to remind yourself of an idea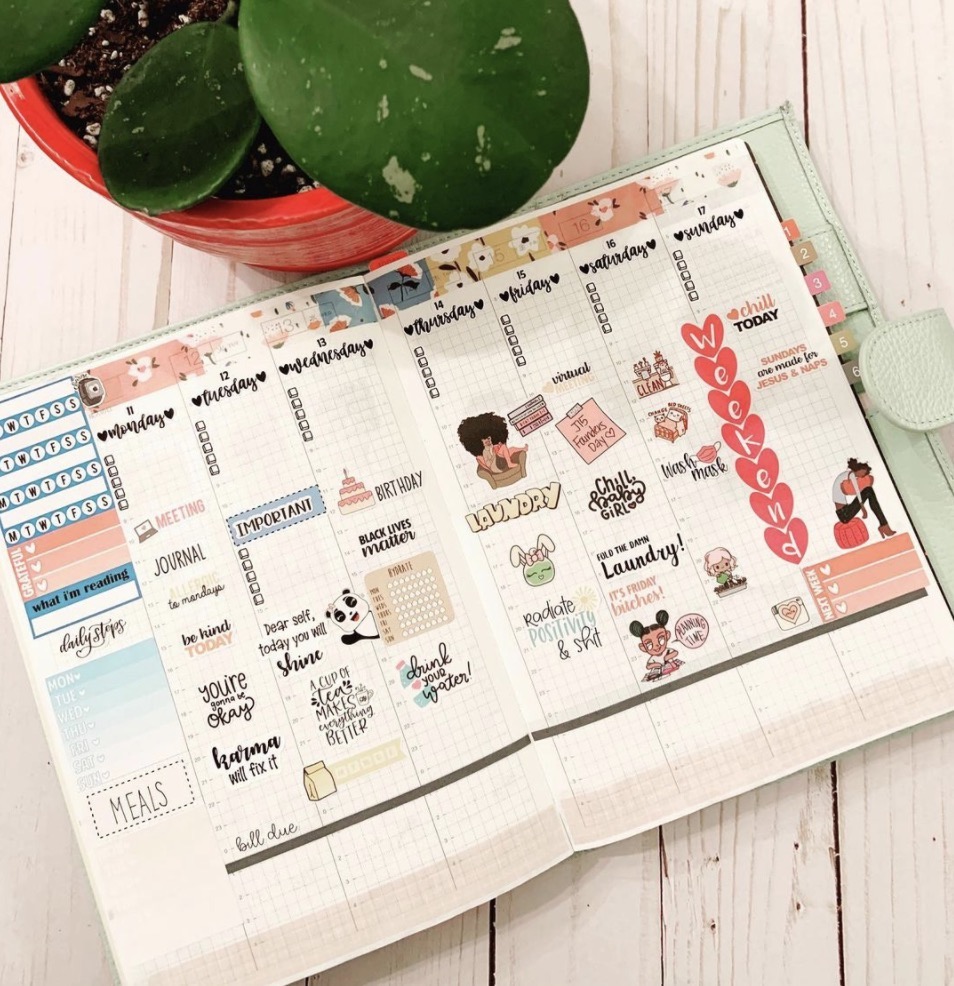 How can I make my planner cute and artistic?
You can make your creative planner as cute and artistic as you want. Use the covers that came with the planner you previously bought (if you love it and can get it hole punched).
Make your own covers, add scrapbook paper, use bits and bobs from your paper creations.
I'm pretty sure that as a creative type person, you are going to have a gazillion ideas on how to decorate your planner. The issue will be just narrowing it down. (psst: that is okay. add your other ideas to your planner and use them for next year's planner.)
Need a new planner?
Is it time for a planner upgrade? If so, then there are a number of planner styles that you can purchase through Happy Planner and then customize into your own creative planner.
You can also check out these creative planners and mix and match them using a new binding system.
Check out this post for more about planner types, options, and styles.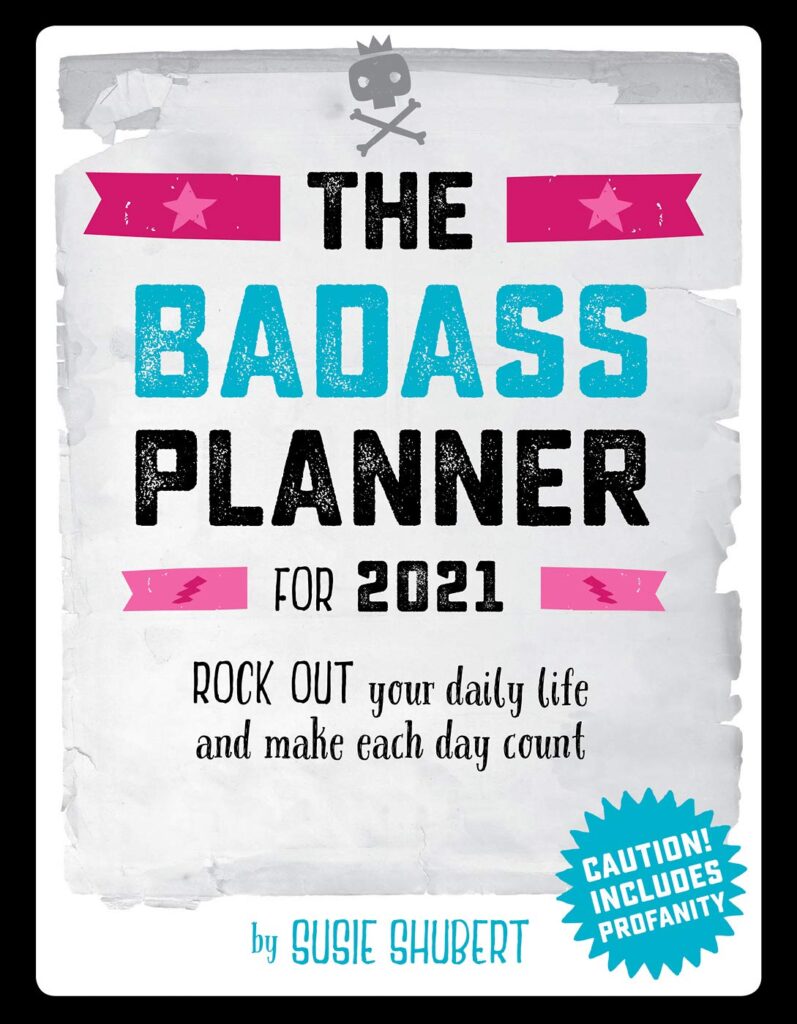 (Warning: use of profanity is not only prolific in this planner, but also encouraged.) Jot down daily monthly, and yearly goals and reflections, and make notes for play time and quiet time. Each month is kicked off by an insightful themed essay, and sprinkled throughout are entertaining quotes to inspire and motivate.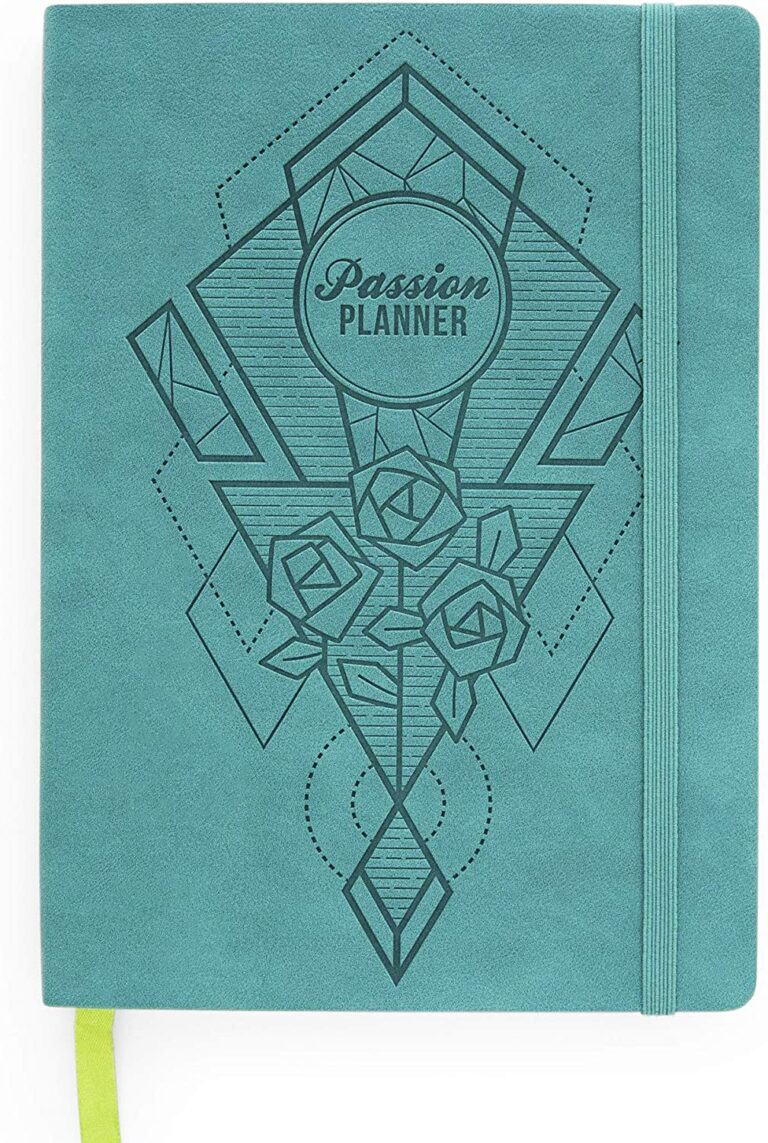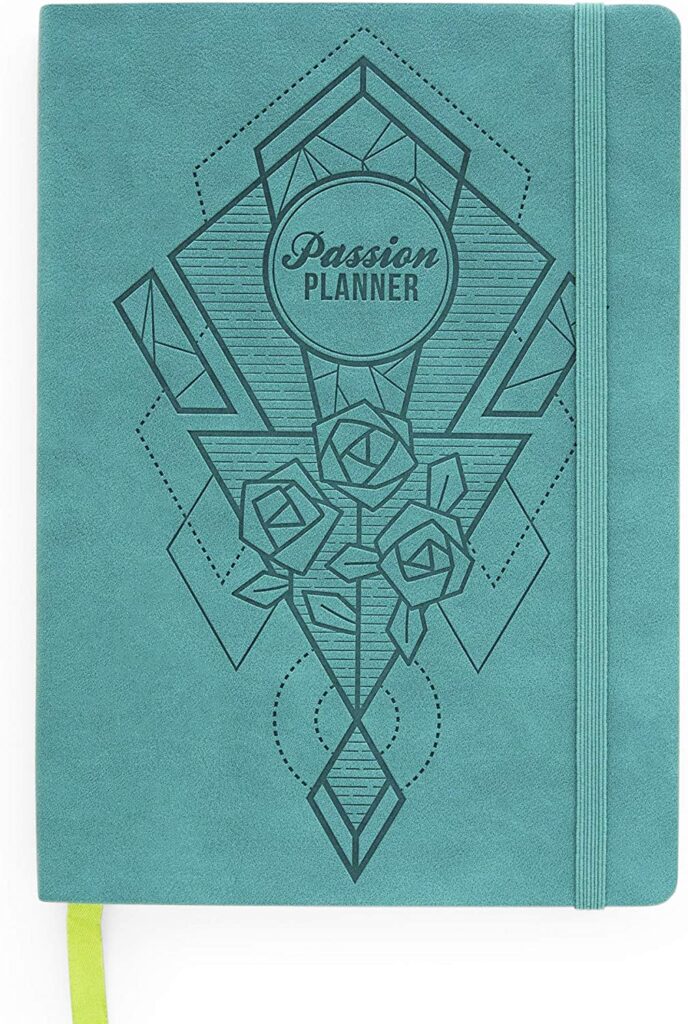 Manage your time effectively and learn to prioritize. Includes sections to schedule appointments and deadlines, work AND personal to-do lists to maintain a work/life balance, a place to jot down the good things that happened, a blank space for notes and doodles, and monthly check-ins to reflect on the past, present, and future.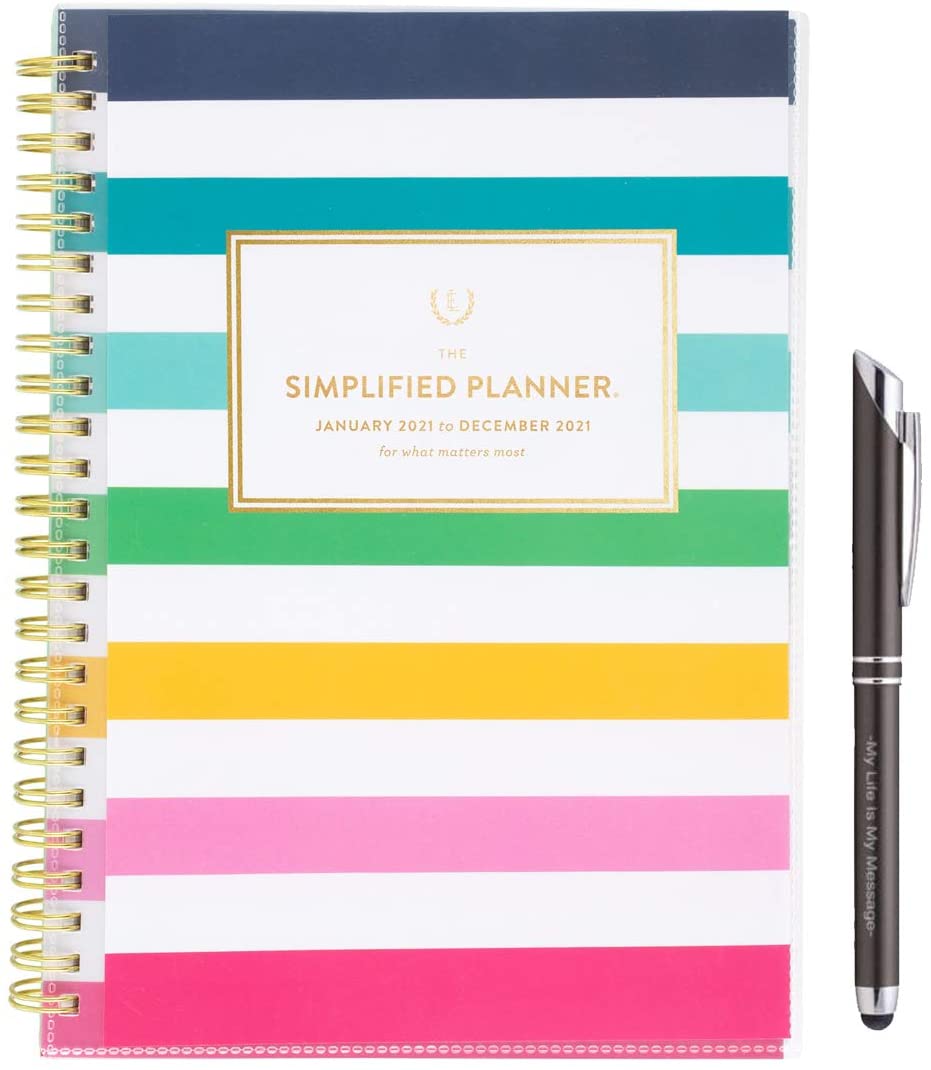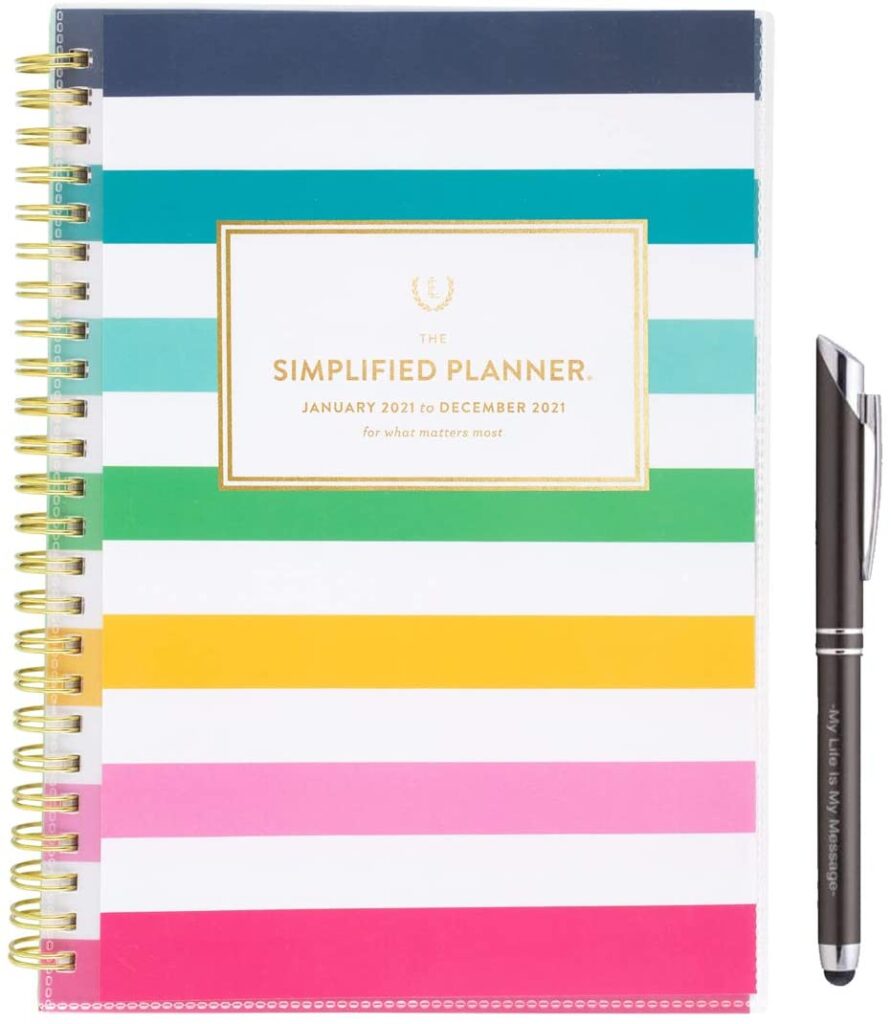 Planner covers 12 months from January-December 2021 and has high-quality paper with superior ink bleed resistance.
One week per two page spread has ruled planning space Monday – Sunday plus circles to check off tasks when complete.