We may earn a small commission for purchases made through affiliate links in this post. For more information go to our Privacy Policy.
When you open your Happy Planner there is a world of possibility there. Sometimes it is hard to start with that blank page just staring at you. Time to grab a few Happy Planner ideas (or three or four) and get started.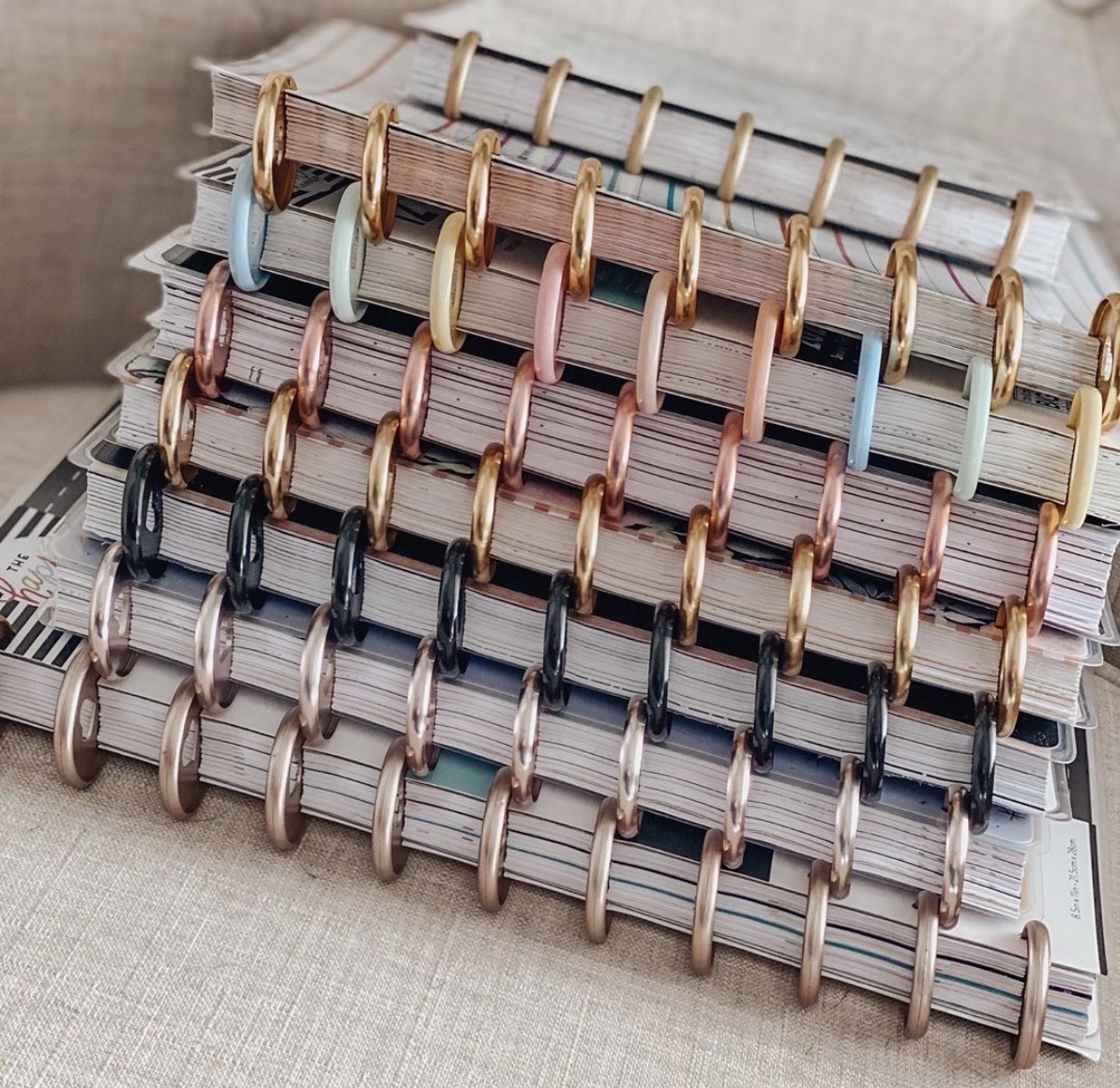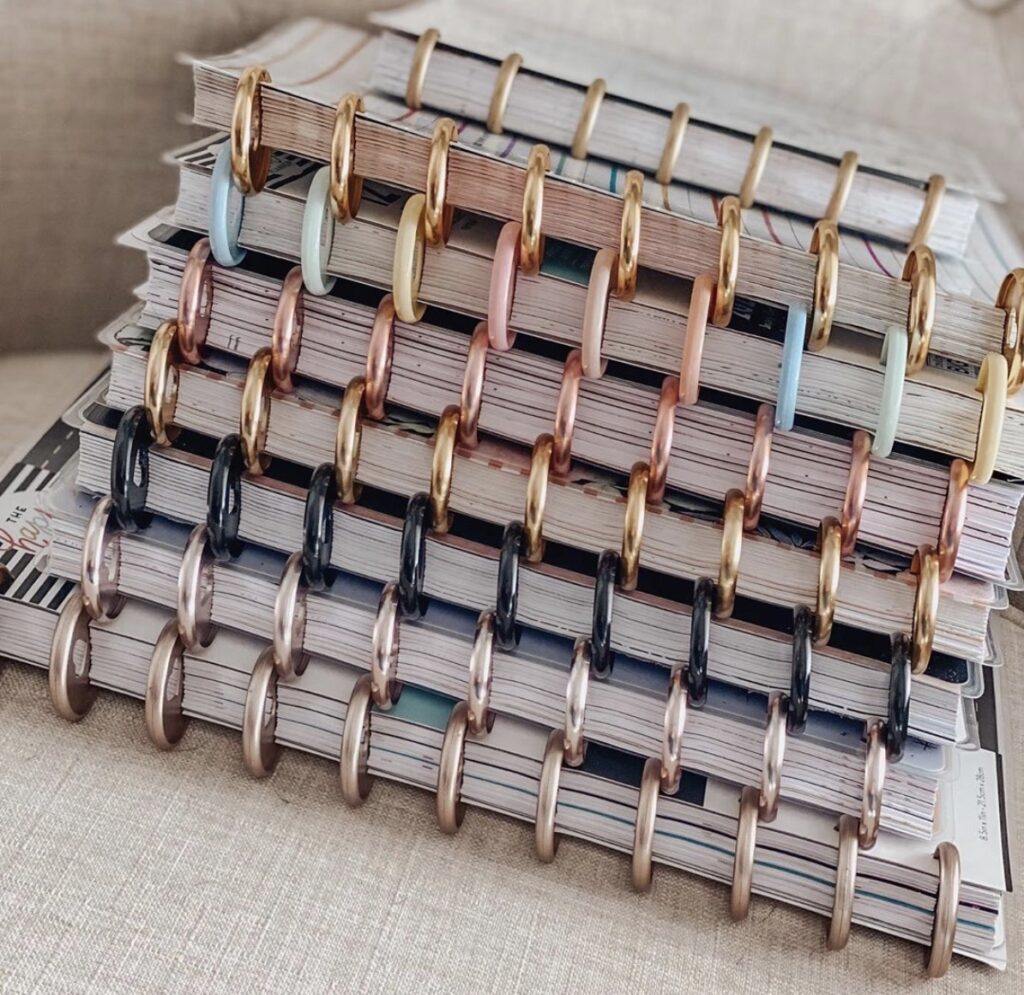 Grab your favorite planner. It doesn't matter if you plan in a disc bound notebook, the skinny-mini, a classic, or the big. Any of these ideas will work in your planner.
Read More: Happy Planner Sizes
Simple Handlettering and Stickers
These skinny Happy Planner boxes are used for hand lettering practice. The theme is flowers and they practice their penmanship each day with the flower of the day.
You could also incorporate flower doodles into a planner idea like this.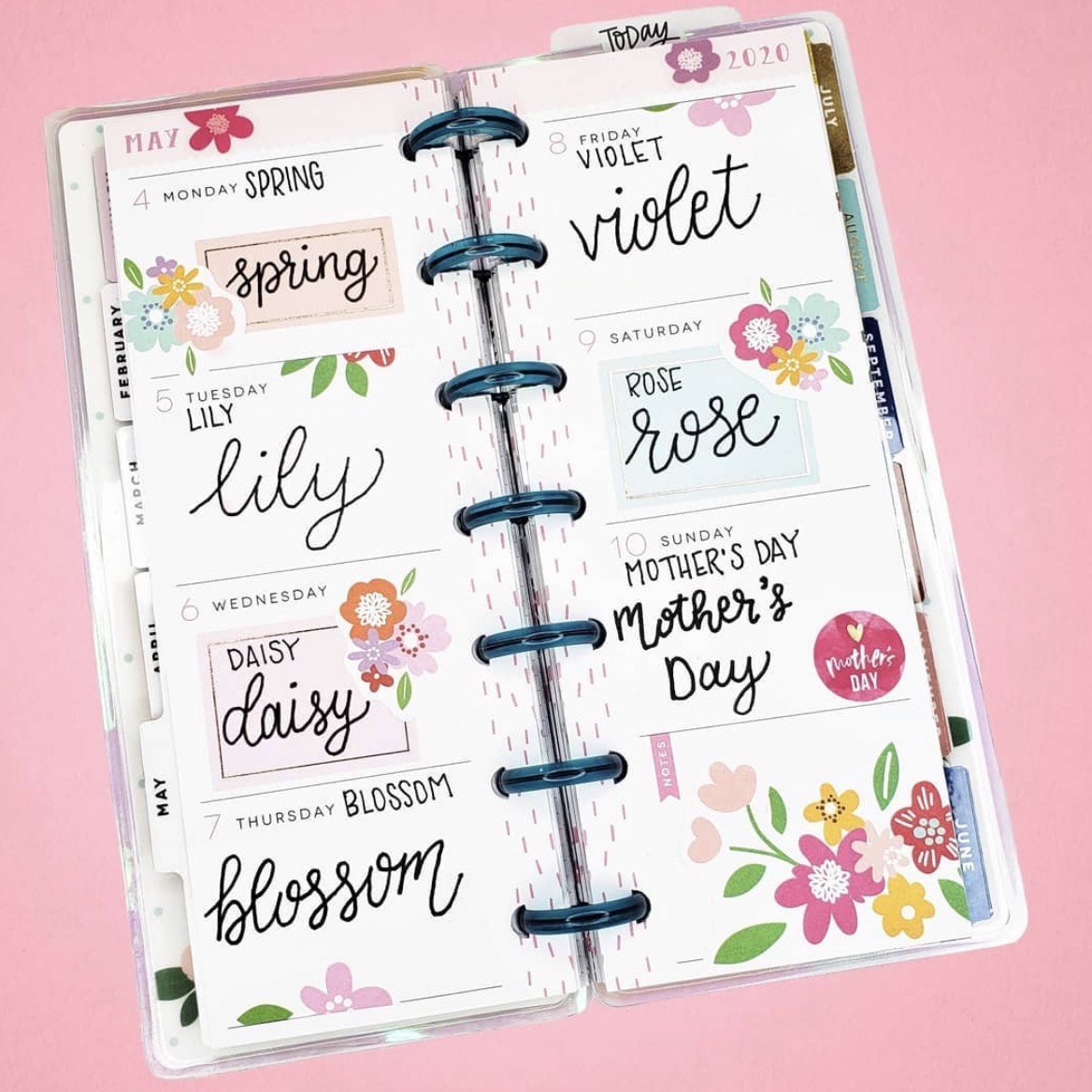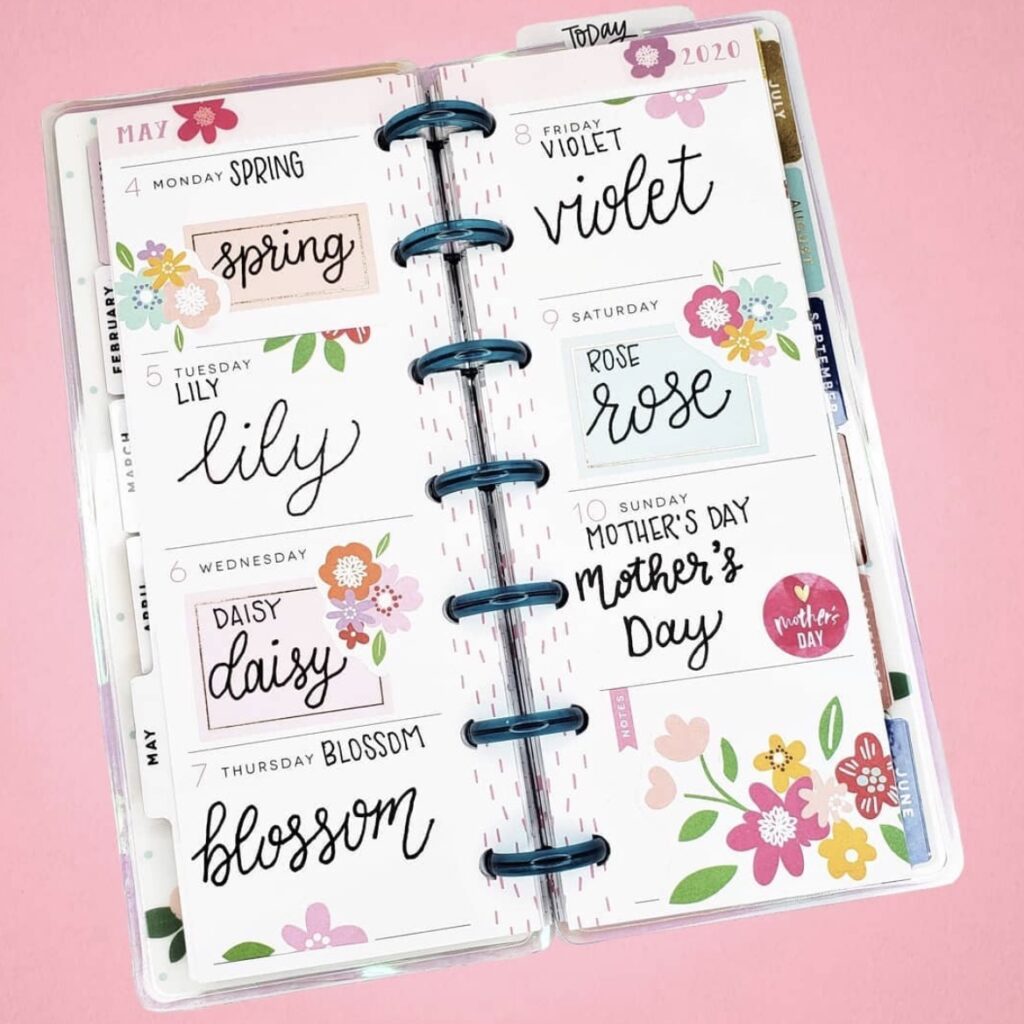 Hand lettering practice while keeping track of your plans is the next best idea for your planner. This one has some fun fonts but is still being used to practically track daily plans and to do lists.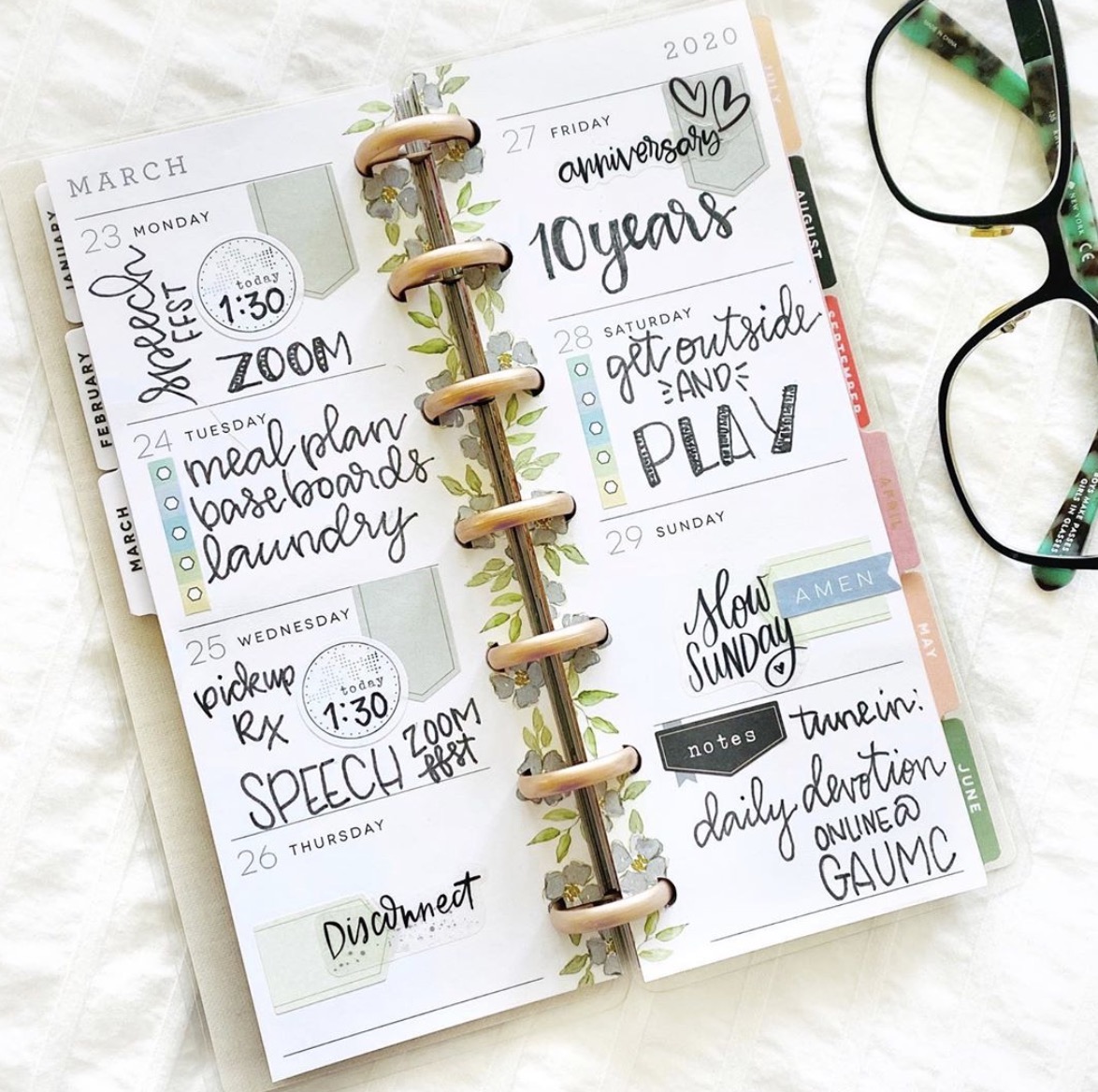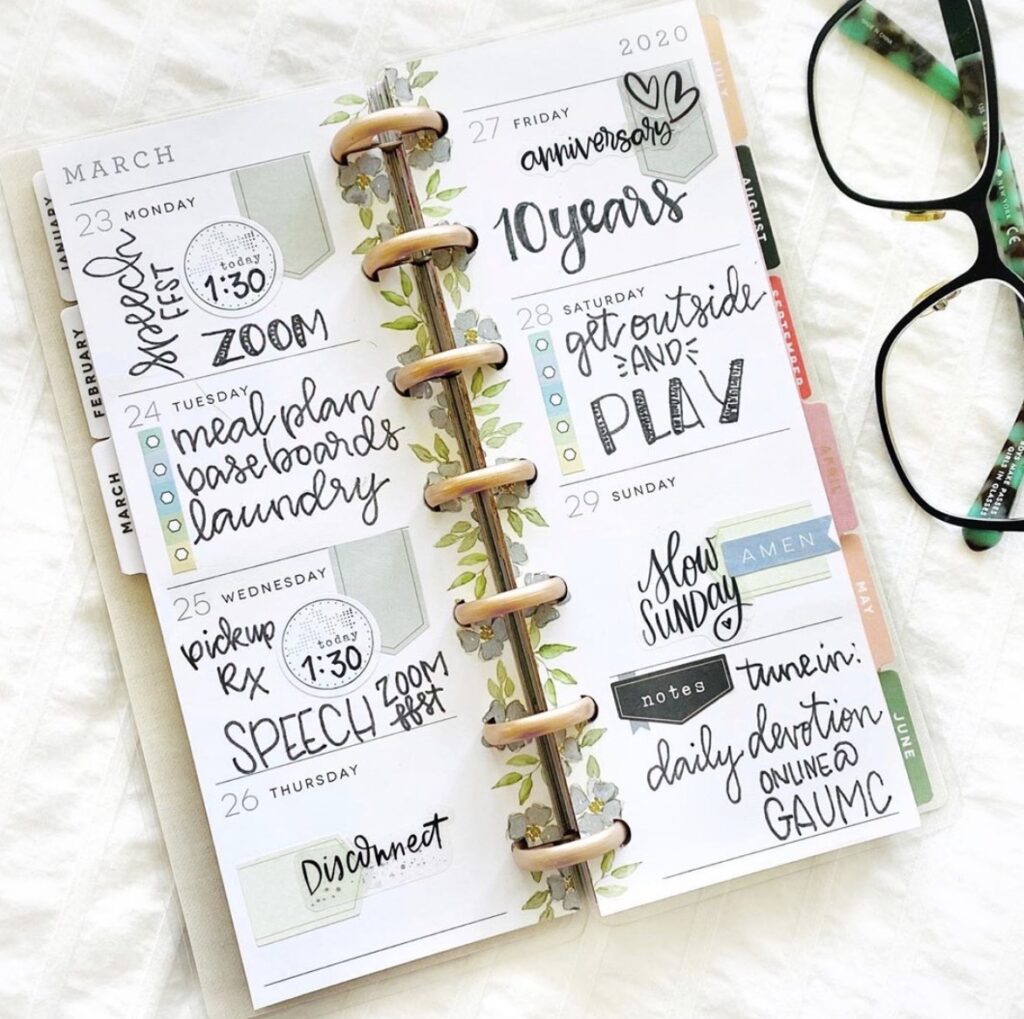 Bujo Spreads for Happy Planners
This is one of my favorite things to do with my planner. I like the idea of different bullet journal trackers and spreads. But I love the functionality of my disc bound Happy Planner.
Mixing the two and creating a Frankenplanner is the best of both worlds.
You can use a bujo spread to track your fitness, your moods, or even movie night.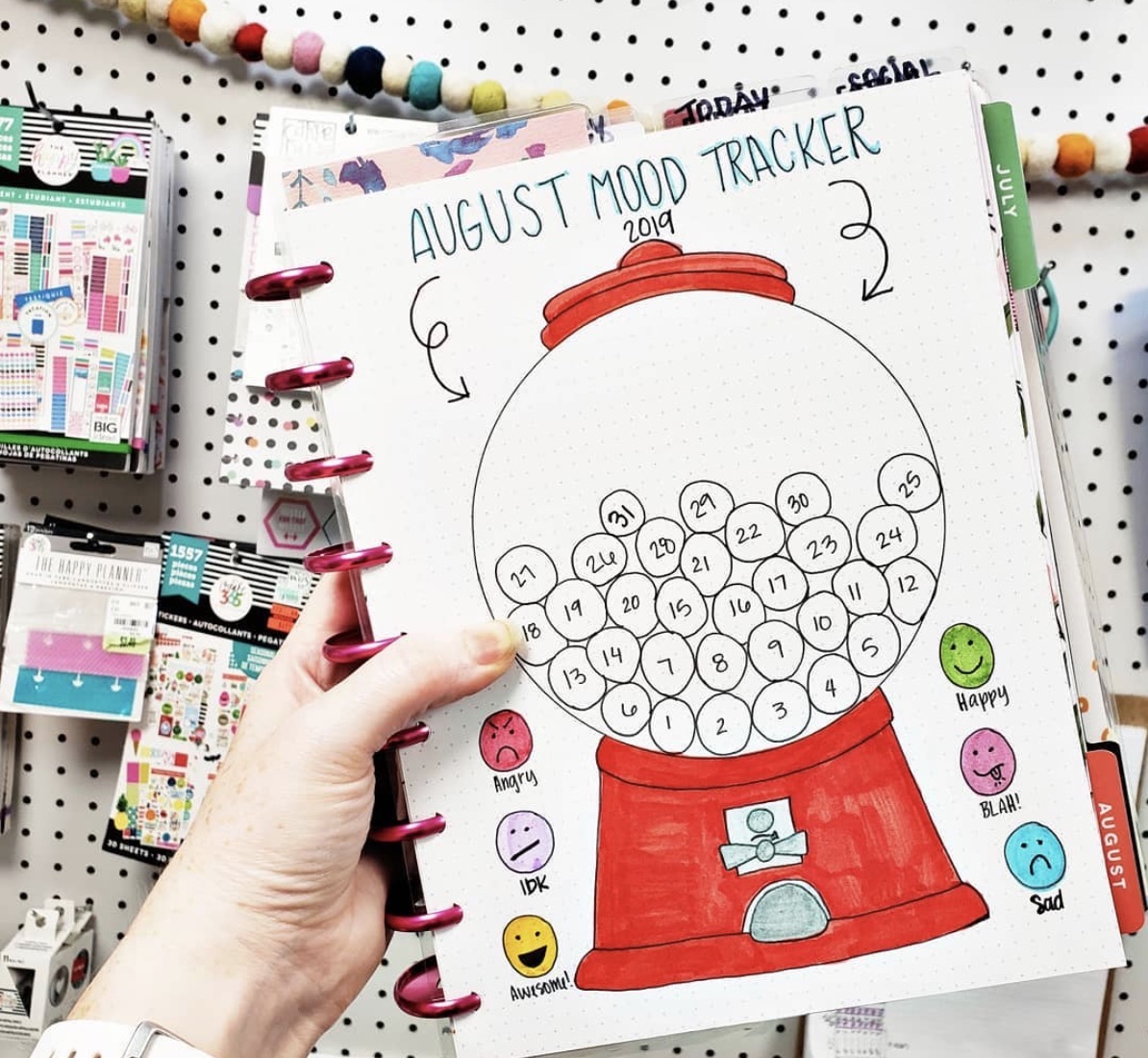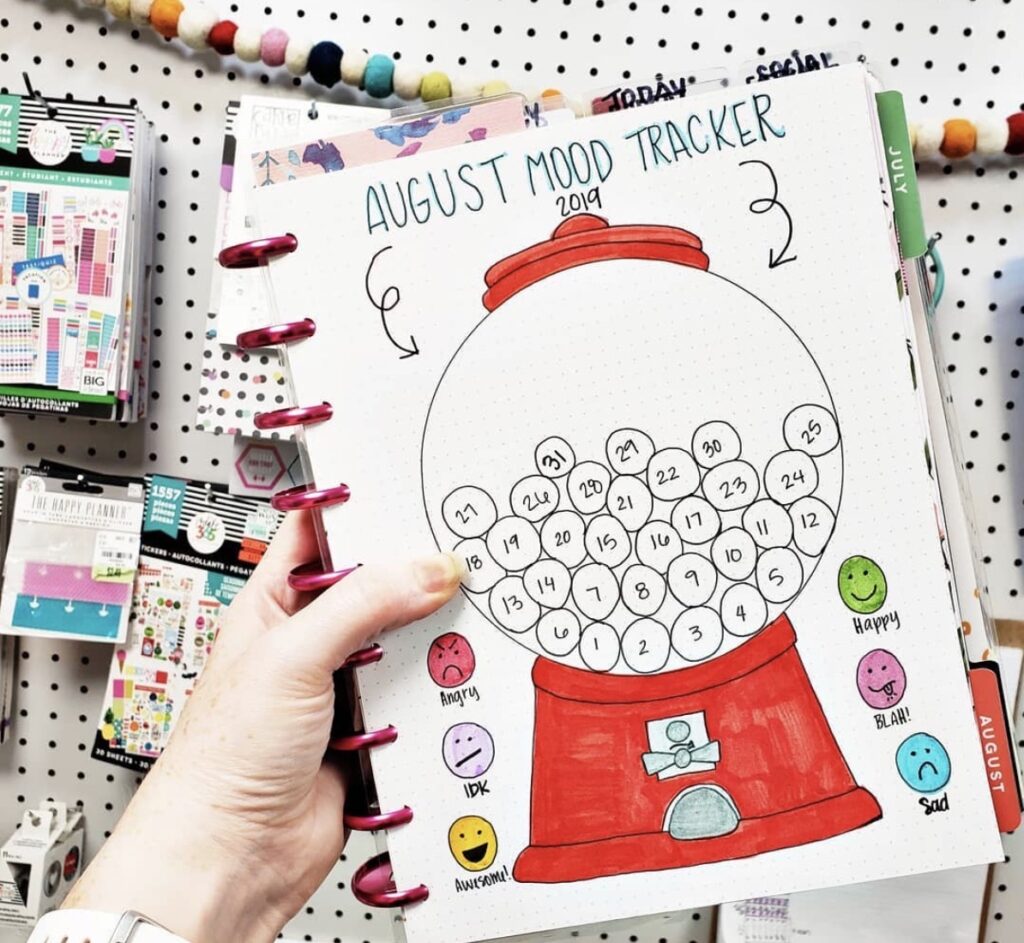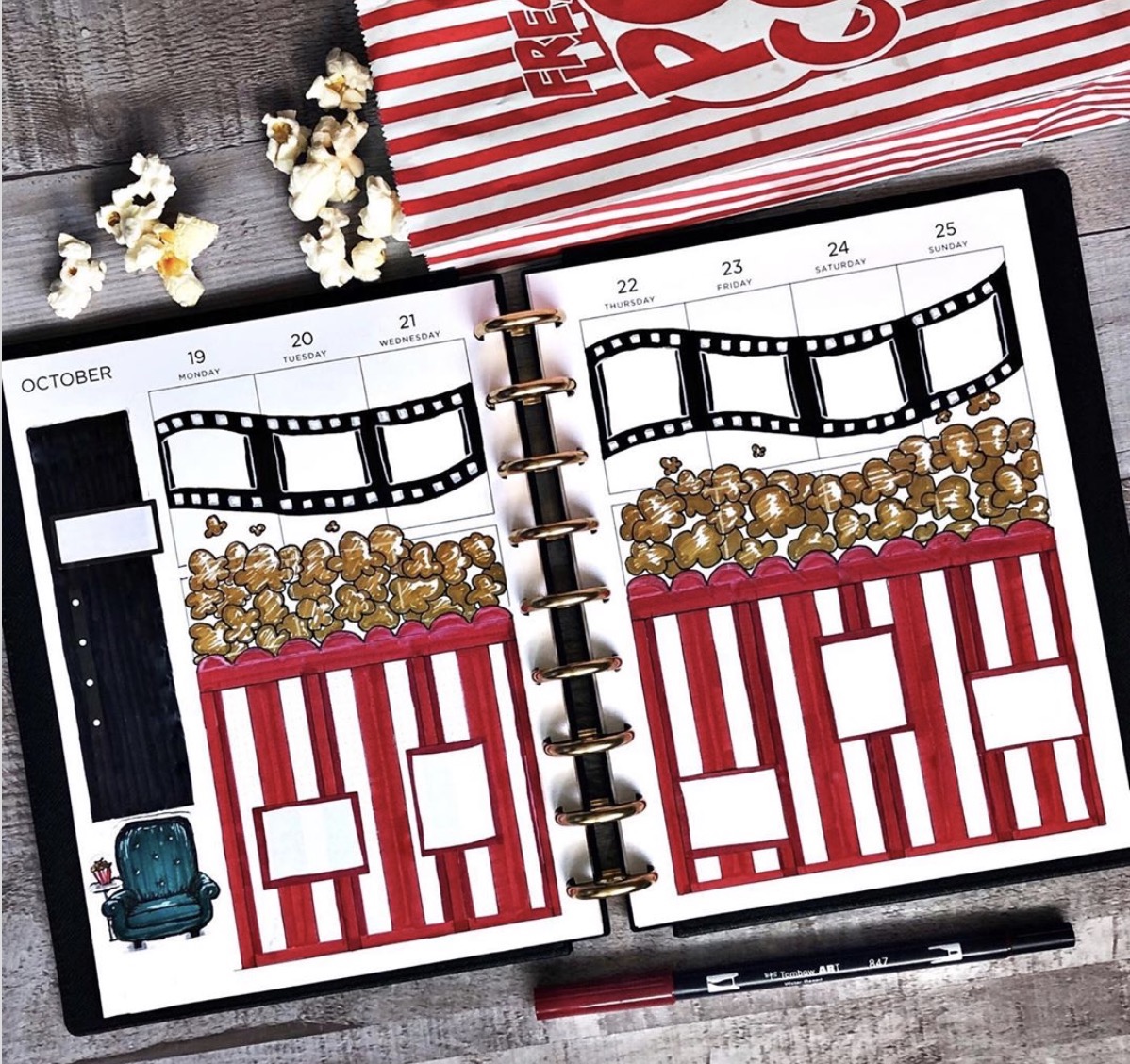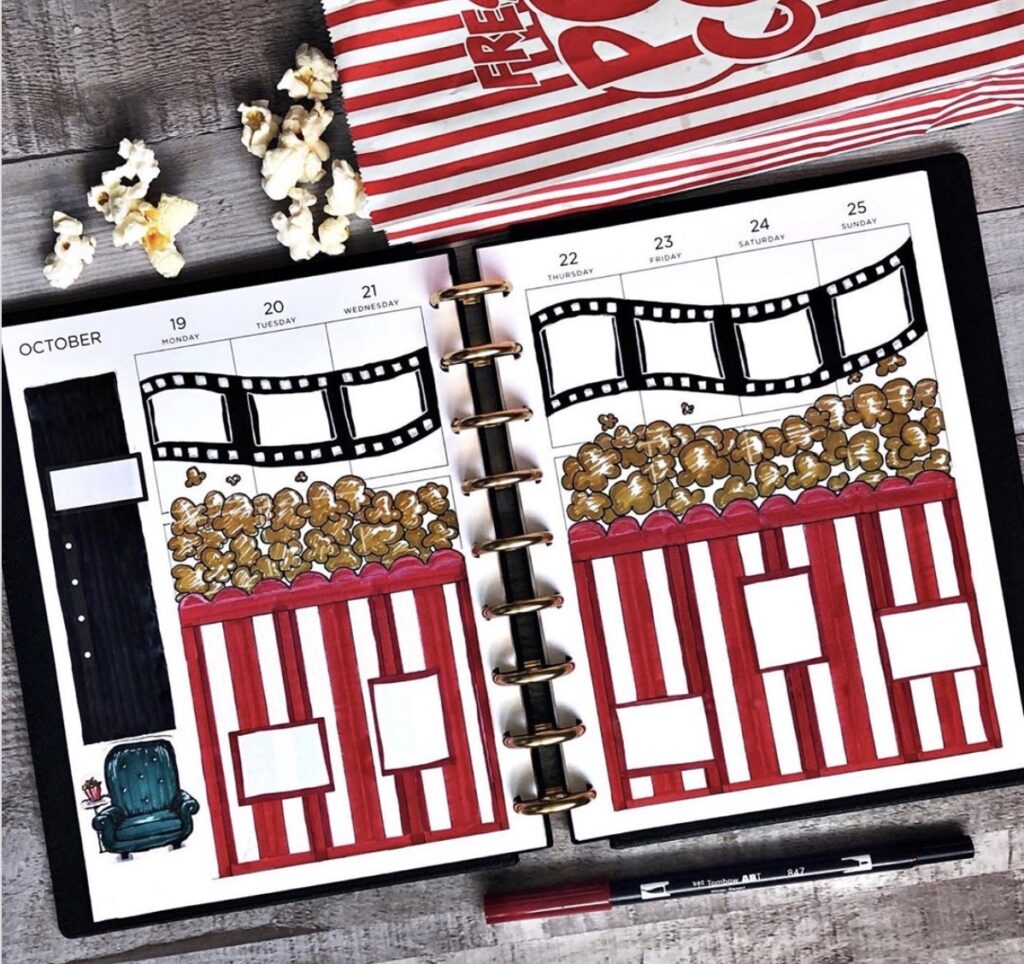 Track Your Fitness
This is another great use of a tall skinny planner. You don't always need a lot of space to track your fitness or diet goals.
Adding your habit tracker or workout tracker to your daily spread works. This one makes the whole focus of the page all about fitness. Plan out your workouts. Rinse. Repeat.
(note how she tracks that she is going through the list 3 times, so she is getting mileage out of this spread)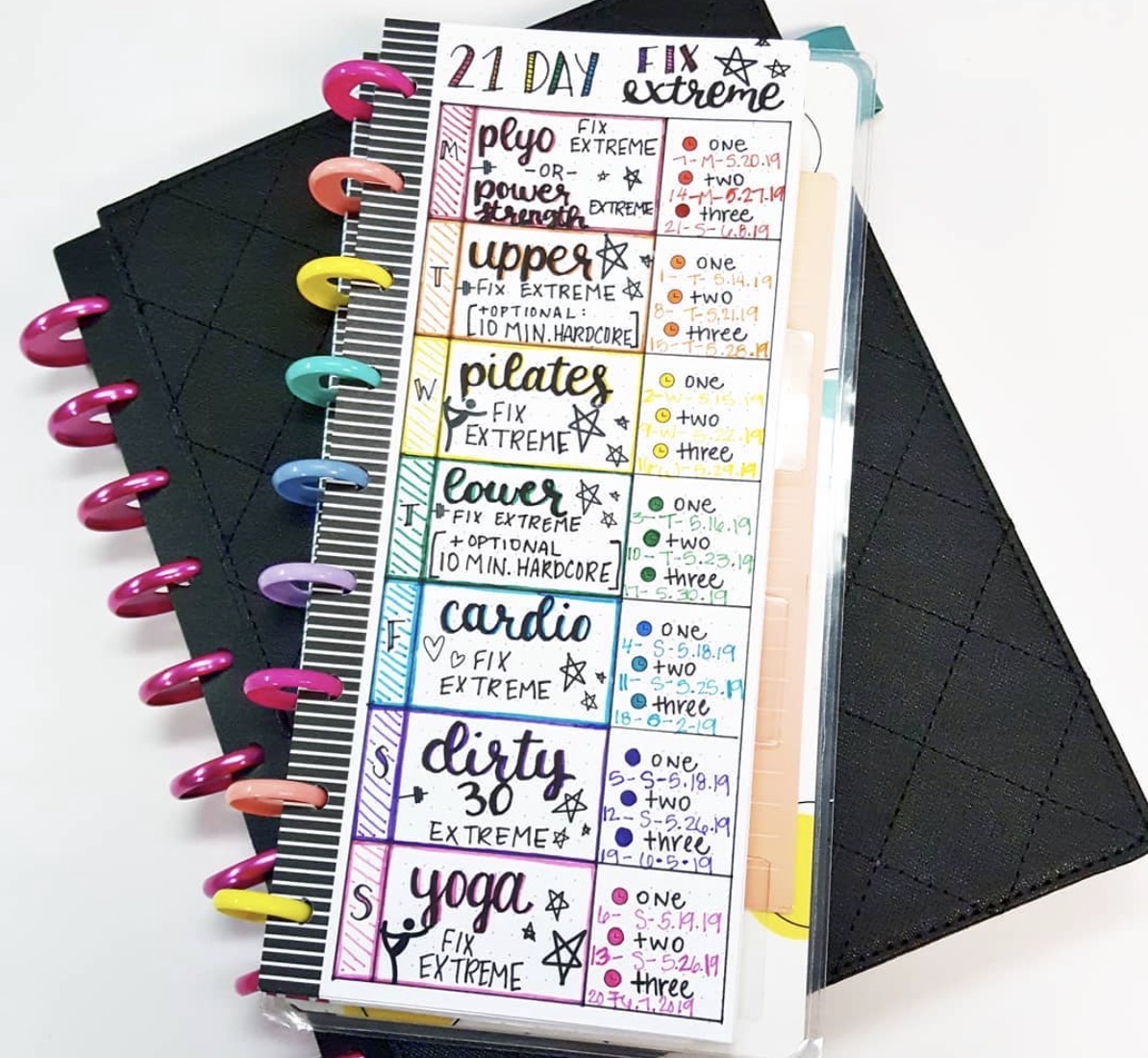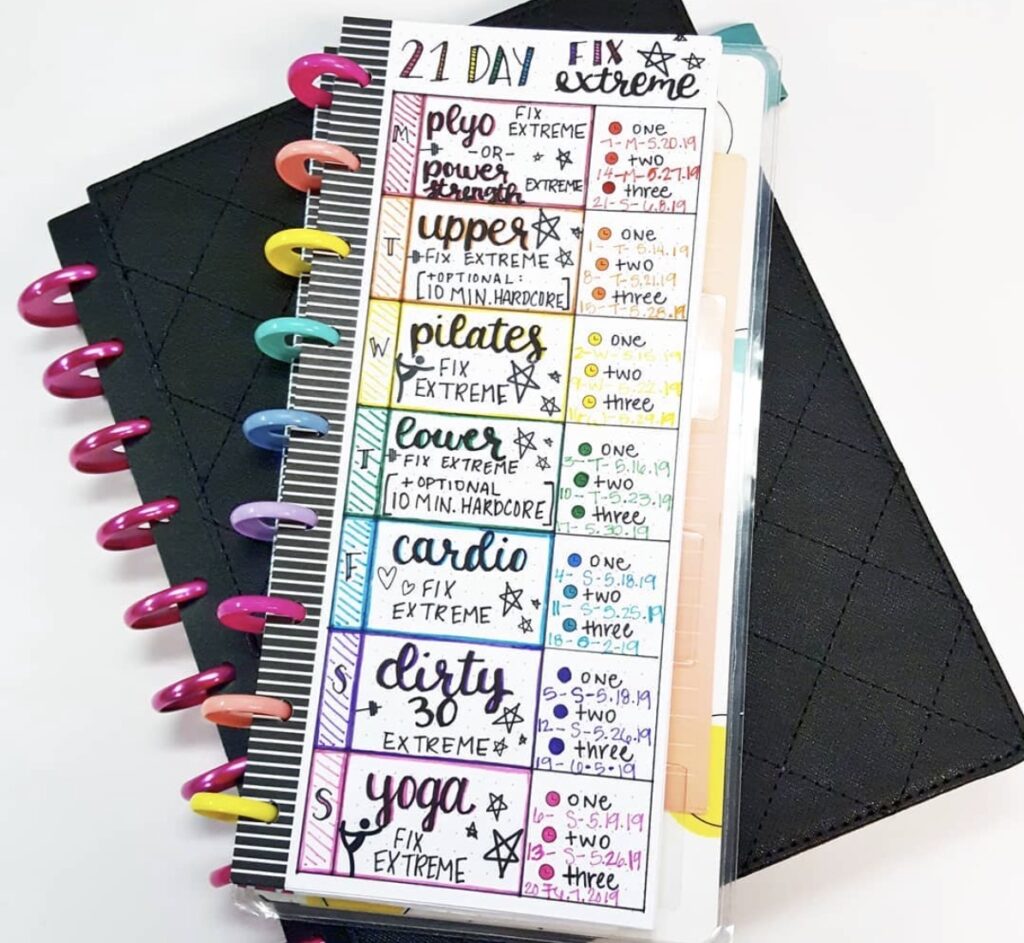 I love this spread for so many reasons. The illustration with a tiny camper captures my heart instantly. When you read through the entries, it is tracking steps, hours slept, hydration, and calories.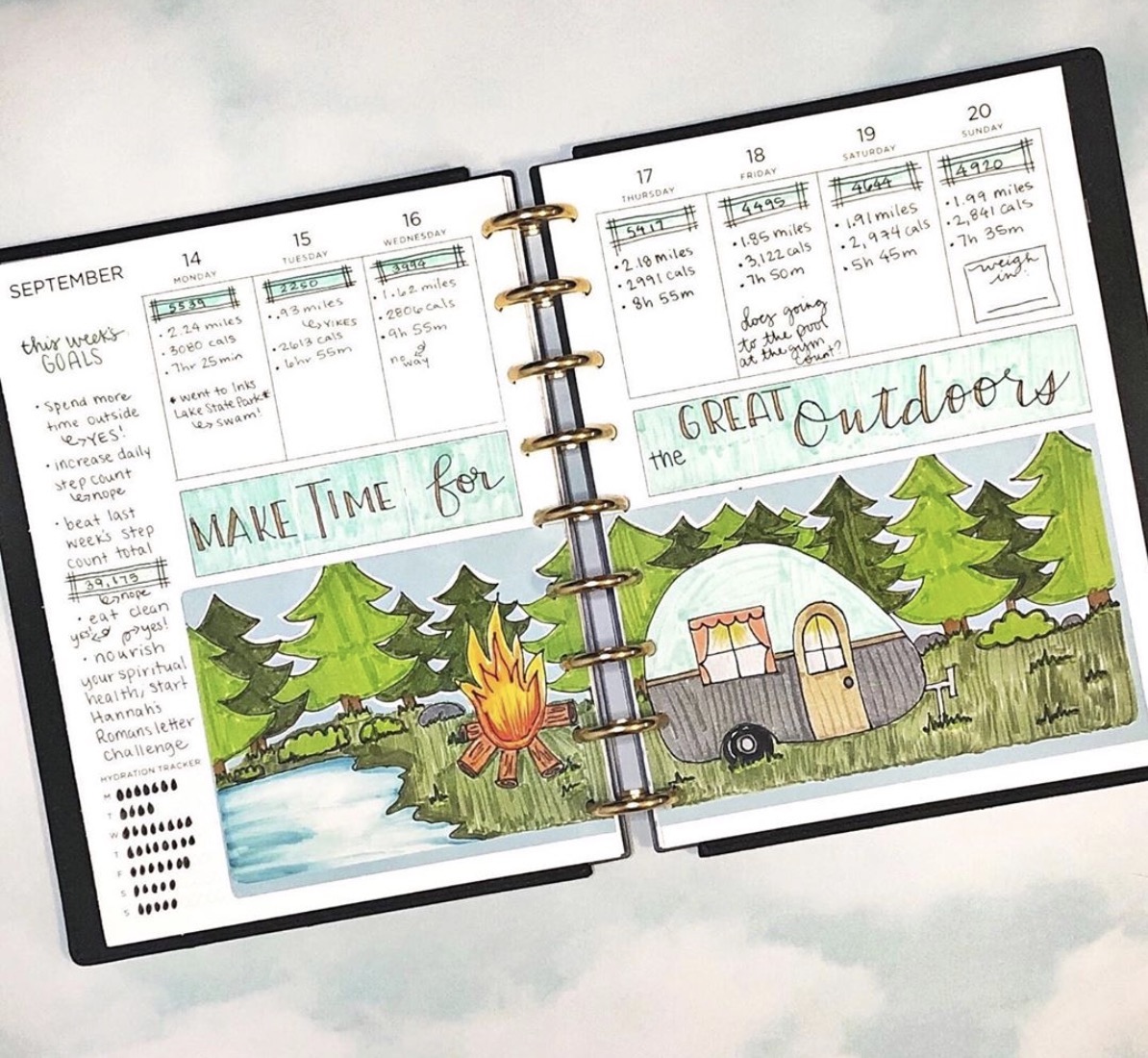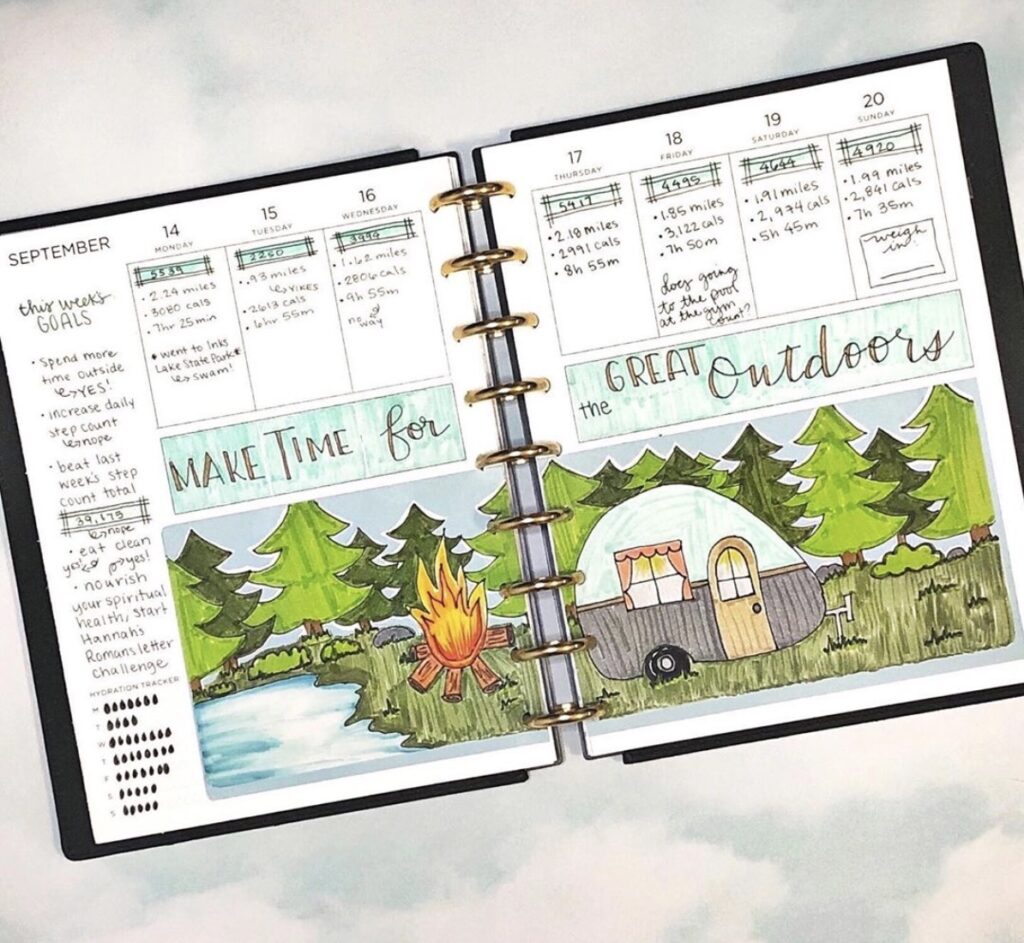 Create A Fun Spread with Stickers
The further you dig into the planner hobby (*ahem* obsession) you will find that stickers are the main accessory.
There are so many styles. So many planner layout ideas. And so many different ways to use the exact same sticker set that someone else might use to create something totally different.
You can start with a few basic sticker books. But don't be surprised when you keep adding to the collection. I was a hold-out. But eventually, I caved. I feel like I reverted back to my 1980's self. Use. All. The. Stickers.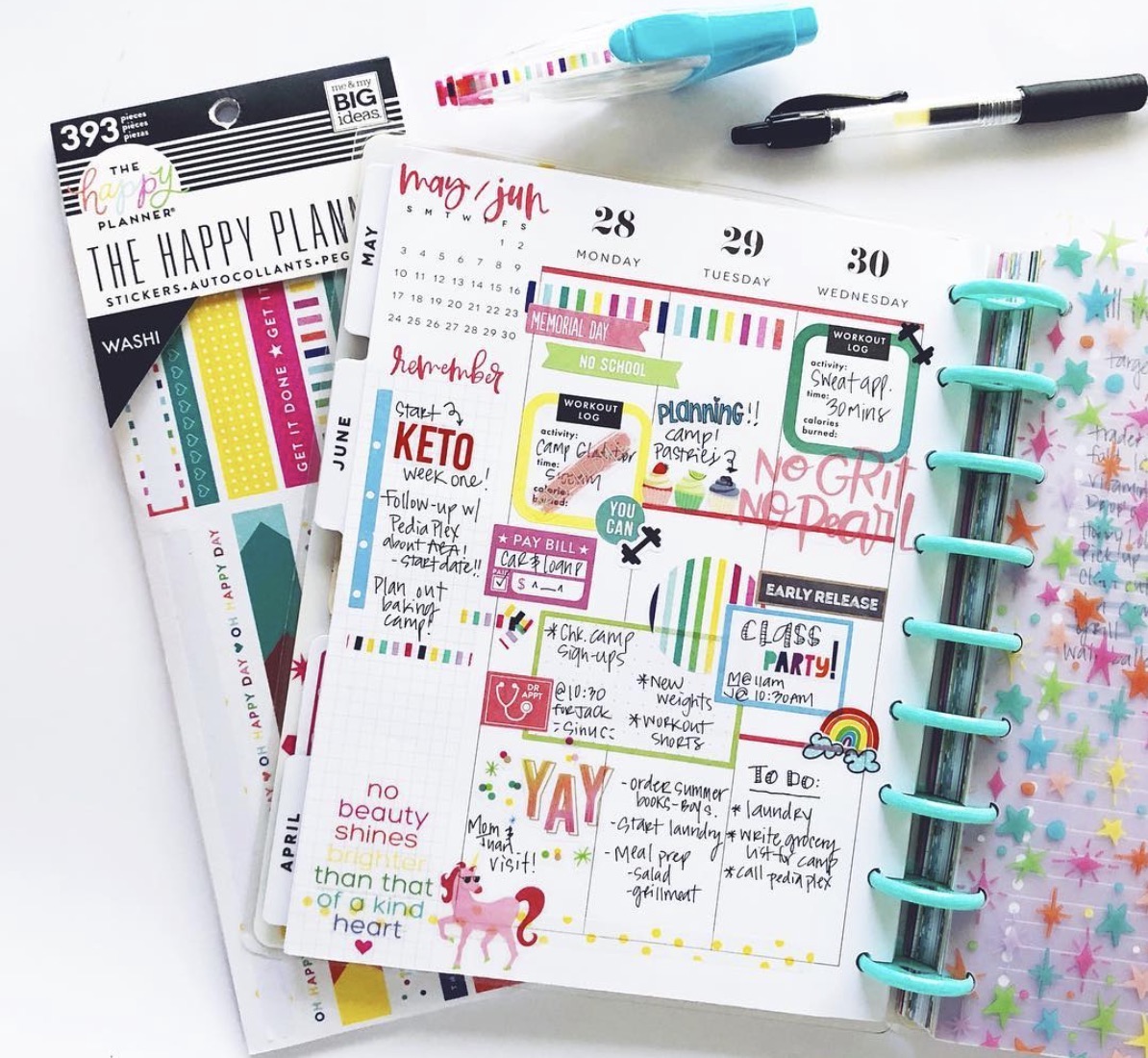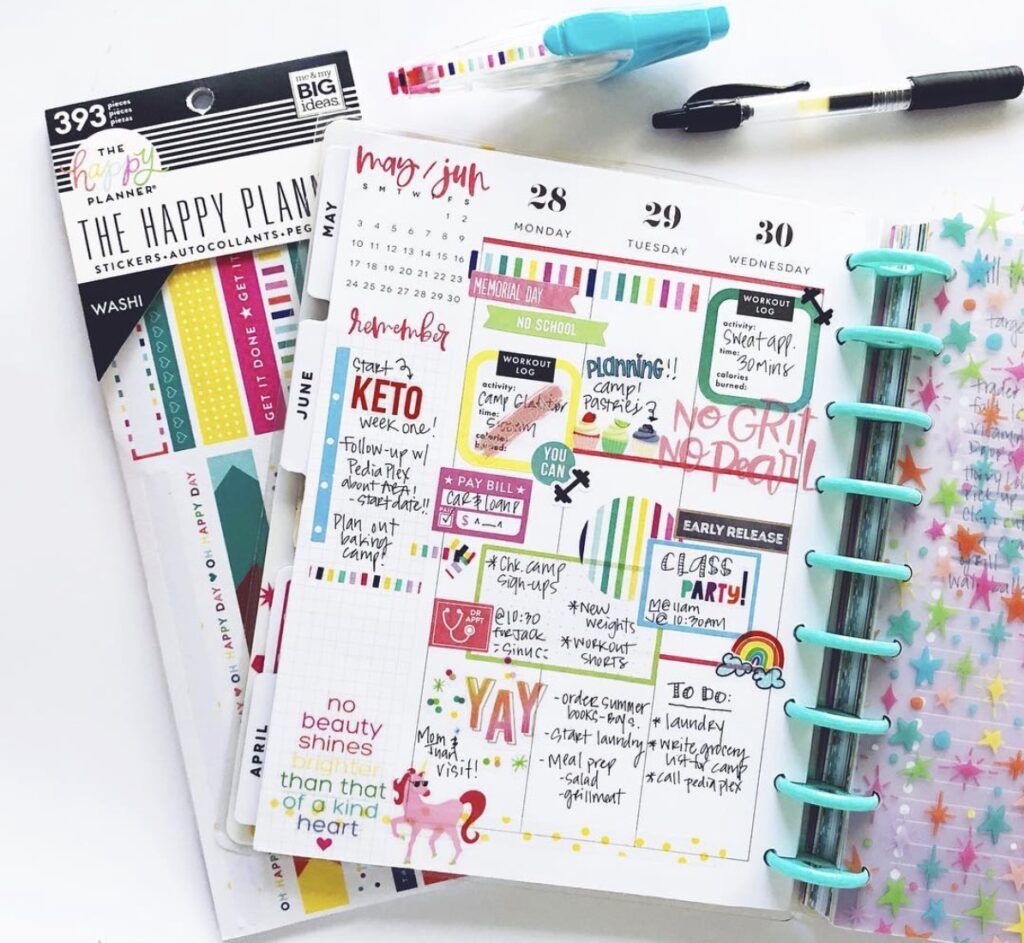 Change a Planner Layout
As a planner beginner, you will probably go through a planner layout style or two before you find the one you like best.
Some planner girls love a horizontal planner. Others are madly in love with a vertical planner. My first true love is the dashboard layout. But I am working on loving the vertical.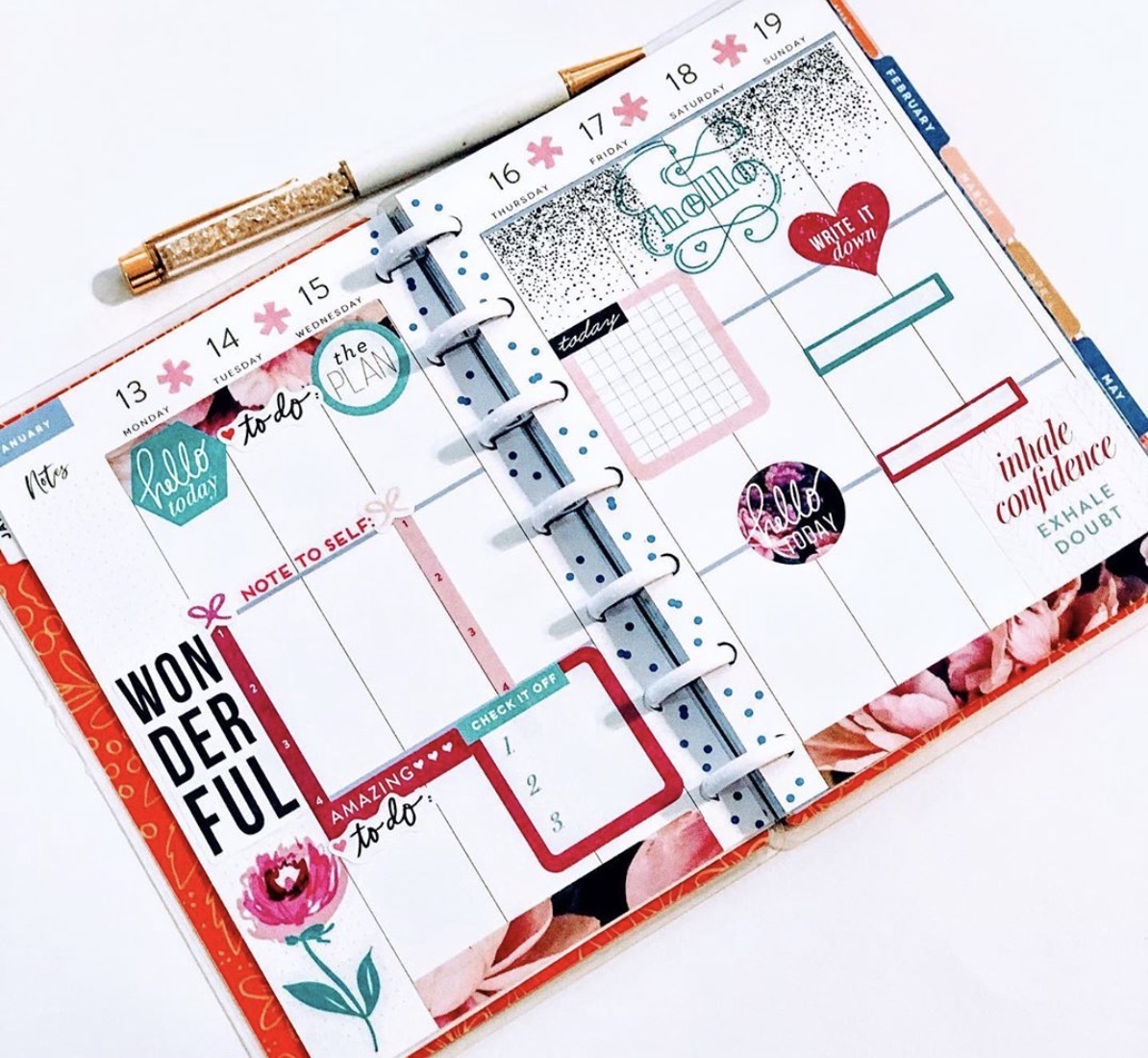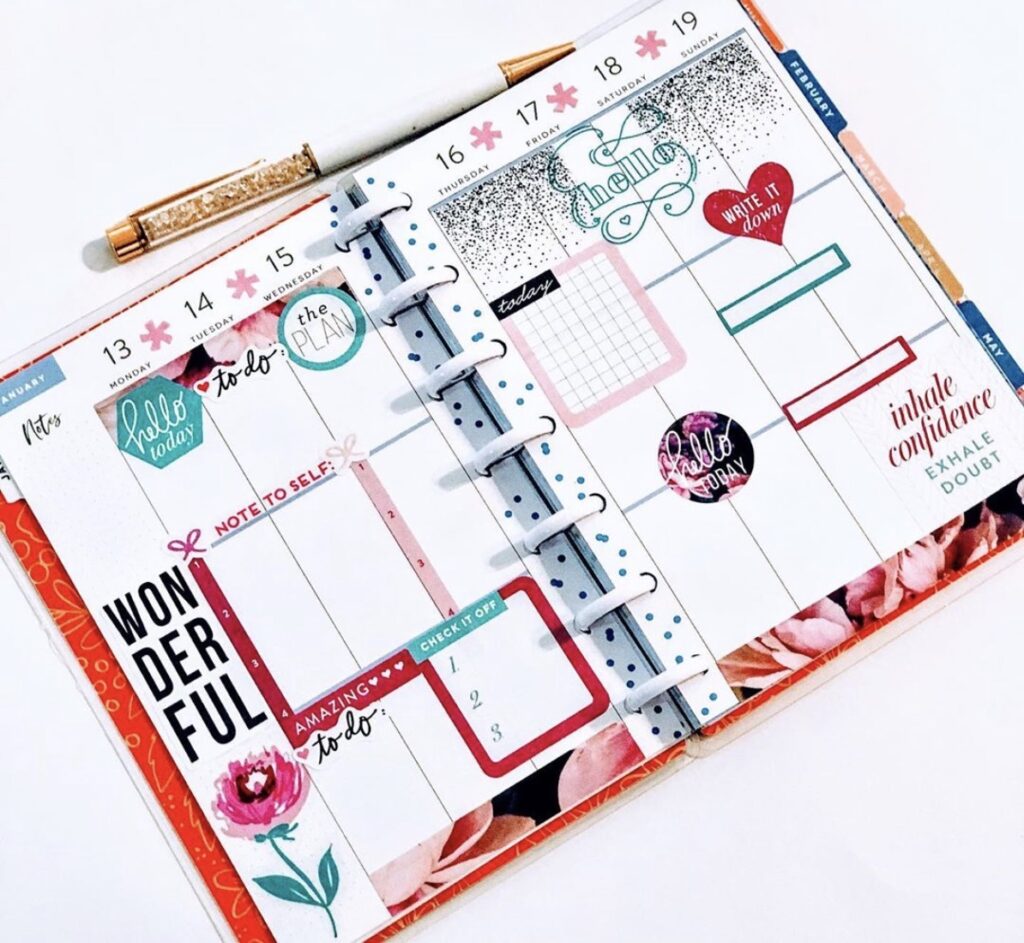 Page with Illustrations
It might be my love of picture books. Illustrations and sticker art that make a layout look like a picture book or comic book make me so happy.
Someday, I am going to create a whole planner that is all comic book style. There a just so many creative ways to use these things.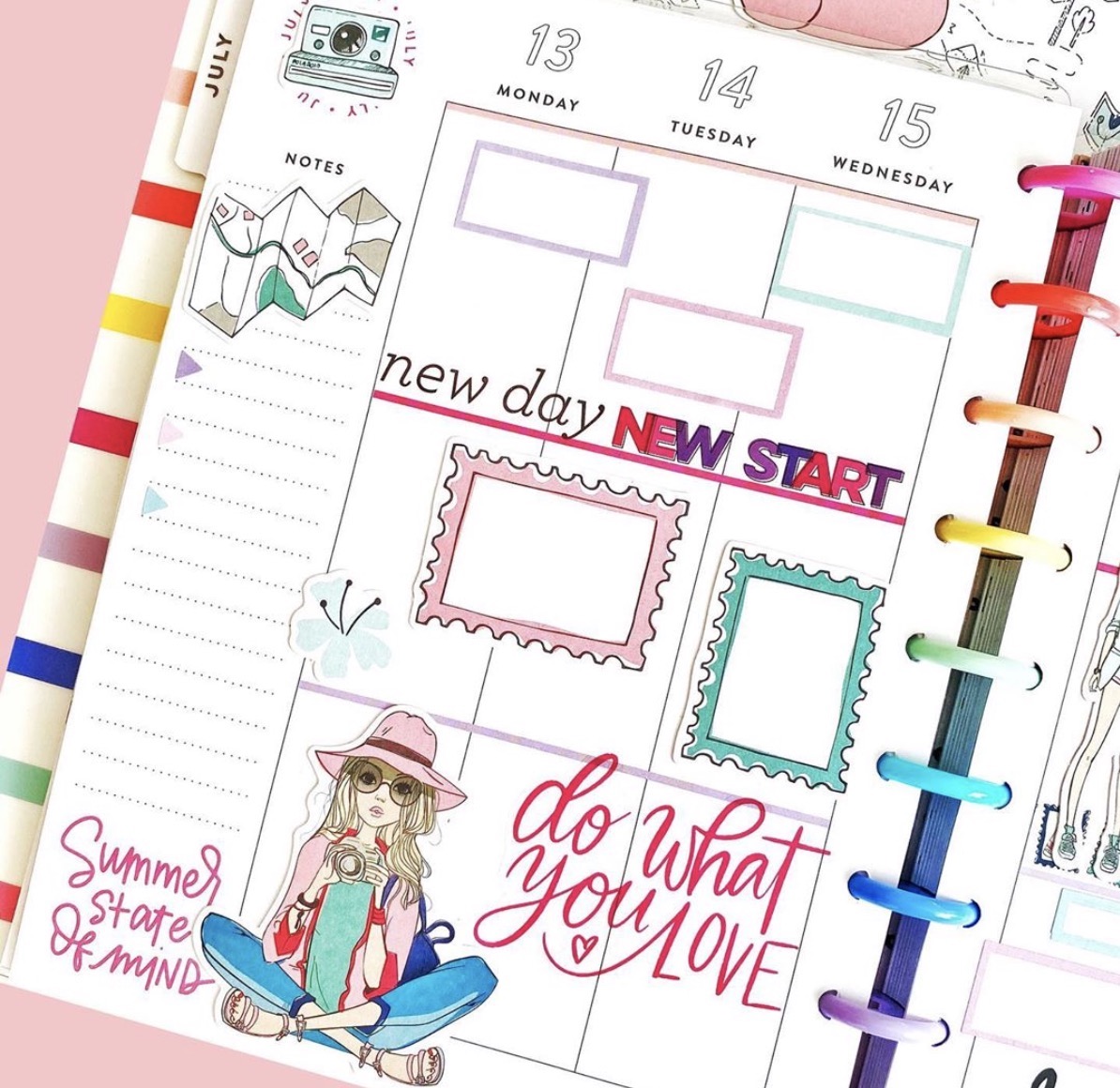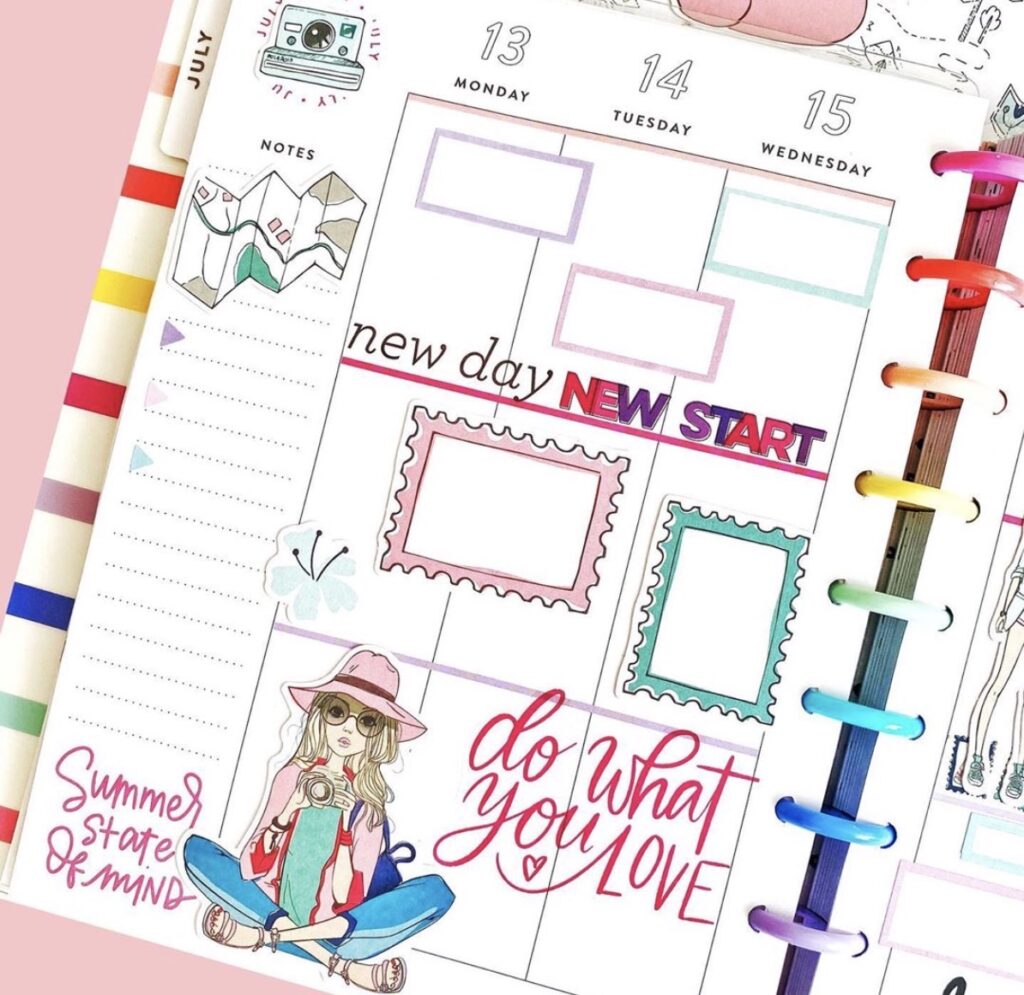 Creating Planning
My very first hobby was scrapbooking. That evolved into card making.
Somewhere in there, I was in love with creative journals (even though I really suck at being a consistent journal writer).
Happy Planners can be the perfect blend of all these things. You can mix and match Happy planner ideas all in one disc-bound book. This is Happy Planning.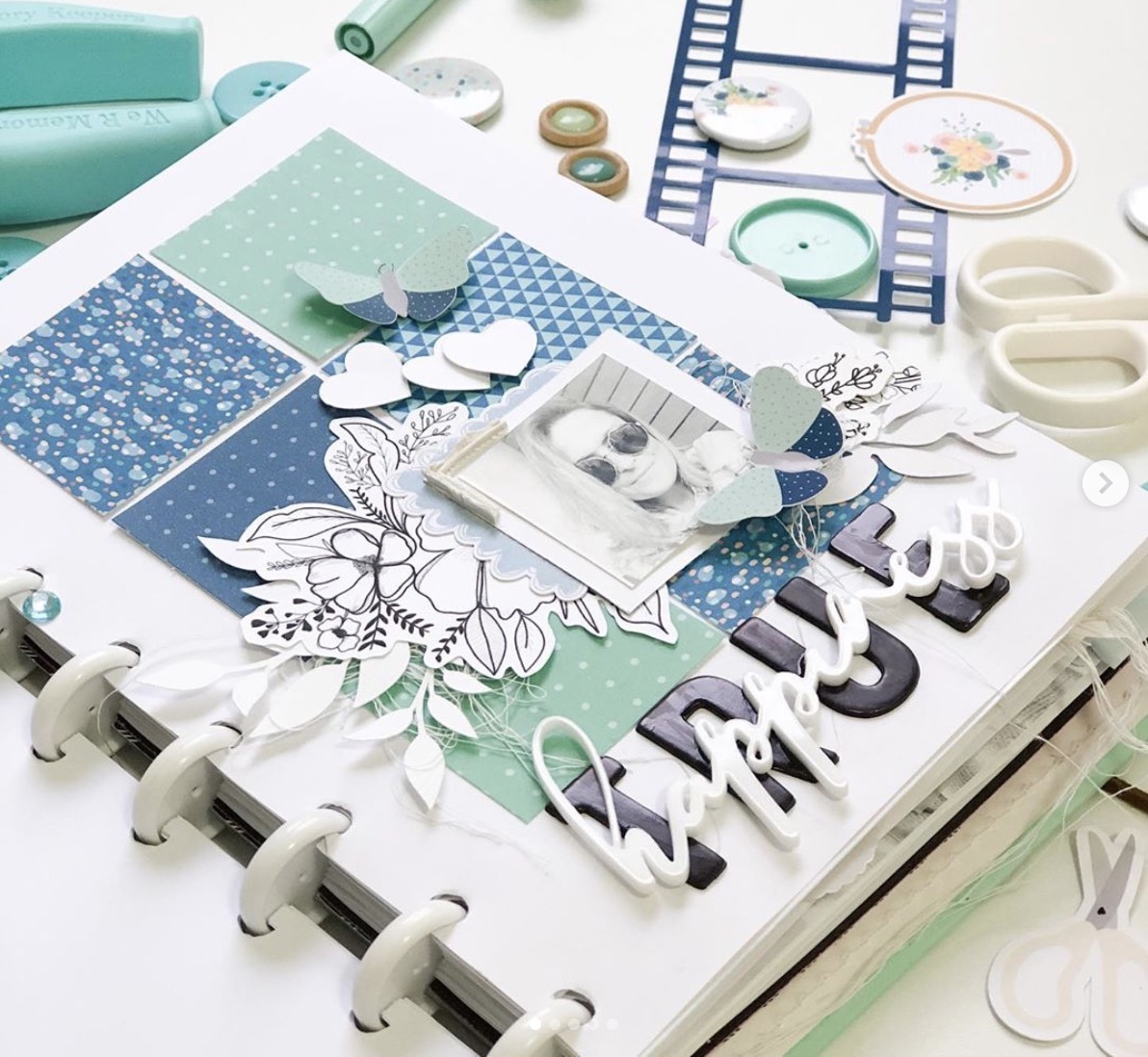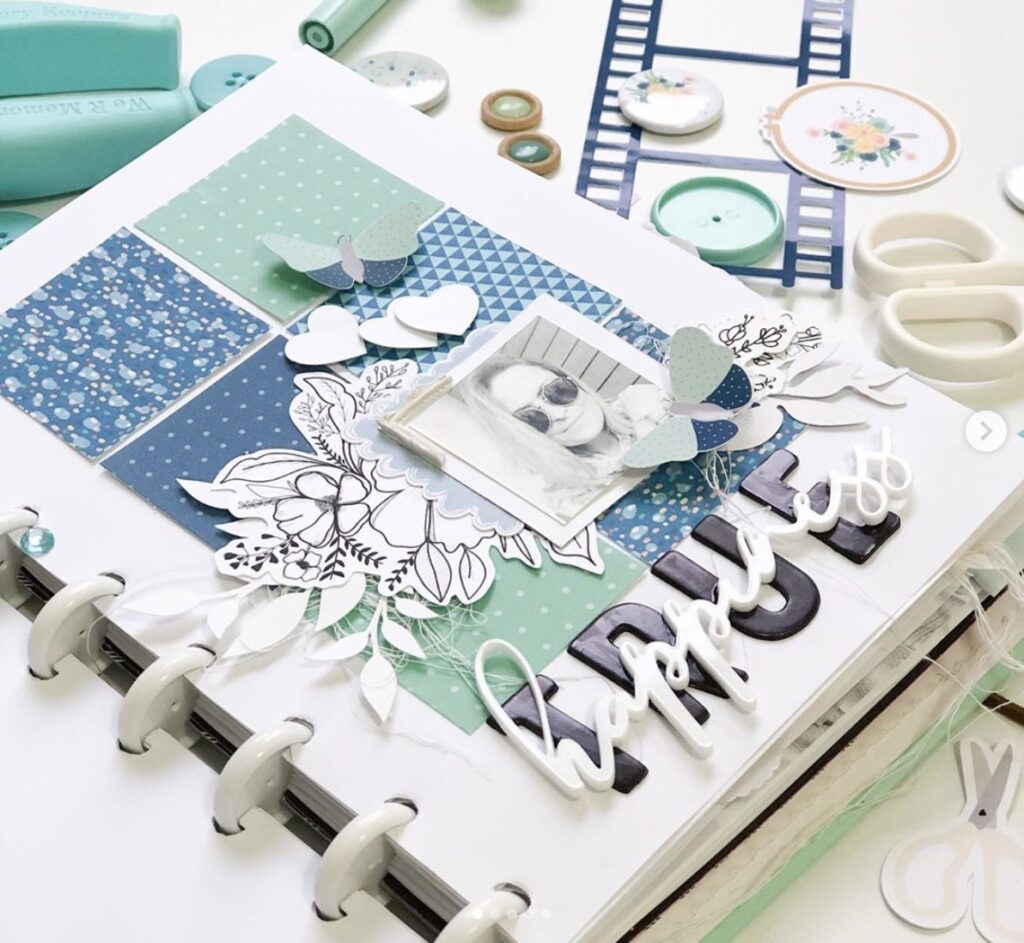 Planner Quotes
Grab the latest quote sticker book and add a little inspiration to each of your weekly spreads.
Learn to hand letter and you can draw and color all your most favorite quotes in your planner each week. Heck, you could even just make a small notebook planner just for quotes.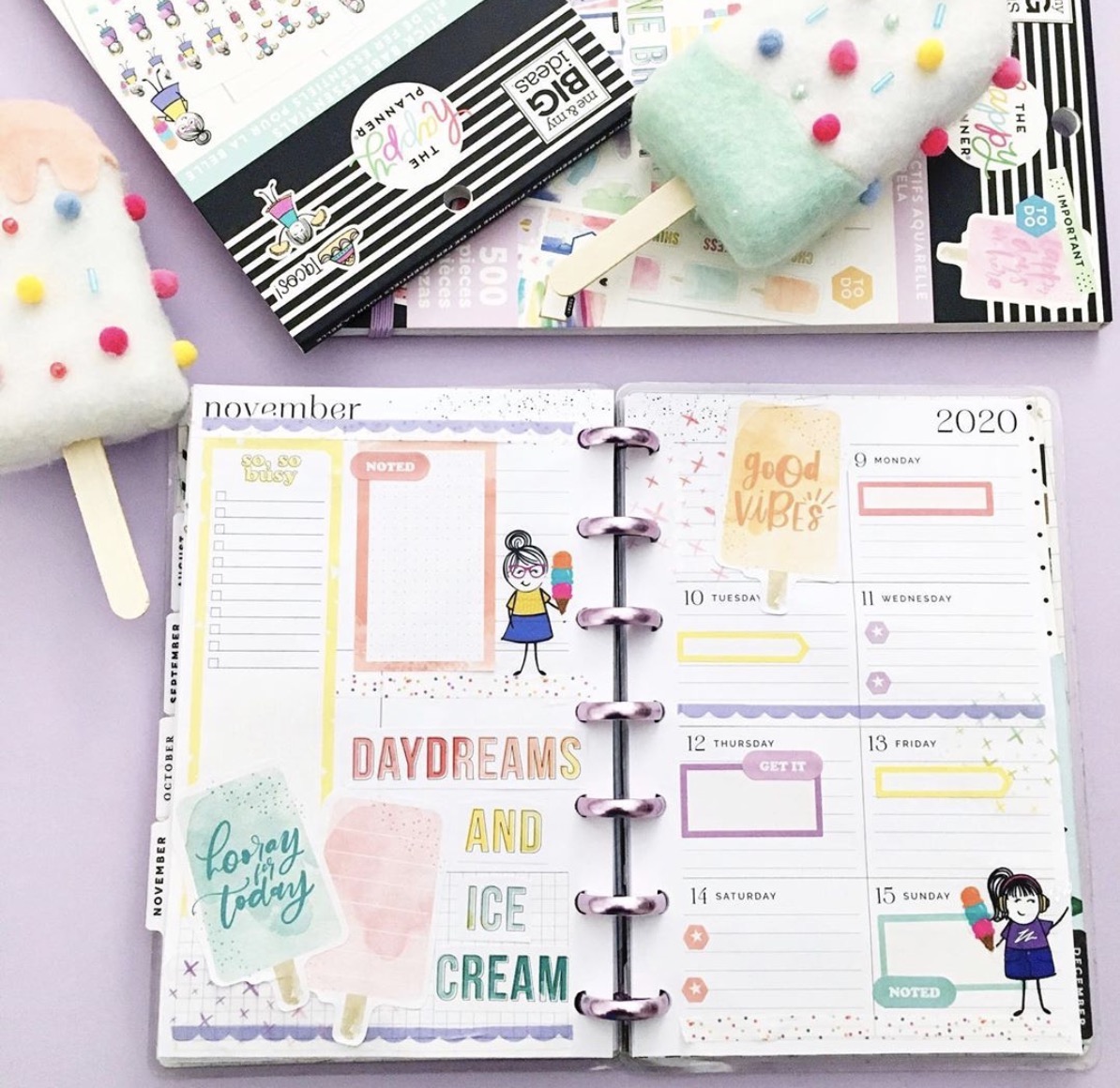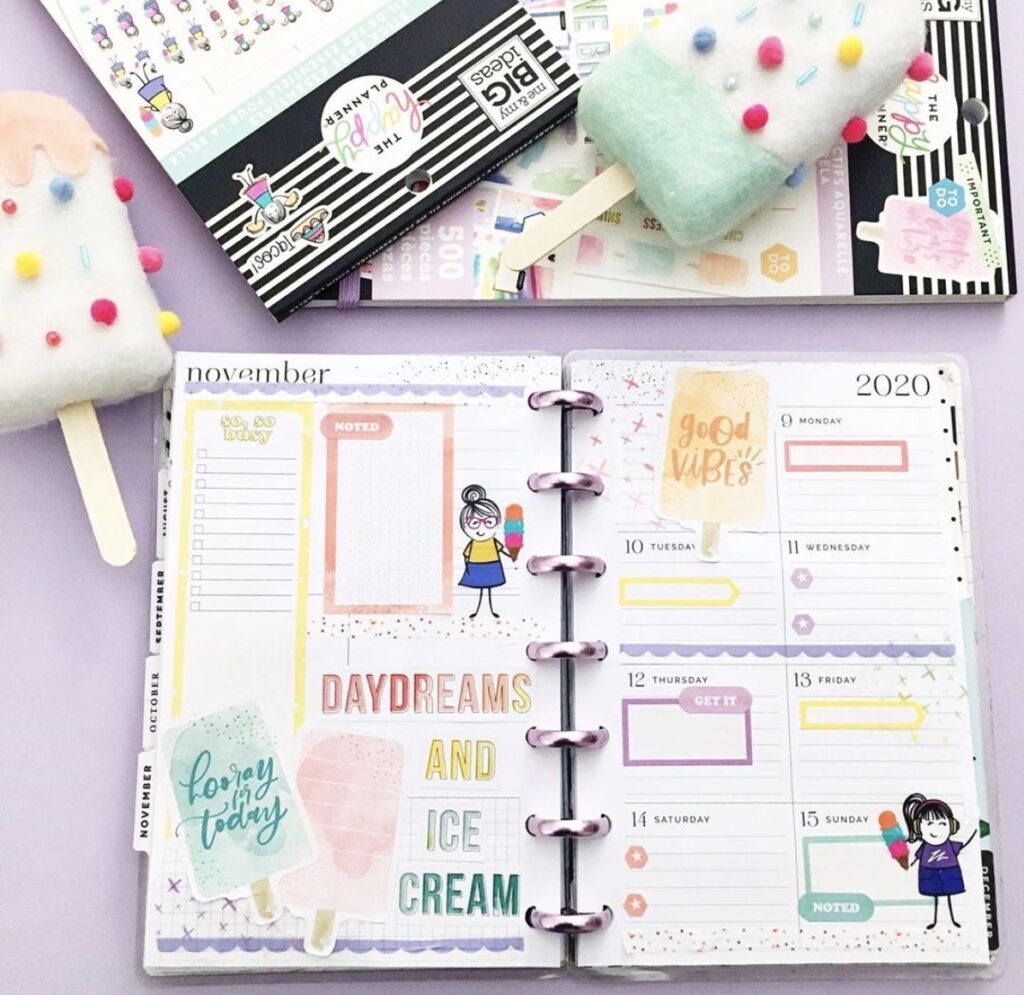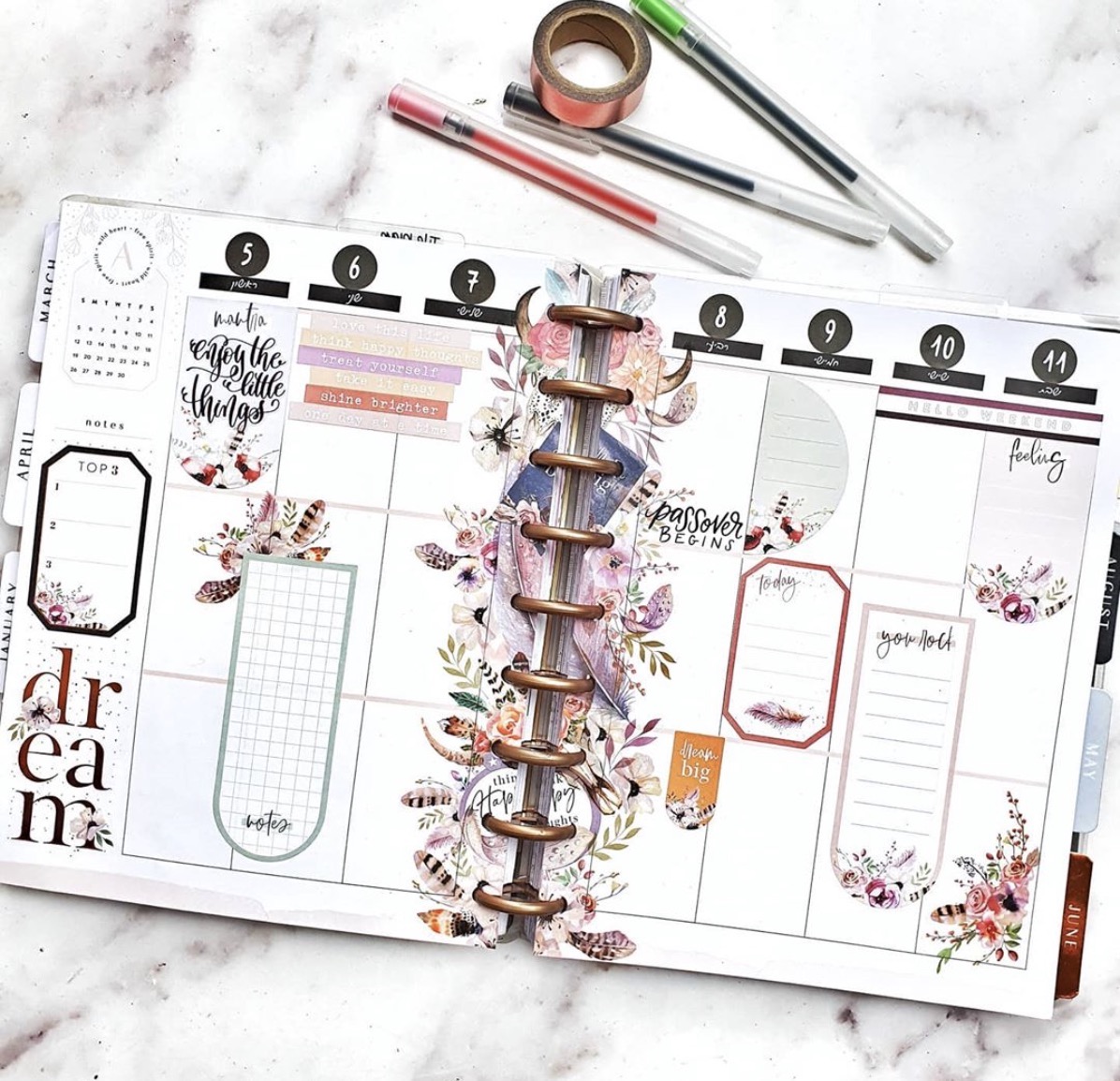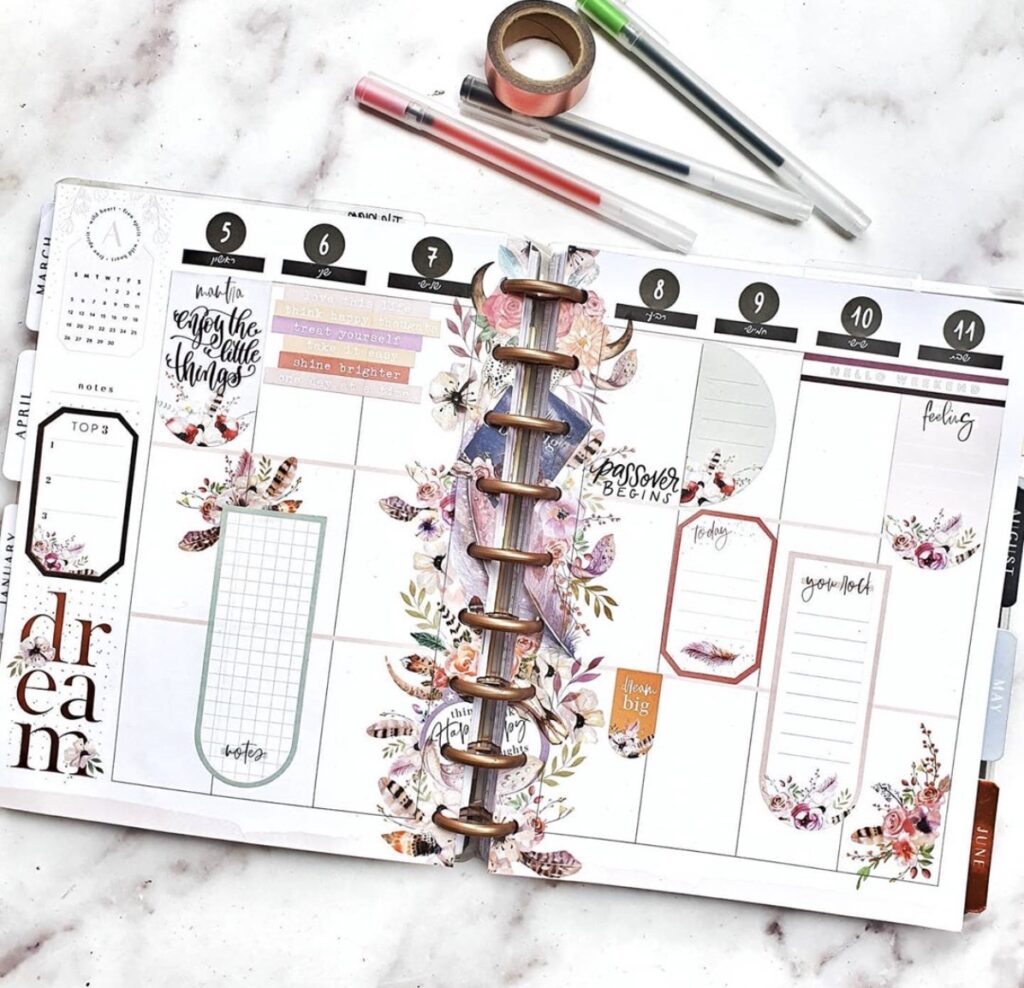 Keep Track of Your Routine
Planner spreads like this make me want to work harder on a small neat print type of handwriting.
They are so neat and precise. The black and white is visually appealing and then you can add in cute doodles and pops of color. It is crazy just how visually fun a planner spread can be.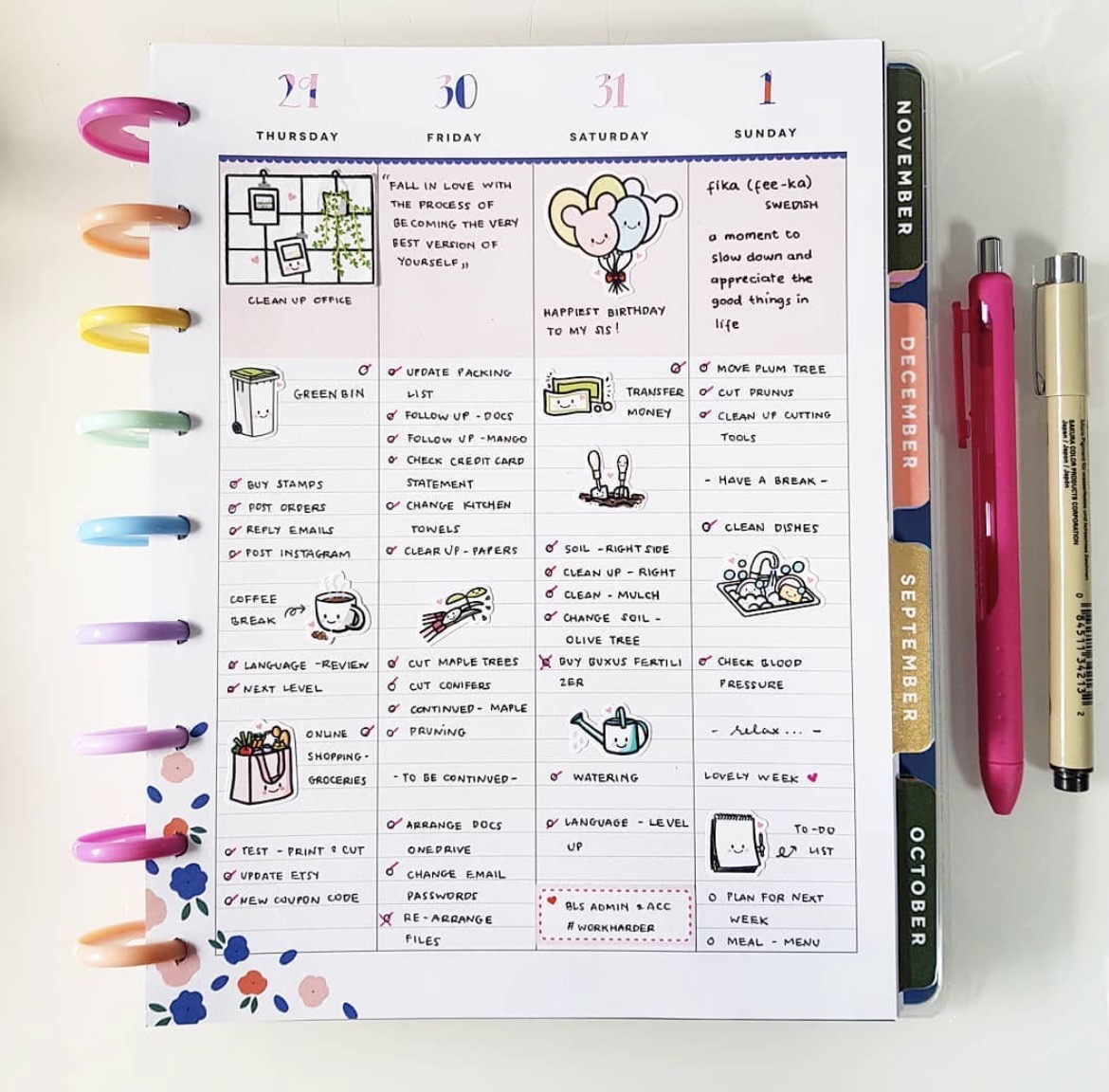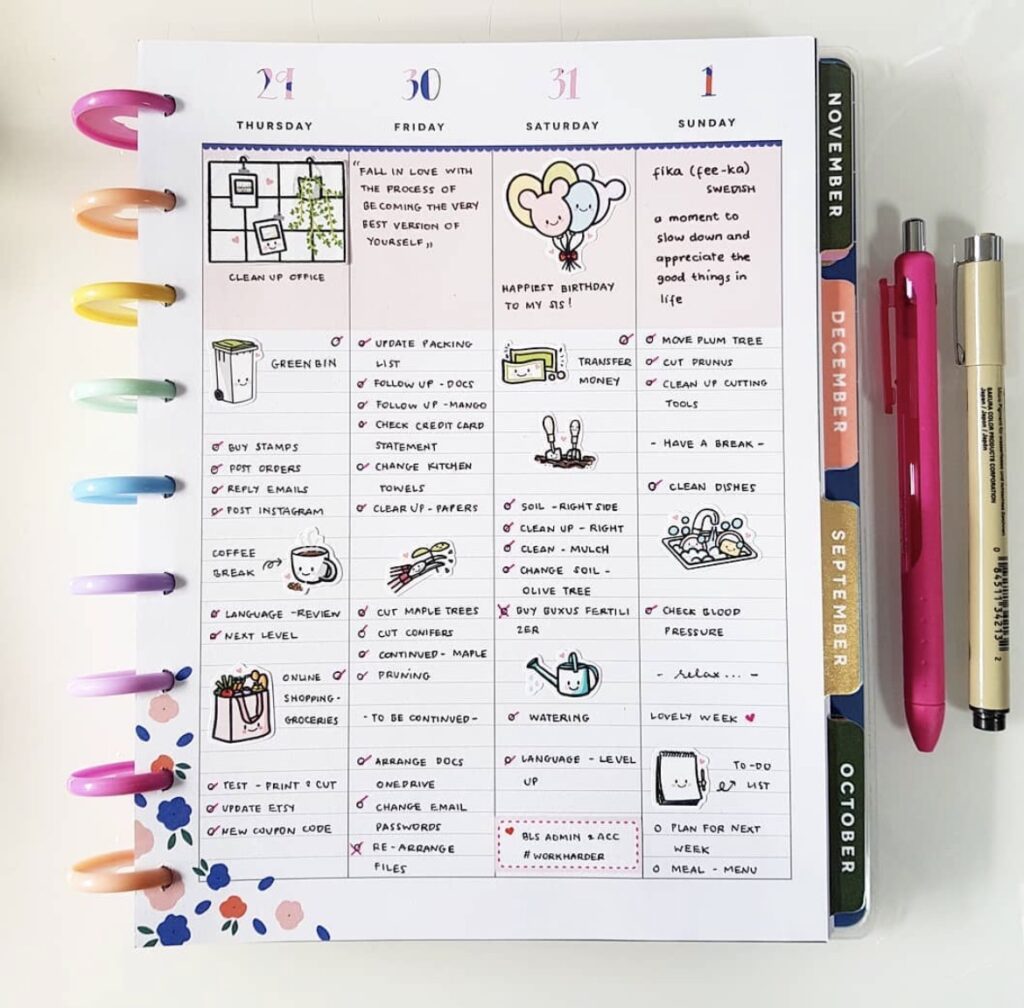 Work on Your Digital Detox
Similar to a habit tracker, you can set a goal on one of your planner pages and use it to track your progress.
Choose a color theme that fits your goal (in this case all these calming colors go well with the idea of a detox) and crush those goals.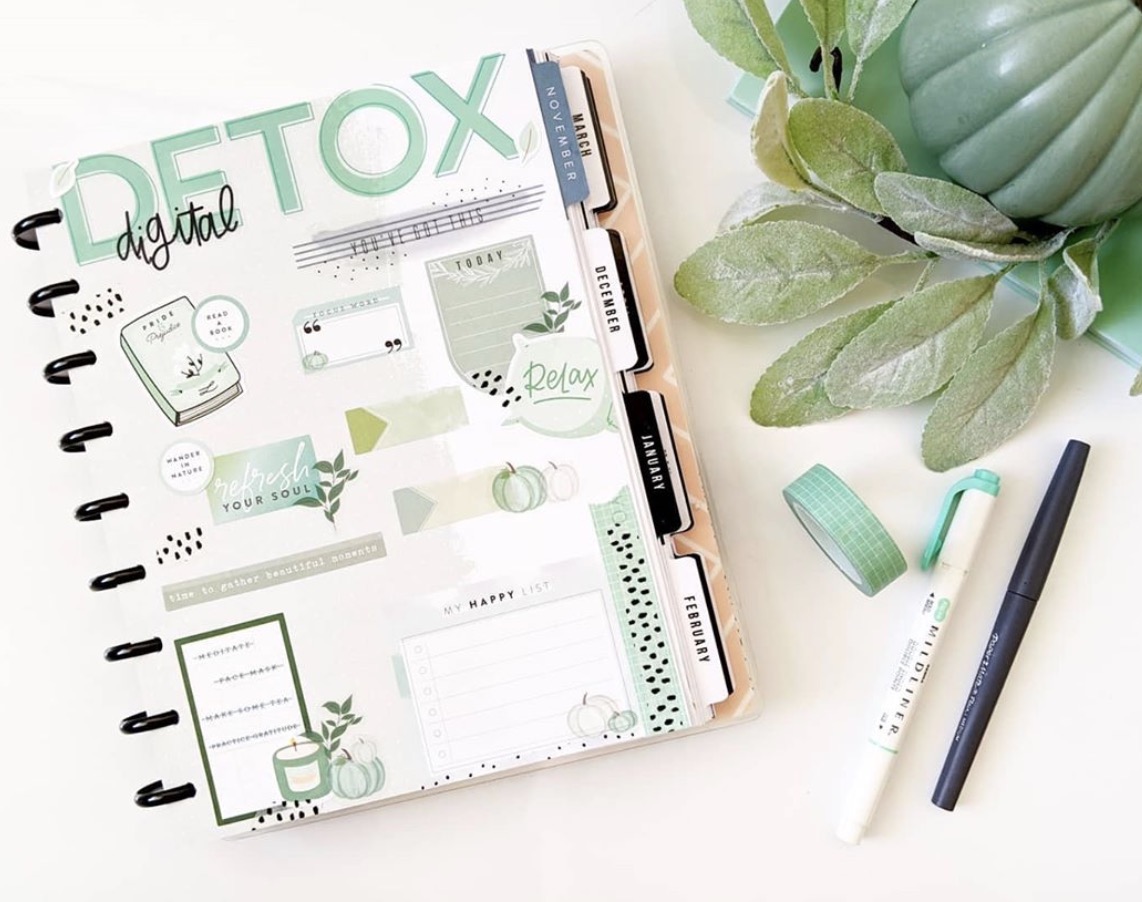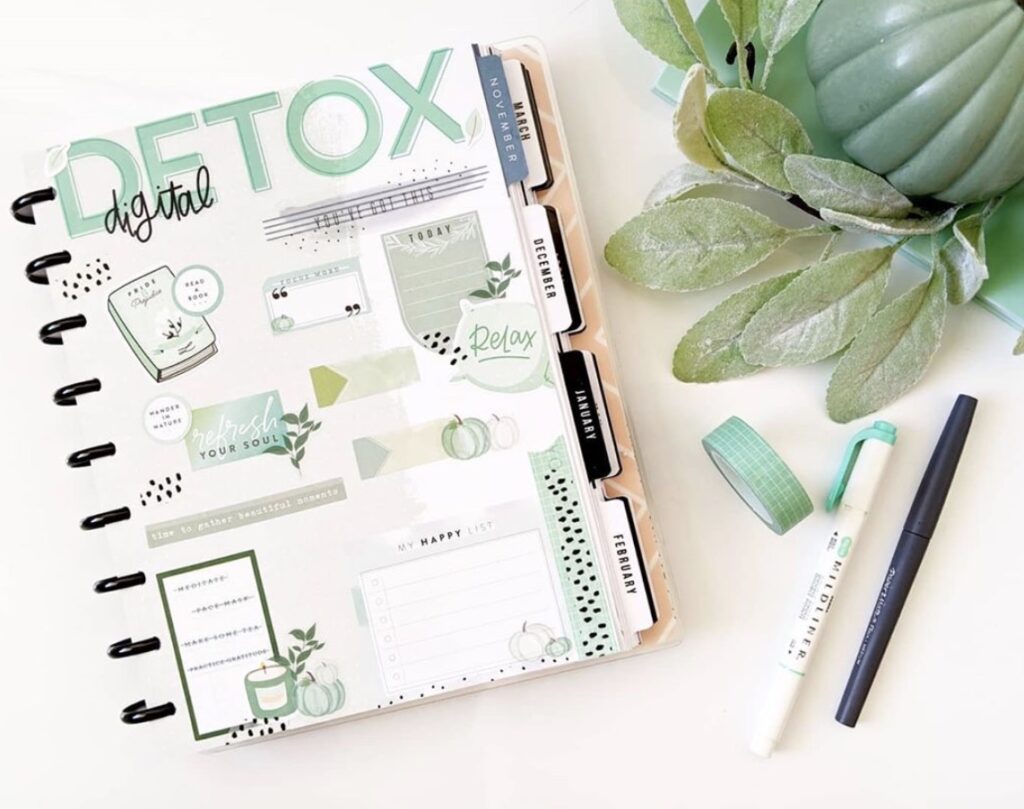 All the Colors of the Rainbow
You can create pages that look like a unicorn pooped all over them. Or you can go monochromatic. The choice is yours.
Mix all those beautiful colors with some geometric shapes and you have the perfect combo for a planner layout.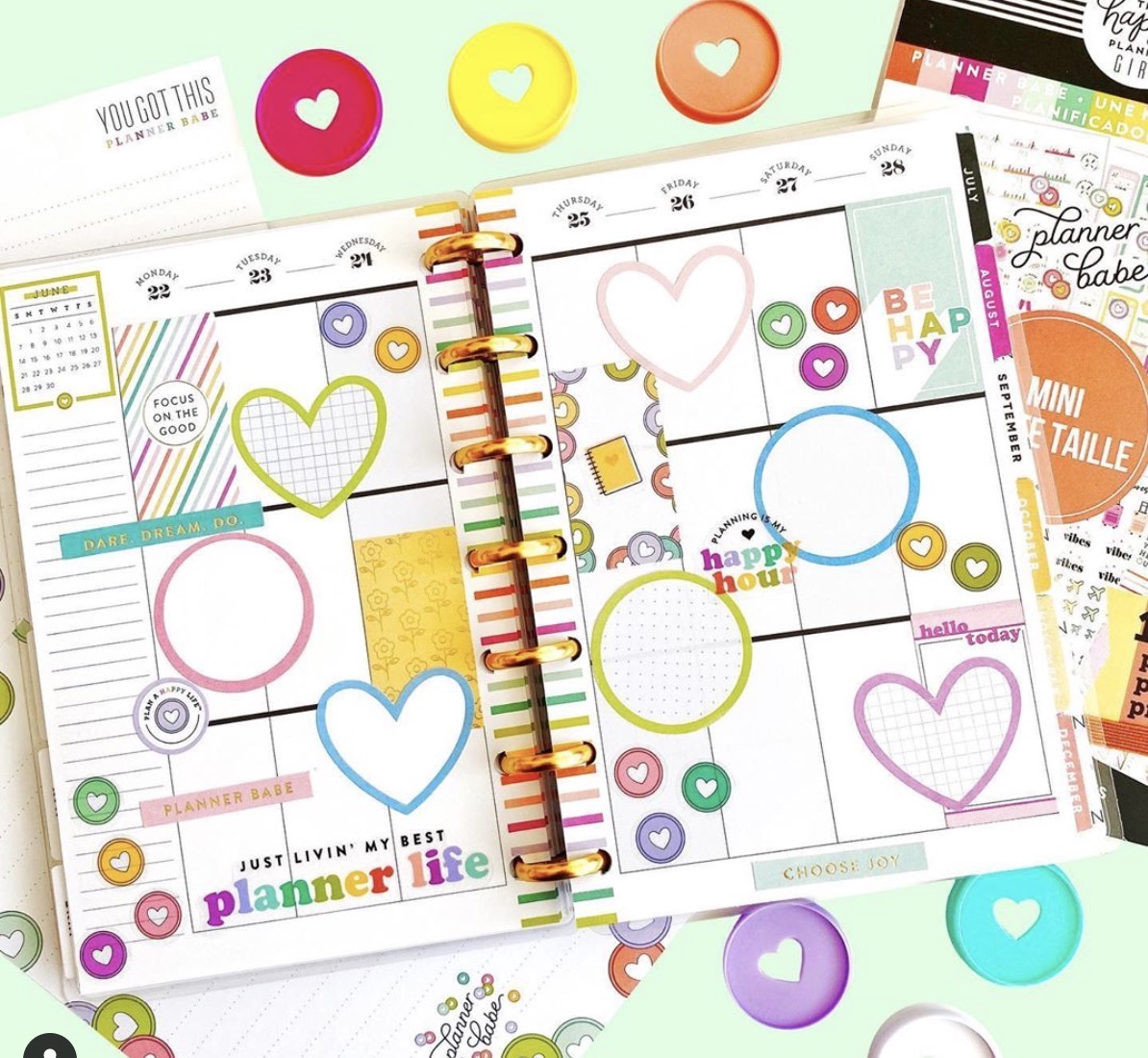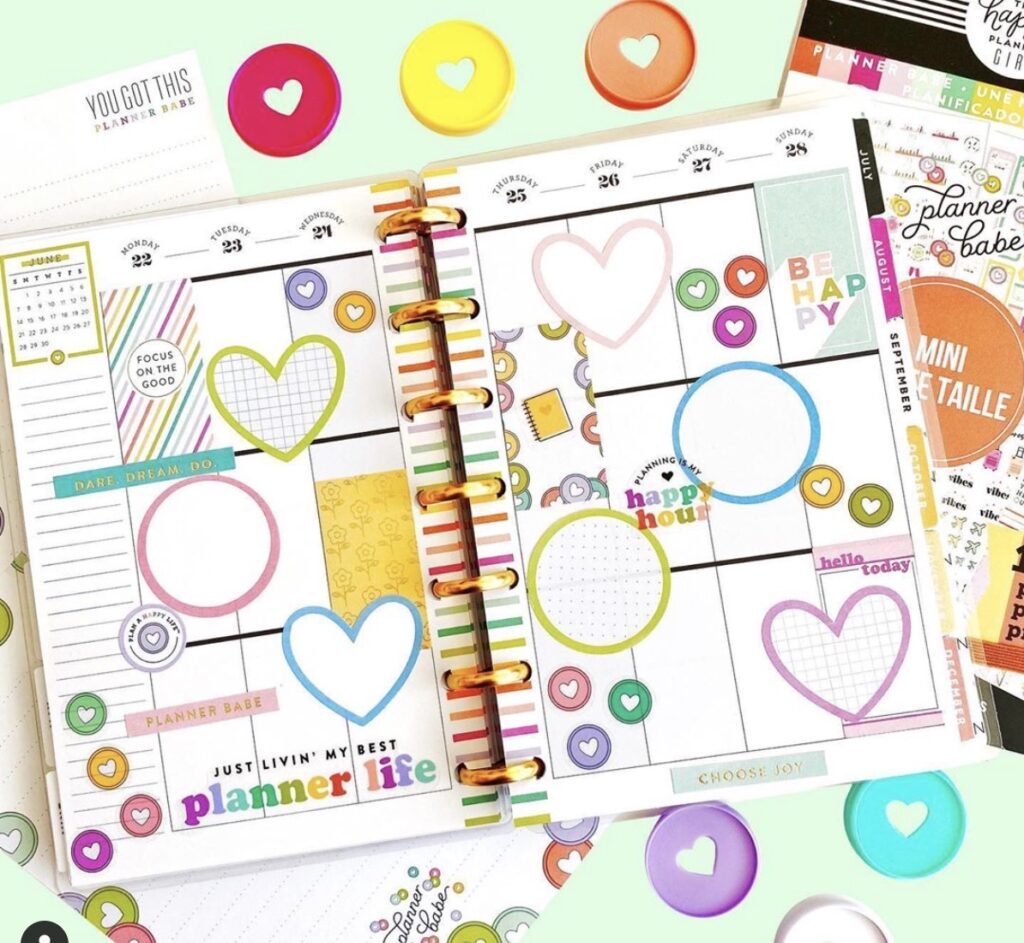 Self Care Trackers
Happy Planner makes different inserts that you can add to your planner. Use the bullet journal dot paper and create a self care tracker. There are so many doodle ideas that you can use to create some super cute spreads.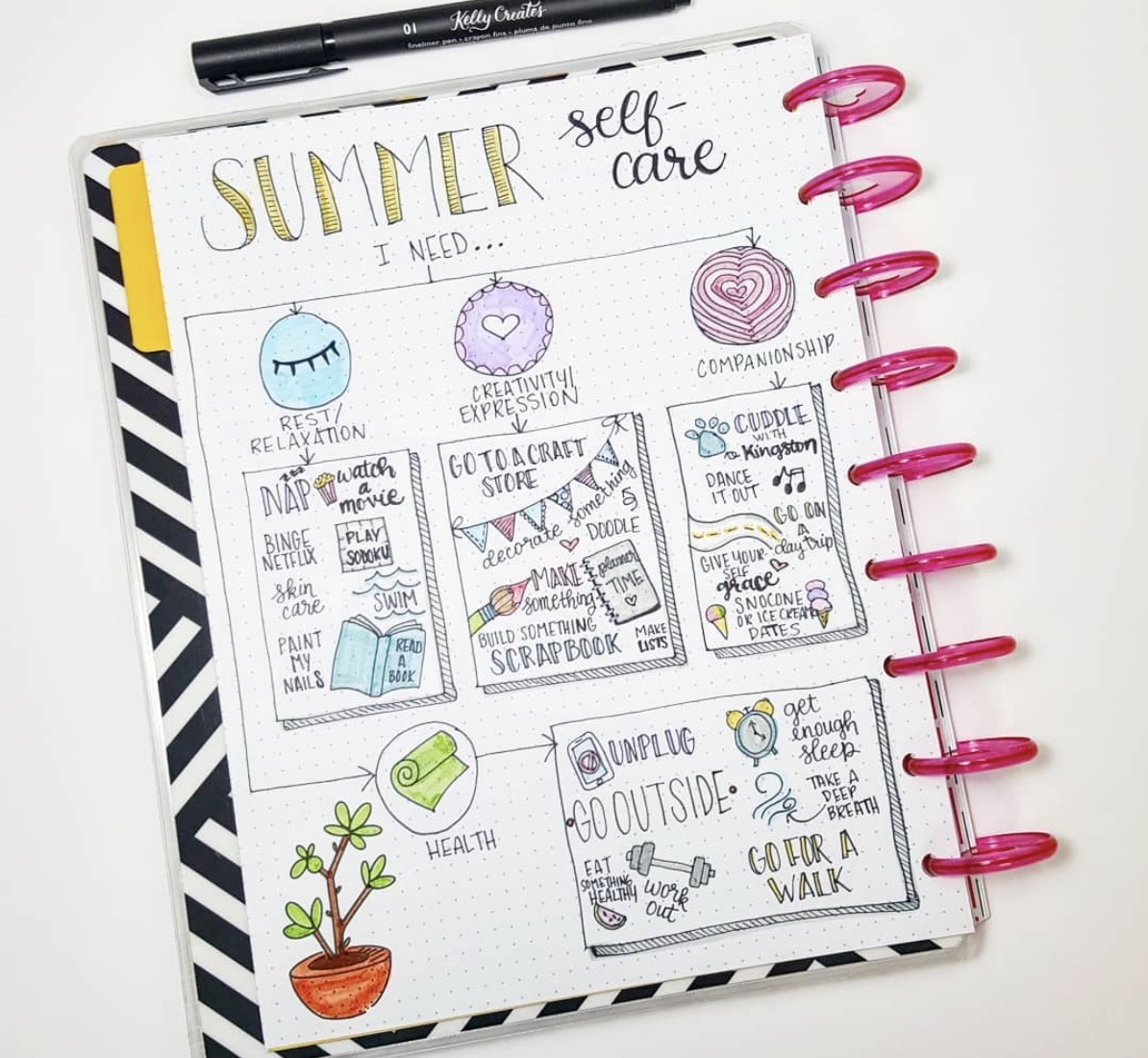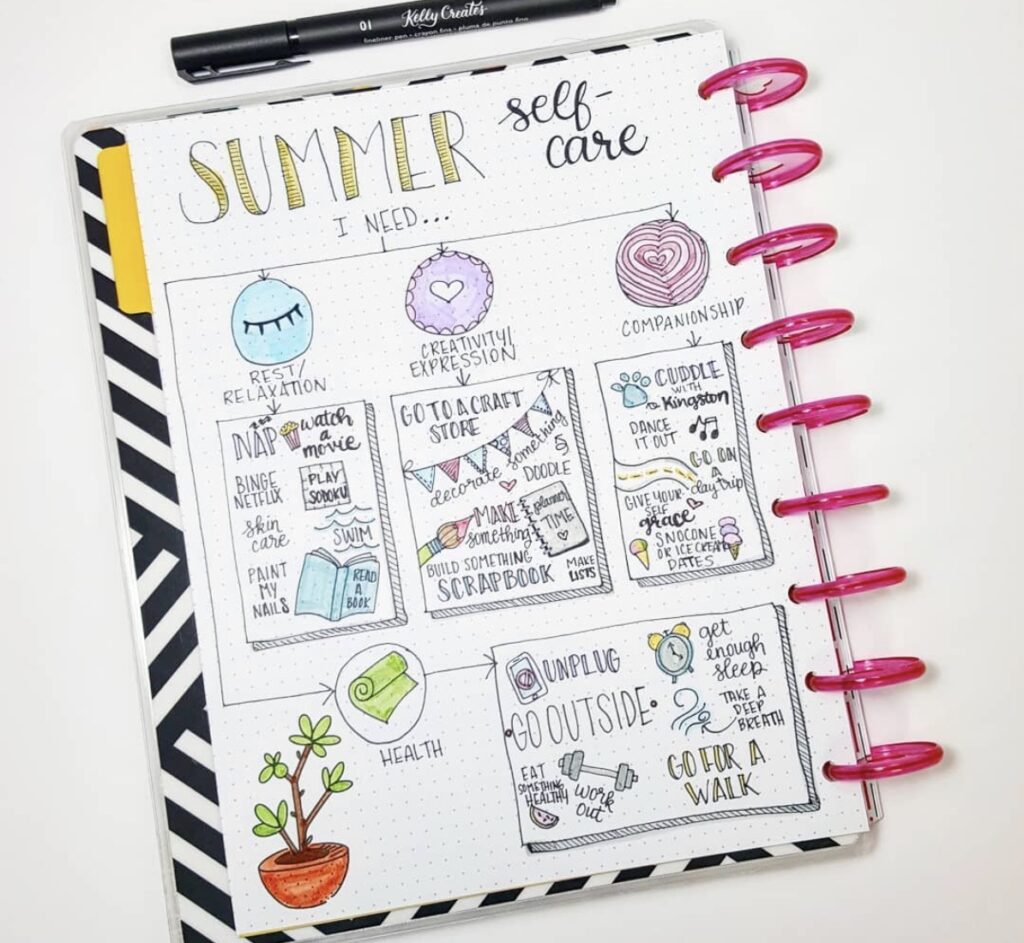 Track Your Planner Supplies
There are ways to track your washi tape collections, the colors of your pen collection, and even all those sticker books that you have purchased (or are about to purchase).