We may earn a small commission for purchases made through affiliate links in this post. For more information go to our Privacy Policy.
With so many planners on the market, deciding which personal planner to use can be hard. That is why you are looking at how to make DIY planners.
You have an idea of what features you need and which ones you know you will never use. Most likely you have looked at every model of planner out there (if not, you can get a good idea of which ones are available in this planner page sizes post).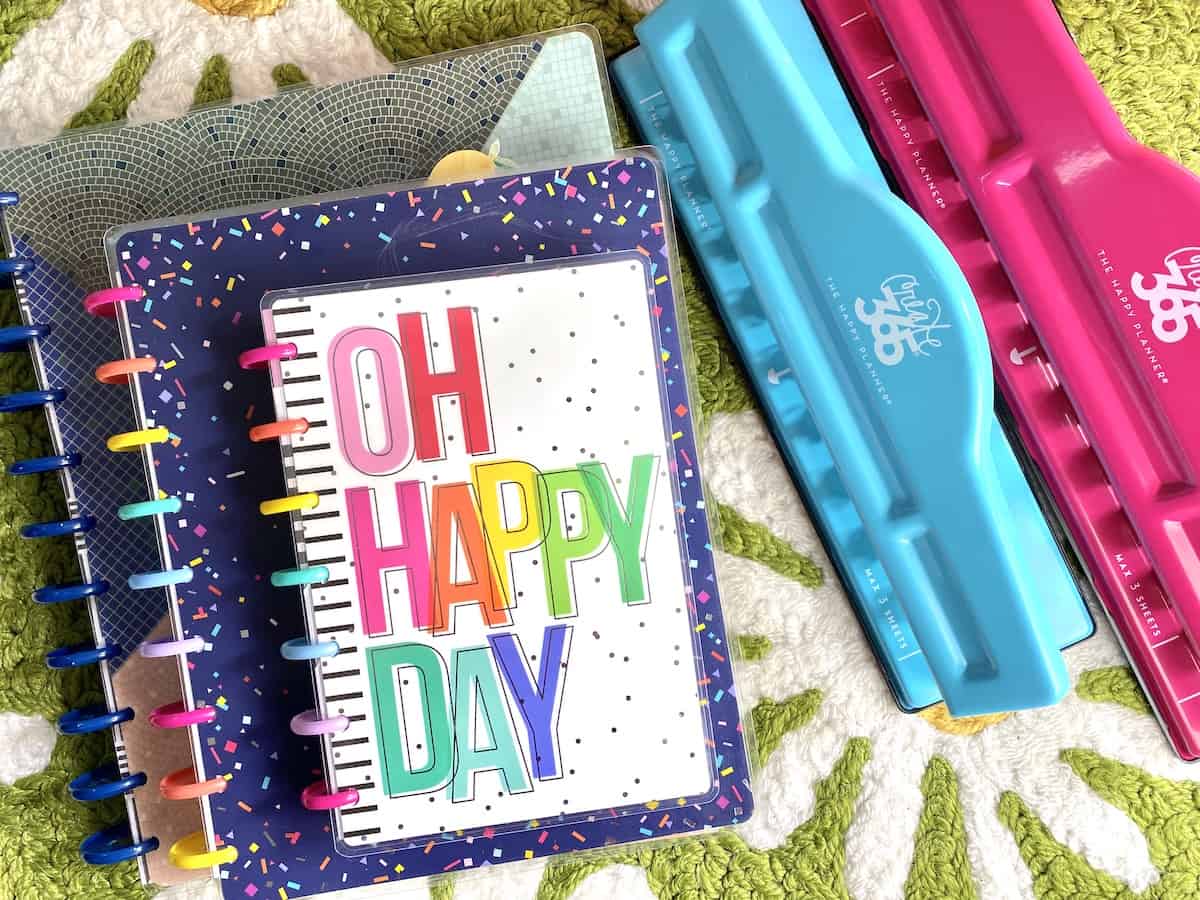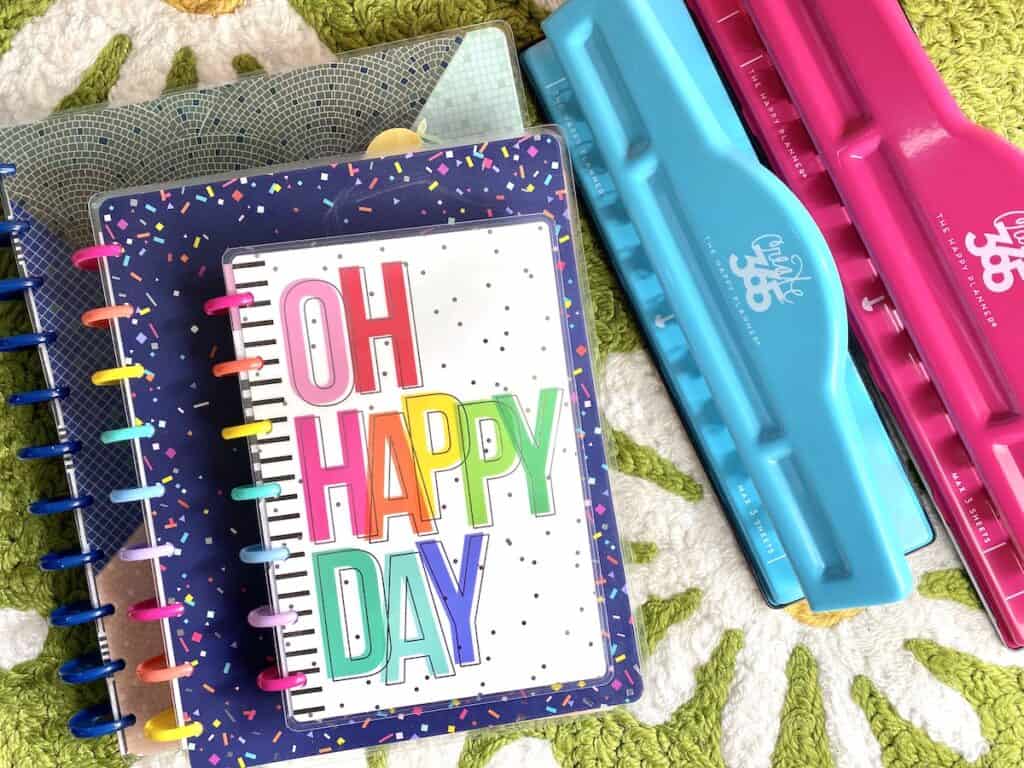 How do you make your own daily planner?
After looking at all the planner options and all the personal planner models, you still can't find a planner that works for you, it is time to make one yourself.
Find a binder system that you like (my recommendation would be a disc-bound system like the Happy Planner).
Get a punch so you can use notebook paper, printed pages, etc. in your planner system (you can find more accessories here).
Print habit trackers, dashboards, and weekly spreads to use in your new DIY Planner. Keep reading to learn more.
A DIY Project to Keep Yourself Organized and On-Task
Making your own DIY planners means you can have a personal planner that reflects your personal style, fits your schedule, and works for the common tasks you do on a daily basis.
You can get yourself organized (and keep yourself organized) because it will be a planner that fits you. No more grumbling and avoiding your planner because it "just doesn't work".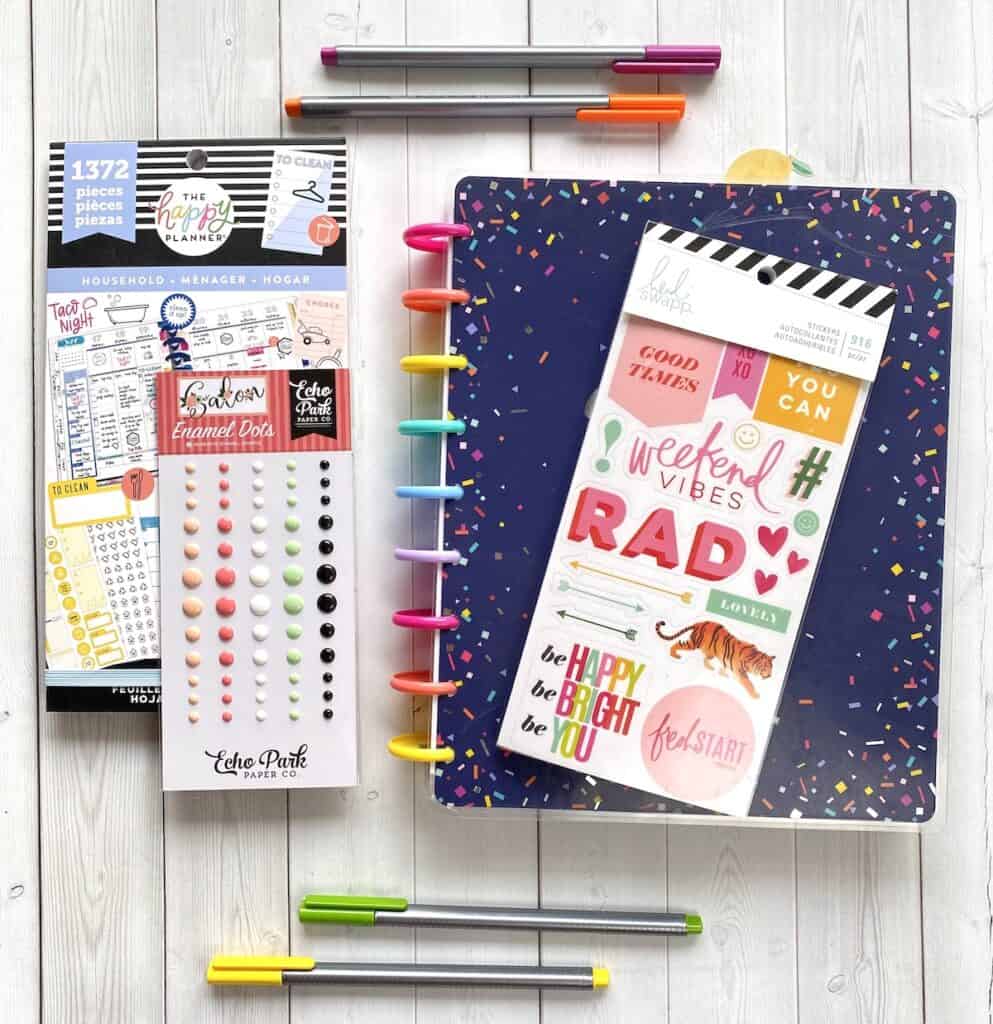 Some of the areas to consider adding your planner would be household pages, work pages, holidays, schedules, cleaning routines, and more. You can find all of these suggestions (bring on the planner printable overwhelm) in different shops online and even from some of the planner brands themselves.
There are also free planner printables available online. Keep in mind that paying for the pages you really love is a viable option that is probably still cheaper than buying a whole planner that you won't use because it doesn't fit your needs. As long as you are really printing the pages and using them.
Planner/Household
Monthly Calendar Pages – your whole month at a view so you can track appointments, events, birthdays, holidays, and other general reminders at a glance.
Weekly Calendar Pages – pages for your to do lists, things you don't want to forget, errands for each day, phone calls, and specific notes for each day (week at a glance style pages work best).
Habit Trackers – you can use habit trackers in your regular planner, they are not just for bullet journaling. Track anything from your water consumption to how many minutes of reading you do in a day.
Meal Planning – these planner pages can be as in-depth or as general as you need them to be. Track what you are having for dinner each night of the week or track it down to the finest details like nutrient macros. It is up to you.
Cleaning Schedules – design a daily, weekly, monthly, quarterly, and semi-annual cleaning schedule. Track the days you want to dust, the last time you cleaned the fridge, or the next time you need to scrub a toilet. Ugg.
Recipes – you can keep track of family favorites for dinner, all your freezer meal recipes, and even your own custom cleaning recipes. This one might eventually need its own space in a separate planner. I can see it growing out of a regular daily planner.
Project Lists – keep track of projects you want done around the house, ongoing expenses for the projects you are currently working on, or even the schedule for your holiday decorations.
Work
Meetings – a month at a glance pages or weekly pages work well for tracking meetings (and your available times).
Important Dates – When do you have that next conference call? Is there an in-house meeting that happens on a regular basis? Add these to your planner so you know when your next one is coming up.
Phone Numbers – We all have phones for this. Maybe you don't want those numbers on your personal phone or you don't want to risk losing them. Phone books and address books are still a thing.
Project Deadlines – DIY planners are a great way to set up your own project management. When is that project due? What steps need to happen between now and then? Track them all in a stylish planner that you made yourself.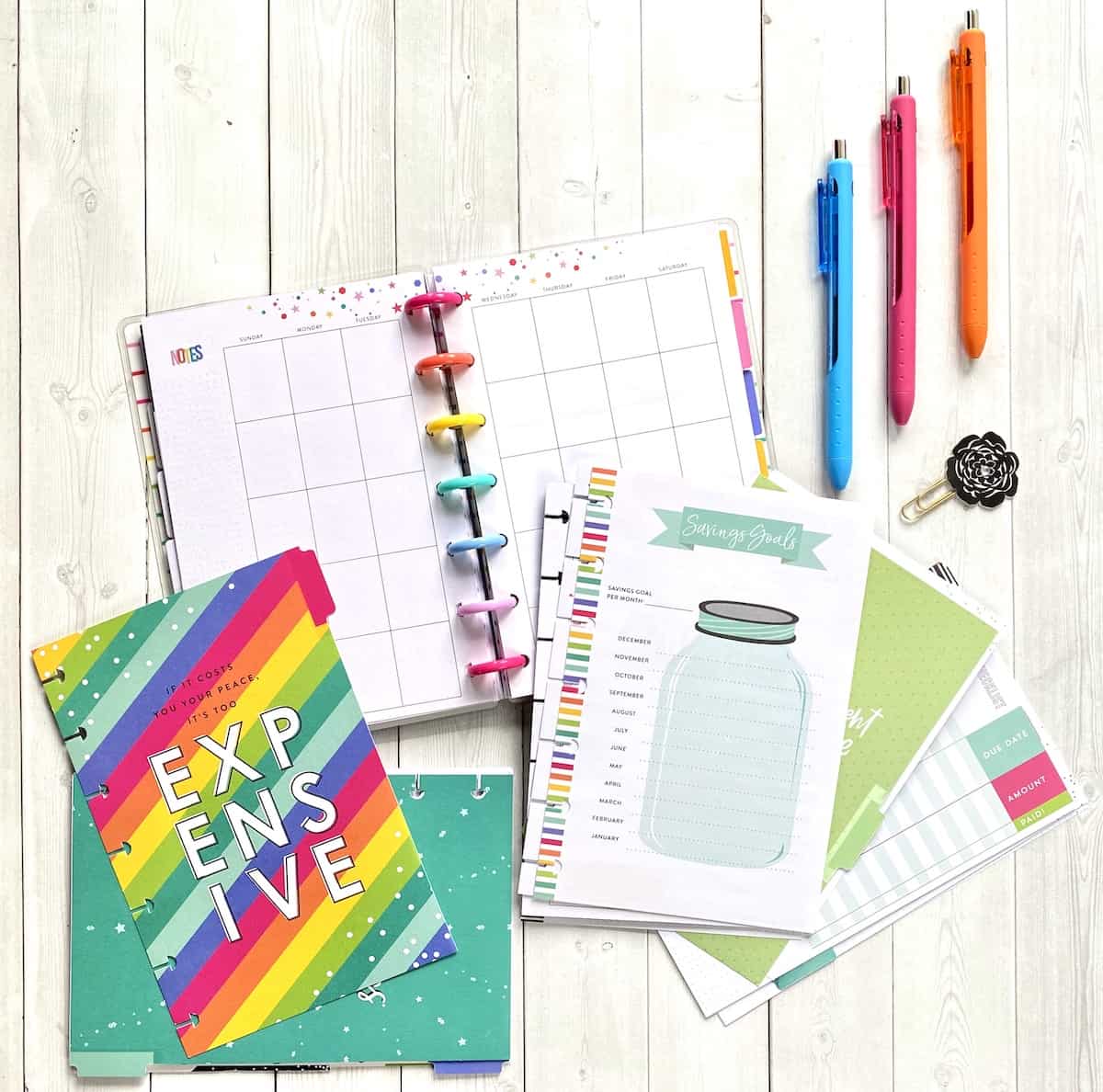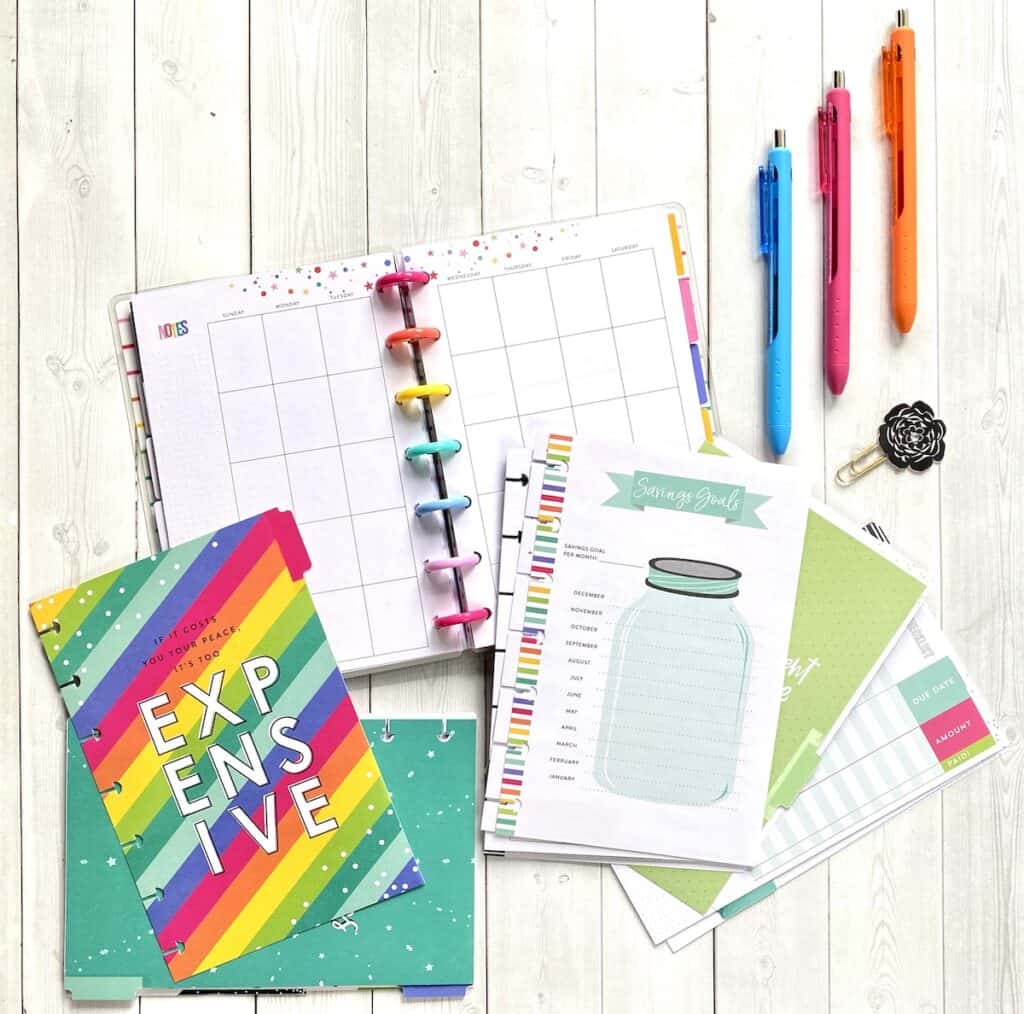 Holidays
Easter Events – plan for meals, family, and your celebrations all in one place.
Halloween Planner – great for planning a Halloween party, all your spooky decorations, and even when you will start watching Hocus Pocus. Its a thing in my household.
Thanksgiving Planner – pages for your huge Thanksgiving meal, the schedule for the food kitchen if you volunteer, or all your shopping. Plan the holiday right with the pages you want or need in your DIY planner.
Christmas Planner – this holiday could probably use its own planner system just like recipes. There are so many things you can use a planner for when it comes to this holiday. Gifts (who is it for, how much will it cost, which ones have you bought already or still need to buy). The elf. And where he will be moving to. Holiday party schedules. Special events. See what I mean?
Customize Your Existing System
There are a number of systems that already have customized inserts and accessories. The idea isn't to only go with planner printables in your DIY planners.
We are working towards your version of the "best planner ever". What that looks like is entirely up to you. I'm just here to guide you and let you know about options you may not have considered before.
There are a number of disc binder systems as well as ring binder systems. Disc binders will require a special hole punch. Some ring binder systems (like a regular good ol' fashion 3-ring binder) can use regular hole punches. Other ring systems like the 6-hole ring binders will also need a special punch.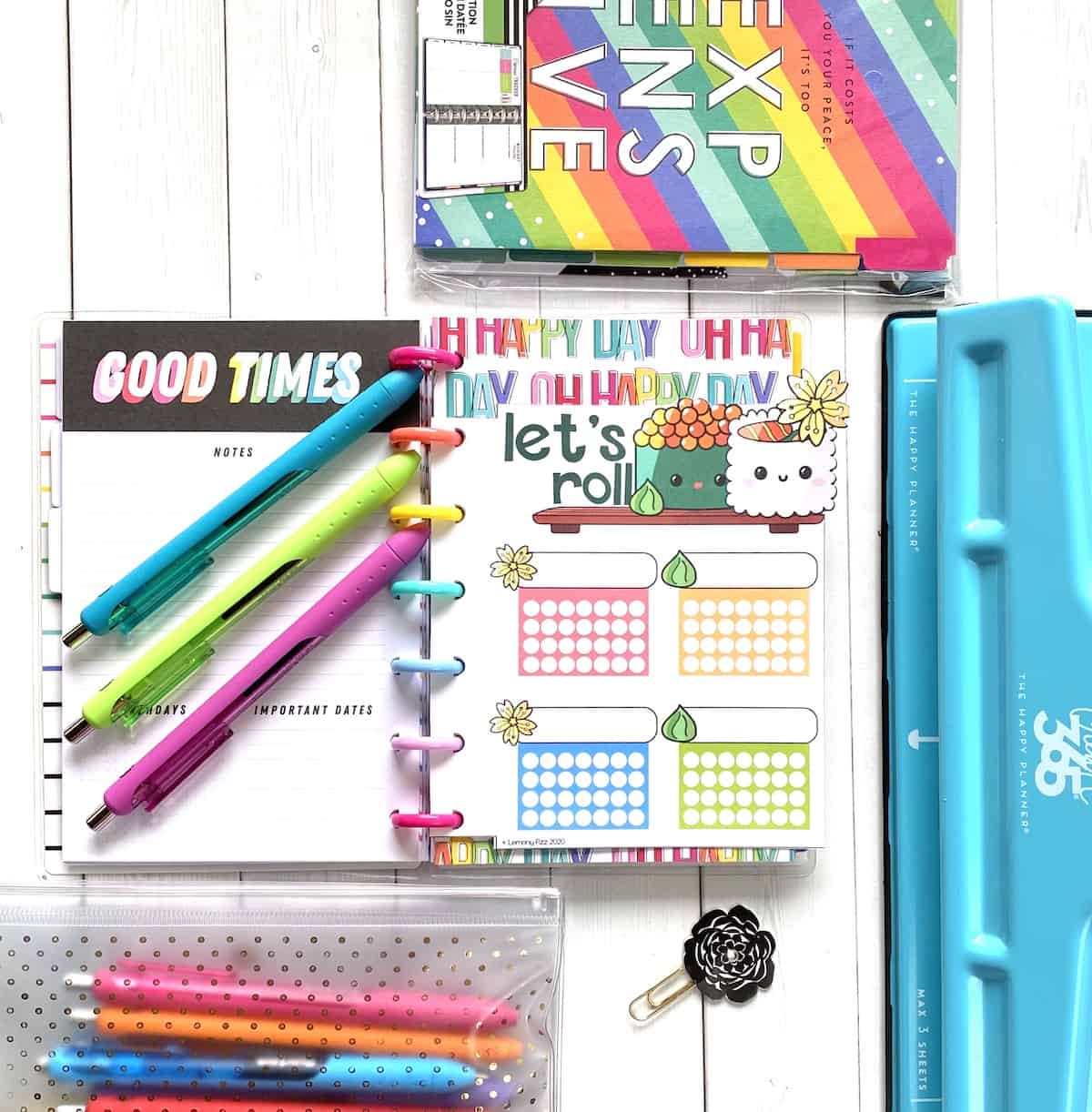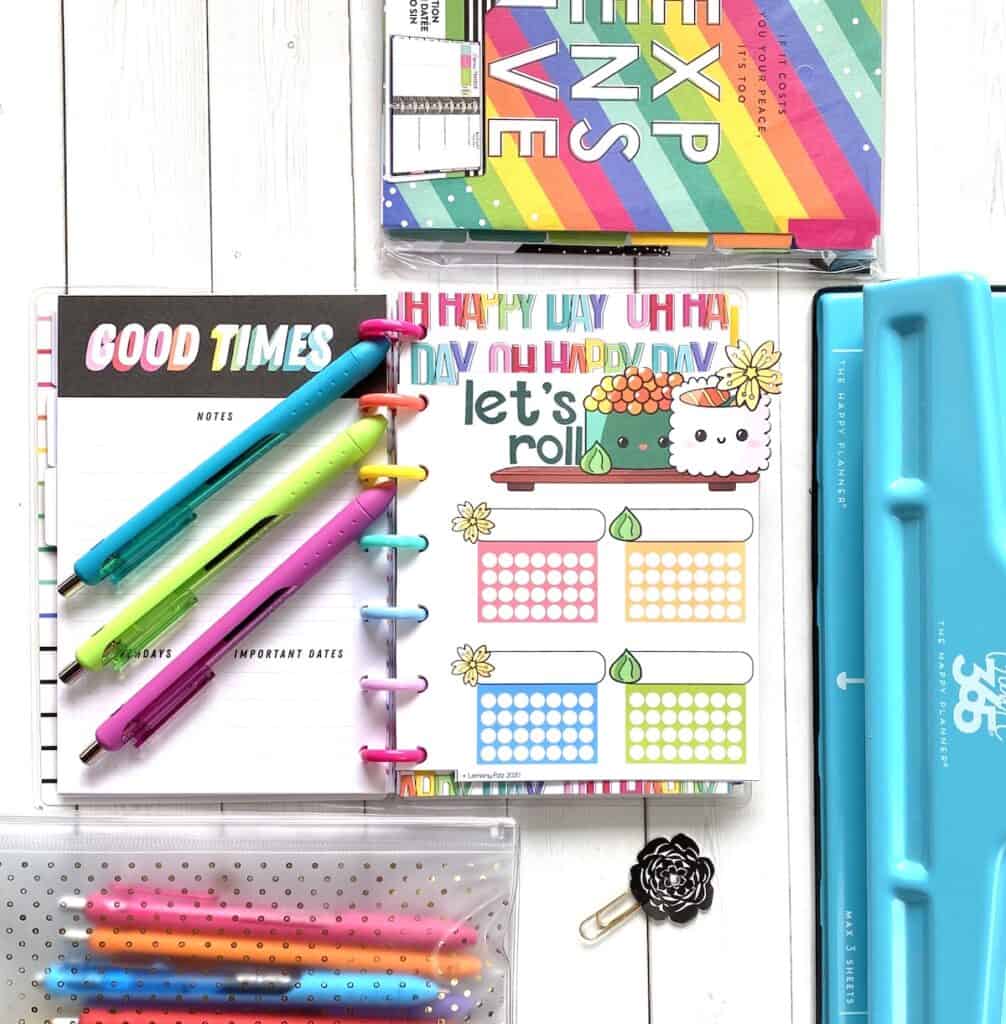 Both of these systems are really easy to customize. You can mix and match components that they already have on the market and then throw in a few planner printables to finish it off. DIY planners…done!
Find a binder to hold your planner.
Pick the binder you want to use for your DIY planner system. You can make your own planner with a colorful 3-ring binder that you pick up at Target. Or you can grab the disc system from MAMBI. You choose what works for your style and budget.
Customize the months you need.
When you are using a system that lets you add and take out pages as needed, you can start anywhere in the calendar month? Is it August and you want to get a jump on learning to use your planner more effectively.
Print the months of the year for the remainder of the year and then into the following year.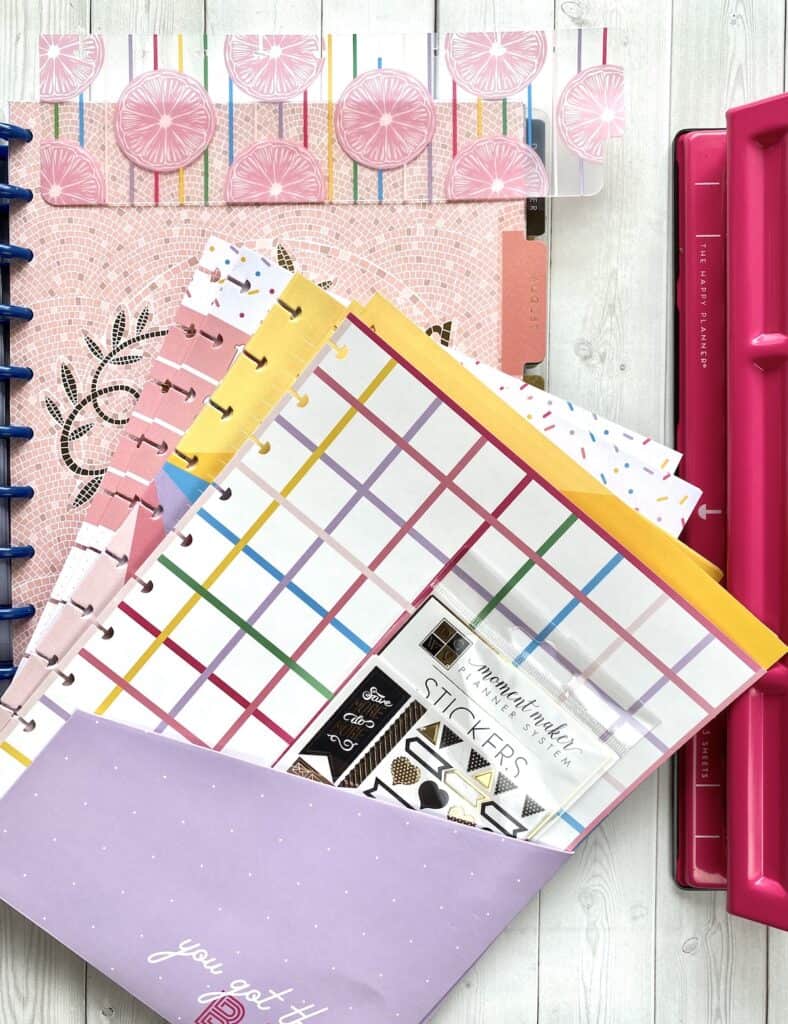 Printable habit trackers
Binder dividers
Challenges
Planner prompts
Cheat sheets for sizes and printing
Or maybe…you aren't sure what style of "month-at-a-glance" works best for you. Maybe you need days of the week to be horizontal instead of vertical. Print 2 or 3 months out. Try them. If it doesn't work for you, customize your planner pages and print the next few months out. Keep tweaking it. You'll get there.
Choose your binder tabs for each week.
Maybe you want binder tabs that specify what section of your planner you are looking for. Or you need a tab for each day of the week? When you customize your own planner, you can pick and choose which types of tabs you use.
There are binder tabs that double as habit trackers or you can cut out a binder tab with your Cricut and customize the text to fit your planner.
Create calendars for specific projects
If you have calendars for more than one thing you want to track, you can design specific calendars for each project.
Do you have a side-hustle? Make a planner for just those items on your schedule. That way it won't clog up your regular household schedule.
This works great if you have a family schedule that you need to keep separate from a work schedule. Maybe you need to track the kids' sports schedule but you don't want it cluttering up your regular day or other appointments.
Creating a separate calendar for different projects or aspects of your daily life will help you to keep things more organized.
Add extra note paper
I love this tip. Journaling has never been my strong suit. But I love blogging (and even had a blog back in the day when it was more diary style). My favorite thing to pull out of the treasure chest are the journals I had to keep in High School English class.
Having journal paper that is included in my daily planner means I can write down things when I am feeling the need to. I don't have to go dig for that "special journal". It is all just in one place. With me.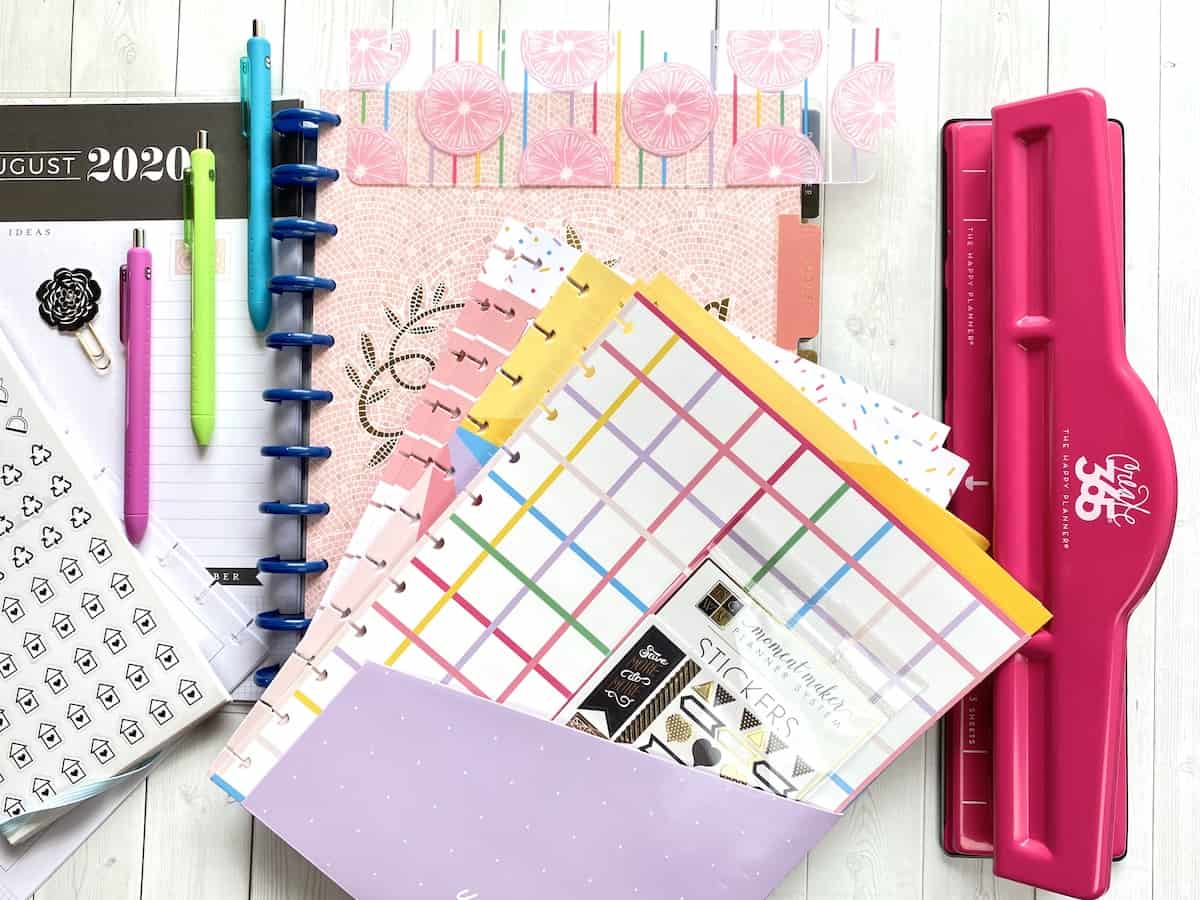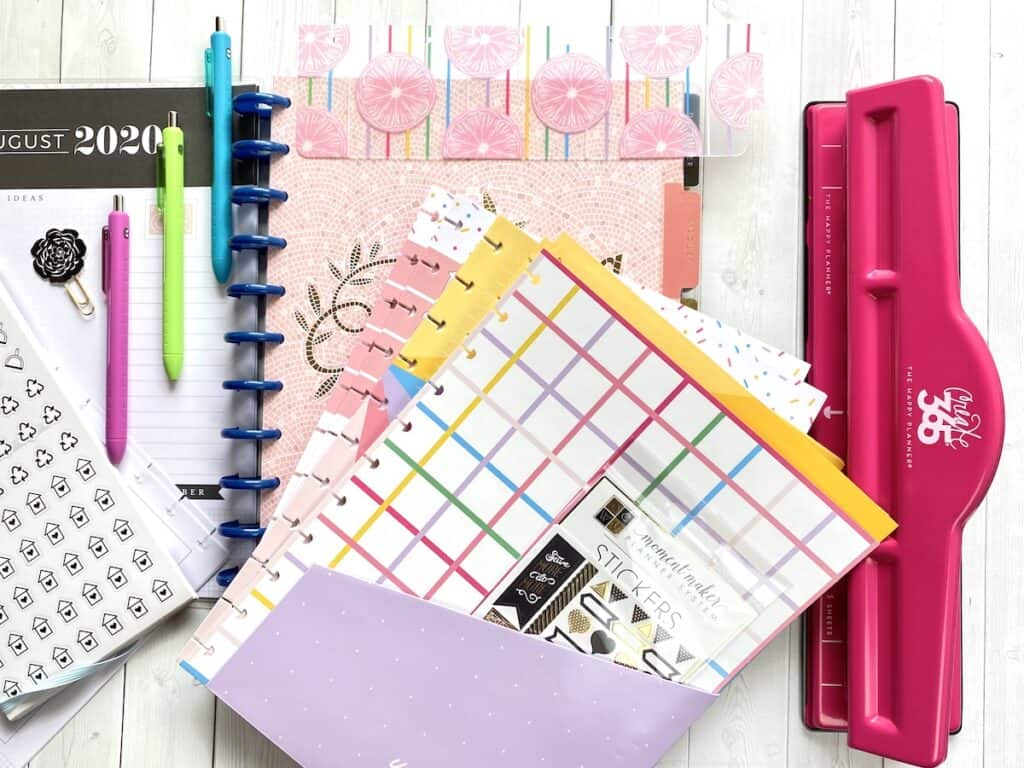 Dashboard Pockets
You can add pockets at the start of each month with dashboard pockets. These are movable since you have a DIY planner format. The dashboard moves to the start of each month or to the week that you are currently in.
These work great for holding stickers, your pens, and even sticky notes. I am always writing things on a sticky. Instead of losing them or having them stuck all over the house, I add them to my dashboard or the start of my month.
This works great for ideas that pop up but I don't plan to implement for a month or two. They also work great for things that I need to add to my weekly agenda but I'm not sure where to put them yet. I write them on a sticky and then place them on that page to remind myself to schedule it in when I get there.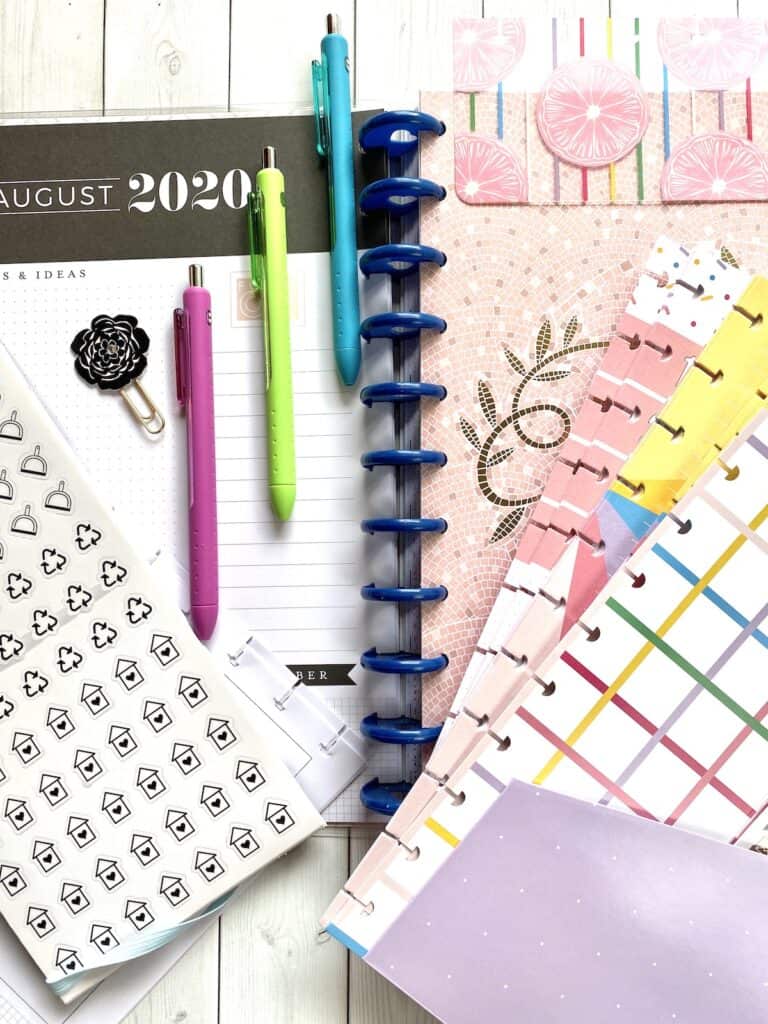 Print Your Own Pages with Printables
We have discussed this a little bit already.
There are so many great printables out there for you to use when making your own planner.
These can be turned into a stand-alone planner or you can add them to your custom DIY planner.


Most of the planner pages that you can find online can be resized and printed on a quality paper. This means you will have a planner that is just as good as the designer planners you can buy. Maybe even better because it will be customized to fit your needs. So you will actually use it.
Get Crafty with Cut and Paste
Just like putting together your own custom planner sections and printing the pages you will actually use, you can also print pages that you intend to cut up.
Did you find the perfect section for your meal planning, but you don't like the weather section? Print it out and then cut and glue it onto a different planner page. Add in some scrapbook paper or stickers.
You don't have to spend a fortune to find the pages that really speak to you. Include those in your planner. Mix and match the other parts.
Use a blank notebook to make your own month-at-a-glance and then have journaling pages for gratitude.
Set up your week-at-a-glance, include your cleaning schedule, and then spend some time being creative and scrapbooking a memory for each day.
Make it yours.
Get Creative
If you find many different planner pages that you love and want to mix them all together, you can do that.
I personally love the planner style of a Happy Planner but I don't really use the "days of the week" pages. With a little creativity, I can cover the days with a different header and turn those into journaling boxes.
Or I can add doodles to represent my day.
I have also been known to mix bullet journaling into my daily planner because I like the creative aspect and the habit trackers.
My first love is paper and scrapbooking. I like to mix and match all of that into a creative journal. But then I throw in aspects of brain storming and business planning.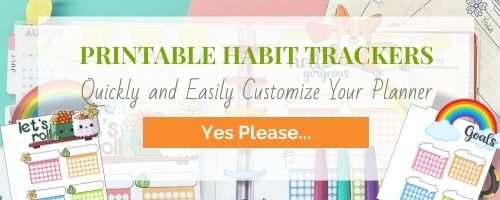 The Results
Think about what you really want to achieve. What are your goals. Do you need something to help you stay accountable on your weight loss journey? Are you looking for a place to express your gratitude everyday? Or do some mindful journaling.
That can all be added to a daily planner that also tells you when the next dental appointment is scheduled, that the car needs an oil change, and that dinner will be chicken enchiladas.
Life is a blend of the crazy busy moments, the creative moments, and everything in between. Your planner can reflect that when you take the time to make your own DIY planner pages and system.
Show me your creative planner
Have to worked up your own DIY planners? Tag me and I will happily share them on my social media accounts: #lemonyfizzplanners