Craft Room Organization and Storage Ideas
We may earn a small commission for purchases made through affiliate links in this post. For more information go to our Privacy Policy.
It's time that you take control of your craft space with craft room organization. Looking at your creative space can be a little mind-boggling.
All you want to do is step into your happy place and make something.
Instead, you walk in and your skin starts to crawl and all you can see are the thing that need to be tossed in the trash, reorganized, or sorted and put away.
Not having an organized craft space is stealing away your creativity and happiness.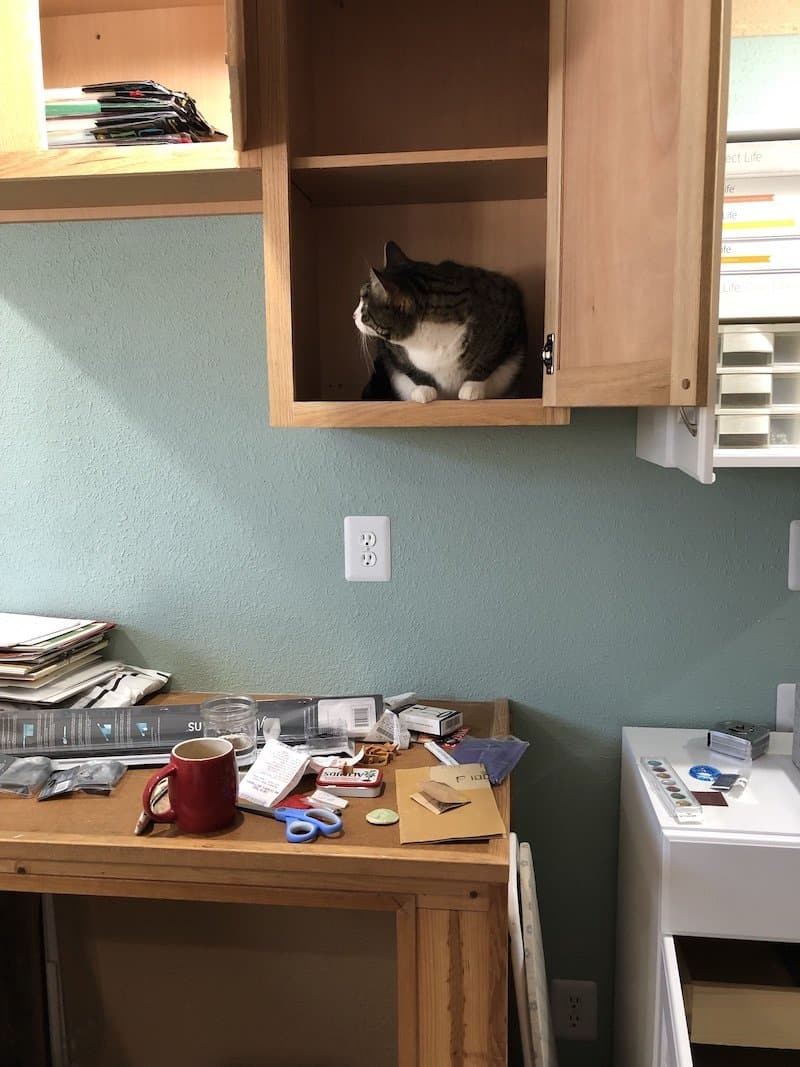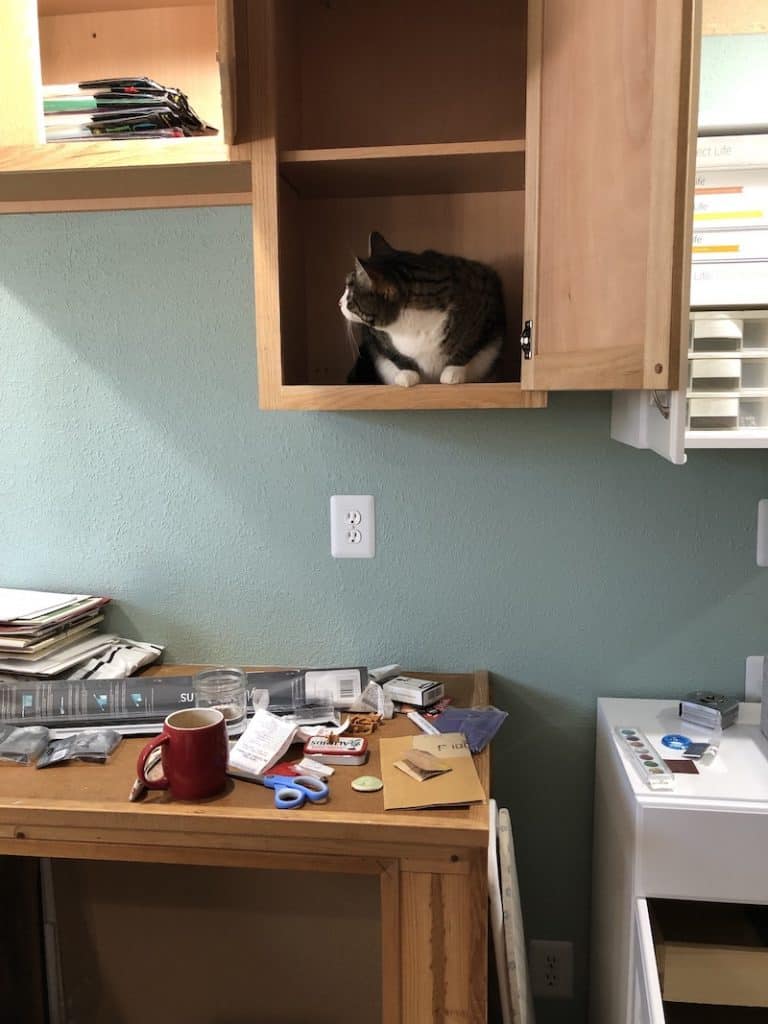 So how do you go about overhauling your craft space when it seems like such a daunting task?
Baby steps, darlin'!
Just like anything else, you need to start with a few basics. Break it down into manageable steps and processes. Before you know it the whole space will be set up in a way that works for you and your creative processes. And you will be as happy as a clam in your craft room (area, space, whatever you call it).
Organization For Any Space
What do you craft in?
It can be a closet, a weird space off the laundry room (that's what mine is), a full-blown room, a she-shed, a corner of the living room or kitchen. It doesn't matter what part of the house or property you set up in. Once you claim the space for your crafting, it is officially your "craft room".
What does matter is that you need to make that space work for you and your creative workflow. It is your creative time. Your creative space. And your creative style.
I'm going to walk you through my room and how I set up my space. This is just to give you some ideas and maybe get your creative juices flowing with ideas that you can steal for your own craft space. It's craft room inspiration!
Take these ideas and use them to make your own creative space work for you!
You can also get some work-throughs, questions, and worksheets to use in this craft room organization guide.
My Craft Room (and the Major Overhaul)
I don't have any before pictures. One day I came home from school and just started sorting, trashing, and overhauling. I think it had been on my brain to do a complete craft room overhaul and refresh. But it never really came on as a fully conscious thought.
Until I was in the middle of it.
Then I remembered to take a before photo. This is my craft space at the bottom of the stairs before you turn into the family room or laundry room. My husband built the benches into the room when we first moved into the house.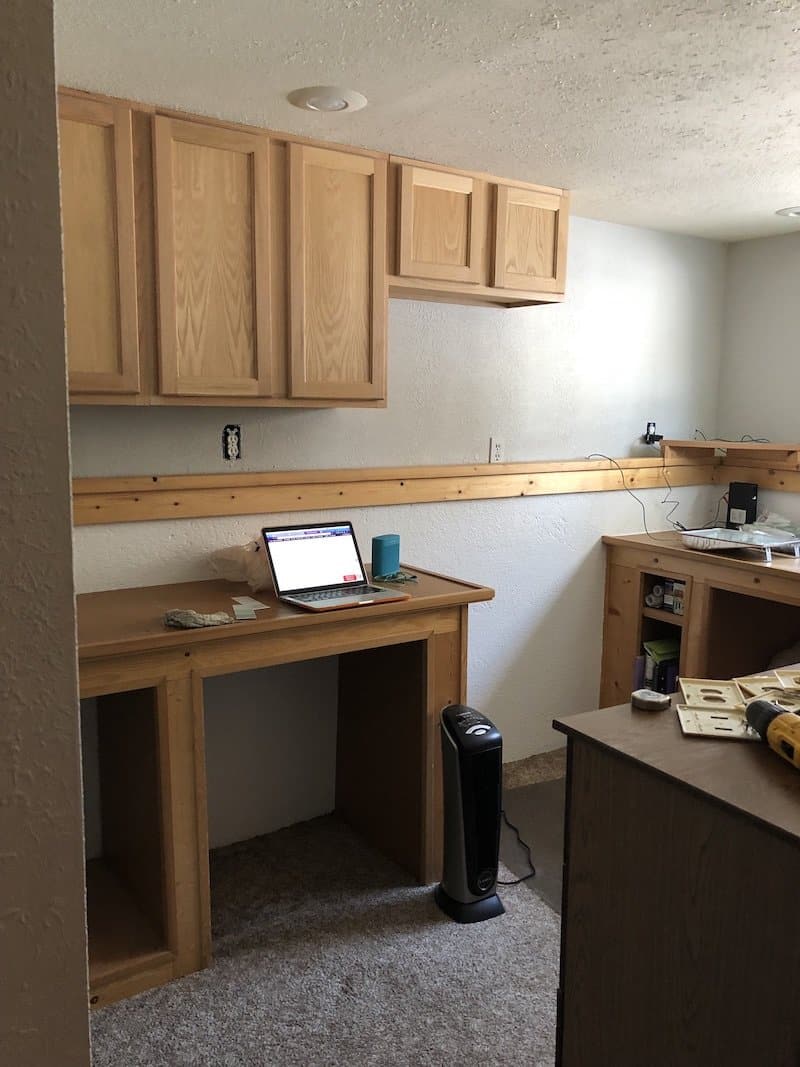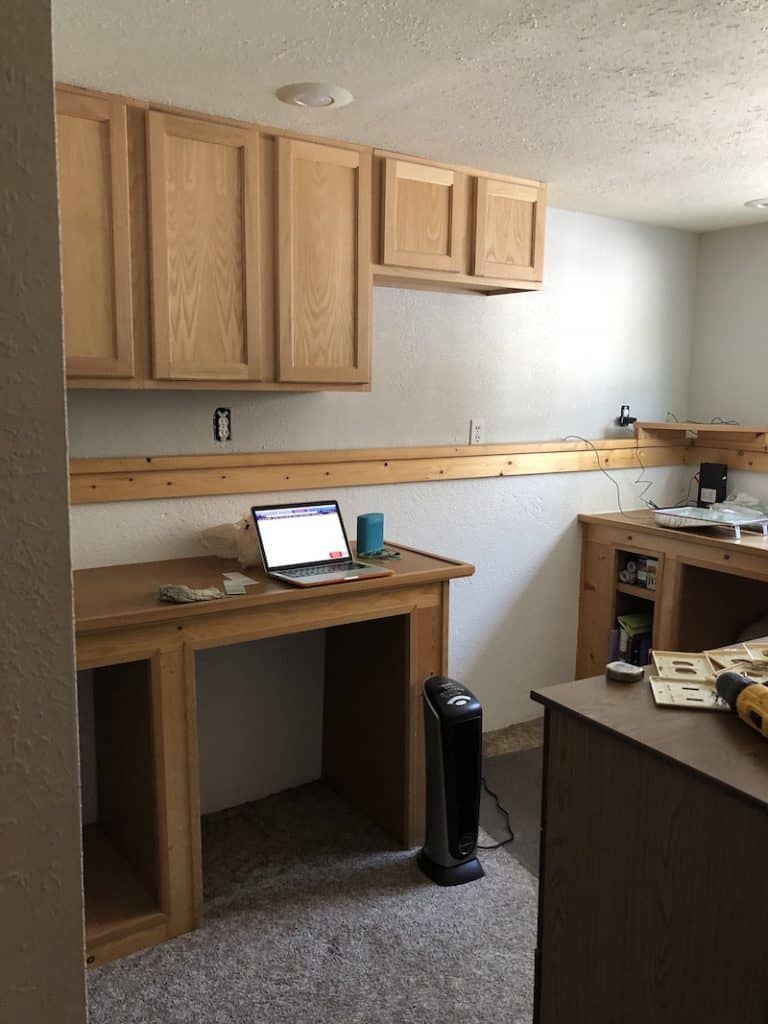 A few years later I bought all the wall hanging cupboards. The walls were a burnt orange (because a local contractor gave us gallons of the crap for free). The concrete stem wall was a grey-blue. It was a dark and depressing space!
I did a complete gutting (other than the built-in counters and cupboards. Moved everything into the family room. Did a harsh purging of my supplies. I repainted and then started making plans for new storage and a revised workflow that fit my Cricut and taking photos and videos.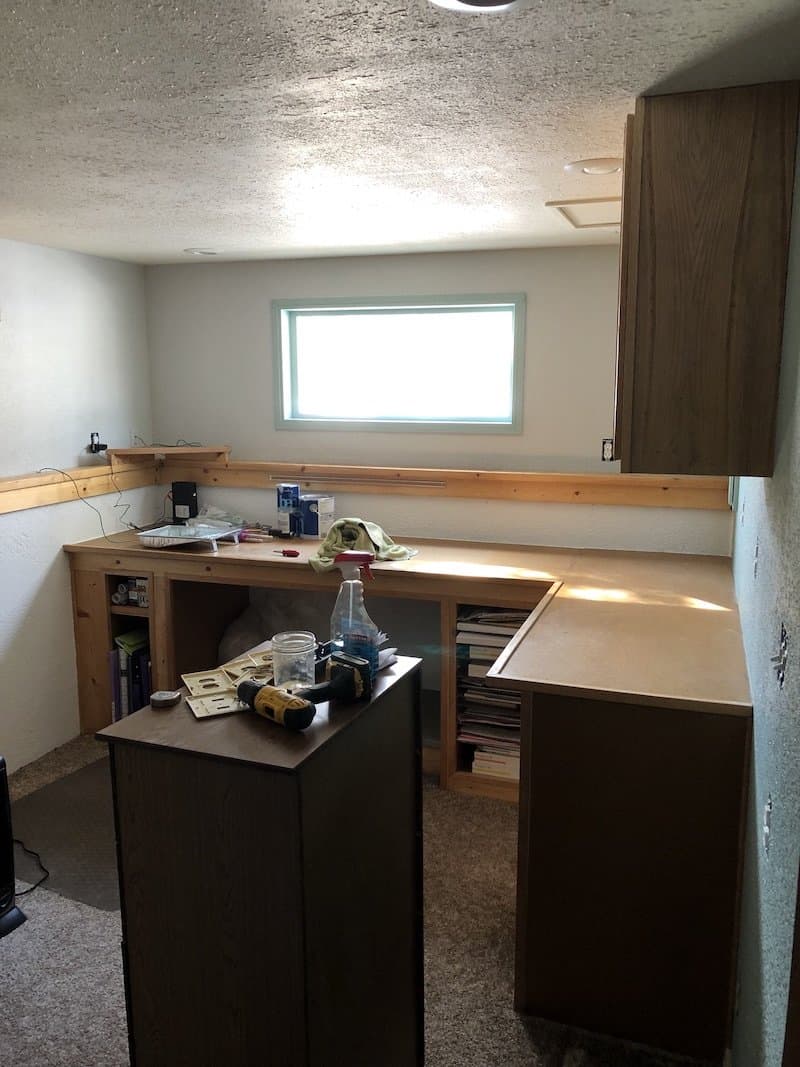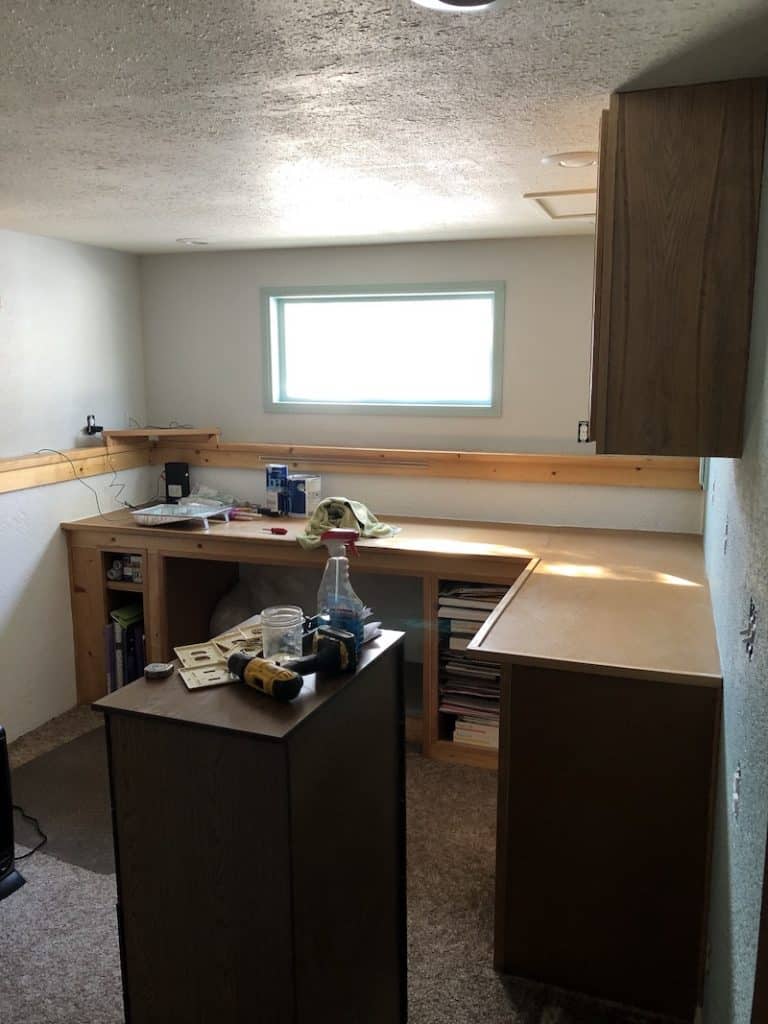 What I Use for Storage
As you can see from the photos, I already had a LOT of built-in workspace. This is a blessing and a curse all at the same time.
Blessing: loads of counter space to spread out on. I can work on different things at different stages and leave my projects on the workbench. This means I can work on something, walk away and then come back to it (and it should remain untouched unless a kid or cat decided to visit while I was away).
Curse: They are built at custom heights and widths. When we put them in, we didn't think about future use and pre-fab cabinets, cupboards, or storage. NOTHING pre-built will fit under them. I had a whole section that I wanted to put drawers under. That was a no-go. The one piece of furniture that we managed to squeeze under a bench had to be custom cut to fit! There was some cussing involved!
Markers, Washi Tapes, and Ribbon Storage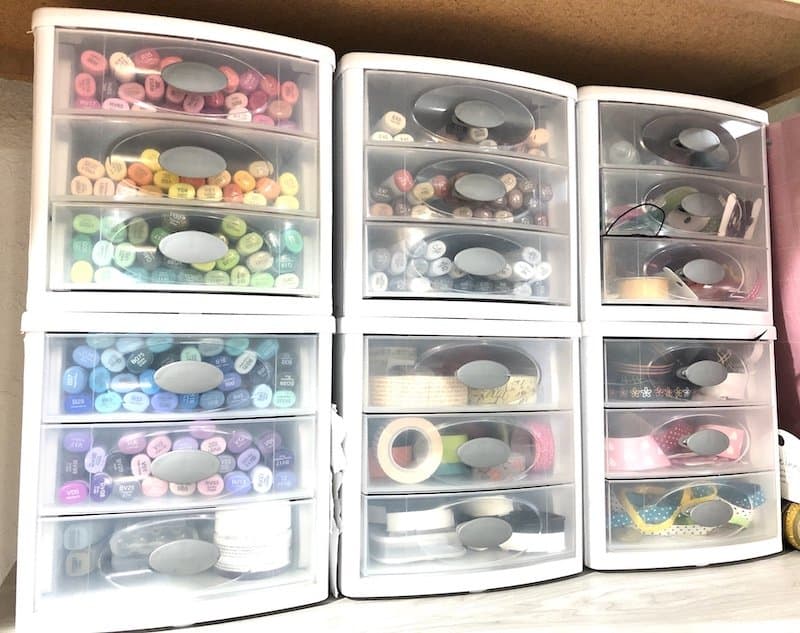 I think these are a Rubber Maid drawer set. I've had them for years. They fit into cupboards, on my built-in shelf (I used to have them under the window) and now they are on a pre-made shelf that I grabbed at Lowes.
This is the home of all my Copic markers, washi tapes, loose ribbons, drawing pens, and small ink pads.
I love that I can pull a drawer of markers out and take it to my work table. When I am finished coloring the drawers just slide back into their drawer space. Easy to access. Easy to use.
Under Counter Storage for Odds and Ends
Costco had these 13 x 13 storage containers in sets of 5. These containers are amazing for storing papers, fabrics, memorabilia, felt, and odds and ends.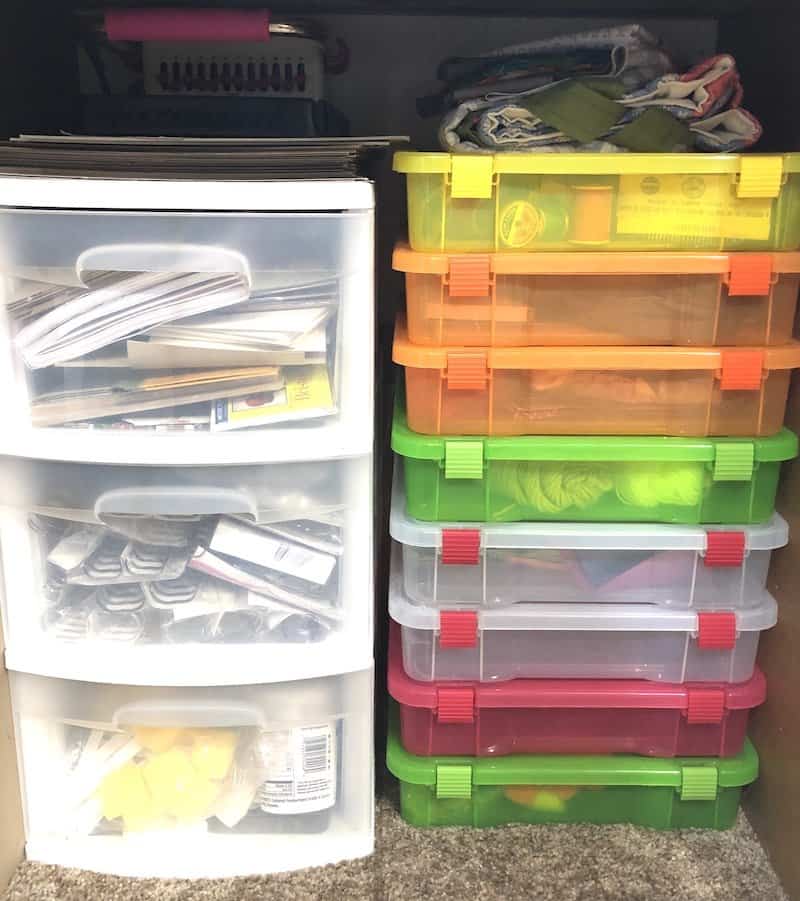 I have them under two different workbenches. This one is mostly for fabrics, yarns, and felts. The white Sterilite drawers are for painting supplies and art journaling (binders, papers, covers, etc.)
Cardstock and Pattern Paper Storage
I am one of those "out of sight, out of mind" people. I have to SEE what I have to use it. Sometimes, I remember that I have a set of papers and I will make a project specifically for that set. Most of the time I have to look at it, become inspired, and then use it.
Having my cardstock where I can get to it easily is one of my main craft room necessities. My husband built in a paper shelving system for me when we first transformed this space. The shelf sizes are adjustable, so I can have some larger space at the bottom for other storage.
This paper rack is similar to the Ikea Paper Storage hack that you see on Pinterest. The only drawback is that it isn't a movable shelf. It stays right where it was built!!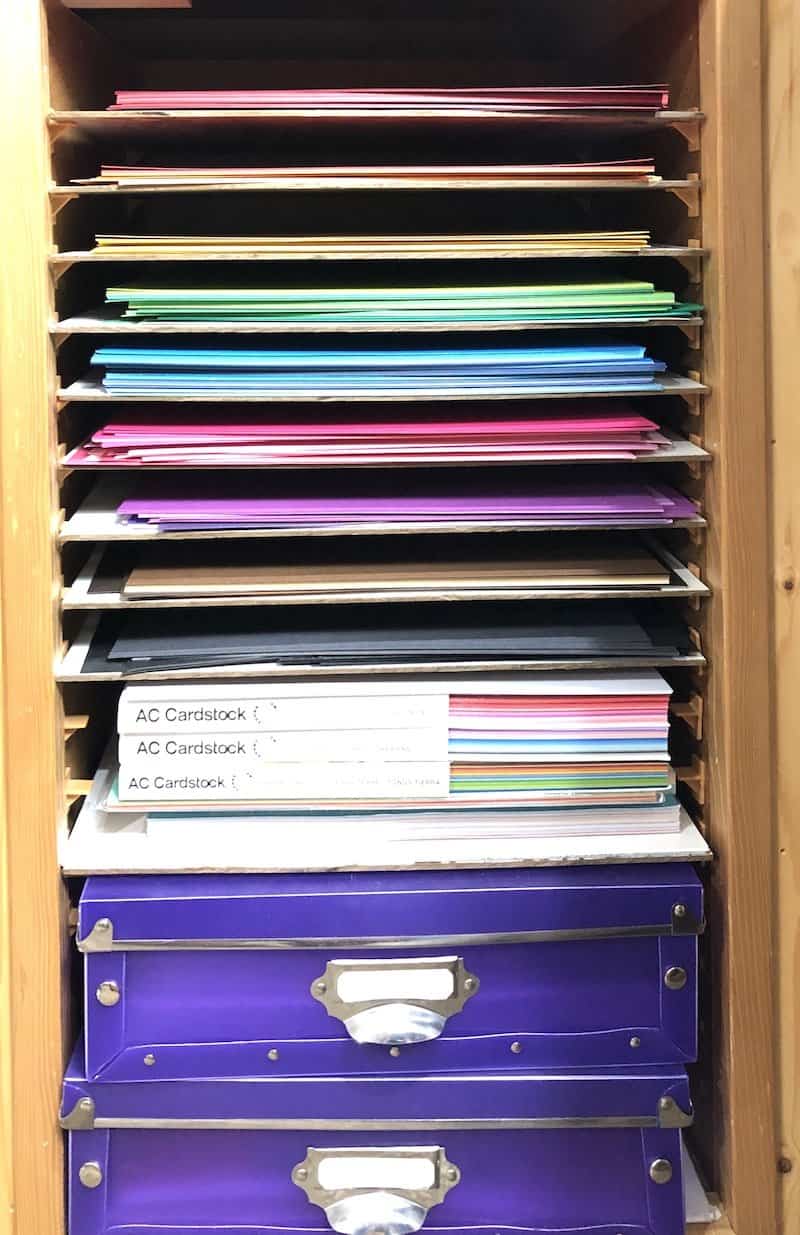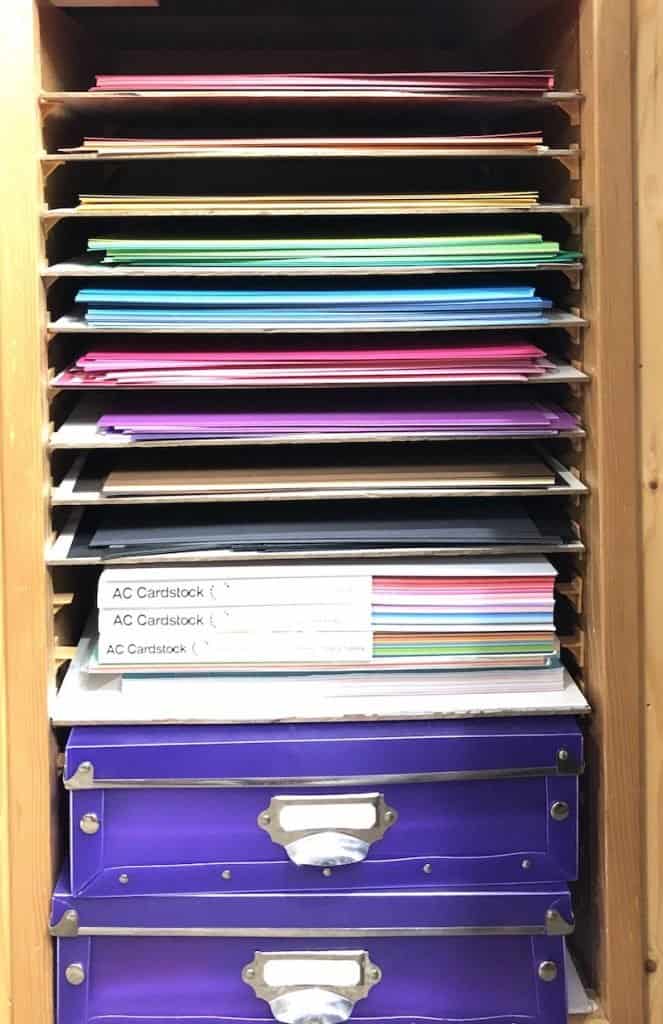 Being able to easily dig through my pattern paper is the next requirement. I used to have it all shoved away in a few of those purple storage containers.
One problem with this was that I never knew what I had and didn't want to dig to find new papers. So I just didn't use them!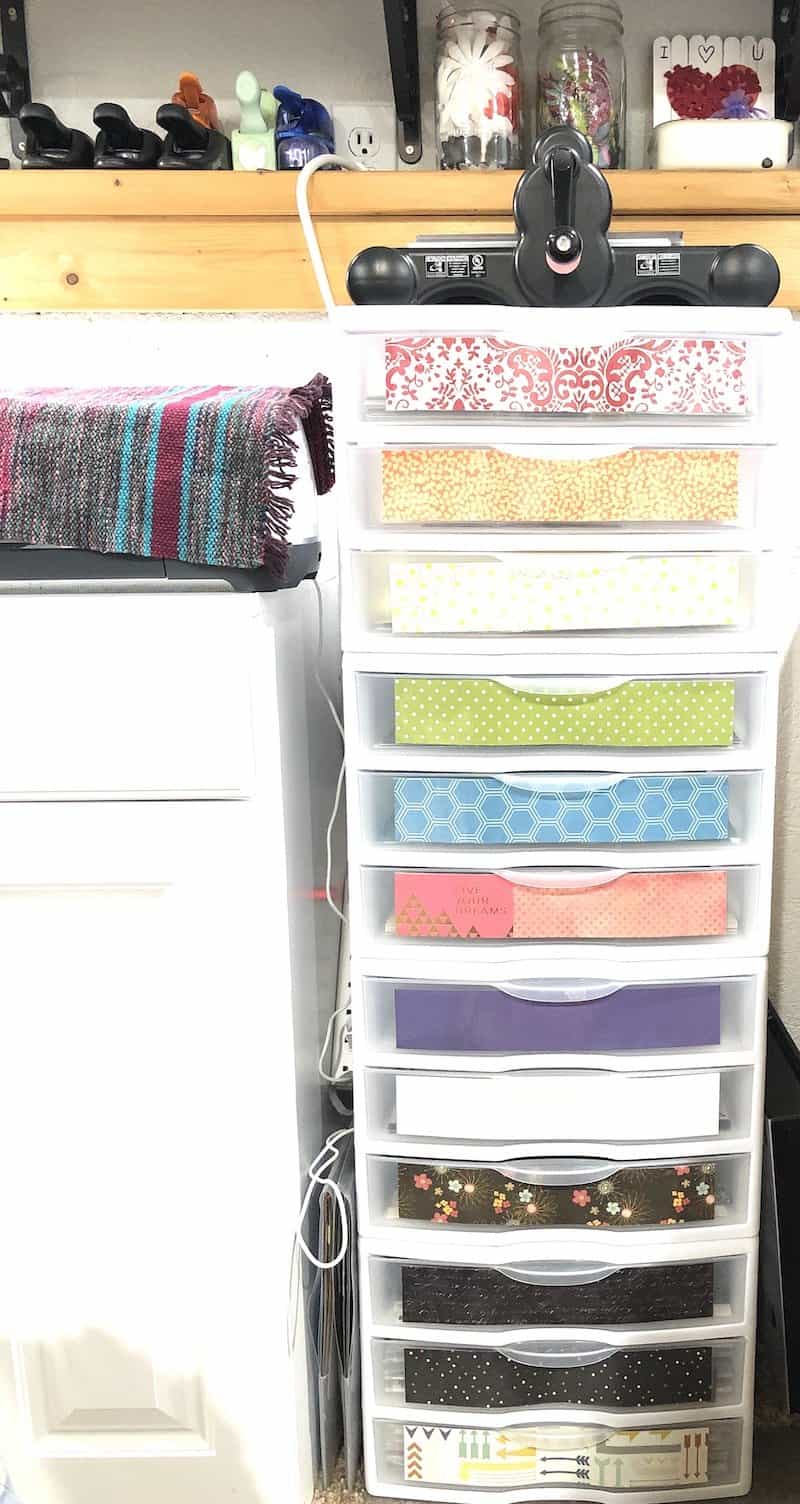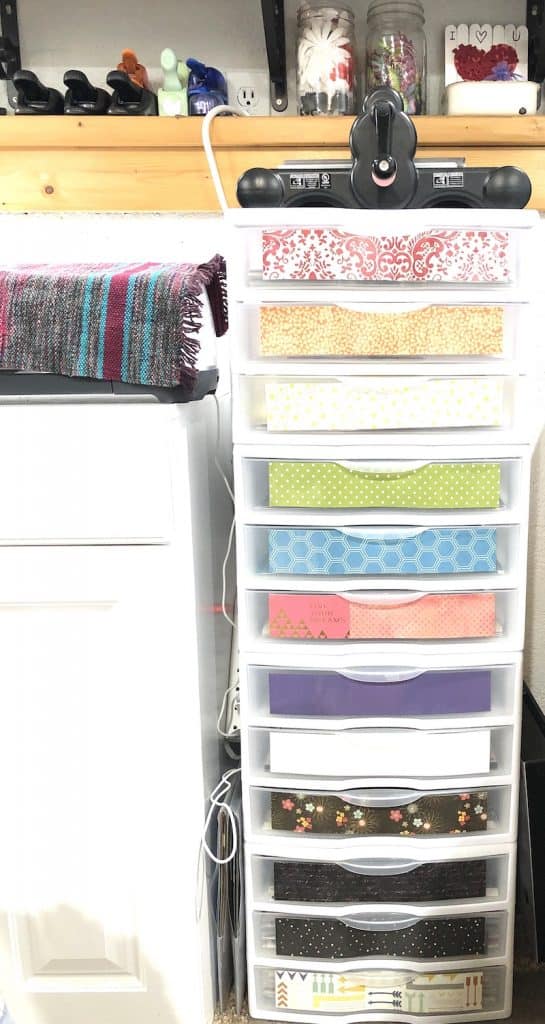 I stacked a number of the Sterilite drawers on top of each other (they are 3 drawers to a set). Then I cut a piece of pattern paper in each color that I wanted to sort my papers into and laminated them. The papers are hot-melt glued to the front of the drawers.
Not only does it help to "decorate the room" and add some color, but it also helps me to know which drawer I need to pull open for a specific color palette.
Vinyl, Cricut Tools, and Heat Press Storage
My vinyl and heat transfer vinyl is stored in cupboards with pull drawers that I found at Lowes. I use one cupboard and set of drawers for regular vinyl and the other for my Easy Press and heat transfer vinyl.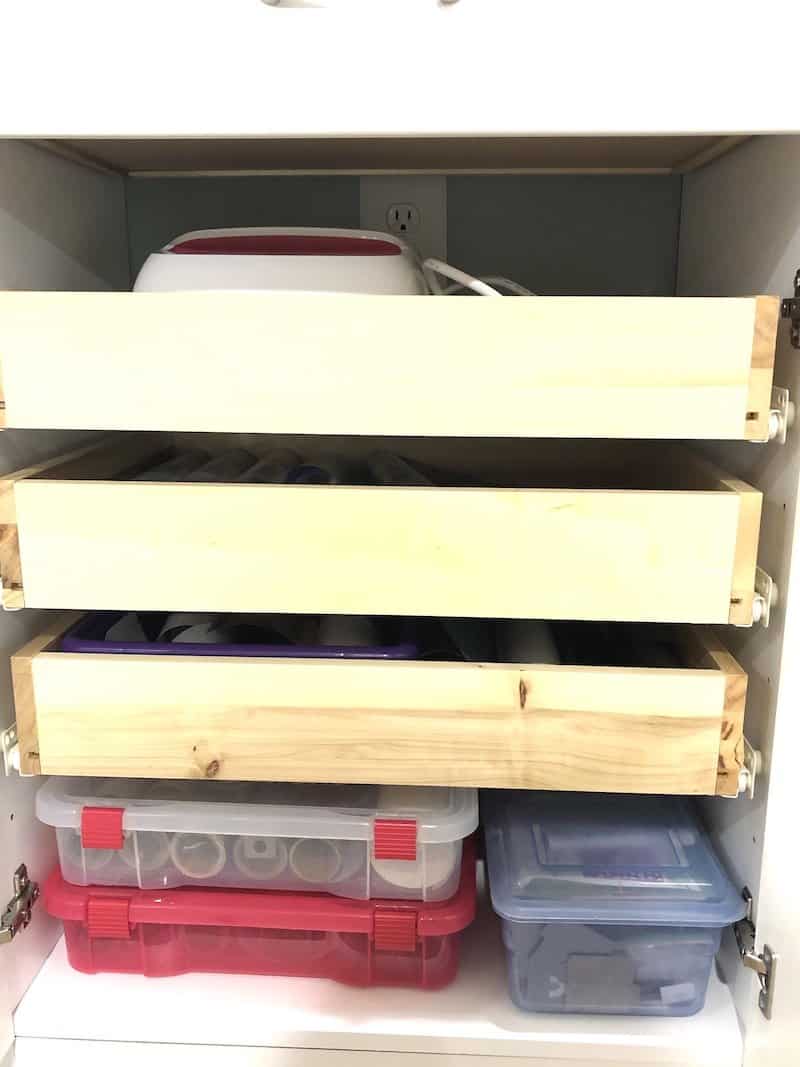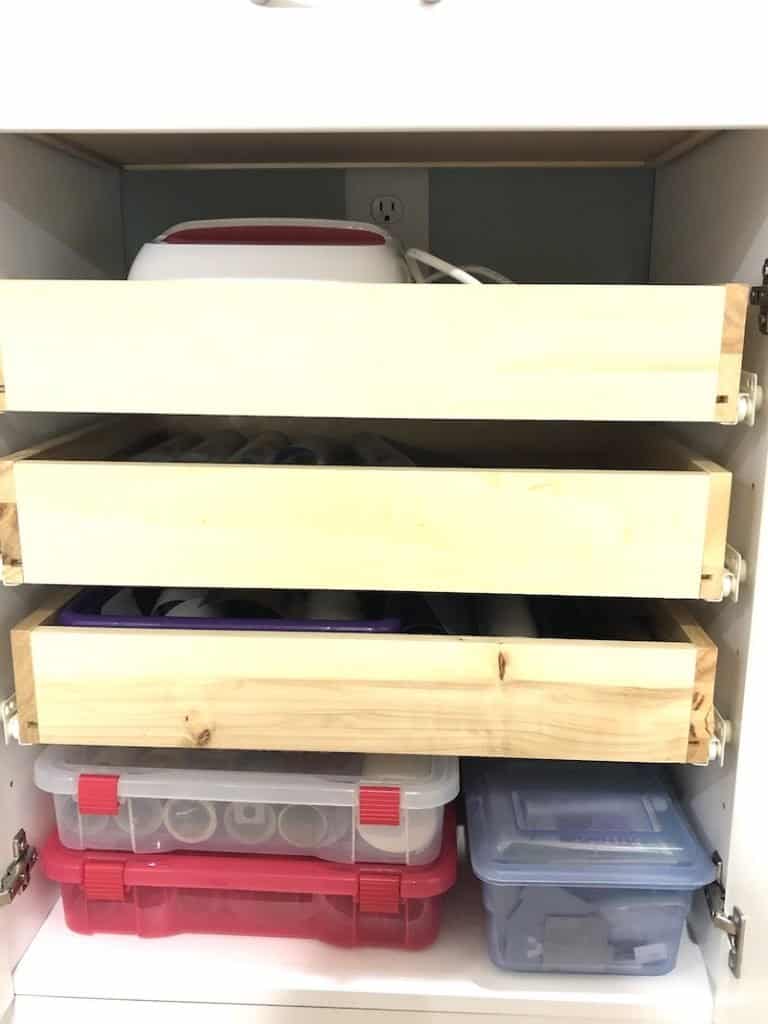 I also use a few of those fun colorful tubs from Costco to store some extras in.
My Cricut tools are in one of the regular top pull out drawers. Right under my Cricut machine for easy access. I store them with the top part of the packaging so I can quickly see what type of blade it is and grab the one I need.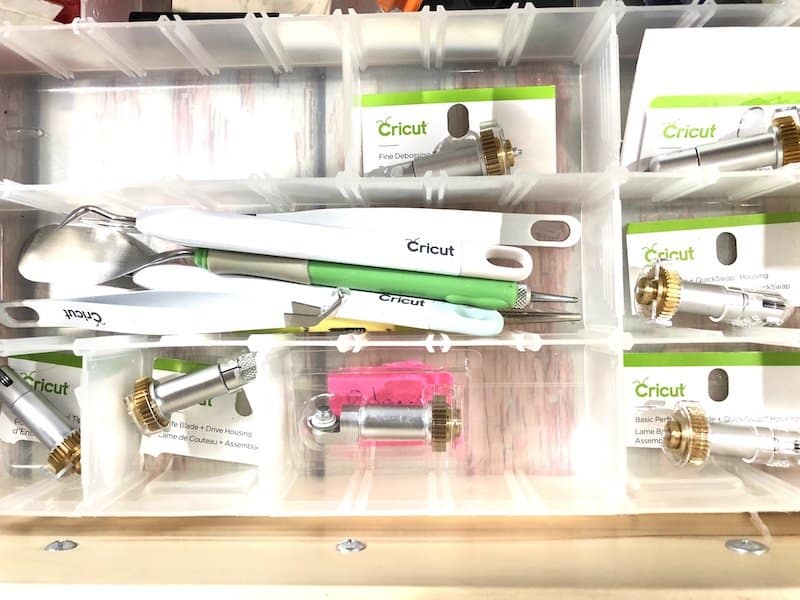 Tools, Scissors, and Adhesives
The one set of storage that I am not happy with that I have in my craft room is this double set of rainbow drawers. I bought them to use in my classroom and never really found the perfect fit.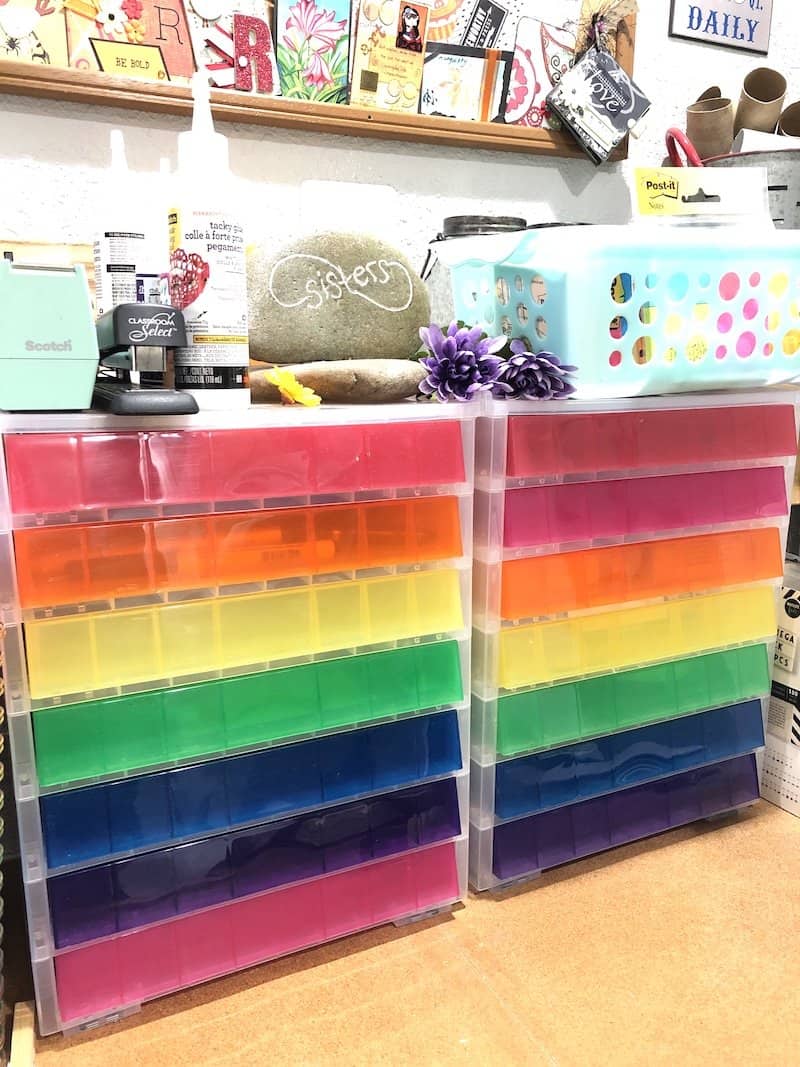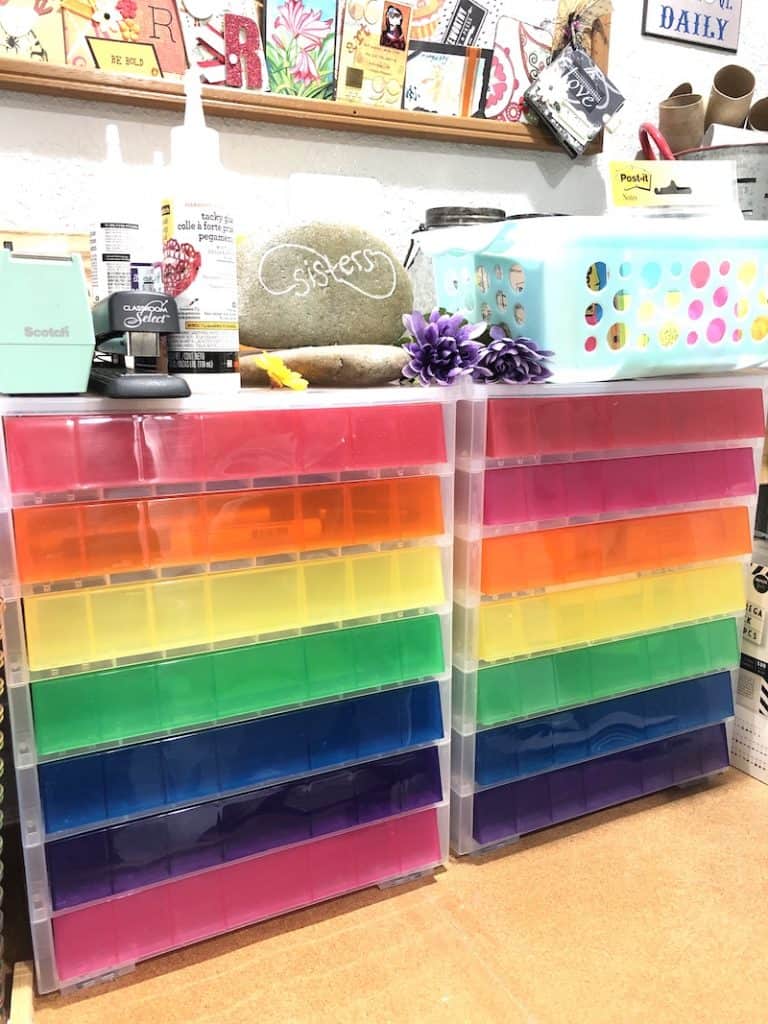 I brought them home and thought they would work for storing craft supplies. The problem is they aren't very user-friendly. The top drawer doesn't close well. And they really don't hold that much in each drawer. They are taking up a BUNCH of space for the small number of supplies they are holding.
This part of my craft room needs to be rethought out and redone. (and I just noticed that my "rainbow" is out of sync!!).
My Final Room Design
My craft room remodel is mostly finished. There are a few little tweaks that need to happen here and there.
I also want to change the tops of my workbenches to white. I experimented by adding some white poster board and foam core to see what I liked best. Natural brown top or white top.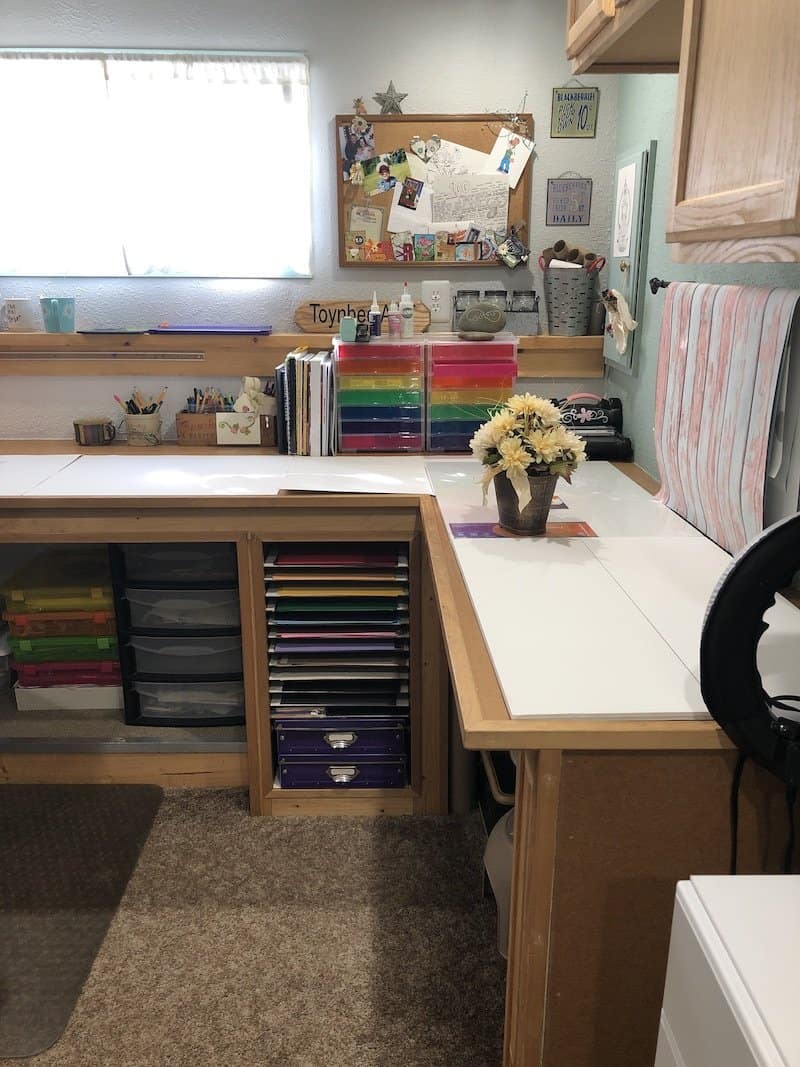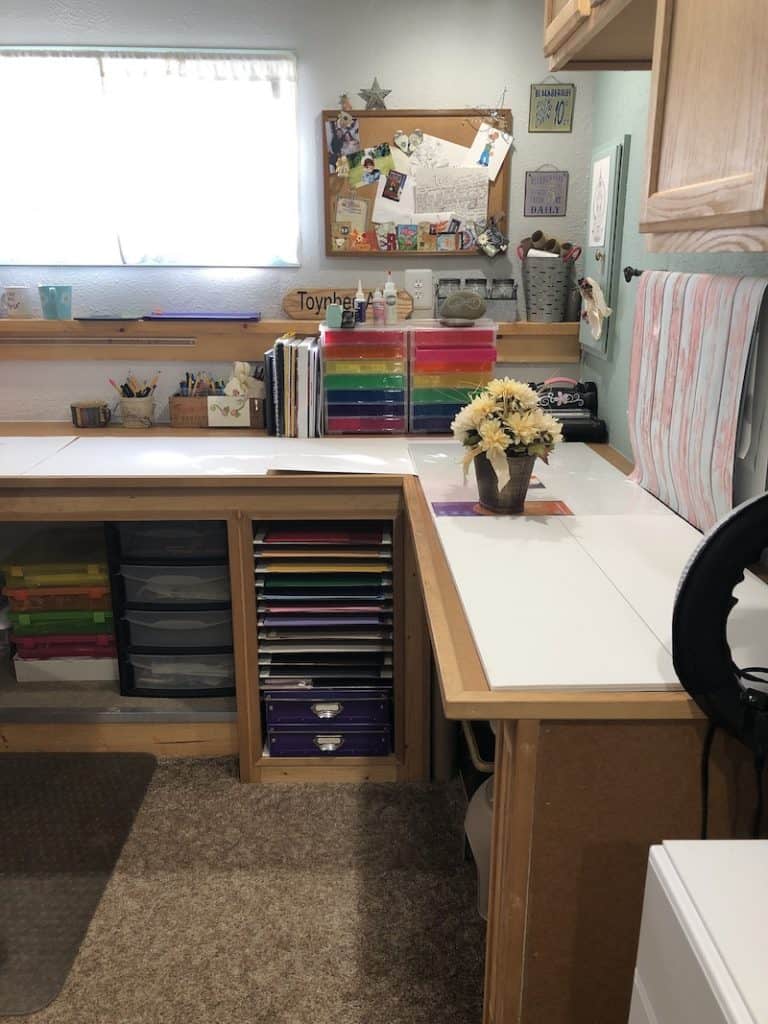 My chair was the last piece. I'm still not sure that I am 100% happy with it.
Again, my bench heights are custom. It is HARD to find a chair that fits the space and adjusts to the right height. This one goes taller…but it doesn't go shorter. Just a few inches lower would be perfect!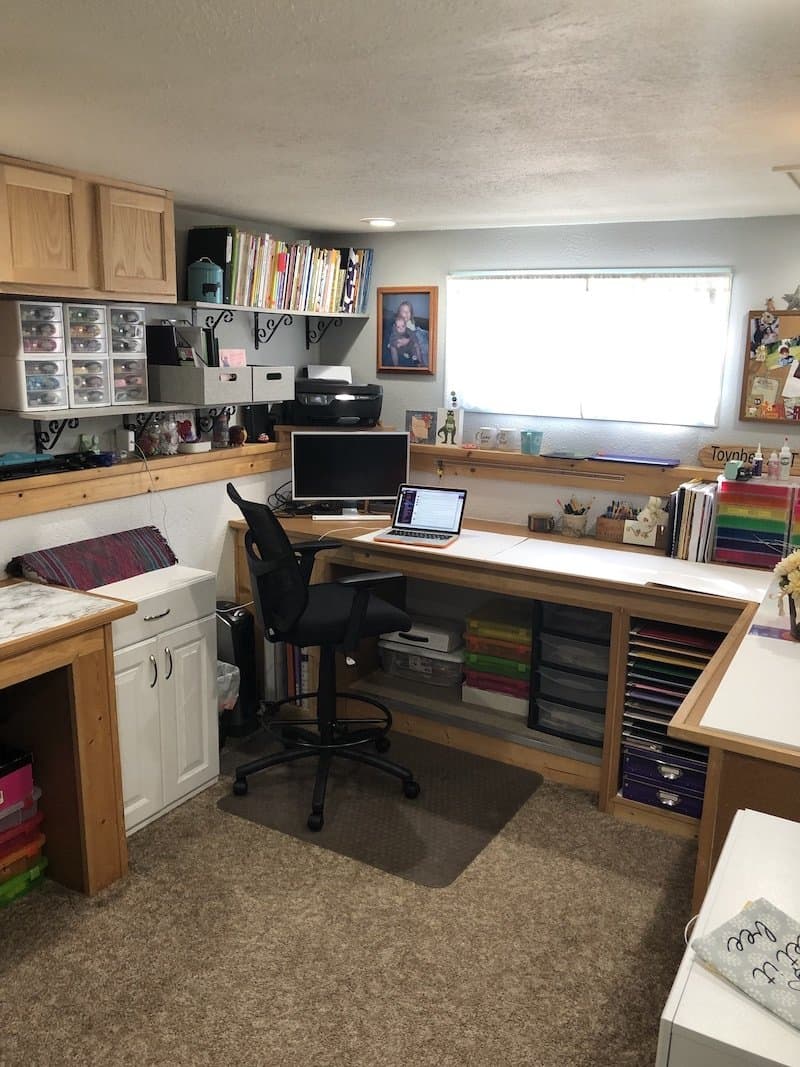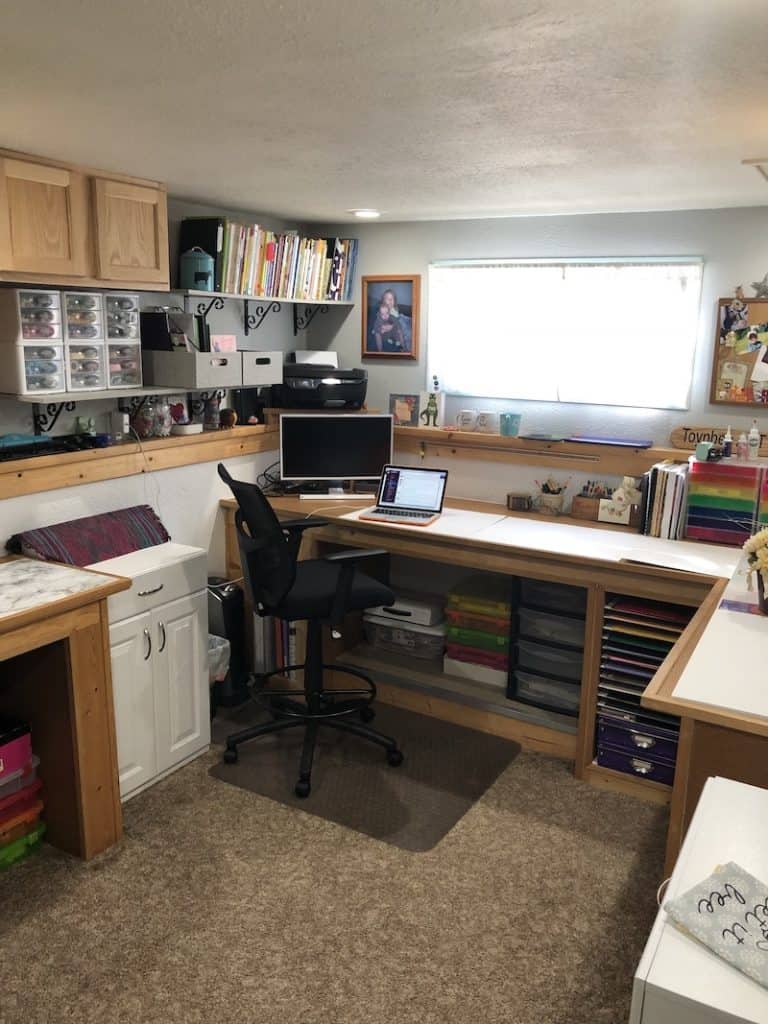 What Type of Space do You Craft In?
My final space makes me pretty happy. It doesn't always stay this clean: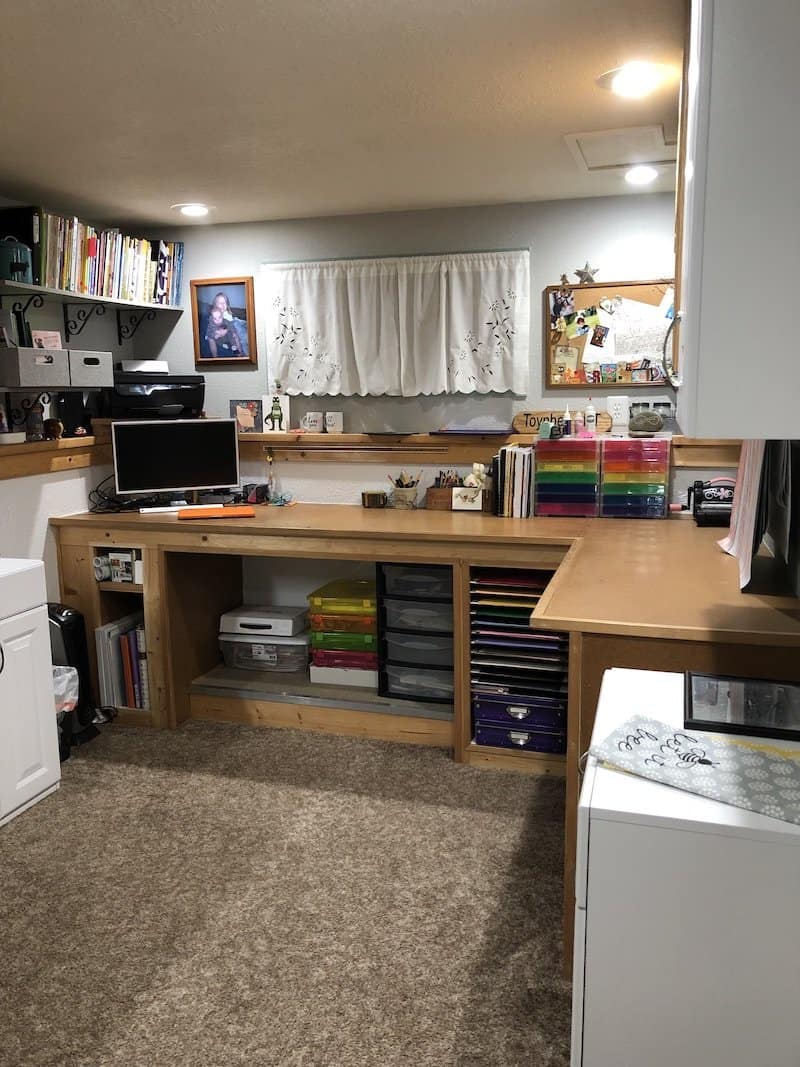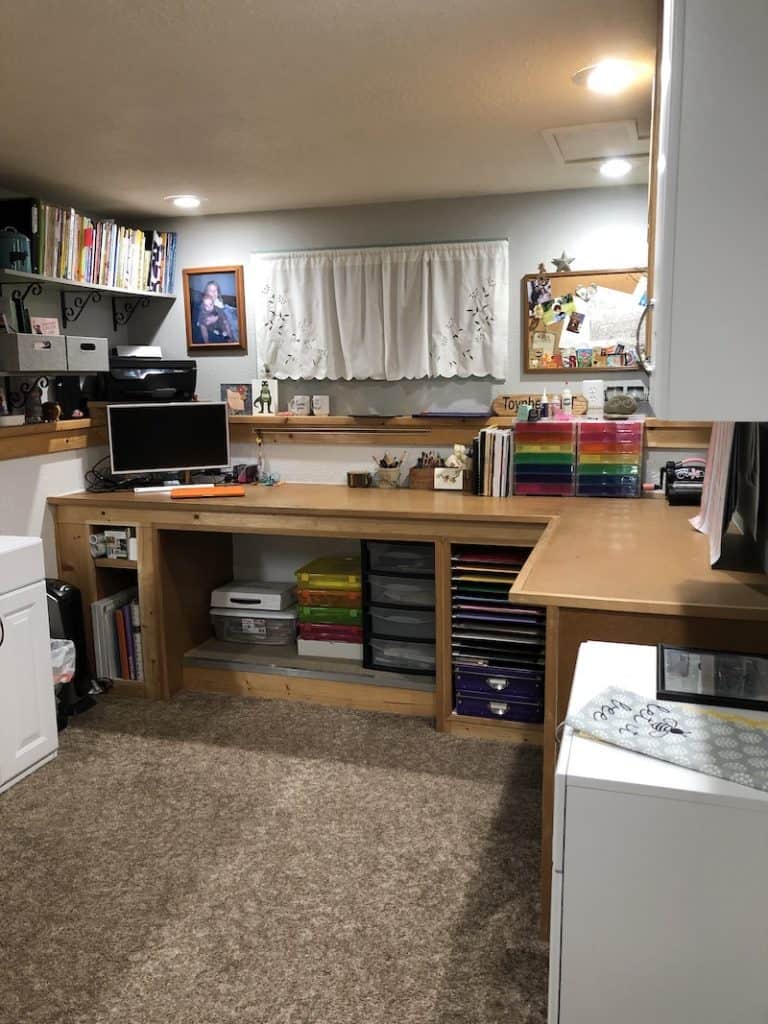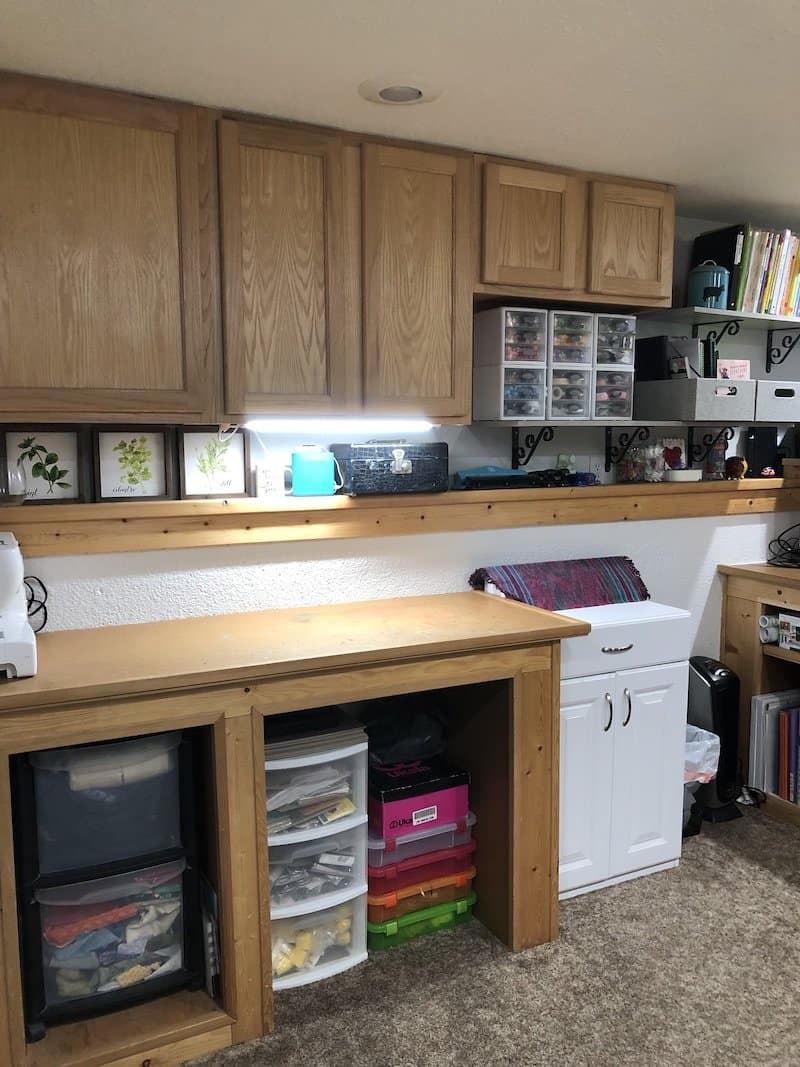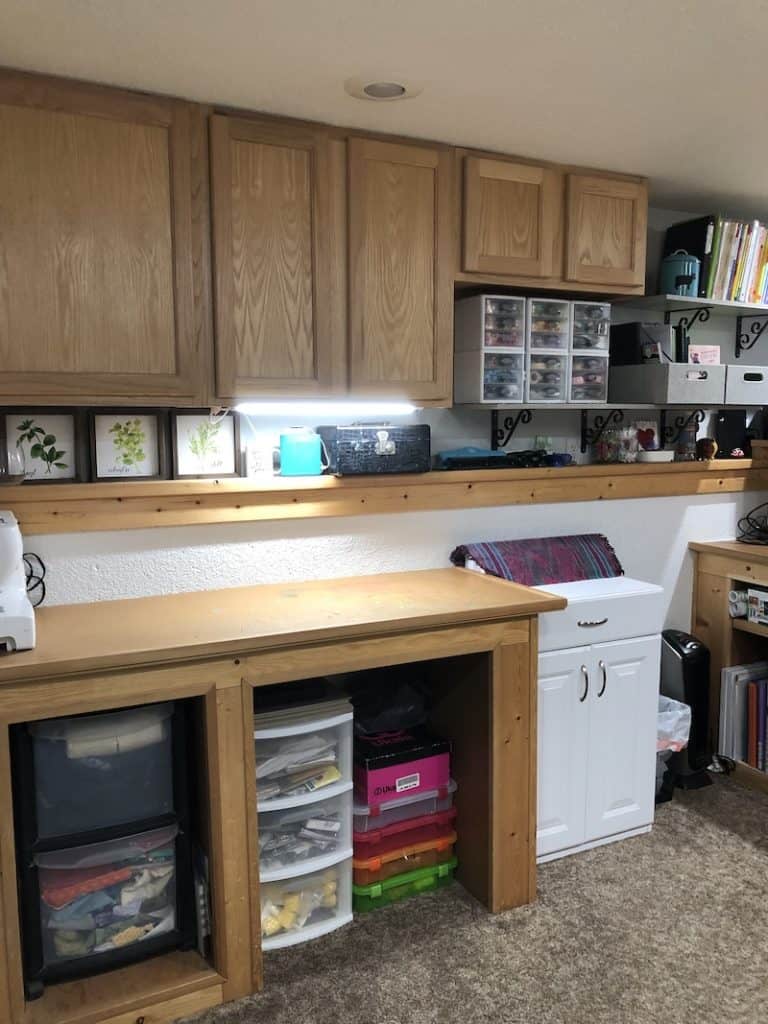 There are usually projects covering the countertops. Projects, lamps, and c-stands cluttering up my walk space because they need to be photographed.
But it is definitely a space that I am grateful for and that I can make work for my needs.
What type of space do you work in? Do you need help finding a way to organize your craft room or space?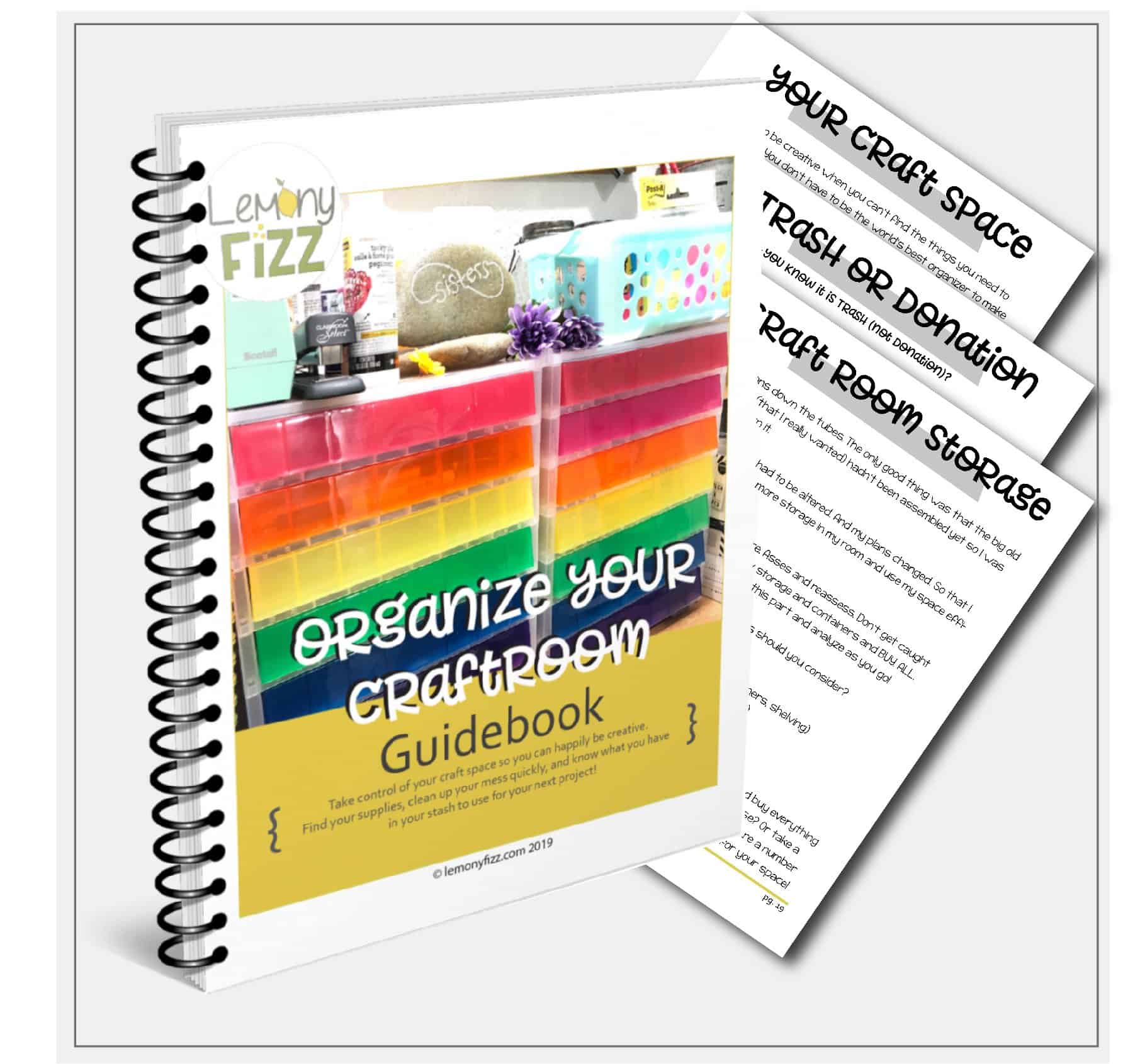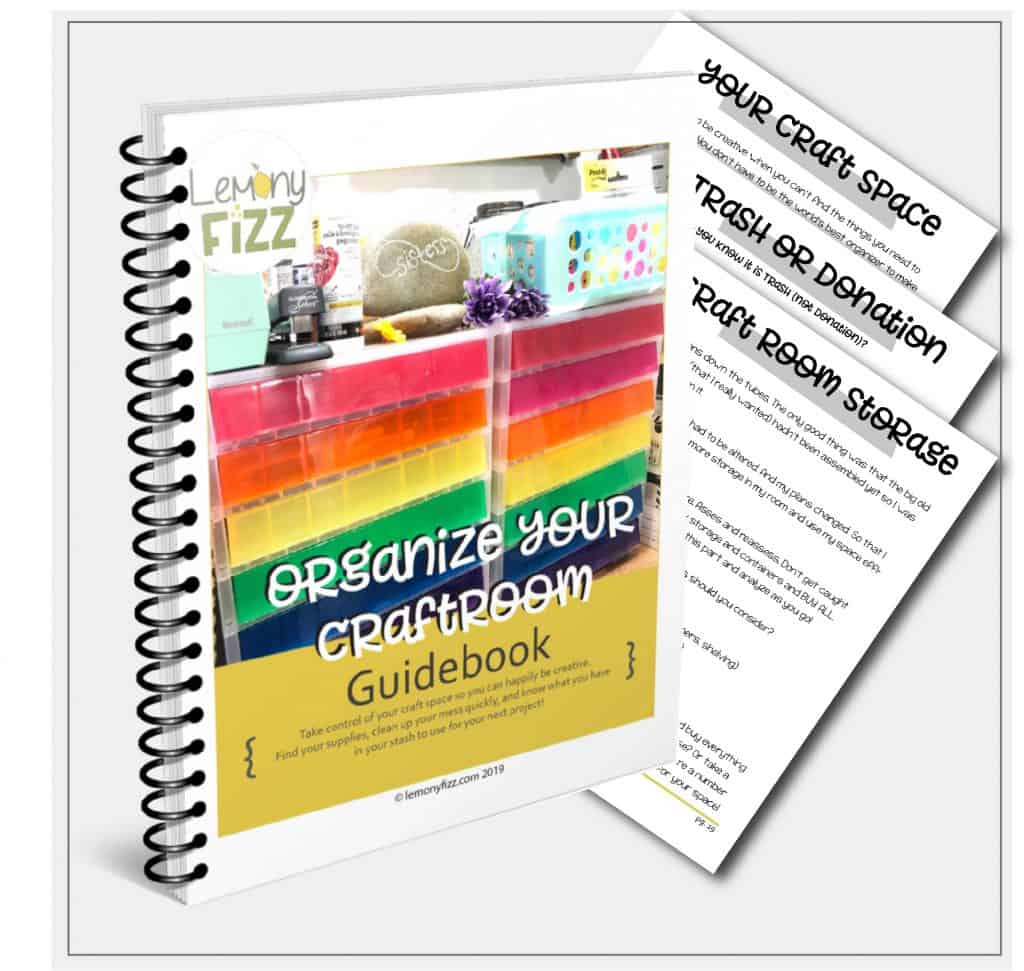 Get your Craft Room Organization Guidebook by clicking here!!
Leave me a comment and we can chat about your craft room space and needs!!
Craft Room Storage
Craft room organization doesn't need to be hard or scary. The right craft room storage can make the process go so much smoother. Take the time to really think about what you need and then get the right tools for the job!
This post may contain affiliate links. If you purchase through one of these links I may earn a small commission at no extra cost to you. For more information, please read my disclaimer.