We may earn a small commission for purchases made through affiliate links in this post. For more information go to our Privacy Policy.
Maybe you already know what a Cricut machine is but you want to do a little more research. Or maybe you want one as a gift but you need to showcase what it can do so the "gift giver" knows what they are getting you.
Read the post all about the best Cricut machines to buy.
This post will discuss what a Cricut machine is and all the things you can do with your Cricut once you have purchased it.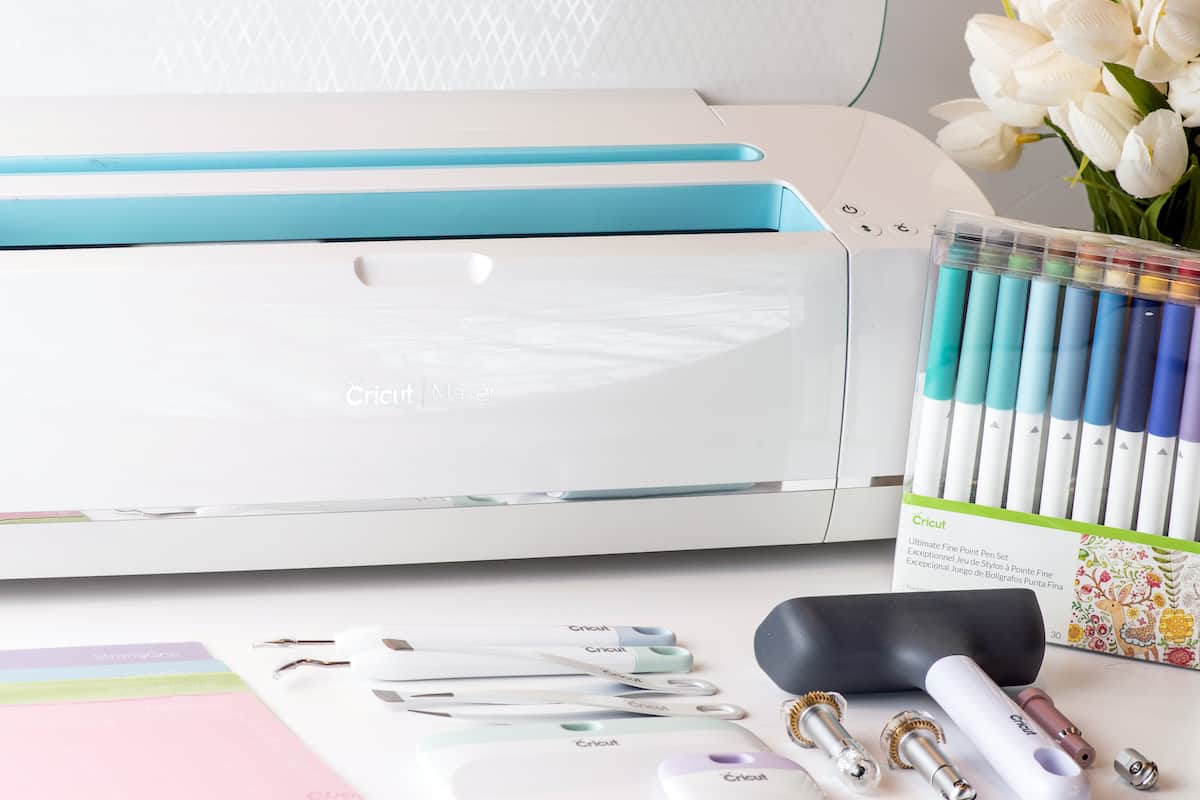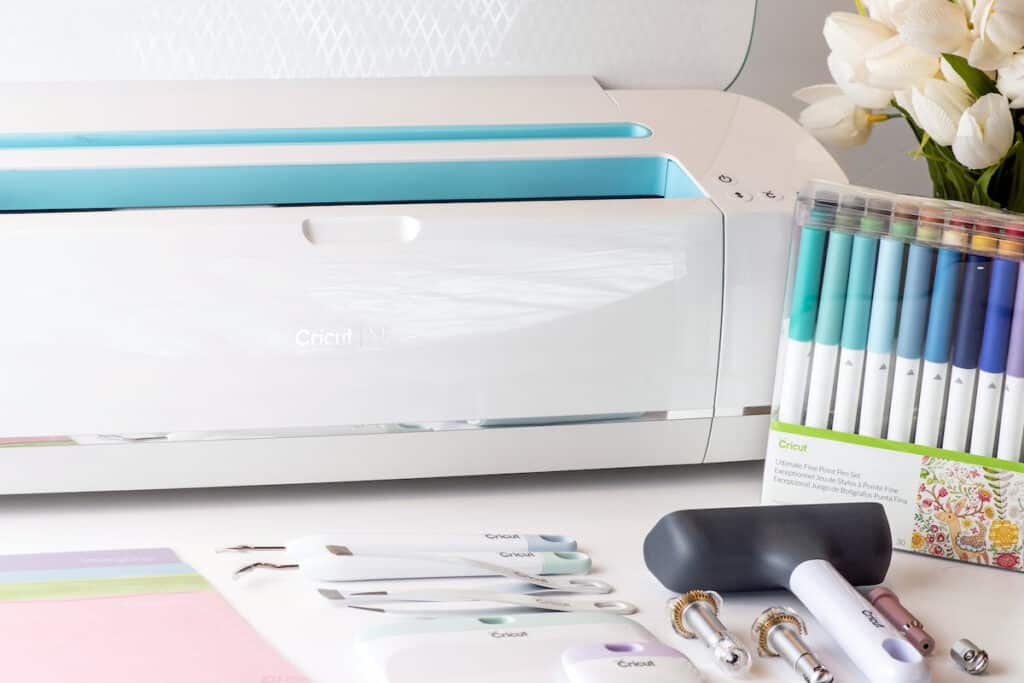 Think of them as little paper (and now all sorts of other material) CNCs. They are a crafter's equivalent to a huge metal or wood cutting mill. Travel size for your convenience.
What do I do with it?
If you have been around the crafting world for a while then you may be familiar with the older version of a Cricut that required cartridges. You would choose a cartridge for your font or your shapes, dial in the size you needed, type the corresponding button on the keypad, and then cut out your design.
Compared to the QuicKutz or Sizzix cutting systems a Cricut was VERY high tech. Took up less space. Was way more affordable in the long run. And it was versatile. You could change the size of a letter or image in seconds and have it cut out.
The trouble with the first Cricut machine was that it only cut 8.5 x 11 papers and you were stuck using those silly cartridges. You couldn't adjust a design and make it more unique unless you did some creative "fussy cutting" after it was off the cutting mat.
How easy is it to use a Cricut machine?
A Cricut machine is really very simple. You plug it in, connect to your device (with either the cord or via Bluetooth) and then follow the prompts on your device to complete the set up.
You will need to use a program called Cricut Design Space to process images that you want the machine to cut.
This program can be a little tricky and the machine does NOT come with a manual. There are YouTube videos, courses, and printable Design Space guides to help you get started.
Cricut vs Silhouette Cutting Machines
That's when the Silhouette hit the market and became the next big thing. You could design your own patterns and use different fonts to cut out. If you were using the Sure Cut 3 program you had all the freedom in the world to alter your designs.
It was fantastic if you were a paper piecer for scrapbooking. You could break all those little characters apart, add different colors to your cutting mat and then let the machine do all the work.
What Cricut Should I Buy (after all the other cutting tools)…
Buy a Sizzix and the most popular alphabets as well as the shapes I knew I would use repeatedly.
Buy a QuicKutz and all the adorable alphabets and new and creative shapes that they had to offer (store them in a cute binder with the funny alligator tool that eventually came out in different colors).
Sell off the QuicKutz (other than a few dies that I couldn't part with like the chicken and turtle) and use that money to buy a Cricut.
Learn how to design in Adobe Illustrator and sell the Cricut to buy a Silhouette Cameo so I can make my own designs and cut out ALL THE THINGS!
Spoil myself and buy a new Cricut Maker that you can now use your iPad or laptop to design cuts in the Design Space as well as more varieties of materials.
I've been biased towards a Silhouette for a number of years now. But the crafty winds are changing and I can see that the potential for a Cricut machine might be way better than a Silhouette Cameo at this point. It could be a good Cricut vs Silhouette discussion.
Alight. Enough with the chit chat.
What is a Cricut?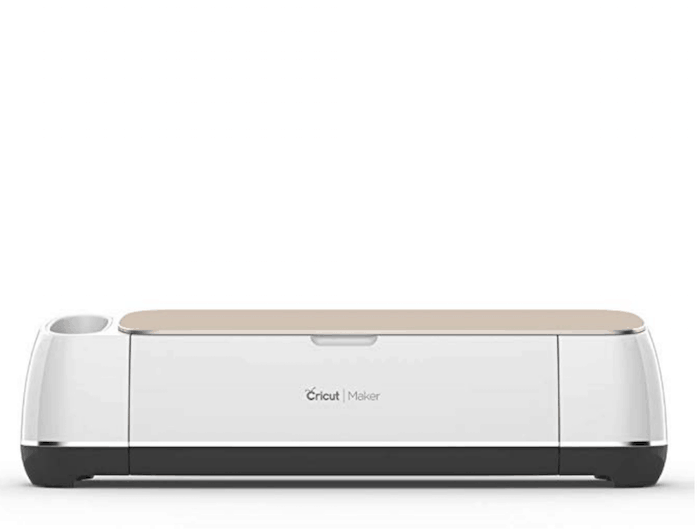 A Cricut is a mini CNC machine. CNC stands for Computer Numerical Control. It is defined as a process used to manufacture things using a computer-controlled machine. This could be anything from lathes, routers, grinders, cutters, etc. Materials can include metal, wood, plastic, paper, rubber, or vinyl. There is usually a computer program (like CAD) involved that a user inputs directions into, that are then completed by the machine.
Cricuts are the crafter's version of a CNC. The newest Cricut machines are able to take designs from an app on your iPhone, your iPad, or the Design Space program on your computer and transfer those directions to your machine to help you create a project.
They work over Wifi, Bluetooth, or with the cable that comes in your Cricut box when you first open it. Oh, Happy Day!! (I'm pretty sure there was joyous music in the background when that box opened). These machines are easy to use. Totally versatile and are limited only by your creativity and imagination.
Once you have one it will be hard to walk away from it. You will lie in bed dreaming up new projects and working out the steps. I promise!
Cricut Key Vocabulary
There are a number of words and phrases you will hear repeatedly when you start talking to Cricut owners (and even Silhouette owners) or reading them as you browse the internet in search of help and tutorials.
Sticky Mat – this is the cutting mat that you will use to hold the material you want cut. The material can't be moving around while the machine is trying to slice, score, or draw on it. The sticky mat holds it in place. There are different levels of "sticky" depending on the material you are working with.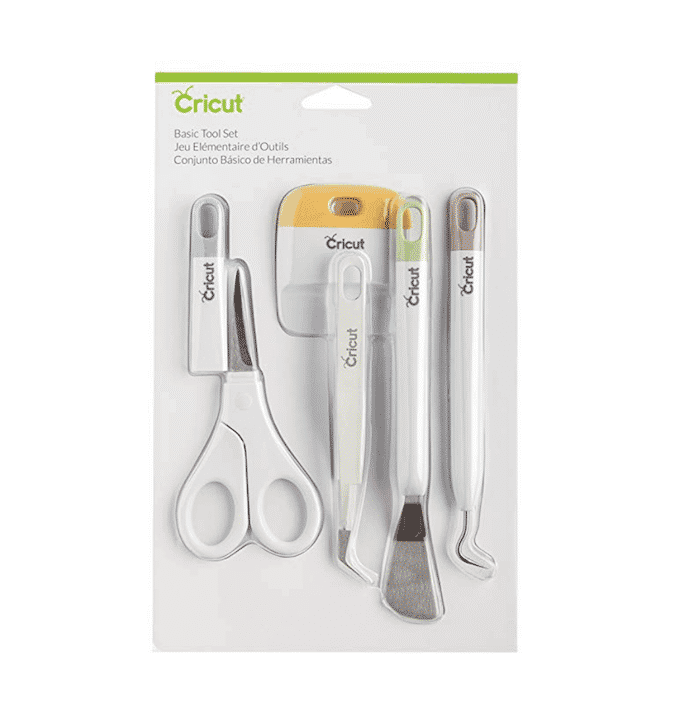 Tools – this usually refers to a pack of tools that are included in a Cricut machine bundle or that you purchase separately as an accessory. These usually include a type of spatula for pulling your design off the sticky mat, tweezers for lifting and pulling, a pick that looks like a dental tool for "weeding" and scissors.
Weeding – this term is the one that might make you scratch your head. It refers to the process of pulling the "unwanted" pieces out of your design. The inside of the "e" or the inside of a shape that you want to be empty.
Load and Unload – relatively simple. It's the process of loading and unloading your sticky mat into the machine.
Pressure – you will have an option on your machine that adjusts the pressure of the blade, pen, or rotary blade. You change this based on the thickness of your material and the speed that you are choosing to cut your design at.
Speed – how fast you tell the machine to cut out the design. Typically you can use faster speeds for simpler designs. The more intricate the design, the slower you want your machine to process and cut.
Cricut Design Space – This is the software that you will use to alter, set up, and ultimately send the cut instructions to your machine so that it can cut the materials according to you your design.
Materials – the things you add to the sticky mat to be cut. This can include paper, faux leather, copper sheeting, fabric, sticker paper, vinyl, thin wood, chipboard, foam core, and more!
The Process of Using the Machine
You start by designing your project in the design software. Add your material to your cutting mat.
Cutting mats are 12 inches by 12 inches (unless you buy a longer mat like a 12 x 24-inch mat).
Load the mat and material into the machine.
Press cut.
Watch as the machine does all the hard work.
Unload the mat from the machine.
Carefully lift off your design. Weed out any unwanted pieces.
Assemble if necessary.
Repeat!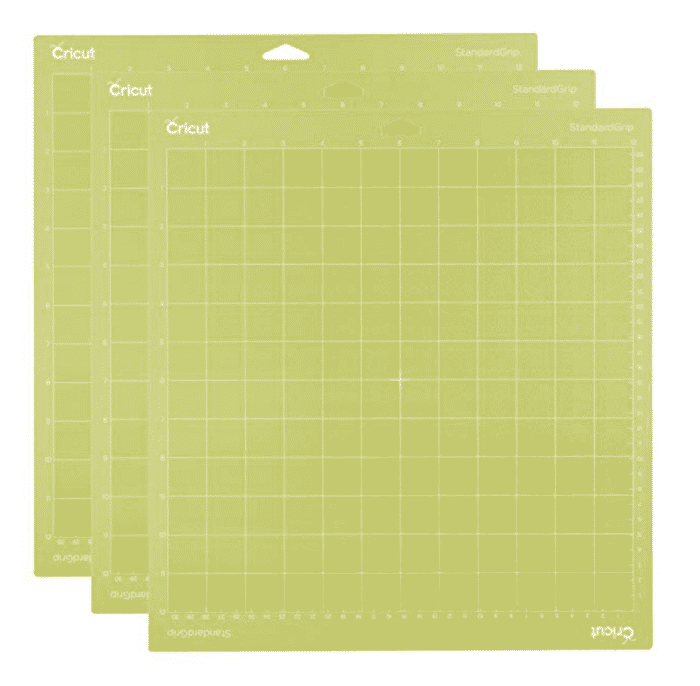 What Types of Craft Projects?
Really, the possibilities of what to make with a Cricut are only limited by your imagination. You can blend designs. Use bits and pieces of one project to add to another. Work with only paper. Create projects with blended materials. Here is a list of possible projects to get you started. After that, just see where the machine and the materials take you!
Cut out fun shapes and letters and use them on your scrapbooks
Create paper piecings for your scrapbooks.
Make handmade cards for all occasions
Design t-shirt or clothing appliques
Make jewelry
Make party decorations
Create your own stencils for art projects and painting
Make window stickers and clings
Label all the things!
Design Monograms
Create Christmas ornaments
Draw coloring pages
Decorate a cup, mug or wine glass with vinyl
Etch glass
Home decor (like these bee quote tea towels)
Make a wooden sign
Cut quilt squares or fabric shapes
What Are You Going to Make?
There is a learning curve when it comes to using your Cricut and Cricut Design Space. Thankfully, there are Cricut tutorials all over that can tell you what to make with a Cricut and there are always other crafters who have explored the limits. If you can't find an answer to your questions, make sure you reach out and ask someone.
You have invested in a very powerful tool that can help you in your crafting endeavors. Pick a project and get started!
Basic Cricut supplies that you need to get started with your Cricut projects and crafts. Use this list to grab the basics or to finish your collection of Cricut tools.